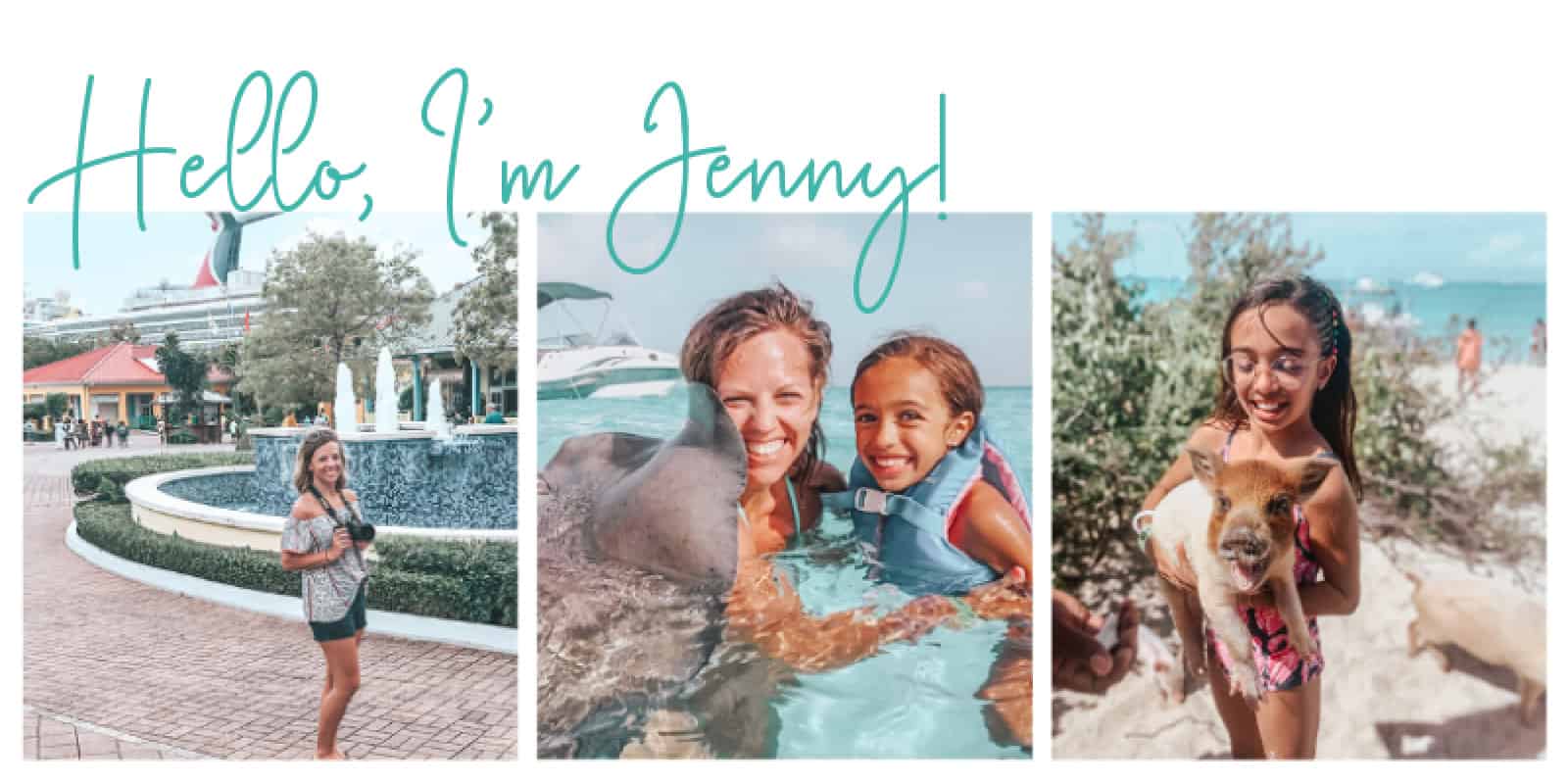 Ready for your business to be seen through genuine experiences and creative content?
You've come to the right girl!
See Mama Go is powered by me, Jenny! Your Parenting and Travel guru for families and couples (looking to get away from their families!) I specialize in covering a wide range of travel options for couples and families.
Why both you ask?
Well because when you have kids, you want to travel with them and have them experience the world! But when you have kids, you also need to get away from them sometimes too!
At See Mama Go, I create unique and entertaining content that encourages families and couples to experience new destinations. Some of the destinations covered are cruises, beach vacations, and international travel.
You will also see weekend getaways discovering new cities around the U.S. and even outdoor travel including camping and RV life. Pretty much, if you can travel there, See Mama Go is going to cover it!
If you choose to work with me, you will (obviously!) receive high-quality photography, writing, and design. But most of all, I write in a fun and refreshing way that engages my audience with 'real' experiences and opinions. Because parents these days are tired of the dry business-promoting ads they see day after day…
Parents are looking for real-life experiences and tend to take advice from other moms. You can find all that right here at See Mama Go… real-life honest content that engages an audience and a twist of humor and sass for your reading pressure!
I am always looking for new adventures and welcome the opportunity to hear any partnership ideas!

If you are a company or brand interested in collaborating, here is what See Mama Go has to offer:
A fun, honest, and unique voice
Timely delivery and communication time
Creative high-quality content
Professional photos
Social Media shares in several formats
See Stuff I've Done!
I know, I know, you want to see some of my previous work. No problemo! Take a look at some recent travel opportunities See Mama Go has created…
Cruising to Alaska!  This is my most popular and viewed post of our 7-day cruise to Alaska with Princess Cruise Line. This post included 3 follow-up posts that included traveling to Juneau, Skagway, and Ketchikan.
Cruising to the Caribbean. This post detailed our family's 7-day Western Caribean Cruise with Carnival Cruise Line.
See Content I've Created…
Writing is my jam. I love researching new topics and applying keywords to optimize for SEO. All my content is meant to reach out to busy Mama's and help them create a more balanced life.
How To Respond To a Difficult Child
How To Survive Financially As a Single Mom
This Is What REAL Self-Care Looks Like
See Hotels I've Worked With…
Are you a hotel or resort that wants to highlight your business as a unique place to stay? See Mama Go can do that too. I pride myself on taking my own professional photos and giving readers a unique view on where to stay! Here are some examples of hotels and resorts I've worked with:
A Stay at the Noelle in Nashville Tennessee.
Cedar Crest Cottages; A Lake Tahoe Cabin Retreat
Enjoy a Stay at the Hyatt Regency Resort and Spa in Scottsdale
A Family Fun Day at the Scottsdale McCormick Ranch
See Brands I've Worked With…
I love to share products and brands that are a great fit for my audience. I specialize in blog posts and Instagram content to highlight new products, great causes, and brands I love.
Blog Posts:
How I Get my Daughter To Eat Healthy with Shamrock Farms
The Best Dog Food For An Active Pet
Instagram sponsored content:
Getting more interested by the minute?
Do you represent a travel destination or product you'd like the readers of See Mama Go to experience?
I offer informative posts, high-quality photos, and engaging social shares. I can provide reviews of destinations, tours, attractions, or accommodations.
Just give me a shout out at [email protected] and let's talk about all the ways I can share your ideas!