Our family recently indulged in a weekend staycation at Hyatt Regency Scottsdale Resort & Spa At Gainey Ranch and had the most incredible time!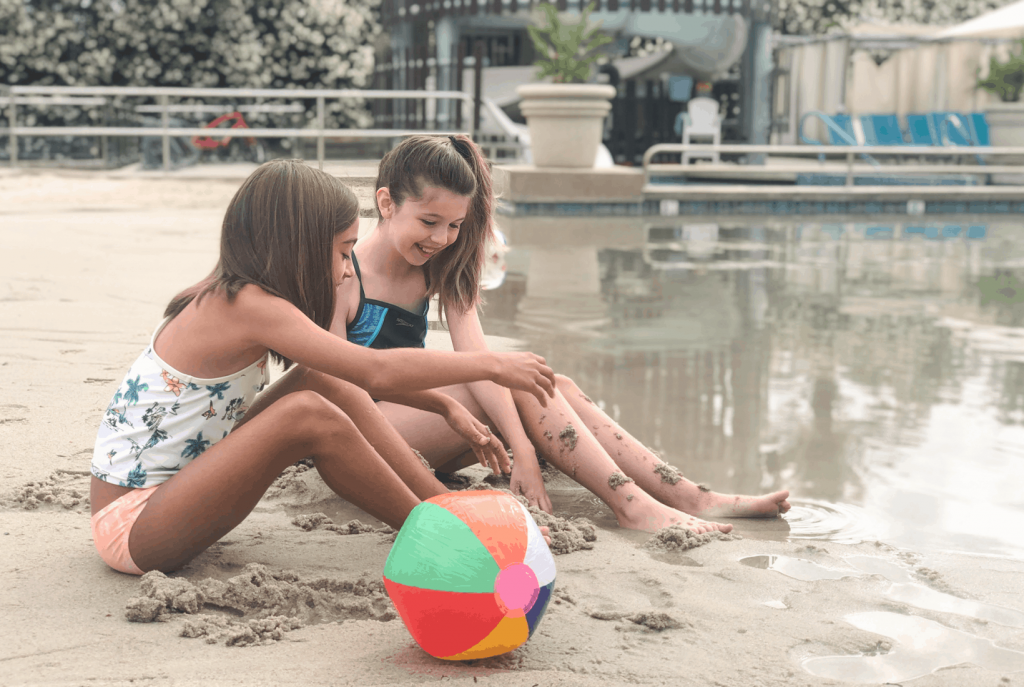 Hyatt Regency Scottsdale Resort & Spa at Gainey Ranch
* I was graciously invited as a guest of Hyatt Regency Scottsdale through Experience Scottsdale, but as always, all my opinions are my own and I would never recommend anything I don't really freaking love.
I've officially been an Arizona resident for 10 years now and every year I grow to love the desert even more. One of those reasons is because Arizona has some of the BEST resorts in the country.
Friends and relatives still question how I can live in such hot weather. Well, let me tell you!
The Hyatt Regency Scottsdale is one of those reason. When the weather gets too hot, us Arizonians love to plant ourselves at the pool all day. Butts in the water and a drink in our hands while the kids spend the day swimming… is heaven.
And what better place to do that at than a luxury family-friendly resort right in town?
You might also be interested in: The Best Places to Visit in Phoenix with Kids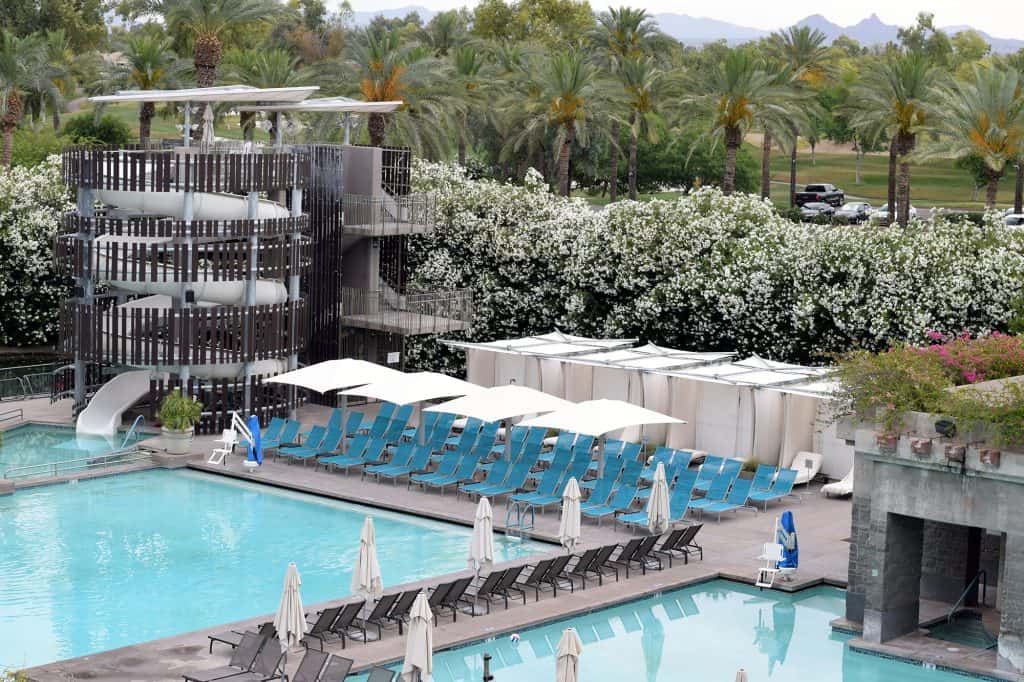 A Family Staycation at The Hyatt Regency Scottsdale
Each year for our kids birthdays, we try to do something fun. We would rather give them a memorable experience versus things. And to be honest, I'm SO over celebrating birthdays at my home (aaaggghh the clean up!)
When my step-daughter recently turned 11, we packed up the family and checked into the Hyatt Regency Scottsdale for a birthday staycation.
Go ahead and total up what you would normally spend on kids birthday party. Between decorations, a cake, food, goodie bags, and maybe a bounce house, etc. I was spending well over $500. All for a couple of hours of pure stress.
So a few years ago we stopped having birthday parties, and started going somewhere the ENTIRE Family would enjoy. And I'll tell you… we definitely enjoyed visiting the Hyatt Regency Scottsdale!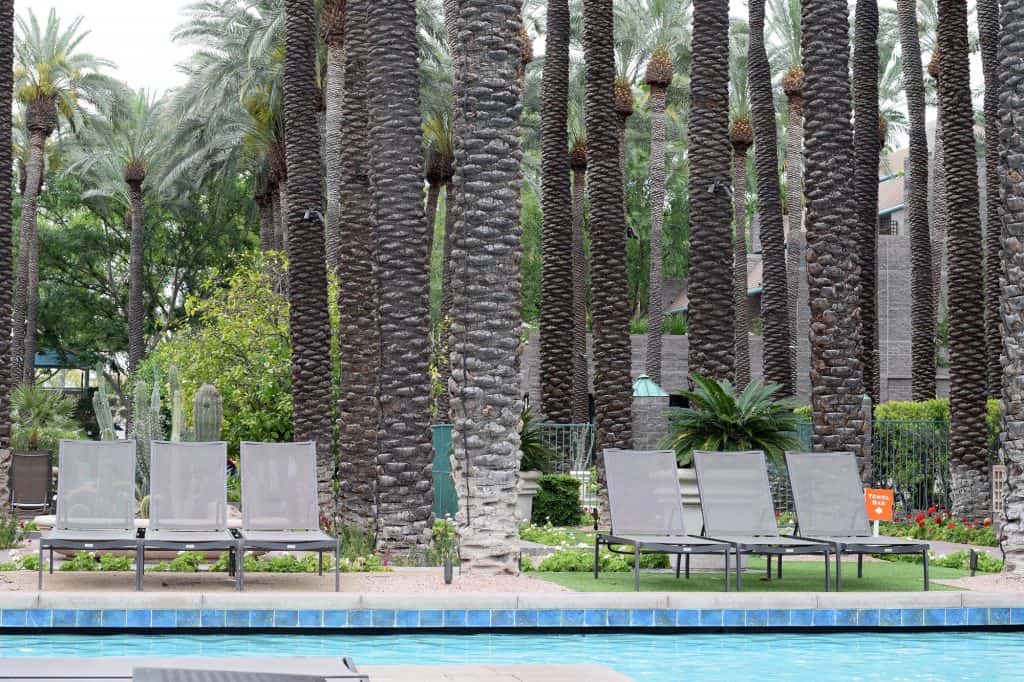 The resort
Do you want to know what you're getting before you book? Well, how does this sound:
The Hyatt Regency Scottsdale is a 27-acre resort with 10 pools, 20 fountains, and 45 waterfalls. Not to mention the coolest part of all… a REAL sand beach… in the pool!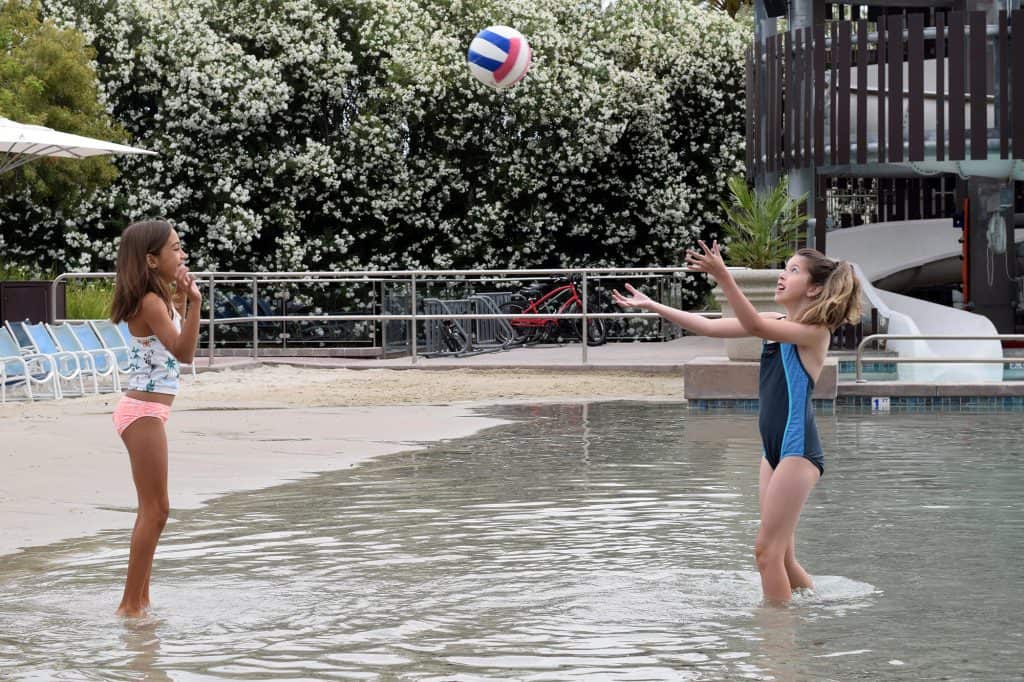 The beach even comes with sand toys your kids can play with, so you don't have to worry about packing those either.
Oh, and did I mention the 3 story waterslide?!?! The kid in me definitely came out that weekend when I saw that slide, and I personally went down it several times.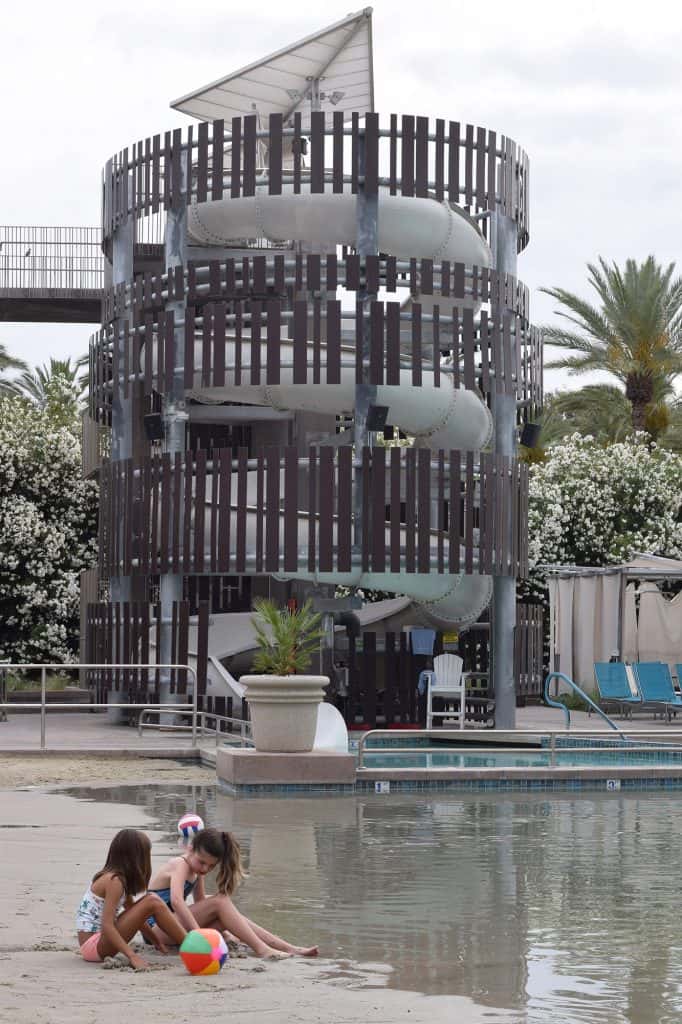 The Hyatt Regency has a Frank Llyod Wright inspired design and tons of areas with lakes and even a 27 hole championship golf course.
You can also find tennis, and miles of jogging and bicycle trails.
Everywhere you look, there are tall palms, gorgeous shrubs, and tons of tropical flowers. Pretty much any spot in this resort is perfect for those Instagram poses.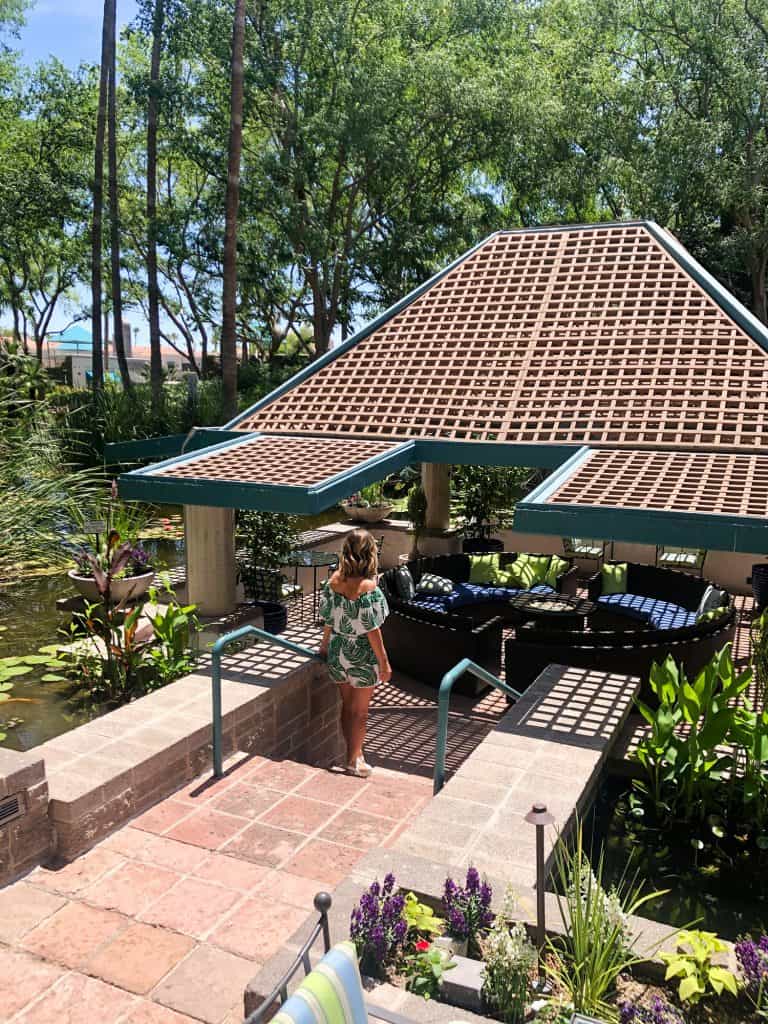 The Pool Area
So you have all these pools and things for kids to do. And trust me, they are not going to get bored at this resort. Thankfully though, the Hyatt Regency Scottsdale is just as adult friendly as it is for kids.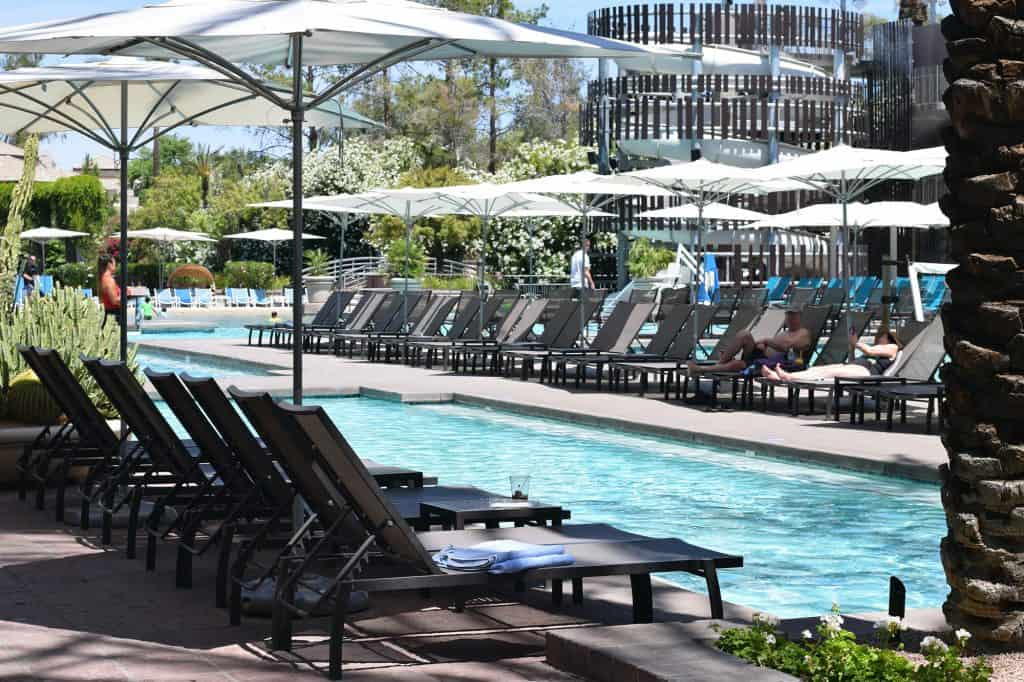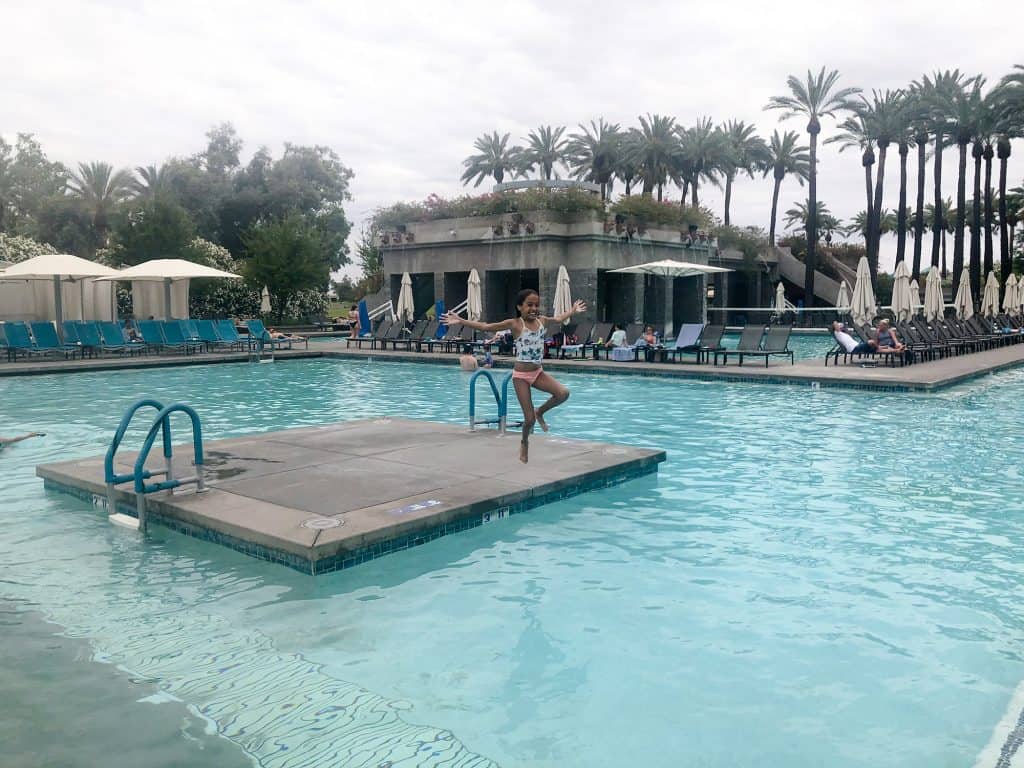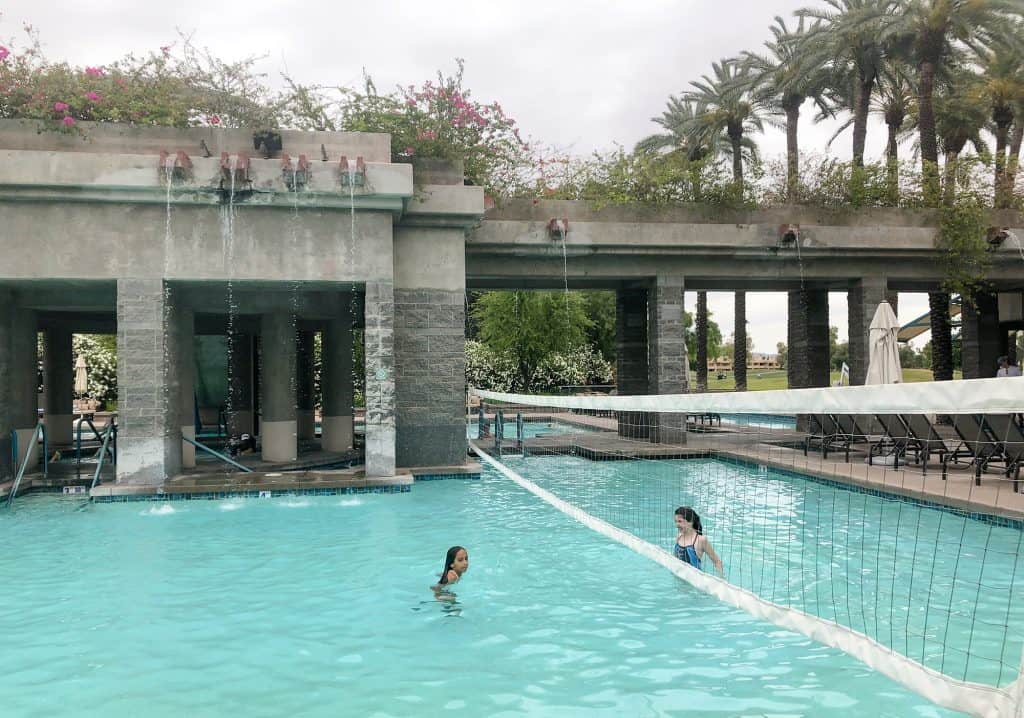 The H20 bar serves drinks and food all day. We were able to lounge in chairs and have drinks brought right to us. The food and drink menu is perfect for poolside snacks. We might have indulged in some nachos.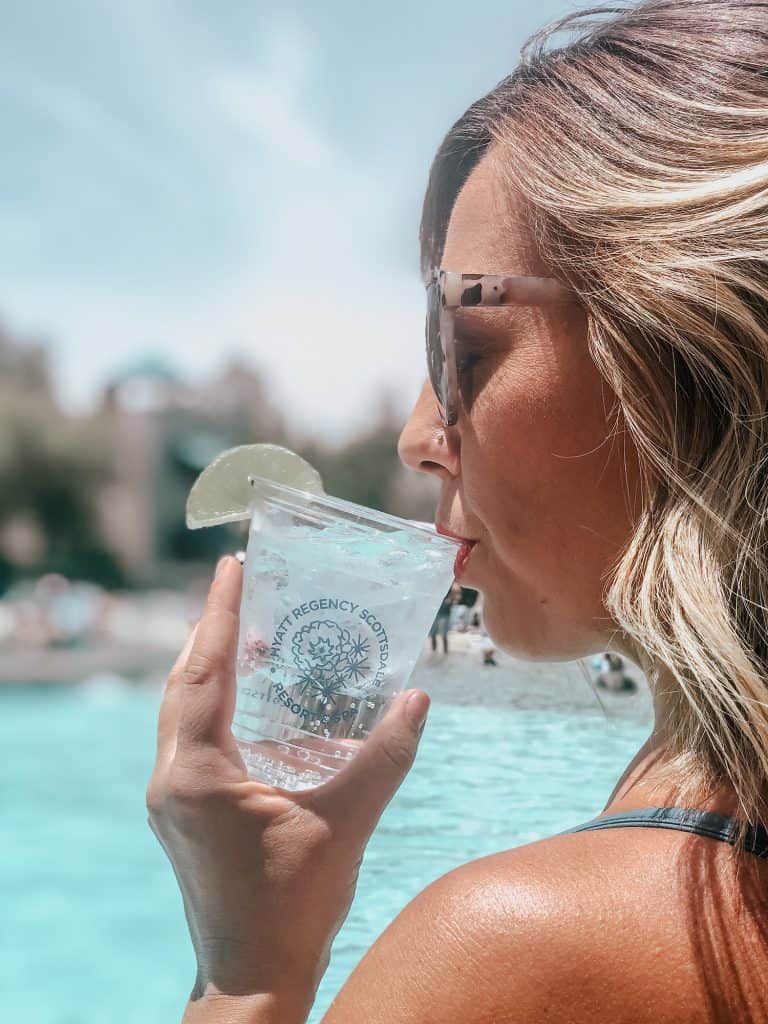 There is even a separate adults only pool if you need to take a break from the kids for a while. You can lounge on some padded chairs and enjoy the peace and quiet with your own pool side bar.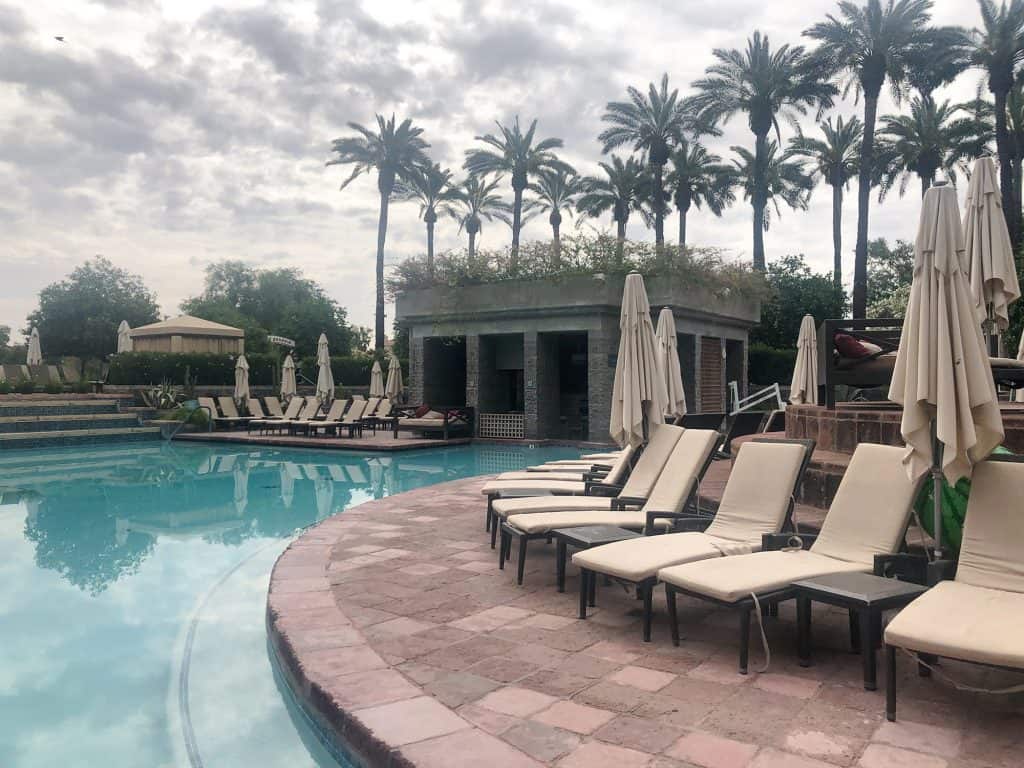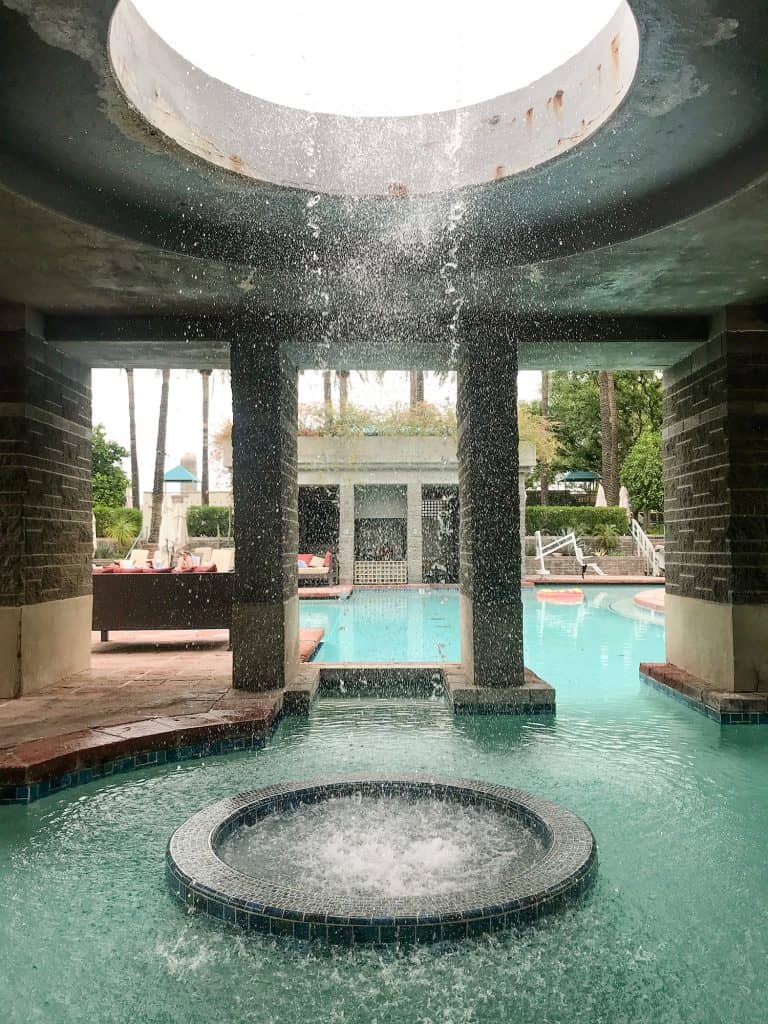 It also has one of the biggest hot tubs I've seen, so you can relax and not worry about bumping into the person next to you.
The resort also has a great kids play area where they could go rock climbing, play ping pong, or even play giant Jenga and giant chess.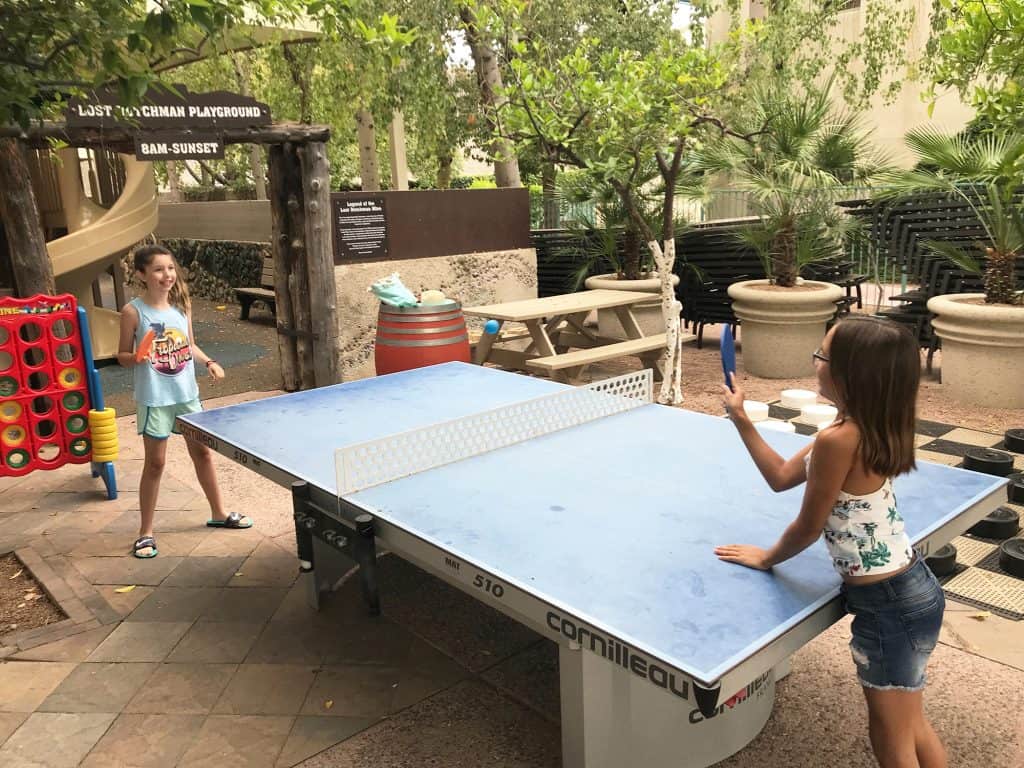 The Rooms
Resorts are more about the amentities to me than the actual rooms since we don't spend much time there. But I was really surprised when we checked into ours.
We had a standard room with 2 queen sized beds that overlooked the pool area. Our balcony was more like a big patio with a table and 2 chairs and 2 lounge chairs. This would be perfect for families with little kids. They can nap in the room and you can lay out and enjoy the sun on the patio.
The first thing the kids noticed was the little treat the resort left us. They got a popcorn bucket filled with snacks and a few sodas. Meanwhile, the adults got a bottle of wine and a meat and cheese board.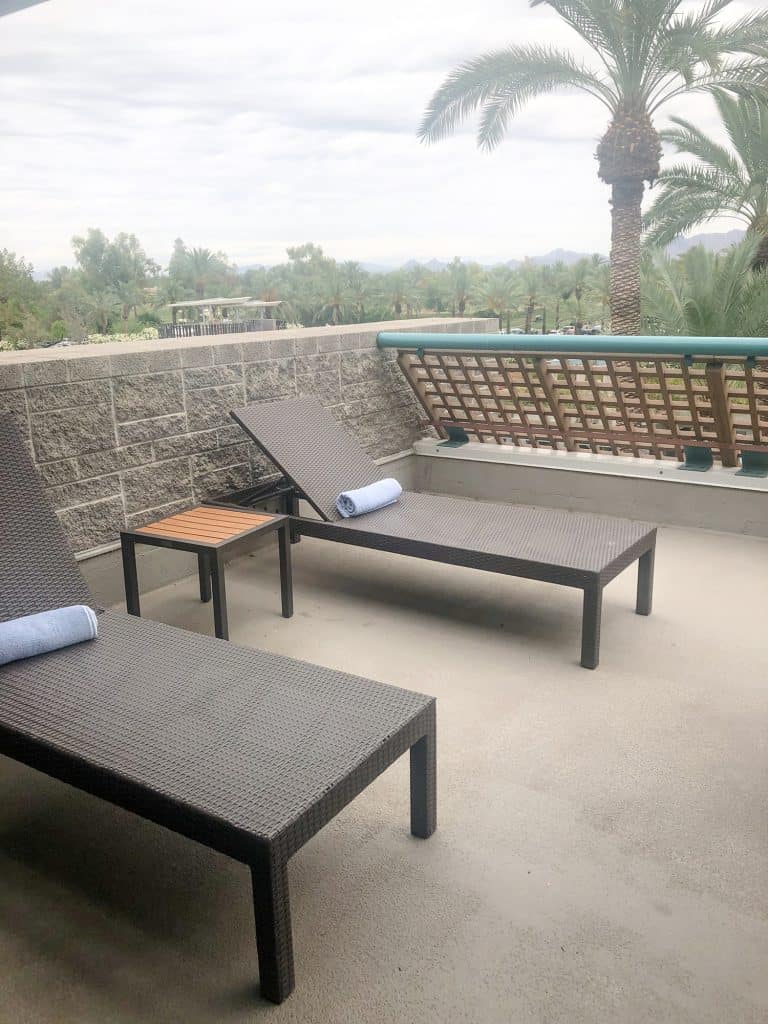 The Regency Club
The Regency Club at Hyatt Scottsdale is an upgrade any guest can choose. It gives you access to a room filled with food, drinks, tables, and an outdoor area that is gorgeous. It even has games to play.
They offer breakfast, snacks throughout the day, and hor dorves and cocktails at night. They even have this amazing coffee machine that makes anything from lattes to mochas to cappuccinos (I had a few!).
Looking at it as an extra expense can be a little tough, but I think in the end it actually saved us a bunch of money. It kept our kids bellies full all day, and that saved us a TON of money not having to buy breakfast, lunches and snacks all day long.
Because my kids are never hungry at home, but as soon as you get them somewhere pricey, they need to eat every 2 hours.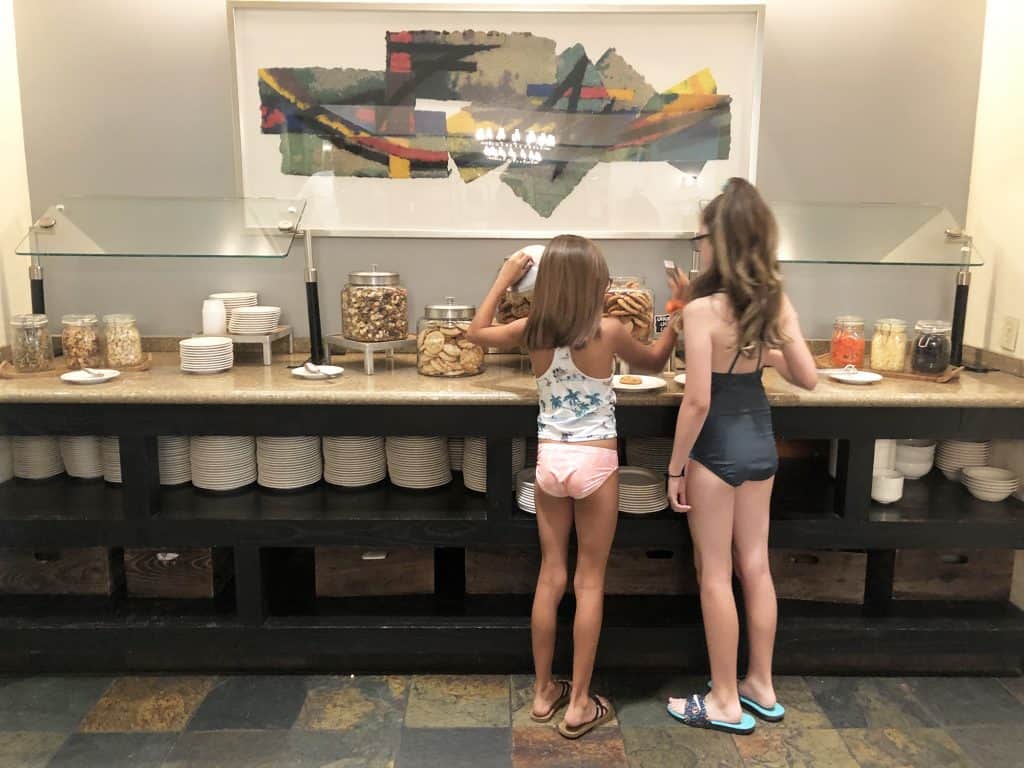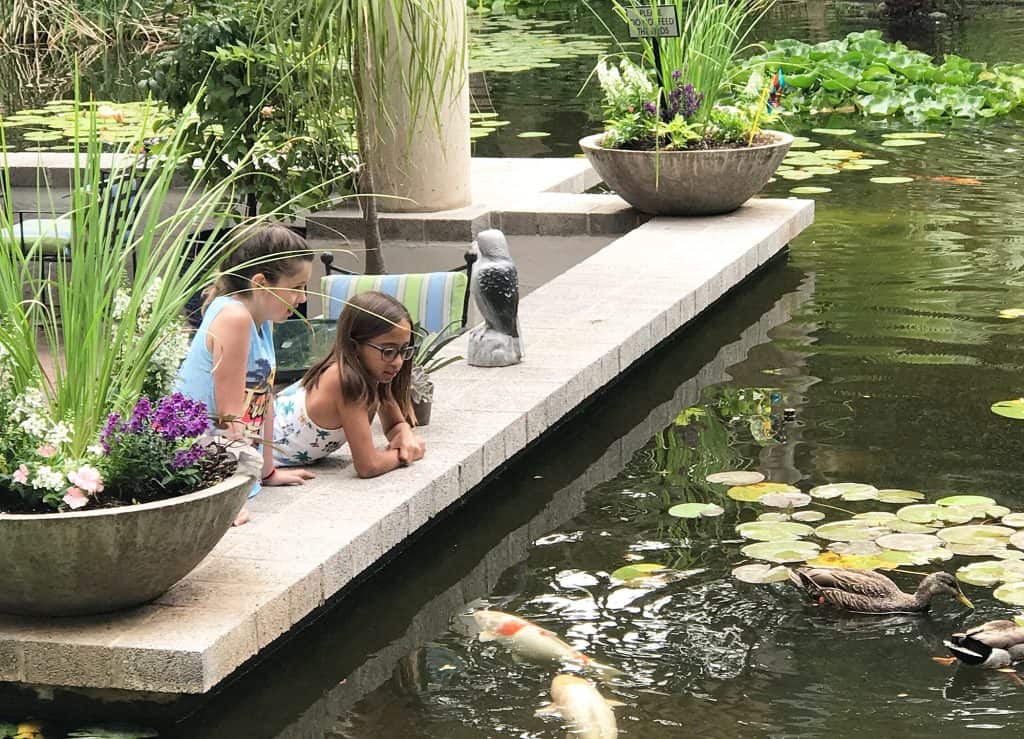 The restaurants
The Hyatt has 4 restaurants and we chose SWB for nice casual dinner outdoors. The weather was great, so we couldn't pass up sitting out on their gorgeous patio with fires burning around us.
The food was incredible. Even the kids loved it. I highly recommend the tableside guacamole! Their southwest cuisine had something for everyone and I loved the little dishes they were served in!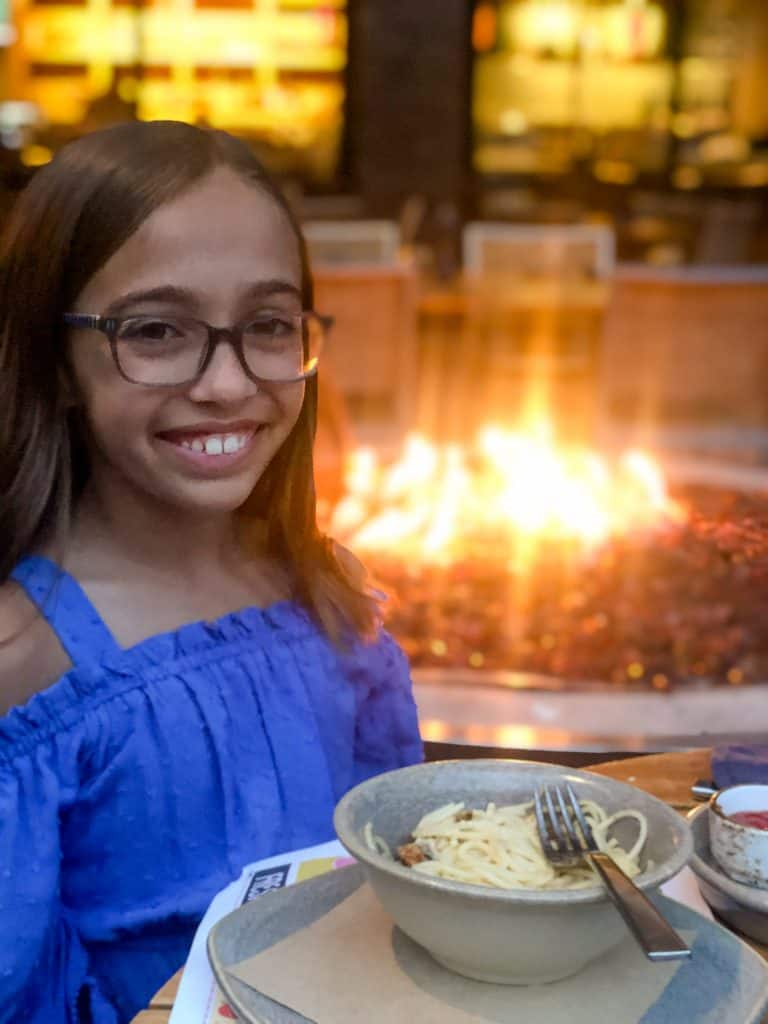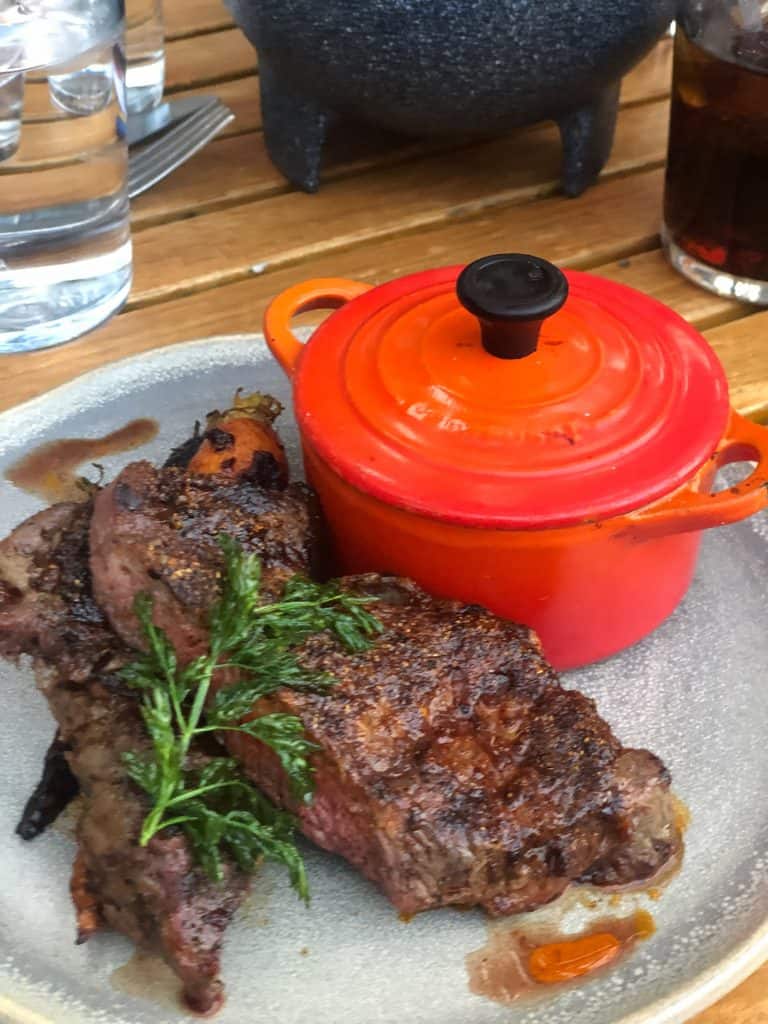 Spa Avenia
While the kids got to partake in some rock climbing, giant jenga, giant chess, and ping pong… I got to use the wonderful spa!
I've had spa treatments befor, but at Spa Avenia I was treated like a queen. Plush bathrobes and slippers are given to you right when you walk in. They even have this great relaxing room you stay in while waiting for your service.
I swear my massage was more like a massage and a chiropractor visit in one. It was the best I've felt in a really long time. Just walking through this place was absolutely amazing.
They even have these relaxing pools you can stay in during your visit. I think I could have spent all day just in the spa.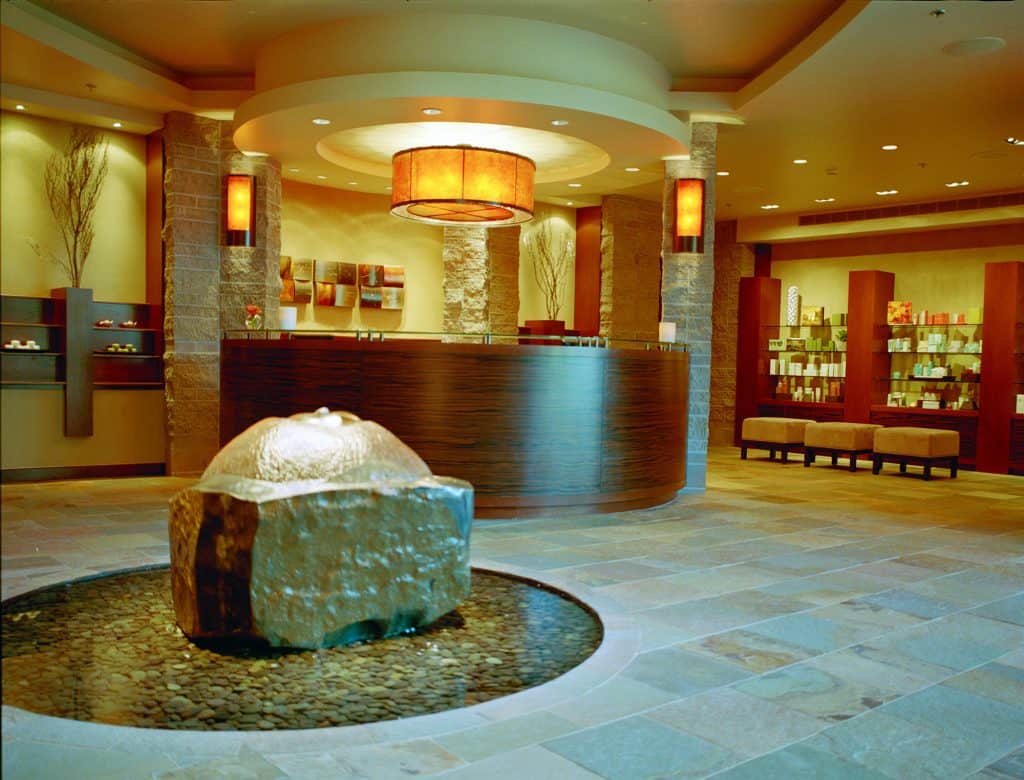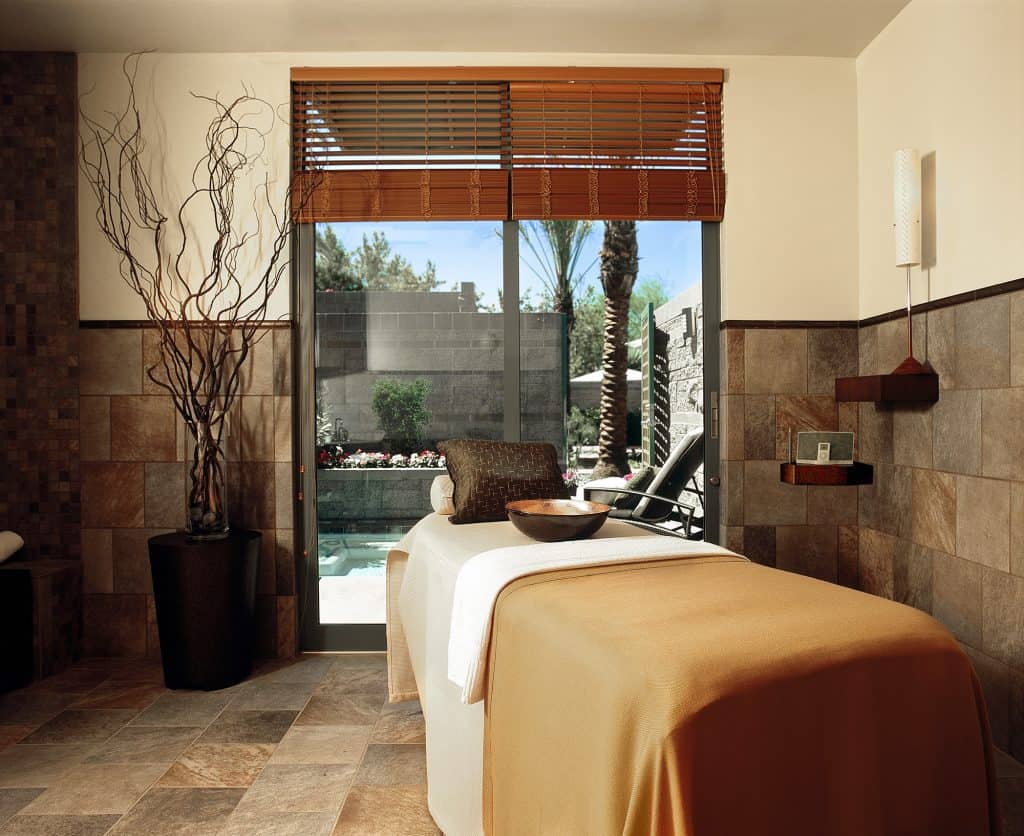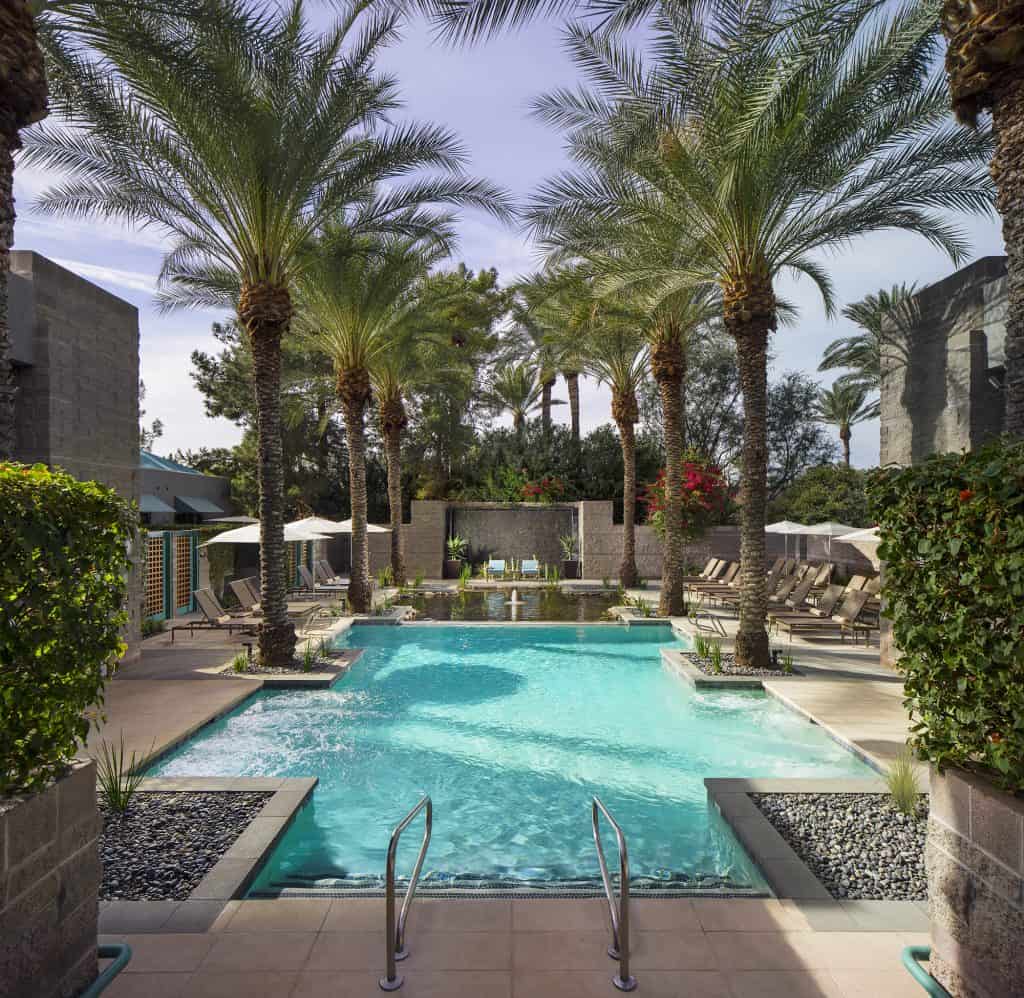 Gondola Rides
Another thing that the Hyatt Regency Scottsdale has that no other resort in Arizona has are Gondola rides! Yes, you heard me right. They have Gondola rides.
We enjoyed the sweetest boat ride after dinner and were serenaded in Italian. I was worried the kids would thinkit was boring, but they really enjoyed it and wanted to go again.
It would be an amazingly romantic thing to do if you can get away with just your partner!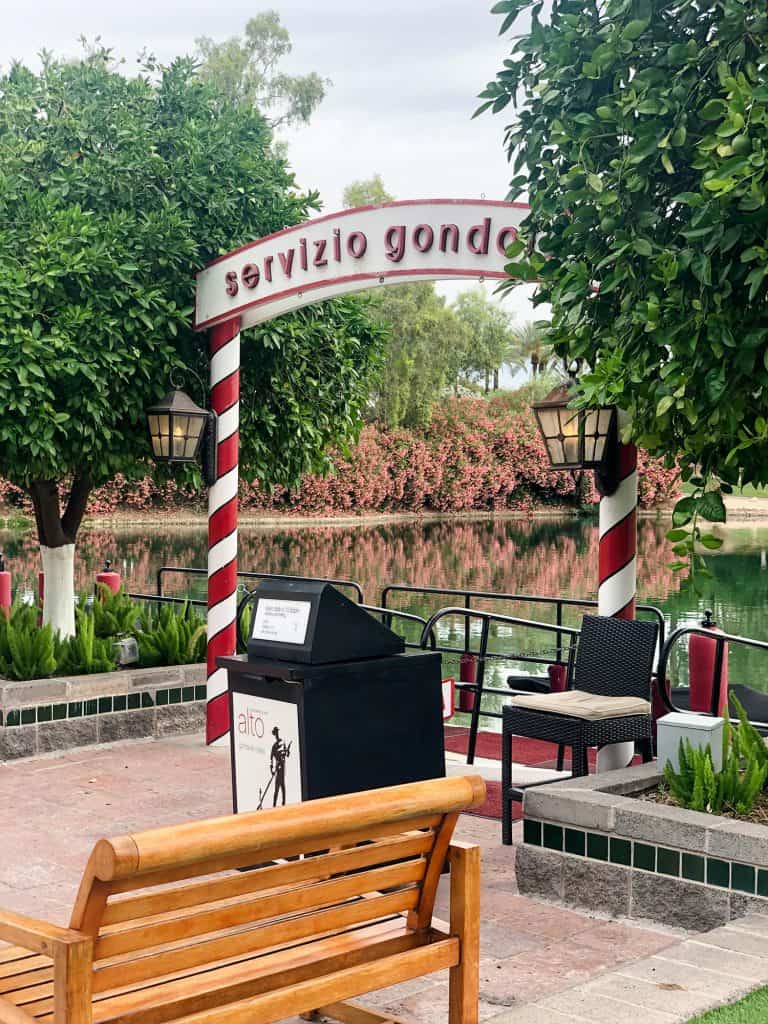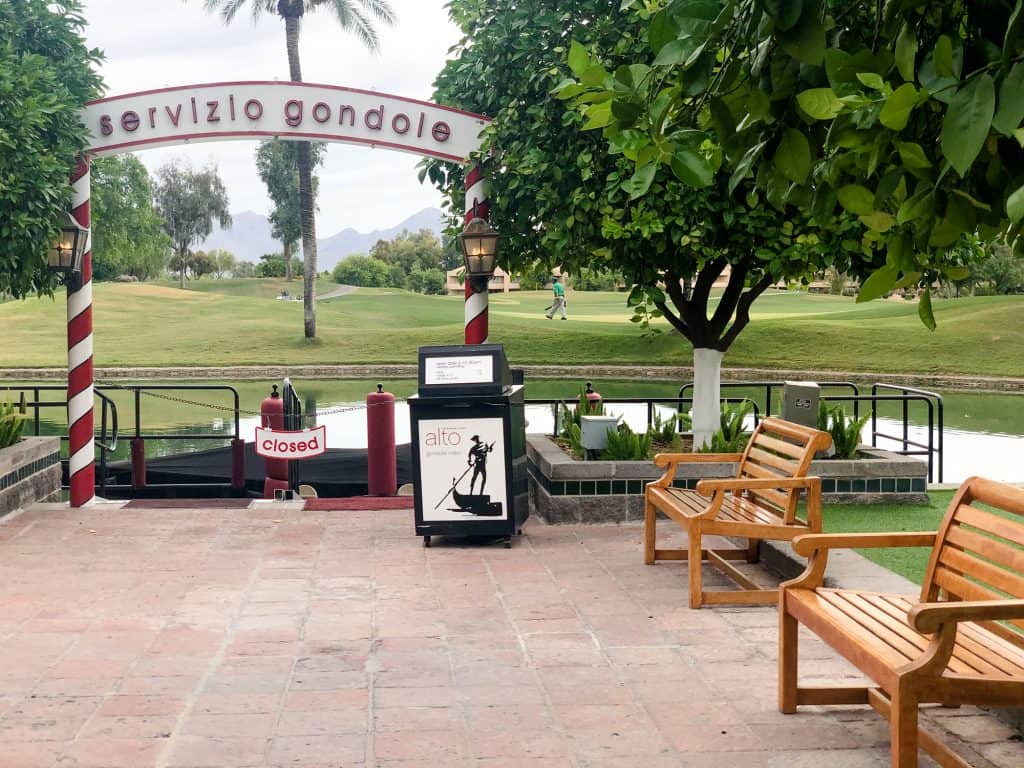 Are you ready for a staycation?
The kids are not the only ones who need to relax once in a while. Mama needs a break too! So stop spending weeks preparing for a birthday party, and an entire day before and after for clean up… and get yourselves to the Hyatt Regency Scottsdale to enjoy some family time!