These 20 DIY tutorials of How to Make Paper Flowers have easy step-by-step directions so you can make the most stunning and unique paper flowers at home!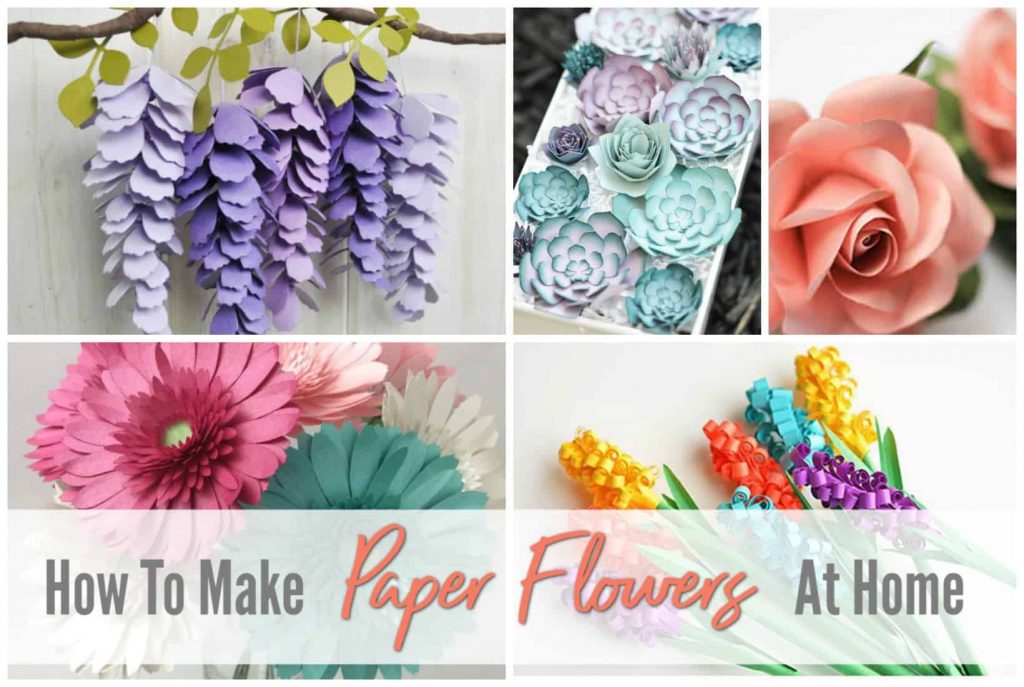 20 Paper Flower Tutorials
I've gathered 20 of my most favorite tutorials on how to make paper flowers at home.
I remember making paper flowers when I was younger. Back then, the tutorial was pretty simple. You fold and cut a bunch of tissue paper, add a pipe cleaner for a stem and Voila! You have a paper flower.
But the tutorials have gotten a lot more complex and a LOT more exciting.
Now, you can make any kind of flower out of paper that you want. From sunflowers to roses and even dahlias.
So if you are looking for a good crafting challenge, you will LOVE these paper flower tutorials that you can do at home. Each tutorial has step-by-step instructions so you can do these with kids too!
Some of them are so ridiculously gorgeous, they would make great decorations from weddings, wedding showers, baby showers, even little girls birthday parties.
Get creative and have fun!
But first, you'll need some supplies to make these DIY paper flowers:
Easy DIY Paper Flowers
Paper Hanging Wisteria
I absolutely love this tutorial because it's so creative and unique, and not at all what you would think when you go to make paper flowers. You can make a bunch and hang them for a wedding or a baby shower too.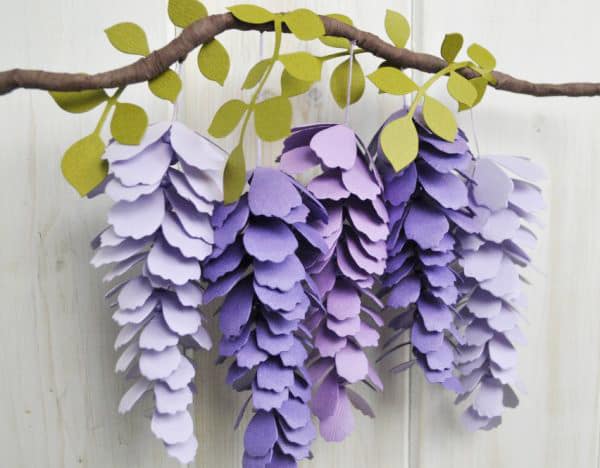 Paper Hanging Wisteria Tutorial Courtesy of Sizzix
Paper Gerbera Daisy
Gerbera Daisies used to be my favorite flowers because of how bright and colorful they are! You can literally use any color card stock to make these and it will always look great and colorful.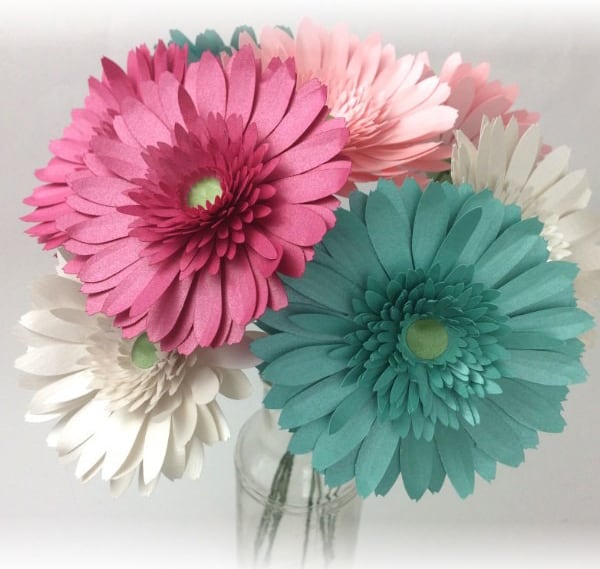 Paper Gerbera Daisy Tutorial Courtesy of Sunflower Summer Co
Giant Peony Flowers
These giant peony flowers are big and would make a great all decoration. I can see them being used for a party, or even to decorate a little girls room.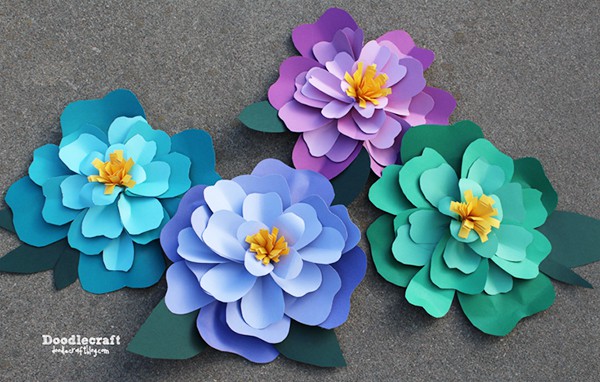 Giant Peony Paper Flower Tutorial Courtesy of Doodlecraft Blog
Pretty Crepe Paper Tulips
The crepe paper gives these tulips some really great texture. You can also use regular colored paper for these, but the crepe paper really gives it an extra layer of uniqueness. These would also make a great teacher's gift!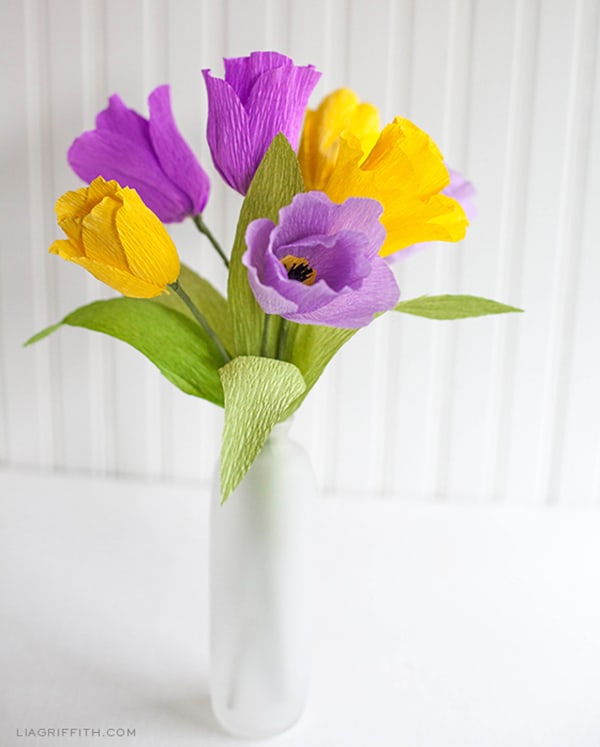 Pretty Crepe Paper Tulip Tutorial Courtesy of Lia Griffith
Paper Flower Poinsettia
You can make these paper flower poinsettias around Christmas time and decorate your house with them. Or how cute would these look attached to gifts? There are so many things you can do with this easy to make flower.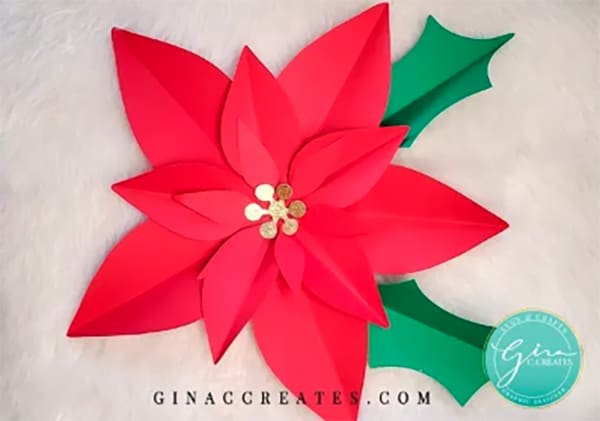 Paper Flower Poinsettia Tutorial Courtesy of Gina Creates
DIY Paper Succulents
Succulents are big right now! Everyone has a house full of them! And just like succulents, it's really hard to kill a paper flower! haha! But seriously, look at how great these look with the color variation.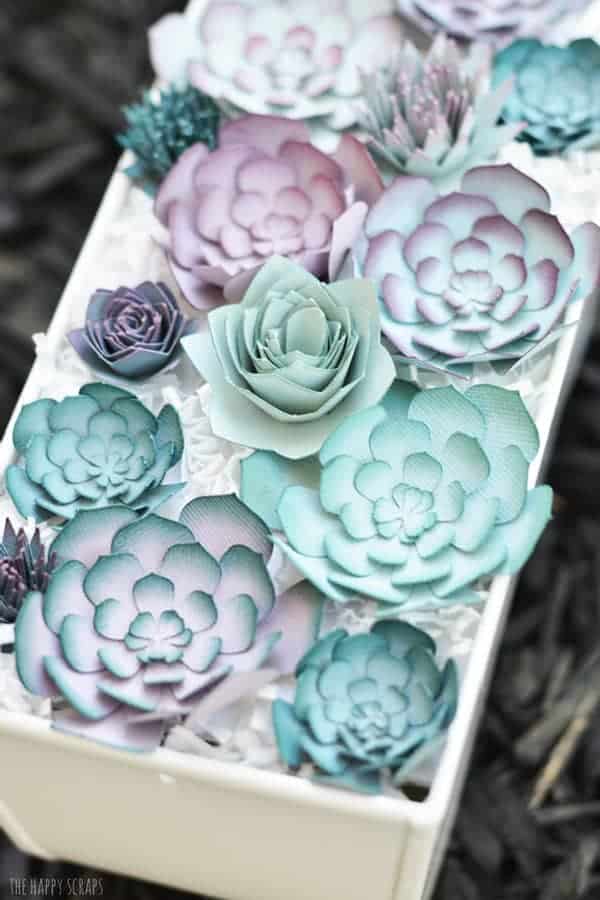 Paper Succulent Tutorial Courtesy of The Happy Scraps
Paper Hydrangea Wreath
Hydrangeas are a very popular flower to have as home decor right now. I love that with this tutorial, you can make them individually to put in a vase, or make them into a wreath as you see below.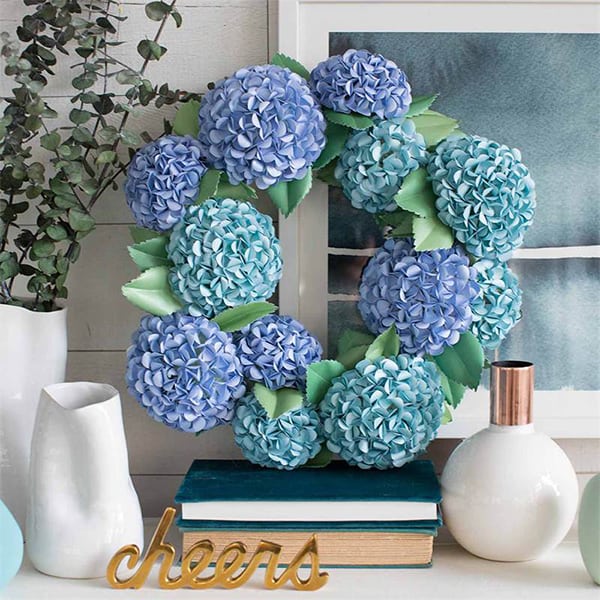 Paper Hydrangea Wreath Courtesy of Fiskars
Paper Hyacinth Flowers
If you are looking for some fun and colorful paper flowers, then the paper hyacinth is the perfect DIY flower for you! The little curls make them especially unique but wait until you see how easy these are to make!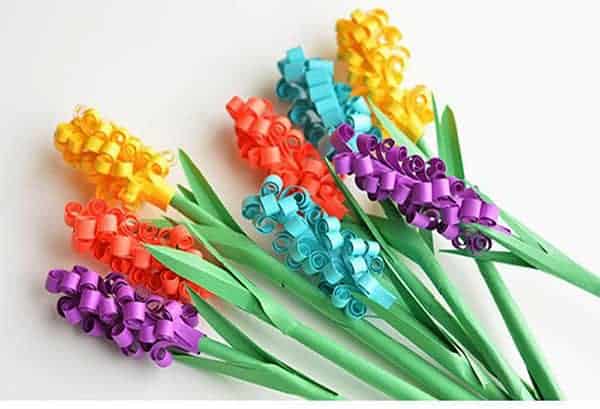 Paper Hyacinth flowers Courtesy of How To Crafts
Paper Sunflowers
Sunflowers are currently my daughters favorite flower and these flowers were easy to make together and hang in her room. We have them attached to the border of a bulletin board, but you can really put them anywhere.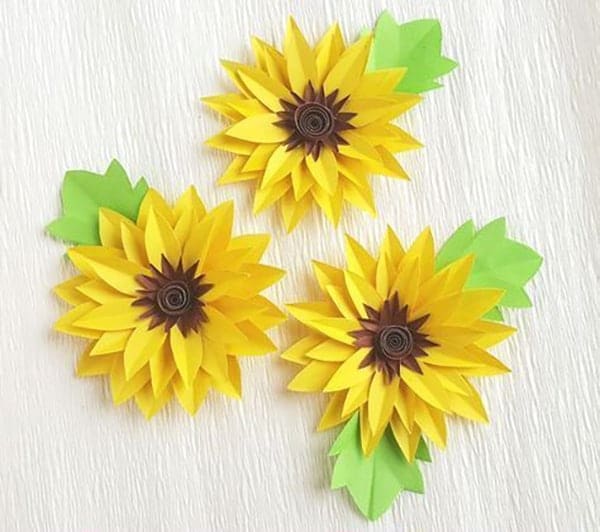 Paper Sunflowers Tutorial Courtesy of Daily Dish
Giant Paper Dahlia
I LOVE the cutout ferns that go with this tutorial to really make this look like a big colorful display of flowers.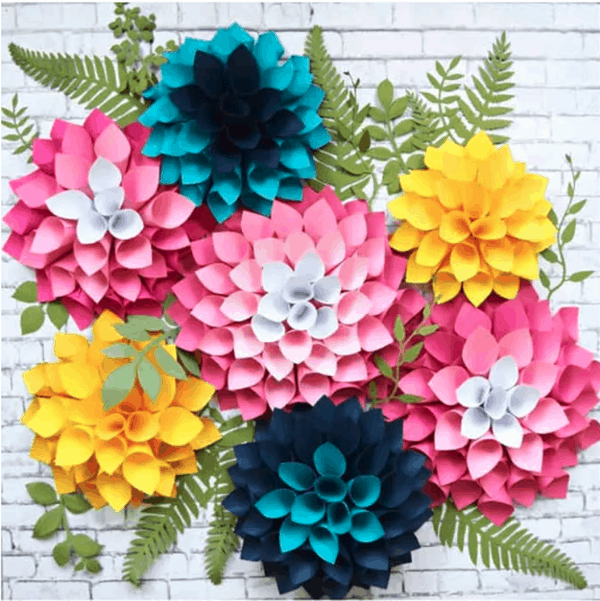 Giant Paper Dahlia Tutorial Courtesy of Burlaps and Blue
DIY Paper Roses
Giant Spiral Paper Rose
Roses are a favorite and really popular at weddings and baby showers. Spoil your friend or family member with some of these really easy DIY paper roses you can decorate their party in.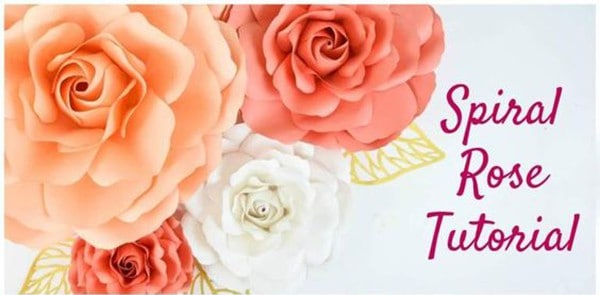 Giant Spiral Paper Rose Tutorial Courtesy of Abbi Kirsten Collections
Giant Paper Rose
If you really want to make a statement, go for this GIANT paper rose tutorial! Kids will get a kick out of this one.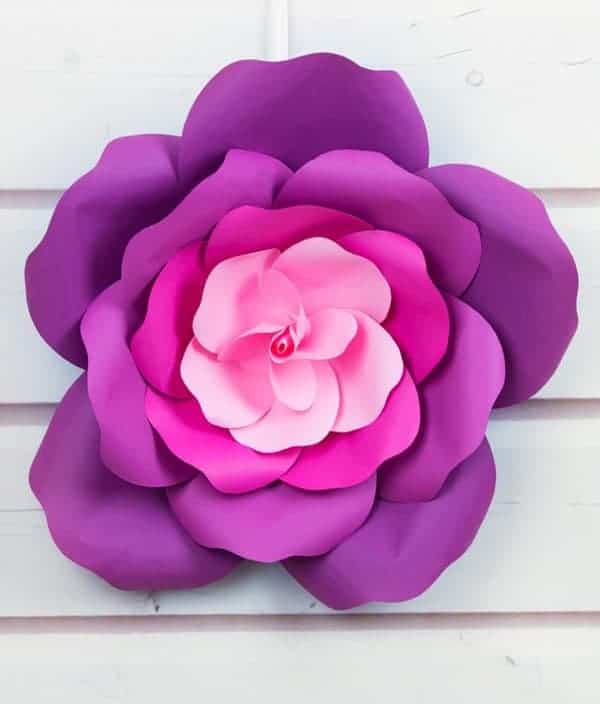 Giant Paper Rose Tutorial Courtesy of Country Hill Cottage
Giant Paper Alora Garden Rose
Looking for a plusher rose tutorial? This one will really give you some roses that have bloomed and can work for any color or any size too.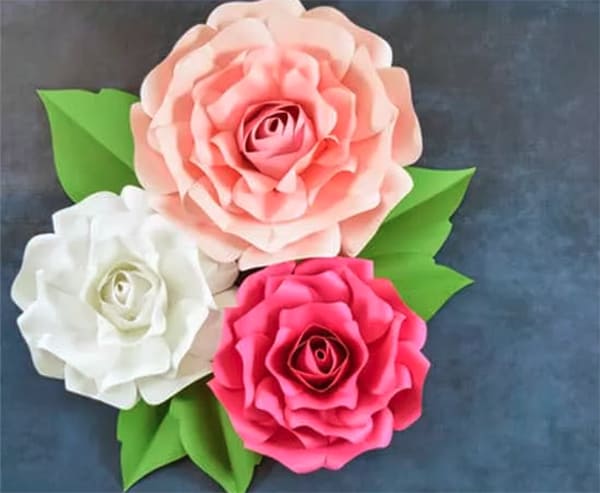 Giant Paper Alora Garden Rose Tutorial Courtesy of Burlap and Blue
DIY Water Color Paper Rose
If you want a more romantic, whimsical rose then this is the tutorial for you! Just look at how romantic these paper roses look! Perfect for any occasion.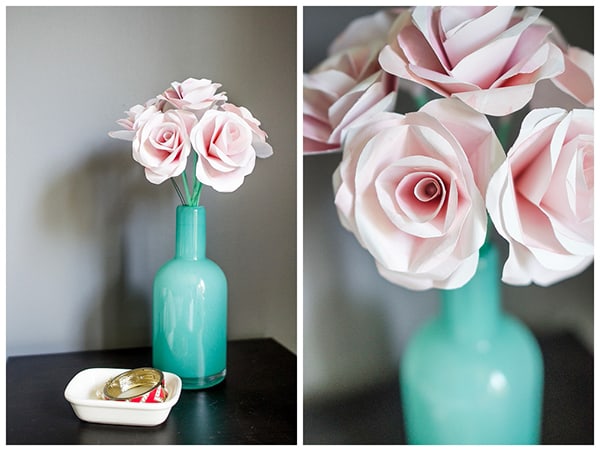 DIY Water Color Paper Rose Tutorial Courtesy of Capitol Romance
Easy Paper Rose
For a good paper rose tutorial that kids can make, then you need this one! These are quick and simple and have really easy to follow along with instructions that your kids will love making.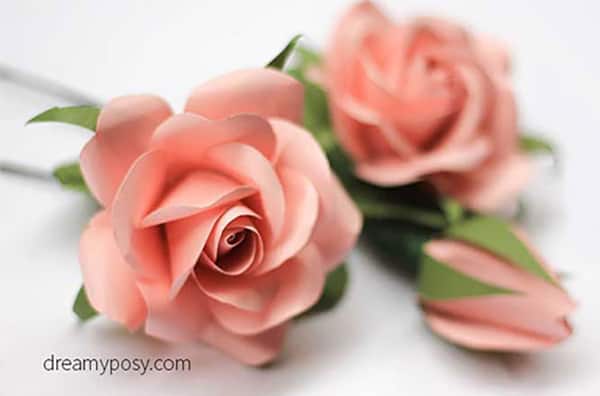 Easy Paper Rose Tutorial Courtesy of Dreamy Posy
DIY Tissue Paper Flowers
Easy DIY Tissue Paper Flowers
I LOVED making tissue paper flowers when I grew up. The nice thing about tissue paper is that you can wrinkle it and crinkle it and it just makes the flower look better. Perfect for kids who tend to be rough with their paper or make a lot of mistakes.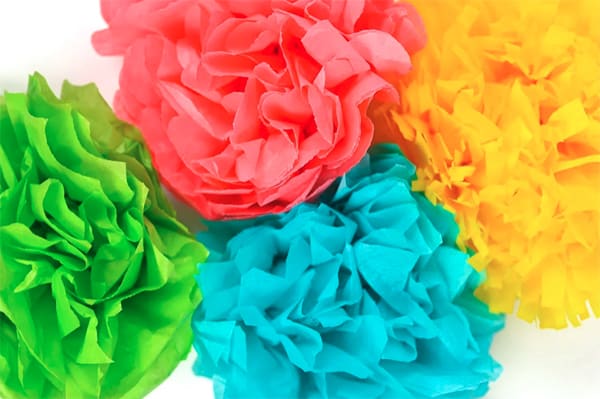 Easy DIY Tissue Paper Flower Tutorial Courtesy of Hey Let's Make Things
Peony Coffee Filter Flowers Tutorial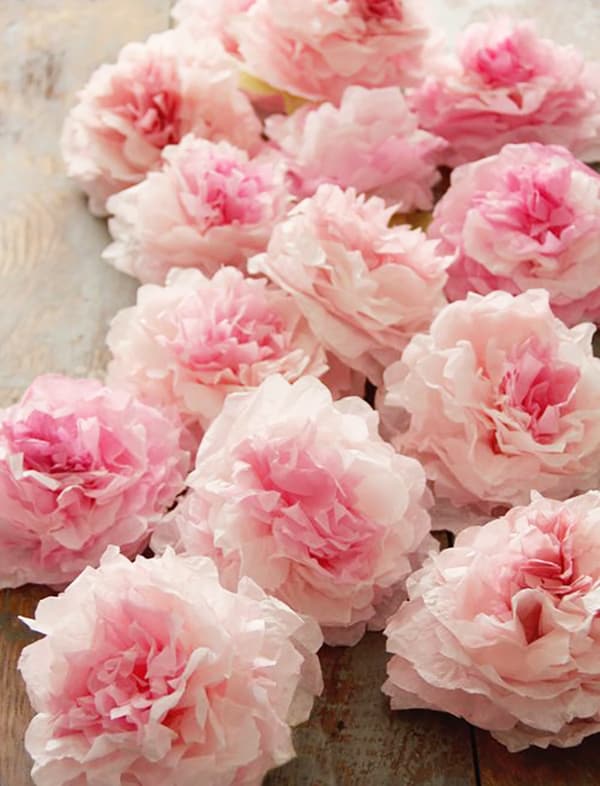 Peony Coffee Filter Flowers Tutorial Courtesy of Pretty Petals
Cherry Blossom Tissue Flowers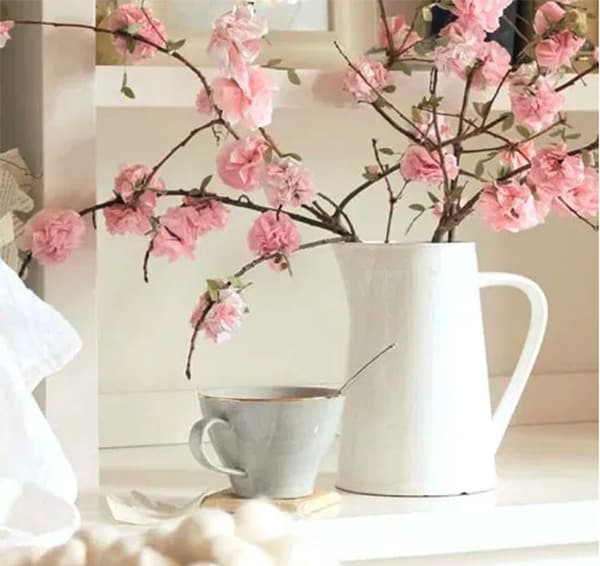 Cherry Blossom Tissue Paper Flower Tutorial Courtesy of Happy Happy Nester
White Tissue Paper Flowers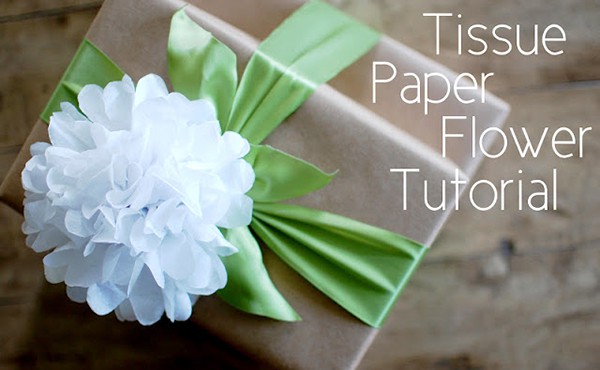 White Tissue Paper Flower Tutorial Courtesy of 33 Shades of Green
Giant Tissue Paper Flowers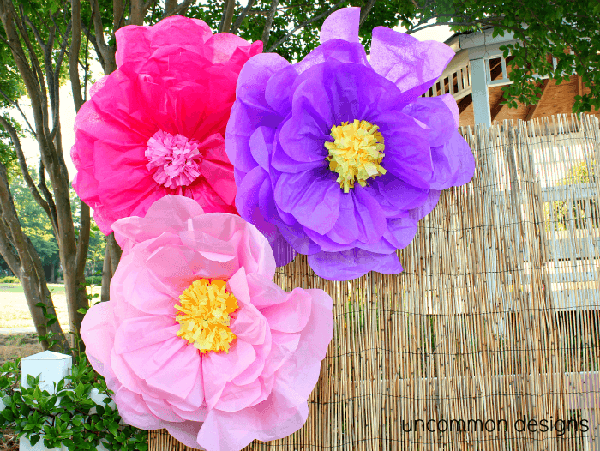 Giant Tissue Paper flower Tutorial Courtesy of Uncommon Designs


You Might Also Be Interested In: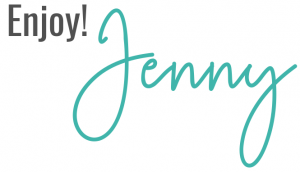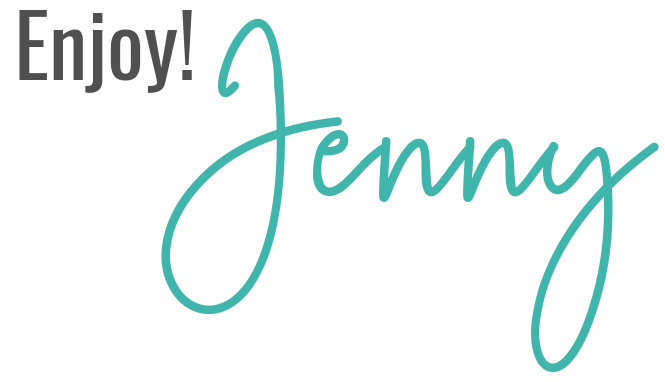 Pin For Later!