If your creative juices need to flow, try some of these tutorials for painting flower pots. They are easy enough for kids to do but fun enough for most adults too!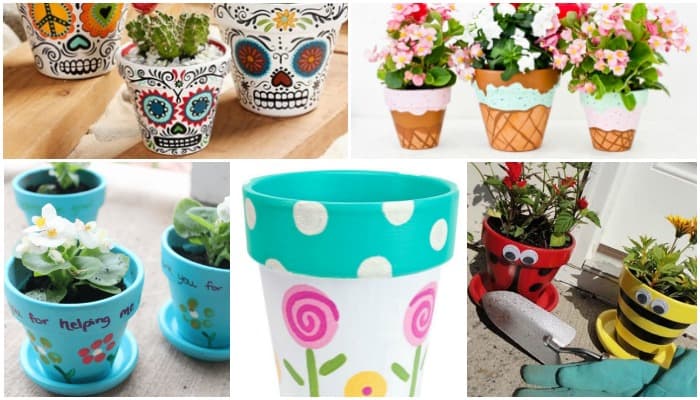 Have you tried painting flower pots?
Just recently, finding new ways to paint clay pots has become a hobby of mine!
Last year during Christmas, I came across a tutorial for painting clay pots like reindeer. My daughter and I ended up creating several of them and gave them as Christmas gifts to her teachers. They were a hit! We filled them with candy and treats and I discovered then that clay pots make a GREAT craft for kids.
Clay pots are easy to find at any hardware store, gardening store, or even major retail chains. Not only that but they are SUPER CHEAP! Like you can buy a dozen clay pots and a bunch of paint and it won't break the bank. Clay pots are also durable and make an easy painting surface for kids.
There was just no way I was going to stop at the Reindeer (see that post HERE). I had as much fun painting those pots as my daughter did! So it became my mission to find other fun ways to paint clay pots. Really, the list of ideas can be endless. But here is a list of some of my absolute favorites.
Fun Ways to Paint Flower Pots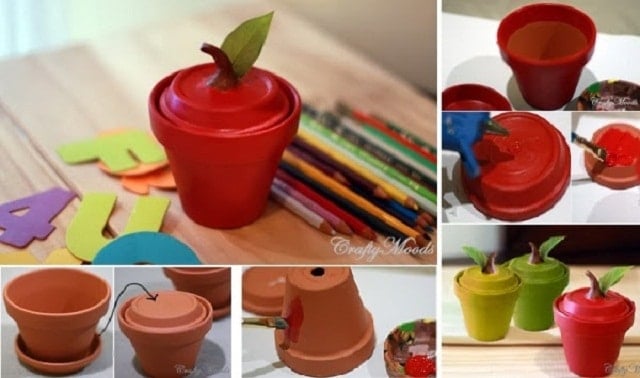 Apple Clay Pot Tutorial. I'm always on a lookout for fun and creative teacher gifts. They often say they are tired of getting the same thing over and over again. But this fun pot is not only easy for your kids to make, but it can also be really practical too. Fill it with candy to give as a teacher appreciation gift and then it can be used to keep supplies for the rest of the year. Teachers will get a kick out of the fun apple design. Also, personalize it with the year and the name of the kids in the class too!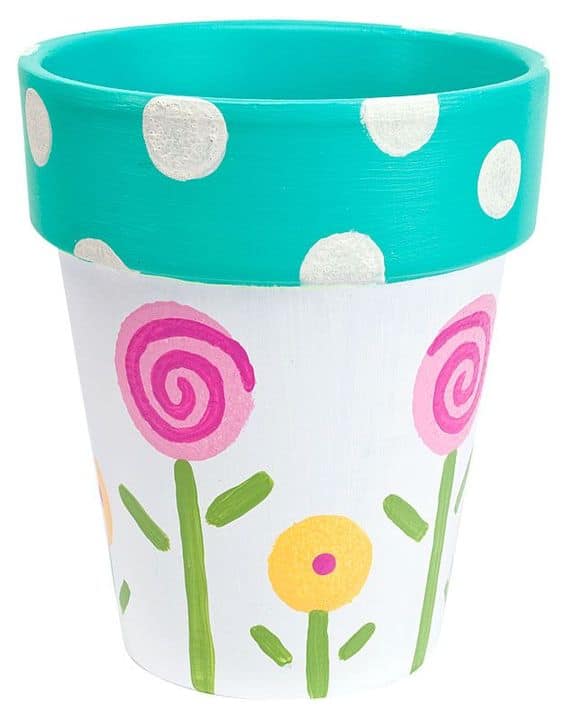 Flower Painted Clay Pot. What says flowers better then a brightly colored clay pot painted… well, with flowers! Use any colors you want and let the kids get creative. This is where every pot can be unique and yet still make a pretty set to put outdoors. Paint different flowers or make a matching garden. Either way, it's a fun project for anyone in the family.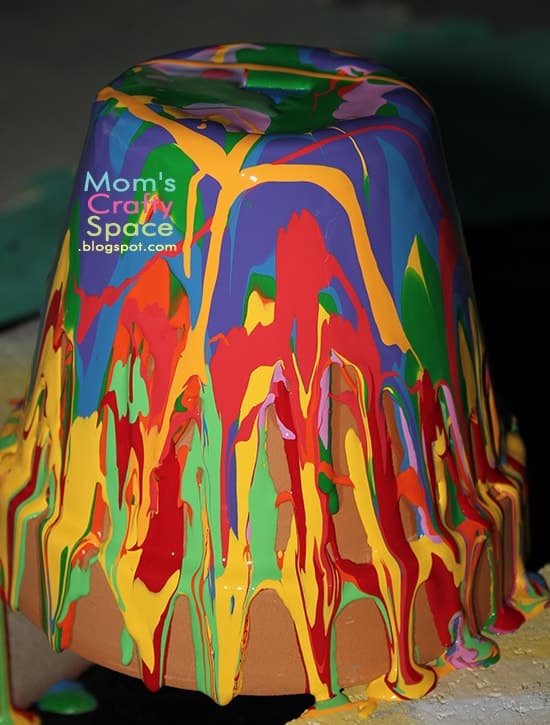 Pour Painted Pots. Kids love messes. There is just something about a big ole mess that makes a kid's day complete! This fun way of painting pots not only satisfies their craving for a giant mess but ends up looking really cute in the end. Use different colors for different occasions. Red and green for Christmas or red white and blue for Fourth of July as examples.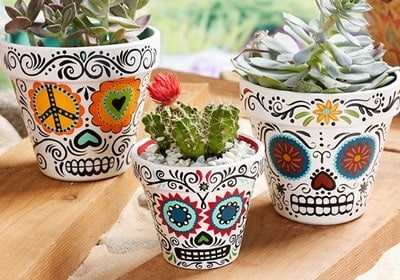 Daisy Eyes Sugar Skulls. In the last few years, sugar skulls have become quite popular and not just at Halloween time. They make excellent home decor both inside and out. The details may make this a little more doable for adults but let kids have a try as well.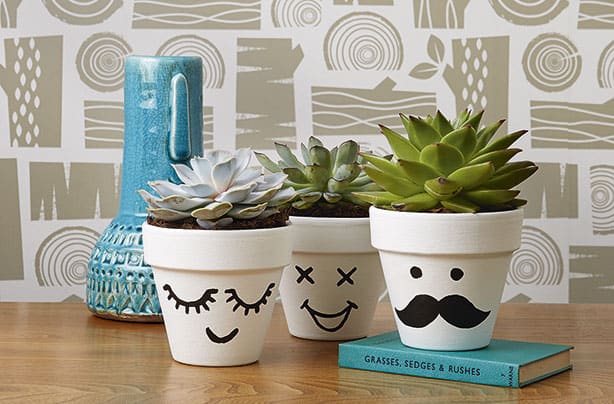 Funny Face Flower Pots. SUPER easy for anyone to do whether it be kids or adults… or even males haha! Let the whole family get involved and see who can make the funniest faces or faces to resemble fellow family members. Have a whole herd of family pots for your yard decor!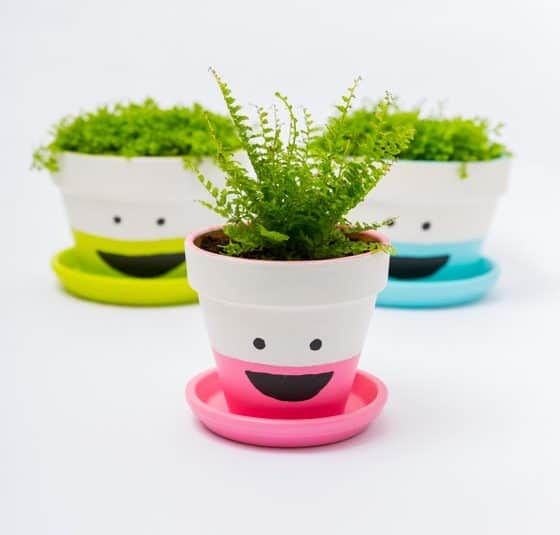 Painted Faces Clay Pots. In keeping with the funny faces theme (because who doesn't like a funny face?) this easily painted pot is perfect for little kids. Let them pick the colors and help them paint the base. Then, turn the pot over to them and let them design any face they want!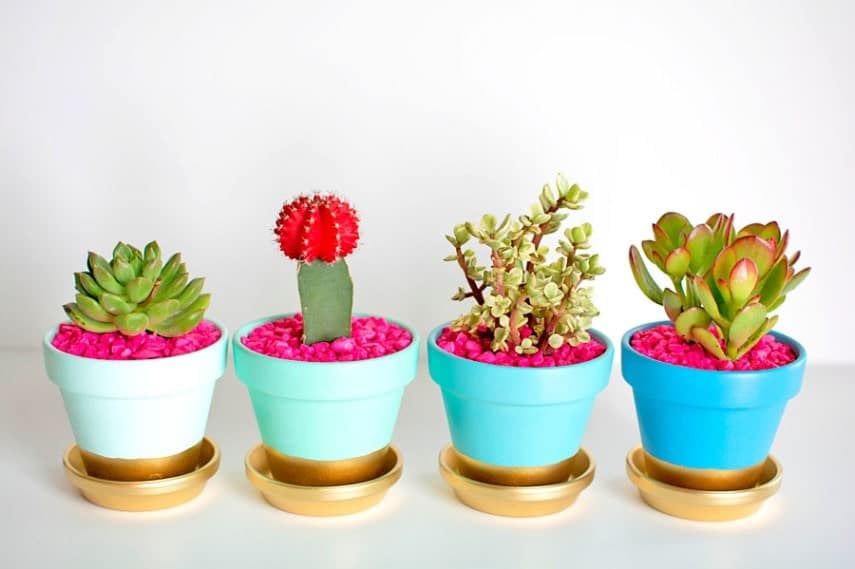 Gold Dipped Painted Pots. Kids may not be as into this one as the others. But I wanted to include it because I love the touch of gold. Gold is becoming a staple in home decor and its only about time it reaches to the garden as well. These gold-accented pots add that perfect little hint while incorporating any other color you like.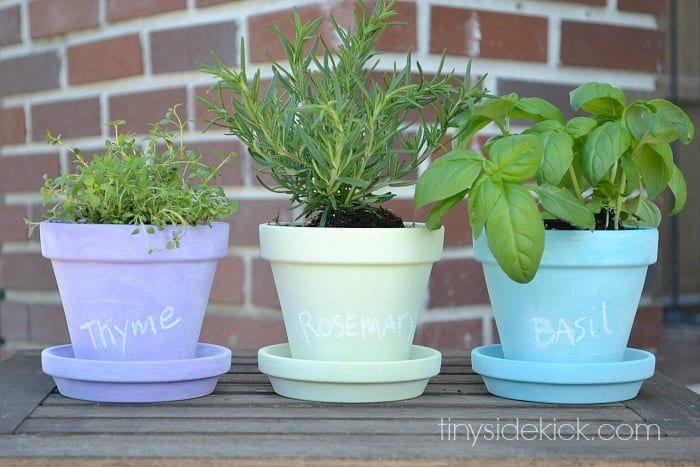 Chalkboard Painted Pots. Chalk paint is fun and not just for kids! Use chalk paint on clay pots to be able to mark the pots with certain flower names or herbs to create an herb garden. But since the kids do love chalk paint so much, let them join in on the fun and they can write their names or fun messages on the pots.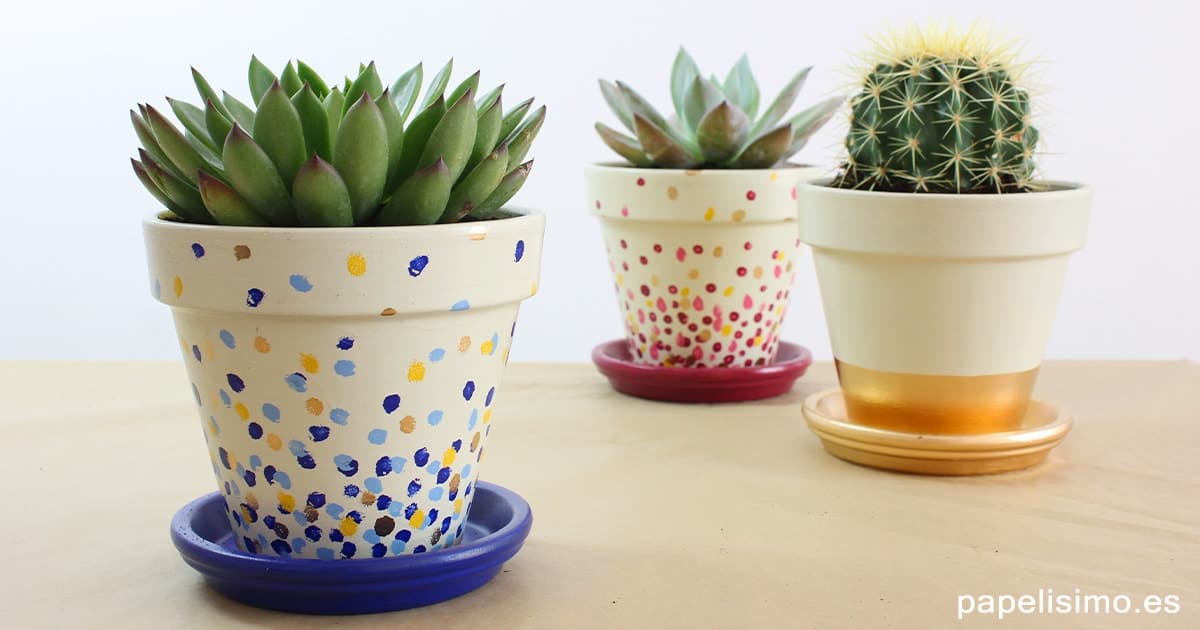 Painted Dots Clay Pots. I love how that rhymes! But anyway, this is a great and easy way to paint clay pots but can really look super cute. And better yet, the dots don't have to be in any certain pattern or consistent. Which means its really hard for anyone to mess up!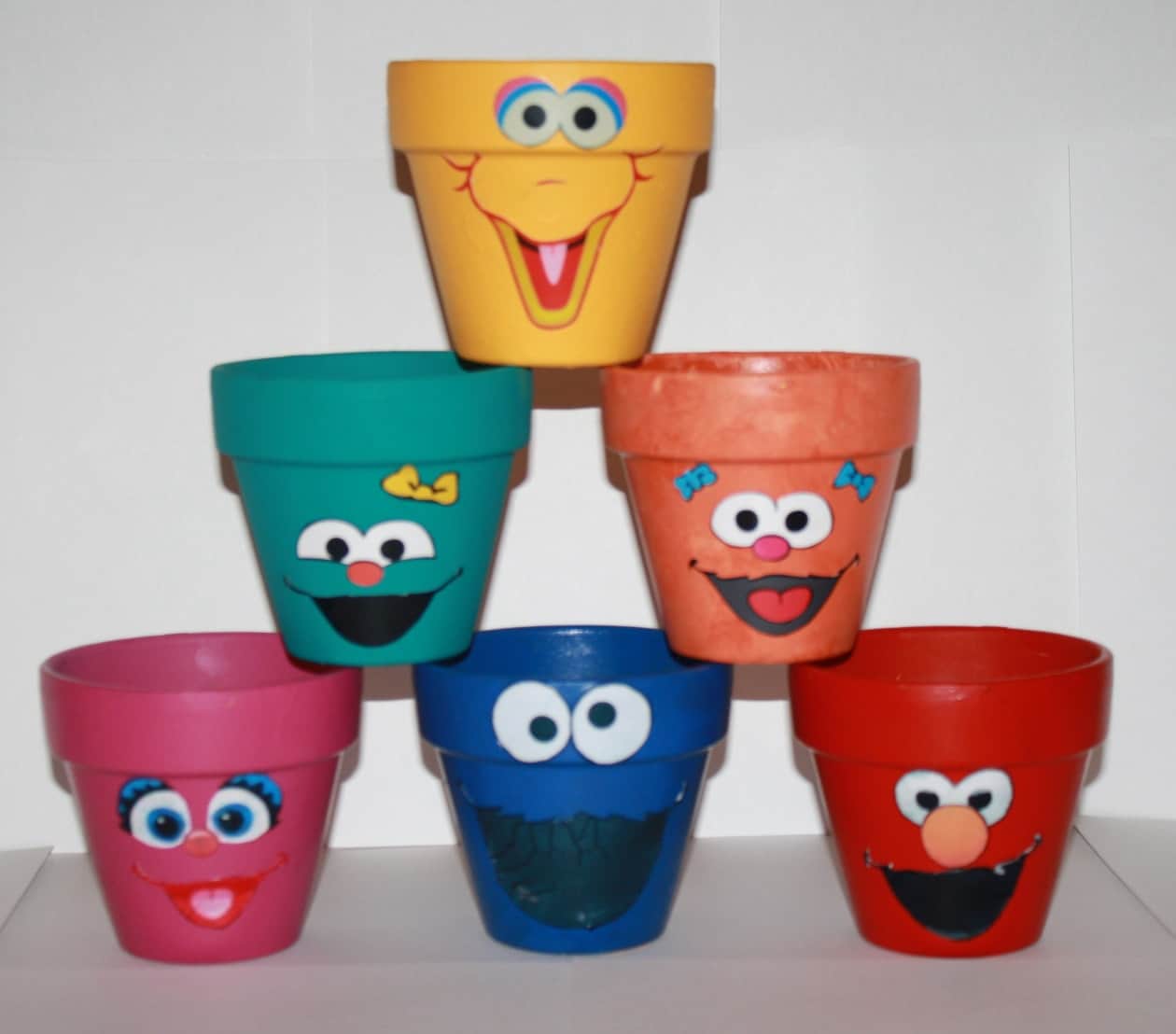 Sesame Street Painted Clay Pots. These… are… ADORABLE!!! I wish I had come across this craft when my daughter was younger. She would have gotten a kick out of every one of them. And I can just picture a fun little garden of colorful flowers with all of these around our yard. They are not only fun for kids, they would make great gifts too!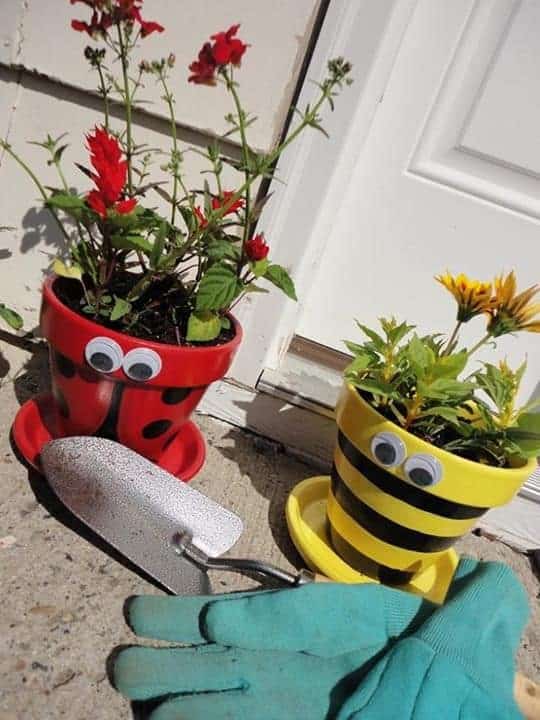 Ladybug and Bumblebee Clay Pots. Gardens are known for bugs, right? So add some cute bugs to your garden with the super cute painted pots! The painting part is actually pretty basic, making it easy for adults and kids alike. But those googly eyes… they just make it absolutely perfect!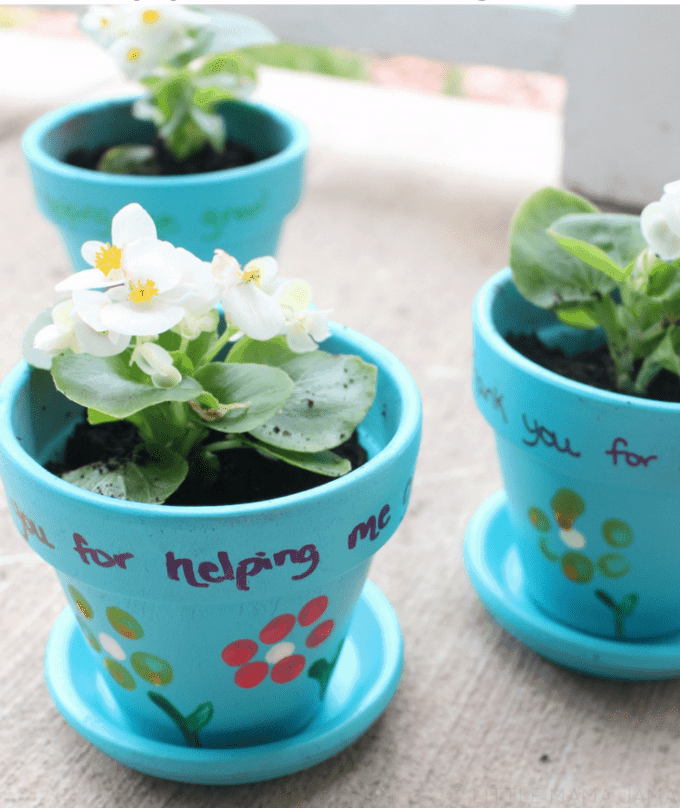 Fingerprint Flower Teacher Appreciation Painted Pot. Another great teacher gift! I love the saying and I love how this adorable pot is personalized. Everyone loves flowers, right? This is a genuinely thoughtful gift that kids can do themselves. Not only that, but any teacher will appreciate the thoughtfulness that went into it.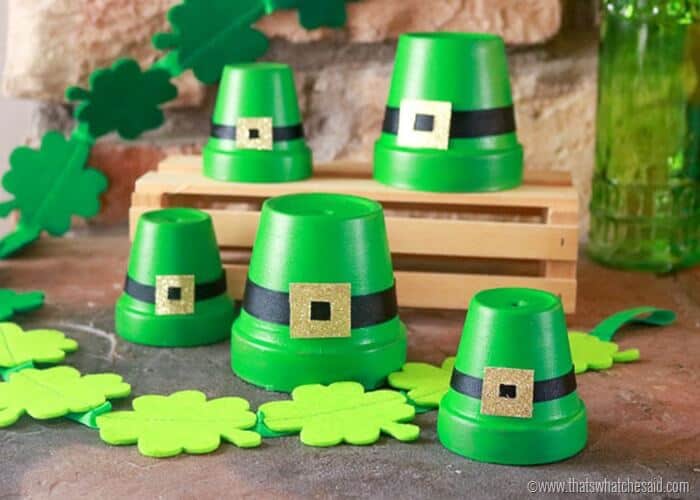 Clay Pot Leprechaun Hats. If you run out of ideas to paint clay pots, start tailoring them to the holidays! These cute hats can be turned upside down to look like actual hats and make really cute decor for St. Patricks day. Turn them back around the right way and plant some flowers in them, they still look like hats!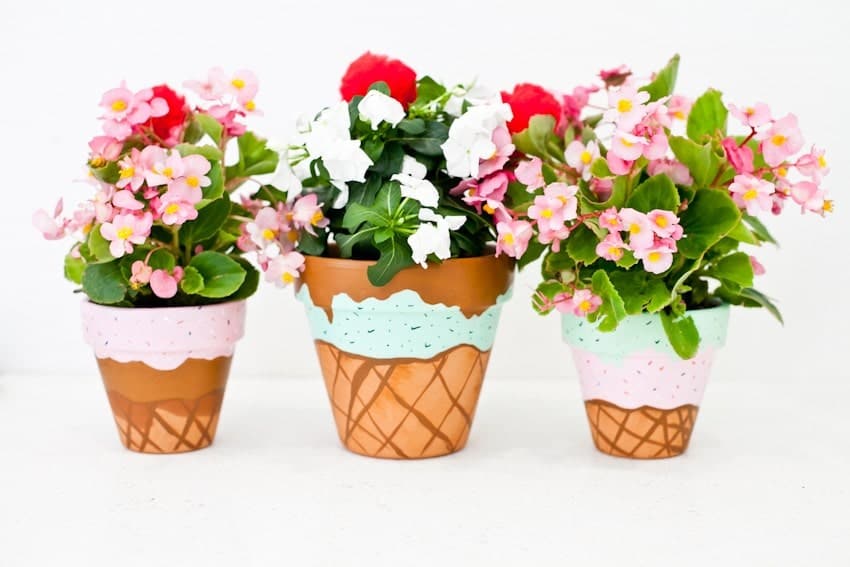 Painted Waffle Cone Ice Cream Flower Pots. How crazy adorable are these flower pots?!?! What better way to usher in the spring than with adding some ice cream to the mix. First, help kids make the waffle part and then let them be creative and paint heir favorite ice cream. Don't forget the toppings! Then, find some cute and colorful flowers to match and you have the cutest garden decor ever.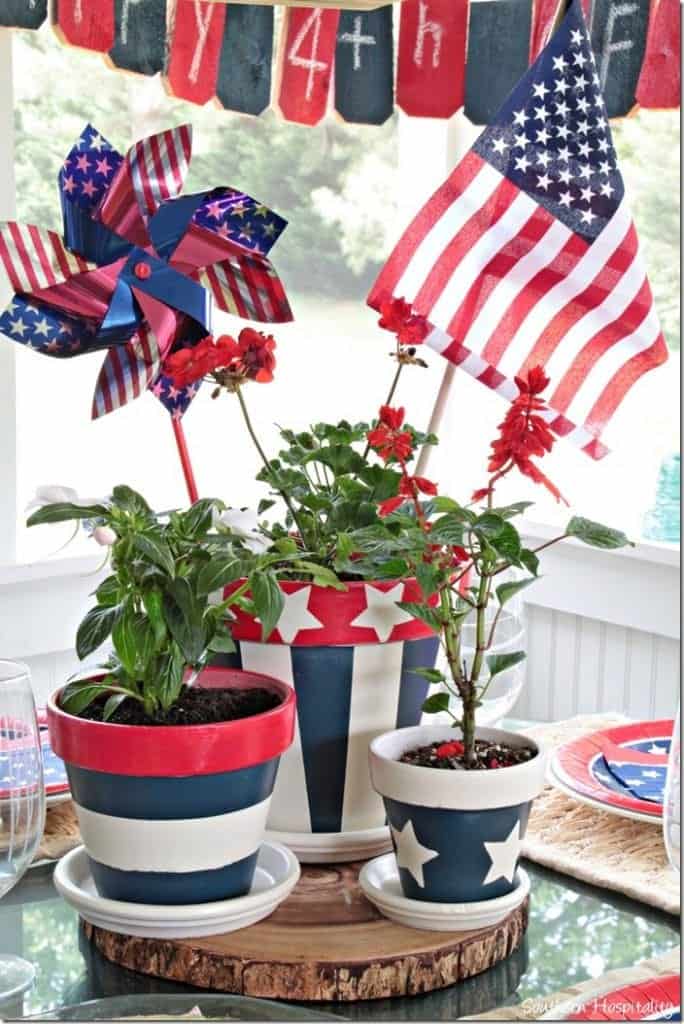 Patriotic Painted Clay Pots. I said I loved Holiday decor and I wasn't joking! Another great example of taking some clay pots and creating a theme is this one for the fourth of July. Use them for flowers are as a centerpiece to put forks and spoons for a picnic. Or even use them as a holder for all the sparklers!
Loved these ideas to paint clay pots?
Don't go before checking out these other great craft and DIY ideas!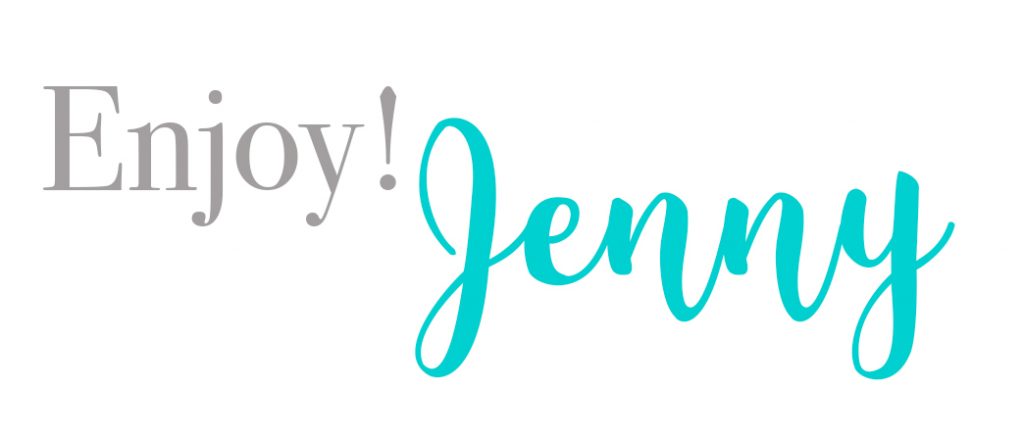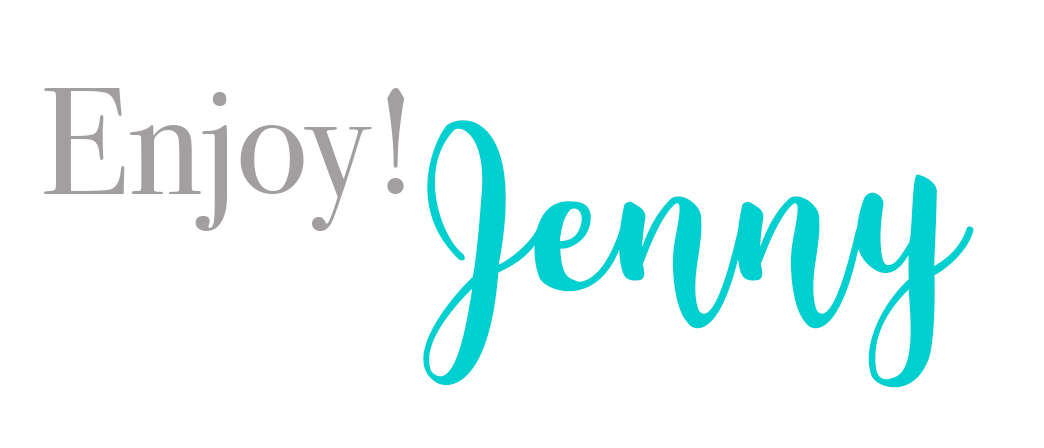 Pin For Later!