Set Your Holiday Table With These 22 Inspiring DIY Christmas Table Setting Ideas and Centerpieces.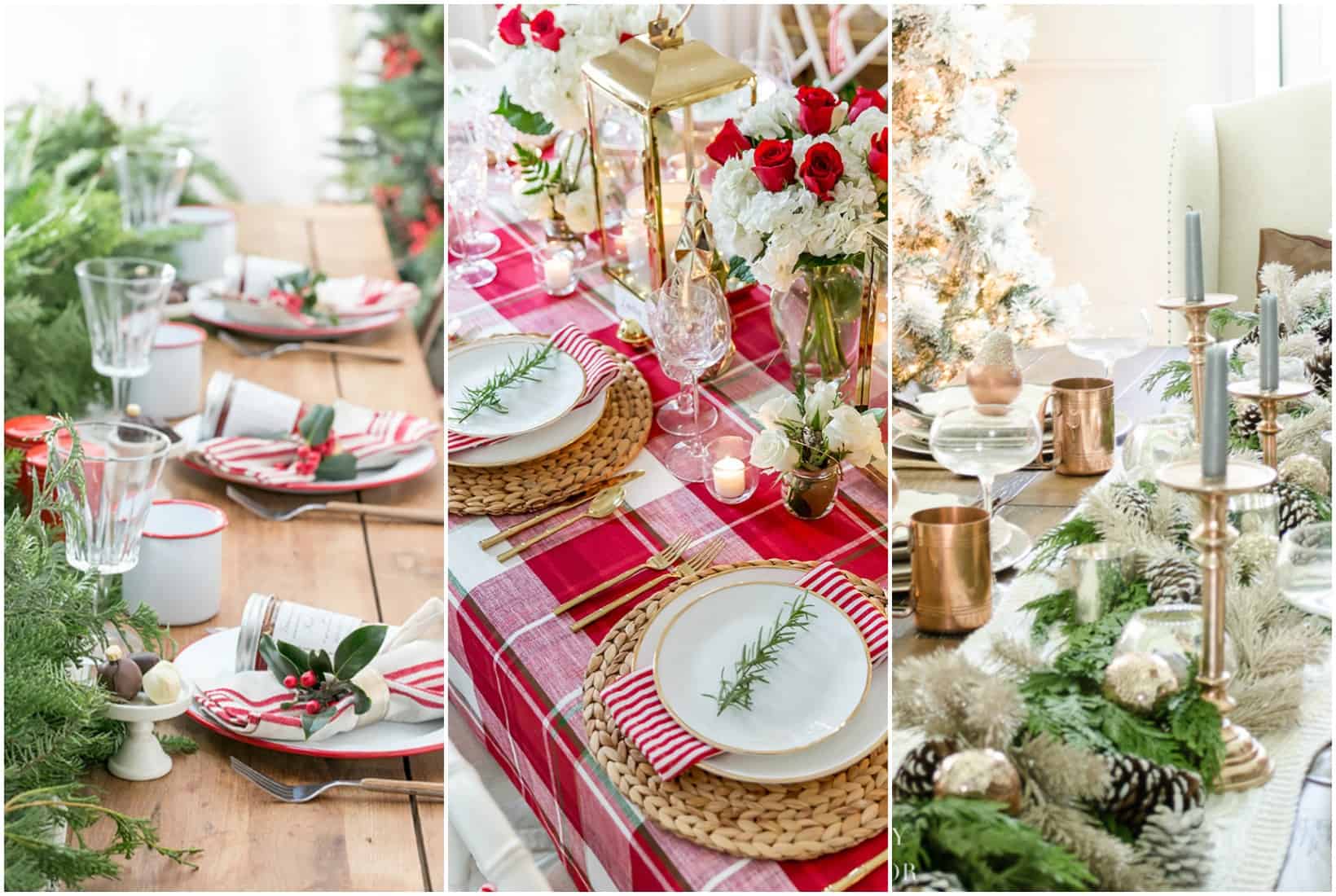 The Best Christmas Table Setting Decorations
These gorgeous Christmas table setting ideas are inspiring DIY home decor! You can easily recreate any of these Holiday tablescapes with your own table this Holiday season.
We are moving into a new home soon with a large dining area and bought a brand new dining table. I haven't been able to host many Holiday get-togethers but this year might be an exception!
Even if I don't have a chance to show off our new home and decor, I want to make the space something really special for my daughter to enjoy. Budget-friendly is always my number 1 priority. But I also am in need of some pretty simple, yet elegant, Christmas table setting ideas.
I put together a list of my favorite Christmas Table Setting Ideas that are fun, simple, elegant, and super creative. And the best part, anyone can recreate these looks. You don't need to be Martha Stewart to do it!
You can use these 22 Holiday tablescape ideas to create a beautiful Christmas table to enjoy with loved ones. (Don't forget where to find these table decor ideas later, Click here to pin this entire post to refer to later!)
22 Simple DIY Christmas Table Decor Ideas
1 – A Neutral Christmas Tablescape with Copper Accents. Copper Moscow Mule glasses add a beautiful touch to any Christmas Table Setting.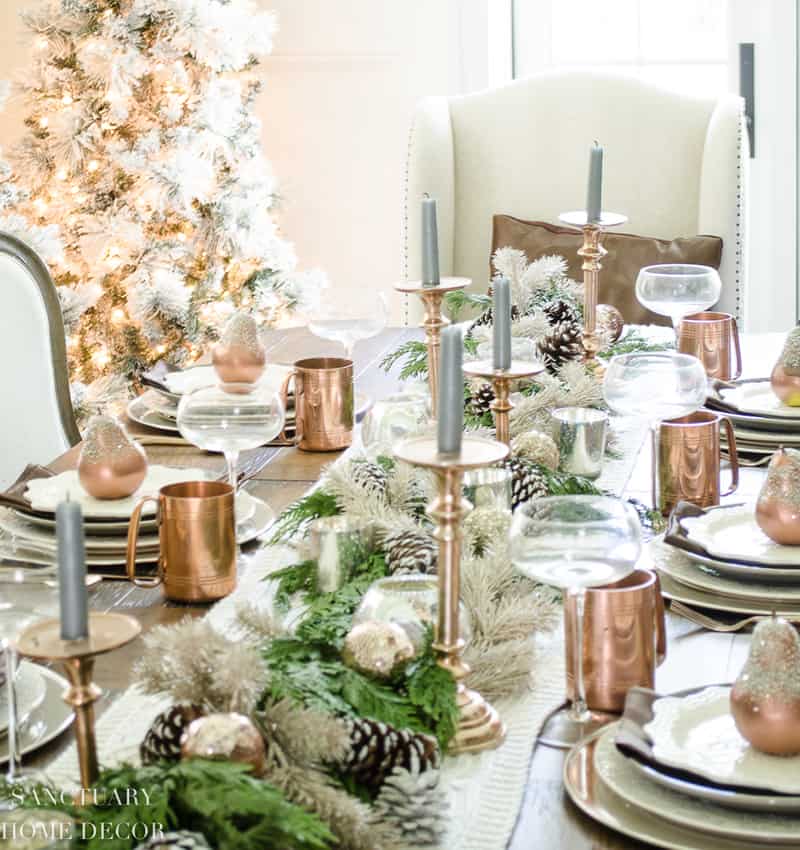 2 – Modern Black and White Tablescape. A few black and white checkered napkins add a touch of modern flair to any holiday tablescape.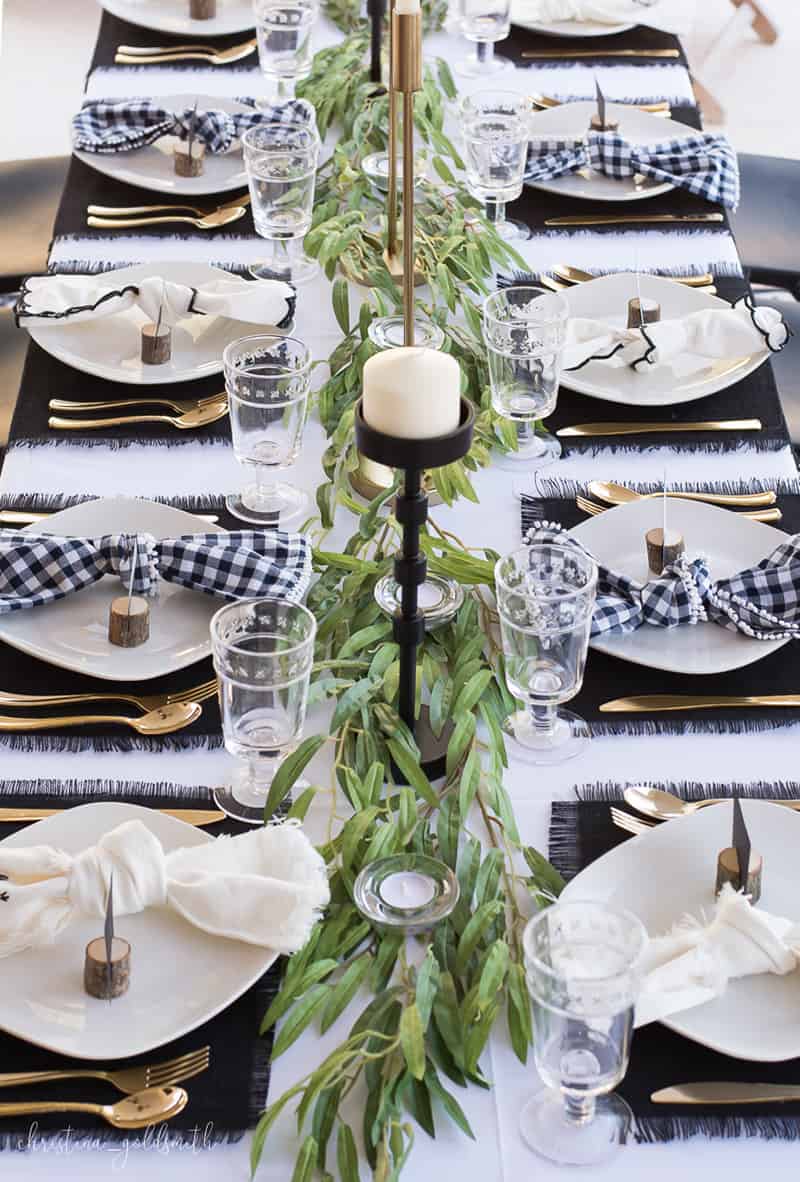 3 – Neutral Holiday Tablescape with Silver and Green. Silver and green turn a Holiday table into a classic and rustic table setting. Grab some silver pinecone ornaments to use for the place settings.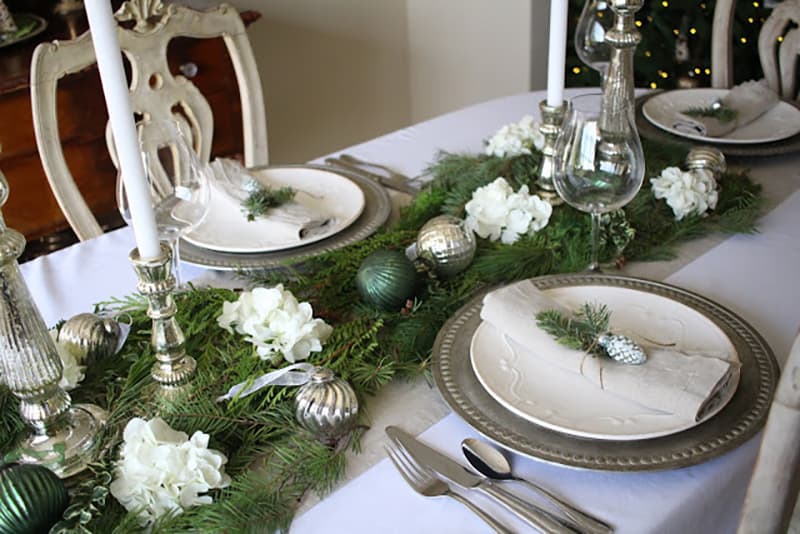 4 – Mason Jar with Cranberries and Candles. A few artificial cranberries and mason jars make for a beautiful and colorful table setting.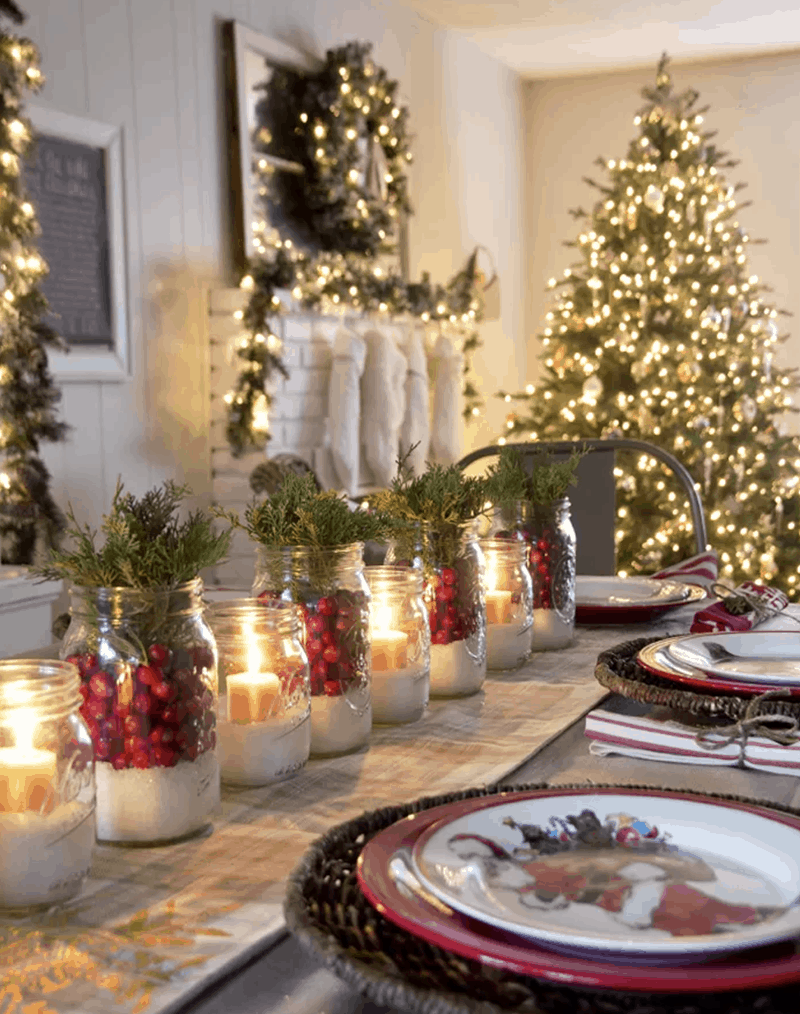 5 – Easy DIY Cranberry and Vase Centerpiece with Wood and Greenery. Create your own DIY centerpiece with a large glass vase and greenery. The wood charger adds a gorgeous rustic charm.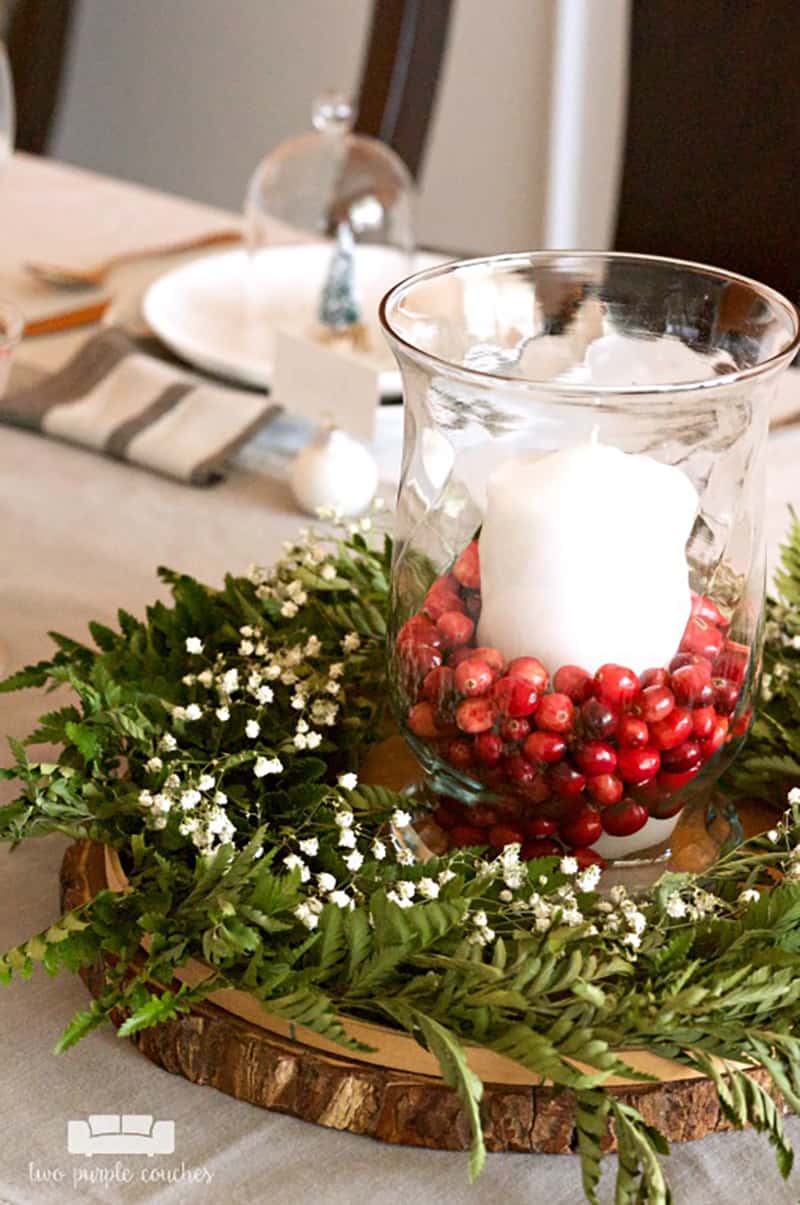 6 – Pine Cone and Greenery DIY Tablescape. A bunch of pinecones add a beautiful touch to any tablescape, and are easy to recreate with any personal touch you want to give it.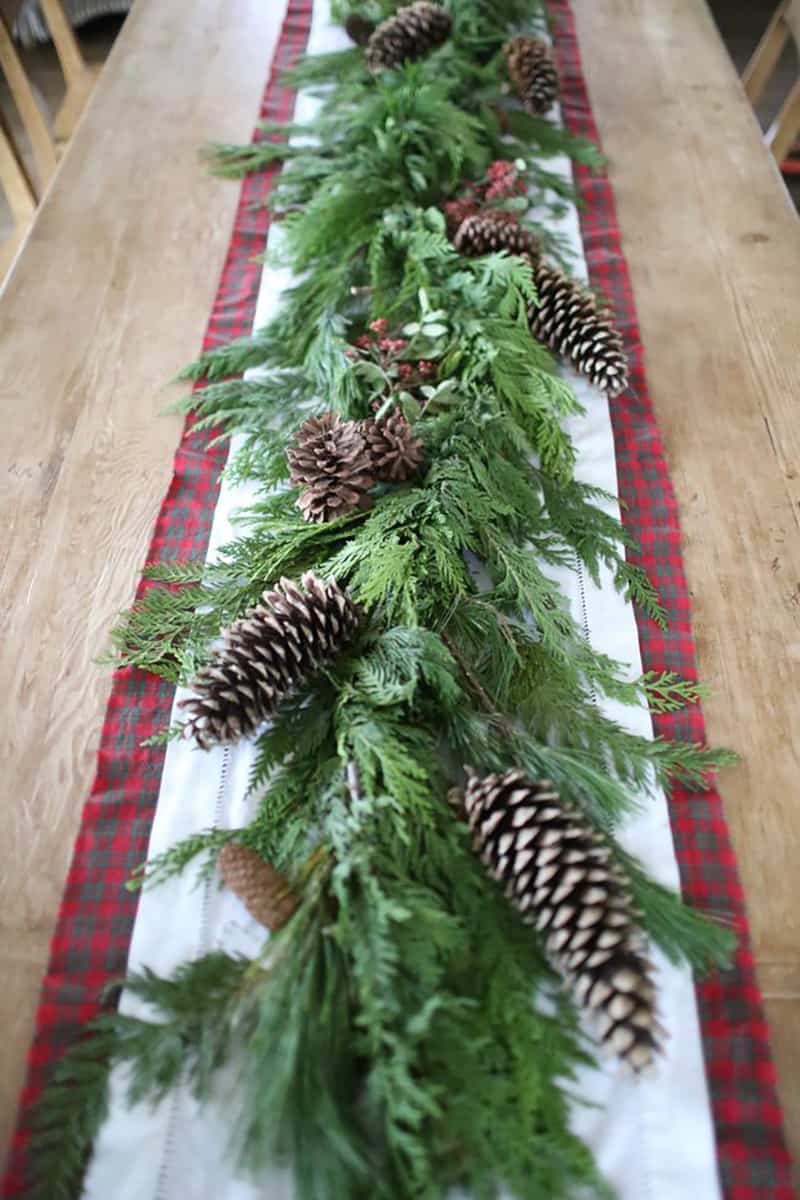 7 – Elegant and Rustic Winter Wood Table Setting. Wooden tree trunk chargers add a very unique touch to any rustic tablescape and will wow any guests. They are great to use for plates or even centerpieces.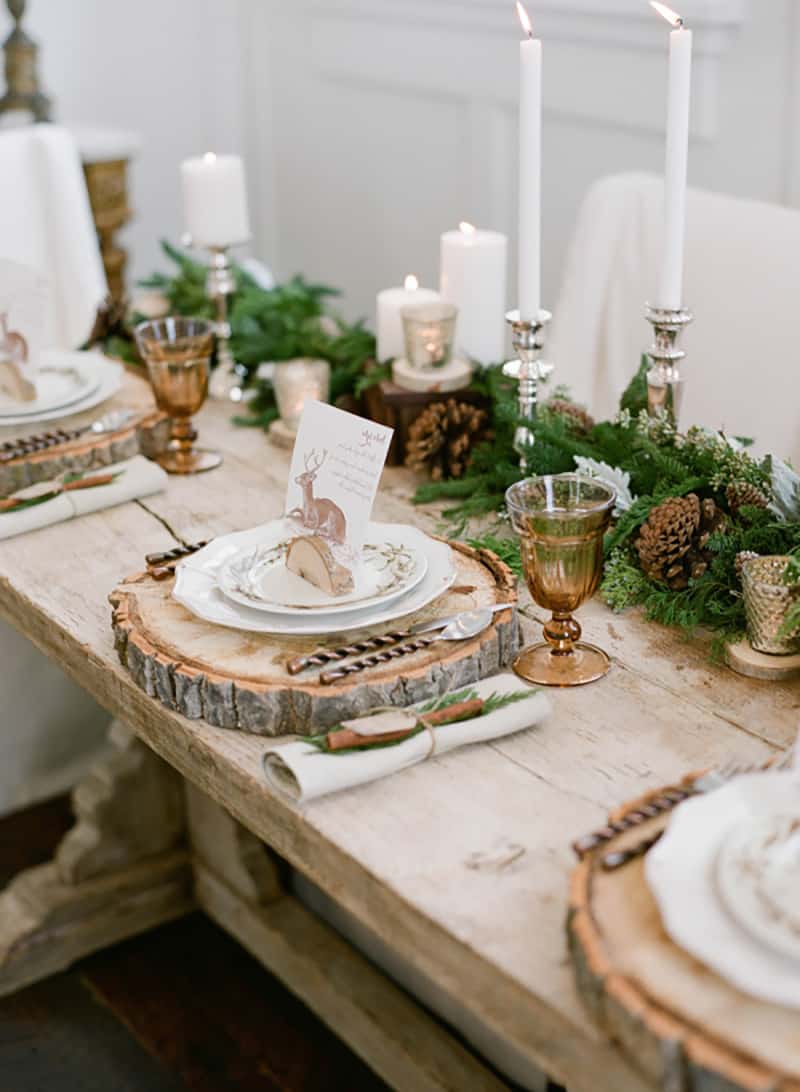 8 – Colorful Ornaments Table Setting. Make your Christmas fun with a colorful table setting. A bunch of colorful ornaments with some greenery will make for a bright and fun space.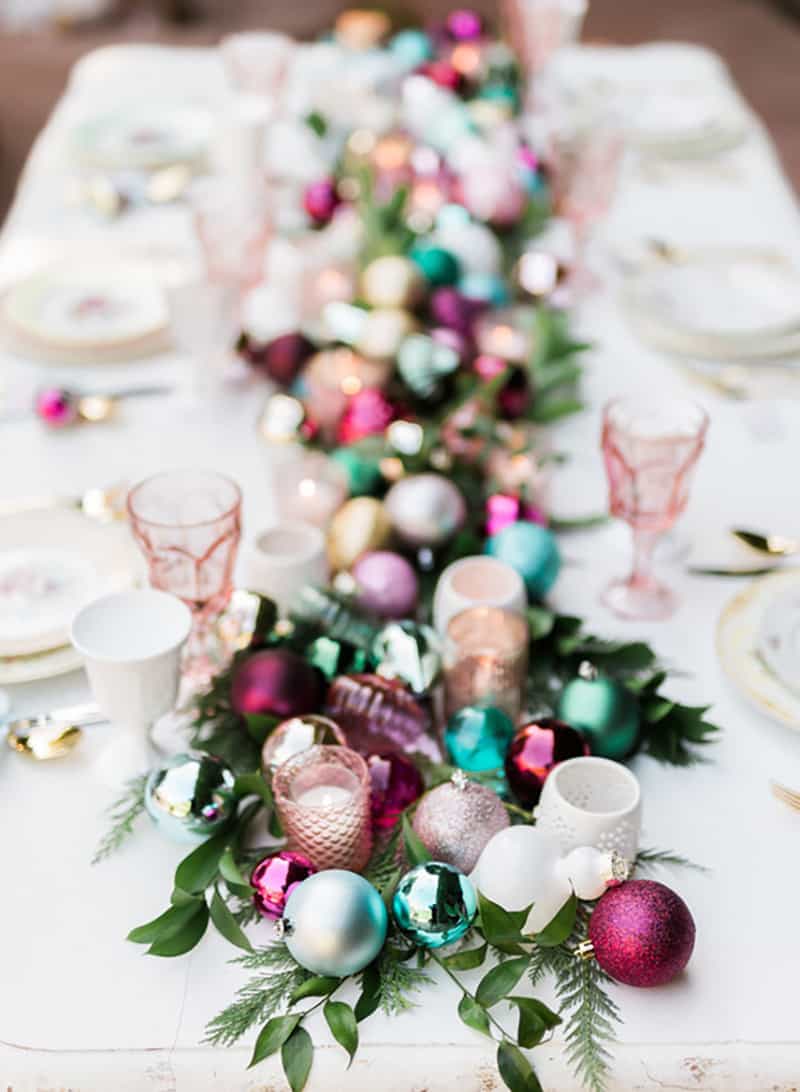 9 -Gold And Silver Snowflake Christmas Table Setting. A few beautiful champagne colored glittery Christmas trees in the center of the table add a touch of glam to any Holiday tablescape.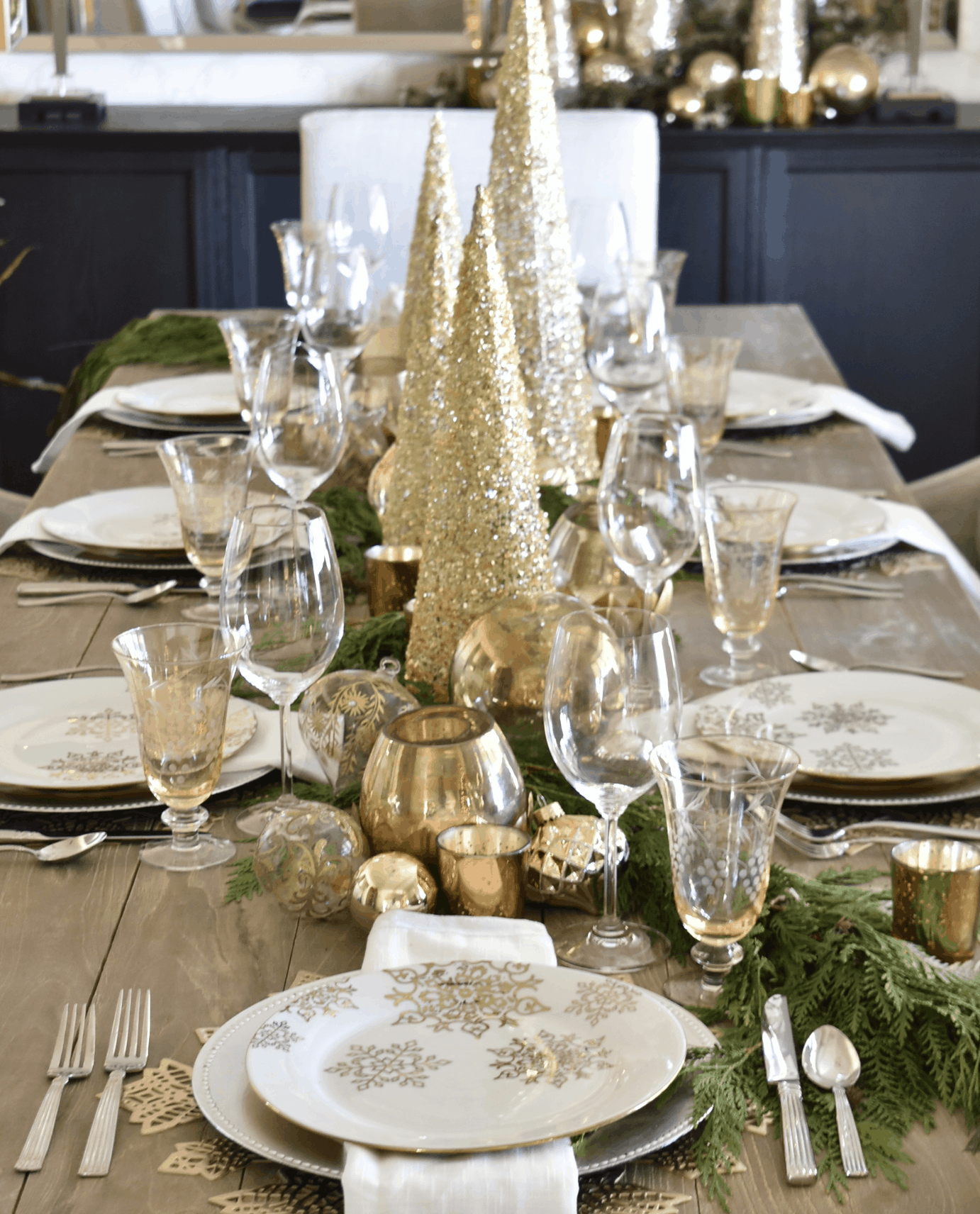 10- Red, White, and Gold Tablescape with a Twist. A few small white Christmas trees with gold candle votives around them add a really inspiring touch of elegance to a holiday table setting.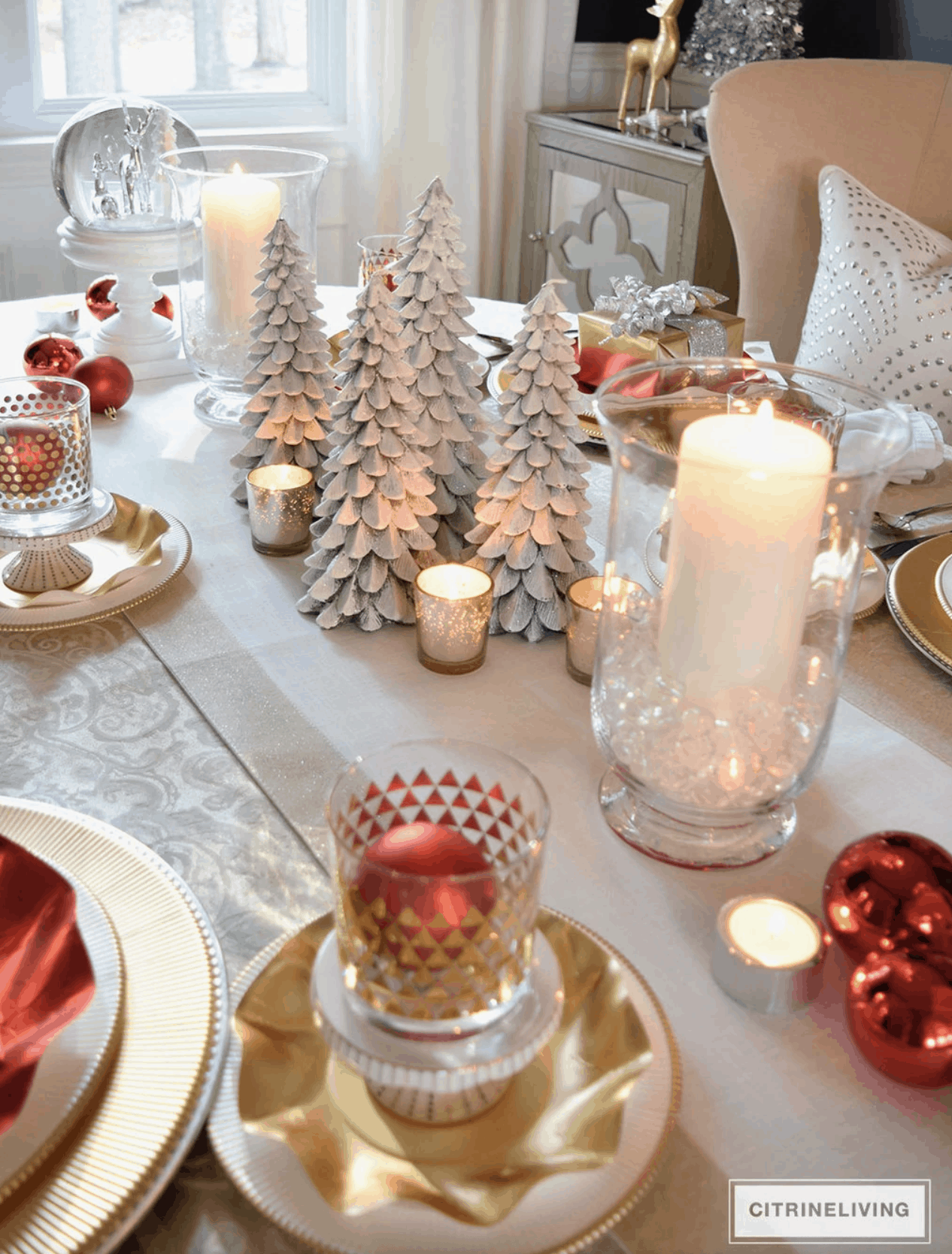 11- Pomegranate Christmas Table Setting. Add a couple of pomegranates, either artificial or real, to your tablescape. Using fruit as a centerpiece adds color and is a unique touch to your Christmas DIY decor.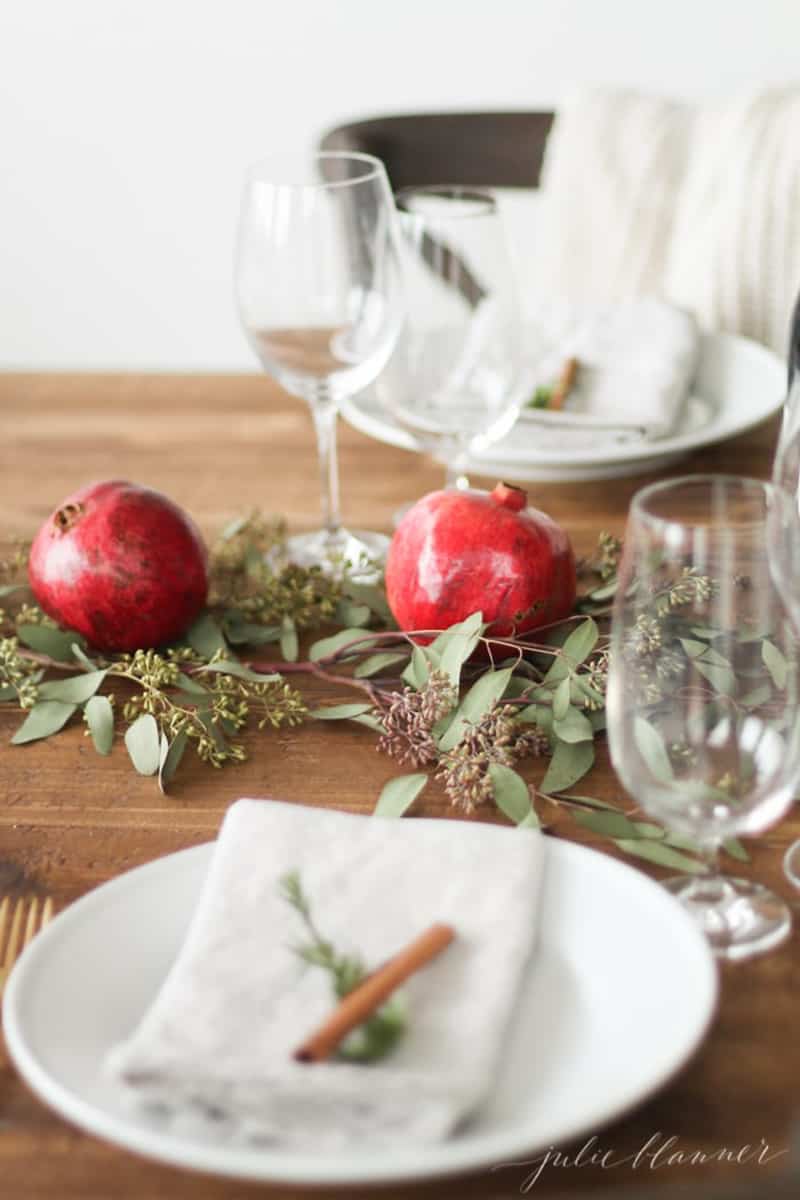 12 – A Charming Christmas Tablescape. Add some Holly berries to the place setting with some red and white napkins to recreate this beautiful Holiday scene.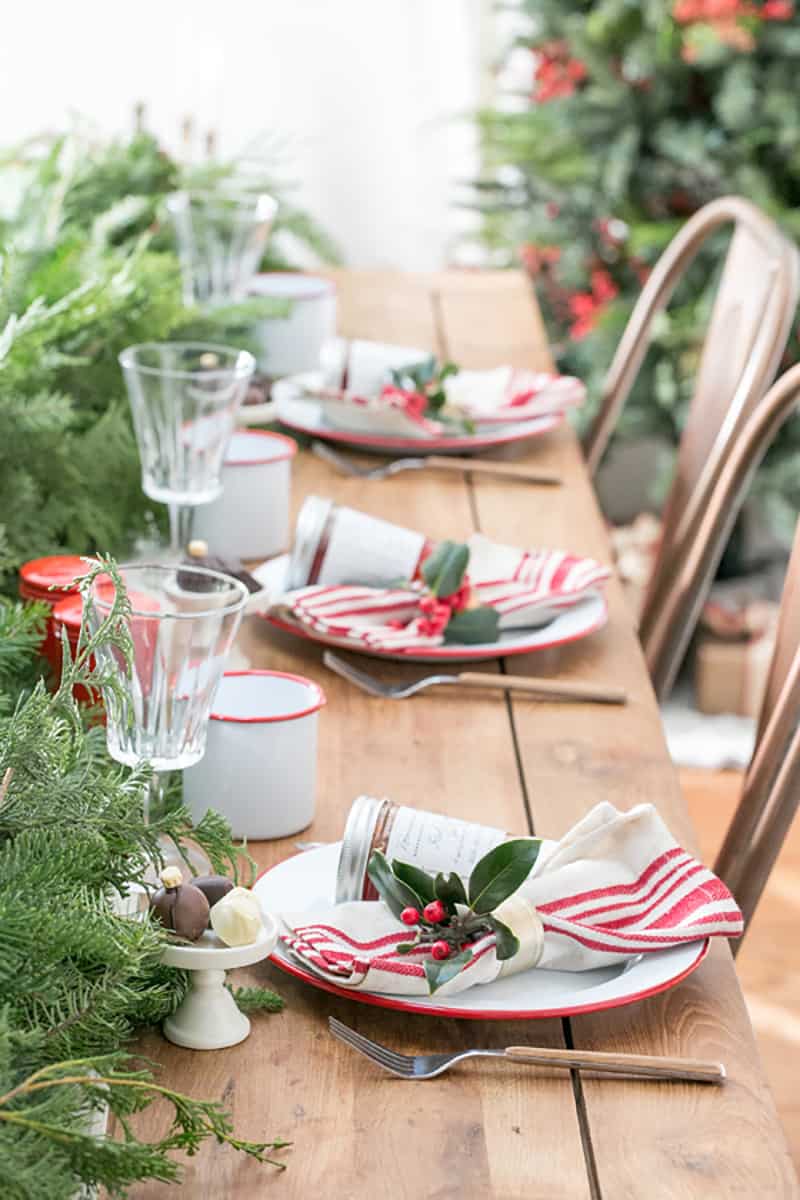 13 – Snow for a Perfect Winter Scene. I absolutely love using animal figures to decorate a Holiday table. Also, it's such a unique idea your guests will be impressed with.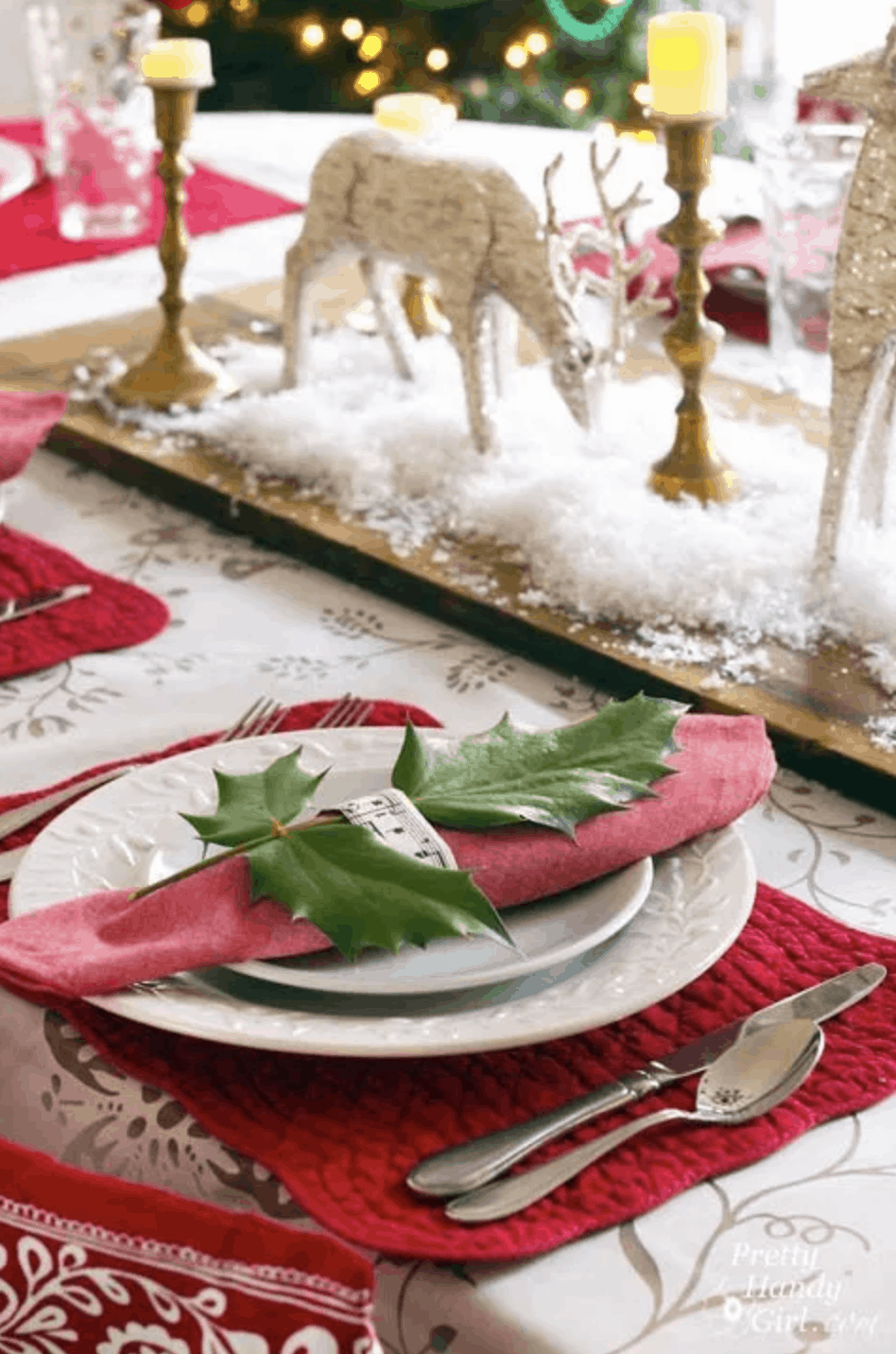 14 – Jewel Tones and Velvet. Think outside the box and go with a colored jewel tone instead of the normal white or green for your Holiday table setting.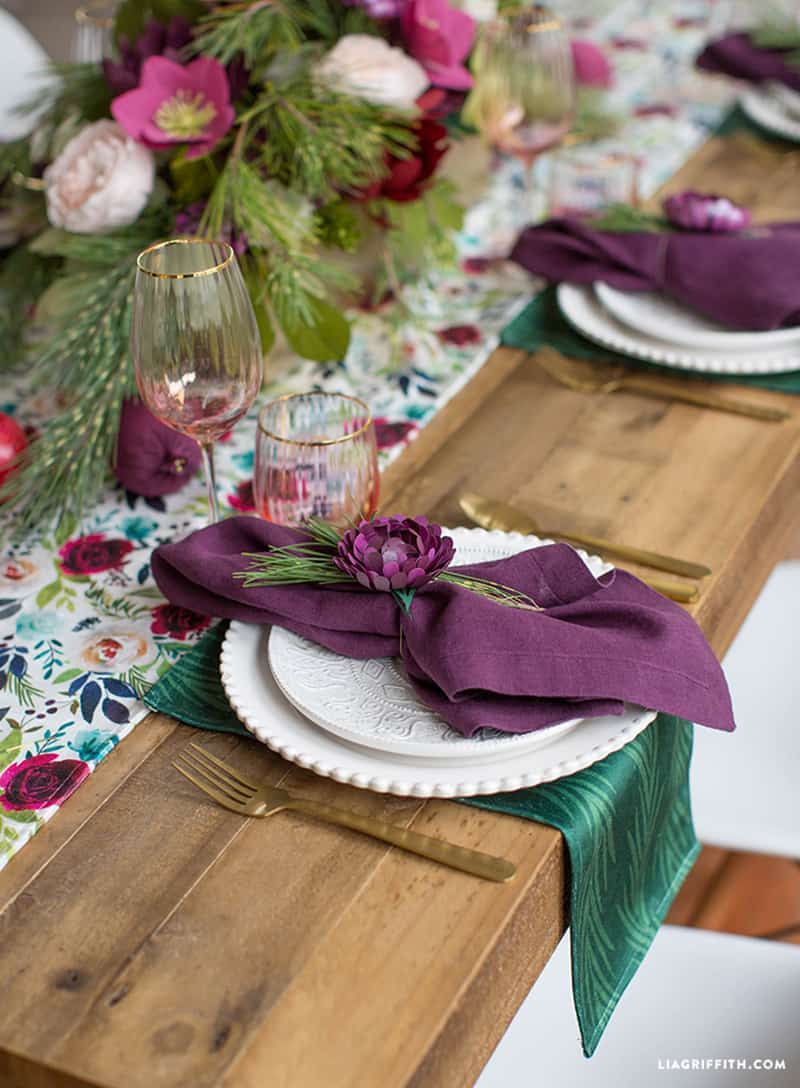 15 – Brown Bag Christmas Centerpiece. Have the kids help you decorate these small brown paper bags to make a fun and elegant Christmas table setting.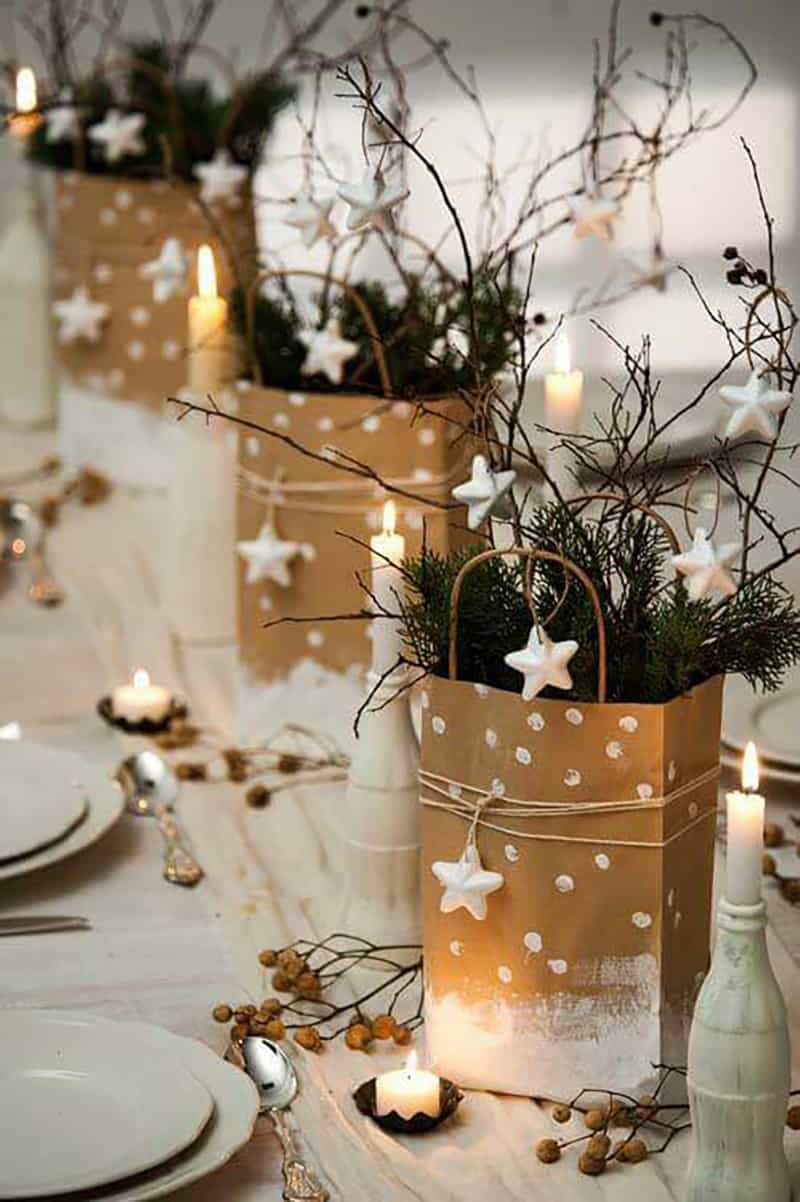 16 – Candy Cane Tablescape. A few candy cane candles with some real candy canes will make a fun and pretty table setting that kids will especially love!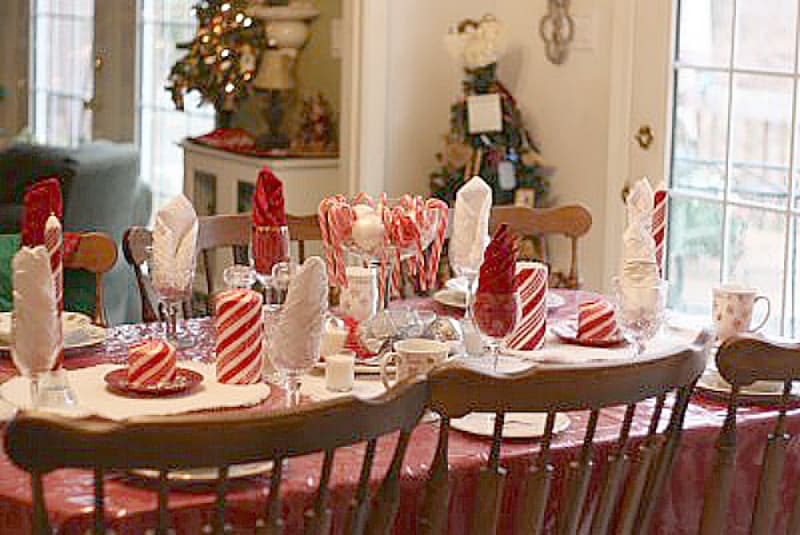 17 – Minimalist Blue and White Holiday Tablescape. Some rustic white vases with some greenery make a really pretty minimalist Holiday decor look.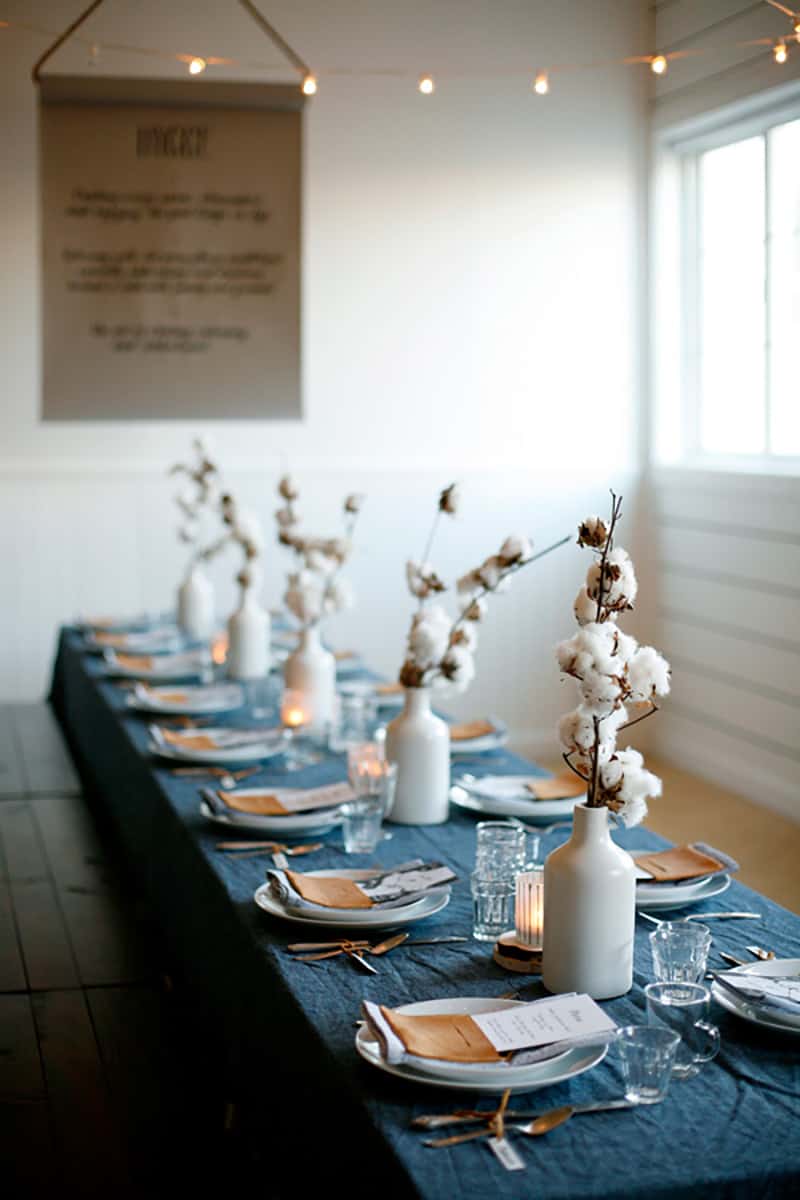 18 – A Boho Holiday Tablescape. A handful of sugared artificial fruit create a colorful look you can use for both Thanksgiving or Christmas.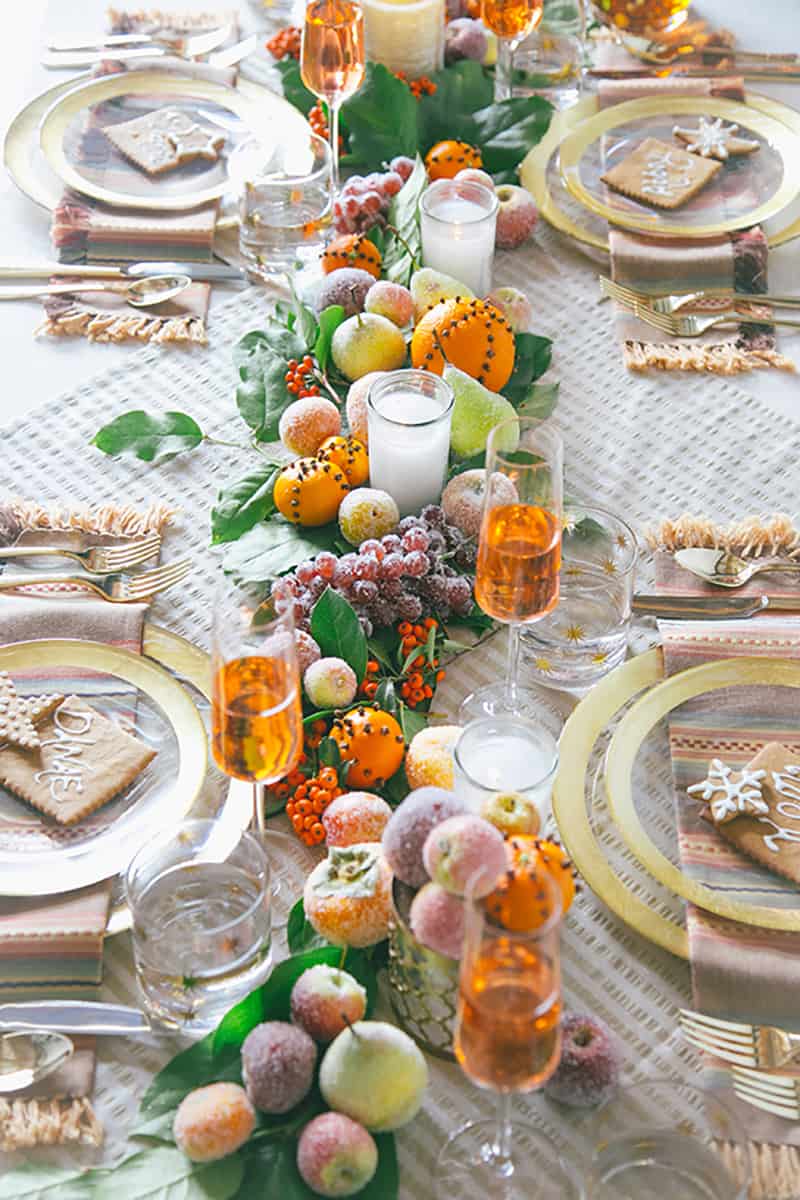 19 – A Fun and Whimsical Tablescape. Pile on the fun ornaments and elves to create this magical Christmas centerpiece that will have kids begging to sit at the big kid's table this Holiday.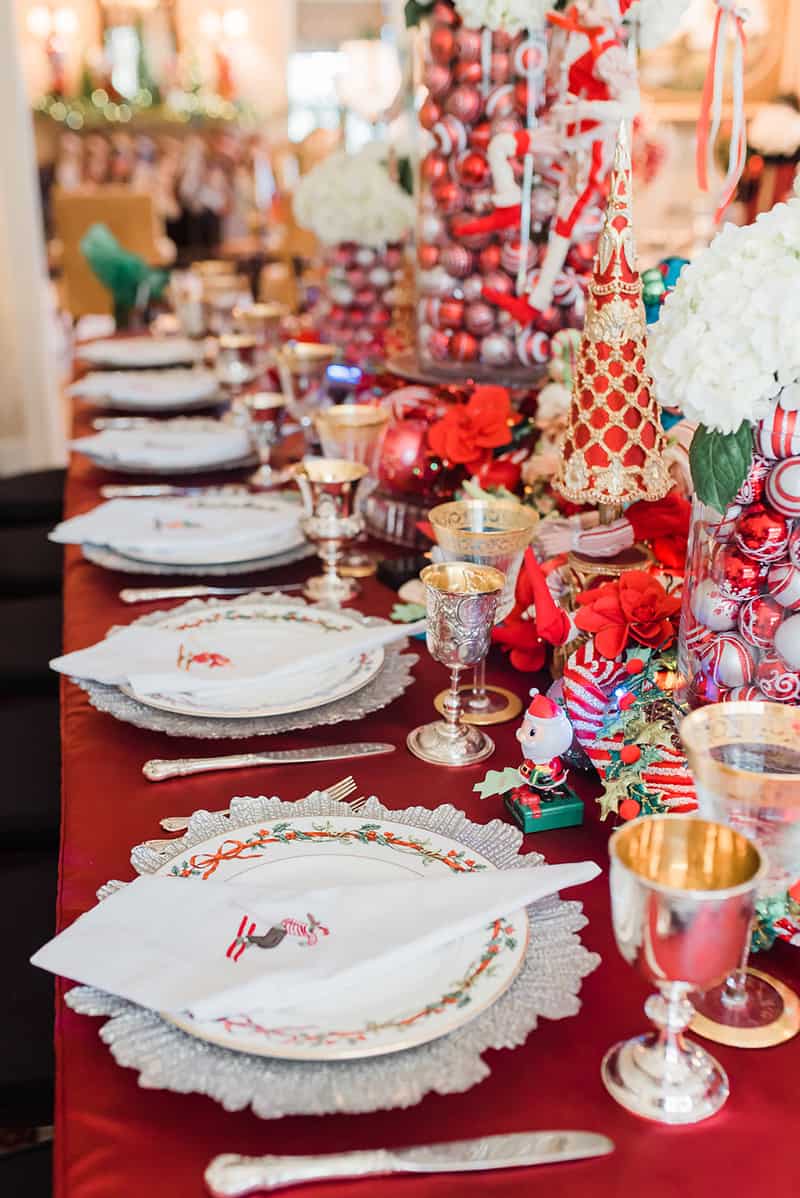 20 – Festive and Bright Christmas Tablescape. Be unique with a mix of your favorite things. In other words, mix gold, red, white, and some greenery to make an elegant tablescape.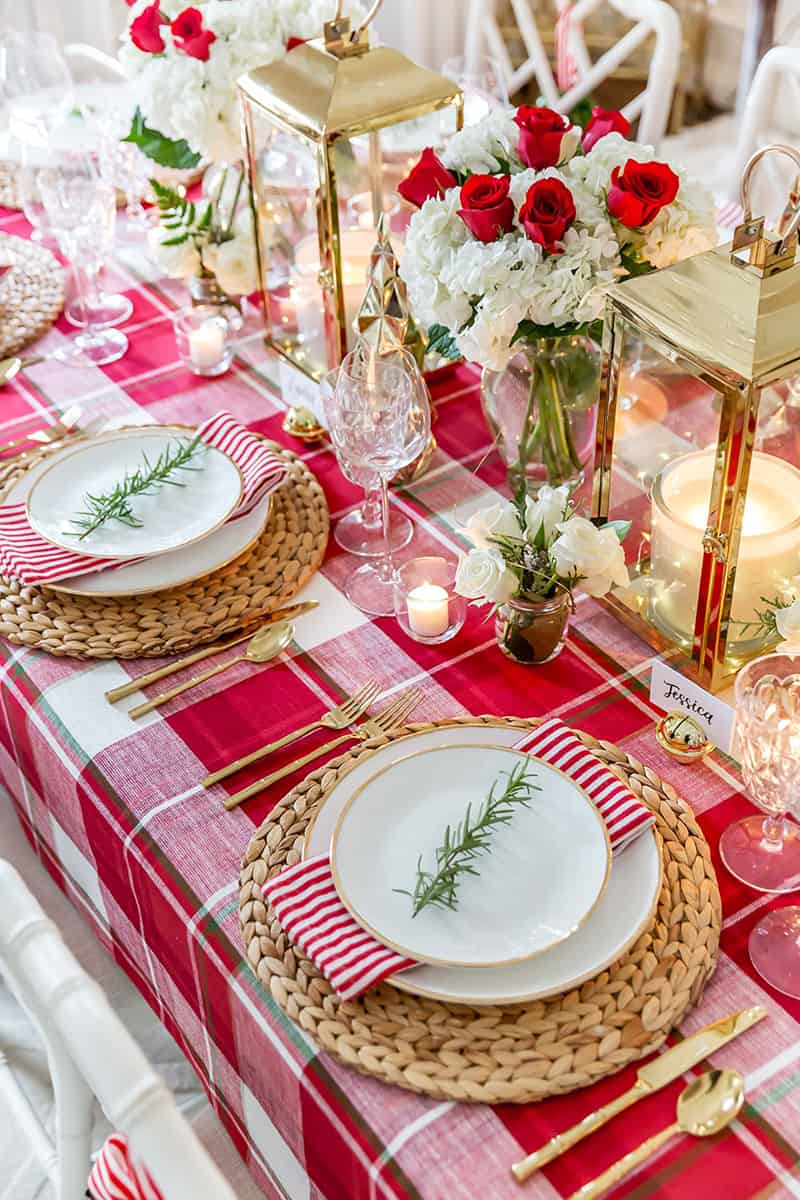 21 – White and Blue Deer Tablescape. Some silver deer and blue ornaments with fake snow make a gorgeous white winter scene on your dining room table.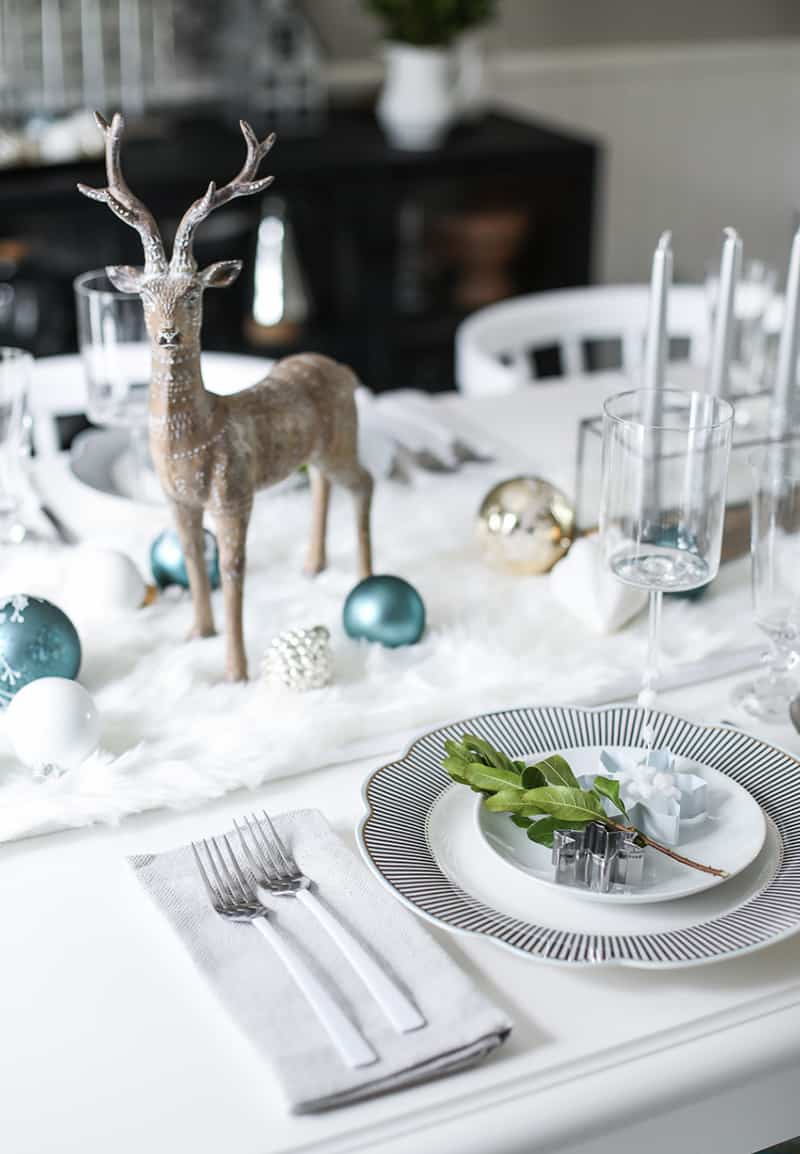 22 – A Thankful Holiday Tablescape. Create your own Thankful sign with metal letters that you can spray paint gold or bronze to match your holiday decor. Great for Thanksgiving or Christmas!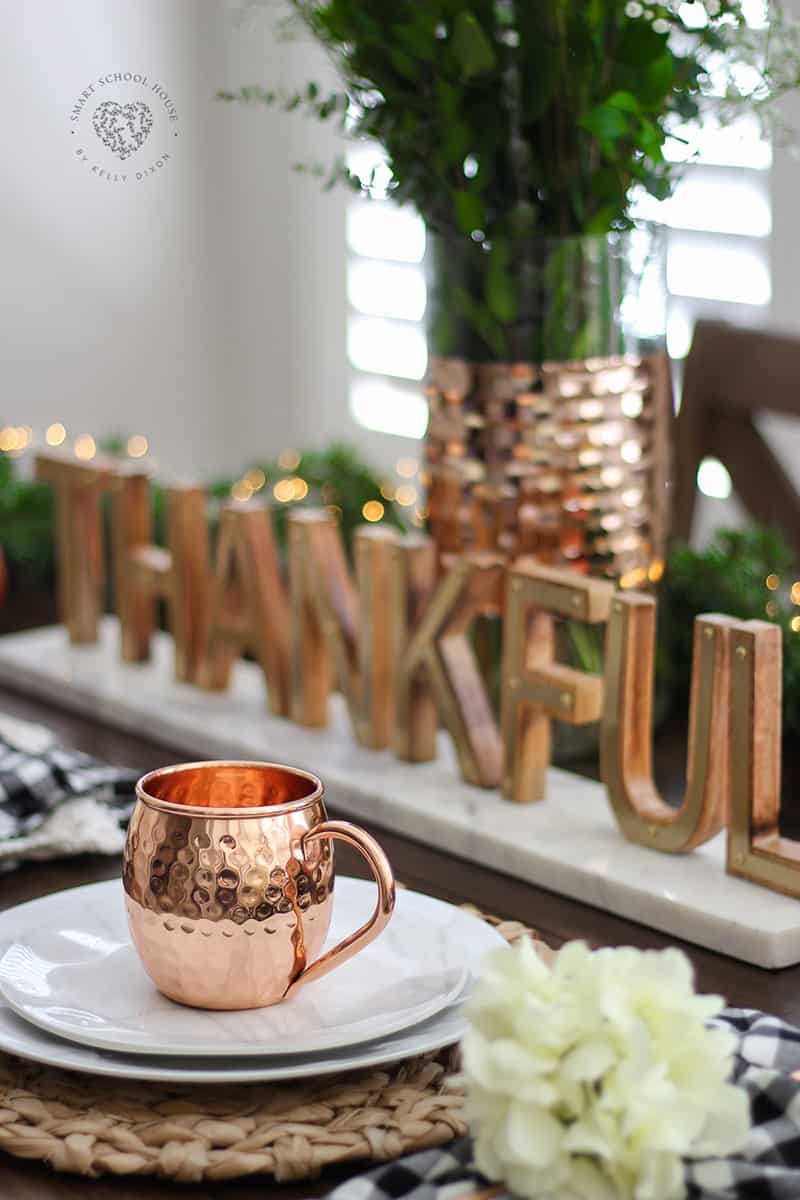 You can easily recreate any of these Christmas Table Setting Ideas with a few supplies and limited time. These DIY Holiday projects are fun and elegant. Use them as inspiration to create your own Holiday look!
You might also enjoy: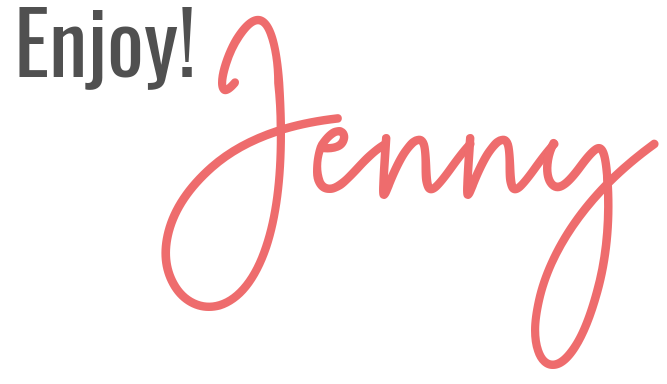 Pin for Later!