So you've booked your Alaskan Cruise adventure and now you need to know what to wear on an Alaskan cruise! No worries… I got you!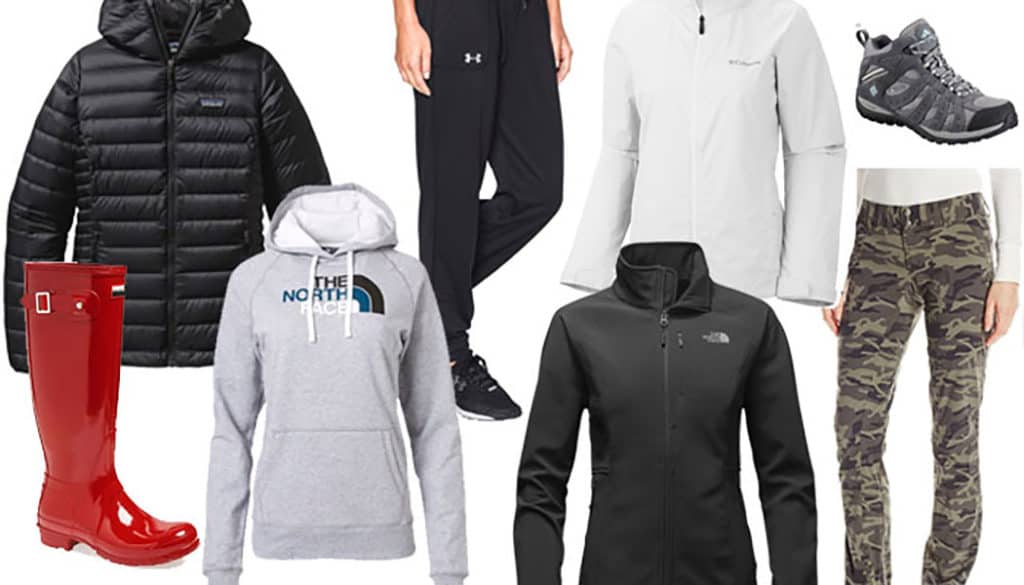 (Check out more Articles on Cruising to Alaska with Jen from See Mama Travel!)
Get cruise ready with these tips on what to wear on an Alaskan Cruise!
Congratulations! Usually, if you are thinking about what to pack for an Alaskan Cruise, chances are you have already booked your trip and are getting super excited about it. If you haven't booked yet… well then what are you waiting for?
Alaskan cruises are one of those things you hear about all the time. And you think "Yeah, that sounds nice." But when you start really looking into it and planning, the excitement will hit you like a ton of bricks!
With that planning comes the most important question you will ask yourself… what should I wear on my Alaskan cruise?
It's true that an Alaskan cruise is a vacation like no other. And packing can be really tough. You go to different cities and you will probably go on different kinds of adventures.
You also have time on the ship, both relaxing and for dressier times like formal night.
Before you know it, you have 10 suitcases worth of stuff you want to bring. Not to mention those big coats and boots take up a ton of room in your suitcase!
But relax! You came to the right place.
You'll find all the information here about what you REALLY need to bring on your Alaskan Cruise and what you don't. So you can concentrate on other things.
Check out the review of my 7-day cruise to Alaska with Princess Cruise Line HERE!
Packing for an Alaskan Cruise… you need to bring all the things!
Packing for my Alaskan cruise was one of the hardest things I had to do! Every review you read talks about how it can be hot, it can be cold, it can be rainy, etc. And that's just at the ports.
Then you need to think about what to wear on the ship which includes everything from casual wear to dressy dinner attire.
So where do you even start!?!? And that's just the clothing. Then there's a whole list of essential items you need to bring on your Alaskan cruise too! Arrgghh!!
I got you covered there too! For packing tips on what items you NEED to bring on your cruise, check out: Cruise Packing Essentials.
What to pack for an Alaskan Cruise
Every review you will read will tell you to wear layers… and this is so true!
My Alaskan cruise ranged from 85 degrees and sunny to bitter cold and freezing. You just never know what the weather will be like, and it's drastically different in the towns then it is on the ship.
I'm a list person and I found it to be very helpful to make a few lists of what you're doing or where you're going and plan your outfits from there.
Start a list of 4 categories
Ship Attire (casual and formal)
Ketchikan
Juneau
Skagway
Make a separate list for each place you stop. One for ship attire, and then one for each port (Ketchikan, Juneau, and Skagway).
Hopefully, by now you've chosen what excursions you are going to do or what your plans are for each port. This is almost necessary before you can choose what to wear!
Walking around town doing some light shopping will require WAY different clothing than taking a helicopter to a glacier and playing with sled dogs (Yes, that IS an actual excursion!)
Don't forget to follow on PINTEREST for more cruising tips and advice!
Cute Outfits for an Alaskan Cruise
I had anticipated the towns in Alaska would be the coldest part of my trip but I was SO wrong. Your time on the ship is way colder. Being out at sea made for some very cold and windy days.
For this, I'm glad I packed a couple of hooded sweatshirts and casual pants.
Fleece-lined leggings were my savior! I wore these as regualr leggins all around the ship. They worked great as a comfortable option that kept me warm (not to mention they are super compact to pack!).
The fleece-lined leggings were also thin enough to layer underneath a pair of jeans or jogger pants in case it got REALLY cold outside.
You'll also want to add a comfortable pair of shoes for just walking around the ship. These shoes are my go-to for any traveling I do. They are super comfy for airports and pretty much match with anything.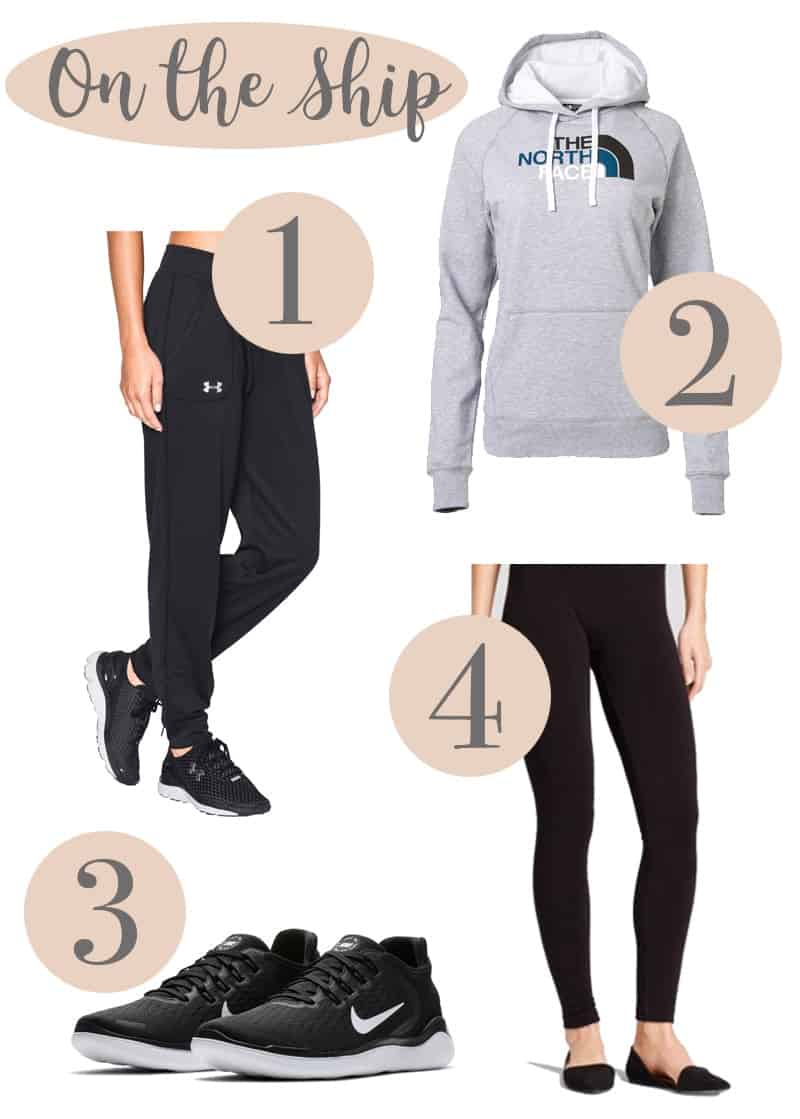 Bring a swimsuit on your Alaskan cruise
Don't forget to pack a bathing suit and cover-up. Yes, it's Alaska! You may think it will be too cold to swim but I actually used my bathing suit quite a lot.
Our first day leaving Seattle was 88 degrees and sunny outside and we spent that day laying by the pool having some drinks. We were able to board at noon and didnt set sail until 40m. It was pretty much warm and sunny all the way until the sun went down that night. So we got in a lot of sun (and a lot of drinks!) that bery first day.
Not to mention the Ruby Princess has several hot tubs that you should take advantage of throughout your Alaskan cruise!
Especially for your two days at sea, you can't really use the pool. But having a glass of wine in a hottub while looing out over the ocean is a pretty great way to spend your ship days!
Dinners on the cruise ship
Dinners on your Alaskan cruise can be anything you want them to be. There will be two formal nights but you are not required to participate.
If you choose not to do formal night, you can still eat at the buffet (just not the dining rooms). If you choose to participate in a formal night (I do recommend at least one as they are fun) you can wear anything from a formal cocktail dress to dressy pants and a nice top.
In order to not overpack, I chose this pair of shoes to bring for dinners. A good pair of classic black heels worked with a nice dress for formal night.
They also helped dress up a pair of jeans with a nice top for dinners on other nights. So all I needed was this one pair of shoes for any dinner.
Formal nights
Nights on your Alaskan cruise that are not formal nights, you can just go to the dining room with what you wore that day in port. By the time you get back to the ship, you'll be tired and hungry. You will want to just go straight to eat and not worry about changing!
But if you do decide to dress up a little, keep your jeans on and just dress them up with a nice top and those black heels. A good pair of jeans took me from a scooter ride in Skagway to the dining room at night.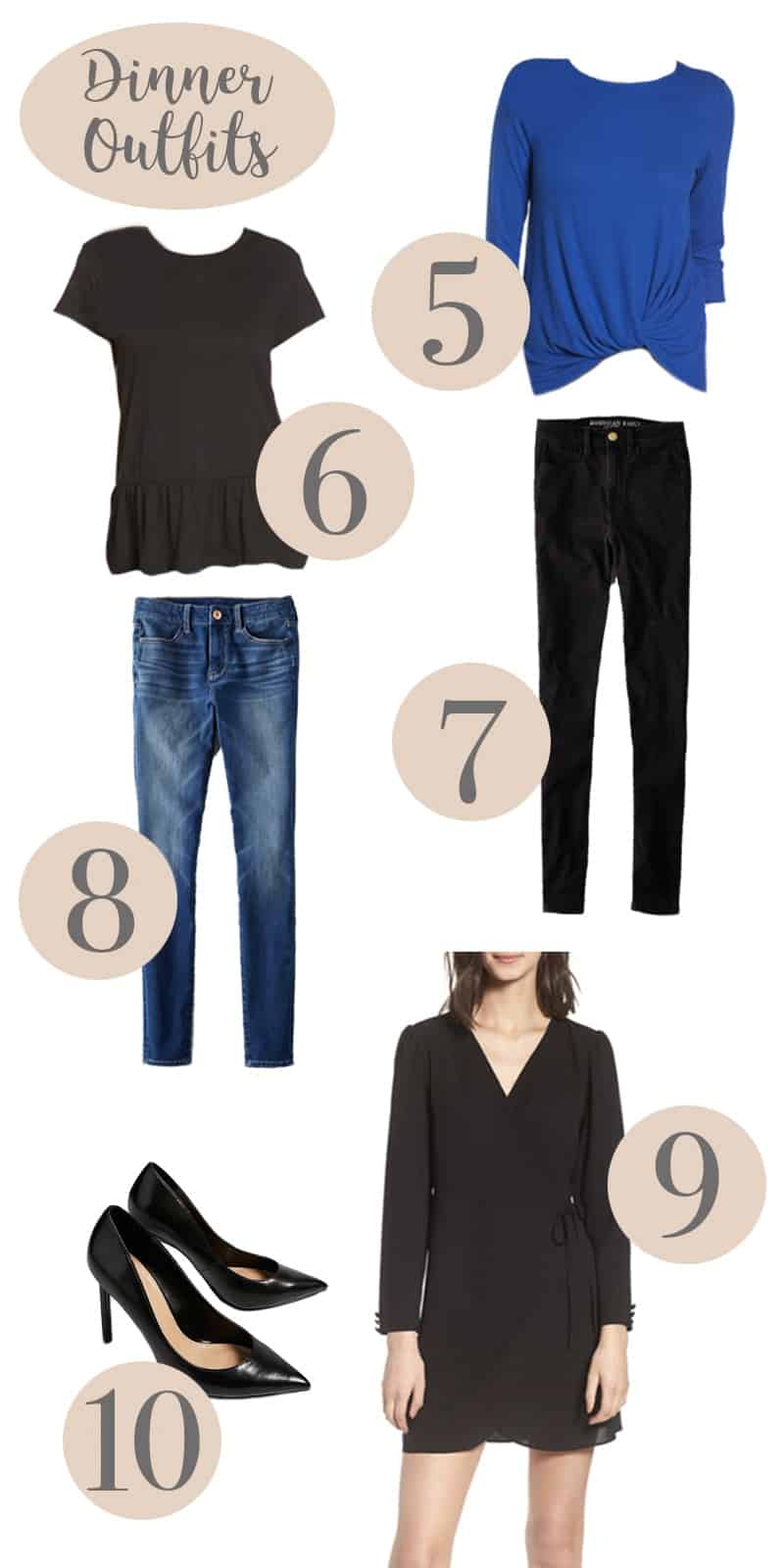 What to Wear on Port Days
What to wear on port days depends a lot on what you do. I'll share some of the essentials I think anyone would need for an Alaskan cruise. This is where layers really are suggested!
Unless I was doing a specific excursion, I tried to remember the layering rule.
So most outfits started with a basic tee shirt, paired with a flannel button-down or lightweight thermal. Jeans or leggings are great for walking around or sightseeing.
I personally love leggings because they are warm and take up barely any room in my suitcase. And if it's bitter cold, you can put jeans over leggings and have double the warm layers.
What Boots are best for Alaskan cruise excursions
Boots! No matter where you go in Alaska, you need a good pair of boots. I highly highly recommend Hunter Boots. They are SUPER comfortable and obviously waterproof.
Pair your Hunter Boots with some wool socks and they kept my feet warm and dry even on the coldest days. I loved having a pair of rain boots because they worked everywhere we went whether it be snow or rain or lakes or streams.
They also have a great tread on them and made hiking easy. My Hunter boots were hands down my best pick for an Alaskan Cruise!
When we visited the Mendenhall Glacier, everyone was standing on the solid ground and I was the only one walking around and splashing through the water because I had on my rain boots!
I was worried these wouldn't be comfortable enough to walk around all day in but after wearing them 2 days in a row my feet never hurt.
You will also need a good pair of winter boots. I love these boots by Sorel. They are warm, waterproof and easy to walk around in. These boots are definitely a must if it's really snowy or you walk on a glacier.
If you choose to go hiking, you'll need a good pair of hiking shoes. Something water-resistant is best as most of southern Alaska is a rainforest and very wet.
I loved these hiking shoes, they kept me dry and were great to hike in. I also purchased a pair of these pants for my hiking trips. They are flexible, lightweight, and perfect for outdoor adventures. Not to mention the camo ones are super cute!
The best outerwear for an Alaskan cruise
Jackets! Start with a lightweight jacket. You'll want something lightweight that will also keep you warm. I love this North Face jacket and it was well worth the cost. It's water-resistant, insulated, and really thin which helped when you need to take it off to carry it around.
You'll also want a raincoat. Not only for rainy days in town but you get wet on the ship pretty easily too with spray from the ocean. I chose this really lightweight raincoat. It was thin so it could go over my lightweight jacket, and folded up to be the size of a wallet which made it easy to pack and carry with me around the towns.
(The rain jacket also comes in several colors and is SUPER affordable!)
And don't forget a good winter coat for your Alaskan cruise. Especially if you go on an excursion to a glacier! But surprisingly, I needed my warm down coat the most on the ship.
Being out at sea is COLD! Even just sitting on the balcony of my Alaskan cruise was freezing. I ended up wearing my warmest winter coat on the ship more than anywhere else.
This winter coat was a lifesaver during those chilly days on the ship and is well worth the investment.
You will also want some basics… a good pair of gloves, a hat, and a scarf are always a good idea too!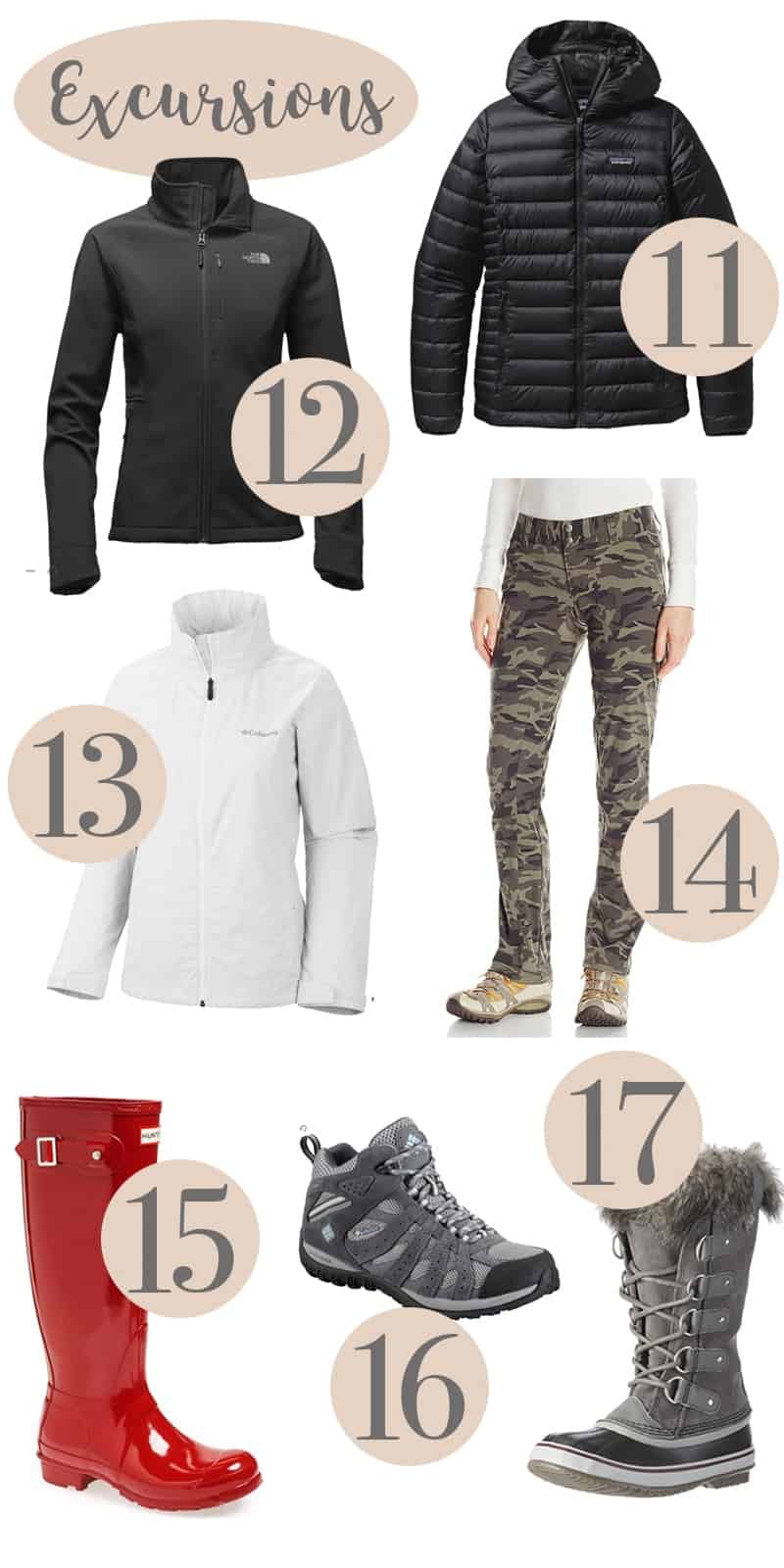 11 | 12 | 13 | 14 | 15 | 16 | 17
Enjoy your Alaskan Cruise!
Read more about my 7-day Alaskan cruise on the Ruby Princess HERE! And Don't forget to check out my other posts on the best things to do while in:
And don't forget to download my super amazing 5-page cruise planner. It's absolutely FREE And easy to download and print out. It'll make planning your cruise a whole lot easier.
It includes pages to keep track of all your airfare, pre-stay hotel, and embarkation information. As well as pages to keep track of all your excursions and port information.
There is a LOT to keep track of when going on a cruise and this fun Cruise Planner makes your whole vacation more organized and stress-free! So you can sit back and enjoy those cruise cocktails!
Are you looking for outfits that are functional AND cute for your Alaskan Cruise? Check out my updated post with Cute Outfits For Your Alaskan Cruise!
Have any questions about my Alaskan Cruise? Whether it's about the ship, the excursions, what to wear on an Alaskan Cruise or even the food… I'd love to hear from you! Leave a comment below or email me at [email protected]
Head over to my updated post for more of my Alaskan Cruise Packing List and to see MORE of what I wore on my Alaskan Cruise!