Welcome to the third part of my series about our cruise to Alaska! Today we explore Cruising to Alaska! Part Three: Juneau.
Our first day at sea during our Alaskan Cruise was spent on board the Ruby Princess (you can catch details about the ship here!). Or read about our first day in port, exploring Ketchikan.
After spending a shorter day in Ketchikan, we were overly excited to spend a long day in Juneau. Our time in port that day started at 12:30 am and ended at 10:00 pm (remember, that means actually being back on the ship by (9:30 pm). This later start to the day was really nice as it let us stay up late and have a nice dinner the night before. We also got to sleep in and enjoy a nice long breakfast and plenty of time to get ready to explore the capital of Alaska.
Juneau is the Capital of Alaska and the 2nd biggest city (by land mass) in the entire country. This city is bigger than the entire state of Delaware! Fun fact: don't plan any road trips to Juneau, you can only access this town by boat or plane. There are no roads that go in or out of the city. How crazy is that!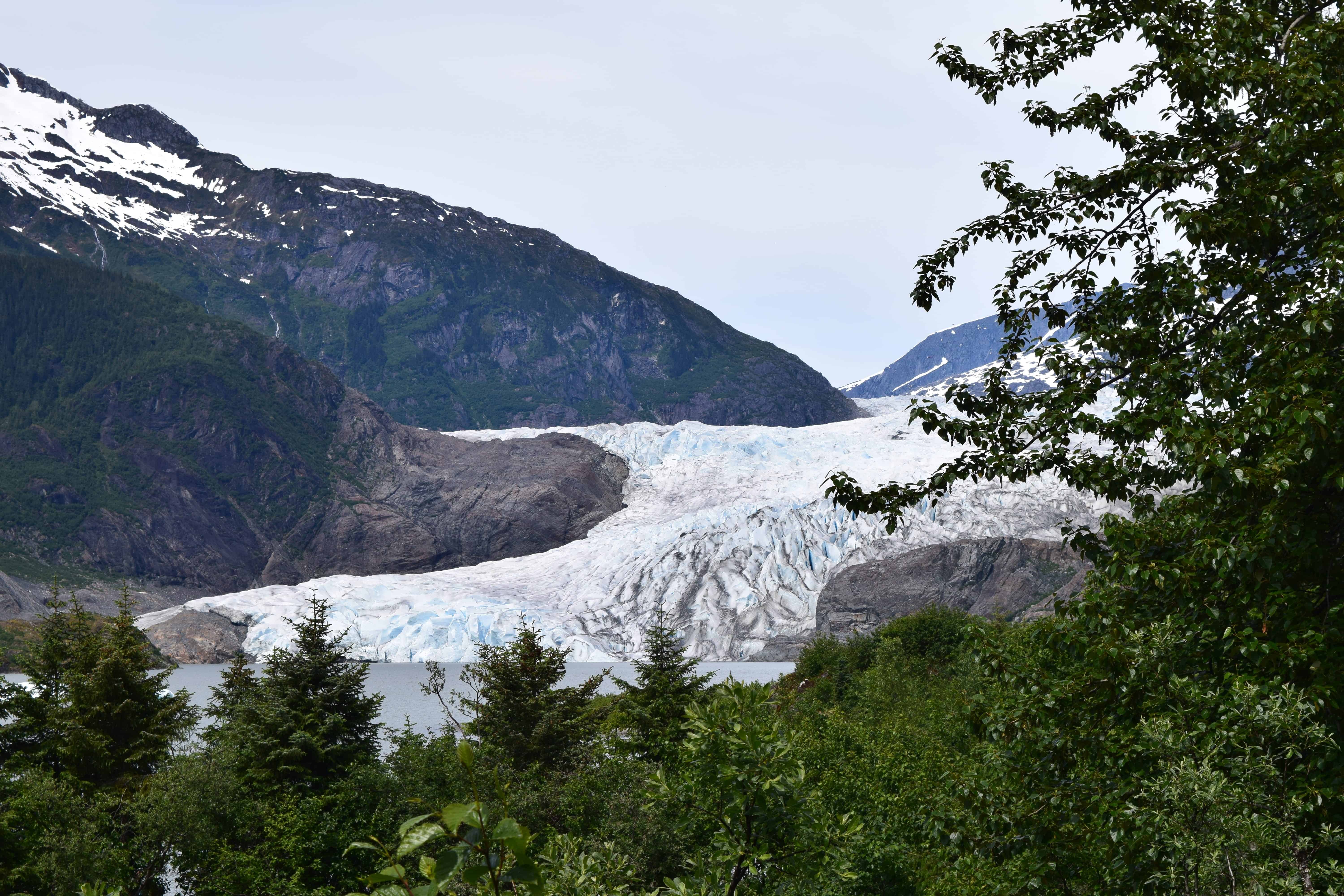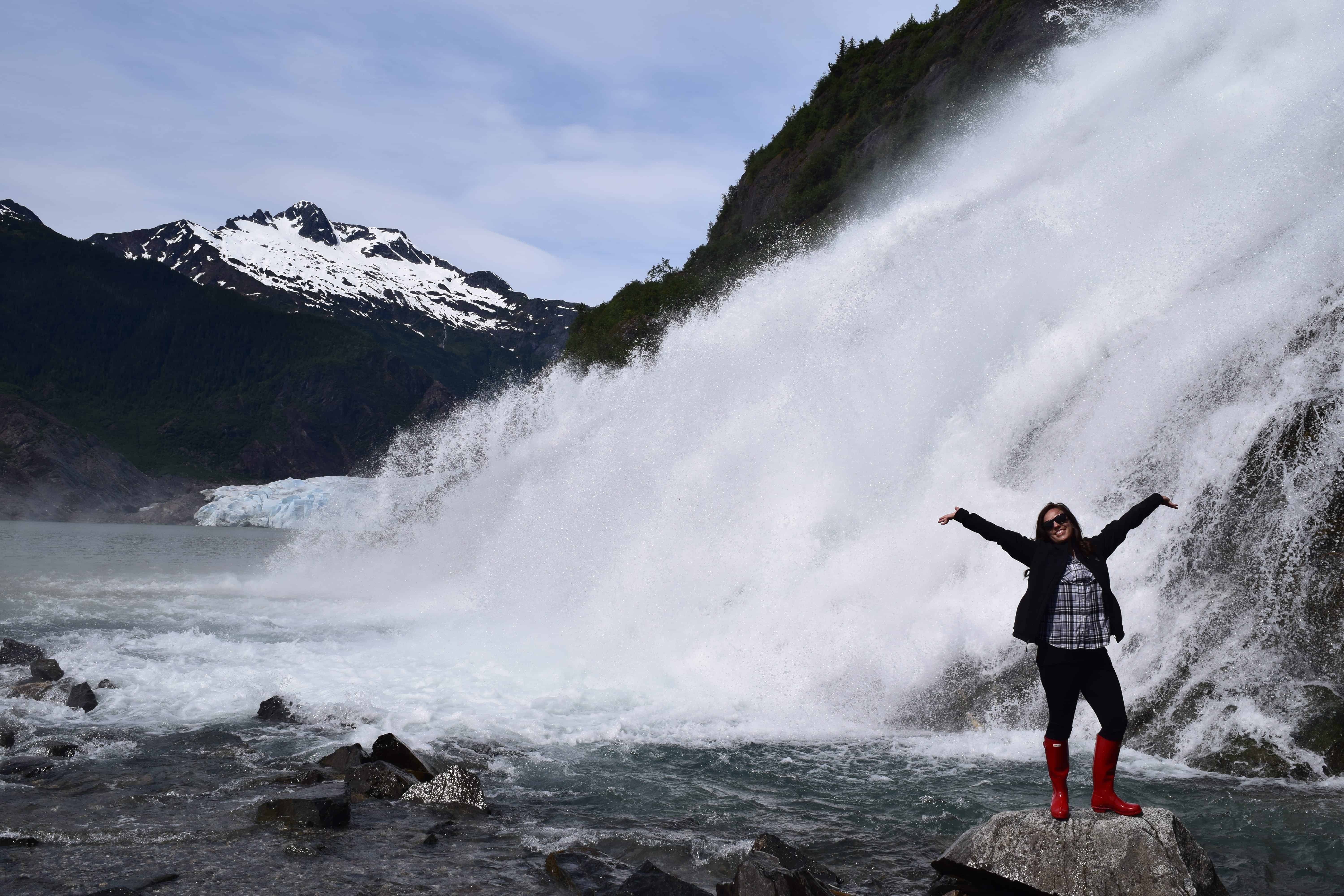 Mendenhall Glacier.
We decided to start our day with the most popular thing to do in Juneau, the Mendenhall Glacier. You not only get a close up of this amazing glacier but of Nugget Falls as well. One mistake we made… we signed up with a tour company off the boat to go see the glacier. We were unaware of the time limit and only had 1.5 hours to be at the glacier, which was NOT enough. We got to spend a little time viewing the glacier but had to rush back to our bus and had no time to see the visitor center or go to the photo spot. Bummer. If you do decide to visit the Mendenhall Glacier, get a cab or find a city bus so you can spend as much time there as you wish.
Side Note: I'll cover this more in my "What to Wear on an Alaskan Cruise" post. However, this is a great time to mention how much I LOVED my Hunter Boots. When we got to the falls, I was the only one who could walk in the water and splash around because I had these great warm and waterproof boots.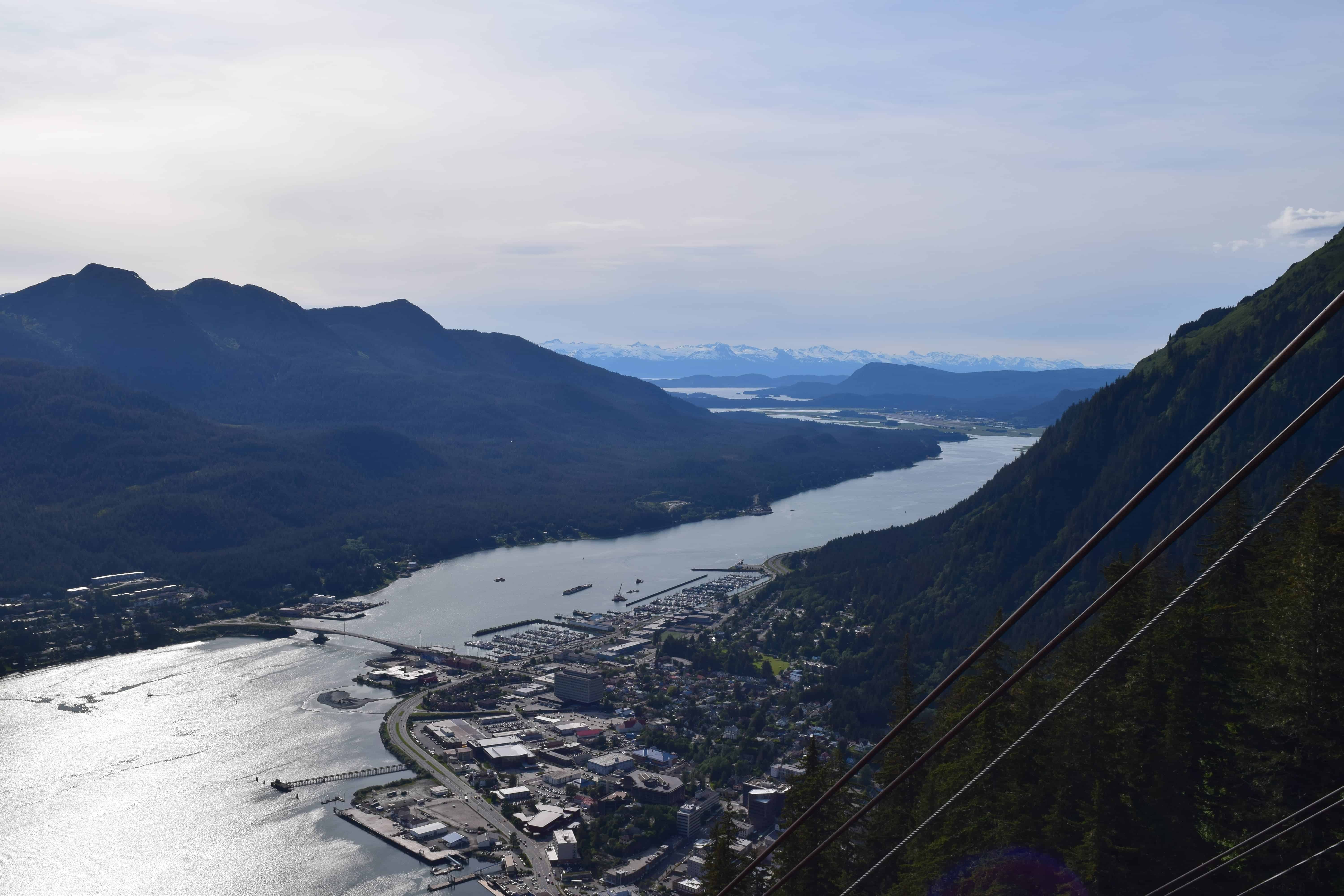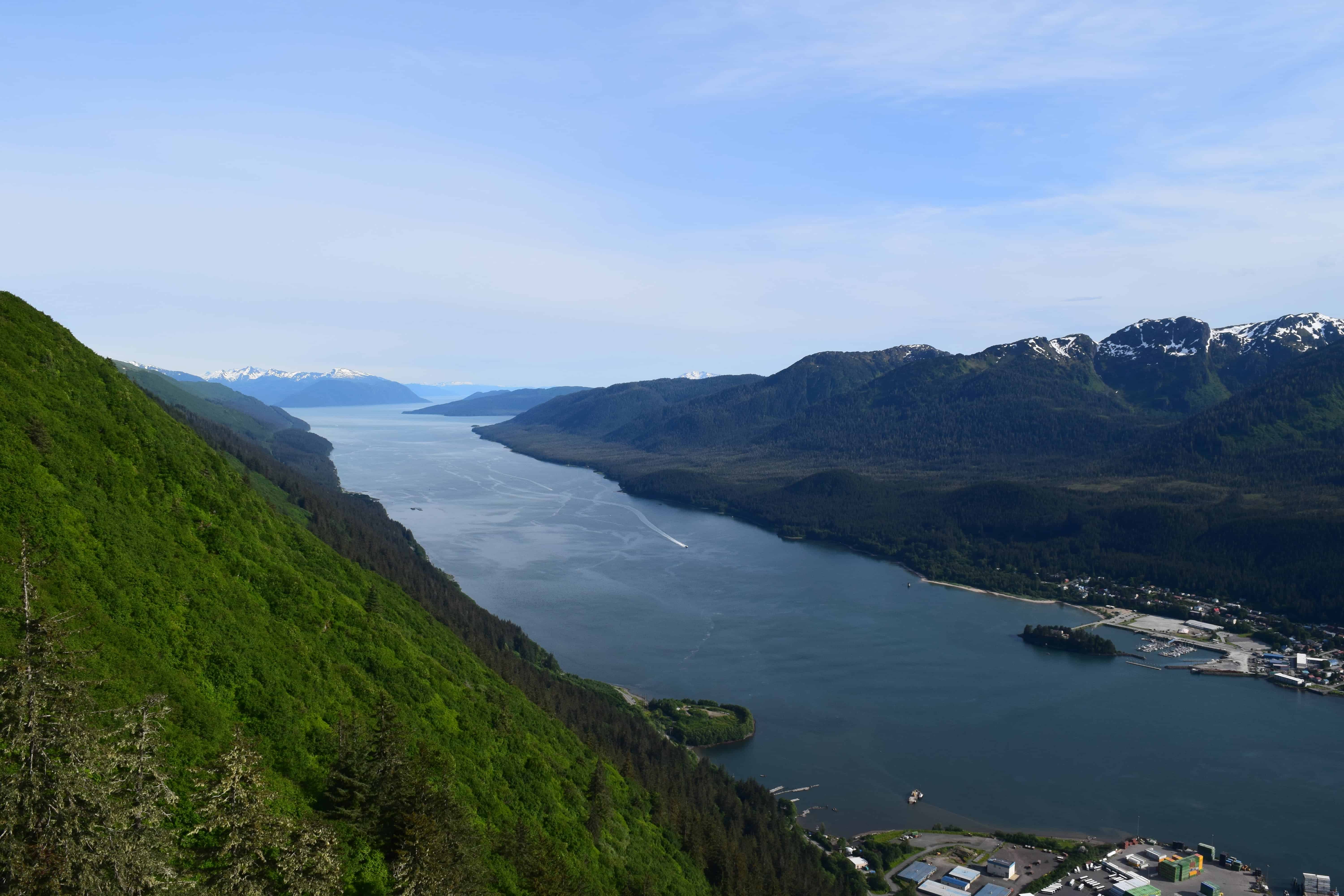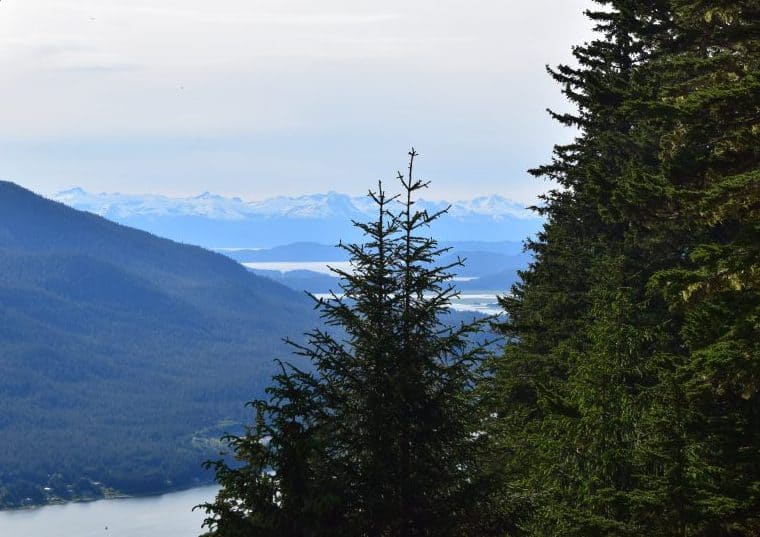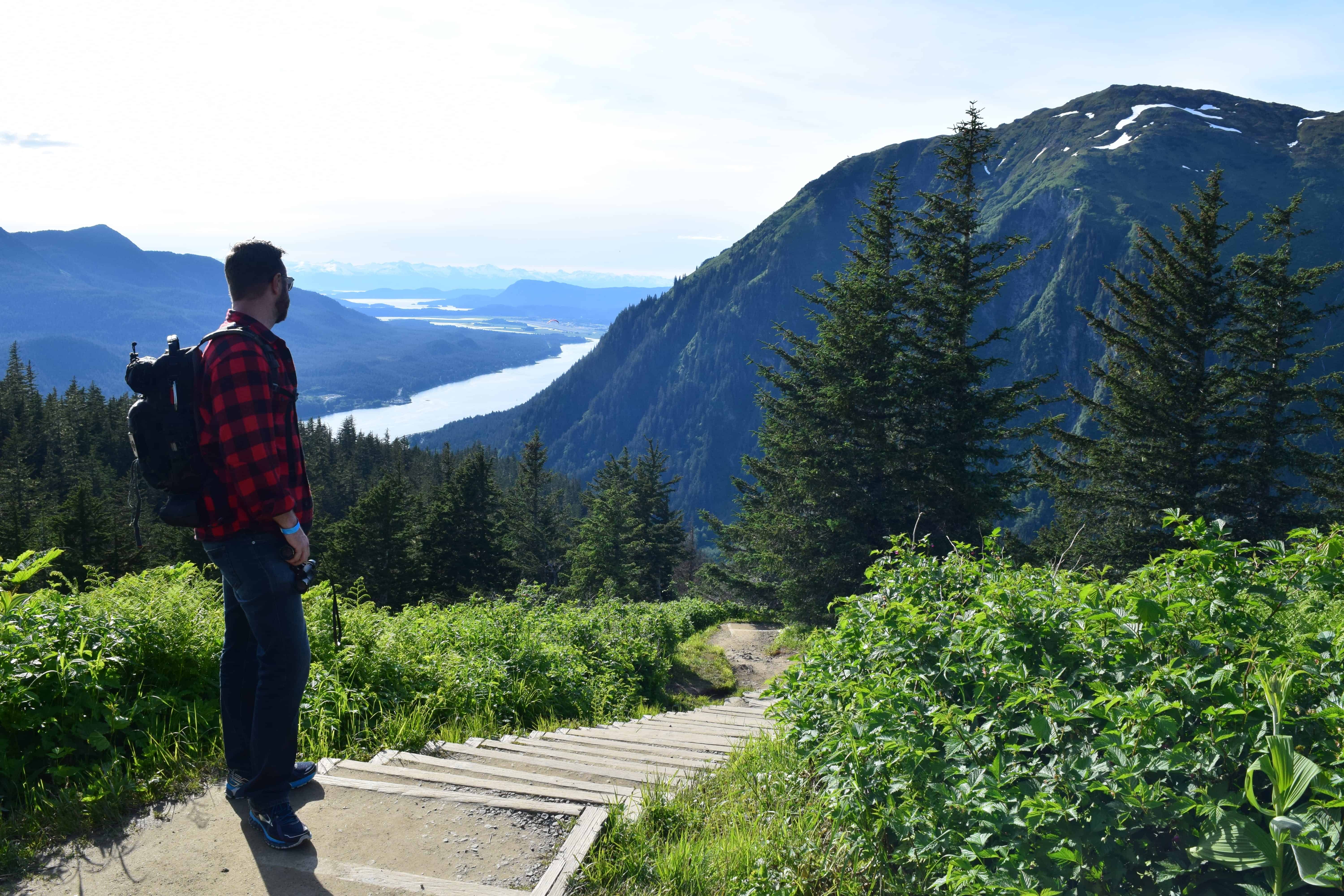 Mount Roberts Tramway.
If you go to Juneau, you're bound to hear about the Mount Roberts Tramway. The only tramway in southeastern Alaska, it takes you 1800 feet straight up the side of Mount Roberts. Tickets are $34 per adult but well worth the price. For one ticket, you can ride up and down as many times in one day as you would like (but one trip up is plenty).
The tramway is located literally just steps away from the cruise ships so this makes it a very popular thing to do right when you dock. I highly suggest you wait until later in the day to take the tramway as it can be very crowded early on. We boarded the tramway in the later afternoon and were able to walk right on with no lines at all.
You travel up to the summit and at the top is a restaurant, a visitor center, and the sweetest little Bald Eagle. She was injured by a hunter and has limited eyesight and the use of only one wing. So she was rehabilitated and given a nice home welcoming everyone off the tramway.
If you enjoyed the ride and scenery up the side of Mount Roberts, then stick around for a little bit and enjoy the hiking trails at the top. They were easy to follow trails but the scenic views from several different points made this an area you cannot miss. Not to mention all the dozens of bald eagles that circle overhead.
What I Wish We Would Have Done!
Sled Dog Ride.
One of the excursions offered with Princess Cruises was to take a helicopter ride to the top of a glacier and visit a sled dog team. You got to visit with the dogs (and puppies!) and then go for an actual sled dog ride pulled by a team of Huskies. Sound amazing right? Yeah, I thought so too. Until I saw the price tag of around $500 Per person. OUCH!
We decided to skip this because of the price but I'm still kicking myself in the butt over it. When do you ever have a chance to fly to the top of a glacier and get a sled dog ride? If it's at all possible, I would 100% do this excursion. I kind of even want to go back to Alaska JUST for it.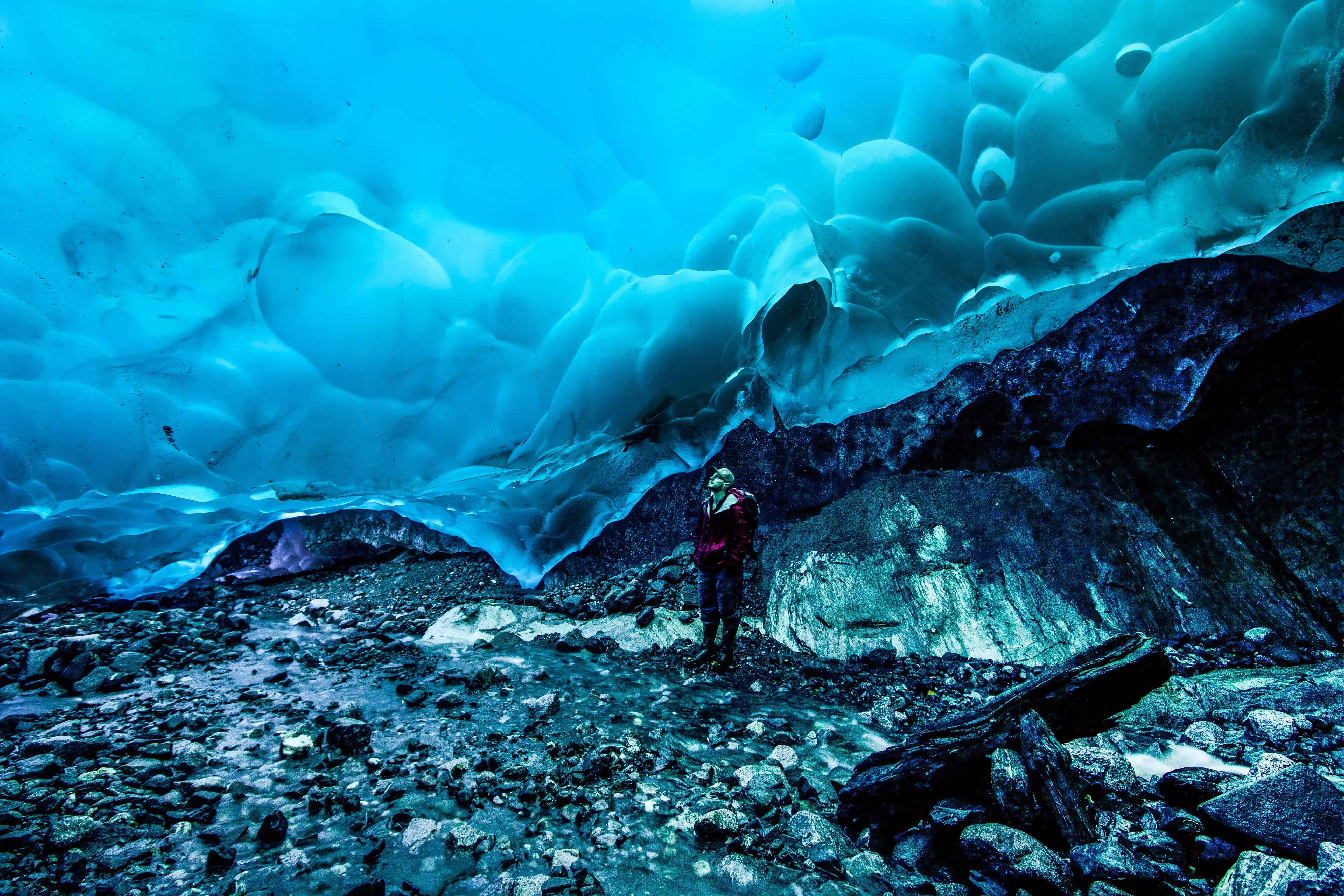 The Mendenhall Glacier Ice Caves.
Underneath the Mendenhall Glacier… yes I said underneath...are magnificent ice caves. The ice caves are formed by melting ice that hollow out and form caves under the glacier. But don't think you'll find these tours available for any excursion. They are known for being very dangerous. The Glaciers are constantly melting and pieces of ice have been known to fall and injury visitors.
But if you are a thrill seeker, then this hike is a must. This post details the best way to get there and how to find the ice caves. The pictures are amazing and after we boarded the ship, we had a fellow guest tell us all about it. I almost cried.
Whatever You Do, Don't Miss These!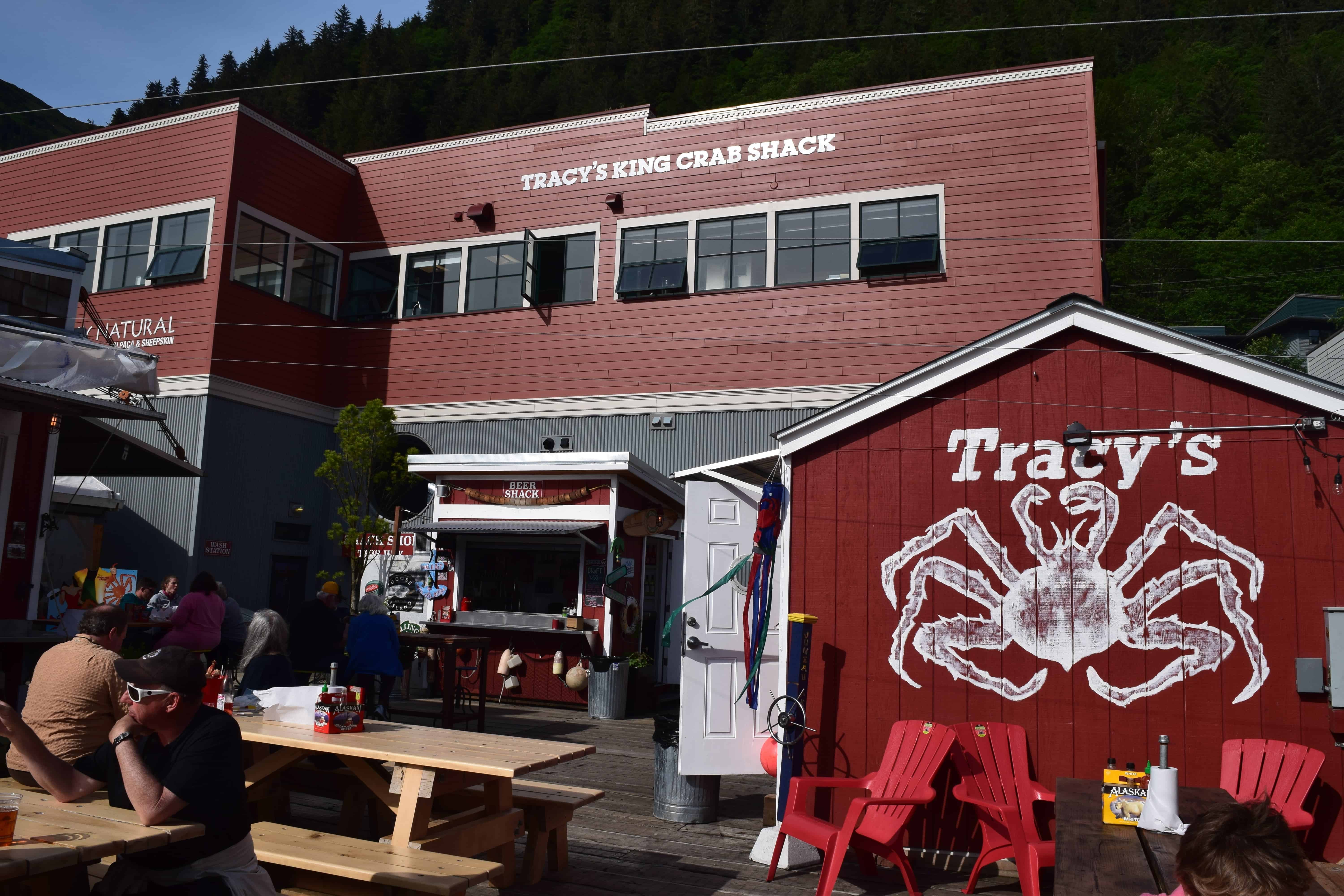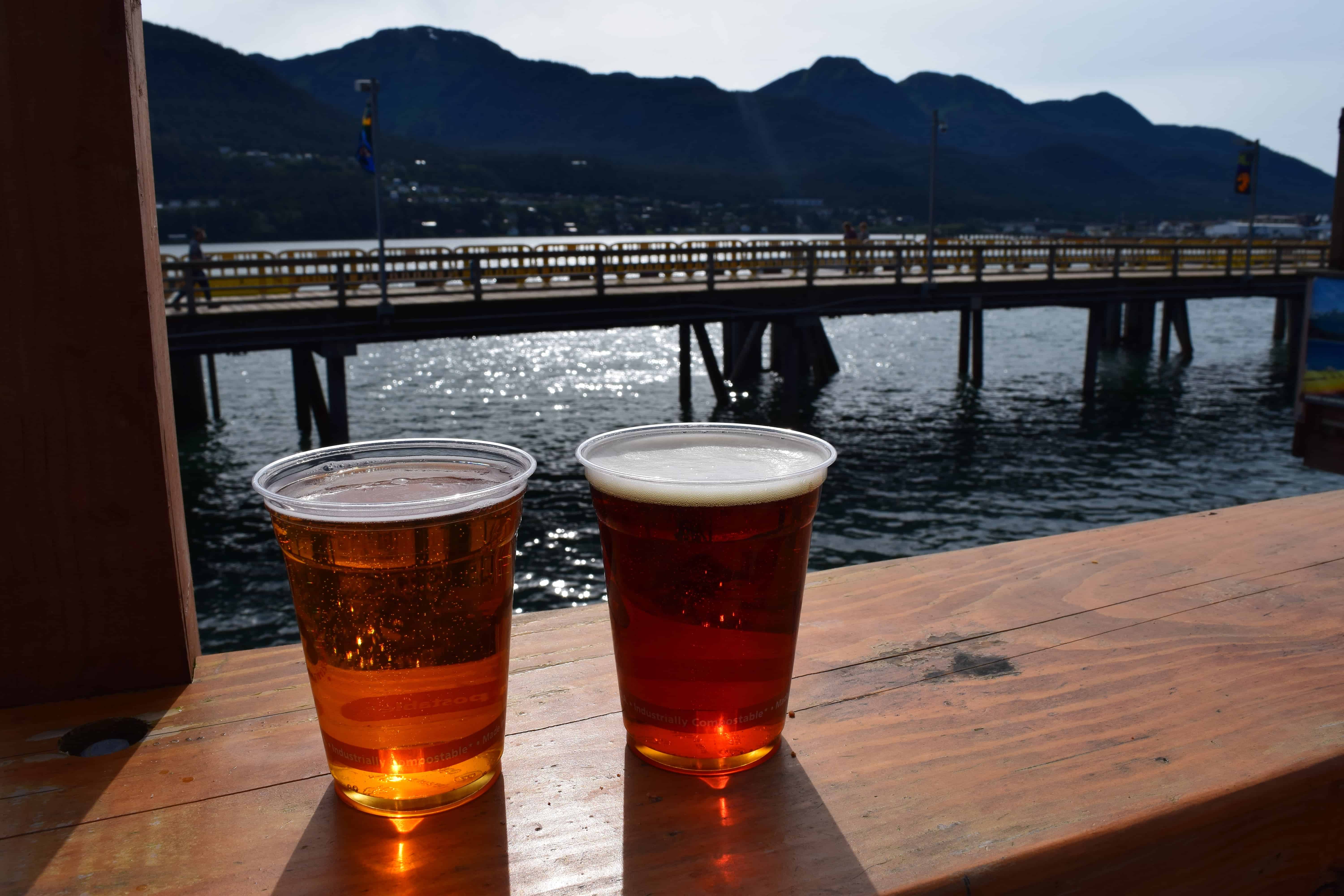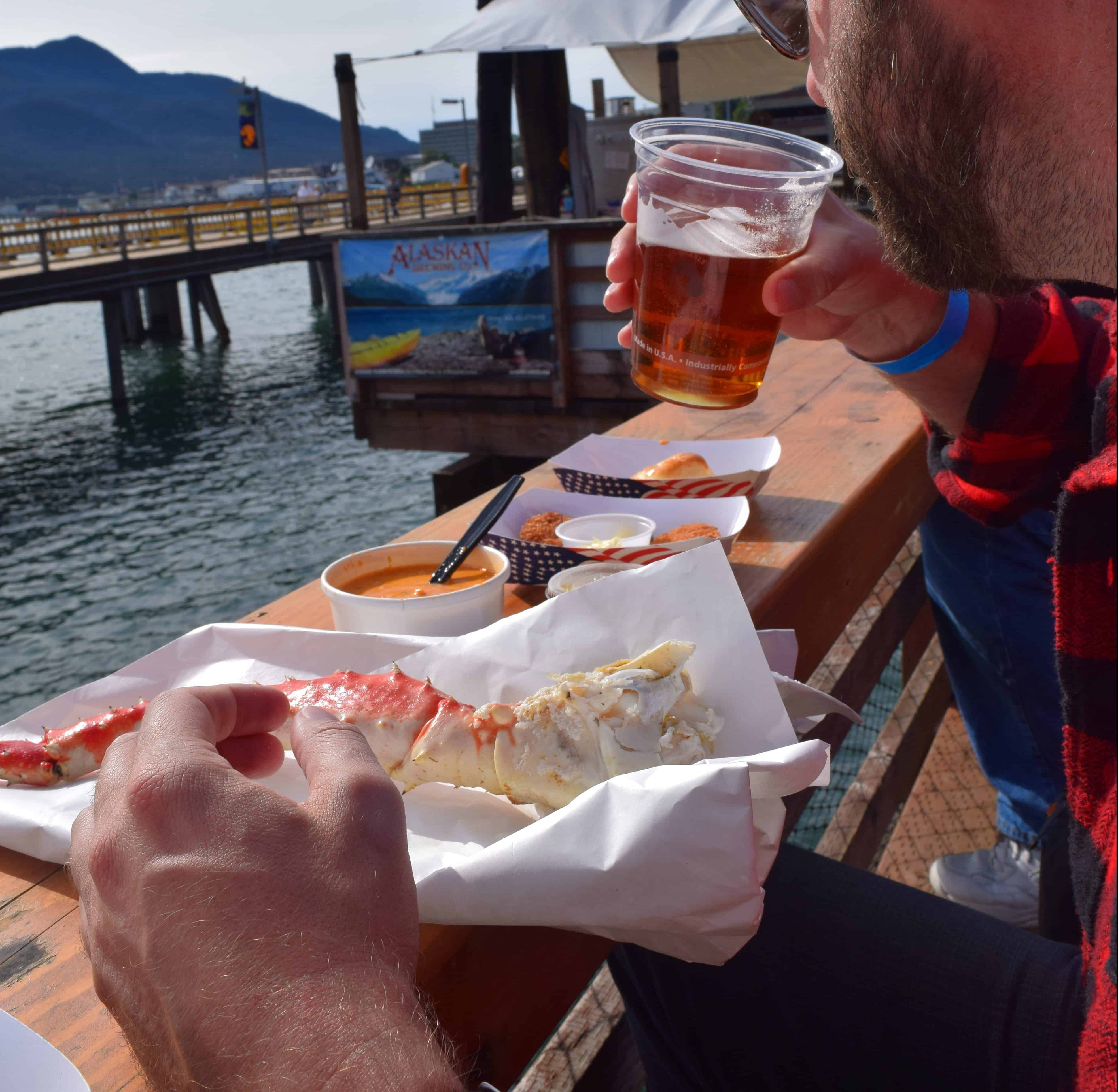 Tracy's King Crab Shack
If you are a seafood fan, then you must must must go to Tracy's King Crab Shack. I've had good seafood before but this place truly blew me out of the water. You don't need me to tell you. If you read anything about Juneau, Tracey's is sure to be mentioned. Located on the dock right to the side of the cruise ships, you can't miss it.
Don't even worry about checking out the menu. I'll tell you right now that you need to try their most popular item… the Crab Shack Combo. The combo comes with 1 King Crab Leg (It's GIANT!), 8 oz of Lobster Bisque (literally the best I've ever had), and 4 mini crab cakes (that were to die for). Combine all of that with garlic rolls, hot melted butter, and a local craft beer… and O.M.G. We even contemplated coming back and getting another combo right before we boarded the ship… it was THAT good.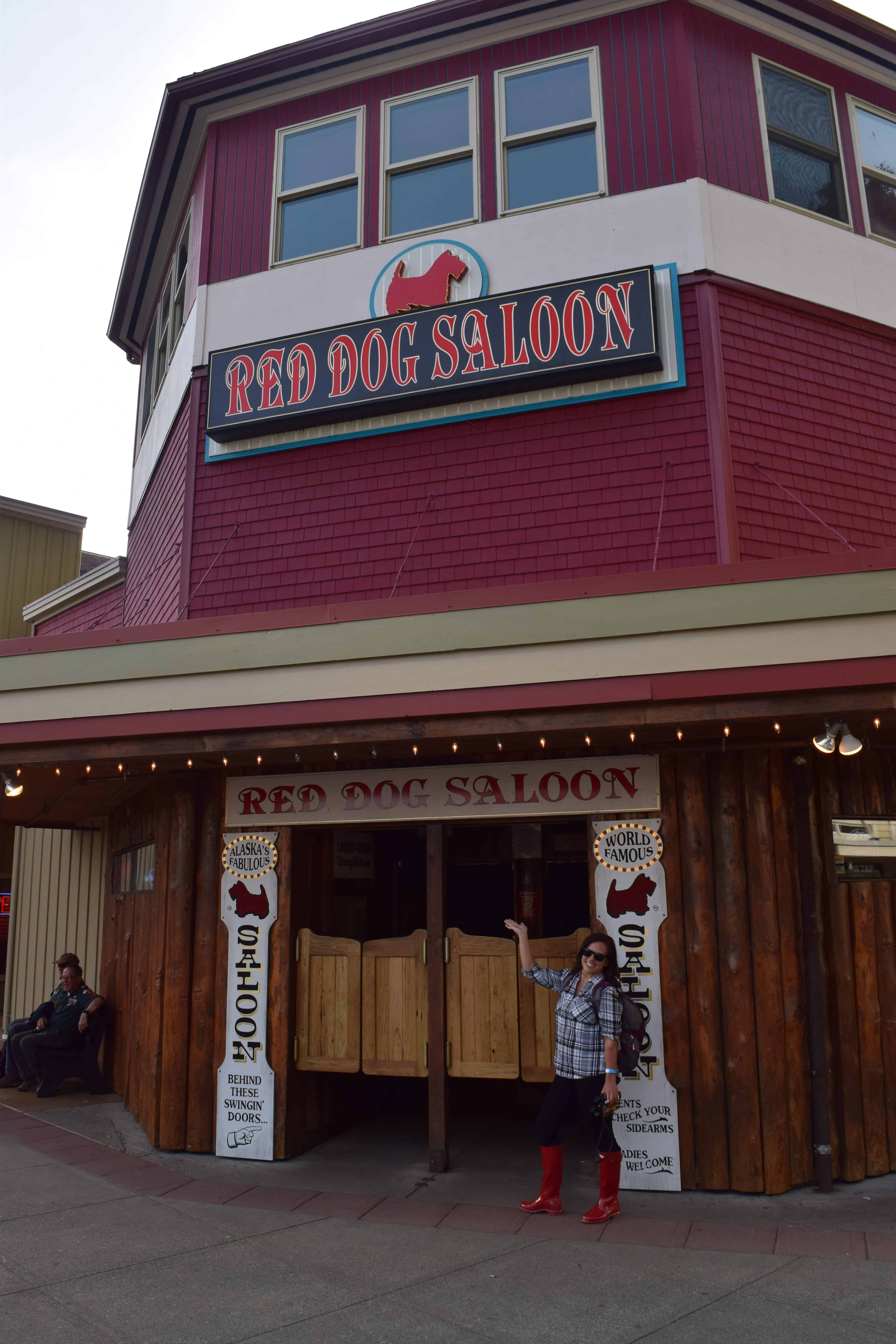 Red Dog Saloon
Also, try not to miss the Red Dog Saloon. This famous saloon was built back in the good ole mining era of Alaska and continues to operate that way. Complete with women dressed in 1800's style clothes and a piano player playing rag-time music. Even if you don't have a lot of time, stop by and take a picture by the swinging doors, and have a least one drink. The atmosphere is more than worth it. And if you happen to see our stool, take a picture and send it to me! And leave a mark of your own.
Juneau, Alaska, is a place you could spend days and still not see everything worth seeing. Do your best to pick the sites most important to you. But as I always recommend, do your research beforehand so you can maximize every second of this amazing town.
If you missed it, read all about our time at sea on the Ruby Princess in Cruising to Alaska!
Then head over to read the best things to do in Ketchikan, Alaska in Cruising to Alaska! Part 2: Ketchikan
And don't forget to check out Cruising to Alaska! Part 4: Skagway
What to Wear on An Alaskan Cruise