The very first cruise I ever went on was an amazing 7-day trip cruising to Alaska! We set sail out of Seattle and sailed round trip through the southeastern part of Alaska. You can view the exact itinerary of our Alaskan cruise with Princess Cruise line here.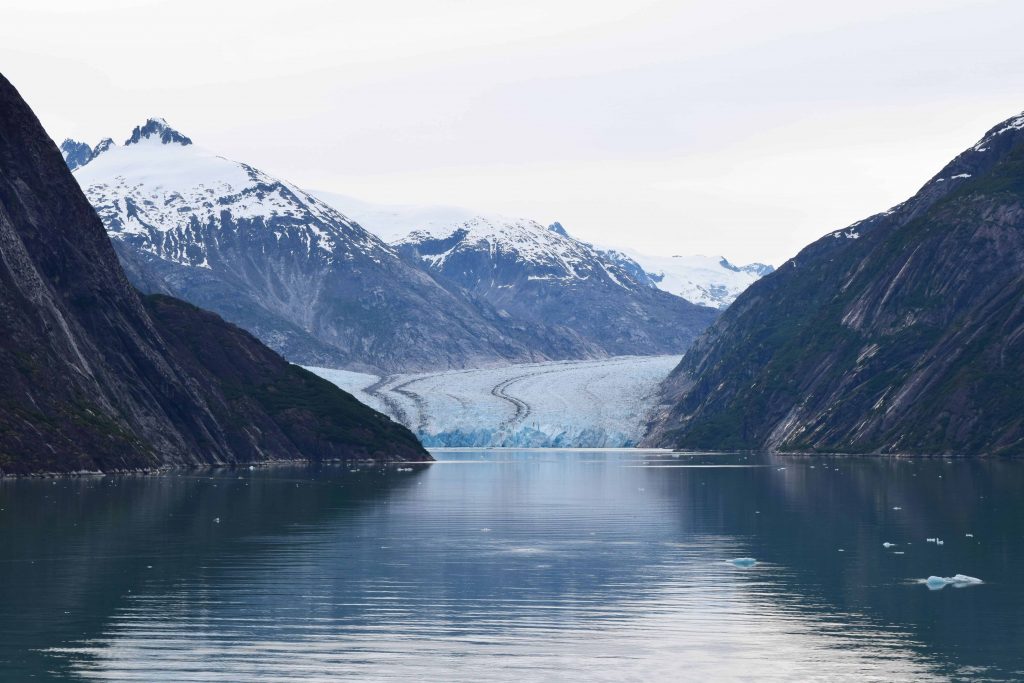 Before you go on an Alaskan cruise, you might want to check out What to Wear on Your Alaskan Cruise!
Cruising to Alaska
Before we embarked on our Alaskan cruise, I spent hours and hours searching for every detail about the trip that I could. I wasn't looking to ruin the surprise, I just wanted to be sure I didn't miss anything. Alaska is not somewhere you often go. So you want to make the most of your trip.
After all the searching and searching I did, I was so disappointed in the information out there (or should I say lack thereof). Everything was facts about the ship or lists of excursions to go on.
I was searching for the more nitty-gritty details about the cruise. What was the buffet like? How do you maximize your time onshore? What are the really lame things I can pass by?
It didn't take me long to realize if I wanted something done right, do it myself! After returning from the cruise, I wanted to share all those valuable tips and advice that I so longingly searched for.
We chose to make it an adult trip (no kids woohoo!) and I was not disappointed. Alaska was both adventurous and romantic. I hope we have a chance to go again someday.
We originally chose to see Alaska on a cruise because that gave us the chance to visit several areas of the state all on one trip. It was the perfect way to see Alaska for the first time.
For packing tips on what to bring on your cruise, check out: What to Pack for a Cruise, Your Cruise Packing Essentials.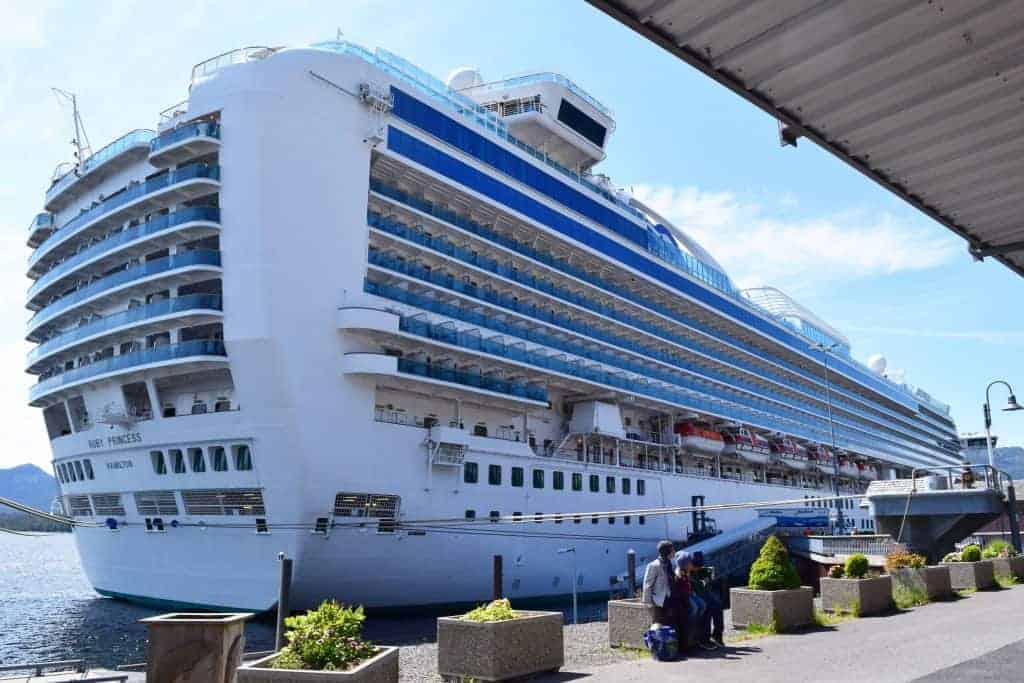 An Alaskan Cruise – The Ship
We set sail aboard the Ruby Princess with Princess Cruise lines. It set sail out of Seattle and returned there 7 days later. Seattle was a really fun city to visit. It was the first time we ever traveled there, so I'm glad we got to spend a few days exploring the city before our cruise.
Don't forget to follow on PINTEREST for more cruising tips and advice!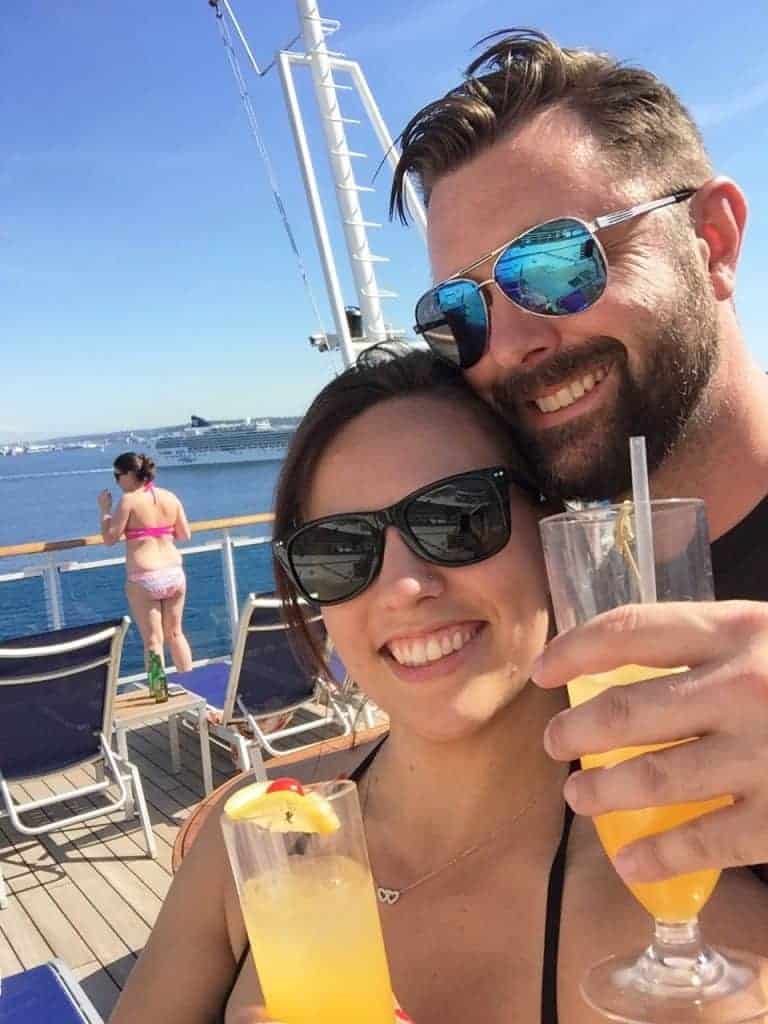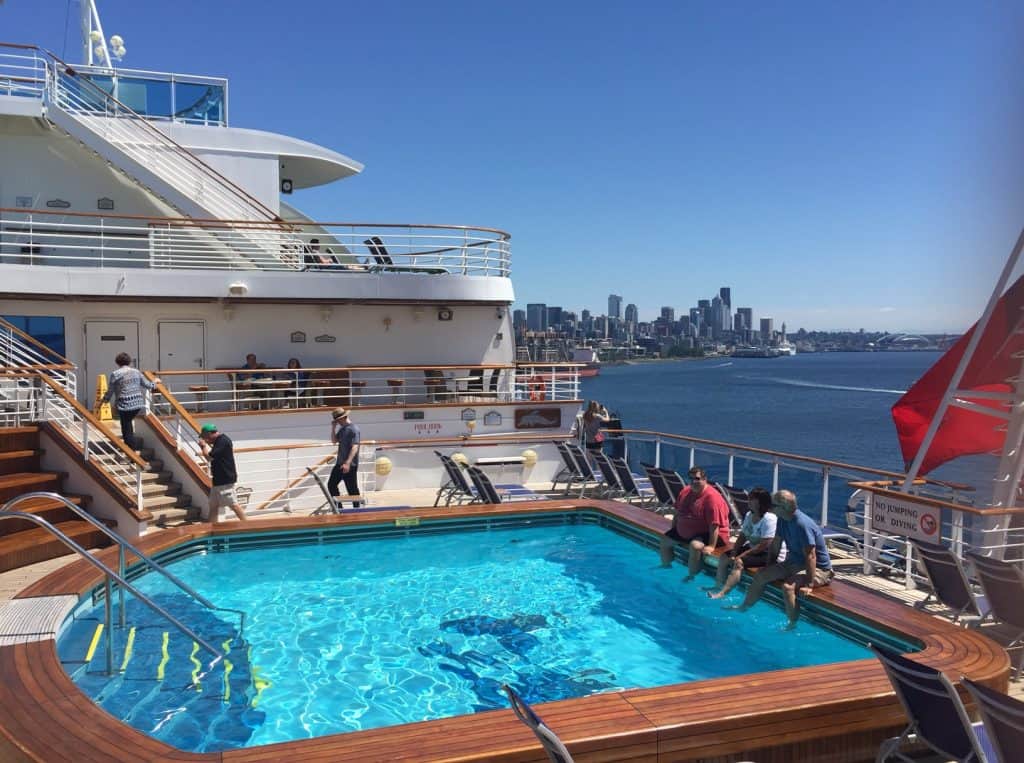 The day we set sail was 88 degrees, a heat wave accordingly to native Seattle residents. But it was nice for us.
First tip: get there early and board as soon as they will let you. Princess assigns you times to board but we got there early in hopes they would let us on and they did! This was one of the smartest things we did that day.
As soon as you board, the buffets are open, the pools are ready, and the alcohol is flowing! We quickly changed into our swimsuits and spent the afternoon hanging out at the pool with a bucket of Bud Light.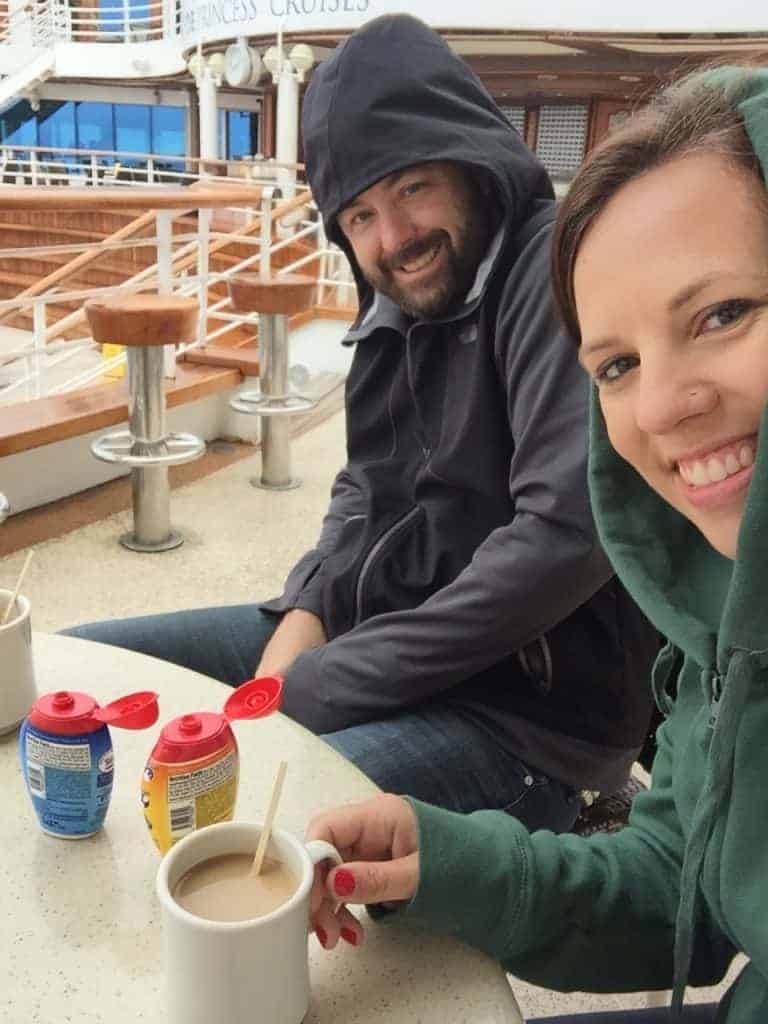 But beware because the weather changes drastically the very next morning when you are out at sea! The first day we were laying in the sun getting a tan and the next morning we were freezing sitting in the exact same spot enjoying a morning coffee.
Packing for an Alaskan Cruise
Stay tuned for my next post "What to wear on an Alaskan Cruise", where I go into more detail about what to pack and what to leave at home. In the meantime, I wanted to mention what is important to know for the day you board.
Princess does not have a luggage limit so you can bring almost whatever you desire! (Check their website to see more in detail about what is accepted and what is not). Every adult over the age of 18 can bring one bottle of wine or champagne on board.
Do this! Alcohol is expensive on the ship, so anything you can bring is highly recommended. We brought a bottle of Champagne and a bottle of wine. We kept them in our room and used them to make mimosas with our morning orange juice, or as cocktails on our balcony before dinner. We also saw people bring bottled water and 12-packs of soda.
You might hear people talk about packing a small carry on bag when you board. Also another great tip! Your luggage may not get delivered for several hours after you set sail.
Princess Cruise line stores all the luggage in the bottom of the ship until everyone boards. They don't start delivering your luggage until later, which can be several hours after you boarded the ship.
Pack a small carry on with anything you might need for the afternoon. We packed our swimsuits and thank god because we were able to enjoy the pool well before the ship even left the dock.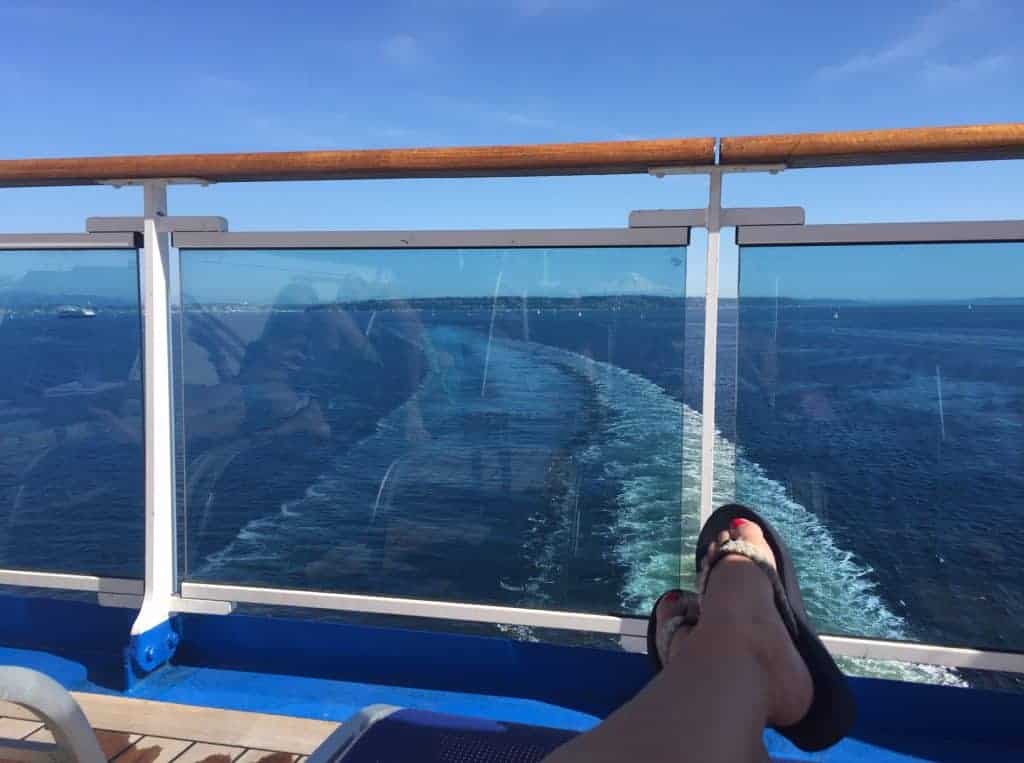 Spring for the Balcony on Your Alaskan Cruise
It's tempting to book the interior cabins or even just a sea view because the cost is drastically cheaper than the balcony. But this is not one of those times to cut corners. Half of the amazing things we saw were right from our balcony. I still think about all the things we could have missed seeing if we didn't have a Balcony room. I cannot stress this enough. Get the Balcony.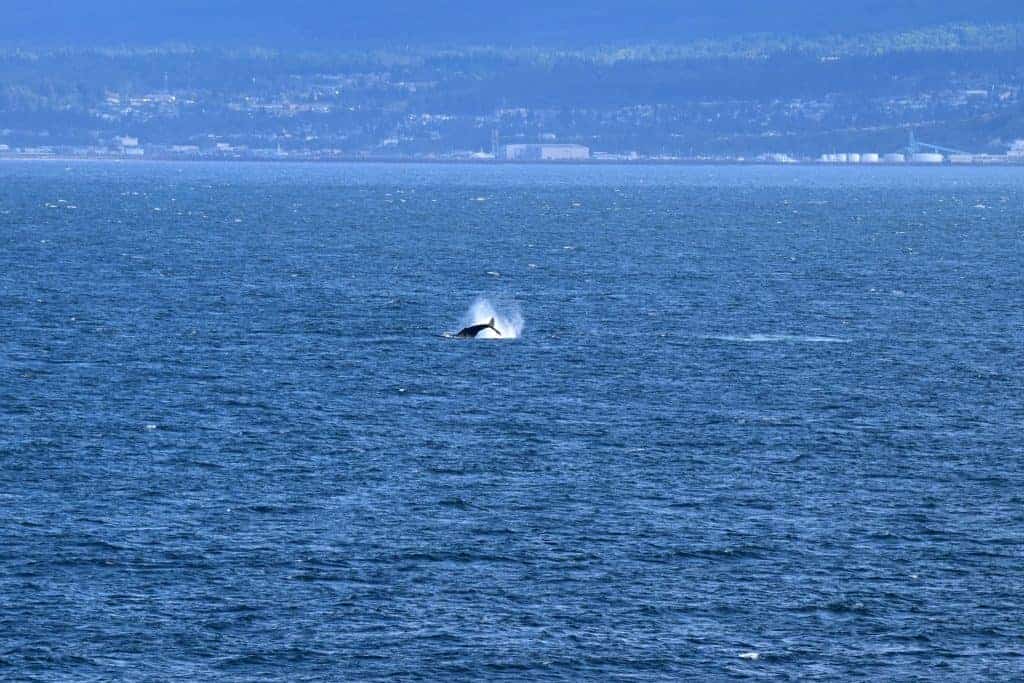 Picture this, every morning you have coffee and breakfast delivered to your room. You wake up enjoying your morning cup of coffee or juice while sitting in the cool air, watching the ocean. Before you even start your day you see Orcas swimming around and mountains with waterfalls and glaciers. Absolutely worth the upgraded price.
Despite the change in weather, we left our balcony door open the majority of the trip. We fell asleep to the sound of the ocean and woke to it also. Which brings me to my next detail about Alaska…
The nights are short!
I knew I heard this before but never really understood until we were there. The sun didn't fully set until almost midnight and was soon rising again by 4 am. It's easy to skip on sleep when it's always light out. But the early morning sun made it easy to rise and get off the ship as soon as you dock.
One more tip; get up early and get off the ship as soon as you can. Most ports have you docked by 6 am.
It sounds early, but I highly recommend trying your best to get up and get off the boat. Take advantage of every second you can onshore. Order the room service the night before and ask for a wake-up call. While out at sea, your cell phone goes in and out of service. You could totally miss waking up this way… don't rely on your cell phone!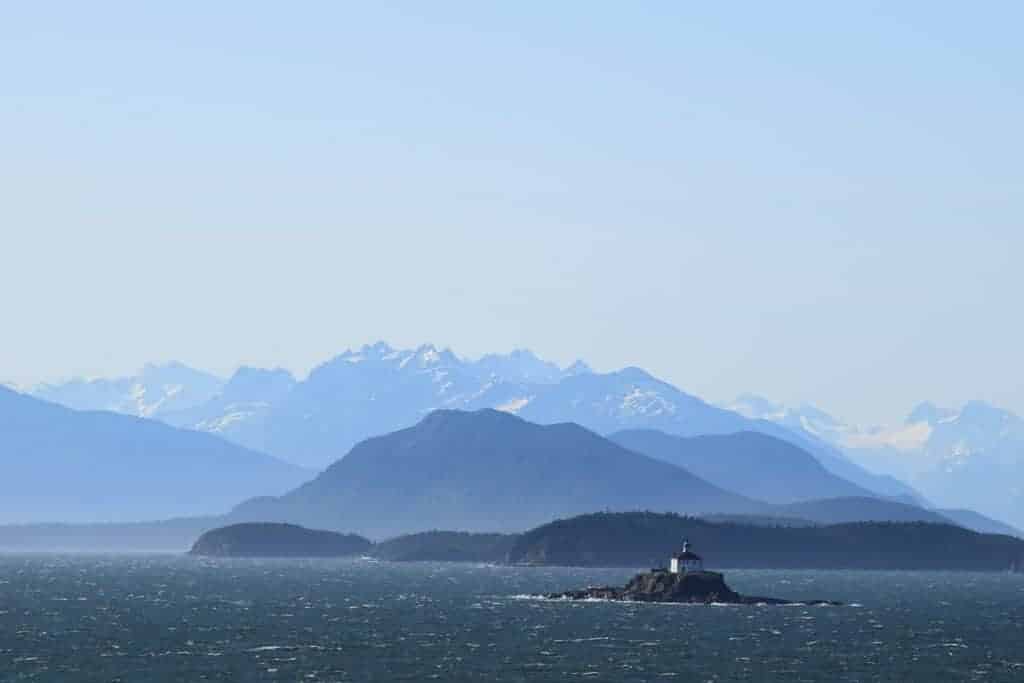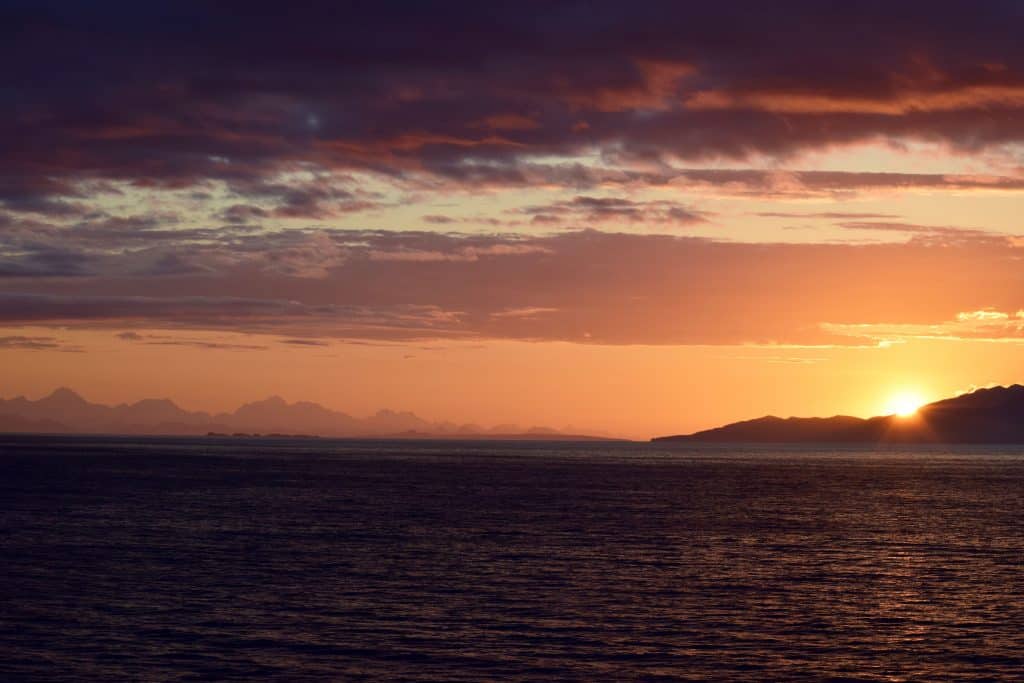 The Cruise Ship Rooms
The Ruby Princess's rooms are a bit smaller than most cruise ships. Despite this, and despite how small they advertise them to be… I actually found there was more than enough room for our belongings.
The closet is very spacious and there are drawers everywhere. Even the nightstands have drawers. Just take advantage of every nook and cranny you can find and you'll be ok.
Everything you read about the outlets is also true! There are none! Ok, there was ONE. But that is obviously not enough to hold every electronic you have. Buy an outlet extension before you go.
One of the best things I did before going on the cruise. We bought something similar to this outlet, so we could plug in everything we owned all at once.
Food! Oh, the Food!
You hear a lot about the food on a cruise ship and every little bit is true… it's amazing! One tip we learned that we hopefully remember for our next cruise… don't overeat! You laugh, but it's so easy to do. Obviously, there are the buffets and you can help yourself as much and as often as you like. Which I do recommend. Taste a little of everything. Why not?!?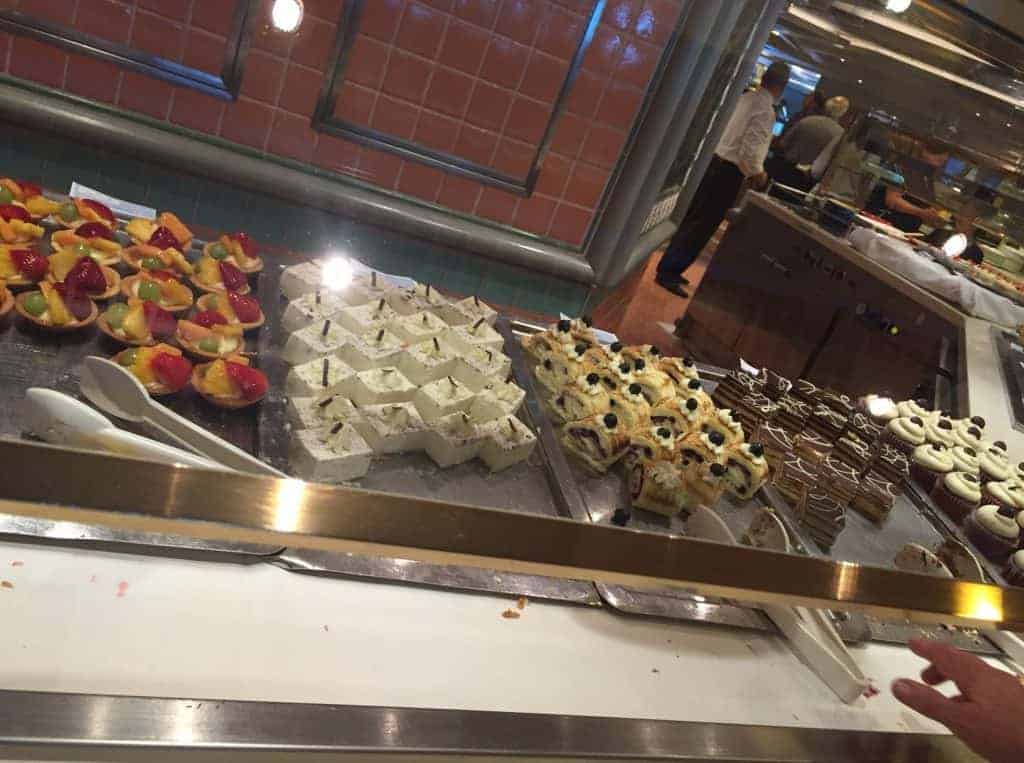 When it comes to the specialty dining restaurants, I'm sure they are super great. We chose not to partake because of the extra cost. This was something we debated at first, but I'm glad we passed on it. All the food that is already included in the cost of the cruise was well worth it. Trust me, we ate well!
The dining rooms.
We tried to have most of our dinners in one of the two dining rooms available. I can not say enough great things about them. Every night the menu is different so there is always something new to try. And you are not limited in what you can order! You want two appetizers….get them! Two different entrees… go for it! One of each dessert… no problem! The food was amazing and the staff was incredible.
When you book your cruise, you have the option of choosing either a set dining time or anytime dining. Do whatever you think will work for you. If you choose the set dining times, you always get the same table and the same wait staff. Which is really nice because they get to know you and you get to know them.
We chose to do anytime dining because we have enough schedules in our daily life. So we wanted to be able to eat anytime we wanted and not worry about the clock. This definitely worked out best for us.
Some nights we had private romantic dinners at a table for two. And other nights we shared the table with other passengers and got to hear not only their stories but also what they recommend doing on the cruise.
One of my favorite things about cruising… the 24-hour room service! And they are not joking. You can order almost anything, anytime you want. Chocolate cake at 3 am… just pick up the phone and it'll be at your door in 20 minutes! Take advantage!
Learn more about your dining options by checking out The Ultimate Guide to Cruise Ship Dining!
The Interior of the Ruby Princess Alaskan Cruise Ship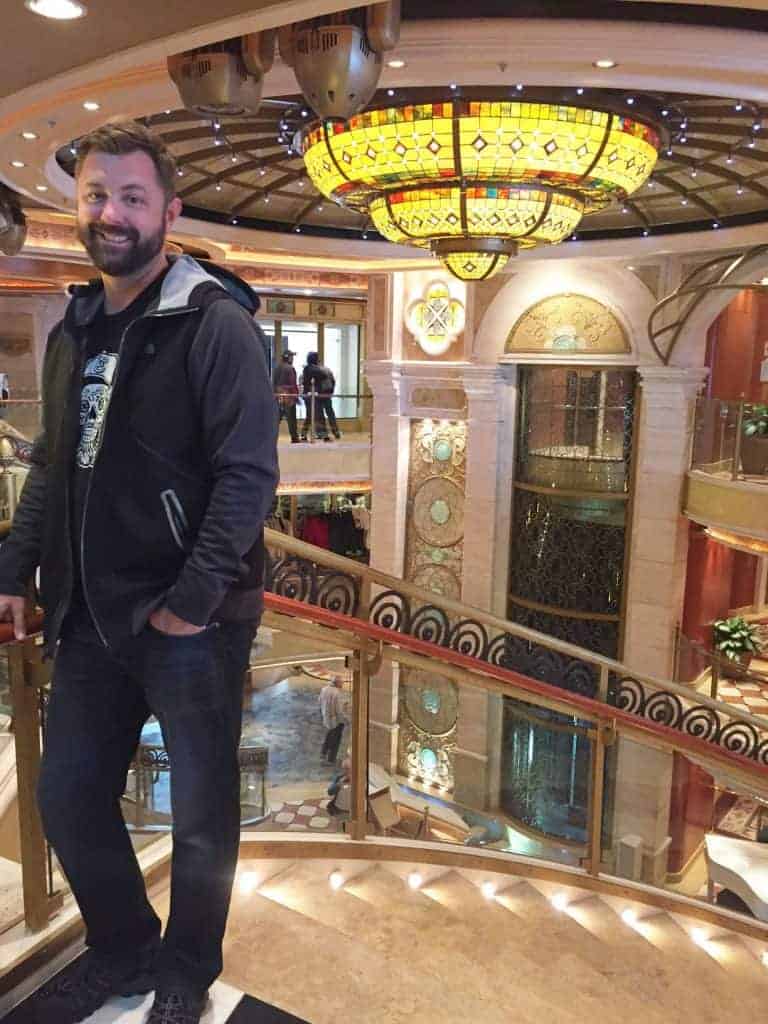 It's BIG. I couldn't even guess how big until I saw it myself. And glamorous. Princess did an amazing job of designing the interior of this ship. You can spend a lot of time just walking around and taking in every detail. Which I highly recommend you do. Explore and learn every corner of the ship.
Some things I'm glad we did;
Spend some time walking through the art gallery. Grab a glass of wine, and stroll through the quiet halls surrounded by works of art. It made for a really romantic night on formal night.
See a Show. We saw the Comedy show and it was worth every second. I couldn't believe how hard we laughed.
Enjoy one of the many lounges and bars. Even if it's to have one drink and move on, try to hit them all. It's fun to talk to the bartenders and spend a little time unwinding and relaxing.
Brought a really nice camera. This is not the time for your iPhone to take pictures. Invest in a nice camera that can truly capture the details of the world around you. I treated myself to the Nikon D3300 and couldn't be happier.
Read the daily newsletters. Every morning, Princess Cruise Line supplies your cabin with a newsletter. It includes fun information about a new crew member every day and highlights important details about the day. You will find everything you need including what your port times are and what daily activities are planned. They will literally list every show and every event. Don't ignore the newsletter!
Alaskan Cruise Inside Passage
If you choose the itinerary that cruises the inside passage, don't miss it! They give you the exact time the ship will be cruising right past some glaciers and the most amazing scenery you have ever seen.
Pay attention to those times and get your butt up on the highest deck you can. This is one time the balcony view is good… but not great.
The ship slowly sails through gorgeous emerald water, floating ice chunks, mountains with ice caps, waterfalls, and wildlife.
Dress warm, bring your camera, and enjoy the few hours you sail through the inside passage.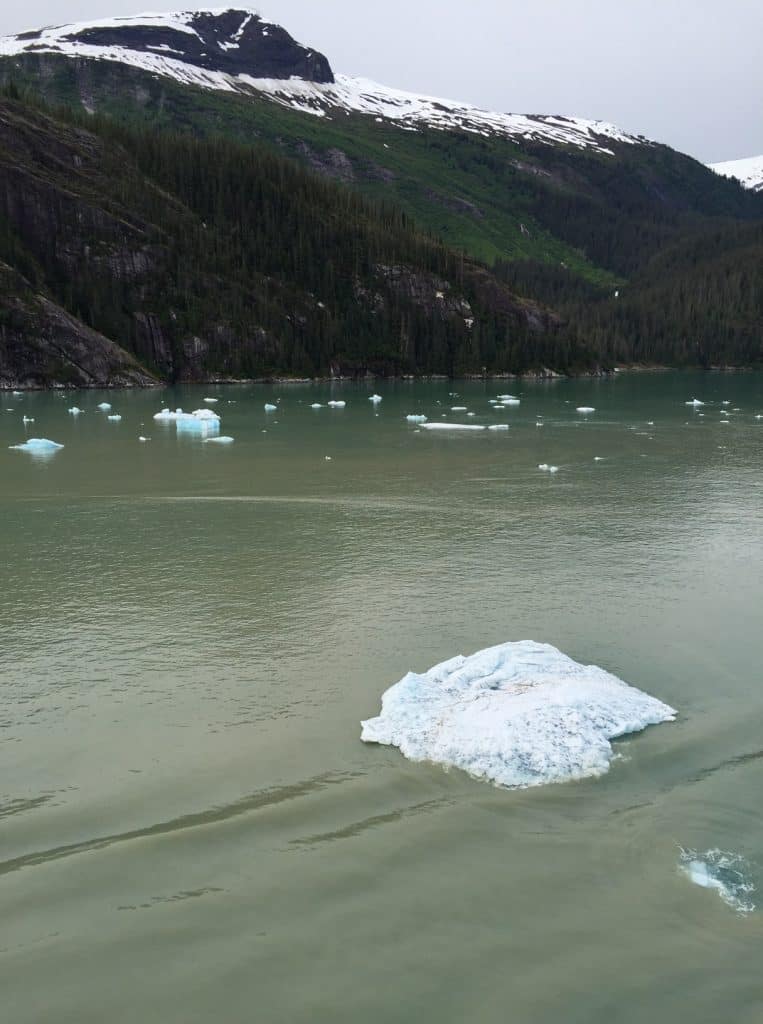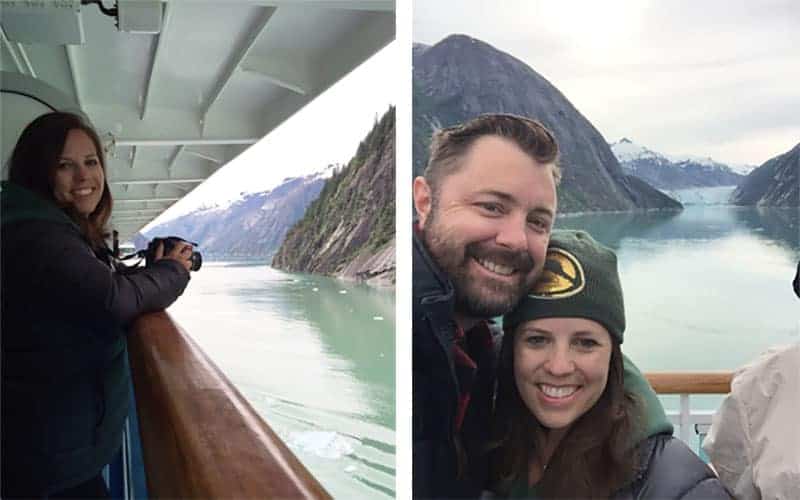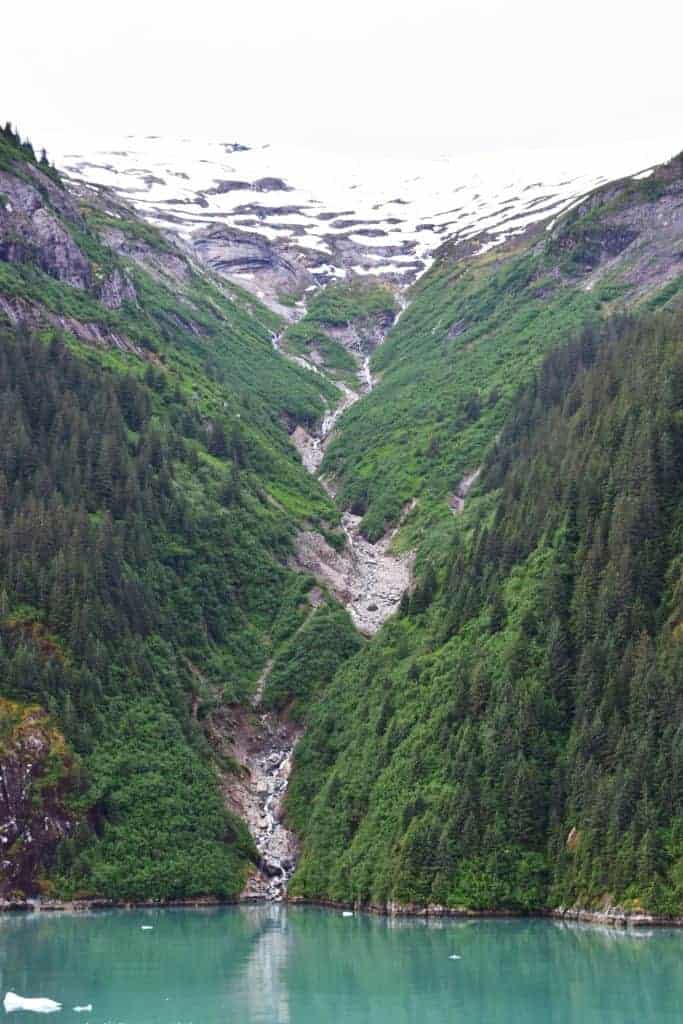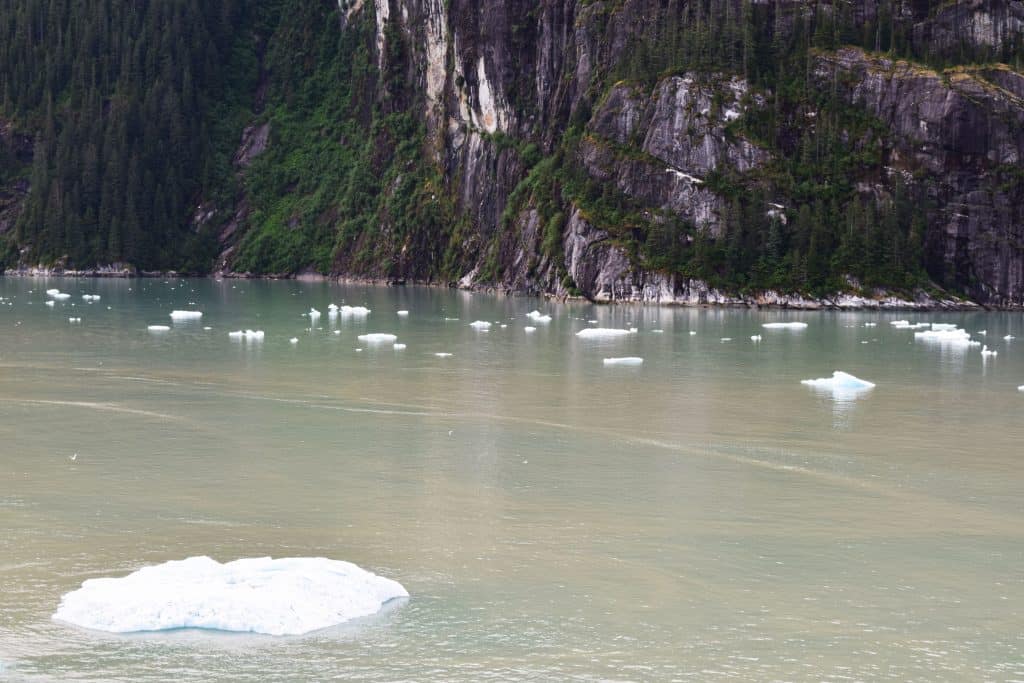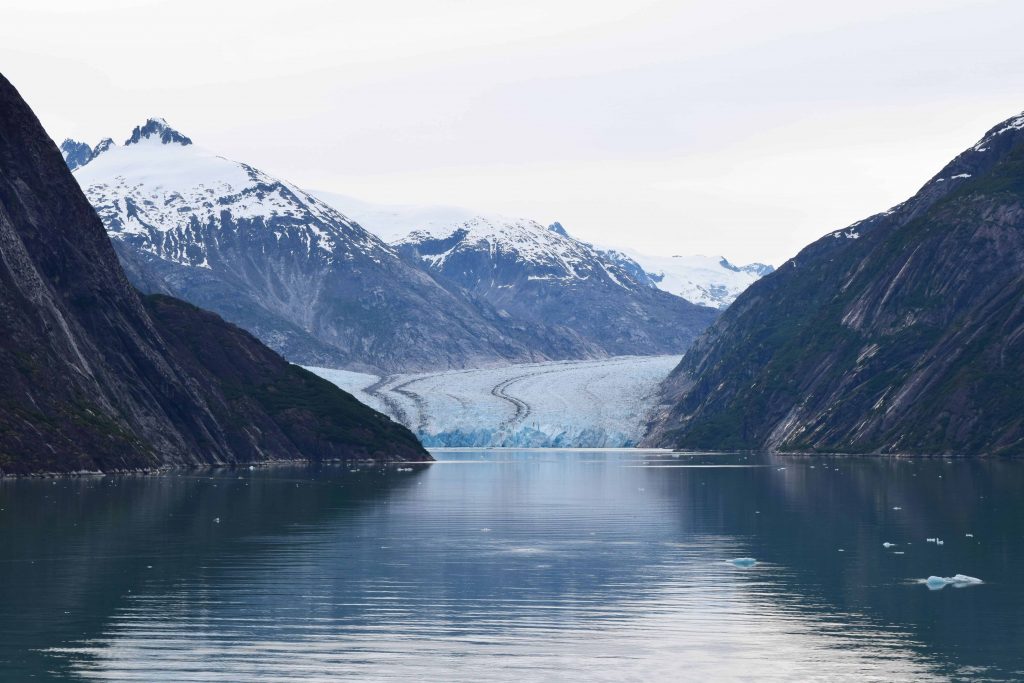 Alaska is an amazing place to visit and I'm glad we chose to go on the 7-day cruise. It's the easiest way to see as many places in this state all at once. If I could do anything differently, I would:
Choose a direct route from Vancouver to Anchorage. You get less time on the water not having to make the round trip and actually get an extra port to stop at.
See more shows. We loved the comedy shows but I wished we would have made an attempt to see some of the other productions the ship puts on.
Ate less! lol.
I'm hoping the next time we go, we will bring the kiddos with us. An Alaskan cruise seems like an older crowd, but I couldn't have been more wrong. There were not only a lot of families there, but there were also more than enough activities to keep the youngsters entertained. And I think they would have really enjoyed all the wildlife and scenery around us.
For now, I'll keep the memories of this beautiful untouched land, combined with the tranquility and romance of the one I love, and hope to return to do it even better next time.
UPDATE: Read the 2019 Updated Version of What it's REALLY like on an Alaskan Cruise!
Enough about the Ship! Go check out my next posts on our 7-day Alaskan Cruise with Princess Cruise Line: