Wondering what items to bring on a cruise? Get prepared for your cruise with this list of must-pack items and cruise essentials you can't forget!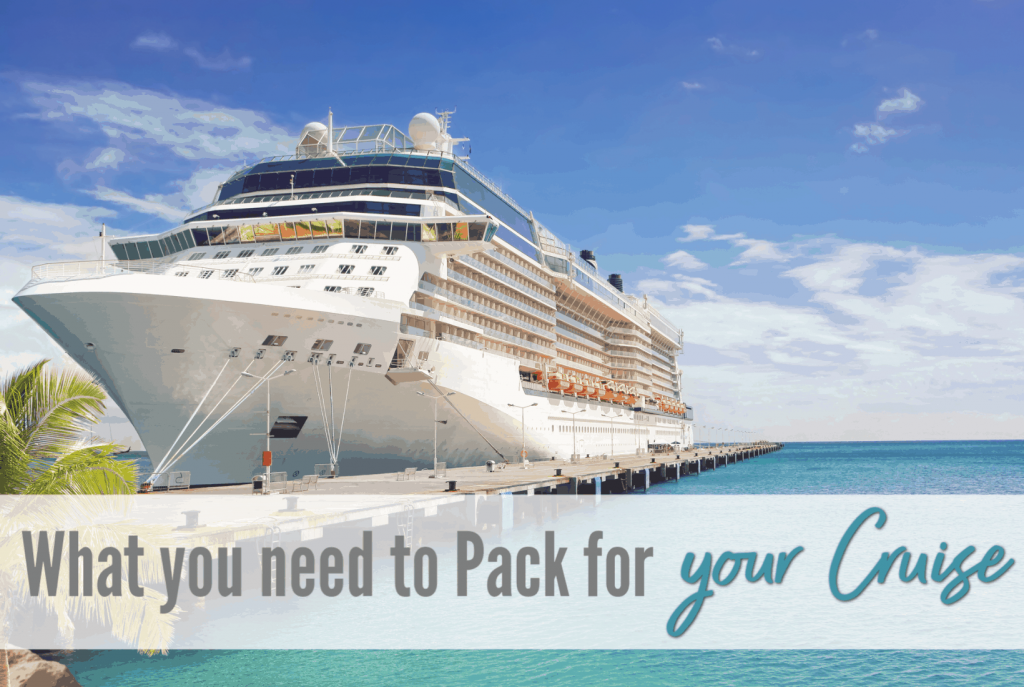 What should you bring on your cruise?
If you are about to go on your first cruise, then you NEED this list of what to pack for a cruise.
Are you wondering what items to bring on your cruise? Most travelers concentrate on the outfits they need for a cruise. But beyond your bathing suits and formal wear… there are several items you would never think of that are absolutely essential for your cruise!
I'm slowly becoming a cruise addict. I've been on an Alaskan cruise and a Western Caribbean cruise and am currently planning my next cruise, a Southern Caribbean cruise.
If you are looking for information on outfits for an Alaskan cruise, check out my post: What to Wear on an Alaskan Cruise
The first time I went on a cruise, I had a lot of anxiety about packing the right items. In most of my travels, I could easily run to Target or Walmart if I forgot something. But its not so easy when you are in the middle of the ocean.
So I did a ton of research before I set sail, and learned many things after my first cruising trip. I have my cruise packing down to a science and am thoroughly prepared.
This list of 24 cruise item essentials are things you are gonna want to make sure you have before you go on your cruise!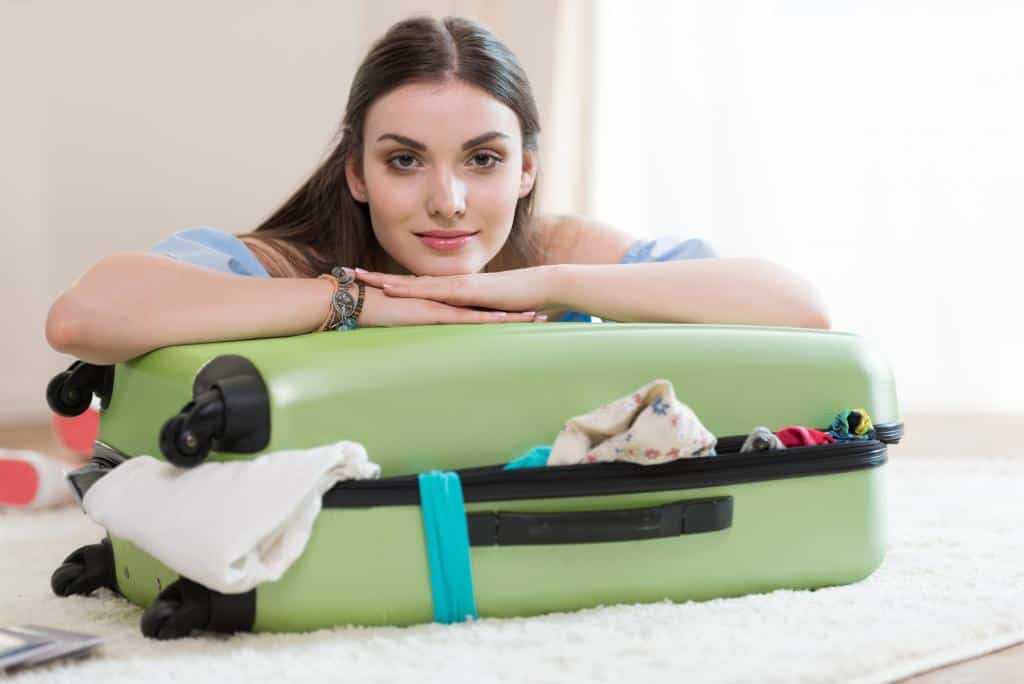 Cruise Packing List
1 – Wrinkle Release spray
You are not allowed to bring irons onto cruise ships and they will not provide one for you. It's too much of a fire hazard and when you have thousands of passengers packed onto a ship in the middle of nowhere, you'll understand this rule. Grab a travel bottle of wrinkle release spray for any minor wrinkles on your clothing.
2 – Mini Steamer
Cruise lines won't allow irons but they WILL allow mini steamers. So for your formal wear or more stubborn wrinkles, a good mini steamer comes in really handy. I even liked it so much, I use my mini steamer at home all the times (cause I hate ironing).
3 – Poo-Pourri
Cruise rooms as small. The bathrooms are even smaller. So if you are traveling with a partner, be kind and grab a travel size bottle of poo-pourri before you go. You both won't regret it. I think it's self explainable.
4 – ziplock bag
Every time we went to port, we grabbed some snacks and treats from the buffets and put them in ziplock bags in our backpacks. So many times, you are out on excursions and trying to pack in as many activities as you can, you forget to plan for meals. Having a few snacks in your bag almost becomes essential. Especially if you are cruising with kids!
5 – motion sickness medicine
The cruise ships do sell these but they can be almost double the price. Be prepared with either some motion sickness pills or motion sickness patches.
6 – water bottle
The drinking water on cruise ships is filtered and taste great. Get yourself a nice refillable water bottle to not only keep in your room (you may need it at night after a big dinner and drinks) or to take out with you to excursions.
7 – fake shampoo bottles
If you didn't buy the drink package and you want to sneak in some alcohol, get yourself these bad boys. It'll save you tons of money (but ssshhhhhhh… you never heard me say this!)
8 – excursion printables
Port days can be a bit stressful with figuring out what to time (and where!) to get off the boat, what excursion you have, where you need to meet, or if you still need to pay (some excursions have you pay online, some require you bring cash). Make it easier on yourself and have a printed out port itinerary for each day ready to go.
9 – bug spray
In both Alaska and the Caribbean, I was shocked at how much I needed bug spray. Alaska is actually made up of rainforest and when we hiked one, the mosquitos were the size of birds. And when walking in Belize to go river tubing… well there were lots of bugs there too. So many so that several other people asked to borrow our bug spray. Because they were not prepared!
10 – slip resistant slide on sandals
These are mostly needed for the boat. I found myself running around all the time and having a great pair of slip-on sandals was a MUST. To get coffee in the morning, to hit the buffet, to run down to the excursion desk… I found myself using these constantly.
And make sure they are slip resistant because the decking on cruise ships is ALWAYS wet! I saw one too many people slip on those decks.
11 – binoculars
If you have a balcony room, binoculars are a MUST for your cruise. You'll be out in the middle of the ocean and who knows what you might see. On our Alaskan cruise, we saw seals and orcs swimming in the distance and bald eagles flying overhead. Even lighthouses and glaciers off in the distance.
On our Caribbean cruise, we saw dolphins swimming and other islands in the distance. And you don't need to send a ton of money. You can get an affordable pair of binoculars that will do the job just fine.
12 – camera
I'm sure your camera phone takes great pictures but there is nothing quite like a good clean photo taken on a nice camera. I keep my old starter DSLR around for vacations where I want great photos, but won't be distraught if something happened to it.
13 – power strip
Cruise cabin rooms have barely any outlets. Seriously. You get one in the bathroom and one in the main cabin. So if you have 2 phones to charge, or a camera battery, or anything else, you need a power strip. Getting one with some USB ports is ideal.
14 – A portable charger
Once you step off the ship, there will be no place to charge your phone. And the last thing you want is your phone to die in port, for so many reasons. I love to travel with this portable charger so I can use my phone as often as I need (photos, maps, contacting travel partners, etc) and not worry about how much charge is left.
15 – flat/foldable suitcases
You hear all the time about how small cruise cabins are and it's so true. But the bed has space under it that you can totally utilize. This suitcase is my go-to for all cruises. Its hard shell so it travels well. It's super light so I can pack a ton and stay under the 50lb limit. But most importantly, it opens up flat and slides easily under any cruise bed. Basically turning it into a drawer that slides out from under the bed with ease.
Nice thin foldable duffels work well too, so you can hang your clothes and easily stash the duffel away without it taking up too much room.
16 – phone dry pouch
No matter where you sail, there is water. You're on a boat! In the Caribbean, we hiked a rain forest and went tubing down a river. If you want any chance of your phone staying dry and still be able to take photos of your adventures, get a dry pouch for your phone. One like this holds phones of any size and still has room for a passport or room key.
17 – towel clips
Let me tell you, it is windy on a cruise ship! And I got really tired of my towel blowing away every time I stood up. You can only use so many drinks and magazines and shoes to hold it down. Grab a few inexpensive towel clips. You won't regret it!
18 – lanyard
Lanyards are not a must but they come in really handy with your cruise ship card… which you need for everything! They sell lanyards on the ship, but they are super expensive. And if you buy for the whole family, it can really add up. This is a great way for kids to keep track of their cards too since they get their own.
19 – small backpack or tote
You'll need something light to carry around for any port you visit. Every time you leave the ship, you'll have your passport, key card, camera or phone, bug spray, sunblock, water, snacks… the list goes on and on. Plus, it's nice to have something to stick souvenirs in.
20 – watch (not a smartwatch)
Ship time is very confusing. While on our Caribbean cruise, we went through 3 different time zones. And some times our smartphones and watches didn't sync up. So if you don't know what time it is, it could mean the difference of you missing an excursion… or missing getting back on the boat!
21 – sticky notes
If you have any travel partners on the ship with you, it's super handy to be able to leave them a note on their door. Communication onboard is almost impossible. When you are out at sea, you have no service. So you can't text or call. Sticky notes on a door may be the only way to let someone know where you are or where to meet.
22 – chapstick
Not a huge one, but something I would definitely make sure you have. Being out in the sun all day, your lips get very dry very fast. And if you're drinking at all, you'll be that much more dehydrated and not notice it until later. And the way the wind whips around the top of the ship as its sailing can also cause windburn to lips.
23 – A small flashlight
I've heard horror stories of cruise ships losing power and packing a very small and portable flashlight is something I do for any vacation I go on. I think it helped the kids to have them on their nightstands at night too cause those cruise cabins can get really dark.
24 – beach lock bag
I only learned of this sweet little device on my last cruise and thought it was genius. You can secure it to your lounge chair on deck, or to any place you want to sit and enjoy the beach… and not worry about your belongings getting stolen.
Is this your first time on a cruise? Check out my Top Tips For First-Time Cruisers before you set sail!
Final thoughts
I love cruises and I love being prepared (I'm a dork, I don't care). Feel free to comment below if you have any questions about your upcoming cruise plans.
Enjoy your trip… cruise life is addicting!
You might also be interested in: