Starting a meal plan can seem overwhelming, but it's easier than you think! With this guide to meal planning for beginners, you'll be a menu planning expert in no time.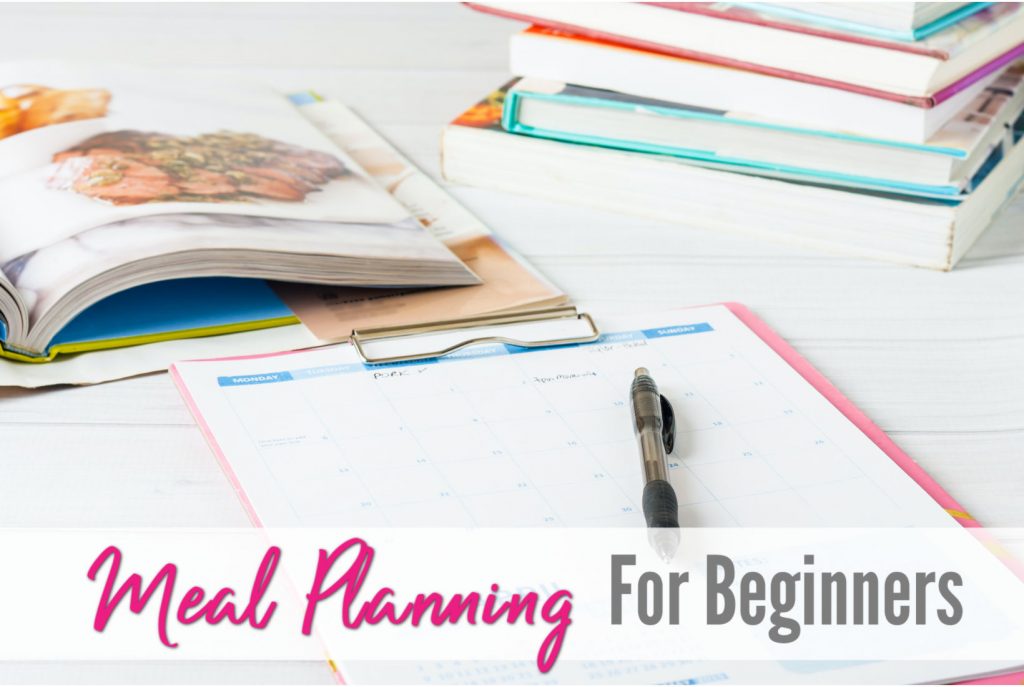 How To Create a Meal Plan When You Never Have Before
If you want to have fewer headaches and stress thinking up meals for your family every night, you'll love this Beginners Guide to Meal Planning.
One of the biggest pains in my week is when I come home from work and have to think about what to cook for dinner. Some nights, I barely want to heat up a frozen dinner let alone cook a big meal.
Other nights, I go from pantry to fridge, back to the panty… trying to find some ingredients I can throw together to make a nutritious meal that everyone will actually enjoy.
Which is nearly impossible.
The ironic thing is… I'm a planner. I love to plan things. If we take a trip, I spend months planing every detail. I have a planner for my budget and my schedule. So WHY don't I ever sit down to meal plan?
Being able to come home from work and grab a list of ingredients I already know I have, to make a meal I was already planning on… has been a total game-changer. For my own sanity, it was 100% necessary to start meal planning. And that's why you probably need this Beginners Guide to Meal Planning too!
[convertkit form=1406497]
The Benefits of Meal Planning
If I haven't convinced you yet, let me explain some of the reasons you will want to start meal planning. By starting a meal plan, you can save time, save money, and actually make your family happy. Not to mention save your own sanity every night.
1 – Having a Meal Plan Prevents Impulse shopping
Do you ever have those moments where you go to the grocery store and spend TONS of money but then you get home and have nothing to eat? Yeah, that was basically every single grocery trip for me.
Or the fact that I had a fully stocked pantry and no room in my fridge… but couldn't come up with a single meal to make.
That's what happens when you don't plan your meals. You buy a ton of things that look good but nothing goes together to make an actual meal. So by starting a meal plan, you will actually buy LESS food. You start buying only what you need to make a meal and not a ton of useless items.
2 – Prevents Buying Too Much Take Out
There are days I would be driving home from work and already know I had nothing planned for dinner. So then I would start running through a list in my head of all the food places nearby, to see where I could grab dinner from.
This became super expensive and super unhealthy. Not to mention, none of us agreed on the same place to eat. So everyone at home still complained and I was still stressed out.
3 – Meal Planning Reduces Waste
I can't tell you how many times I have to go through my fridge and get rid of tons of food that has expired, grown mold, or gotten stale. When you don't plan your meals, you let food (and money!) go to waste.
Part of meal planning is learning how to use what you already have. Bu taking inventory of your fridge and pantry and using the items you have, you will reduce waste and save money at the grocery store.
4 – Meal Planning Reduces Stress
Imagine never having to think about what's for dinner after a long day at work. Or even coming home and hearing "what are we eating tonight!"
When you create a plan for your meals, you will always know what's for dinner and so will your family. So you wont need to stress about it anymore.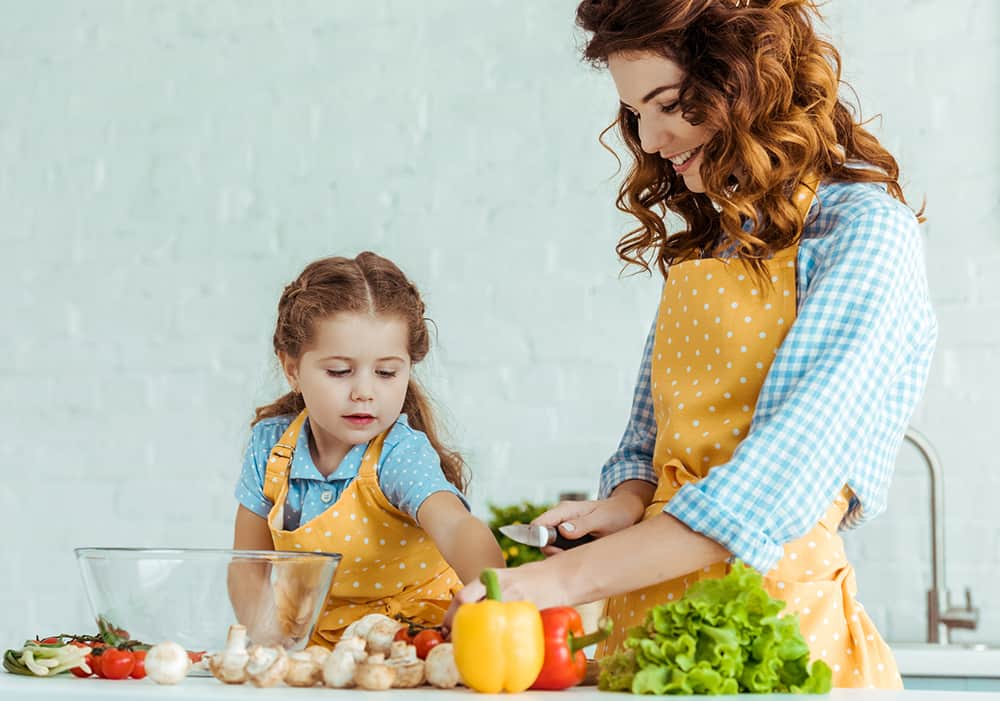 Let's Get Started Meal Planning!
It's fairly obvious at this point that we need to start meal planning more often. This guide to meal planning for beginners is easy to implement. Let's take it one step at a time.
1 – Shop Your Pantry
The best way to get started is by going through your own pantry and fridge and taking inventory of what you already have. You would be surprised how many odds and ends, sauces and condiments, sides and seasonings you possess.
Make a list of everything. Then go through your list and see what you can combine to make meals out of. Or find things that may need only one or two items purchased to make a full meal.
2 – Make a Plan
This is often the most difficult part because a lot of time we just don't know what to cook. Or it feels like the same thing every night. You can only make spaghetti so many times, am I right?
The first thing you want to do is find some recipes or dinner ideas. My favorite place to look for new recipes is, of course, Pinterest. You can search for things like 15-minute meals, easy to make dinner or even crock pot recipes.
Or if you want to mix it up even more, search for things like easy to make freezer meals. Want to mix it up even more? Go for theme nights. Mexican food, Italian, BBQ, etc.
Once you have a list of the meals you want to make (or try to make!) then continue to the next step…
Related: 20 Easy Slow-Cooker Meals Your Family Will Love
3 – Make a Grocery List
The easiest way to do this is to grab a black grocery list and just start writing down each ingredient you'll need for a week worth of meals. Often times you'll need similar ingredients, so I just put marks next to the ingredient if I need more than one.
For example: If I have two different recipes called for cream cheese, I will write down 'cream cheese' and then start marking "x1″ or"x2" to make sure I have enough for each recipes.
Did you come across a recipe with some ingredients you don't know where to find? For those, I make it easy and add them to my order at Instacart. Then someone else finds them for me and delivers it right to my door!
4 – Implement Your Meal
So you shopped your pantry, came up with some meal ideas and went grocery shopping. You're all set to start meal planning!
Now take your free copy of my weekly meal plan (print it out!) and use it to write down all your meals for the week. I prefer to do this on a Friday because I do my grocery shopping on the weekend and want to have my list ready to go.
Having a place to write down your meals for the week is beneficial for several reasons:
You'll remember what each night is supposed to be (its easy to forget when you get busy!)
Your family will be able to look at the list and know what's for dinner and not ask you 100 times before you even get home from work.
You'll know what to thaw out the night before.
You'll know exactly how much time it will take to make dinner so maybe you have time to stop at Target on your way home.
Meal Planning For Beginners – Tips and Tricks
Ok, so you followed all the instructions and you are on your way to creating your a meal plan each week. What next? Well, there may be some things to help you along the way. Like what to do when you get bored of the recipes you found? Or you want to mix it up a little?
Don't worry, I got you covered!
Here are some of my favorite tips and tricks for becoming a meal planning ninja!
Don't Forget to Check Your Schedule
Do your kids have sports some nights and you need a quick meal instead of a longer one? That might be a good night for a crock-pot dinner.
Or maybe there is a Holiday coming up and that particular night doenst really need a meal plan. And if you're cooking a lot for that Holiday, maybe you can plan on a lot of leftovers. Or creative recipes with those leftovers.
There are tons of reasons why you might need to tailor your dinner ideas around what's going on in your life. So make sure you keep an updated planner with whats going on and take that into consideration when planning your meals.
Try Something New
Are you getting tired of the same old recipes and not sure what else to make? Here are some suggestions that will help with dinner-block (I made that term up):
Theme night: Assign a theme to each night and pick recipes based on that. You can try Mexican, Italian, Indian, Greek, even things like Hawaiian.
Ask Your Kids: If you can't think of any more ideas, let your kids pick. Who cares if they pick hot dogs and Mac n cheese. You'll look like the cool mom who let them pick dinner… and it's one less meal you'll need to think about.
Have a "try a new recipe" night: Hop onto Pinterest and just type in a dinner recipe. Close your eyes and pick one!
Don't Forget About the Side Dishes
A lot of times, you can completely change a meal based on what side dishes you make. I once noticed I had a LOT of instant potatoes and decided to try to get rid of a few of them.
So I made everything from Shepard's pie to Swedish meatballs. If you work around your side dishes, you'll come up with a whole bunch of new recipes AND get rid of a lot of stuff in your pantry.
Meal Prep in Advance
If you working hours or come home late, you might want to try meals where you not only plan in advance but make in advance too. There are several recipes you can make at the beginning of the week and then just throw in the oven when you get home.
Look for make-ahead casseroles and and crock-pot dump recipes. You can make and freeze those on the weekend and have ready-to-go meals even your kids can help make!
Related: 22 Make-Ahead Breakfast Casseroles That Are Bomb!
Stick To Dinners ONLY When Starting Off Meal Planning
The number one tip I can give anyone who is just starting off learning how to meal plan and doens't want to get overwhelmed, is to start with just one meal a day.
Plan dinners for at least a month, until you really have the hang of it. Then add in breakfasts, lunches, or snacks. Don't try to do them all at once or you'll fail your first week.
[convertkit form=1406497]
Beginners Guide to Meal Planning
Just like everything, meal planning can be really easy to achieve and can have tons of benefits. Figure out what works best for you by trial and error. Just don't give up! Get your whole family involved with dinner and grocery lists so you can (try to) make everyone happy… including yourself!