Great tips to Get Kids to Exercise! Here's how to get kids involved in exercise and work out routines you can do together.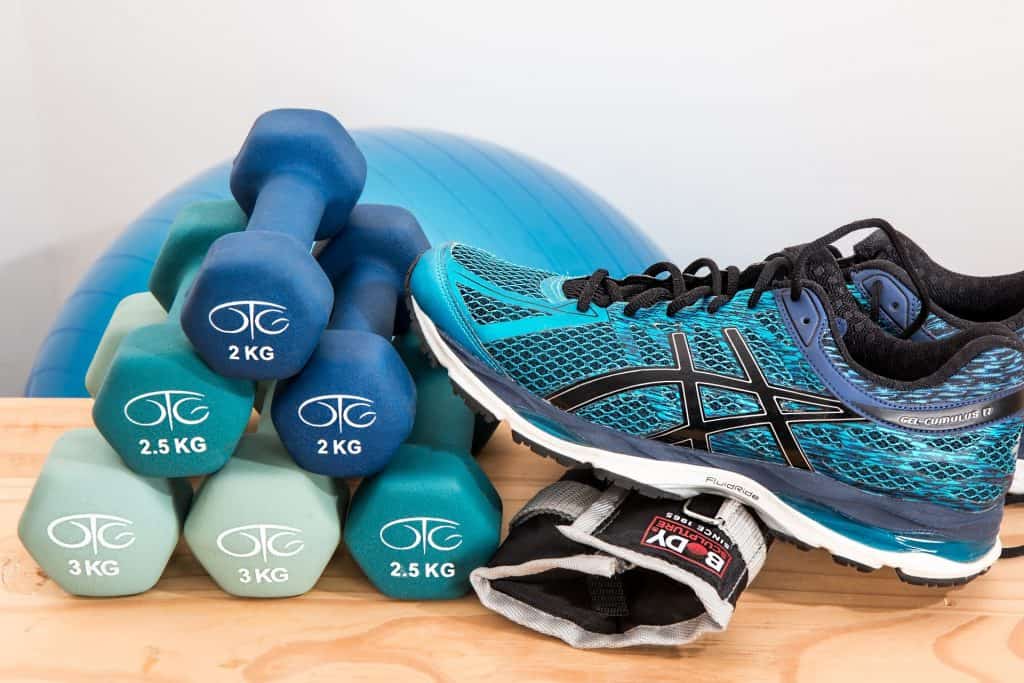 Do you want your kids to get some exercise?
I've been trying to find time to go to the gym for about 8 years now. By the off chance I do find a spare minute, I'll get myself ready and sluggishly try to complete a 45-minute workout at the local gym.
In the meantime, I have to convince (a.k.a. bribe) my daughter to sit in the childcare section for the 45 minutes I pretend to work out. It lasts a few visits then I don't go again for another month.
Later, we get home and she sits on her tablet while I shower or try to prepare dinner.
I'm sure I'm not the only parent who has this issue. I constantly complain about not having time to work out. Then I turn around and complain about how much screen time my daughter gets.
When I was going through my phase of really trying to get into shape, I purchased 'Insanity'. Great workout video.
Hard as heck, but definitely whipped my but into shape. As I was kicking, and squatting and planking (is that a word?) my daughter thought it was fun to join in and do the video with me.
Once I got past my initial shock that she was actually better then I was… it clicked! I need to exercise more, my daughter needs to exercise more.
Why not combine the two!! So I started to find ways for the two of us to workout together, and I'd love to share some of those ideas with you.
It doesn't take a genius to figure out that not only is exercise beneficial for you and your kids, but it's an excellent way to spend time with your child.
We turned working out into fun games and now look forward to all the time we spend together doing it.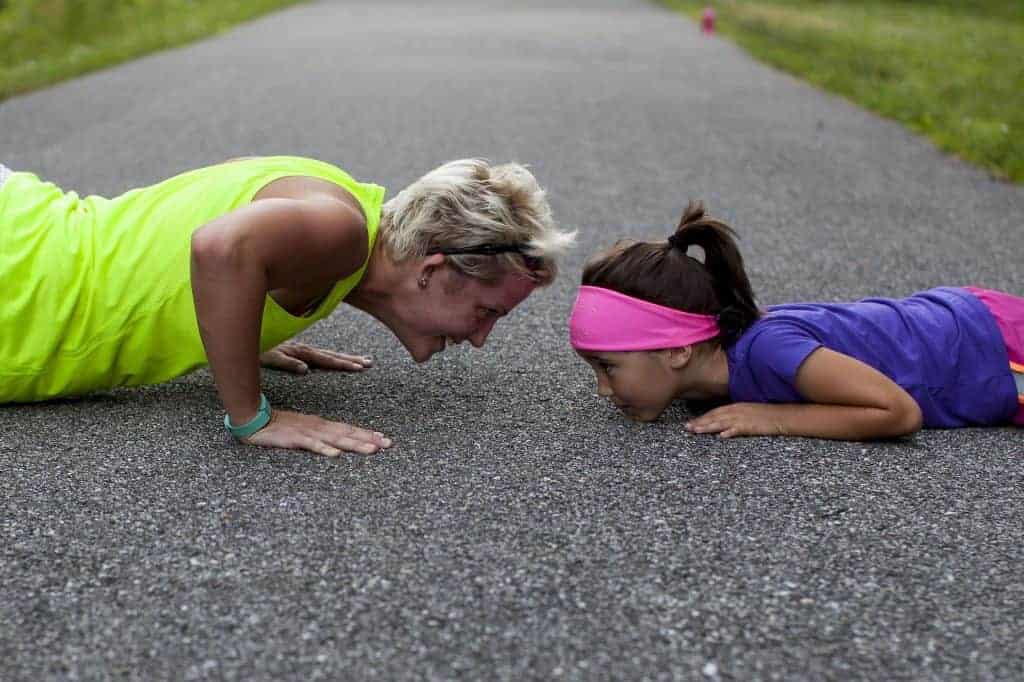 Fun ways to get kids involved in Exercise
Add a walk around the neighborhood before or after dinner.
We like to go out at night when the sun starts to set. It's always a little cooler (a must for us living in the desert). And less light means you can add fun things to your walk that the neighbors won't see.
We play a game called Drill Sargent when we do our nightly walks. "Drill Sargent" allows either one of us at any time to yell things like 'drop and give me 10!' or 'squat like you mean it'.  
And you both stop your walk and do whatever the other person yells out. So you get in a walk and some core moves.
Doing this daily walk also give us time to talk in between the drills. When you are out on the sidewalk at night, with no electronics, your kid is basically forced to talk about their day. I get a lot of dirt from my kid when we do this!
Dance!
By far the easiest and most fun thing to do. Just turn on some cool music and dance with each other.  
Move the coffee table, put on a crazy outfit and just dance. You'll be surprised how quickly you get out of breathe. Make up fun moves like doing jumping jacks or squats with a dance move.
Your kids will get exercise and think you are the coolest mom ever. 
If you get tired, have them pick a song and do a routine for you. If the kiddos need a rest then do the same in return.
Put on a concert for each other or make up a routine. Or just move your body in crazy ways. Even just 15-20 minutes of dancing will burn a ton of calories.
Have a Family Sports Night
Sports can be fun if they are not too competitive and almost every sport ends up being great exercise.  Let the kids pick or pick something for them if they can't decide.
Soccer is always an easy one because you just need a ball and can even forget a goal. Just pick places to run to and areas to kick the ball.
You don't need to score points, just doing fun soccer drills and passing the ball back and forth will get you both moving.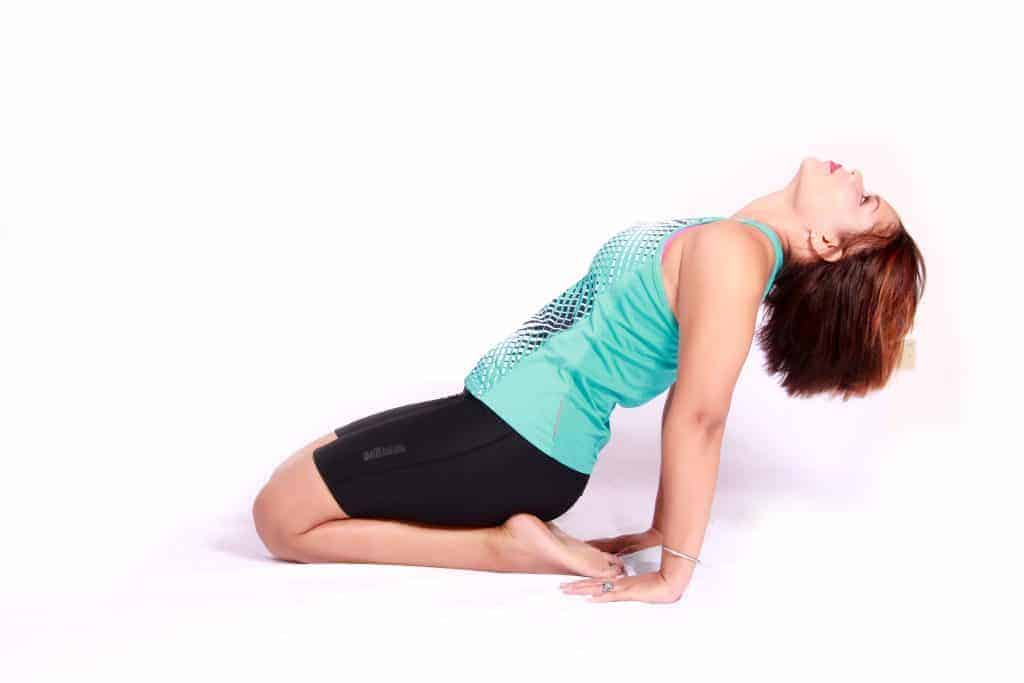 Find a Kids Yoga Video
Kids love yoga. I don't know if its the funny poses or that its something anyone can do (not always well, but you know what I mean).
Check out Amazon for some of my favorites. The videos geared towards kids don't just make you follow poses like an adult class would. They make up funny stories that go along with the poses.
Not to mention you can do this indoors, making it great for summer or winter, light or dark.  
Get them involved young with some Mommy and Me yoga videos where you use your infant to do yoga poses. Then as they grow, have them try poses on their own.
Charity Races
Before I became a mom, I participated in 5k runs all the time. Those all stopped once I got too busy.  
But there's no reason I have to continue to wait. You can run with a jogging stroller if your child in young. Or you can include your child and have them run with you. Don't think they can keep up with a 5k? Most races have a 1-mile fun run that would be easy for them to do.
I am the farthest thing from a runner but 5k races were always fun to do because they had different themes. I've done an Elvis run, a Zombie run, a color run…. all things kids would love!
A lot of these races you can dress up for or just people watch around you. And almost every one of them has a post-party with treats and free give-a-ways. Not to mention it's for charity, so you can teach your kids about giving back.
Go to your local park
Every time we go to the park, my daughter does the "look at me look at me look at me" thing.  So I try my best to tell her that looks cool, and be involved.
Then it occurred to me to actually get involved.  
Get yourself up and actually play on the playground with them. Run up and down stairs and ladders. Do jump squats on and off ledges. Do pull-ups on the monkey bars.
The playground is full of things to use as a gym. And best of all, your kids will just think you're a fun mom who plays with them. Score!
Let them mimic you
Monkey see monkey do. Kids love to mimic your behavior. Yes, this means repeating those bad words. Use it to your advantage.
Buy them their own dumbbells (they come in 1lb size). Get them a jump rope, their own yoga mat. They will think they are super cool to have their own workout gear.  
Score big and buy them some fun and colorful running shoes that match yours and they will want to participate even more.
Go on Bike Rides
It sounds so simple but I'm surprised at how many people don't take advantage of this. Don't just take your bikes around the same block and call it a day. Get out and explore new neighborhoods.
We love to pack a sack lunch or snacks in a backpack and ride our bikes until we find a new park to discover. We combine having a picnic lunch with the rides and make a fun afternoon of it.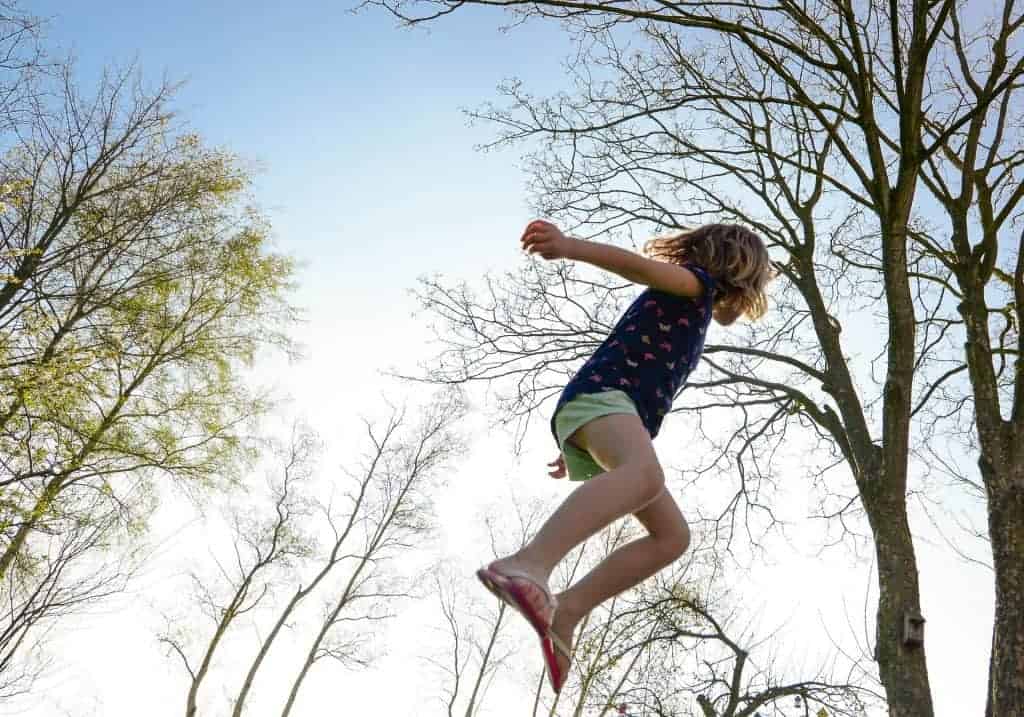 Get Kids to Exercise
Grab your kids and find fun new ways to work out together. You'll get a workout, they will get off their tablets, and you both get time together!
You Might Also Be Interested In: