We are two weeks into summer vacation and already the kids are super bored. There are only so many times you can leave the house to go do fun things so finding some fun indoor activities for bored kids is essential to keeping a mom's sanity!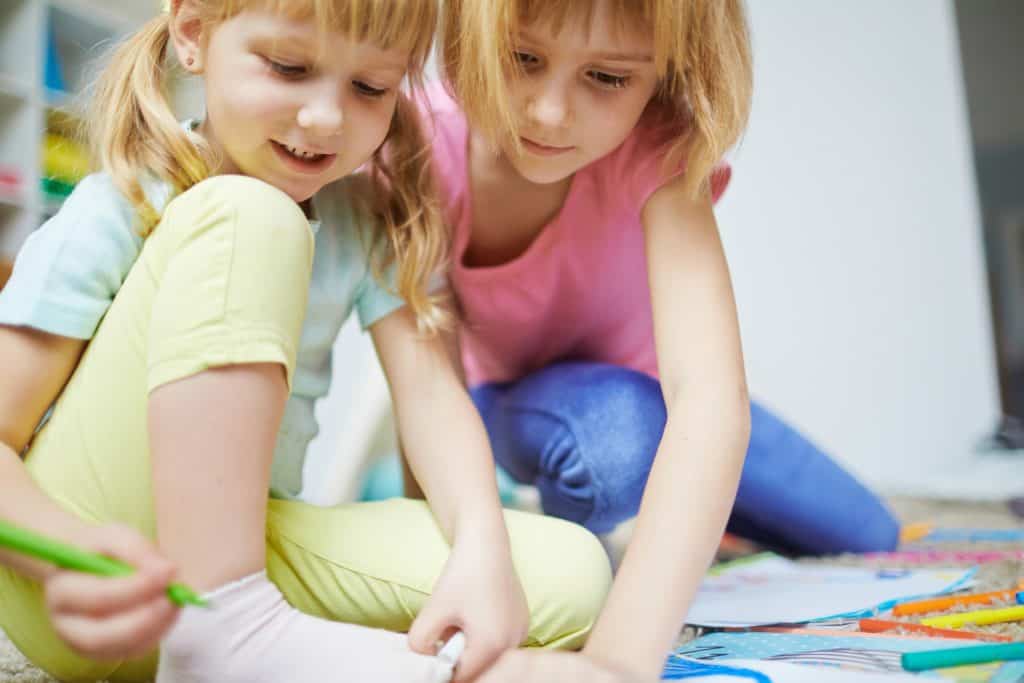 Fun and Creative Indoor Activities for Bored Kids
It's usually the wintertime where kids get bored inside but here in Arizona, we experience that all summer long. The days become too hot and it can actually be dangerous to be outside for too long. Finding some fun indoor activities for bored kids becomes a necessity.
But whether it's long winter days or too hot summer days, being inside does not mean your kid needs to be bored all day long.
So to stop the whining and the "I'm so bored!" sentiments then you are in need of this list of fun indoor activities for kids.
You might also be interested in
Each activity can be personalized to the age of the child, so from the very young to teenagers can have fun with these activities.
And they just may surprise themselves with how much fun they can have staying inside.
Because we can only go swimming so many times a day…
Indoor Activities for Bored Kids
WRITE A BOOK
We all wish our kids would sit and quietly read a book each and every afternoon. But that is not always the case during breaks from school! Instead, get their imaginations going by having them write their own books. Get some papers and pencils, and even tell them to design and draw a cool book cover. Then offer to have them read it to you when they are all done.
HAVE A MOVIE PARTY
It doesn't need to be a Friday night to have a movie party. For some reason, when you really throw kids off by doing something unusual, they think it's cool. Like dinner for breakfast. When I serve pancakes and eggs for dinner… my kids go nuts!
So mix it up and have a movie party in the middle of the day. Have them get PJs on, make some popcorn, throw some blankets and pillows on the floor and BAM! You got peace and quiet for a good 2 hours…
MAKE A SCAVENGER HUNT
I used to do this at birthday parties all the time when I was a kid. But you can recreate it in your very own house. Make a simple list of items around the house that are hidden in drawers or cabinets or wherever. Then have your kids do their best to find everything on the list. It can be simple things like; Monopoly money, a q-tip, a musical instrument, etc.
DO SOME ALPHABET BAKING
Cooking is fun for kids, no matter what you make. But make it even more fun by doing an Alphabet theme with this cookbook. Start at A and work your way through the book all summer long until you get to Z. They will have fun baking things and also look forward to which letter comes next.
HAVE A THEMED FASHION SHOW
Playing dress-up isn't for every kid, especially the boys. But make it fun by giving them a theme idea. Like a 70's fashion show, or a Harry Potter theme. Have the kids going through their wardrobe (and yours if you're ok with it) and see what they can find to go with the theme.
WRITE A BOOK REPORT
Ok, I know you're rolling your eyes and thinking your kid will never do a book report in the middle of summer (or winter) break. But stay with me. Don't tell them its a book report. Instead, pick an interesting topic and have your child do some research and a presentation on it.
For example, ask them to pick a place they would love to visit. Whether it's somewhere like Disney or a foreign country. They can draw pictures of this place, learn some facts about it, and then do a cool presentation to the family when they are done. Or have them pick their favorite animal, a favorite food, anything!
CREATE A PODCAST
Podcasts have become super popular in recent months. And the funny thing is, anyone can do it. Most kids already have a tablet or a phone or some piece of electronic device that has a recorder on it. Really, that's all they need. Have them listen to other podcasts to understand what it is, then have them create their own stories. It will be super fun to see what they come up with. (Not down with podcasts? Have them record their own radio show instead!)
CREATE A SCRAPBOOK
Scrapbooks! Ahh… they were everywhere a few years ago. But they can still be a really fun option for your kids. Print out a bunch of photos, anything from your last vacation to just family photos over the last year. You don't need to buy any fancy supplies. Just give them some magazines and markers and have them create their own personal scrapbook.
LEARN A NEW SKILL
YouTube took over our home. So much so that if you ask any middle schooler what they want to be when they grow up, they usually say a YouTube star! So put their Youtube obsession to work. Have them pick something they can actually learn from YouTube.
It can be a new dance, a recipe, a little bit of a foreign language, even how to plant flowers. But have them choose a topic of something they can learn and research.
MAKE PLAY-DOH
If you are like our household, you are sick of slime. We even banned it from our house because of the mess it creates. So if the slime obsession hit your home too then try something similar but new, like homemade play-doh. It's just as fun to make but WAY less messy. They can make several different colors and then they have something new to keep them busy too!
Are kids getting hungry during the summer? Don't forget to make these super friendly kid snacks to keep them happy and their bellies full!