One of my new favorite side dishes at most Mexican Restaurants is a big dish Mexican Street Corn. This recipe is better than you'll find in most restaurants and SO easy to make!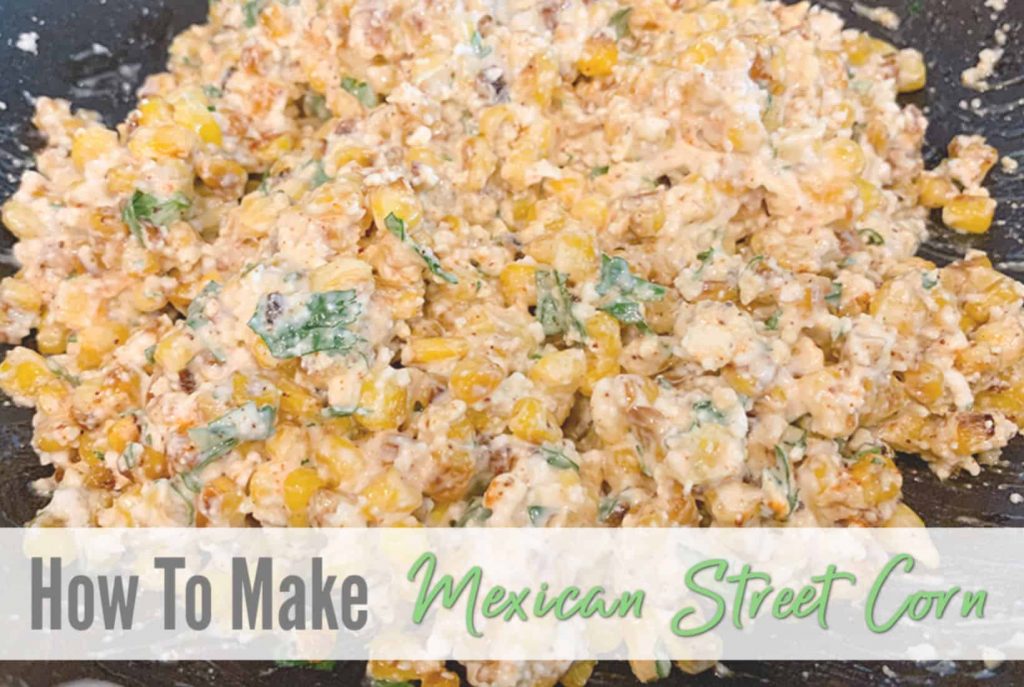 How to Make Mexican Street Corn
I'll be honest, I was really skeptical when Mexican Street Corn became popular. I saw it pop up at a few restaurants but I didn't actually give it a try until someone else ordered it for me.
When I gave it a try, I was hooked!
I actually enjoyed it so much, I could have just sat there and eaten the entire bowl as my main dish. Forget the tacos! Mexican street corn was where it's at!
All of a sudden I found myself ordering this dish every time we went to a Mexican restaurant. And even wanting to go out to eat just so we could order this.
Then quarantine happened.
All of a sudden, I'm desperate to make my own versions of my favorite restaurant meals and Mexican Street Corn was at the top of my list!
With a few trials and not so good mistakes… I was able to perfect the recipe and to be honest… I like this recipe even more than the versions I've tried in restaurants.
Side Note: You can add some finely chopped jalapeños to this recipe. I do not like jalapeños or spices food so I opted to leave them out.
This really is SUPER easy to make and doesn't require too many ingredients. So for your next taco Tuesday family dinner… try this Mexican Street Corn Recipe!
Pin for later!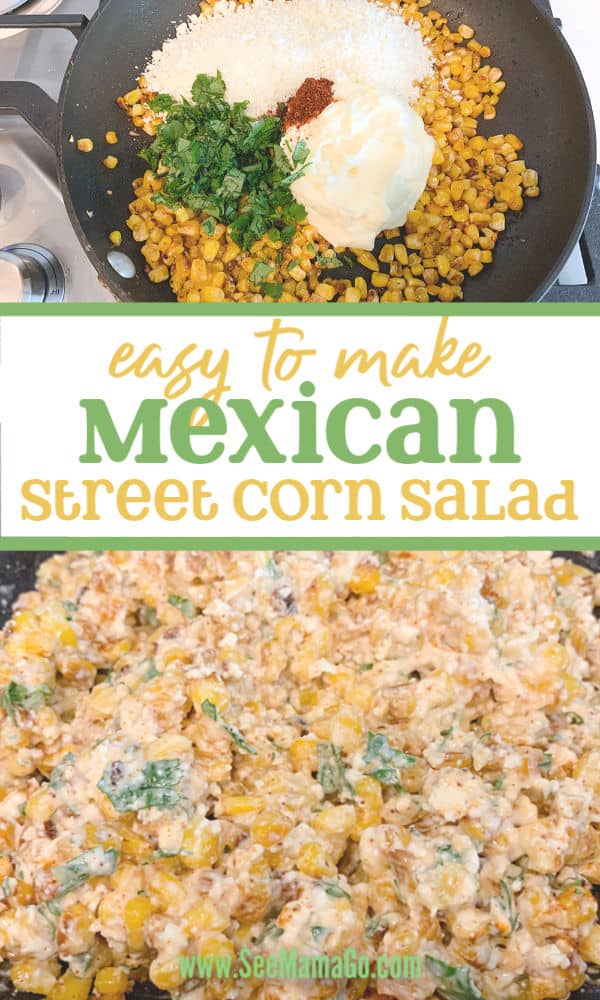 Step-By-Step Instructions to Make Mexican Street Corn At home
You'll find a recipe to print at the bottom of this post, but I love it when recipes include photos along the way so I know I'm not messing anything up. It's kind of hard to mess this recipe up, but here's a step-by-step guide anyway!
Step 1.
Melt 3 tablespoons of butter in a pan. Cast iron works best, but I use a regular skillet. You can also use as little or as much butter as you want, it's not a perfect science. I love the taste butter gives to a meal, so I tend to use more than I should.
Add Frozen Corn. The recipe calls for 4 cups of corn. I find this to be the exact size of most frozen bags, so you can just toss the whole bag in. Fresh corn works fine too, it will just cook in the skillet a little faster.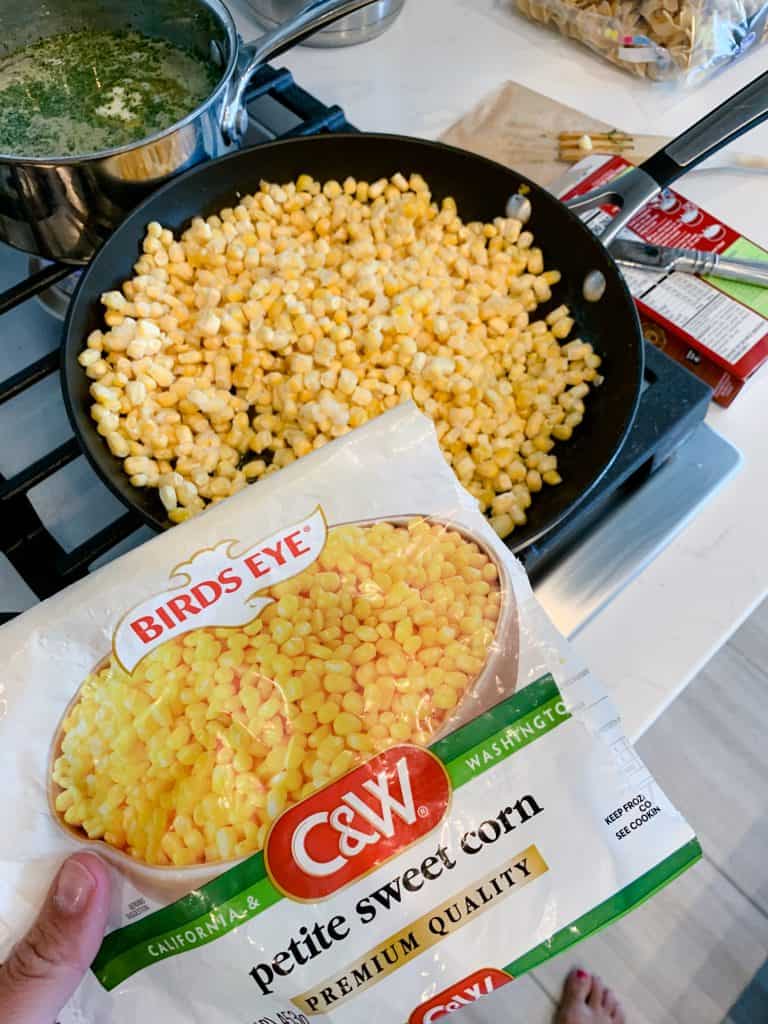 Step 2.
Cook corn (uncovered) until it is nicely golden brown in the pan. You can even give it a little taste test to make sure the corn is fully cooked.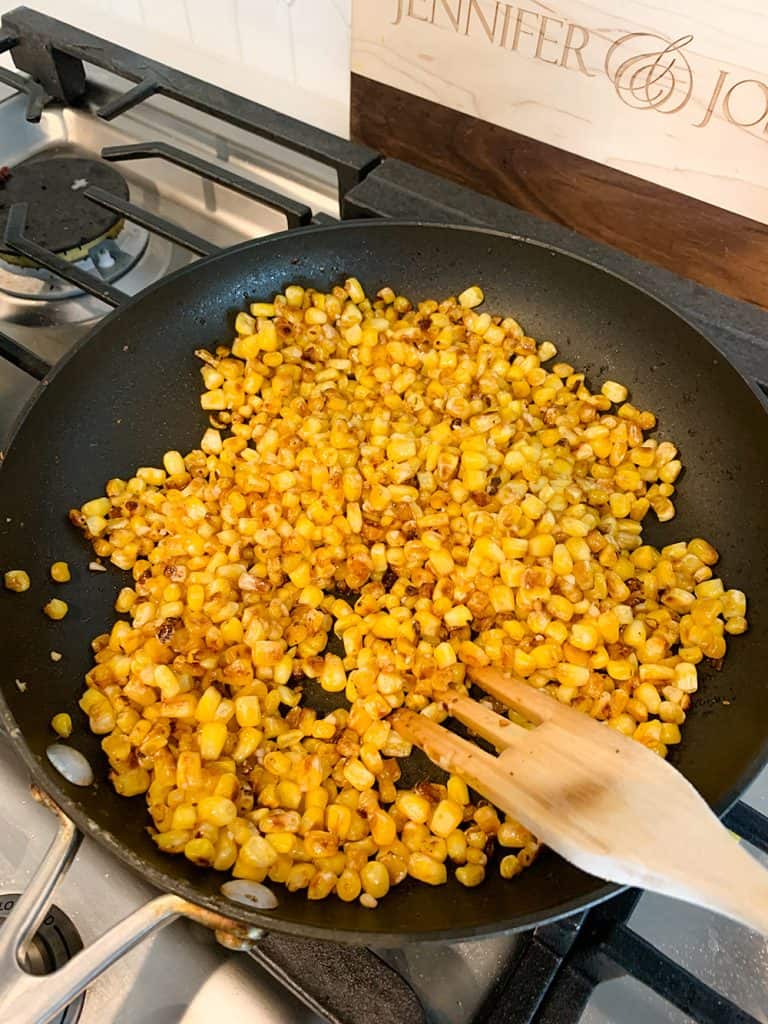 Add minced garlic. Feel free to mince your own garlic gloves. I'm always looking for easy ways to do things so I use this jar of minced garlic. You can add more or less depending on taste.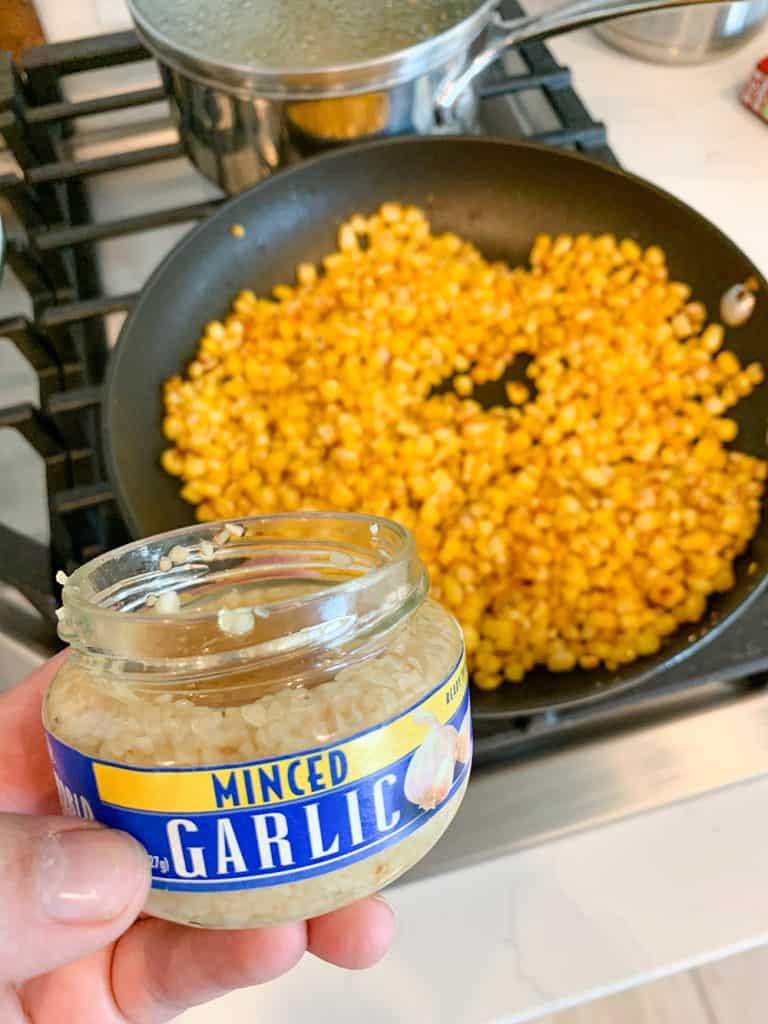 Step 4.
Remove from heat and add other ingredients. Slowly stir in the mayonnaise, cheese, lime juice, chili powder, and cilantro. There really is no perfect way to do this. I kind of just glob them all on top of the corn and then slowly mix them all together.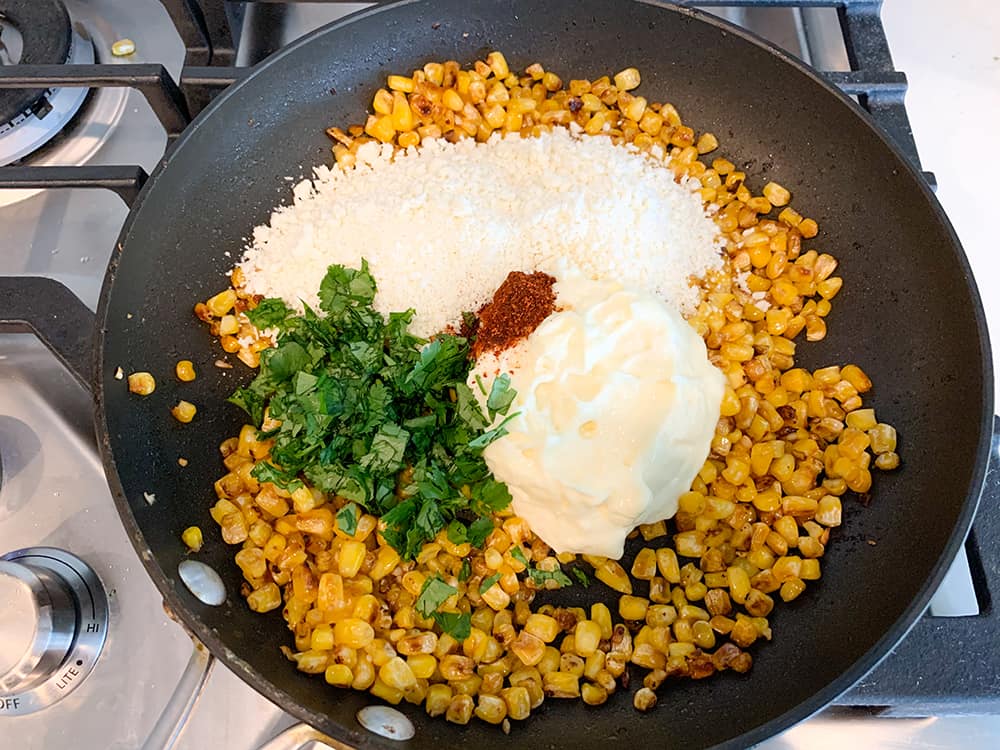 Step 5.
Garish and Serve! You really could just serve it the way it is after you mix I altogether. But I like to sprinkle a little extra cojita cheese on it and add some cilantro as garnish. If you have guests, it'll look really impressive!
Serving it warm is the best and tastiest way to eat it. But chilled tastes pretty dang good too!
Enjoy your Mexican Street Corn! Print the recipe below and let me know in the comments how you liked it!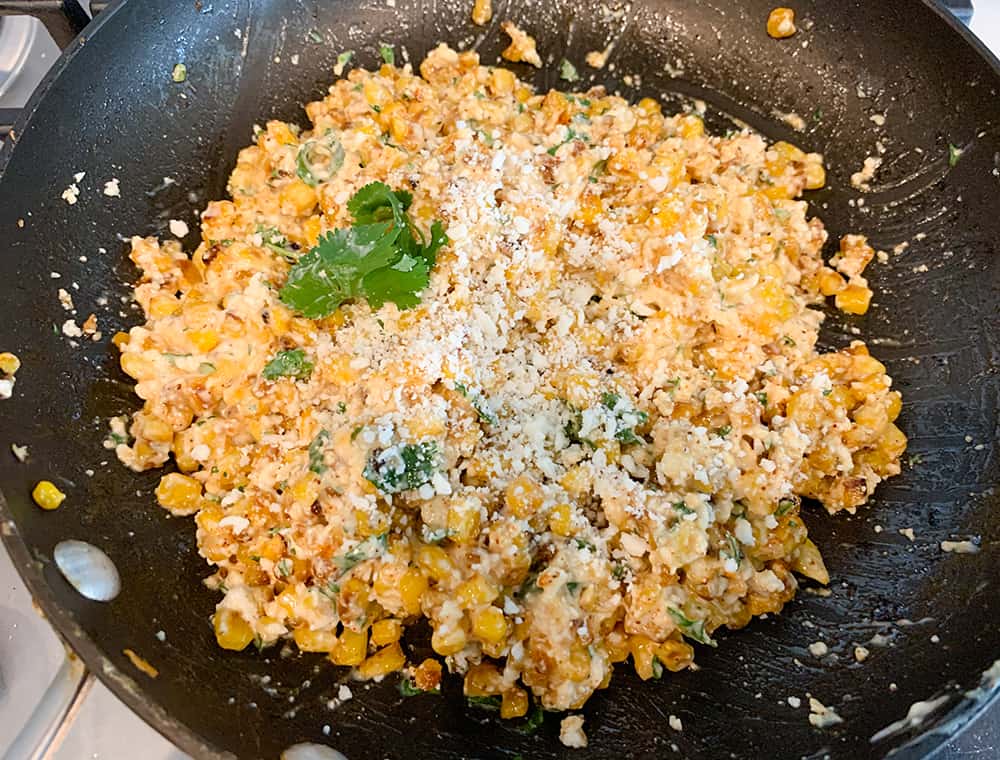 If you want more easy-to-make recipes for your family, try these out:
And don't forget to follow me on PINTEREST for more easy to make family recipes!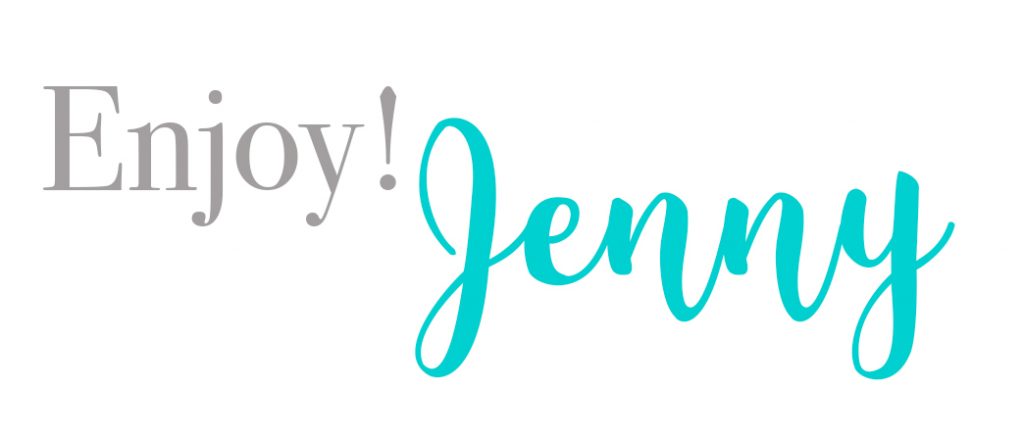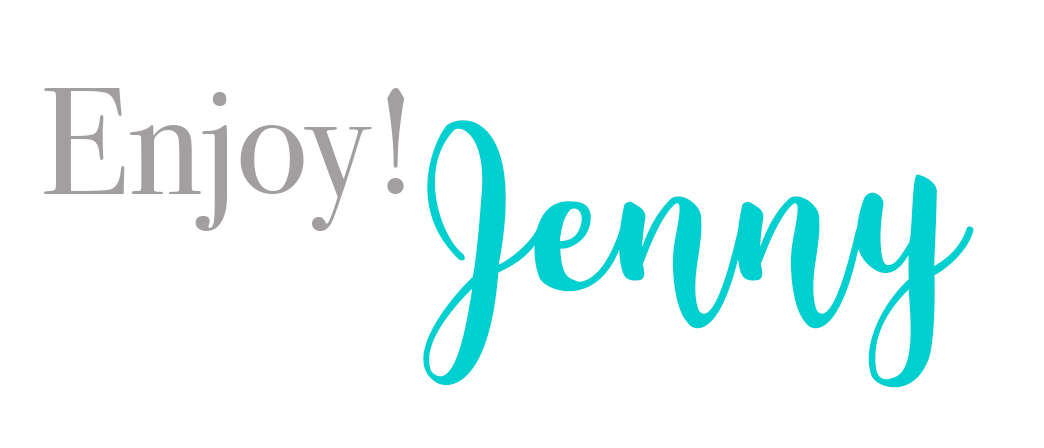 [mv_create key="1″ type="recipe" title="Mexican Street Corn" thumbnail="https://www.seemamago.com/wp-content/uploads/2020/04/MexicanCornRecipe006.jpg"]