Looking for some great Short to Medium Length Hair up-dos? Well, here you go, girl!
One of the most important parts of the Holidays is having a great Up-do! I am always on the hunt for new ways to put my hair up ever since I cut it a medium to short length. It's just not as easy doing something elaborate when your hair is short. But unlike your wardrobe, you can wear fancy up-dos anywhere!
It can be fun to find new ways to wear your hair. Coming up with new styles is not always easy to do. Luckily the Holidays is just that. This time of year is almost a must to find something to do with your medium length hair instead of just wearing it the same day after day. Going to a work Holiday party? Don't wear it the same way you do every day in the office! Going out with friends? Find something new for them to see you show off.
I have been racking my brain for new and creative ways to style my medium length hair. Therefore, I have created this roundup of some of the most fun and stylish medium length hair up-dos that anyone can try. Each one is simple and can easily be mastered before that big get-together coming up!
Short to Medium Length Hair Up-dos
Double Knotted Twist. I'm starting with one of my favorites. Also from one of my favorite hair tutorial websites. If you haven't checked her out yet, you absolutely must go look at thesmallthingsblog.com for every possible hair tutorial you could imagine. This is one of my favorites for short hair. She walks you through step by step and makes it very easy to recreate. The end result is a very classy up-do that looks as if you came straight from a salon.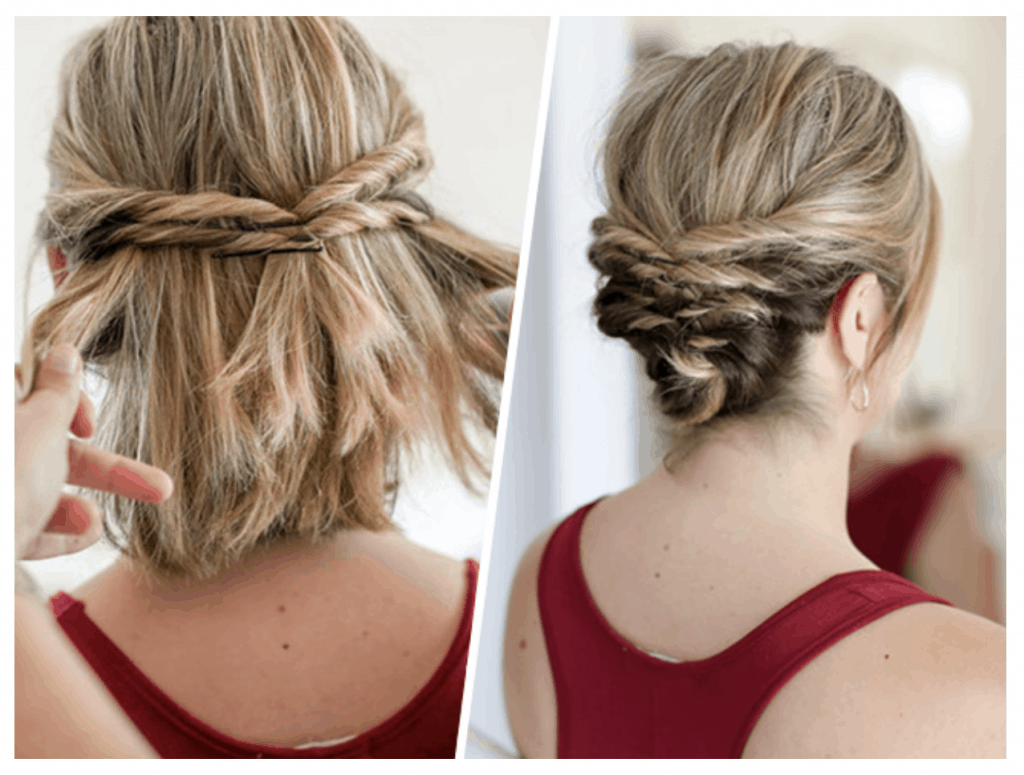 Messy Twist Up-do. No curling needed, no gorgeous waves to start with. This beautiful updo is simply done by twisting messy hair and using bobby-pins to secure. Which makes it great for a day or night look. Also great for when you need to make your hair look amazing last minute. Whatever your hair looks like, just start twisting. Before you know it you have an amazing updo that looks like it took all day to create.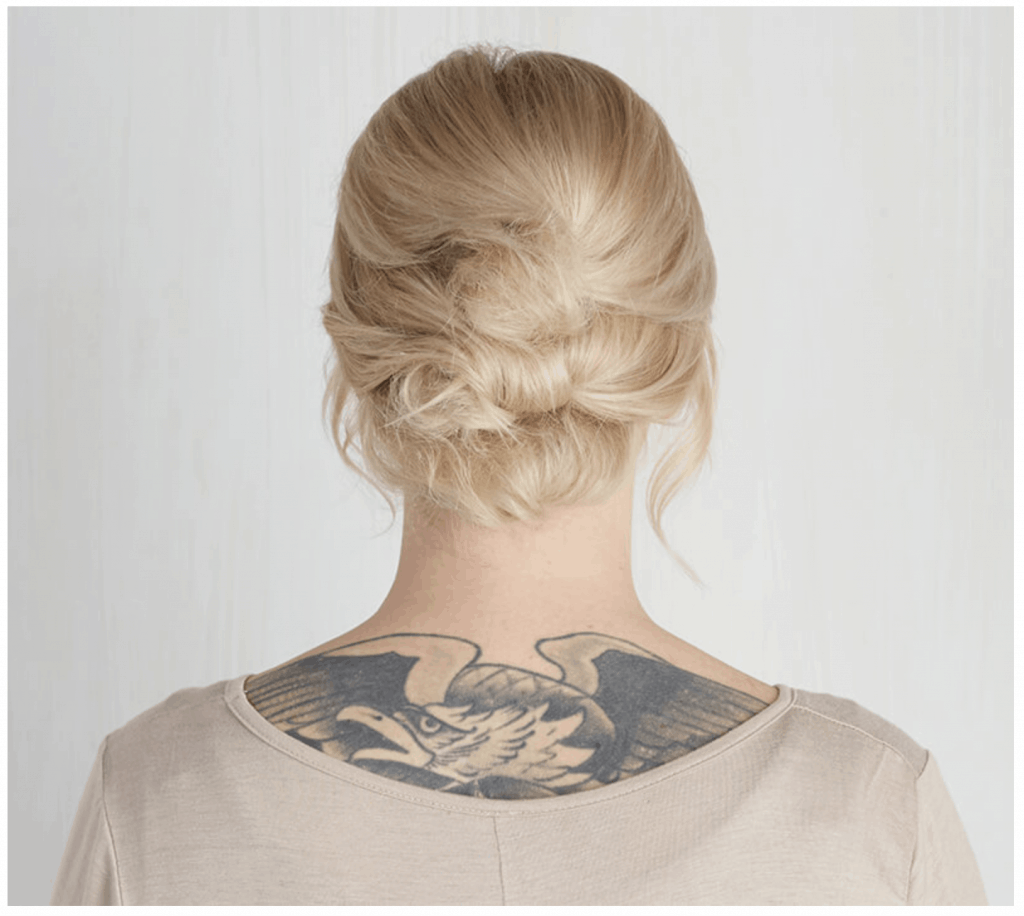 Multiple Mini Bun Up-do. This look is great because it works with super short hair to medium length hair. So you can use this style when you cut your hair way shorter then you intended. Continue to use it all the way through trying to grow it back out again. It even works best on 2nd-day hair with texture. Try it on a morning running late to work, or a last minute event. Or heck, even an event planned long ago but you spent the day running around after kids and forgot to shower… it's happened.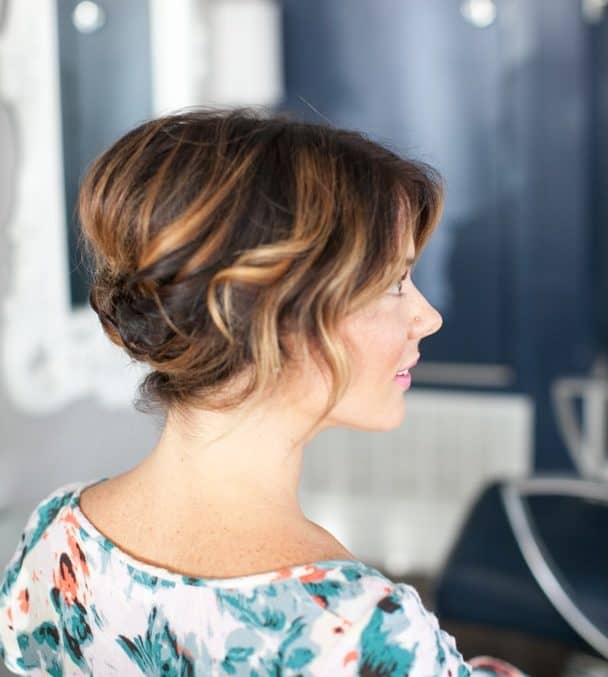 Half up Twist Up-do. You can't really tell but this up-do is very sleek in the way it is created. You actually start with the bottom and twist all the short pieces up and pin them. Once the lower half of your hair is complete, continue styling the top with a few curls and some added volume. It's almost deceiving how this up-do makes you look like you have much longer hair then you do.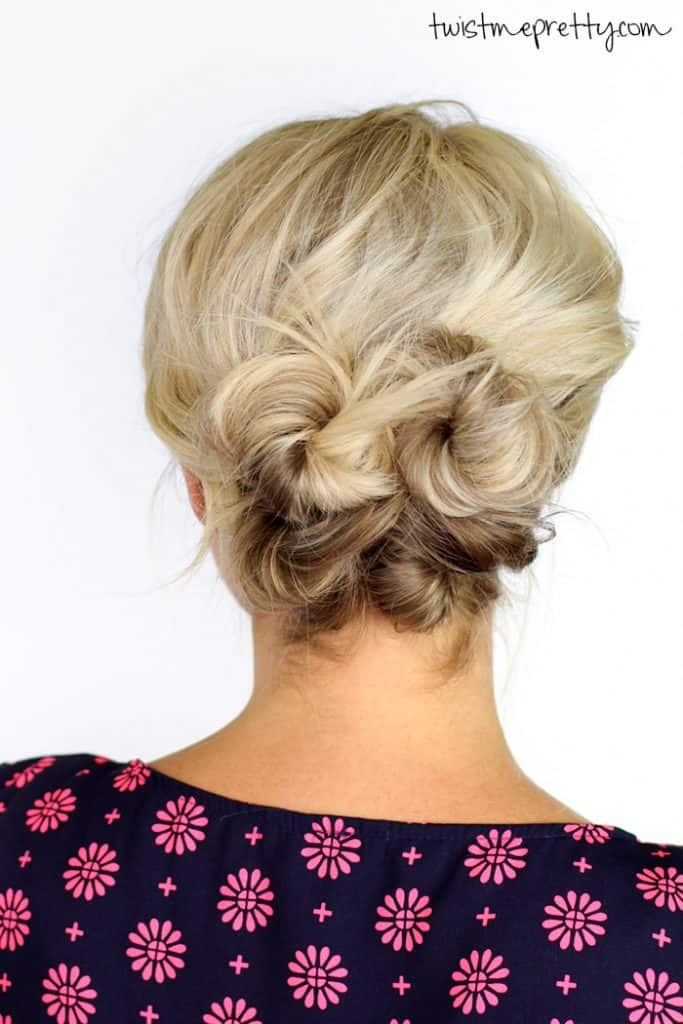 Knotted Up-do for Short Hair. I love this hairstyle because it looks like a professional took awhile to create it. In looking a lot closer, it's really just 4 separate small buns. Then twist and pin to the lower part of the head. The little pieces that stick out almost help this look and make it look more fun. Add a small rhinestone pin to make it look very classy for the Holidays or save this look with a flower in it for when summer comes.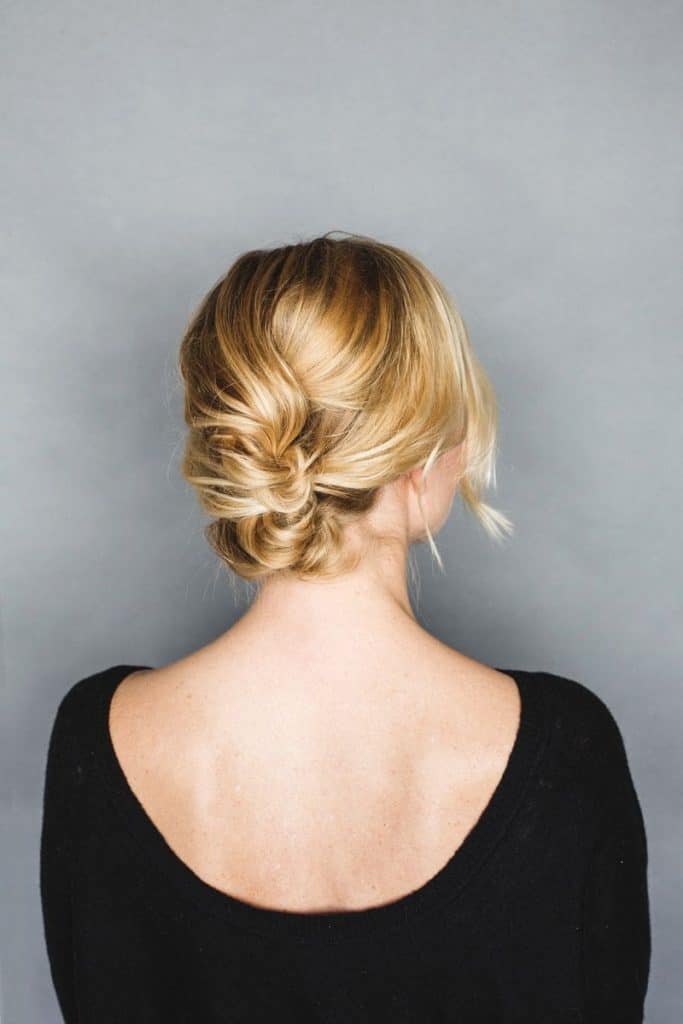 Knotted Easy Holiday Up-do. While most up-dos concentrate on the lower half of the hair, this style starts at the top and works its way down. The finished look is eloquent and looks intricate but is actually very simple to create. It's soft appearance and twist design will have everyone asking how did you do that?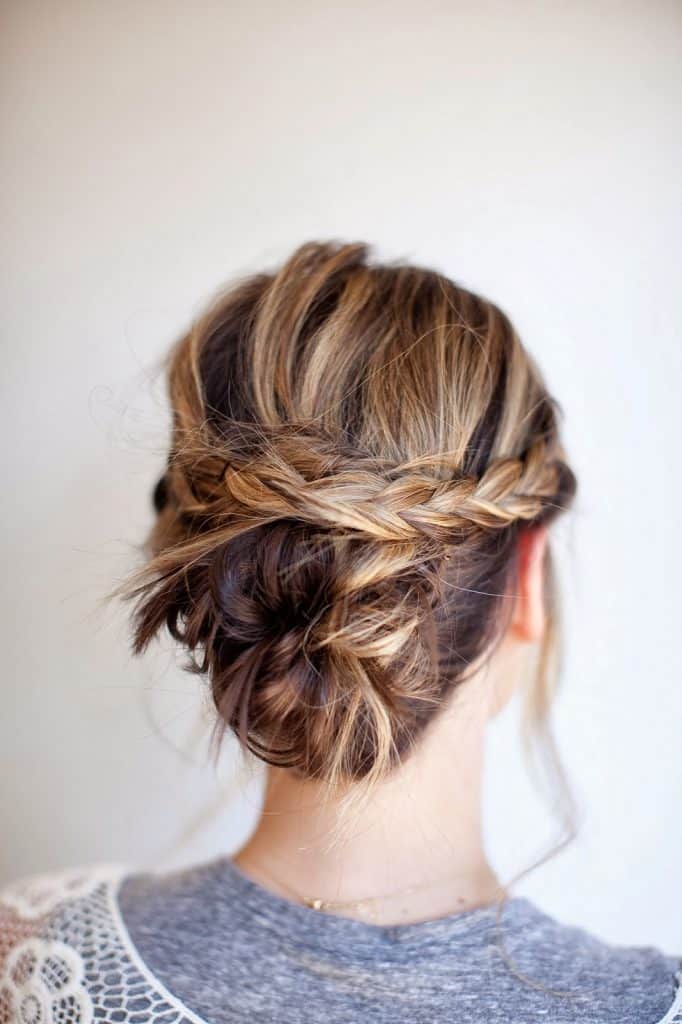 Messy knotted Bun with Braided Band. Although this style looks very complicated, it really just starts with a normal messy bun at the nape of the neck. Create a bun and use bobby pins to tuck in a few loose pieces, just remembering to leave a few pieces out. Then, create braids from the side of your face that go back to the bun and pin it around. Make sure the top is teased a bit and add a few wavy pieces to the front of your face.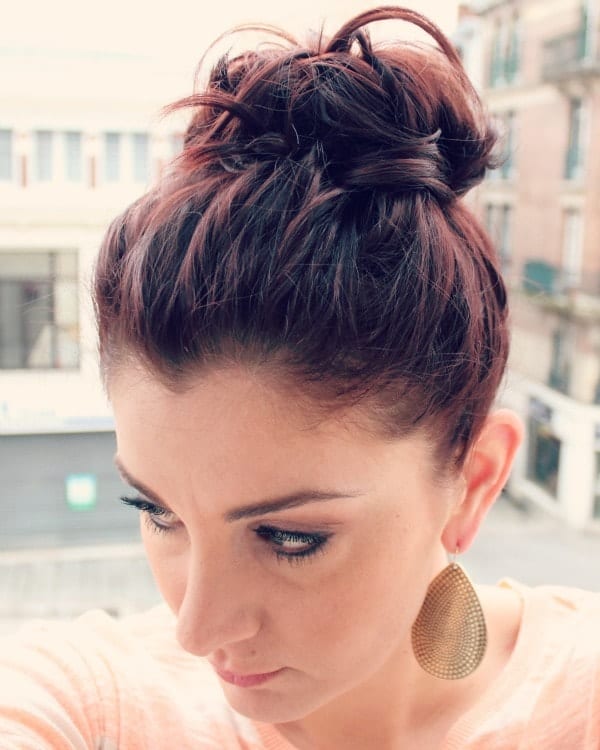 Messy Top Knot for Short Hair. Top knots are all the rage this year in the hair world. Just because you don't have long hair, doesn't mean you are left out of this trend. This tutorial is great for showing you how to still style your hair into a top knot even if you chopped it all off. It can look great in the winter season with a few well-placed accessories and works even better in the summer with getting those tiny little hairs off the back of your neck.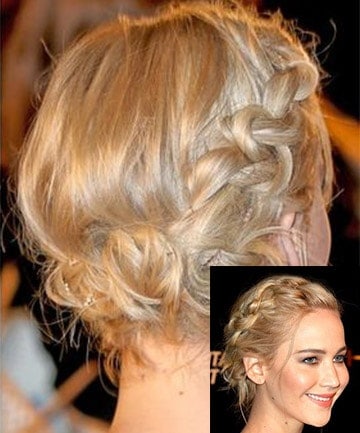 Braided Crown Up-do. If you're going to take hairstyle lessons from a celebrity, Jennifer Lawrence is the way to go! This girl has grown and cut her hair more times then I can count, and manages to make every hair length look amazing. This tutorial shows you how to recreate this look by pinning short pieces to the nape of your neck and using the top to create braids that get pinned to the rest of the hair at the top of your neck.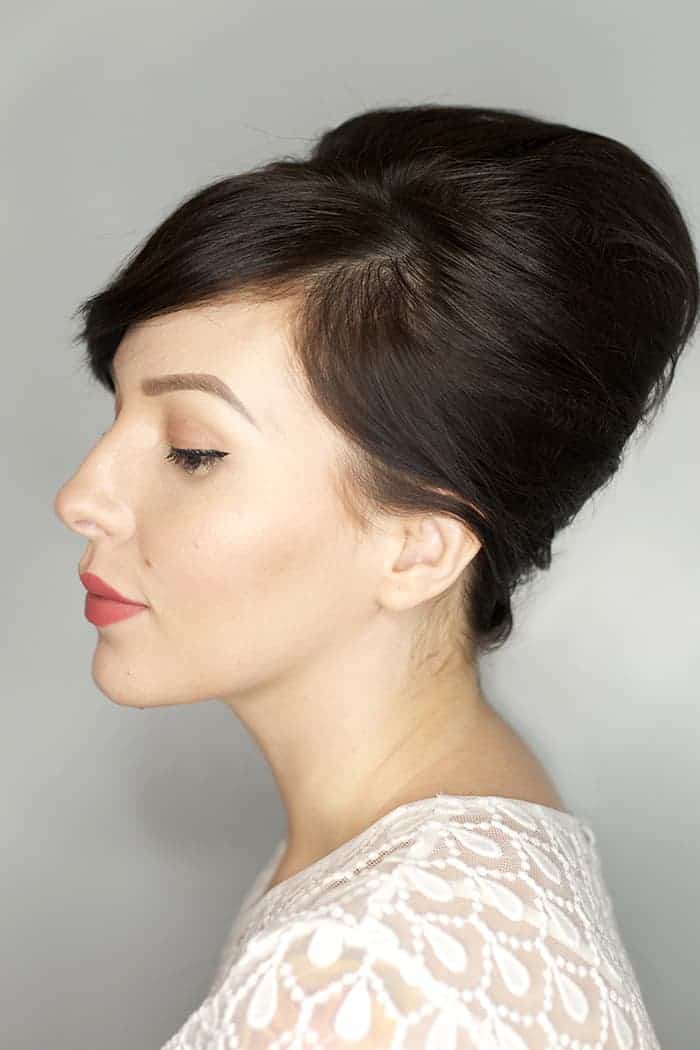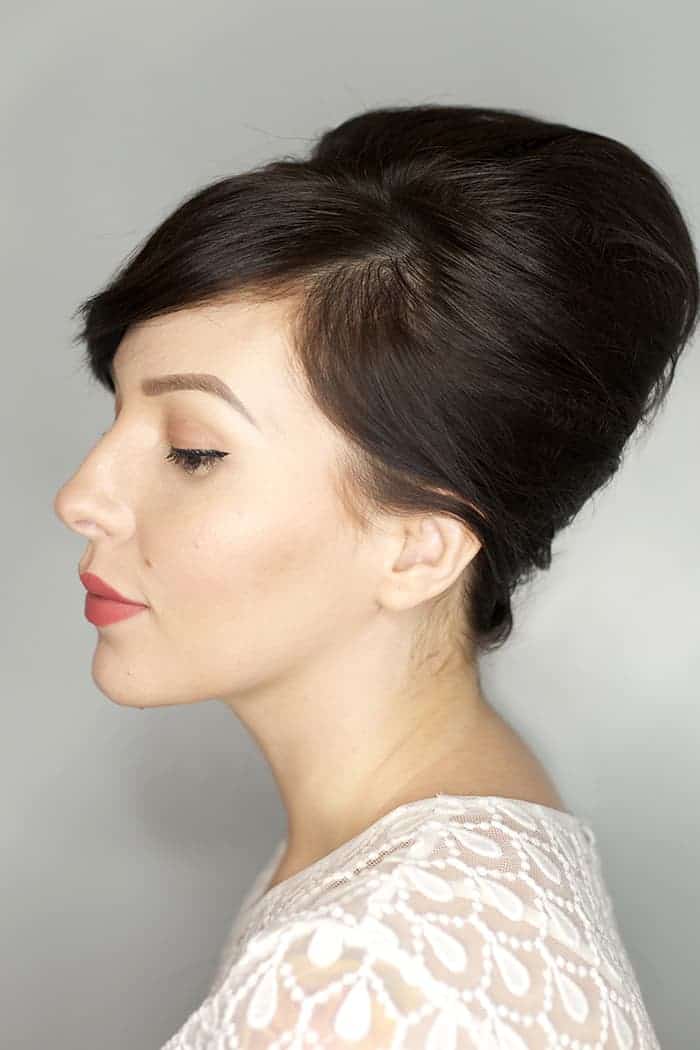 Bouffant Updo Hair Tutorial. While most hairstyles involve curls and twists and knots, this style is completely different. This hairstyle appears to have a ton of volume. However, it's all just about the way you tease and style it. The picture above has hair that doesn't even reach her shoulders yet is easily able to pull off this look.
Related Post: Easy Beach Waves for Short Hair
Looking for more casual styles for your Medium Length Hair? Don't forget to check out my other tutorial on Medium Length Hairstyles that look great on everyone!