Oh, Halloween how I love when you come around! You may have noticed with all my Halloween posts lately that I am crazy for this holiday (just wait until Christmas comes around).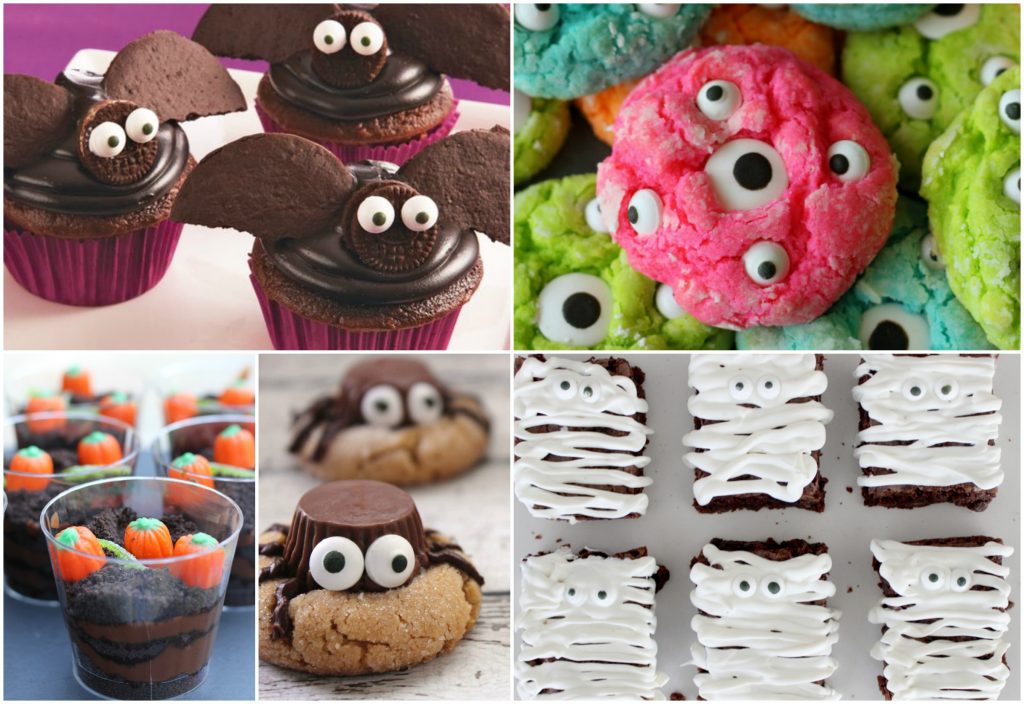 Bring on the Fun Halloween Treats!
When you combine one of my favorite holidays with my other favorite past time (EATING!) then you get something really special. Fun Halloween Treats!
I am like most of you and I have about 10-minutes to squeeze something fun into my schedule.  So, of course, I not only picked out my most favorite delicious Halloween snacks, but ones that are not complicated to make.
If you are making treats for your kid's classroom, having a Halloween party, or just looking for some fun treats to make with your kids… then you have to check out these fun Halloween treats!
Not to mention, these would all work great for an adult Halloween party. Because there are some people out there who can still do adult-ish things sometimes…. sigh.
You might also like Easy Halloween Crafts for Kids!
Scary Halloween Snacks For Kids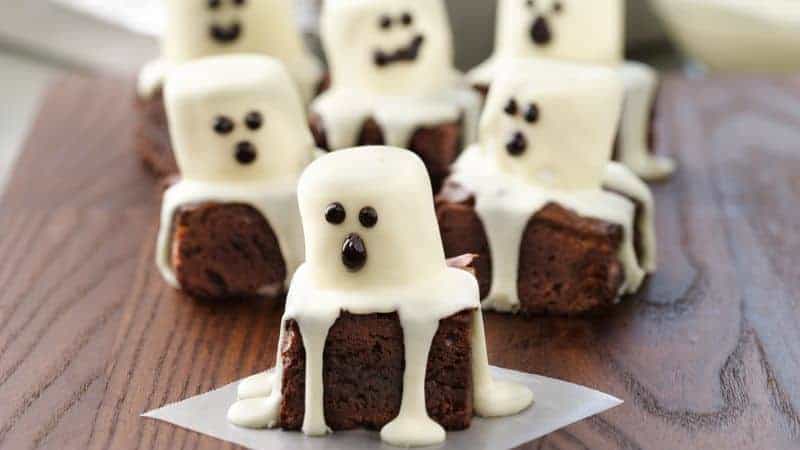 I just absolutely love these Ghost Brownies. That's why I'm making them first on my list! I can't even tell you how much my daughter liked these. What makes them even better is that she can help to make them and if they get messed up, they still look good!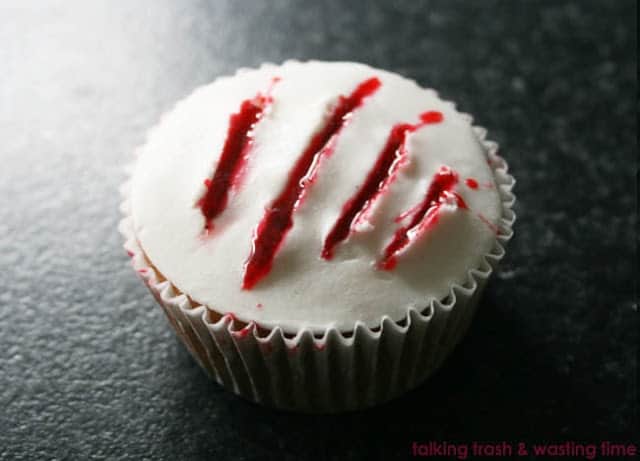 You can substitute Strawberry Jelly for the blood part in these gross-looking Claw Cupcakes.  Watch the hesitation on kids' faces when they try to eat them. They look so real!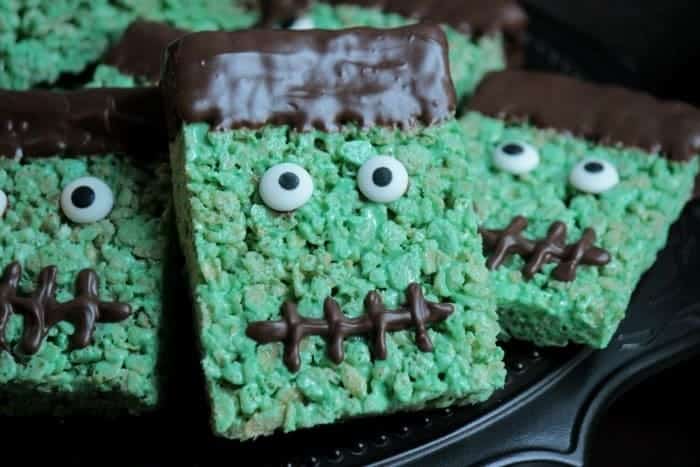 I took one look at these cute Frankenstein Rice Krispie Treats and knew I had to make them. And c'mon, we all know how easy it is to make Rice Krispie treats. These fun snacks are no different, just add some green food coloring and chocolate frosting. Your kids will not only eat them but will probably play with them too.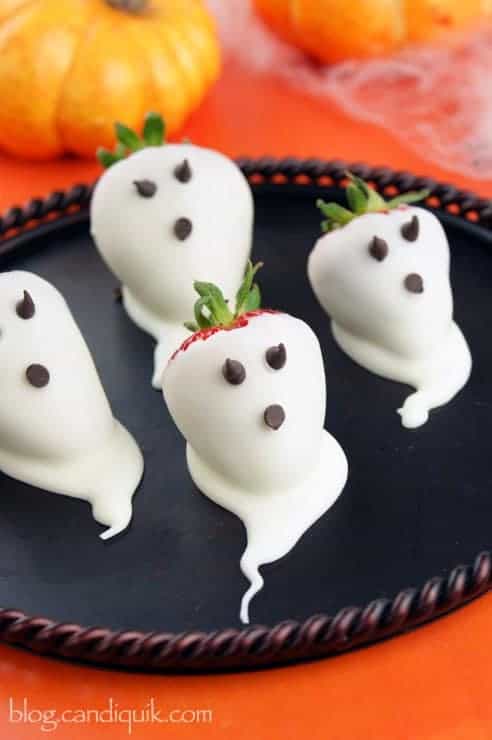 So, if you know anything about me, you know that I don't like strawberries. I know, I know… I'm weird. Even my daughter tells me so. But SHE loves strawberries and so does most of the world. So I'm assuming the majority of people out there will love these Chocolate Covered Strawberry Ghosts. I know Abby does!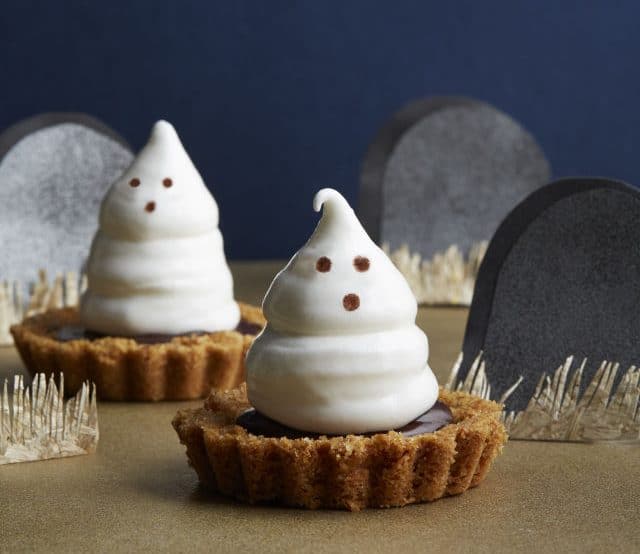 Put a ghost on anything and it's automatically cute! These fun Meringue Ghost Tartlets look complicated but actually have very few ingredients and are pretty simple to make. Plus don't you think these would look good as a centerpiece for a fun Halloween Party?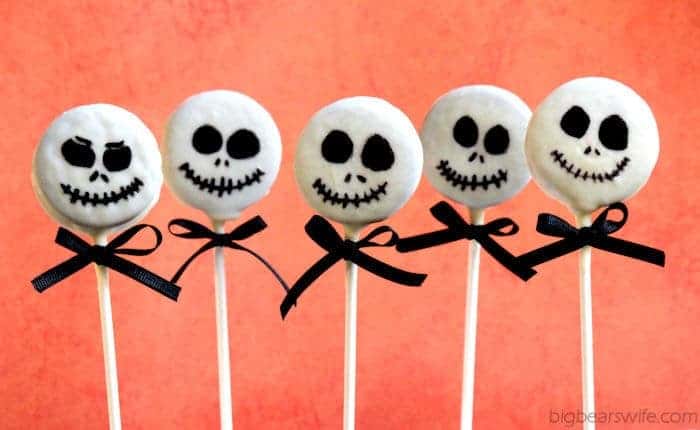 Jake Skellington Oreo Pops!  Need I say more?  Its Oreo's… with chocolate… that look like Jack Skellington. I'm not sure what makes this crazy character so popular, but he is. You can do this the easy way and dip the Oreo's or even make cake-pops that look like this. Either way, it's a fun treat.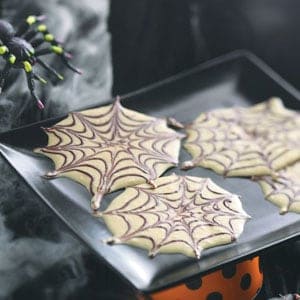 Spiderweb Candy.   These fun treats are super easy to make and are great if the kids want to make their own treats. A few simple ingredients and directions that make it pretty hard to mess up.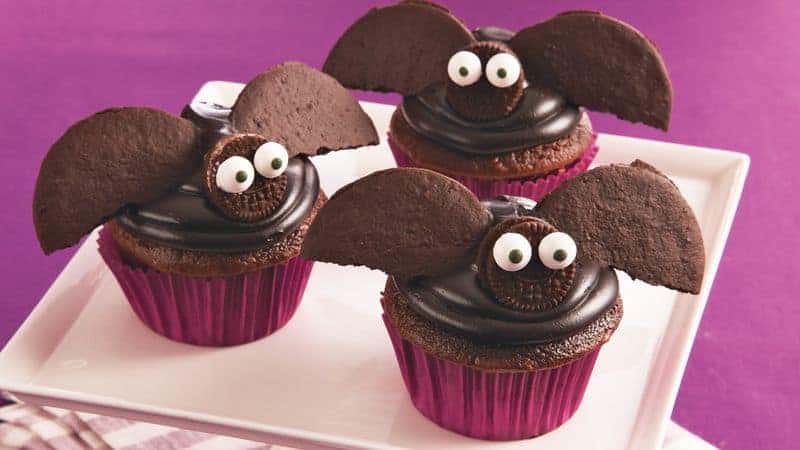 Kids love cupcakes. OK, Adults love cupcakes too. And everyone loves chocolate (well, normal people do). So combine an easy to make the chocolate cupcake with a cute bat design and you have these awesome Bat Cupcakes.  Those googly eyes are really just fun to put on anything…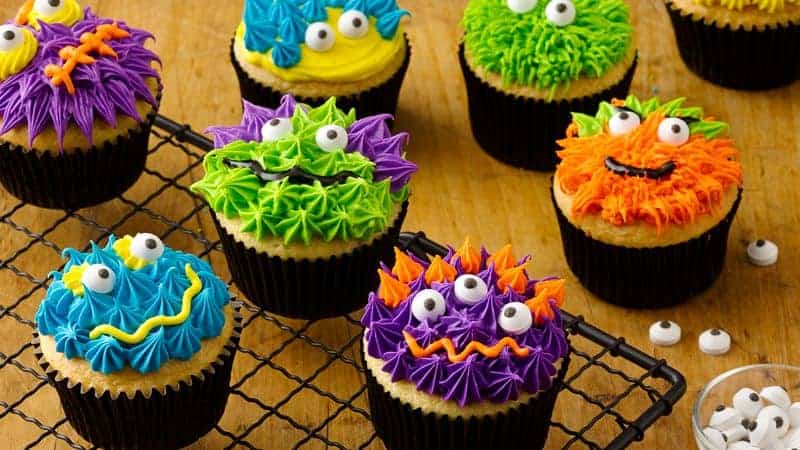 Speaking of cupcakes… check out these fun Monster Cupcakes.  It's really all in the frosting, so you can make any kind of cupcake you want with this. Do the main frosting color and let your kids decorate the rest to make whatever funny or scary face they want.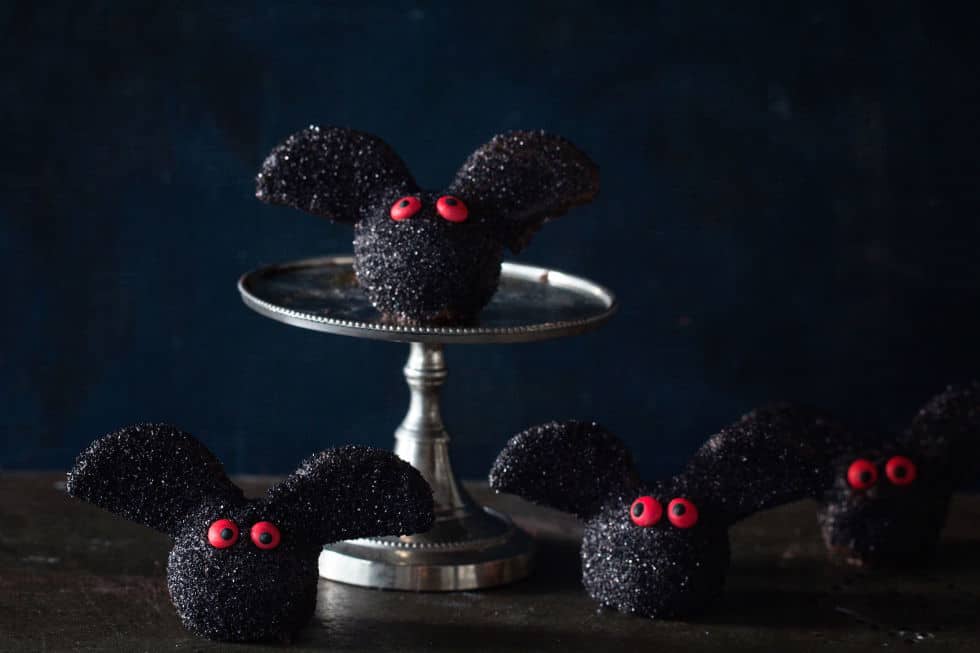 If you've ever made truffles of any kind then you know how good these are and what a crowd-pleaser they can be. Brownie Bat Truffles are amazing. Add some frosting, some sugar crystals and if you can get past a toothache, you will have a major new obsession this Halloween.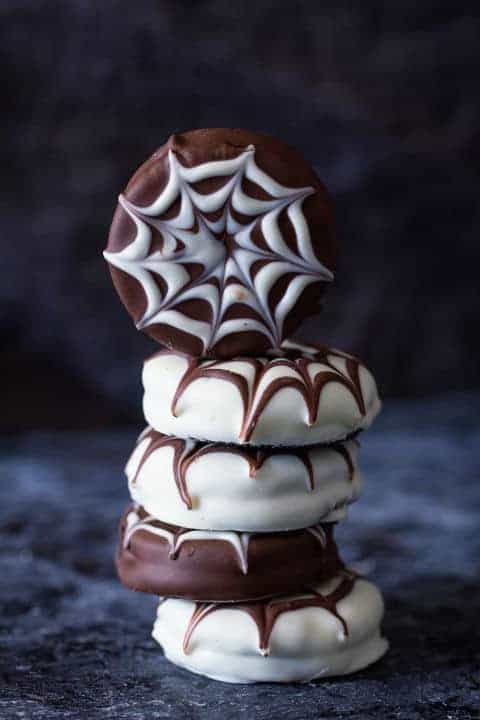 So we already did Oreo's and we already did spider-webs. But I don't care! Because I still really love these fun Oreo Spiderweb Cookies! Bring these to work sometime or pass them out to friends and you just became miss-popular!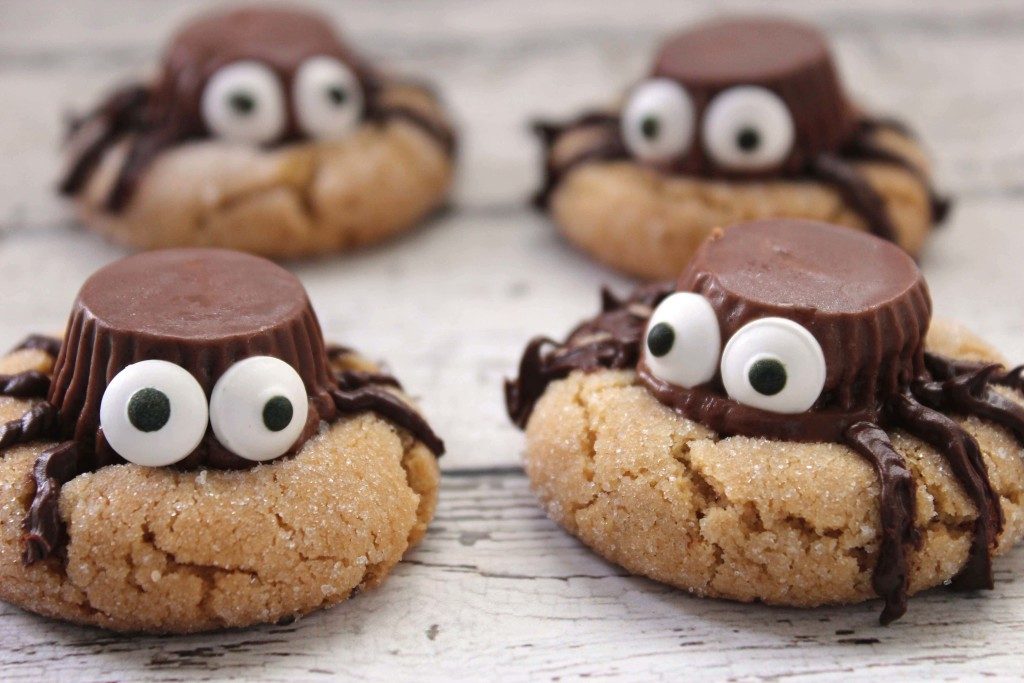 I'm always looking for easy treats to make and these cookies do the trick! You can use almost any cookie recipe you want and just create the spiders on top of them.  Halloween Spider Cookies are often a favorite among kids, probably because of those cute googly eyes. Who doesn't love a good googly eye?!?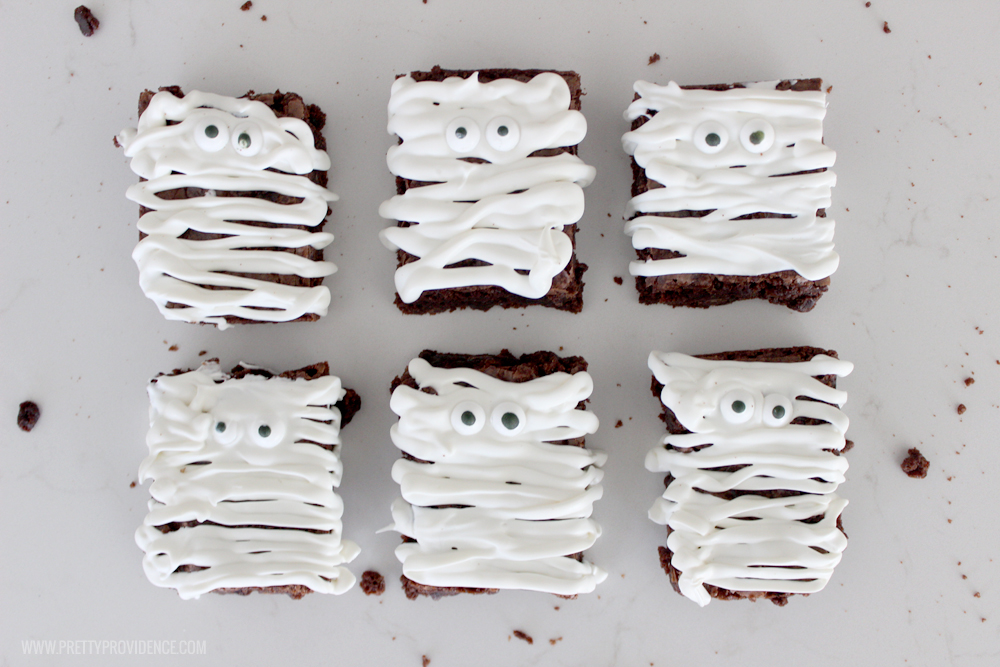 Another perfect example of taking a quick recipe and making it into a fun treat are these Quick Mummy Brownies. Again, use those googly eyes to make the kids laugh! And this recipe is easy enough that the kids can create their own mummies.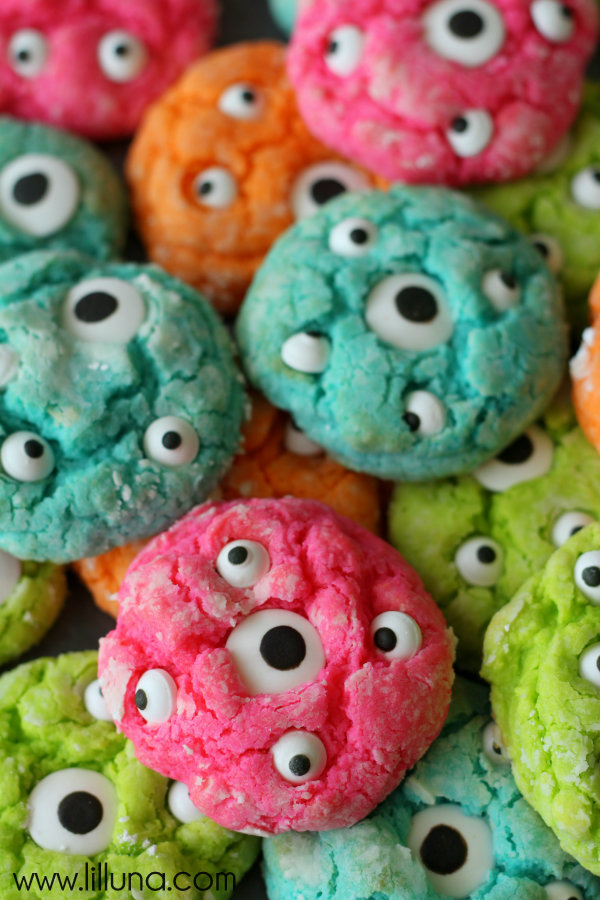 Ok, ok… you're starting to understand that I love using googly eyes in treats for kids. But that's because KIDS love them too! Really, you can put googly eyes on anything! These Gooey Monster Cookies are just another fun Halloween snack great for kids.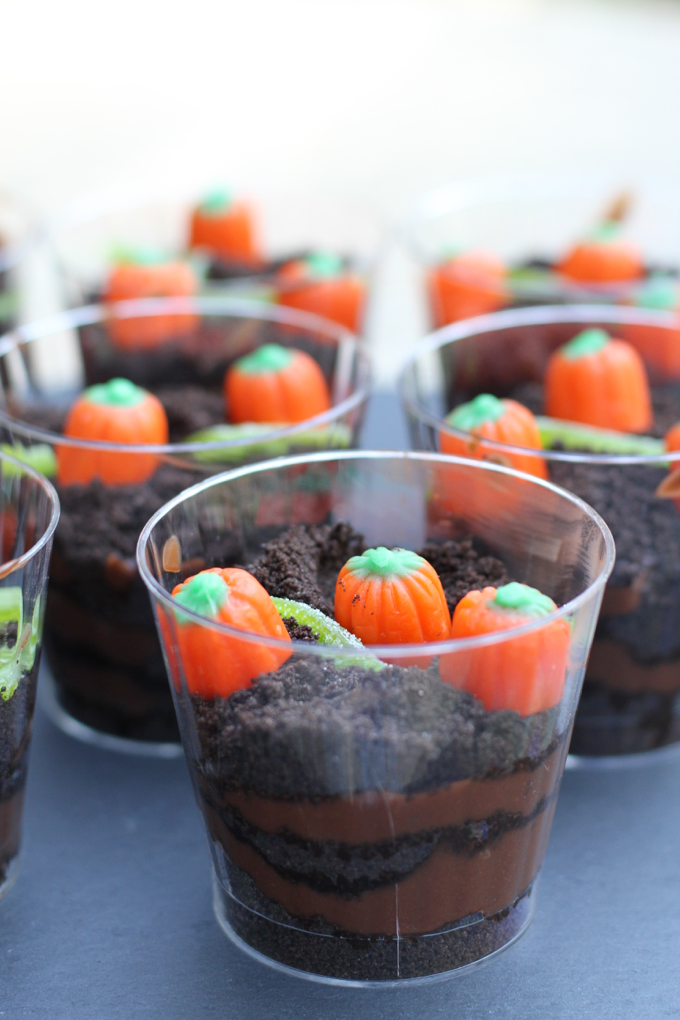 If your kids are fans of worms and dirt pudding cups, then they will LOVE these Pumpkin Patch Dirt Cups. More pudding, more cookies, and the fun pumpkin candies make a this a great Halloween treat kids can make with friends.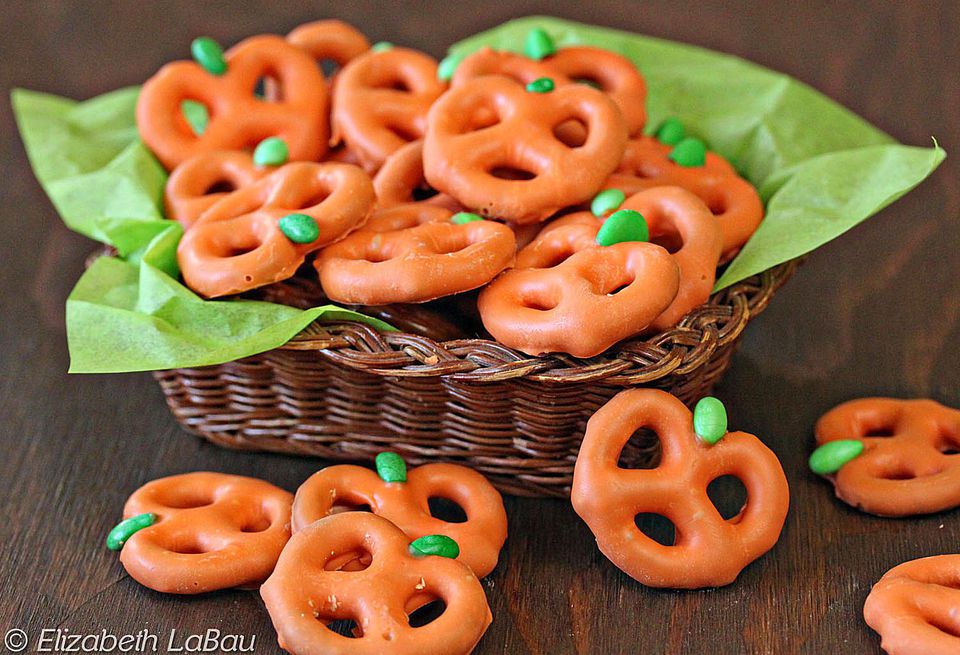 Not every snack needs to be super complicated. Take these Pretzel Pumpkins for example. Pretzels dipped in colored melting candies and BAM! You got yourself an easy Halloween treat.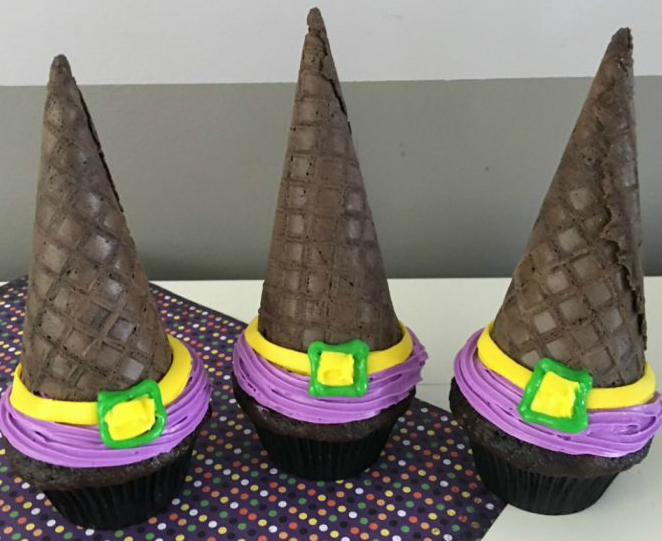 Don't forget the witches of Halloween! A favorite costume of my daughter (she's been a witch twice so far!) and a snack to match is a must. Halloween Witch Hat Cupcakes are arguably one of the cutest Halloween treats youll find!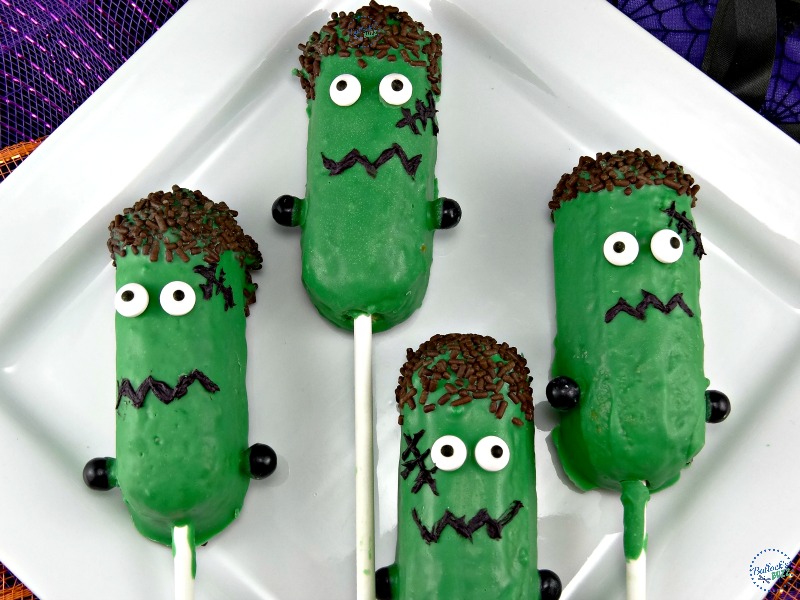 Frankenstein Twinkies will be a hit at any Halloween party with kids. Better yet, have a Halloween party of your own and make the twinkies but leaves the green. Have kids decorate them with their own version of Frankenstein's face!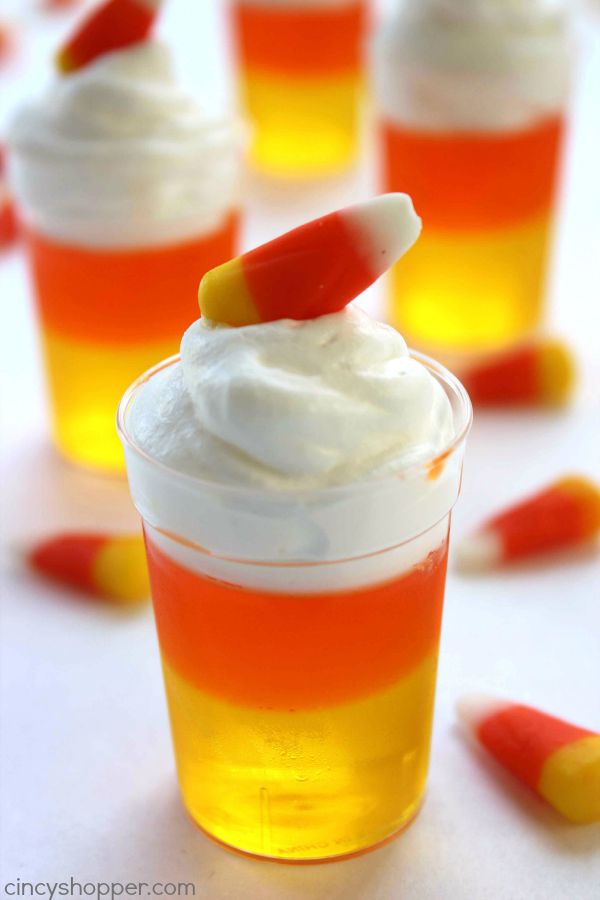 Not every Halloween treats needs to be spooky. Candy Corn Jello is great and healthier treat you can make either for Halloween or all fall long… it would even make a great Thanksgiving treat!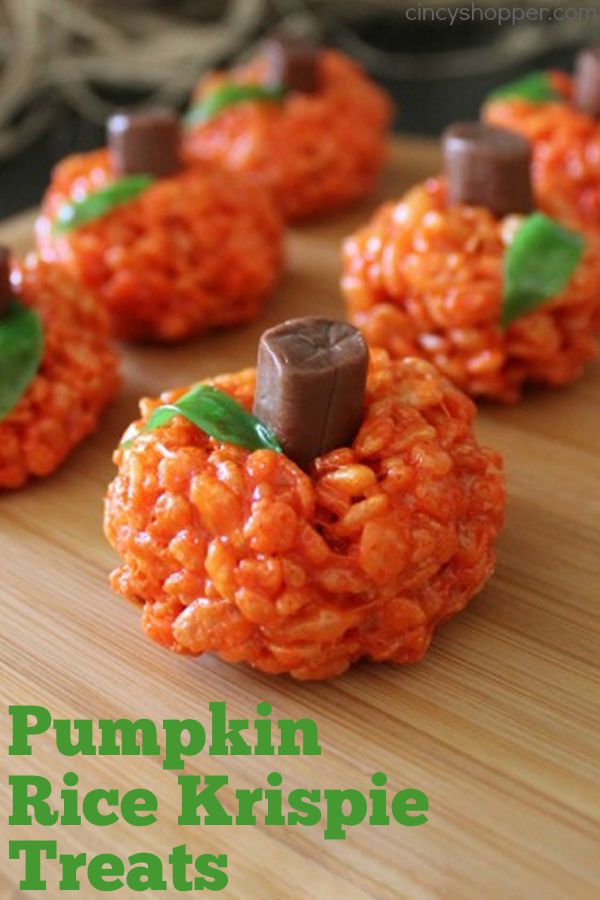 And possibly the cutest for last! I love these Pumpkin Rice Krispie Treats. They are easy to make and a fun surprise for kids that includes everyone's favorite snacks… a Rice Krispie treat!
I hope you enjoyed these fun Halloween Treats!