One amazing thing about being a mom is introducing your kids to your favorite traditions. They can be traditions from your own childhood, or even new family traditions you started. It's easy to create a very memorable Thanksgiving with these fun family Thanksgiving traditions that are easy to do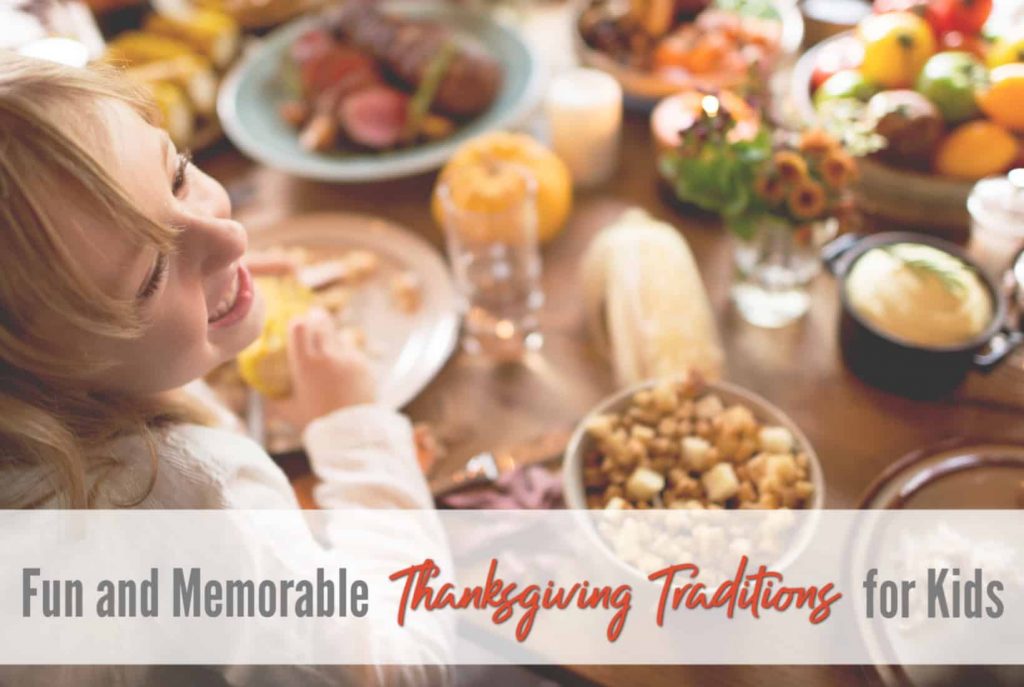 The Importance of Family Holiday Traditions
There really is no better way to celebrate a Holiday than by having your own Thanksgiving traditions that you pass on to your kids. 
I remember growing up and always looking forward to Thanksgiving. Not just because of the food, and not because of any crazy vacations. But because of the simple traditions my family had every year. 
It was pretty basic. We took a 3 hour car ride to my Grandparents home for the 4 day weekend. We always stopped at McDonalds on the way and got an Egg McMuffin (the only time of the year my parents let me eat at McDonalds!). 
We would spend time with all our cousins, eat amazing food, then sit around trying to spy on the adults as they went over our Christmas lists and decided who was getting each kid what. 
Nothing fancy. But this simple Thanksgiving tradition was enough to make me look forward to it every year. 
Starting my own Thanksgiving Traditions
When I became a mom, I moved far away from most of my family. And it broke my heart that my daughter would never have the big family Thanksgivings with aunts and uncles and cousins, like I had. A lot of years it was just her and I. 
But I was determined to make Thanksgiving memorable for my daughter. It wasn't fair to her that she had no relatives around and she would be lacking in childhood memories. 
Family traditions build anticipation for kids. And they create connections between family members that will always be remembered. 
So whether you have a ton of family or none at all, you can make this Holiday fun and memorable for your kids.
That's why I'm sharing these fun Thanksgiving traditions you can create with your kids, to have an enjoyable and memorable Thanksgiving. 
How do you make thanksgiving special?
Thanksgiving traditions can be something you do every year, or can even be something new you try. 
It can be activities your kids look forward to every year. So they build that anticipation of the coming Holiday, and not just having a few extra days off school. 
But even if your Thanksgiving activities change every year, it's still a great way to get your kids off their electronics, spend some time together, and make great memories they will have for a lifetime. 
Thanksgiving traditions you can do the night before
Wednesday has become a busy day for a lot of moms as they buy food and start to prepare the meal. 
This would be a great time to give your kids some Thanksgiving projects to do! 
Set them up with the right supplies to have them create some great crafts, and even help get ready for Thanksgiving dinner. Here are some fun suggestions on how your child can help out and have fun at the same time:
Make a Thanksgiving Tablecloth
You can buy a plain white tablecloth and have your child decorate it for dinner. It doesn't need to be paper either! You can buy an inexpensive white cloth tablecloth and have your kid decorate it with fabric markers. 
It keeps them busy, and also makes them involved. And they will love hearing everyones comments on how creative the decor is!
Make place cards
My daughter started doing this one year when we decided to have a Friendsgiving. She took time and made a personalized place card for each person coming. She decorated them, and wrote names on them. She even included a cute message on the back of the place card that was specific to that person. 
Create a menu
Another fun Thanksgiving tradition idea would be to make a menu for Thanksgiving dinner. Your child can write down each side dish and dessert that is going to be served and decorate the menus too. Guests will be super impressed with menus placed at each place!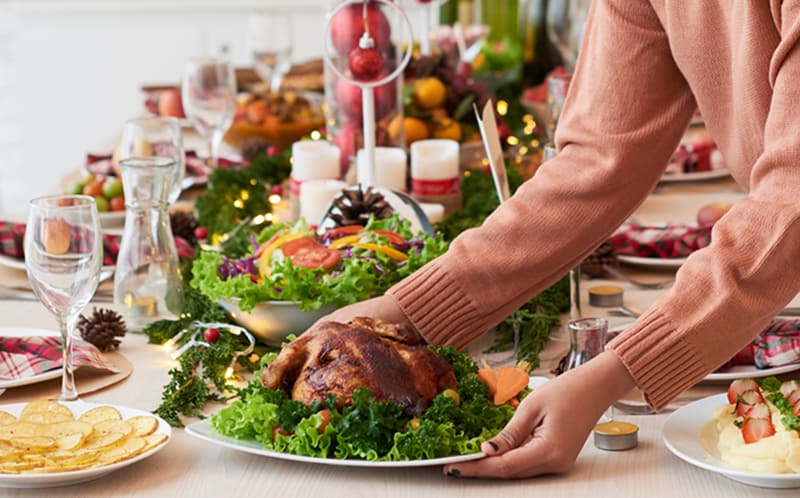 Thanksgiving Traditions for the Day of Thanksgiving
Turkey day has arrived and you'll be busy cooking your butt off. But there are still some cool Thanksgiving traditions you can do with your kids. 
Make a Thankful tree 
I love this idea for a thankful tree. It's like its very own version of a Christmas tree, but at Thanksgiving time. Your kids can make the tree and then make a ton of cut out hands. 
Have them write down what they are thankful for and stick them to the tree!
Keep a bunch of blank hands ready for when guests arrive. Each guest can write down what they are thankful for and stick it on the tree also. 
Watch the parade
Even as an adult, I still put the Thanksgiving Day Parade on in the background. I don't even really love the parade, but I remember it being on every year I was a kid. So just hearing and seeing it makes it 'feel' more like Thanksgiving. 
My daughter loved seeing the floats and danced her little tush off when the bands played. To me, it's just not Thanksgiving unless you have the parade on!
Have kids help make Thanksgiving dinner
I used to love it when my mom asked me to help out making some of the side dishes for Thanksgiving. It was like she was trusting me in this important task. And it made me feel all grown up being in the kitchen making such an important meal.
I didn't realize it at the time, but now as an adult I'm so glad she taught she taught me these skills. So I can easily make Thanksgiving dinner for my daughter and teach her some skills she'll use one day for her family. 
Surprise your child with a chef hat and apron and you will make their day!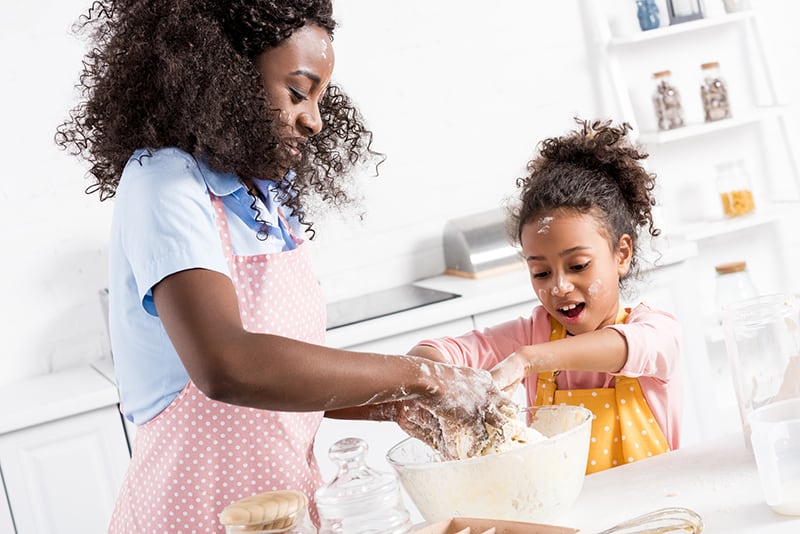 Make a wish
One of my favorite memories as a kid was when mom would find the wishbone in the turkey and put it on the windowsill to dry. My sister and I would wait patiently until it was ready and then my dad would be the official, making sure our hands were even as we tore it apart. 
I don't think any of those wishes came true, but I still get excited every time I see that wishbone!
Get outside
Football is such an important part of Thanksgiving, that a lot of families go outside and play a game or two while the turkey cooks. You don't have to play the game, but getting outside in the cool air is something fun for everyone. 
Go for a long walk or a Thanksgiving bike ride. 
Mom probably needs a break from cooking and the kids need to let out a little energy before dinner. It'll also help you get that metabolism going so you can be ready to stuff your face in a few hours!
Give back to those who don't get a Thanksgiving dinner
When dinner is done and everyone is winding down, take time to think about those that did not have a chance to have a Thanksgiving dinner. People like police officers, nurses, firefighters, etc. They are spending their Holiday taking care of other people, so do them a favor and show them some love. 
Drop off a pie at your local Emergency Room. Bring a box of donuts to the nearest police station. Or even surprise your local firefighters with a basket of goodies. 
Traditions for The Friday after Thanksgiving
The day after Thanksgiving doesn't need to be all about Black Friday.  Especially for kids! They could care less about what's on sale. So get your shopping done super early and plan to spend the rest of the day with your family, doing these Thanksgiving traditions…
Give away the leftover food
Keep some for yourself if you want to. But we all know that by day 3 or 4, half of Thanksgiving dinner goes into the trash. 
This year, buy some paper plates and make as many dinners-to-go as you can with all the leftovers. Wrap them in foil and drive around handing them out to the homeless. Not everyone can go to shelters and get food. 
Don't forget the puppies
Shelter animals don't get a bowl of leftover turkey and gravy mixed with their dog food on Thanksgiving. So head over to the animal shelter and brings some doggie treats to pass around. Animal shelters are always in need of donations.
Kids not only remember these kind acts, but it usually becomes their favorite part of the Holidays. 
Decorate some Christmas Ornaments
While the rest of the world is running from store to store pushing and shoving at each other for the last toy of the year, stay indoors and make some fun Christmas crafts! These easy DIY ornaments are super fun for kids to make. Every year, make a new ornament and mark your kids age and dates. 
When they are older, they will have several ornaments they made over the years that will bring back memories. 
Start the Christmas lists
Every year, I make my daughter sit down and start making her Christmas list the day after Thanksgiving. I give her the Black Friday ads and tell her to circle, or write down her list. 
I also have her start a list of people she wants to give Christmas gifts to. She writes down each persons name and what she wants to give them, or if she is making them something homemade. 
More ideas for Thanksgiving traditions!
Thanksgiving weekend is four days long, but it always seems to go by so fast. We try to make the most out of each day with some of these great ideas…
Have a Friendsgiving
If you are like my daughter and I and have no family around, have a Friendsgiving instead. Sometimes we do this on the Saturday after Thanksgiving and change up the menu. And other years we do it the weekend before Thanksgiving. 
Friendsgiving are great because the rules are so much more relaxed. Invite your friends, invite neighbors, invite kids from class. Invite whoever you want! The nice thing is, Friendsgiving are about the people you WANT to be with, not the ones you are obligated to be with (aka certain family members).
Get ready for Christmas!
It shocks me when people wait until a week or two before Christmas to put their tree up. Most of the time, I can barely wait until Thanksgiving. I do hold off until Thanksgiving Day is over. But as soon as 24 hours have passed… I bring out the decorations and tree!
I keep this Thanksgiving tradition because it was always my favorite as a kid. We all knew that we had to behave during dinner, help with dishes, and spend time with our relatives. And when that is all done, it was time for Christmas to begin!
And that had it's own tradition that I definitely carried on to my daughter. The tree and ornaments come out, and we decorate together while listening to the Chipmunks Christmas CD (don't ask) and drink hot chocolate. 
Have a very memorable Thanksgiving with these fun family Thanksgiving traditions
You don't need to spend a ton of money on airfare to visit family. And you don't need to create lavish Holidays with your kids. You can create fun, memorable Holidays with simple traditions. Because it's all about making childhood memories and bonding with your child.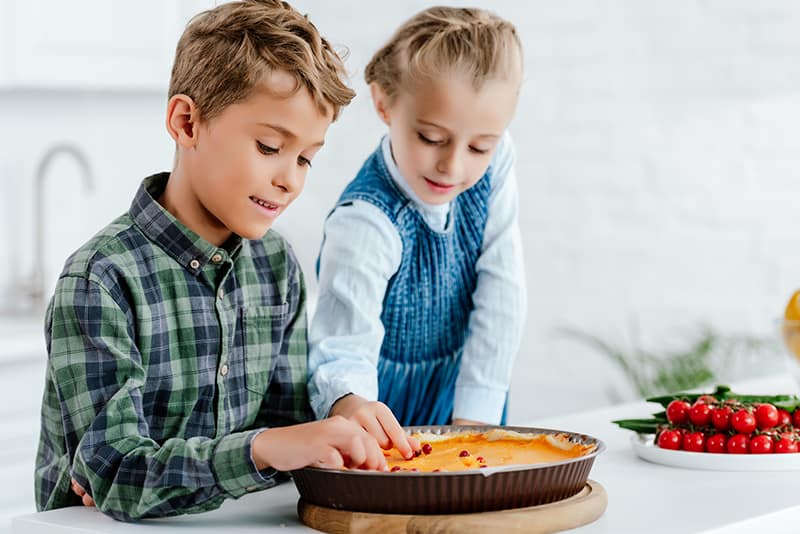 These Thanksgiving traditions are meant to give you some ideas on what you can do to create a memorable Thanksgiving with your kids. Pick just a few or do them all!
What are some of YOUR favorite Thanksgiving traditions?
You might also enjoy: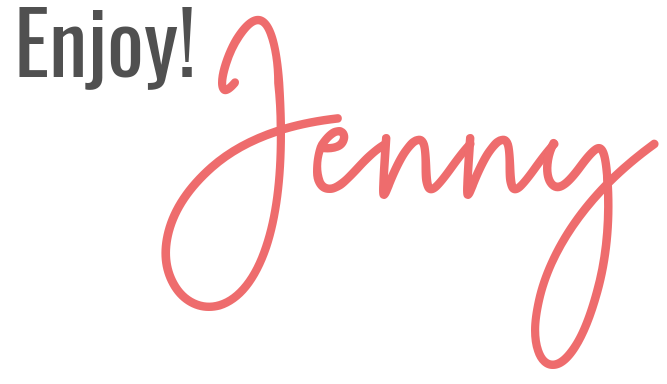 Pin for later!