Not too long ago, we went on a cruise to Alaska and we were HOOKED! There were so many things we enjoyed about cruising and we knew instantly our next trip would be cruising to the Caribbean.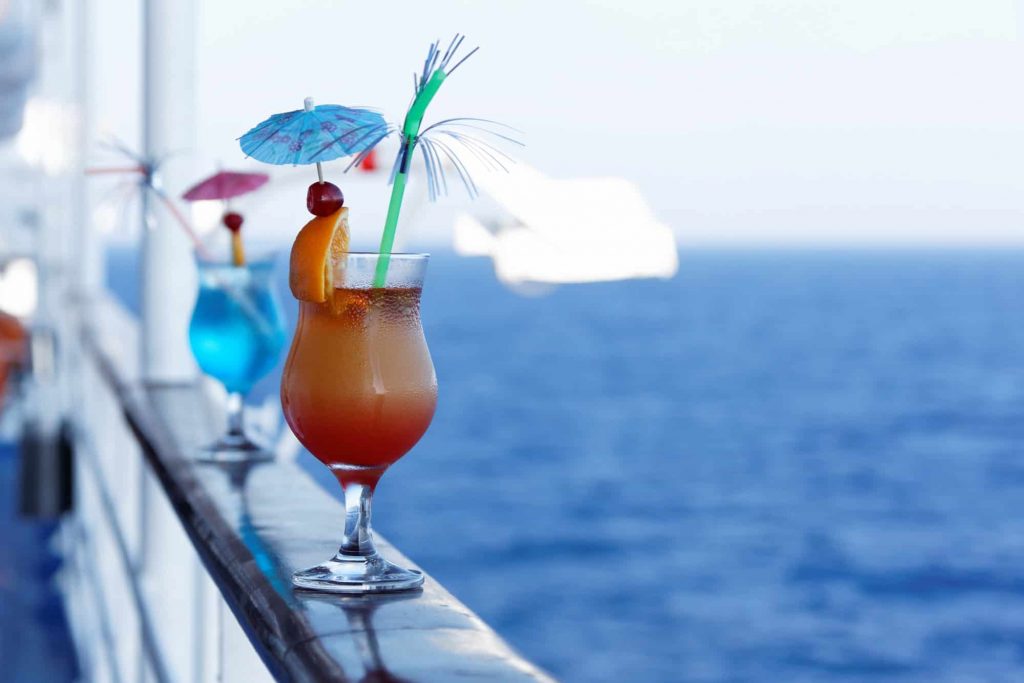 So after a ton of research, we booked a 7 night Western Caribbean cruise on the Carnival Glory.
For packing tips on what to bring on your cruise, check out: What to Pack for a Cruise, Cruise Packing Essentials.
I can honestly tell you, this was hands down one of the best vacations I have ever taken. And I'll be happy to tell you exactly why you need to take a Caribbean cruise too!
There were a few reasons I chose this cruise line and this cruise route. First off, I had in mind a specific port I wanted to go to. Roatan, Honduras was at the top of my list solely so we could visit Daniel Johnsons Sloth and Monkey Hangout. This is one of the few places in the world where you can actually HOLD a sloth. I'll write more about that later!
The second reason I booked this cruise was that I really wanted to discover other countries as much as I could. Most Caribbean cruises only stop at 3 ports. But with Carnival, we stopped at 4 ports. Giving us one less day at sea, but one additional port to discover.
Lastly, Carnival just has the best overall pricing. I compared a bunch of different cruise lines and for a family of four wanting to take a 7-night cruise to the Caribbean, this was the most affordable.
Ok, Where to Start?
If you've never been on a cruise before, the embarkation process (a fancy word for boarding) can be a little intimidating. It runs basically like an airport. You stand in line to check in, then you move through security. After security, you go to your assigned area and wait until your group number is called. Once your group number is called, you get on the ship!
Tip: Carnival lets you select your embarkation time ahead of time. I highly suggest you select the earliest booking time you can! I'll tell you why in a bit…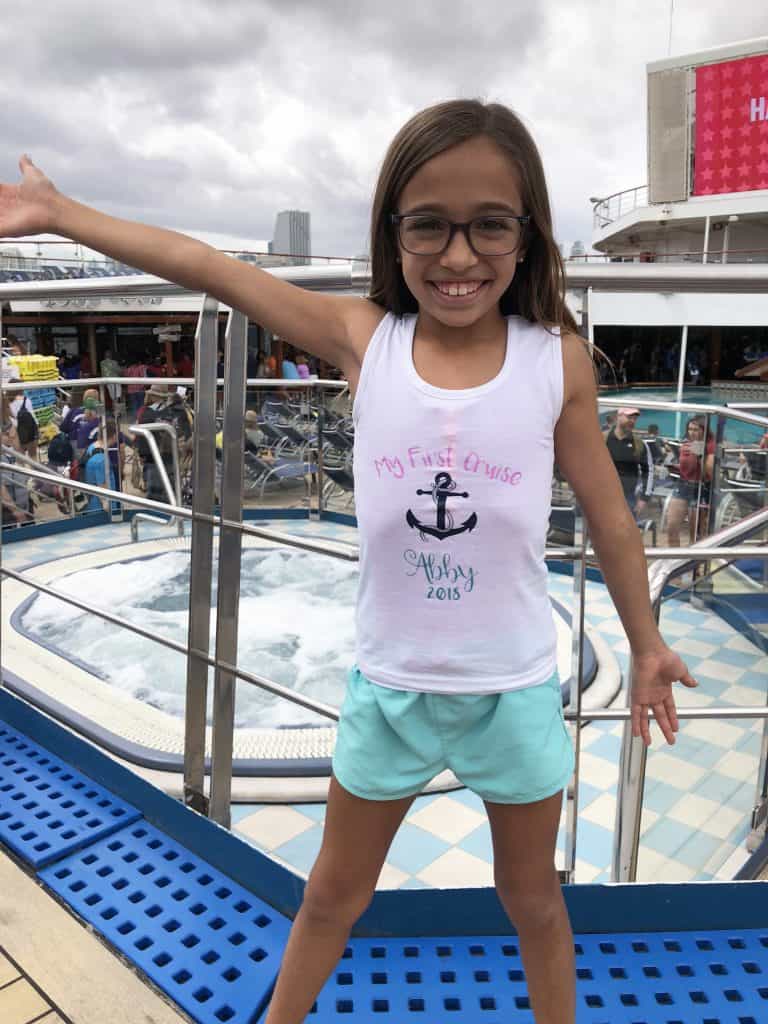 What you can bring with you:
(Every cruise line is different but we found these rules to apply to both Princess Cruise Lines and Carnival)
Each adult over the age of 21 can bring one bottle of wine or champagne.
Each person (kids included) can bring a 12 pack of soda, juice, or sparkling water on board.
No other alcohol is allowed. No bottled water is allowed.
Boarding the Ship
As I mentioned before, you want to get on the ship as soon as you can. The buffet and most other dining options are open and the food is yours for the taking! It's all included so might as well go to town as soon as you board!
If you have an alcohol package, this is also ready to go the second you step foot on board. So if you want to get your money worth then get on early and start ordering those drinks! The bars on the pool deck are also VERY busy during this time and only get busier and busier as the day goes on.
You will also want to grab some deck chairs as early as you can. We chose the earliest boarding time and stepped foot on the actual ship right around noon. Even at this time, the chairs were about half full. Within the hour, every single chair at the pool deck was taken. We sailed out of Miami and the weather was a beautiful 80 degrees and sunny. So hours before the ship even set sail, we were swimming and drinking and eating… while so many others were still trying to get on the boat.
What to Carry On the Ship
Just like the airports, you will check your big luggage and those will be delivered to your rooms later in the day. But you are allowed to bring a carry on to take with you right onto the ship. DO THIS.
Although we got on the ship by noon, the rooms were not ready until 1:30 pm and our luggage were delivered even later than that. So thank goodness we boarded the ship wearing our bathing suits under our clothes. We also had our beach bags with sunscreen, goggles for the kids, and anything else we would have needed for the pool. So we were able to go straight to the lounge chairs and hang out while the kids swam until our rooms were ready later.
The Rooms
I found Carnivals rooms to be really nice and spacious. We had plenty of closet space and extra drawers tucked all over the cabin. Our luggage fits easily under the beds too.
As with our Alaskan Cruise, we booked a balcony room and I would really recommend this. There is nothing quite like being able to stand out on your balcony and watch the ocean. And every time you pull in or out of port, you can sit and enjoy the views and watch the islands and other boats come and go.
Now, I only say the rooms were spacious because we actually booked two separate rooms. The adults got the balcony room and the kids were directly across the hall in an interior room. And you know what… booking these two rooms was actually CHEAPER than having all four of us in one room! (Ask me how!)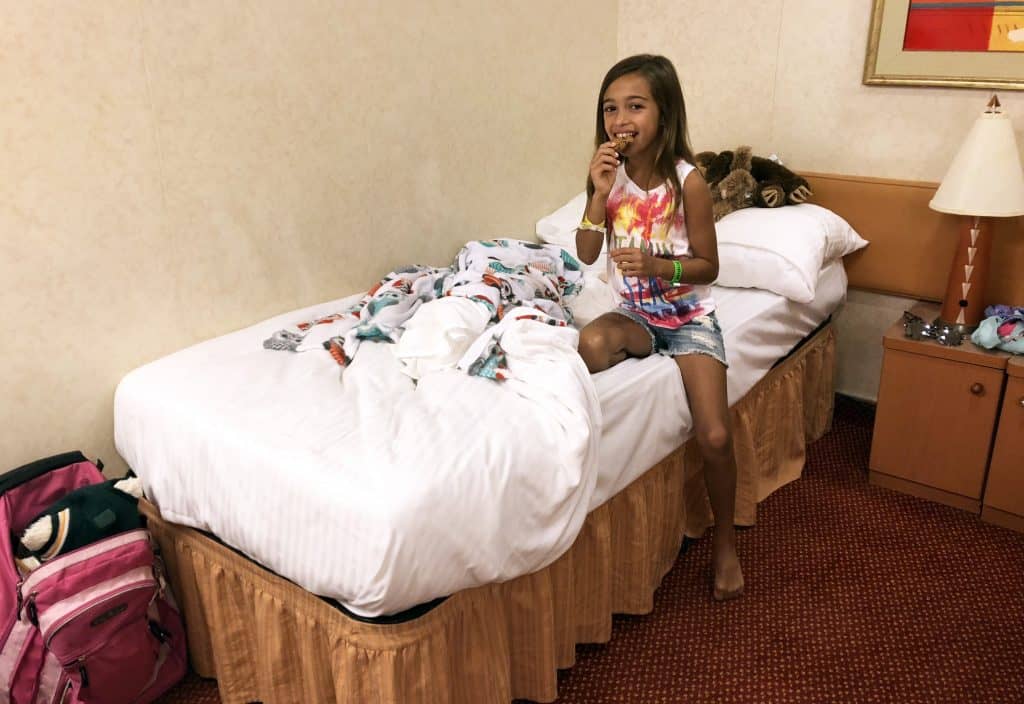 The Food
I'm not gonna lie, one of my favorite things about cruising is that the food is all (well, mostly) included. So you can just eat and eat and eat. And you know what's even better? The kids can too! So no more complaining they are hungry. They can eat any time they want to!
Carnival even has a soft serve ice cream machine available 24/7. We showed the kids how to get their own ice cream and they were in heaven.
The buffet was just ok. I've seen better on other cruise lines. But Carnival more then makes up for it with the other food options available. Guy Fieri's Burger joint was amazing, and the taco stand was great too. And don't forget the pizzeria, I could have eaten that pizza every single day!
As far as the Dining room, the food there is always excellent. I never felt the need to go to a specialty dining restaurant and pay the extra charge. The main dining room had so many good courses, we often had a hard time choosing. They even had steak and lobster one night. And those desserts… oh those desserts!
Days at Sea
You are on a Caribbean Cruise so I highly doubt you want to stay in your cabin all day. More then likely, you will be hanging out by the pool! We had an amazing time just laying by the pool and enjoying the sun while the kids ran around from water slide to pool to ice cream machine all day.
The Cruise Director (Hey Dustin!) does an amazing job of putting together activities on the pool deck to keep you entertained as well. Some are adult-oriented but nothing was too inappropriate for the kids to see.
TIP: If you want a lounge chair on days at sea… get one early! They are usually completely full by 9 am. Even though they say not to, almost every guest puts a towel on a chair to claim a spot. So if you want any chance of having a place to sit, you need to do this too. My morning routine became getting up around 8 am, and grabbing a specialty coffee (included in the drink package) and having my breakfast on a lounge chair while I waited for my family to get up and join me.
Port Days
Caribbean cruises have two different ways of docking at the port. One is by pulling up and anchoring to an actual dock. These are the nicest because as soon as they dock, everyone can get off as soon as they like.
The second way is by tender (a tiny boat). Some islands are too shallow for the ship to pull in so they have to anchor out at sea and have the tender boats take passengers to and from the islands. The tenders are only so big and can only take a limited number of passengers at a time. As you can imagine, getting off the boat can be time-consuming UNLESS you do it the right way.
The night before the tender ports, they tell you a time and a location to get your tender group tickets. These are the tickets that let you on the tender so getting group 1 or 2 is ideal! If you want to get off the ship within the first hour it docks, you NEED to wake up early and be one of the first people to get a tender ticket.
Cruising to the Caribbean…Best Vacation EVAAAA!!!!!
Along with our 7 day Western Caribbean cruise, we stopped at Grand Cayman Islands, Roatan Honduras, Belize, and Cozumel. Every place was amazing and there is no way possible I can tell you all about them here. So I promise to write about those specific ports and what we did there soon!
If I could, I would go on this exact cruise all over again. Every day was filled with something new. New adventures, new sites, new food! It's not always easy to find a vacation that the kids love and the adults find equally as exciting. But our Western Caribbean Carnival cruise did just that.