Fall Dessert Recipes You Need to Try
Are you hungry for some fall dessert recipes?
It's the end of October and still above 90 degrees here in Phoenix.  Growing up in the midwest I enjoyed the fall colors and cool weather.  And while 95 degrees is technically cooler than 115 degrees… it's still not the same!
I dream about the sweaters and boots I have yet to wear.  I longingly look at my fireplace and wish I could build a fire. So I crank up the Air Conditioner and put my winter clothes on for a while.  Kidding!  Do you have any idea how expensive air conditioning is in the desert?
Cool-weather is coming, but in the meantime, I decided to get myself in the mood by assembling my absolute favorite fall desserts and treats.  Because if anything is going to make you in the mood for something, it's a good dessert.  And these fall dessert recipes are just the thing. 
Best Dessert Recipes For This Fall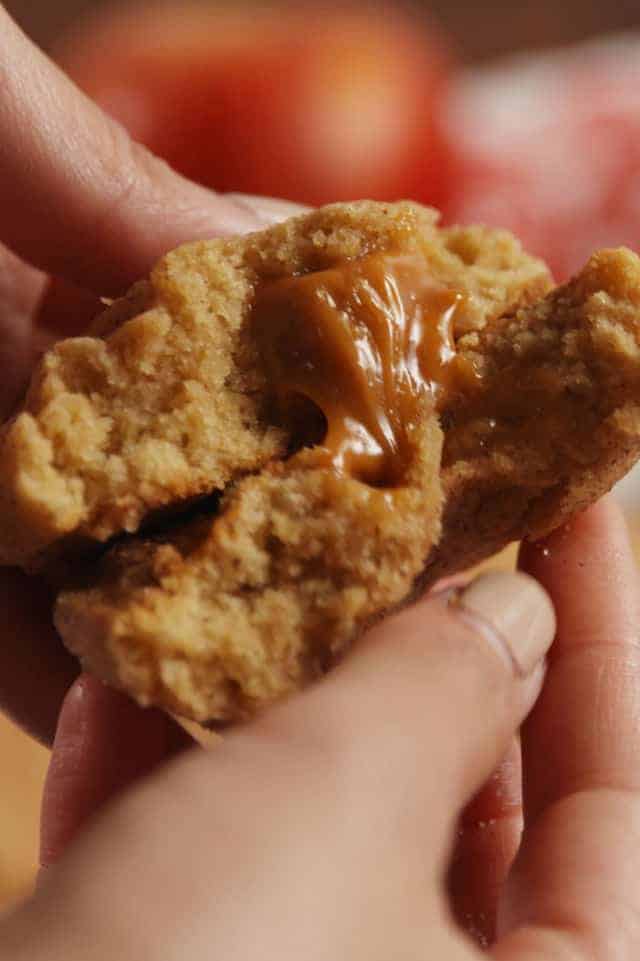 Caramel Stuffed Cookies.  They look similar to a snickerdoodle and so you think it's going to be another cookie you've had a million times. Oh but wait! Oohey gooey caramel comes spilling out the middle. If that wasn't good enough, the cookie itself is super flavorful with cinnamon and apple cider.  This is definitely a cookie that you'll want to try.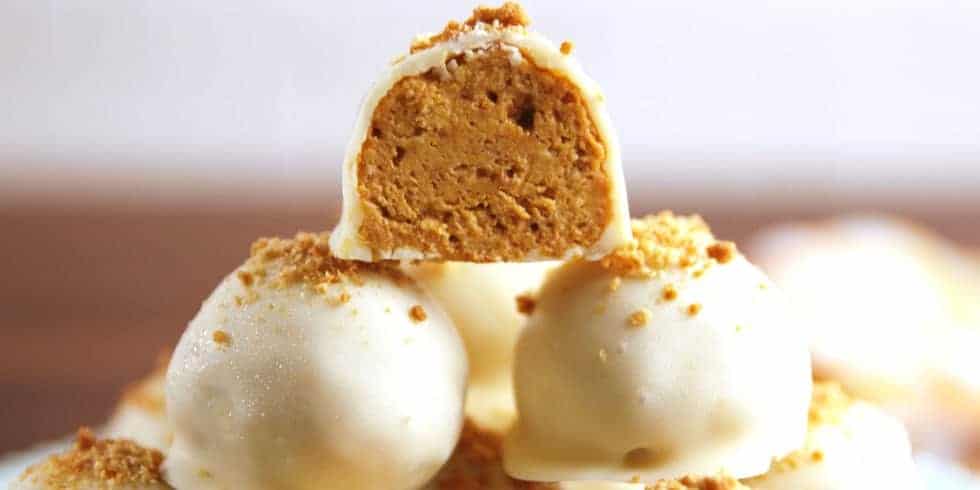 Pumpkin Cheesecake Bites.   These little bites are great to serve at a party or pot-luck. They are bite-sized and easy to eat with your fingers. Gotta love that! Plus, they are cheesecake and pumpkin. Who wouldn't love that?!?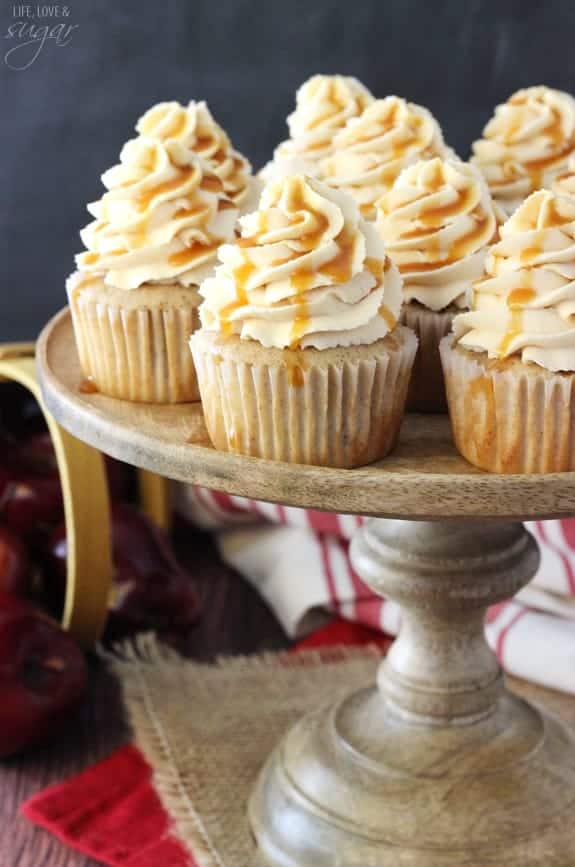 Caramel Apple Cupcakes.  You can't have a favorite dessert list without including a cupcake. And what reminds you more of fall than caramel apples? So combine the two and there you go!  Take note that these cupcakes include sour cream in the batter.  I started using sour cream in almost every cake and cupcake recipe I have. It makes them so much moister (don't you just love that word).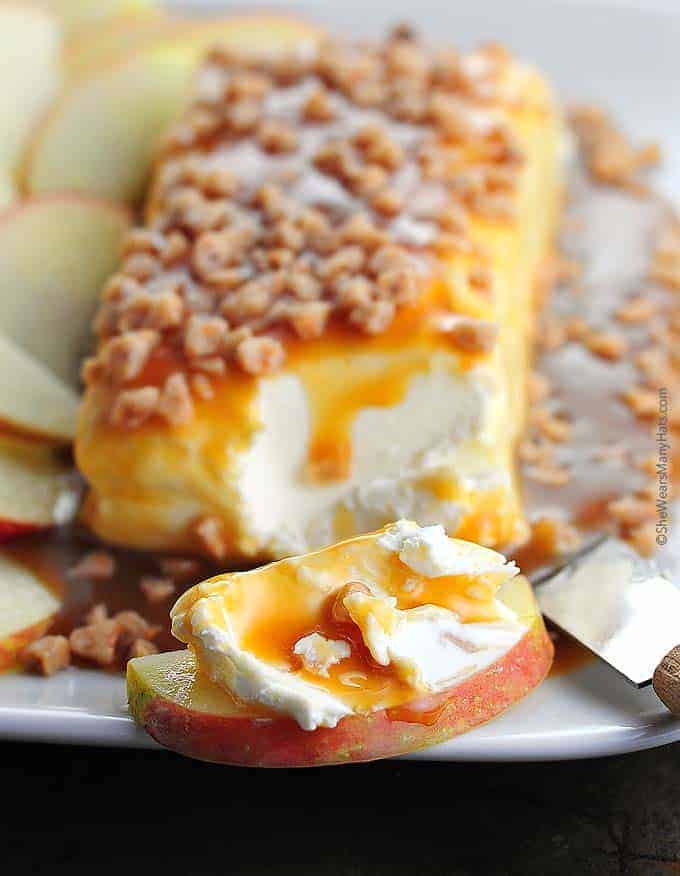 Caramel Apple Spread.  Since we are already on the topic of caramel apples, this dessert is a must to be included.  This is also a really great recipe that could not get any easier. No-bake, only 4 ingredients. You can use it as a healthy dessert or appetizer or snack at the big game. It's easy to whip up in just minutes and I promise it will be gone just as fast. 
Candy Corn and White Chocolate Blondies.  I love candy corn. And I find that a good amount of people in this world do too. So when I first found this dessert, I was in love before my first bite. How can you go wrong?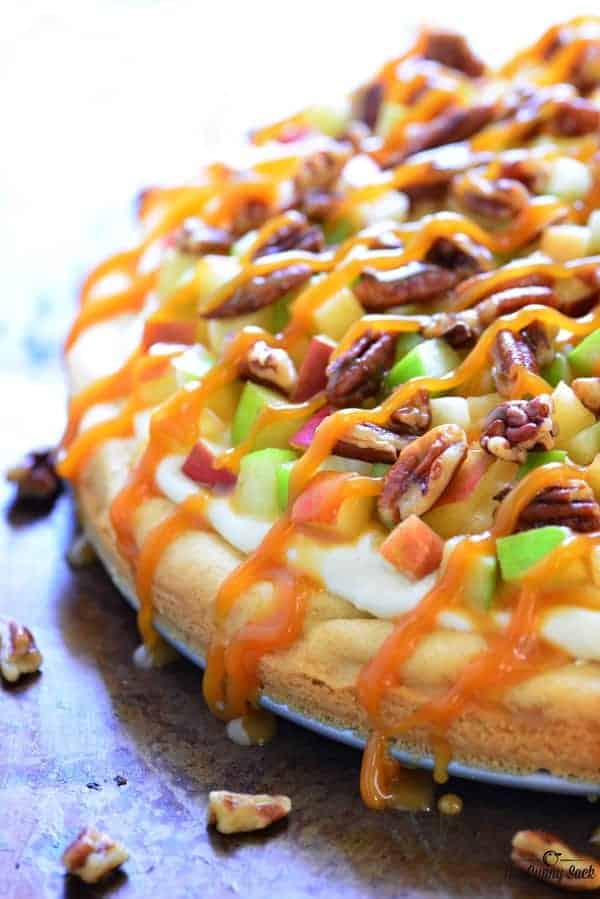 Caramel Apple Fruit Pizza.  This fruit pizza is another unique recipe you don't often see. I always like trying new things and being the one person in the group to bring something new and eye-boggling to the scene.  This recipe nails it every time.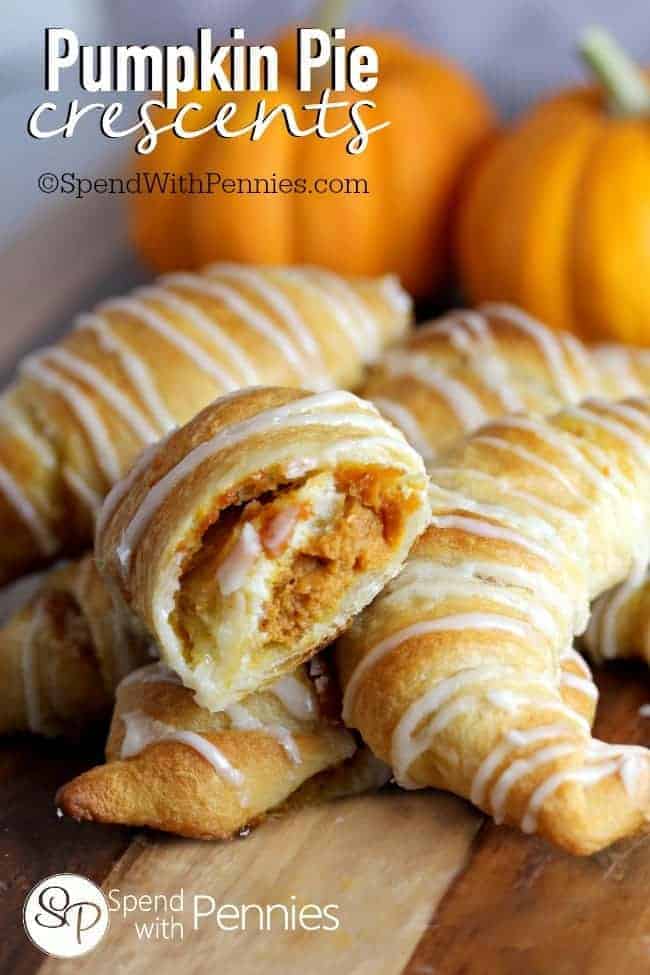 Pumpkin Pie Crescents.  Pumpkin pie is not my favorite, but I enjoyed this recipe because of all the extra flavor that is added to it. Plus, crescent rolls make everything better in my eyes. These are also really easy to make and something good for kids to help out with. So if you have that certain someone who wants their pumpkin pie, try this and satisfy everyone.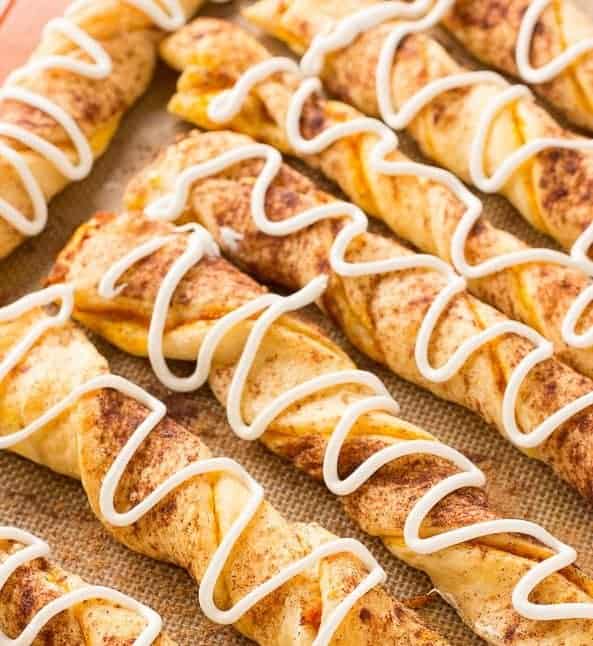 Pumpkin Pie Twists.  In keeping with the pumpkin pie theme, this recipe is similar to how it included the crescent rolls but is made very differently and has more of a toasted bread taste to it. Plus, the kids love making this and turning the twists into letters.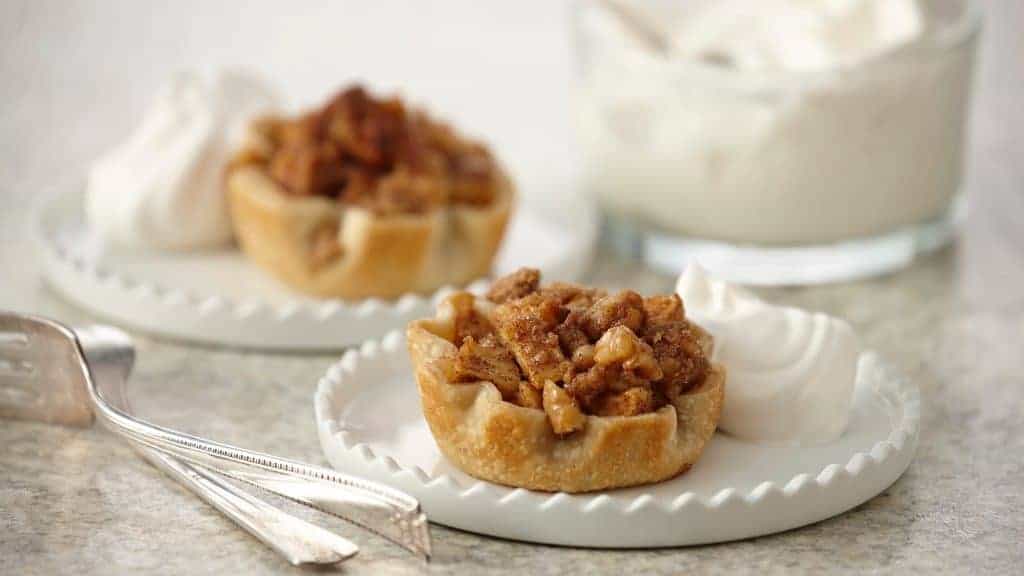 Mini Apple Pies.  I am a BIG fan of eating things with my hands.  It's harder to tell how many you've had so it doesn't feel like you ate as much, haha! Think of how cute these little pies would be at a nice dinner, served individually with a little vanilla ice cream.  Or at any party where a guest can sample as many as they like. There's really no place that wouldn't be a great place to serve these.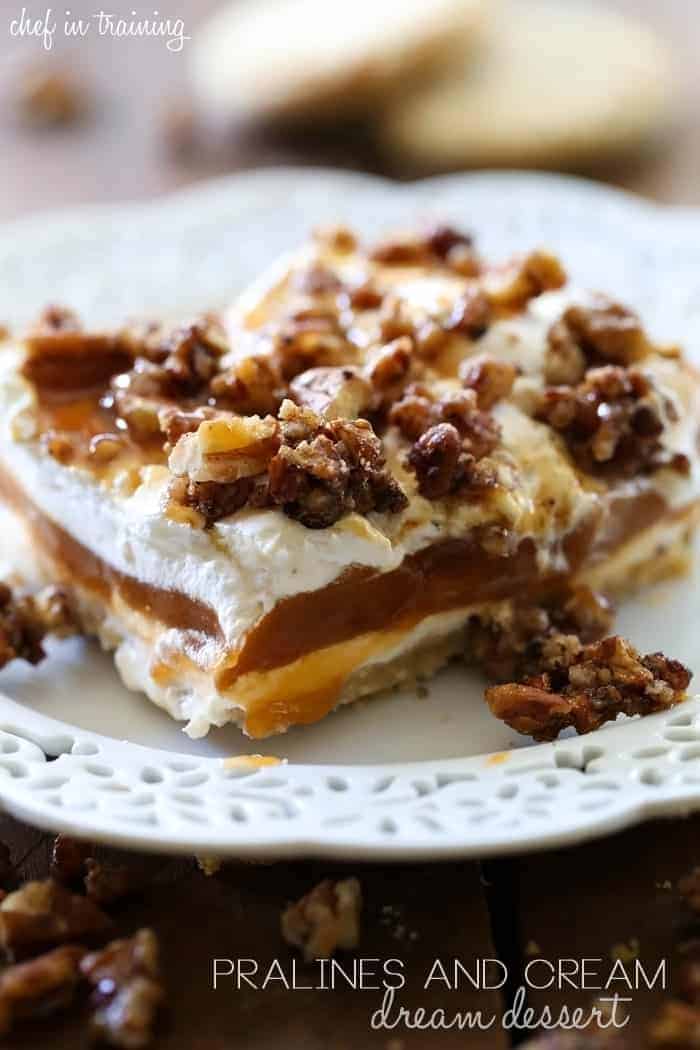 Pralines and Cream Dream Dessert.  Just looking at the picture and you can tell what an amazing dessert this will be. It really requires minimal effort on your part and is always a hit with guests. Pecans are amazing as they are but add a sugar coating to it?  Phenomenal.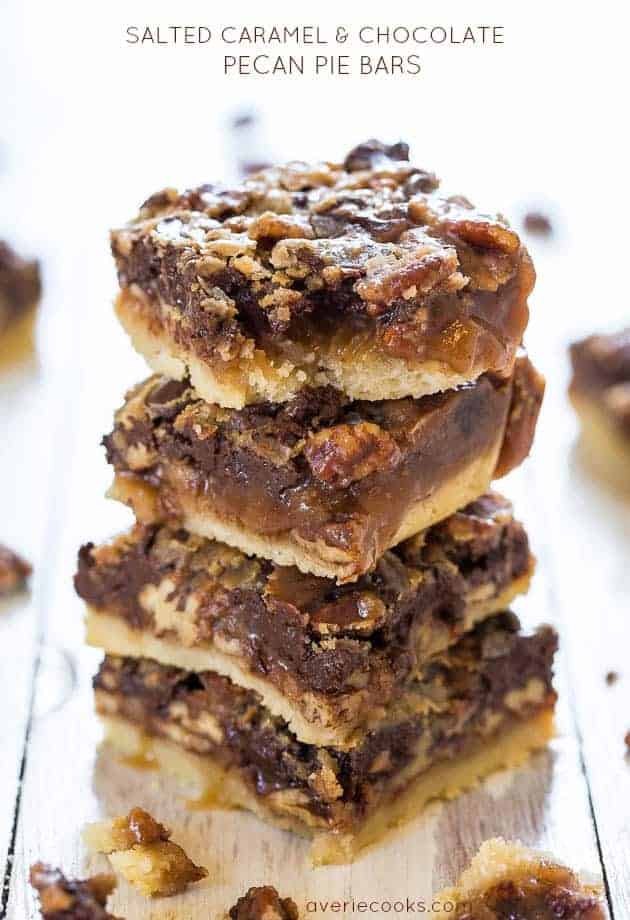 Salted Caramel and Chocolate Pecan Pie Bars.  Ok, so you can't say the name 10 times fast. But who cares! Pecan Pie is one of my all-time favorite desserts. Add the fact that I am also a chocoholic and you have a dessert I would die for.  You've never tasted anything like this. I can't believe it took me so long to realize pecans and chocolate go great together!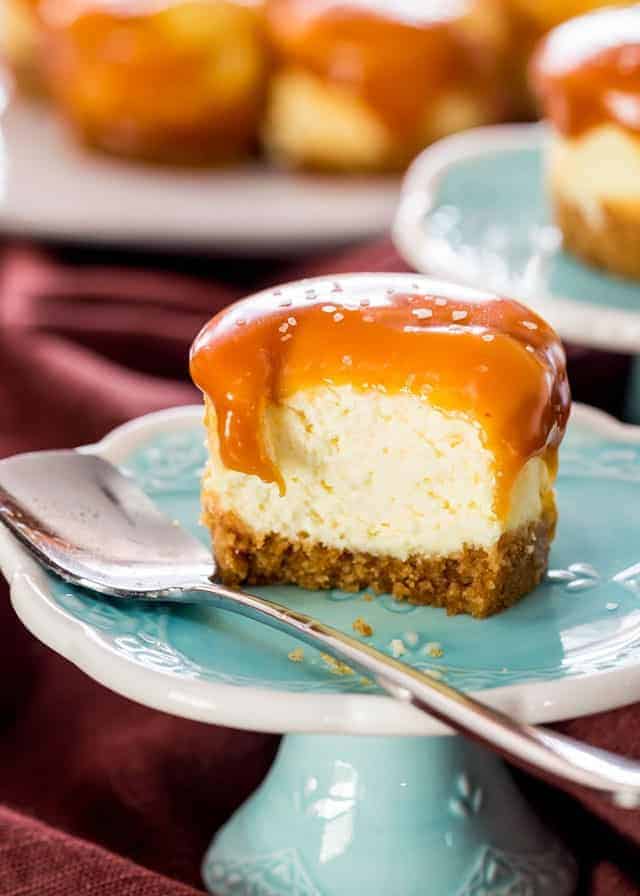 Mini Salted Caramel Cheesecakes.  I told you I like single-serving desserts right? Here is another one not to be missed.  The crust and the cheesecake filling are just your average cheesecake ingredients. It's the caramel on the top that makes this a fall favorite.  Plus, bite-sized desserts are just good… anytime… anywhere!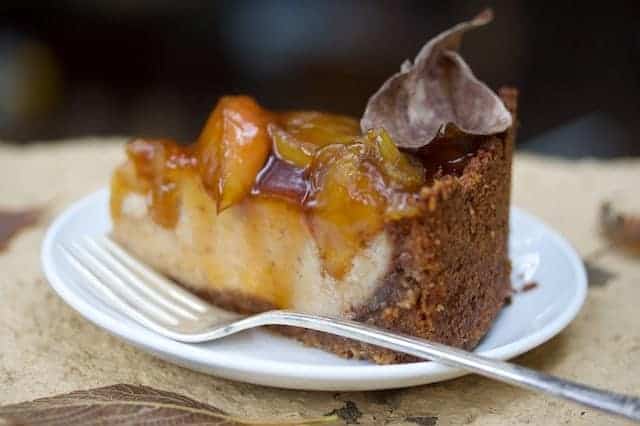 Apple Pie Cheesecake.  If you like the full-sized version of desserts, try this cheesecake out. I love that the apple pie ingredients are mixed right into the cheesecake filling, so every bite is a delicious combination of cheesecake and apple pie. Perfect for the upcoming holidays to impress the in-laws!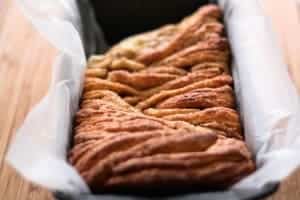 Cinnamon Sugar Pull-Apart Bread.  This easy to make bread is a hit with tiny sticky fingers. It almost has a cinnamon sugar toast taste to it so it can be a great breakfast too.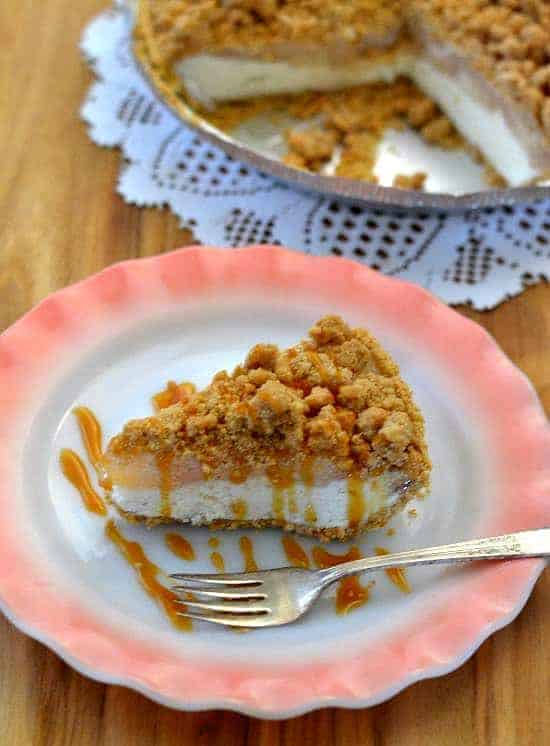 Apple Pie A La Mode.  Can you tell I like Apple Pie yet?  How amazing is this dessert, that it includes the ice cream in it?  Also, throw in the fact that it's a no-bake dessert and you definitely have a win. This would make a great substitute for your average apple pie at Thanksgiving.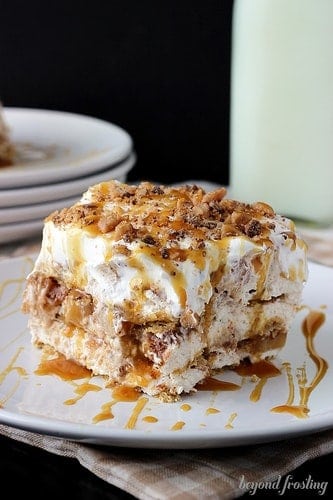 Apple Pie Lasagna.  Another no-bake dessert that is essential in the heat of the desert in which I live.  But no-bake desserts should always be a favorite of any mom who can't pretend to be Betty Crocker every day. The layers of ingredients in this dessert are just mouth-watering.  It's great and easy to make a dessert you definitely won't find at every party you go to. So be daring and bring this one!
Keep Reading: Pumpkin Spice Recipes To Get You Ready For Fall!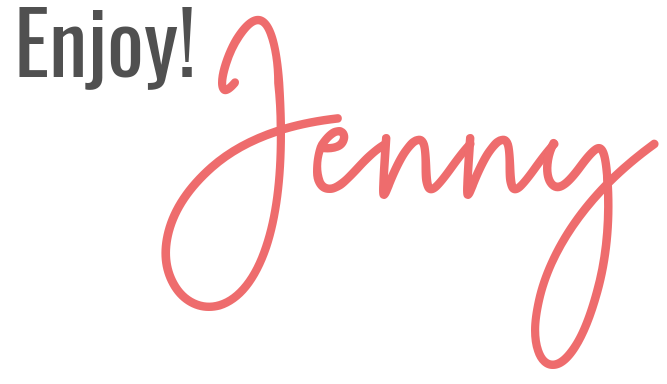 Pin for later!