The first time I heard the words 'Bullet Journal' I think I skimmed right past it. The next thing I knew, it's popping up everywhere and there are about a million different 'bullet journal ideas' floating around.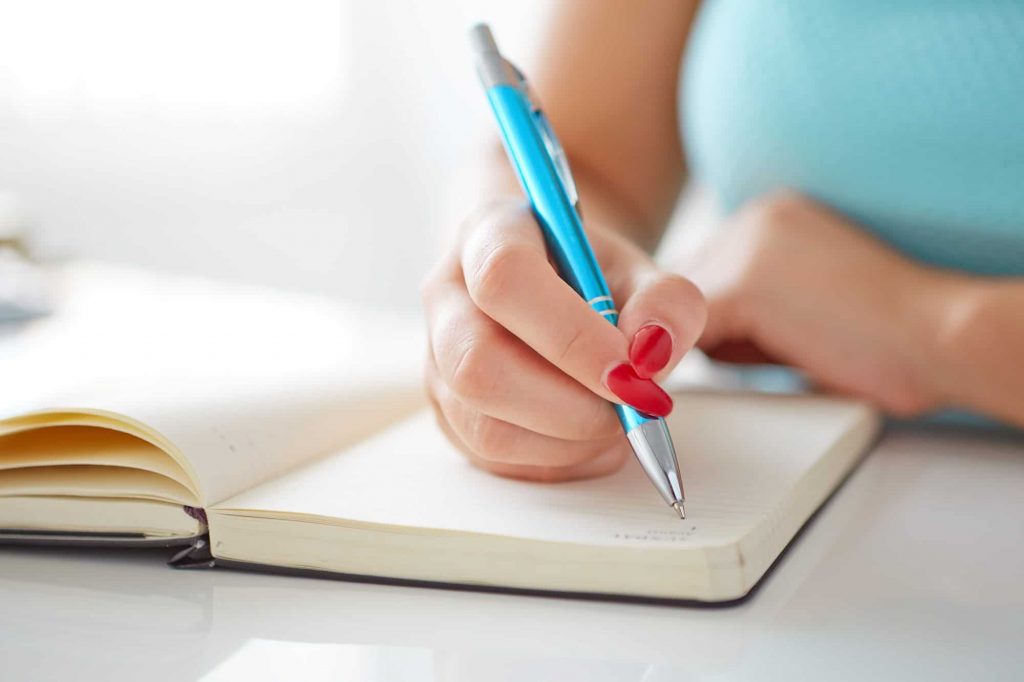 But the one thing I still didn't understand is what the heck is a bullet journal anyway?
Everywhere I looked it was 'tips for bullet journaling', 'layouts for your bullet journal', and even 'what supplies you need'. But finding out exactly what it is, seems almost impossible. Lucky for you, I finally figured it out and put together a very simplified version of what a bullet journal is.
What is a freaking bullet journal anyway?
It's actually exactly what it sounds like. Its a blank journal that literally only has bullet points in it. You buy it that way and customize it any way you want to.
But what do I use it for? You may be asking yourself this cause I know I did! Think of it this way, a bullet journal is actually a combination of several things all wrapped into one. It's a day planner, a journal, a sketchbook, a to-do list, and even a diary.
A bullet journal is not like the normal planner you get year after year. It's mostly empty and you use fun pens and markers and other supplies to make it that way you want it.
Bullet journals are also known for tracking things. You can literally track anything you want to. Some of the most popular things to track are; behaviors, weather, work schedule, illness, medications, vacations, chores, finances, social media, food, exercise, goals, etc. The list really is endless. You can track your dogs bowel movements if you really want to!
Who is a bullet journal good for?
Duh, ANYONE!  Seriously. Anyone can start a bullet journal. But try not to be put off by the hand-drawn layouts, adorable illustrations, and beautiful hand designed lettering. And you don't need to have a lot of artistic ability. Upon seeing all these really pretty and intricate bullet journals, I was really intimidated to even start one. But in reality, you are the only one who is going to see yours. So make it any way you want it. Keep it basic or draw all over the place. Either way, make it your own!
Bullet Journaling is great for anyone who enjoys doodling, likes to color, loves to-do lists, enjoys their planner or is into journaling or scrapbooking. Because really, BuJo is any (or all) of these things.
Learn the Bullet journal Lingo
If you are going to join the bullet journal train then there are some terms you will need to familiarize yourself with. The first being "BuJo" which is actually the shortened name for Bullet Journal.
You'll see it being referenced as BuJo a lot more than its full name. It took me a full minute to realize the reason they didn't shorten it to BJ… lol. 
The Key is the second one you hear about a lot and usually is the first part of your journal. It's kind of like the overview of your journal. You use keys to mark off different things you track. Although you can customize your key any way you like, here are some common ones used in the BuJo World:
Open Circle "O" —> Event
Less than sign"<" —> Needs to be scheduled
Greater than sign ">" —> Migrate to the next month
Solid Dot "." —> To do item
Solid or Open Dot "." with an "x"—> Completed
Short line"-" —> Note
Astrick "*" —> Additional Information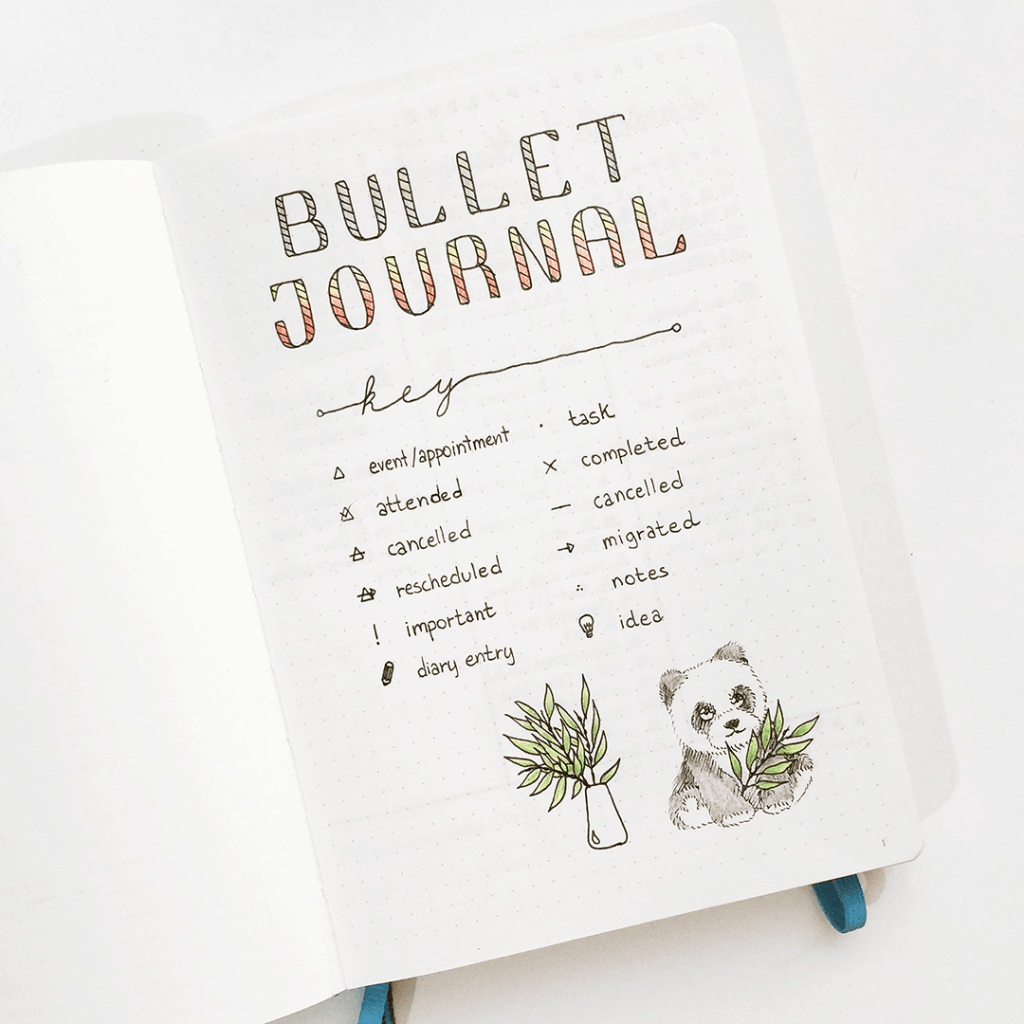 The Index is the next part of your bullet journal. Just like any other index, it acts as your table of contents. Use this to list what is in your bullet journal, as well as what page its on. The Index is often added to over time so don't feel like you need to fill it up in the beginning.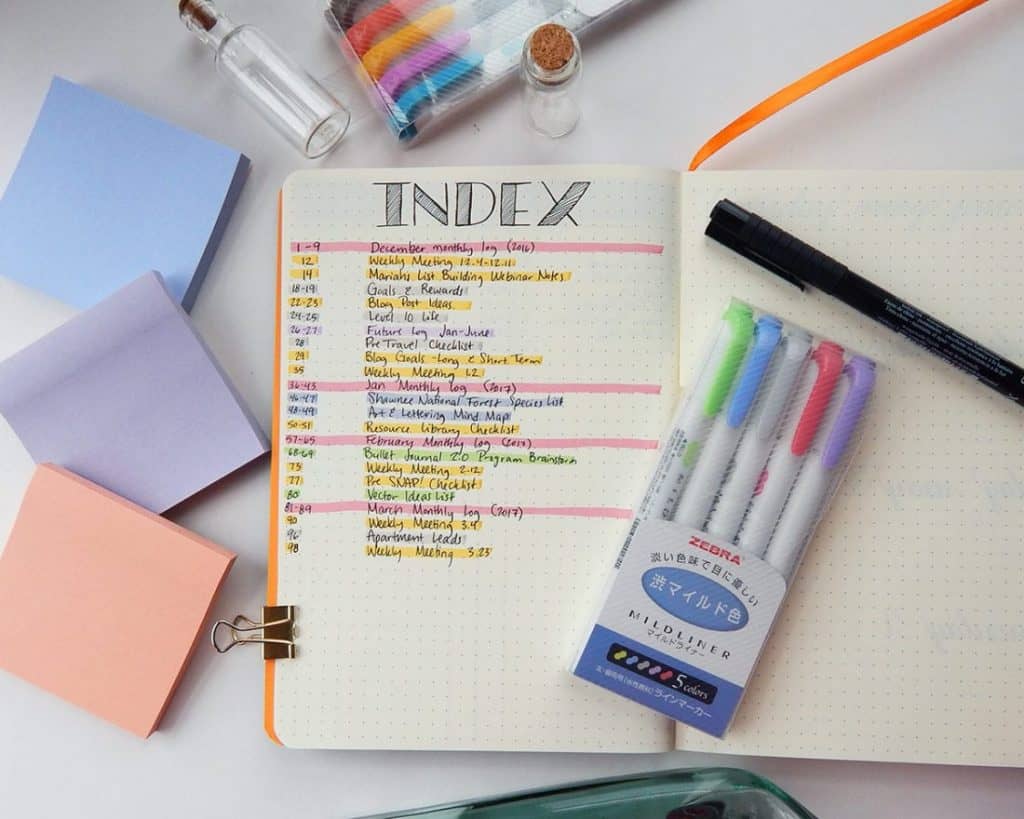 Future Log often comes next. This is your entire year at a glance. Take the year and list out major events and things you don't want to forget.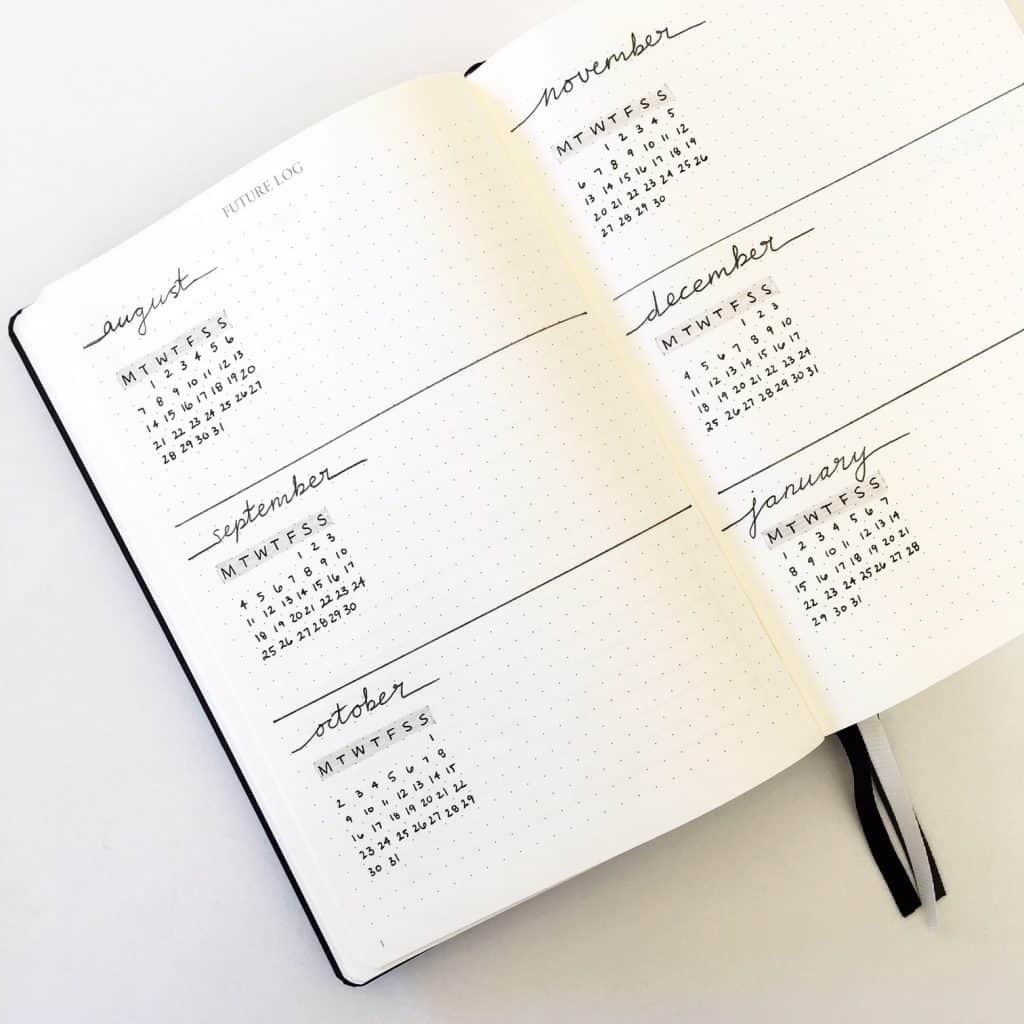 Monthly Log. Also similar to the future log but is displayed as each month at a time. This tends to look more like the average cutsy daily planner you get from Target. You outline the month and fill in the calendar with your day to day events.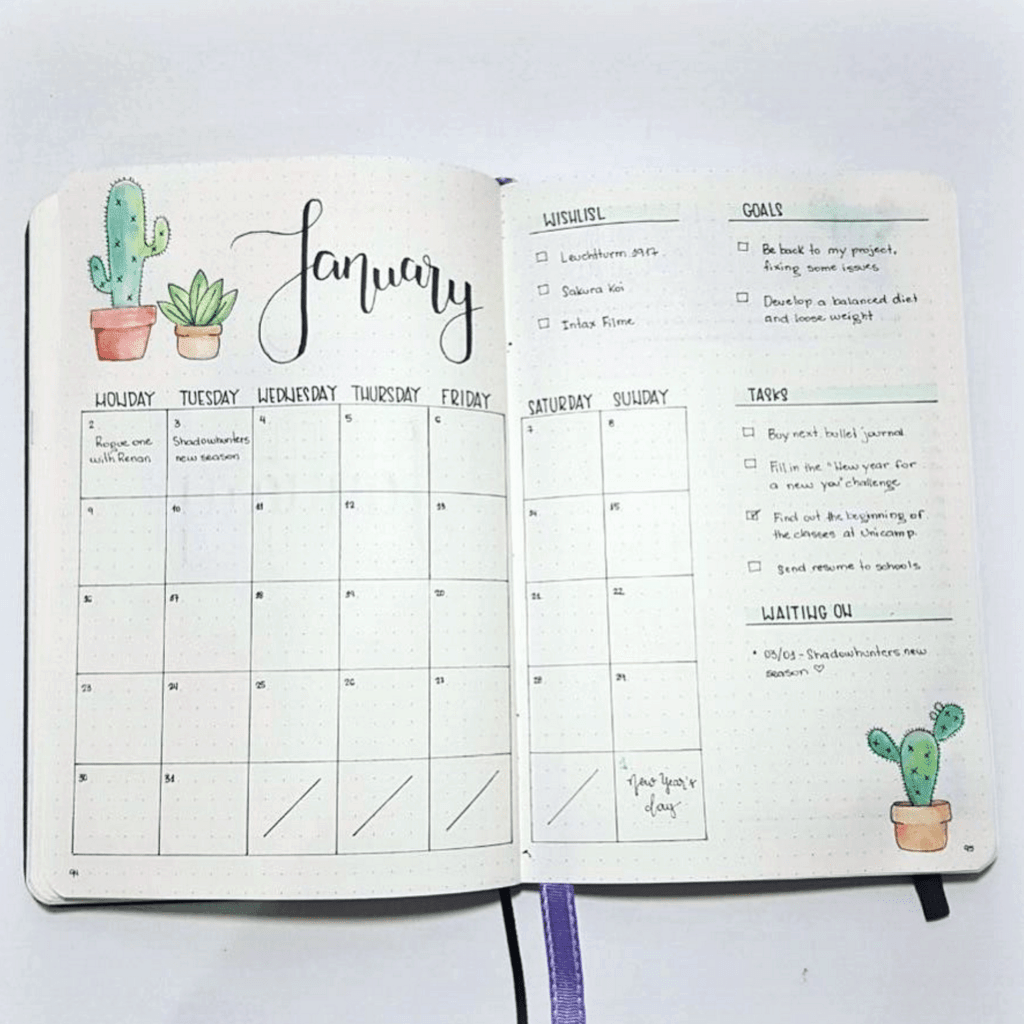 Rapid logging. This is kind of like your notes section. It's just a bunch of quick notes and ideas and thoughts. Basically, anything you want to quickly jot down.
Spread. Every page or group of pages is known as the spread. Not super important for when you are designing your own bullet journal but will come in handy if you start to google bullet journal designs and 'spreads'. Which you can… cause there are like a million out there.
Tracker. Anything you want to track!  For example; calendars and events, budgets, meal planning, fitness, chore lists, etc. The options are endless.
Migrated. When you don't complete a task and want to move it to a different date to be completed later. Its referred to as being 'migrated'. You use the greater than sign for this one.
Have you thought about starting a Bullet Journal?
Bullet Journals can seem like a lot of work at first but can not only be a lot of fun but a good way to get your creative juices flowing. Adult coloring, journaling, organization techniques… are all great ways a person can destress.
It's no wonder bullet journaling has really taken off lately. Give it try yourself and share your creations with #BuJo.