Get ready for tan lines, pool days and friends! Summer is all about relaxing and having fun with these amazing summer cocktails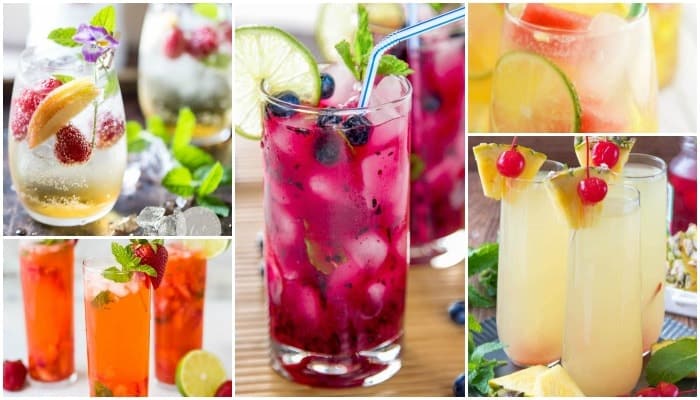 Need some fun drink recipes for the summer?
Those hot sunny days of summer are right around the corner and afternoons lingering by the pool require a good summer drink. But you don't have to go on an expensive vacation to enjoy the best summer cocktails. Grab a mixer and a few ingredients and start making these amazing drink recipes!
Most of the country is actually still experiencing snow and cold temperatures but here in Arizona, the temps are rising and pool weather has started. So there is no better time than now to start thinking about some fun summer cocktails to enjoy. 
If you do find yourself in those colder states… well then this is the perfect way to get you through that last bit of winter and start looking forward to the coming summer.
There is nothing I love more than relaxing by the pool and enjoying a fruity drink with my closest friends. A fun cocktail is a perfect compliment to an afternoon watching the kids splash around (not to mention it makes hanging with the kids easier when you have a little alcohol inside you). 
Take advantage of all the fruits in season over the summer by taking your favorite margarita and adding some unique flavor. Whether its a BBQ or bridal shower or just a lazy afternoon by yourself, you absolutely need to try some of these great summer cocktail recipes. 
25 Refreshing Summer Cocktails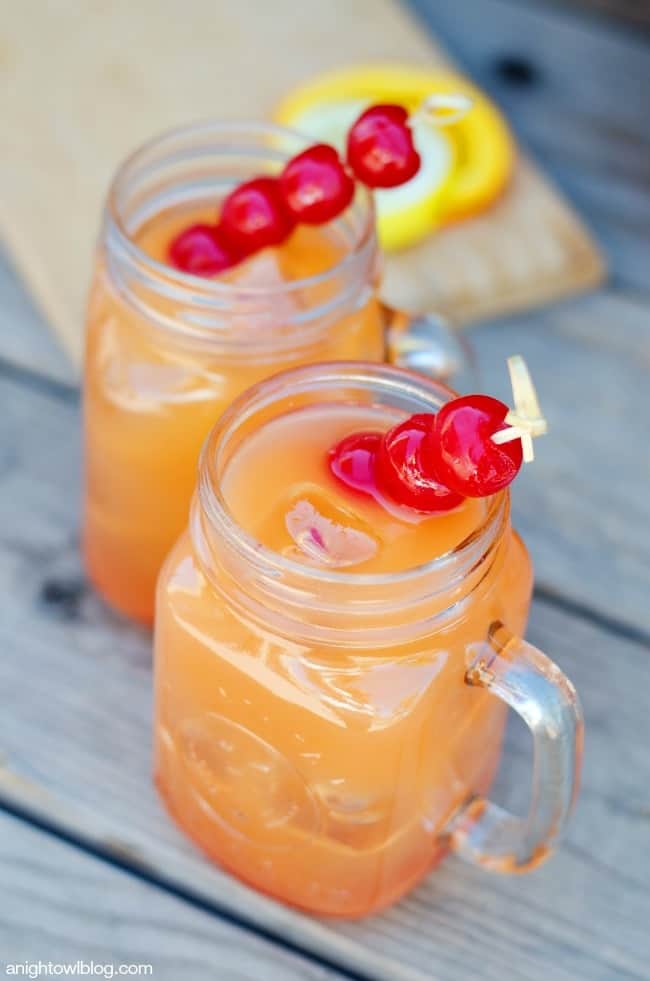 Coconut Rum Punch. You had me at Coconut… This colorful fruity drink tastes as good as it looks and made with delicious Rum. Who doesn't love Rum?!? Simple and easy to find ingredients make this an easy drink to whip up for last minute guests.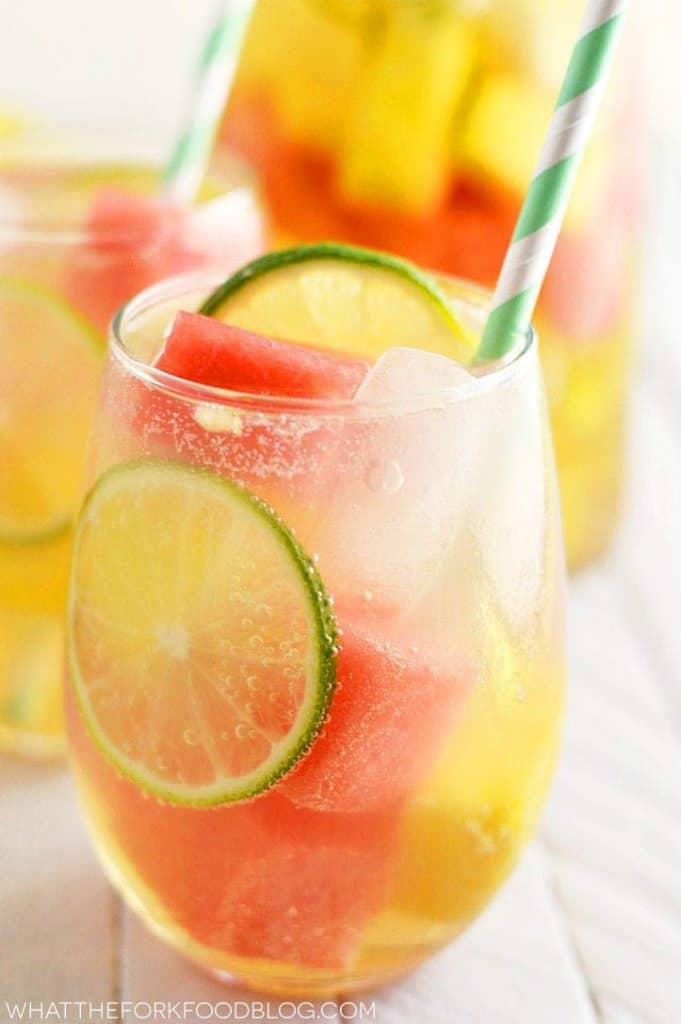 Summer Sangria with Watermelon and Pineapple. This amazing recipe is a fun twist on sangria that utilizes fresh summer produce. Not to mention two of my favorites! And one of the few recipes I really enjoy that is made with Brandy. Your guests will be impressed!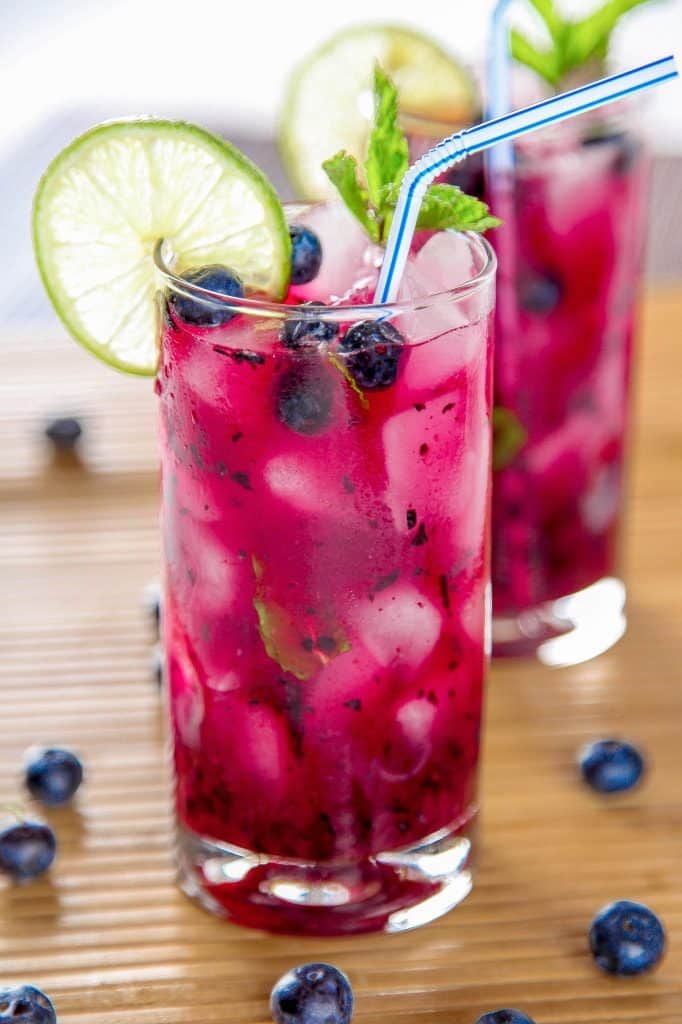 Blueberry Mojito. Mojitos are becoming more and more popular and we are seeing recipes galore! Blueberries are in season and make a tasteful blend with some Rum in this recipe. This great summer drink will taste as good as it looks!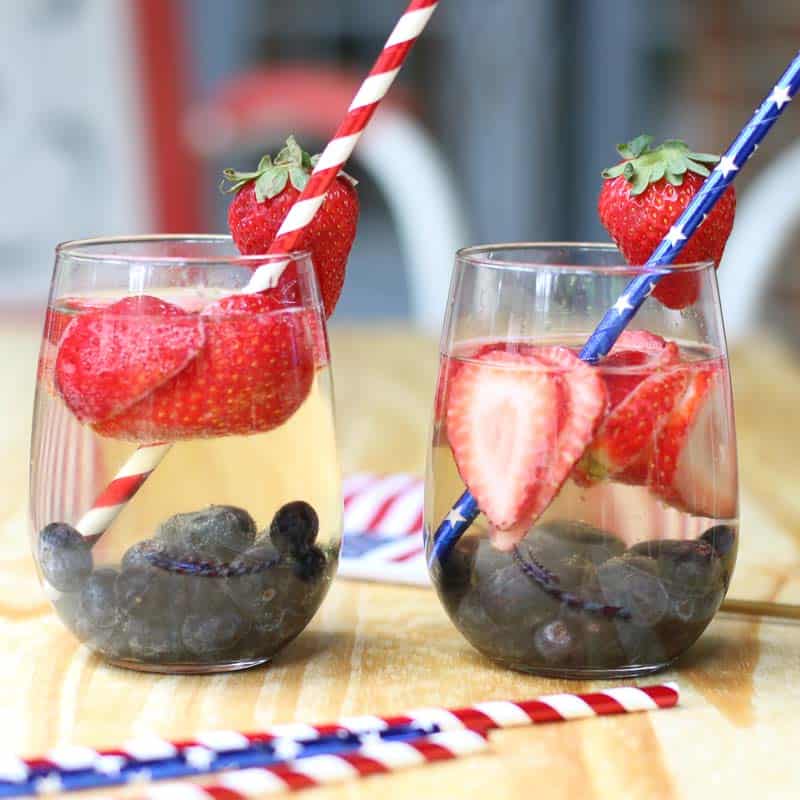 Red, White, Blue Sangria Sparklers. Ok, if you need a great summer cocktail to serve on the fourth of July, then look no further!  How amazing do these drinks look? And to top it off, they are really really good and easy to make. So serve them all summer long!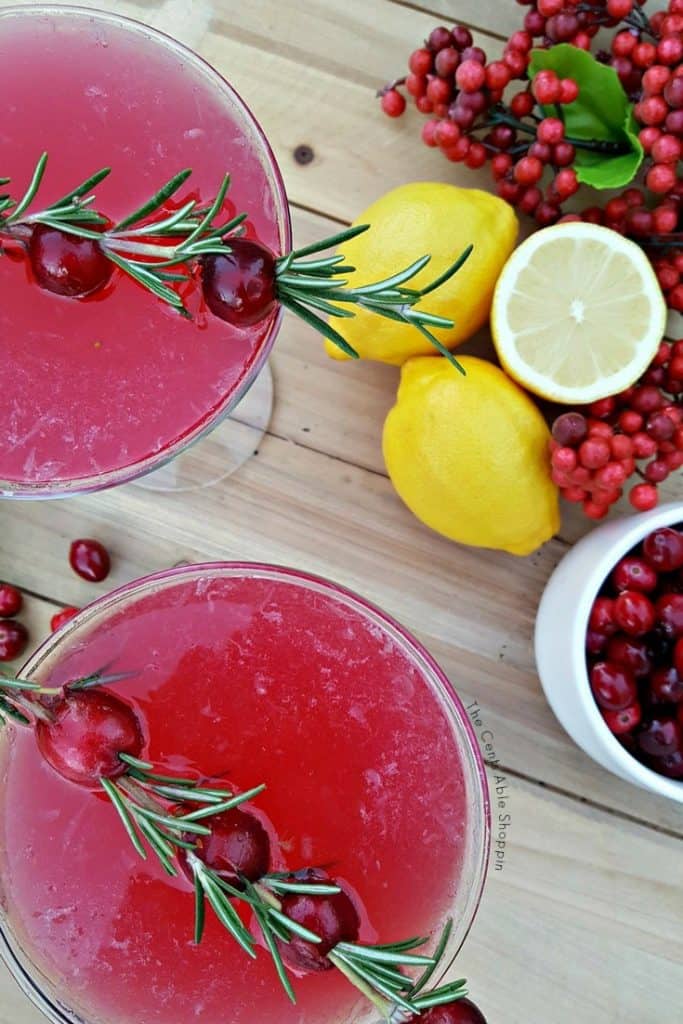 Cranberry Lemon Drop Martini. Did someone say lemon drop? The most popular shot gets a fun kick of cranberry added to it to make this strong drink. Or leave the cranberry out and use a different fruit instead. The options are endless!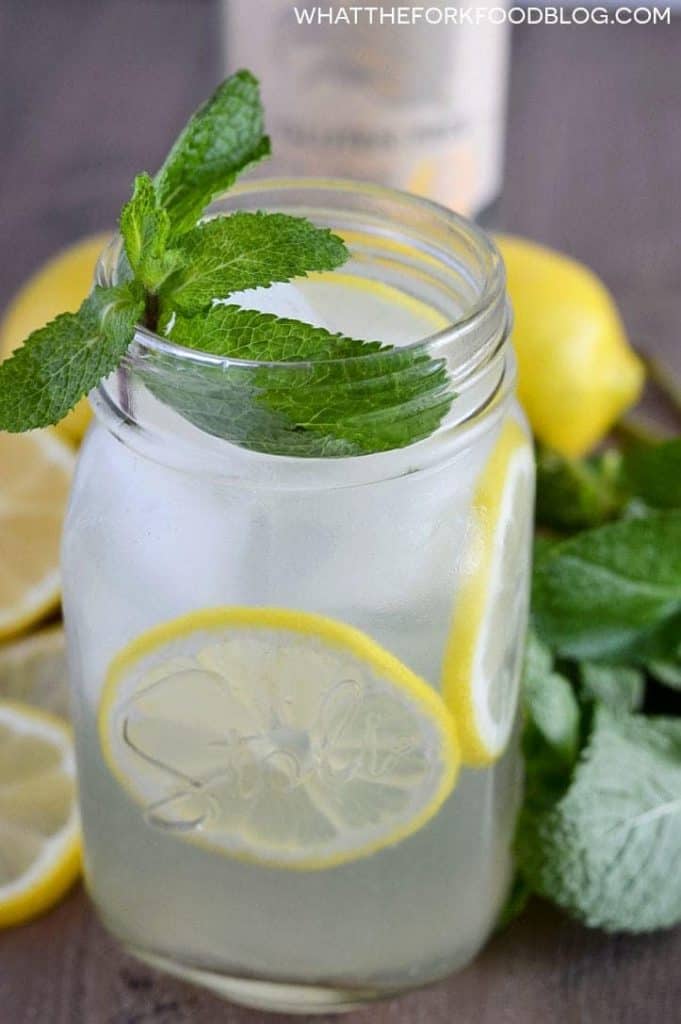 Easy Vodka Lemonade. Vodka… lemonade… YES PLEASE!  This recipe is super simple to make and if made with the right vodka (Stoli is always recommended!) it goes down easy and is a perfect compliment to any summer pool party or BBQ.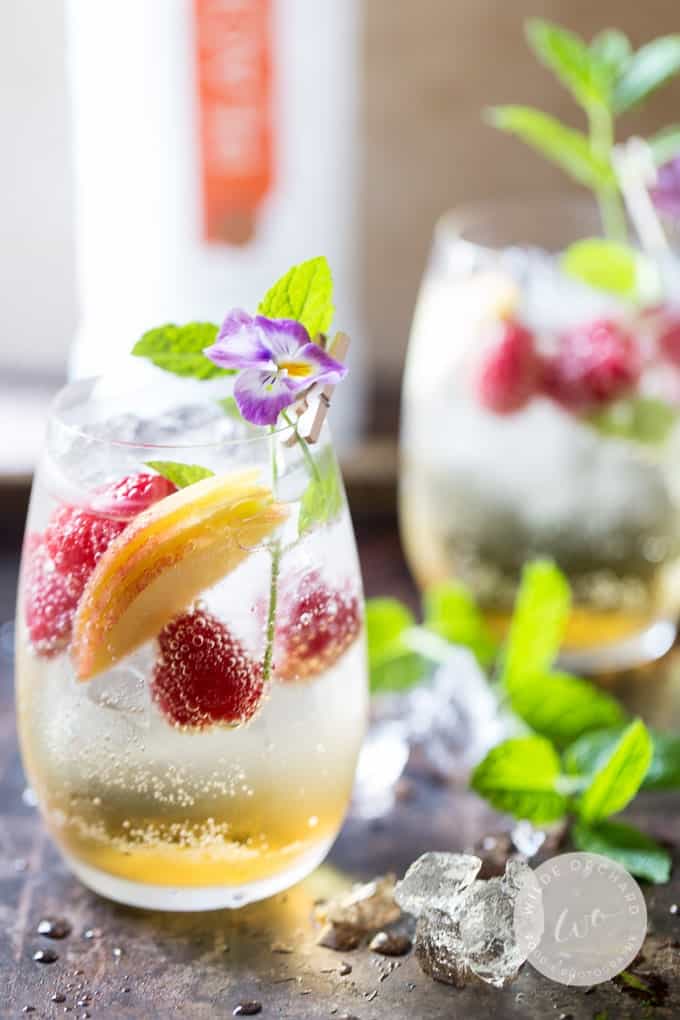 Just Peachy Champagne Spritzer. When was the last time peach schnapps was cool? Well, it is again!  Because when you add it to wine and summer seasonal fruits, you have an absolutely amazing combination. Plus, it just looks cool!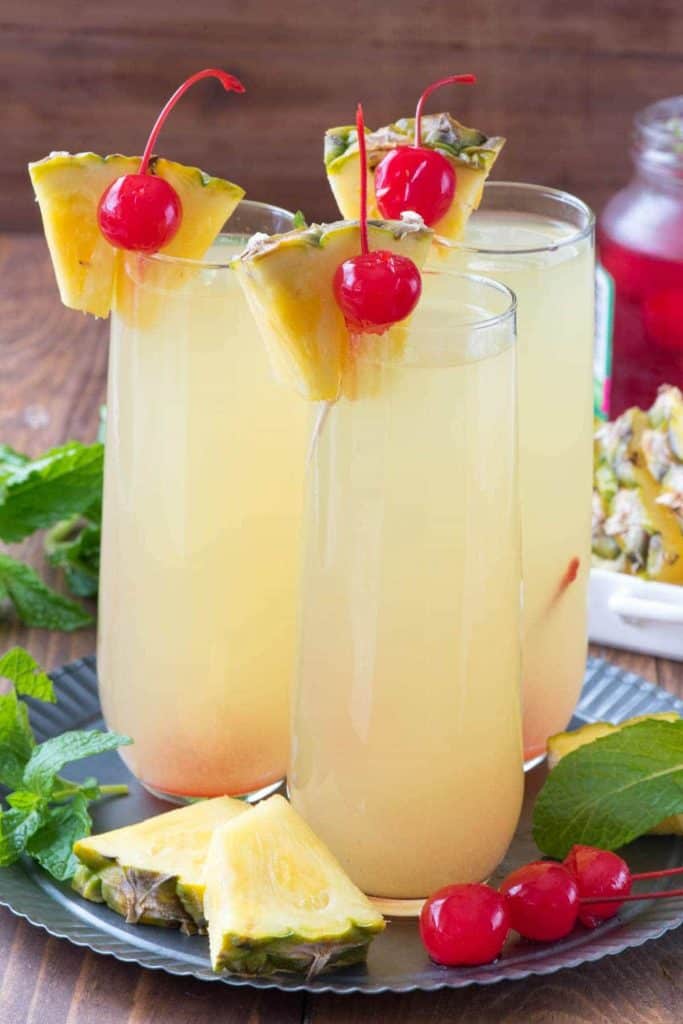 Hawaiian Mimosas.  Who doesn't love a good mimosa?  The fun thing is that you don't need to just use orange juice, you can use almost any kind of juice. Pineapple juice in this recipe gives you that tropical feel and the extra rum will have you feeling goooood.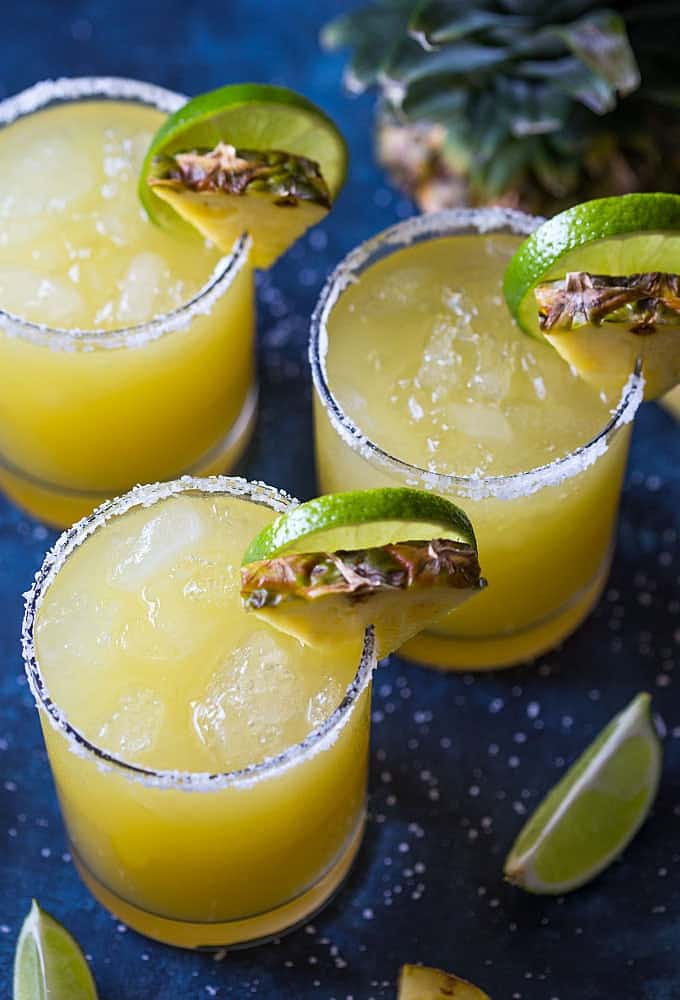 Pineapple Margarita. Ok, I know I have several margarita recipes on this list but that's because they are sooooo good! And this pineapple margarita is no exception. Maybe its because I just really love pineapple but really, it is the perfect compliment tot he lime juice in this recipe.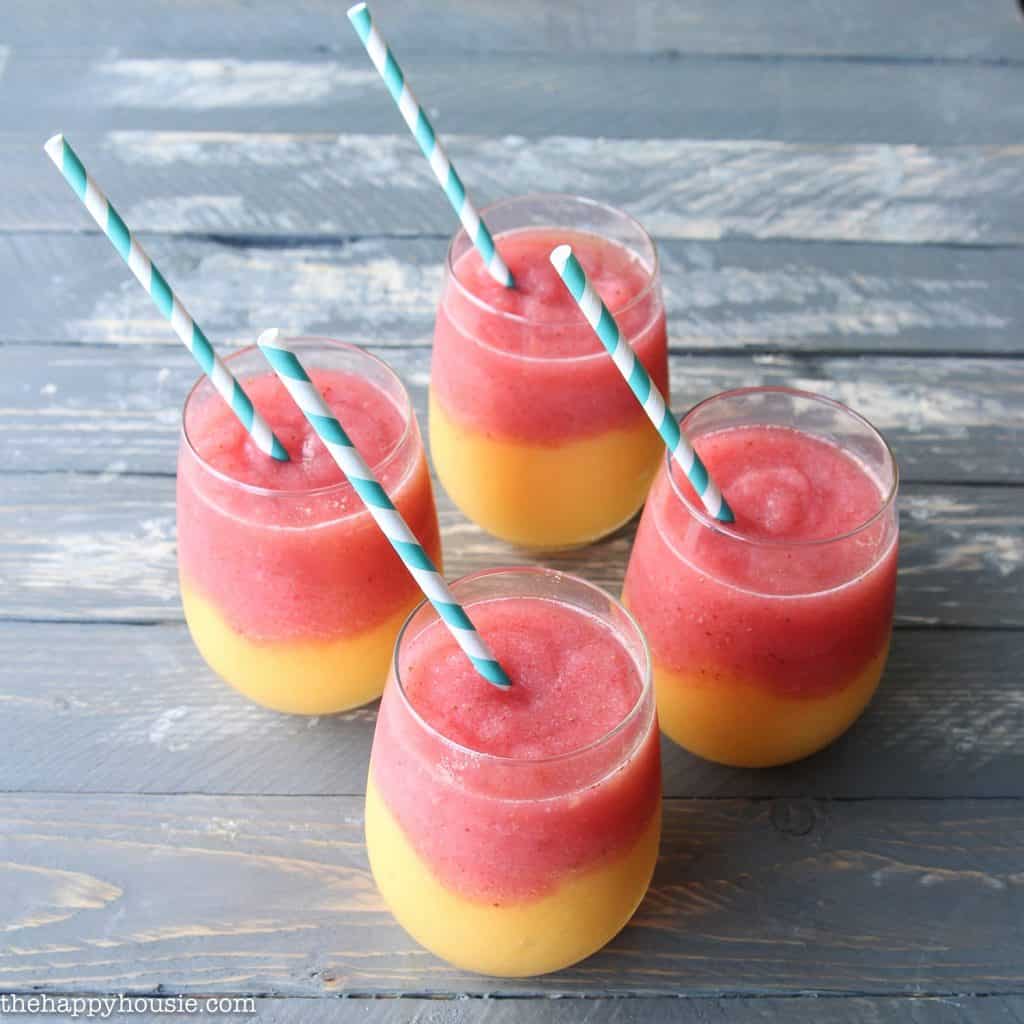 Strawberry Peach White Wine Slushie. Whats summer without a good slushie?  Be a kid again and enjoy this summery treat but add a nice kick to it just for us mamas!  The kids can have their slushies and you can have yours with this fruity wine version.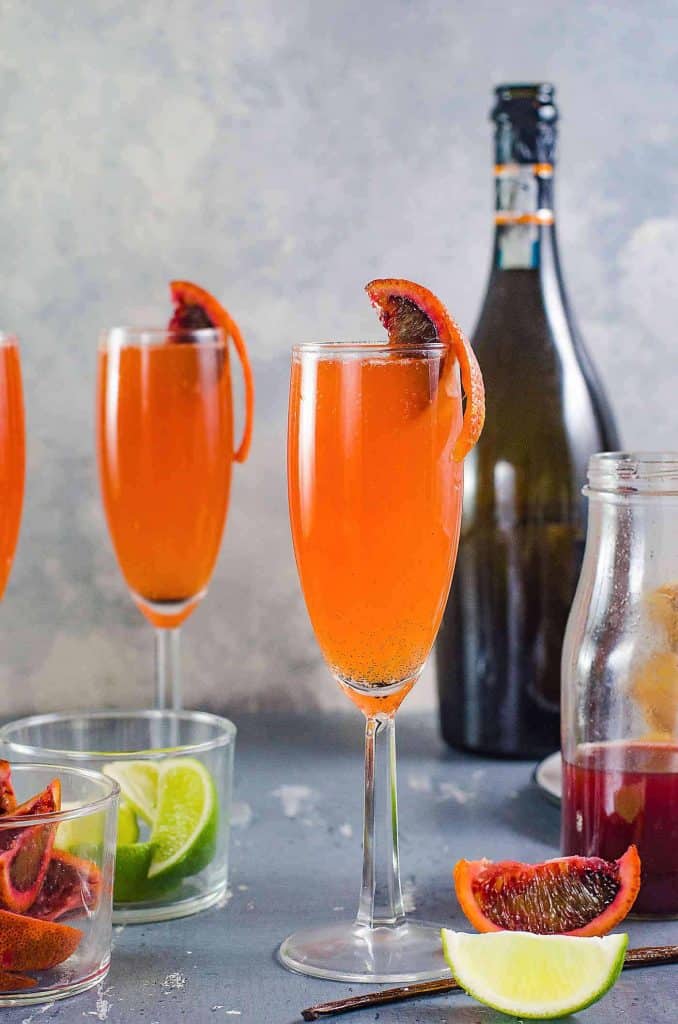 Gin and Blood Orange Mimosa. I told you I love mimosas so its no wonder I would include more than one recipe for them. Blood oranges may not be easy to find but man, do they add the perfect sweetness to this popular brunch drink. But you can serve this beauty any time of the day!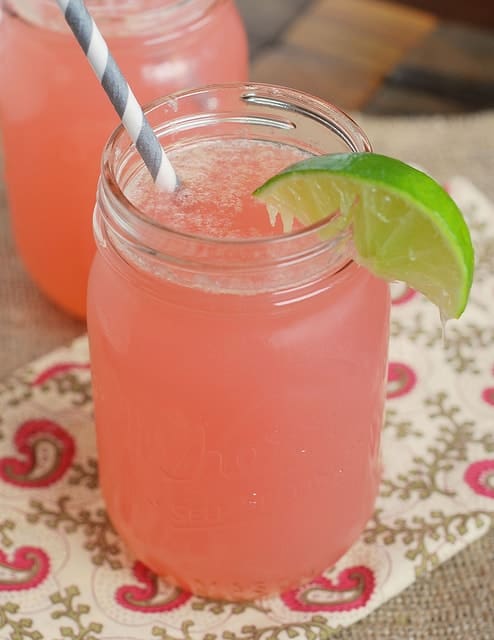 Cherry Beer-garitas. Since I am also a big beer drinker, I wanted to include this fun summer cocktail that uses beer as one of the main ingredients. So you get the best of both worlds! Not to mention, you will appease the beer-lovers at any summer get-together.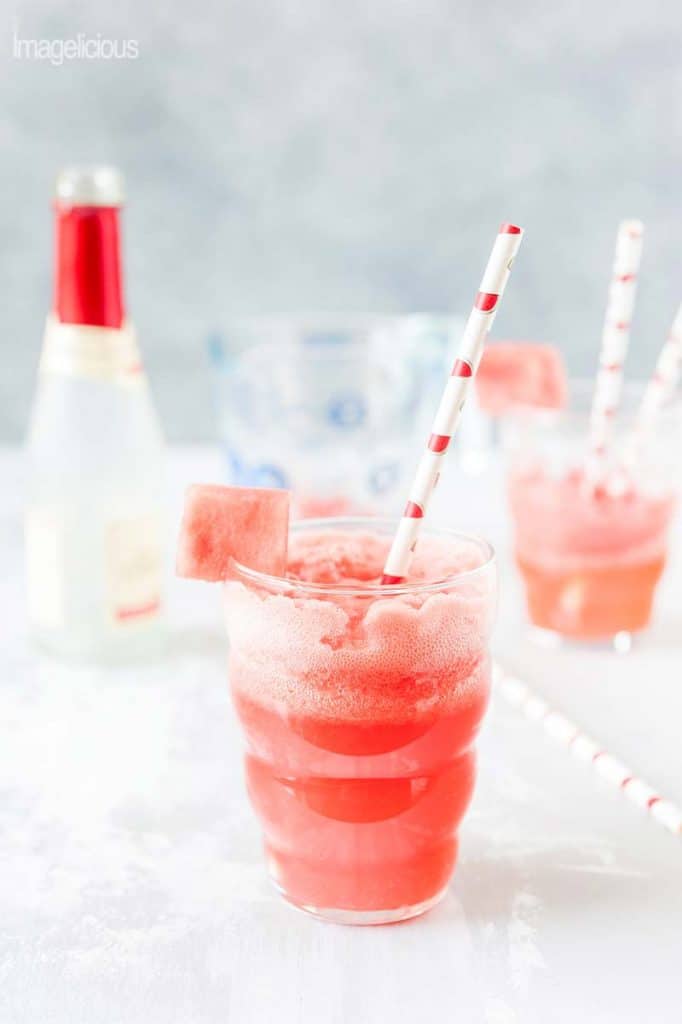 Refreshing Watermelon Mimosa. While the kids are noshing on fresh watermelon this summer, the adults can be too… just with a little kick added!  Mimosas are the best and adding the most popular summer fruit to it just seems… well, genius!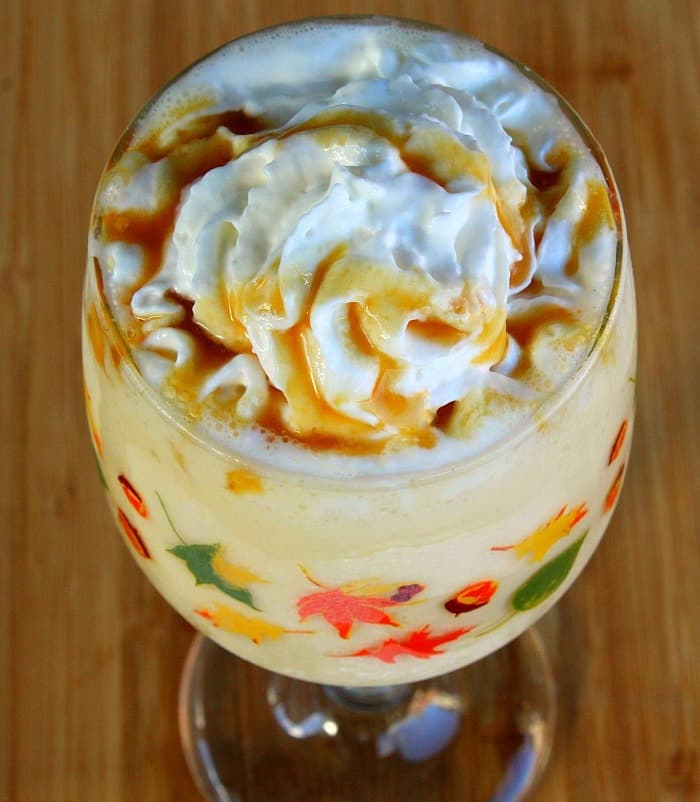 Frozen Bananas Foster Cocktail. Don't forget about having a good drink recipe ready for after your meal! This mouth-watering dessert drink is the perfect ending to any summer meal as a dessert and a drink. And those are everyone's favorite!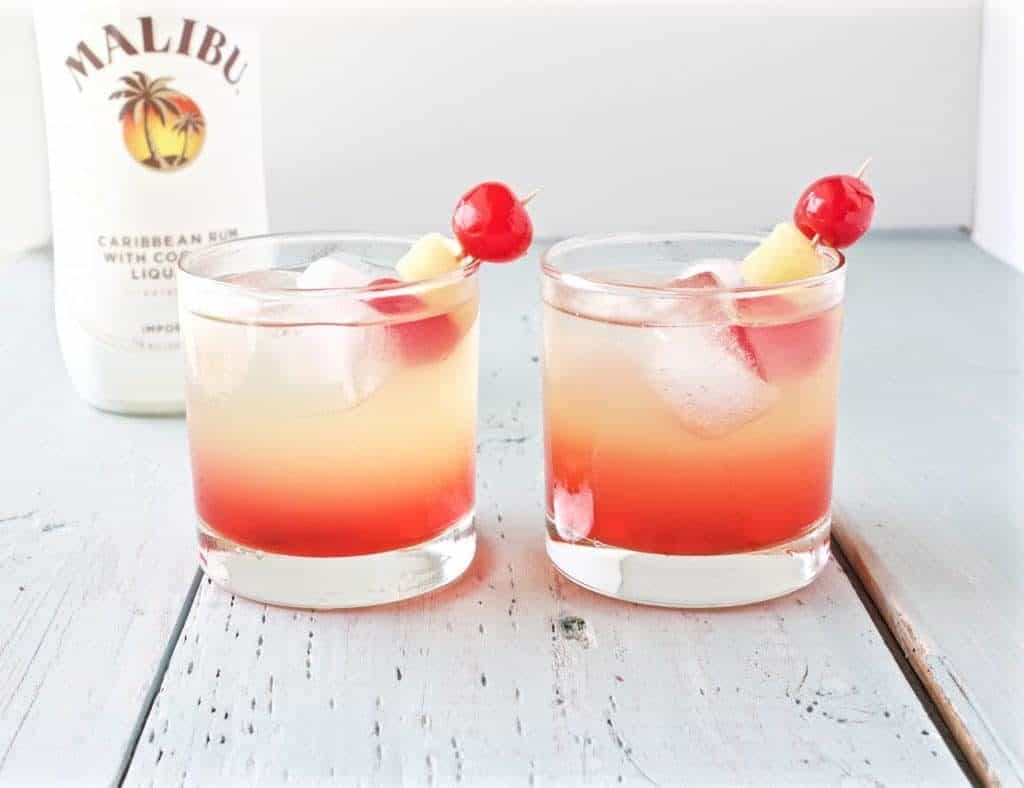 Malibu Sunset Cocktail.  Malibu rum is a must for summer drinks. And the list of what you can mix it with is endless because it just tastes so good!  So here is a great summer cocktail recipe that not only tastes good but looks good too. It uses a combination of liquors to create this fun layered look.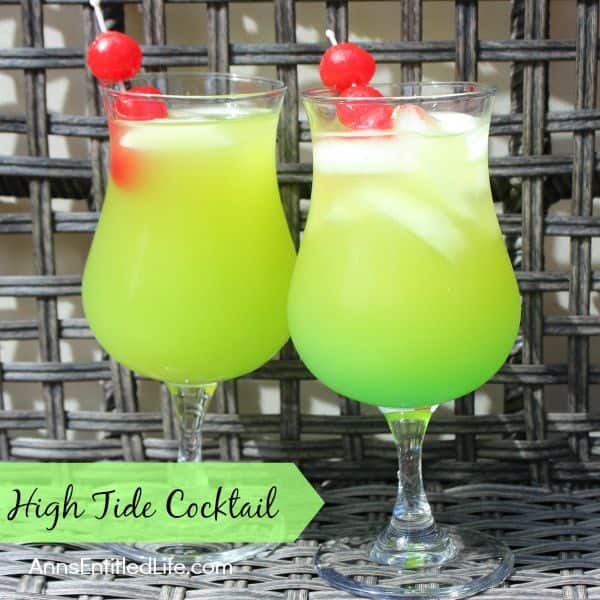 High Tide Cocktails. Now, if you really want to feel like you are on vacation, then THIS is the drink for you. Just look at those bright colors!  Not to mention, it's a great mix of liquors and juices that make up this fun and creative drink. Have a luau or tiki party and serve this drink!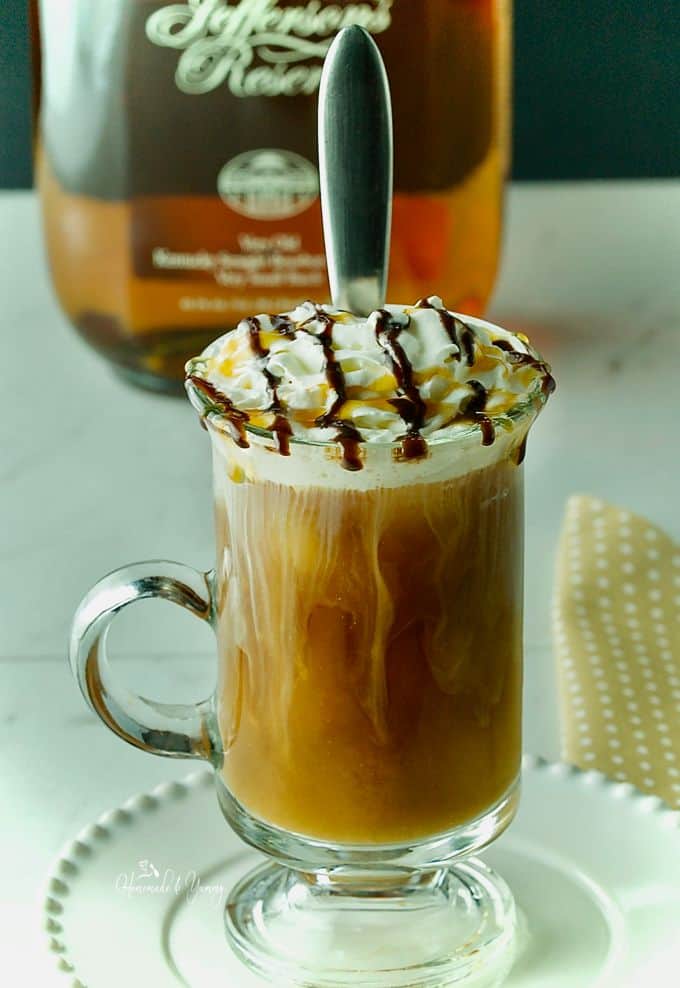 Boozy Bourbon Iced Coffee.  Besides all my favorite fruity cocktails, I look forward to iced coffee as well. This fun recipe for iced coffee adds bourbon and makes the perfect coffee cocktail for any summer event.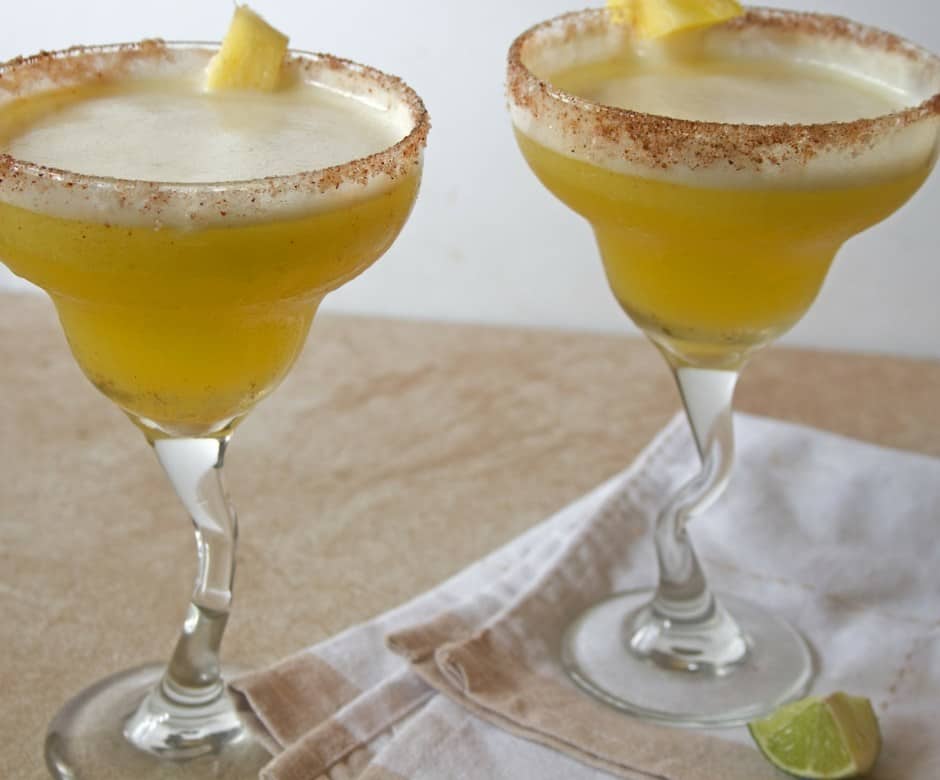 Skinny Pineapple Mango Frozen Margarita with Chili Salt Rim. Yes, the name of the drink is a mouthful!  I'm not a spicey person but I have many friends who are. This summer drink recipe will be a great twist to other drinks you can serve to guests that will definitely surprise them!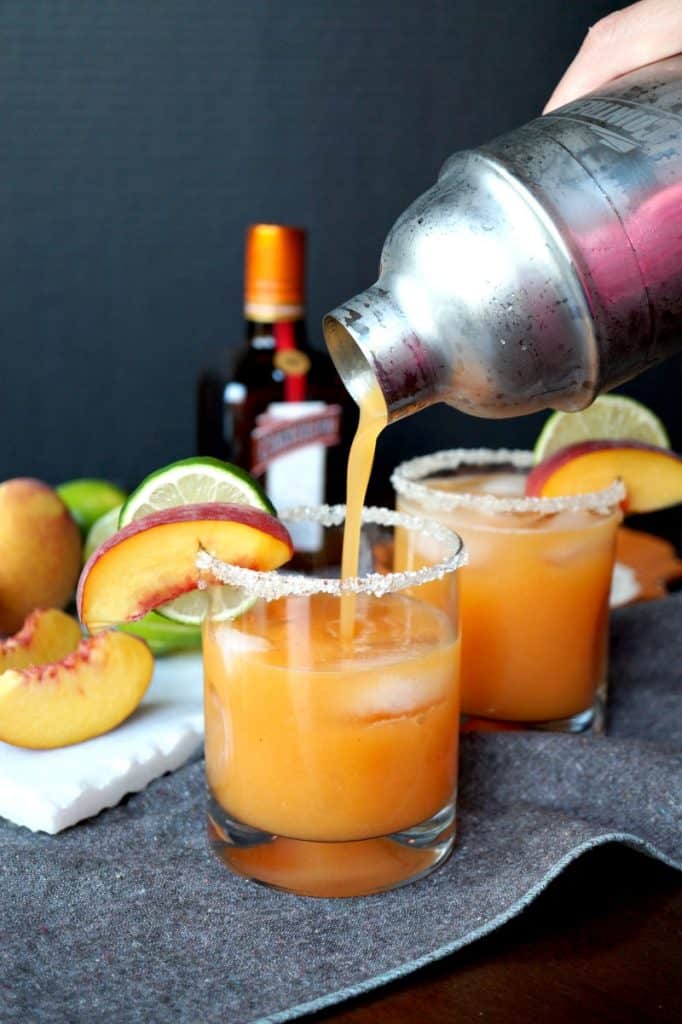 Peach Lime Margaritas. Because summer drinks are really all about the sweet fruits you can make with them!  This drink is fun because it uses real peaches you blend to make a fruity margarita. And while there are a million different margarita recipes out there, this is one of the most unique. Definitely worth a try.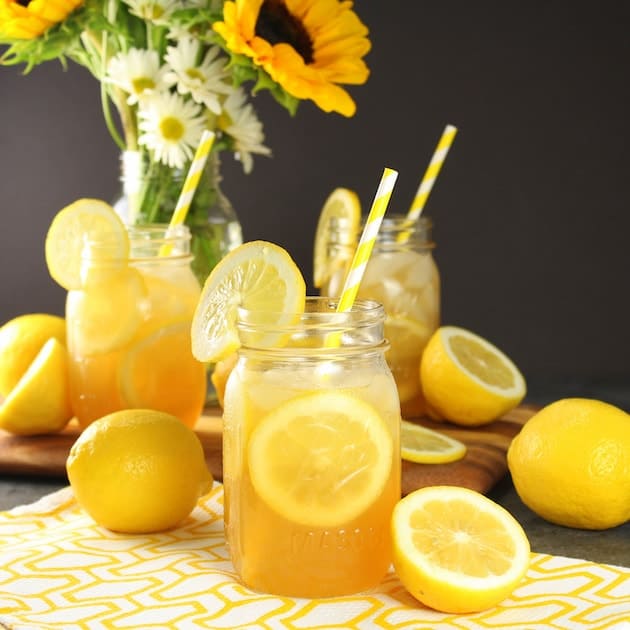 Loaded Lemon Iced Tea. This super low maintenance summer drink is easy to make and easy to drink! It only requires 3 ingredients and is a great spin on a classic lemonade drink. It's also one of the few summer drinks that uses a good whiskey, in case you are looking to mix up your liquor choices.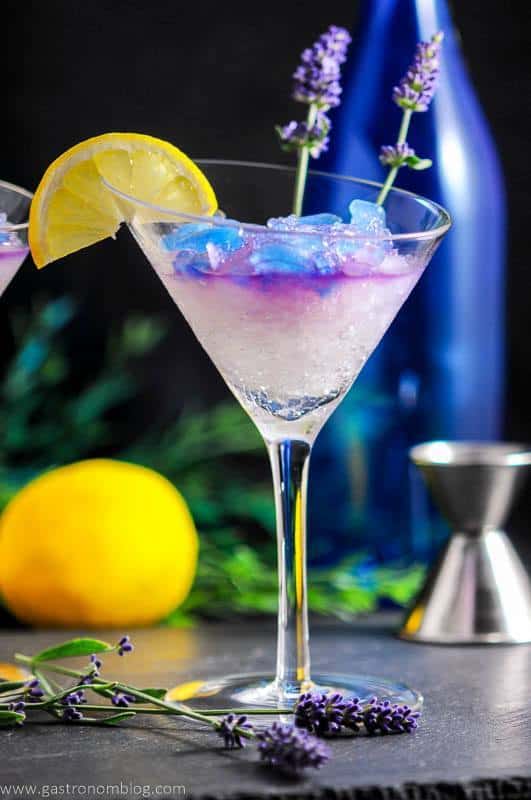 Lavender Lemon Gin & Tonic Granita Cocktail. Maybe I chose this drink just because of the fun and colorful look.. do you blame me? You may have a hard time locating some lavender but it is worth it. This summer cocktail does actually taste as good as it looks.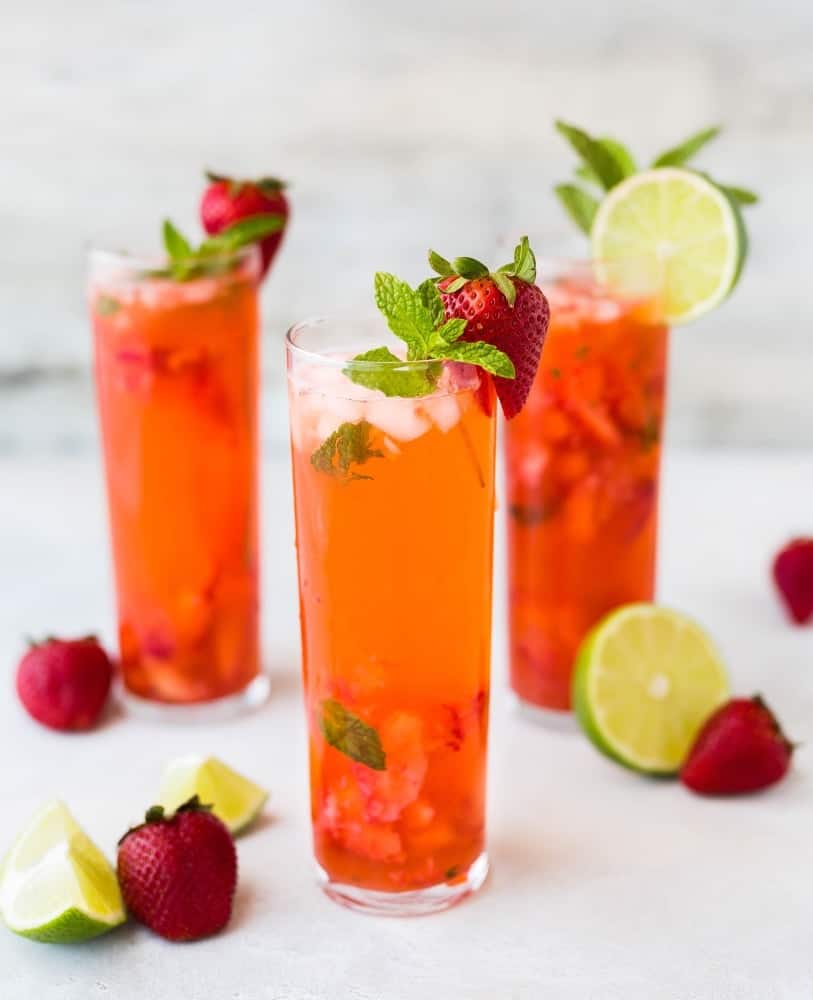 Strawberry Mint Mojito. Another great mojito recipe with a different spin on summer fruits. These recipes are so easy t make and always a crowd pleaser. Not to mention how easy this recipe is to mix up with any fun fruit you'd like!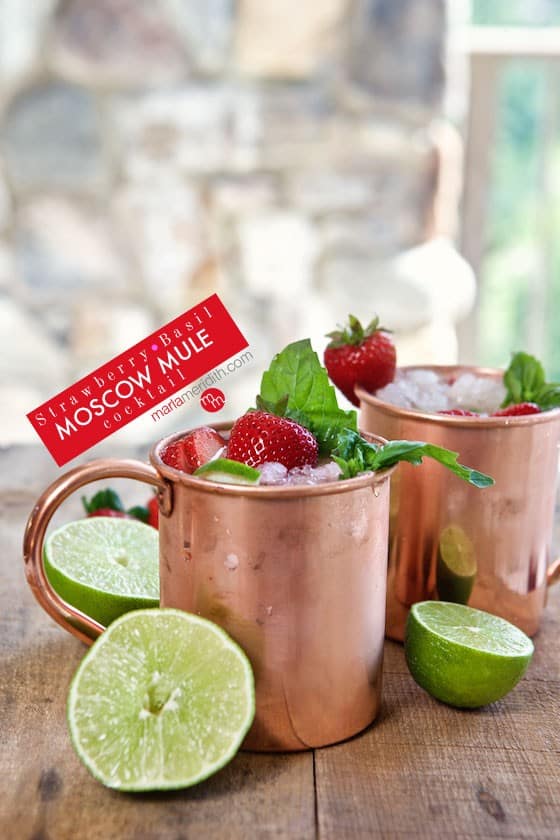 Strawberry Basil Moscow Cocktail. Moscow Mules are gaining popularity and having a variety of options available is a must! Plus, we all know we love the cute copper mugs they are served in. So that right there is enough to make this drink!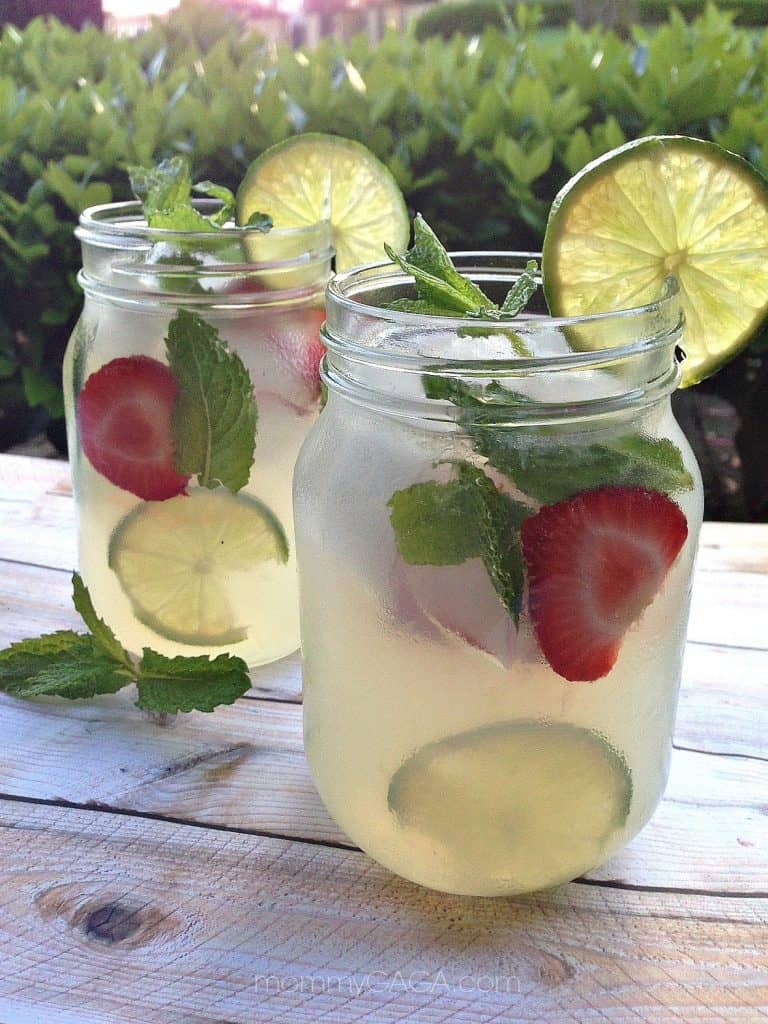 Vodka and Mint Lemonade. I don't know what it is about mint, but I see it popping up in more and more drink recipes and I can see why!  It not only adds a nice visual aspect as a garnish but the minty flavor compliments most fresh summer fruits as well. And this drink is exactly that. Use a nice smooth vodka and this drink will become a fast favorite.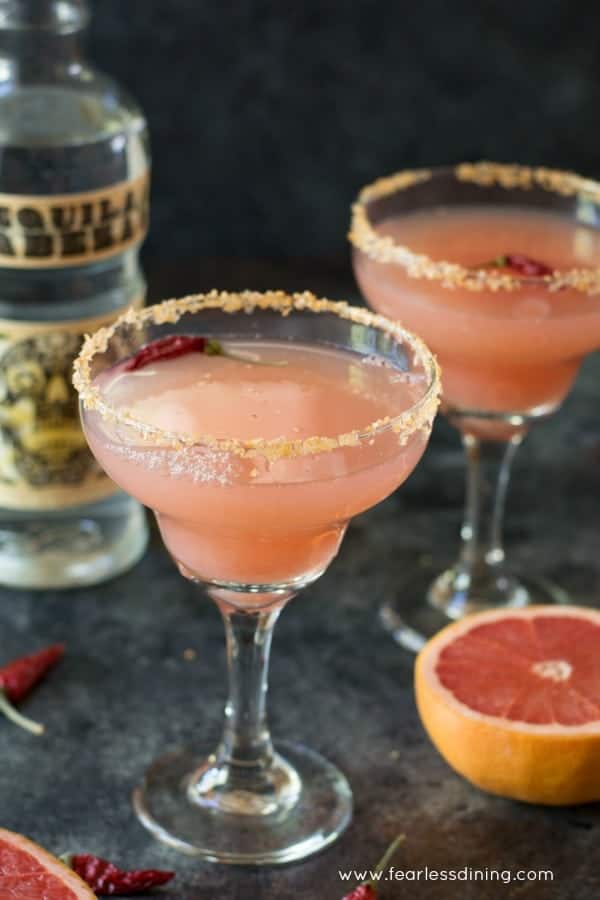 Pink Grapefruit Margaritas with Sriracha Salt. If you ever go to Arizona then you will know there are two things we have plenty of. Grapefruit (trees grow everywhere down here) and Sriracha (hot sauce that everyone uses on literally everything). So it's no surprise that these two fun ingredients are put together for a fun summer cocktail. You'll enjoy it no matter what part of the country you are from!
Do you have a favorite Summer Cocktail?  
Comment below and let me know if you have a great summer cocktail I can try!