Like most bloggers, I started a blog to make money and grow a business. The appeal of earning an income while working at home (for yourself!) is what lured me into this world of blogging. But as I threw myself into this new pursuit… it ended up becoming more than that… with all the benefits of blogging that changed my life.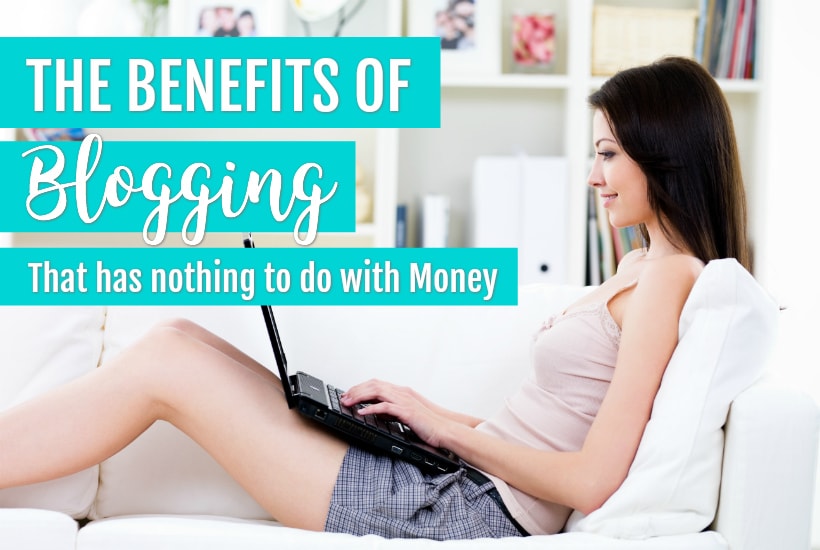 How Blogging Changed My Life
Blogging took over my life in many good (and some bad) ways. The benefits of blogging hit me out of nowhere! And I can honestly say that even if I didn't make a dime from blogging, I would still be doing it.
So if you are on the fence about giving blogging a try or not, then maybe some of these reasons blogging changed my life might apply to you too. Then one day if the money comes with it… well kick ass! And if it doesn't, then you still have something that changed your life for the better.
The benefits of blogging
I always thought blogging was like an online diary until I started to really look around and read other blogs.
Then it dawned on me that Pinterest (which I've always loved!) is pretty much made up of nothing but blogs. So instead of viewing it as an online diary, my blog became more of a collection of experiences and passions that I share with others in a helpful way.
In turn, I got to discover some new passions and create new experiences for both me and my family.
Blogging gave me a hobby
Before I became a mom I participated in triathlons. I read a ton of books. I took a class at the community college just for fun. But when my daughter came into my life, I not only became a mom, I became a full time working single mom.
So guess how much time I had leftover for a hobby?  Hahaha… NONE!
Blogging became a hobby for me that I was grateful to have back in my life. Instead of just going to work, cleaning the house, and taking care of my daily life tasks, I had something to look forward to. I actually couldn't wait to sit down with my laptop and a notebook and let the ideas flow.
Blogging lets me be creative
Writing is a big part of becoming a blogger (durrrrr!) but there is so much more to it. My creative juices get to flow with everything from designing the layout of my blog and playing with fonts and colors.
Even taking my own photos and creating pins for Pinterest, just to name a few. And because blogging involves so many different aspects, I get to be creative in multiple areas… and enjoy them all.
Blogging gives me an outlet
Part of the reason I became a blogger is that I started to share my parenting stories with other moms and got an overwhelming reaction to being 'real'. We often talk about how great our kids are, but when was the last time you told someone you thought about leaving your crying baby on a doorstop and just running away?
When I started to share my mom failures with other moms, it made us BOTH feel better. Blogging became a way for me to not only discover my voice but to connect with other moms who need to hear that they aren't failing at parenting either.
Blogging forced me out of my comfort zone
I tried several different careers and many hobbies over the years. But I often was not successful at them because I limited myself to only doing what was comfortable. I didn't share certain passions, I didn't try new things. More often because I thought I would be ridiculed or made fun of. With blogging,
I have to post photos of myself!
All I could think was "my friends are going to think I'm some kind of stuck up weirdo". But I wanted my blog to be successful and the only way to do that was to push myself out of my comfort level and do things I would never have dreamed of. (Maybe it's because as I get older, I have more of a f*ck it attitude too)
Blogging built my confidence
I see you looking confused at this one but stay with me. Being a blogger is hard. Not only because of the work it takes but because you really have to put yourself out there.
But the first time one of my friends saw my blog (even though I tried to keep it secret) she fan-girled all over me and I never felt better. So I took that feeling and started to make my blog more public to my friends and family. And wouldn't you know, I got great reactions and a lot of support. Now I LOVE talking about my blog.
Blogging made me discover new passions
With the creative aspect of blogging came new skills and passions I would have never pursued otherwise. One example would be photography. I knew I needed good images for my blog but I didn't realize how much I would love photography.
Suddenly something that was mandatory for a blogger became another hobby I really wanted to pursue. Who knows, maybe one day I'll make an income at that too!
Blogging even helped to take small passions I had, and realize I could turn it into something more. I always like shopping, and I always liked hair and makeup. I'm starting to expand my blog and
Instagram
with affordable fashions for moms.
And by throwing myself into the blogging world, I've learned new things about my style has evolved quite a bit. I'm hoping soon that my blog will incorporate more tutorials on hair and makeup one day too!
Blogging bonded me with my daughter
Ha! I know, how could it possibly do that? Ask any kid around my daughter's age what they want to be when they grow up (she's 9) and the answer you most often get is YouTube Star!
Kids today grow up with the media They don't know a world without it. I've been able to take my blog and show my daughter how maybe one day she can turn her passion into a career… or even a really great hobby.
Not only that, but she loves to participate in my blog. She gives me ideas and even helps me take a lot of my photos. My sweet little 9-year-old took all these photos of me for
this blog post!
Not bad huh?
Blogging bonded me with my boyfriend
When I first started to think about a blog, I kept it completely to myself for a good month. I was terrified to tell my boyfriend because he might think it's stupid or a waste of time.
Turns out, he thought it was a great idea. So much so, that he has plans to start his own blog one day (I can't wait to share that with you all!) and someday we would like to start a travel blog together. Now we not only have these new passions, but we share them. It's amazing.
All this time I thought I was nothing but a plain Jane who had nothing to contribute. But the further my blog expands, the more support and encouragement he gives me which has really strengthened our relationship. Doing something for yourself is ideal, but having that admiration from your partner… well, it feels pretty damn good. 
AND… he has discovered his love of photography too. Some days we drive around different towns, looking for great photo spots to stop and take some photos for the blog. We make a whole day out of it. We spend time together and we discover areas of our city we never knew about.
Blogging made me a better writer
I don't know about you but I feel like the longer I go without reading a book, my vocabulary starts to diminish. And seeing as I haven't written a paper since college, my writing skills were seriously lacking.
Starting to write again was tough at first, and I still have a long ways to go. But writing and editing and learning grammar all over again, has really increased my skills. Which in turn, has helped me to not feel like such an old mom – out of tune with her days of education.
Blogging made me meet new people
Blogging is a much bigger network than I ever imagined. And there are hundreds of different kinds of bloggers. But we all share one thing in common… we support each other.
Blogging is the one business I have found that is not competitive. The more views I get could mean the more views someone else gets. And vice versa.
I've met some really incredible people. From online forums to a group of bloggers right here in Phoenix. As my blog expands, I'll start attending some blogging conferences and hopefully meet even more bloggers!
Have you thought about becoming a blogger? What's holding you back?
My future blogging plans include expanding my travel section and getting to see places around this great country with my family. I've been lucky in that this blog has started to produce an income, but the benefits of blogging I've experienced so far are well worth it. And who knows where future blogging opportunities will take us… Paris perhaps? (my daughter's dream, ha!)
You can easily start a blog of your own!
Head over to my next post in my blogging series on How to Start a Blog for the Total Newbie!
And don't forget to check out What Blogging is and How to Get Started in case you missed it.