Crock Pot recipes have taken the cooking world by storm but did you know there are so many more things you can do with your slow cooker besides just dumping ingredients in?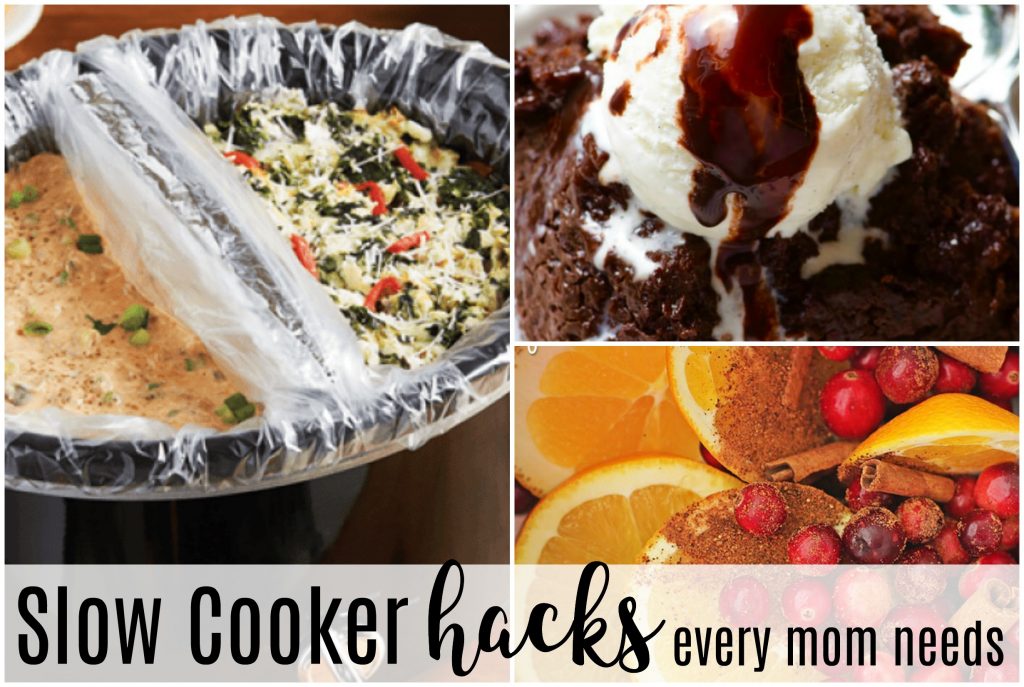 Thank you, Pinterest for showing me hundreds of amazing recipes to make with my slow cooker! But as I quickly realized the more and more I used my crockpot, there are so many slow cookers hacks out there that save me time and money that I just had to share with you all! This list of slow cooker hacks every mom needs to know will blow your sweet little minds!
(This post may contain affiliate links. You can read all about that boring nonsense here)
For the longest time, my crock pot sat in the cabinet and collected dust. I wasn't really sure what it could do or what I could cook in it. Slow cookers act like little mini ovens and you can actually make almost anything in there. And the best part is, most recipes just allow you to dump the ingredients in and walk away. How much easier can it get? 
Oh well, I'm glad you asked! Because the thing is… there is actually a bunch of different things you can do with your crockpot and I'm super happy to share them with you.
So let's get on with the slow cooker hacks show! But before we do, you might also enjoy these amazing slow cooker dump recipes!
Slow Cooker Liners
Get yourself some Slow Cooker Liners! Seriously, one of the easiest tips I can suggest. So easy, I almost kick myself in the butt when I think about all the times I did not use a crock pot liner and scraped and scraped my crock put to clean it. Throw a liner in, cook your meal, and toss the liner and all the crap into the trash when you are done. Easy peasy.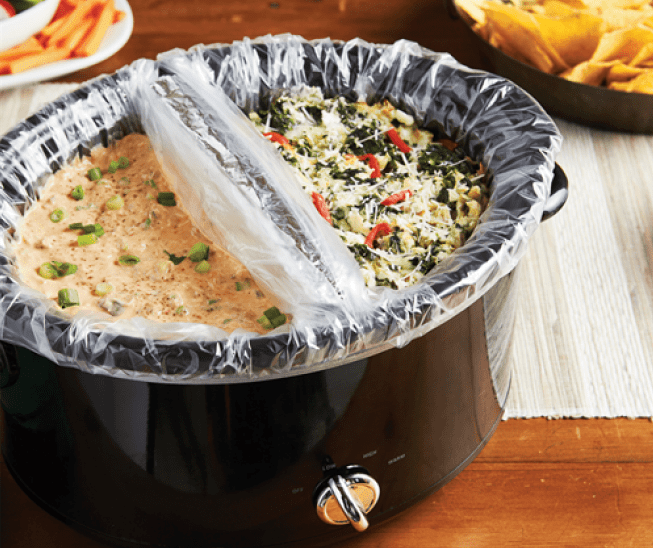 Make two dips in the same crock pot
For all you party animals out there, especially ones who love to host get-togethers. Try this amazing tip of making two dips in the same crock pot. This original post by Reynolds shows you the exact way to create a tin foil divider and use your cool new liners to make 2 dips at the same time. Your guests will be seriously impressed.
Get rid of condensation
Tired of the condensation from your crock pot lid dripping off and burning you? Or maybe you are making bread and that condensation drips inside the slow cooker every time you lift the lid. Take care of the problem by placing a towel (paper towel works too) in between the pot and the lid. The towel soaks up the condensation so no water will ever drip when you open the lid. Helps bread not to get soggy!
Keep the lid closed
However! Don't open the lid! Yes, this is actually another slow cooker hack. Everytime you open the lid, you release the heat inside that actually cooks the meal. So much so, that it takes another 30 minutes to get back to the temperature it was before you opened the lid. So unless you need to add more ingredients or stir your masterpiece, don't open the lid! 
Cook main dish and sides together
Sometimes it's easier to book everything together but you don't actually want the flavors to blend. Get yourself some tin foil and wrap each piece of food separately. You can do this with corn on the cob, potatoes, vegetables, etc. Wrap each piece in tin foil and put all the pieces in the crockpot together. They will all cook individually.
Set your slow cooker from anywhere
Here I thought I was finally part of the crock pot world and yet I just found out about this bad boy. This slow cooker is equipped with wifi and you can control it with an app on your phone. Meaning, if you are running errands or even at work, you can turn your slow cooker on or off or even change the settings. Have a recipe that only cooks for 6 hours but you'll be gone for 10? No problem! Throw the ingredients in and turn the slow cooker on from any location.
Use a Christmas light timer
Don't want to invest the money in a wifi crock pot? No problem, you can achieve the same hack with an inexpensive Christmas light timer. So set the timer to turn your crock pot on or off anytime you want. Same as you would indoor lights. And then use it for your lights when you go on vacation, or for your Christmas tree during the holidays!
Use it as a humidifier
If you have a cold or sinus problem, this slow cooker hack will be a necessity! Simply fill your crockpot with water and let it cook. Once it's warm enough, place your head over the steam and breathe it in. Place a towel over your head to keep the steam from escaping elsewhere. Breathing in steam opens your sinus cavities and will make you feel a whole heck of a lot better.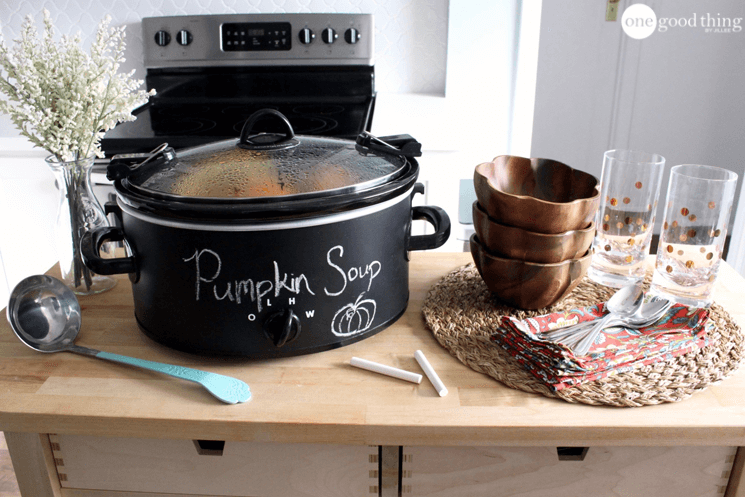 Give your slow cooker a makeover
I absolutely love love love this slow cooker hack that gives a little unique personality to your crock pot.  Use chalk paint on the outside of your slow cooker and then you can label what's inside. Having a party? Write on the crock pot what kind of dips are inside. Have some kids that ask endless questions that always includes what's for dinner? Write tonights menu on the crockpot!
Use vinegar to clean your slow cooker
If you've used your slow cooker for a while, you know it gets this thin layer of white film on the inside that you just can't get out no matter how hard you scrub. The trick to cleaning this is with vinegar! Try either white vinegar or cleaning vinegar (both available at Walmart) with just a baking soda. The white film comes right off.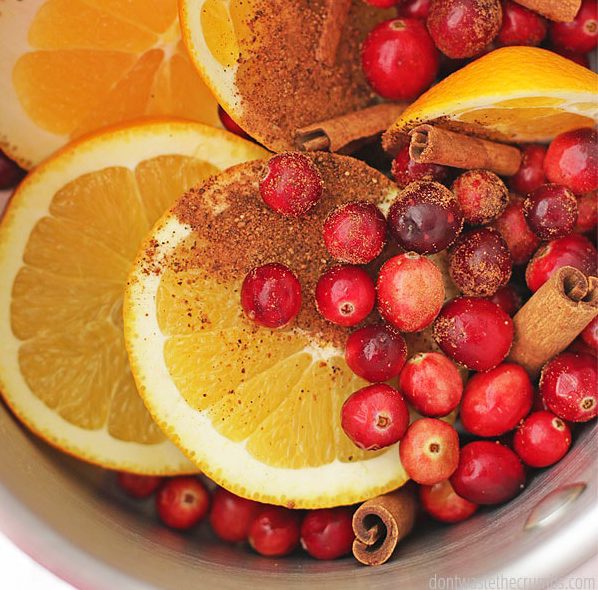 Use your slow cooker for DIY projects
Food is not the only thing you can make in a slow cooker! You can also make all sorts of DIY projects. You can melt down crayons for a fun art project with kids. Just make sure you put crayons in a glass jar before you put them in the crockpot. Try melting wax to make your own candles. Or even make your own potpourri with a slow cooker.
Make brownies
Did you know you can make desserts in your slow cooker too? Just mix the batter as you normally would and dump it in the crockpot. Cook it for around 3 hours and don't forget to grease the inside pot first! Or try this great Slow Cooker Hot Fudge Brownie recipe if you really want to drive your family crazy!
What else do you do with your slow cooker?
Do you have any slow cooker hacks you'd love to share with other moms? Please leave a comment below on your favorite ones!
Enjoy!
Jenny