When the chaos of life and kids can get you down, it's important not to lose yourself in all the stress of day to day life. Here are some easy habits of a happy mom that anyone can do.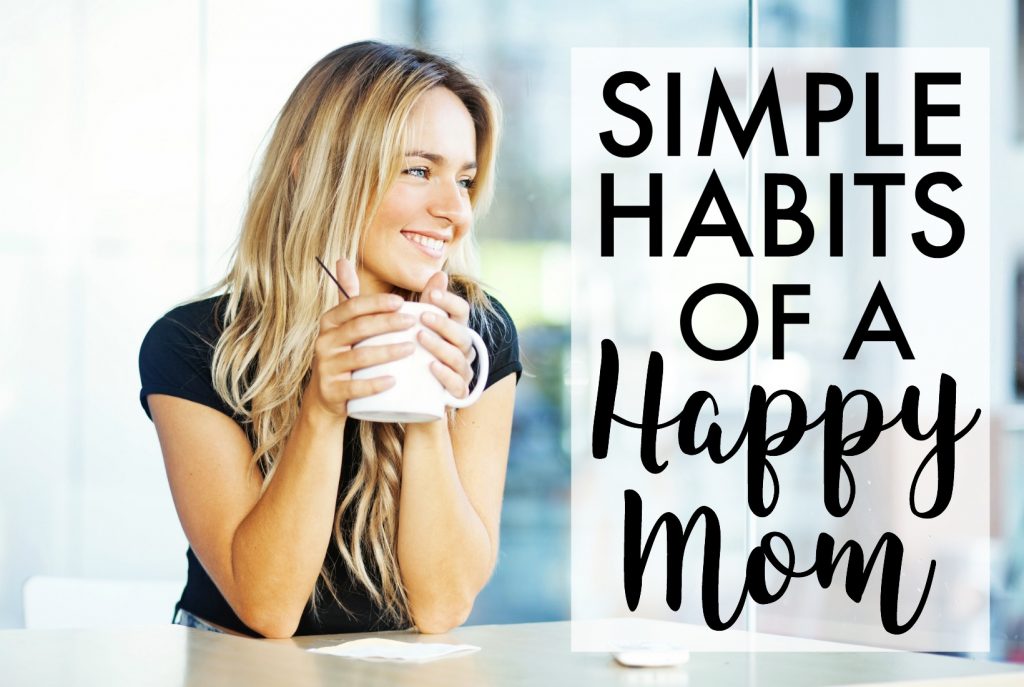 How To Be A Happier Mom
These super-simple habits of a happy mom can be the key to finding joy in you again. When you feel like you've lost yourself, or every day has become an endless charade of yelling and tears (I mean yours, not your kids). Or you feel like you have just given up hope of feeling normal again… then please keep reading!
If you are a parent, you've been there. We all have. You pictured parenting to be something like this: family dinners and home-cooked meals, playing with your kids on the floor, throwing a ball in the yard, etc. What you did NOT picture was this: yelling, exhaustion, chaos, messes, and feeling like you are losing your freaking mind.
I think we all get to a point where we realize parenting is just not what we thought it would be. Sure, we love the crap out of our kids. And we would do anything for them. But they are difficult. They are needy. And they suck the personality right out of you. And those are the well-behaved ones!
Time and time again I see parents literally just surviving one day to the next. Get through the day. That's all their life has become. And I fully admit, I was that mom once. I was that mom that cried my eyes out to my bestie and said "I am nothing but a mom. I'm not 'Jen'. I don't even know who I am anymore. I have completely lost my identity". And then even worse… "I should never have become a mom, I have no idea what I'm doing."
Anyone feel the same? Is there a sea of hands going up around the room right now?
The good news is… it is totally possible to find a little happiness as a mom. If you know a mom who acts like she really has her sh*t together, it's most likely that she practices several, if not all, of these habits. Or she's faking it… and maybe you should pass this article on to her.
Simple and Effective Habits of a Happy Mom
The first step to becoming a happy mom is understanding that there is a HUGE difference between a perfect mom (that doesn't exist) and a happy mom. Being a happy mom does not mean your kids are geniuses, help out with chores, never complain, and are all over saints. What it does mean is learning how to take the ups and downs of parenting and letting go of unrealistic expectations.
Only you know what will make you happy. But following these simple habits will definitely help!
1 – Ask for help
Happy moms ask for help and are not afraid to use it. They ask for help from their spouses, their families, and occasionally their friends. Happy moms know when to hire a babysitter to have a date night, or even get some errands done. They let go of the guilt of trying to do everything on their own.
A lot of times (and I personally do this) happy moms even ask their kids for help. There is no shame in telling your kids "Mom is overwhelmed and needs help cleaning this room" or "Mom is really tired and doesn't feel well. I need your help in letting me get some rest so I can feel better and we can spend some time doing something fun".
Let your kids see you as human.
2 – Eat Well
Happy moms eat well. Seems simple enough, but we all know how hard it can be when life gets busy and it's easy to grab another burger for lunch. I don't know why it takes us so long in life to learn that the better we feel inside, the better we feel mentally. So eating foods that give us energy, or don't give us a sugar high and crash, contribute a lot to our happiness.
So put down the bag cookies, and stop having coffee for breakfast and lunch. Grab a piece of fruit, a granola bar, or a salad. You don't need to go on a diet, you just need to eat something that makes you feel good.
3 – Sleep Well
Ha! Sleep… what is that again? If you have 5 kids under 5 at home right now… refer back to the suggestion that you should ask for help. Otherwise, find ways to get enough rest. Maybe that means going to bed earlier, or taking naps when your kids are napping. However you do it, get enough rest. Moms who are sleep deprived tend to yell more and punish harsher.
I spent many years working as a night shift RN and trying to stay up during the day to take care of my daughter. Do you think I was a happy mom at that time? Heck no! I was miserable, and I was a miserable mom to her too. Every little thing she did wrong seemed like the end of the world to me. When I get enough rest, I think more clearly and react more calmly.
4 – Wake up before the kids
So I just told you to get more sleep and now I'm telling you to wake up before your kids. What gives? There's balance in everything. So you don't need to get up several hours before your kids, a simple 30 minutes will do.
I try to wake up a least a half-hour before my daughter. I do nothing but make a cup of coffee and watch the news (maybe play a little candy crush). It's during these 30 minutes that I enjoy a little peace and quiet, and take a few deep breaths before I start my day.
I will tell you this. I could get up at 6 am and enjoy a half-hour to myself with my cup of coffee, and feel a LOT better then if I sleep in until 8 am and get woken up by a kid who wants breakfast and needs to know what we are doing that's fun today.
5 – Get out of the house
Yes! Happy moms get out. Physically staying indoors all day can make anyone go stir crazy. Happier moms tend to be the moms that get out of the house. And it can be anything from going for a walk around the block to strolling up and down the aisles of Target or even getting a book at the local library.
This does also includes getting out with other moms. Have lunch or meet in the park. Moms who get out with other moms, tend to be a lot happier than moms who stay inside by themselves all day.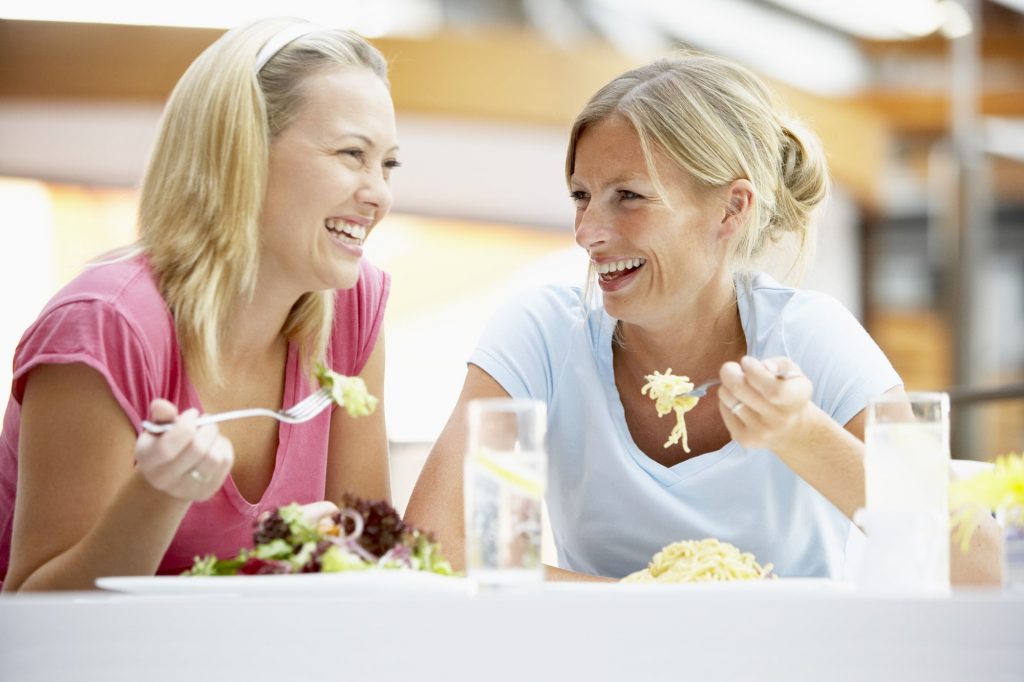 6 – Have friends
Which brings me to my next point. Happy moms have friends. You don't need to be the most popular mom on the block. You just need to have that one really good friend… and a few other mom friends to meet for lunch or coffee or a playdate once in a while.
Happy moms realize the importance of social interaction but don't feel the need to have a hundred different people in their lives. Just a few special ones who serve the purpose they need. Someone to vent to or someone to shop with… happy moms have friends because they don't feel alone.
7 – Exercise
You need to wake up at 4 am and go to the gym at least twice and day and have rock hard abs. KIDDING! Exercise goes hand in hand with eating well and sleeping well. The better you feel physically, the better you will feel mentally.
Exercise can mean something different to everyone. For me, I do 15 push-ups every morning. And I try to take the dogs for a walk every night. Maybe throw in some squats and lunges. I don't have a size 2 body, but I do feel better with just a little exercise in my day.
When I don't do anything physical, I tend to feel like a slob and my demeanor towards my family shows it.
8 – Plan vacations
Obviously, anyone who gets to travel the world and experience new things would be happy, right? That's so not what I'm talking about! Your day to day life of work and school and chores and meal planning can become mundane. Planning a vacation gives moms something to look forward to.
It can be a day trip, or camping, or a big Caribbean cruise. Most happy moms have something they enjoy planning and enjoy looking forward to. At any point, I can tell you want my next family trip will be or even my next adults-only weekend getaway. If I don't have anything planned, I am miserable!
9 – Enjoy their alone time
Not only do happy moms enjoy their alone time… they don't feel guilty about it! Seriously, ladies, this is a no-brainer. Take an hour to do something by yourself. Or even 10 minutes.
But didn't you say happy moms have friends and are social? why yes, I did. Thank you for pointing that out. But truly, a happy mom does both. They have friends but can find peace and happiness in themselves too. Happy moms can spend time away from their kids and know it will make them a better mom.
10 – Don't compete
I cannot stress enough how important this is. You could be extremely wealthy and super slim and have perfect kids… and there will always be someone who has more than you. Or better than you. Happy moms do not compare themselves to other moms. And they try their very hardest not to compete with other moms.
They set realistic goals for themselves and their families and have a sense of happiness when they achieve those goals. Not the goals of trying to keep up with the Joneses.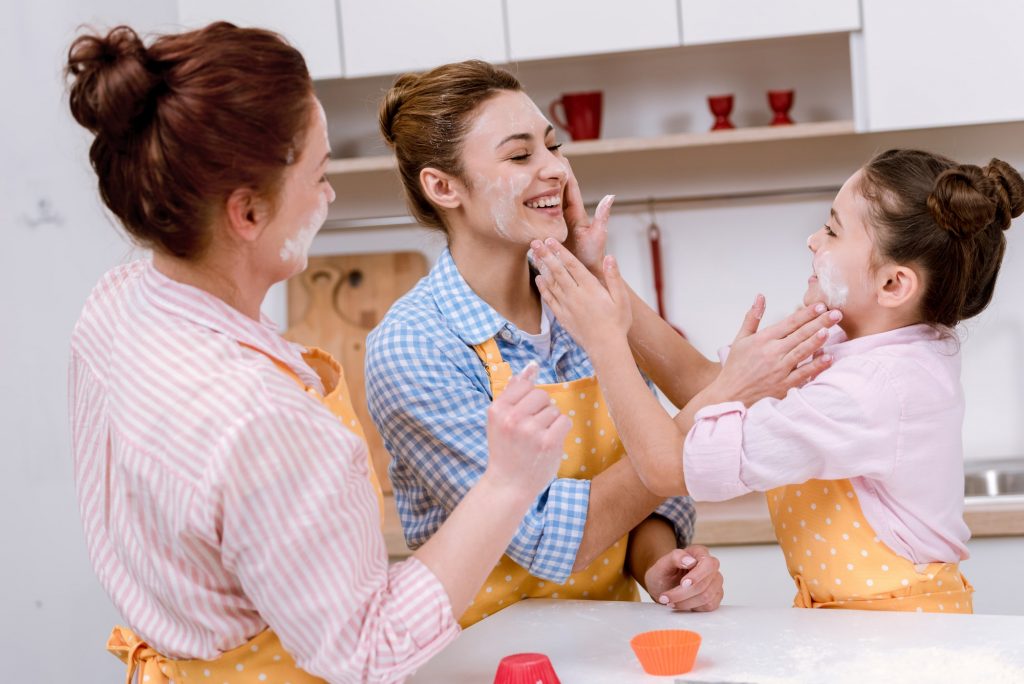 11 – Bend the rules for their kids
We always learn that consistency is key with kids. So it can be really tough to bend the rules at times when you think they should know better. But one secret to happy moms is learning how to bend the rules or let them go a little here and there.
There are just some days I need to let my daughters room be messy, or not worry about her eating dinner in front of the TV. Sometimes kids need a break from the rules too. And a break from the rules can mean a little less stress for everyone.. Resulting in… you guessed it!… a happier mom.
12 – Have a future plan
I truly believe this habit works for anyone. Moms, dads, singles, old or young. But for some reason, we tend to really think about our future when we become parents. Moms who have a plan for their futures tend to be happier on a daily basis. When you have something to look forward to, you tend to be happy.
A future plan can be as far out as what you are going to do when you retire (I'm going to live in a camper and live in a different state all year long). Or maybe it's more short-term, like buying a bigger house, or a new car.
The more goals you set, the happier you will tend to be.
13 – Laugh and be silly
Laughter is contagious. And if you don't believe that's true, try playing the laughter game with your kids. Dare them not to laugh while you sit there and crack up.
But seriously, moms who laugh more have tendencies to be happier. Laugh at a funny show, laugh at the crazy youtube video getting a million shares, laugh at your kids lame joke. Just laugh!
14 – Spend less time on social media
Facebook and Instagram are fun time killers. But we all know by now that they are nothing but the highlights of everyone's lives. They do NOT show the bad times, the sad times, or the things that bring you down. And because all we see are other happy moments, it tends to make our lives look even worse.
Happy moms are the ones who spend very little time on social media. If they are on it at all, they follow only their close friends and family and use less than an hour of media time a day.
The less we moms compare our lives to others, the happier we will be.
15 – Have a clean home, but not spotless
Take note of exactly how I wrote that. They have clean homes. But NOT SPOTLESS. Meaning, yes, they do tidy up and things are generally pretty organized. Because clean homes and organized homes naturally give us less anxiety. The cleaner things are, the less we feel like that to-do list is a mile long, making us happier.
BUT… not spotless. Like learning to bend the rules, happy moms also learn when to let a little mess go from time to time. Their house may be clean and organized but there also might be some dishes in the sink and some toys piled in the corner.
There are days I have to remind myself, who cares how the house looks like now… who's going to be coming over to see it anyway!
16 – Share mom stories
Happy moms talk to other moms. They share their funny parenting stories, they talk about what stresses them out with their partners. They discuss what crazy things their kids did. Happy moms also tell each other their personal stories. They don't have an issue saying what makes them feel like failures as a parent.
The more they open up, the more they realize there are other moms who feel the same thing they do. When we know others are going through what we are going through, we feel less like failures.
What happy moms don't do is vent to other moms. They share stories, but they don't sit there day after day and hash out every fight with their husband or talk about all the details of their kid's bad behavior. Venting our frustrations can be beneficial, but not if its all you do, all the time. Too much and it just keeps those bad thoughts lingering around in your head.
17 – Practice self-care
Happy moms understand their needs need to be met also. They take care of their kids and they take care of their households but they never forget to take care of themselves. Even if it's just 5 minutes here or there or 20 minutes a few times a week. Happy moms take care of themselves!
Need some ideas on what you can do for self-care? Try these 20 Super Easy Ways to Practice Self-care for the Busy Mom.
18 – Understand they are not perfect
The most important of all habits of a happy mom. Happy moms know they are not perfect. They can accept the fact that they do things wrong… or sometimes don't know what they are doing at all! But most of all, they know the difference between being a successful mom versus a perfect mom.
And the biggest secret… they know being a perfect mom doesn't exist! So they don't strive for it. They do their best each day and are satisfied knowing that.
You may also enjoy…