Wouldn't it be great if your kids would do all their chores without the constant complaining? It is possible! Here are some easy tips to get your kids helping around the house, without you nagging them to do it.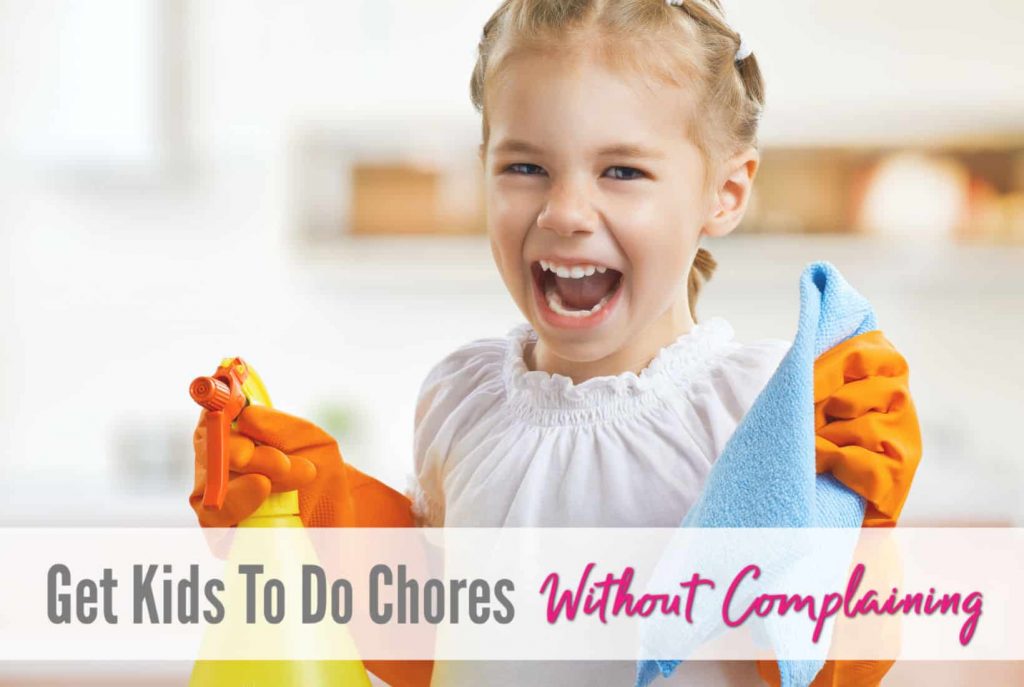 It is currently summer vacation in my home and getting kids to do chores without complaining has been a nightmare. What is it about summer that makes kids extra lazy?
Best Tips For Getting Kids To Do Chores
Getting my daughter to do her chores has become a chore in itself. Every time the weekend comes around, I absolutely dread having to ask her to do her chores.
She does the same chores every week. And yet every week she complains, moans, groans, and whines about it.
Sound familiar?
It got to the point where I dreaded bringing up the subject and just ended up doing most of the cleaning
But with a few tricks I started to implement, I was actually able to get my daughter to start doing her chores every day without any complaining. Sounds like a miracle, right?
Keep reading and I'll give you all my tricks to getting your kids to do chores without complaining.
How To Motivate Your Kids To Do Chores
Believe it or not, chores are not just because parents are lazy and want their kids to do most of the housework. Although that would be nice.
There are actually tons of benefits to doing chores. The most obvious being that kids learn how to take care of themselves and their possessions. So that one day they can spread their wings and live on their own… and not be the creepy, messy, smelly roommate everyone hates.
Some more benefits to kids doing chores:
Teaches them responsibility
Increases their self-wroth
Teaches kids empathy
Creates a sense of teamwork
1 – Tell Them the Night Before
I promise you, you will get the maximum amount of complaining from your kids if you wait until the day of to tell them what chores to do.
I always seem to have a lot better results when I go over the next days plan with my daughter before she goes to bed. So when she wakes up in the morning, she knows what to do and just gets it done.
Even if its the same weekly chores she always does, "reminding" her in the morning gets me a lot of whining. But even a simple reminder the night before has a huge impact.
2 – Get Rid of the Distractions
In our home, chores are done before anything (well, after breakfast). So most days I will remove the distractions… aka their electronics… before they even wake up.
It's almost like once they get ahold of their tablet, it's impossible to pry it out of their little hands.
But if I removed the phones and the tablets before she wakes up, she is a lot less distracted and knows she needs to get her chores done to get them back.
3 – Be Consistent
Although we would LOVE to have our kids do all sorts of chores, it's much better to keep it consistent for them. When something new is presented, they will whine and complain because it may seem like a HUGE task to them.
We keep a weekly list of chores my daughter is responsible for and its always the same things every weekend. So she can't complain or pretend she doesn't know how to do it. She knows exactly where the cleaning supplies are and what to do.
If you want to add respsoniblity to their list the older they get, add new chores slowly. Start with one at a time and dont add another one until they have mastered their current chores.
And always help them through a chore if its the first time they do it. Try something like this:
"Tomorrow I want you to learn how to fold clean towels and put them away. But since you've never done it before, I'm going to teach you how to do it and do it with you. So if you have any questions, I'm right there."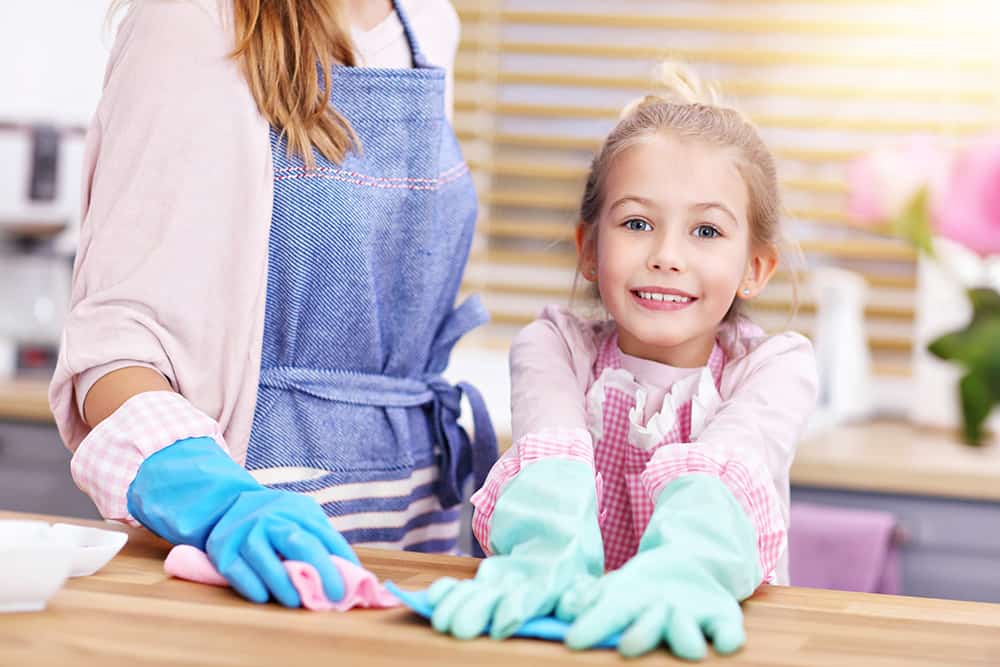 4 – Allow Autonomy
There is no point to having your kids do chores if you are just going to micromanage them the entire time. Or 'fix' their bad cleaning job for them.
Kids need to learn HOW to do things just as much as they need to learn time management to get it all done.
If kids feel like they get to make some choices on their own, they are more likely to do things without the complaining.
Here are a few ways you can give them autonomy:
Give them their list of chores to do and tell them they can decide which to do first or last.
Let them know where you'll be if they have questions but that you trust they will do a great job on their own.
Let them choose from a list of "extra" chores
Ask them to do one helpful thing around the house of their own choosing.
Get them their very own cleaning supplies. Use a small cleaning caddy and fill it with their own sponge, gloves, and soap or spray. They can even decorate the caddy to be more fun!
5 – Make It Fun
Make cleaning fun? Ha! That's crazy talk.
But it can be done…I promise! Ok maybe its not going to be the most fun thing kids do, but getting kids to do chores without complaining is easier if you can at least try to make it a little fun.
My daughter will put on music that pumps her up and I often find her dancing while she does her chores.
Or sometimes we will have little contests to see who can clean an area the fastest. Making a game of it can definitely make kids try harder! And get done faster.
6 – Don't Use Chores As A Punishment
If your kid don't do their chores, or take 10 years to get them done, it's easy to want to punish them. But please don't.
All you are doing is making chores something they will dread even more.
7 – Use a Reward System
Instead of the punishment, use a reward system. I take my daughters electronics away on chores day. She knows she can't touch them until her chores are done. Getting her electronics back is a reward. So the faster she does her chores, the faster she gets to sit around and play Roblox.
There are other times I might tell her things like "If you can finish all your chores by noon, I'll get you McDonalds for lunch."
Giving kids an incentive make them work harder and faster. When there is no incentive, she might take all day to do a few simple chores.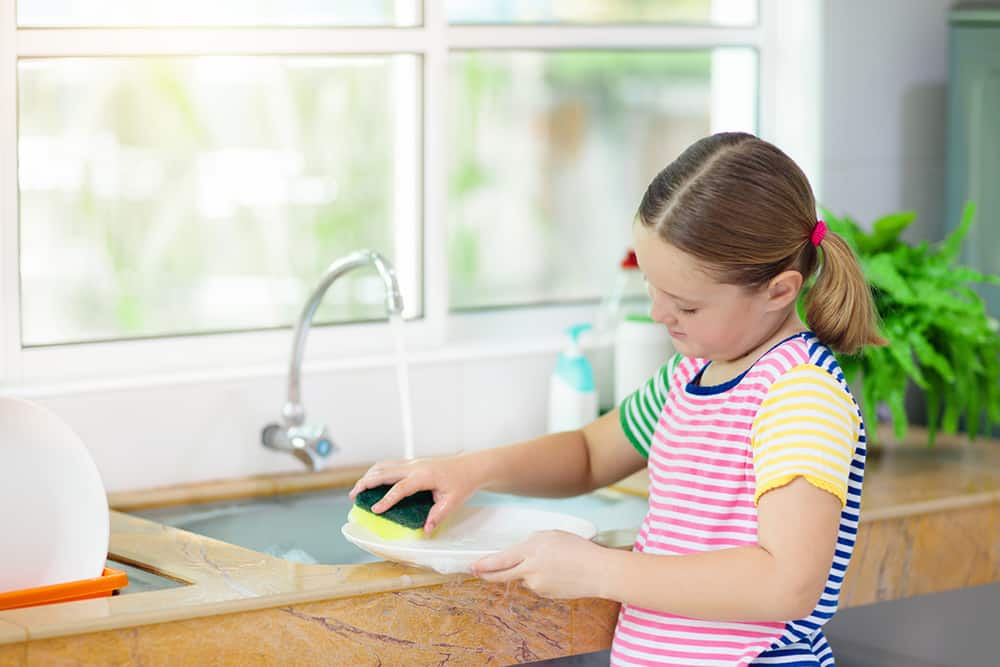 8 – Make the Reward NOT Based On Money
Working towards money can make kids a tad bit money hungry and not fully understand that doing chores is to help others (like you!).
When I used to give my daughter an allowance for chores, she started only doing her chores when she wanted something.
But if there was nothing she wanted to buy, she was totally fine skipping her chores altogether. No Bueno.
I still wanted her to be able to earn money (so I didn't need to pay for everything!) so we came up with a hybrid version. She has certain chores she HAS To do every week. Then there is a list of extra (harder) chores she can do to earn money.
Keep Reading: Should You Give Your Kids An Allowance?
9 – Use Chore Charts
Some kids just need a little reminder to do their chores, or what chores they are responsible for. When you are the one that keeps reminding them over and over to do their chores, they start to get somewhat pissy with you.
You don't always need to be the bearer of bad news.
Make a list or create a chore chart. That way, they can wake up and know exactly what they need to do. Without having to ask you or having you tell them over and over again.
If you have more than one child, a chore chart can be a great thing. If your kids switch chores each week (one does the bathroom while the other does the playroom) then they can easily keep track of what chores they are responsible for each week by using a chore chart.
10 – Set An Example
The last and best piece of advice I can give you for getting kids to do chores without complaining is to set an example for them.
Don't make them do chores while you sit around and watch TV.
And don't hire a housecleaner to clean everything but the few chores they are responsible for.
The goal is to make your kids more responsible and more willing to help out. And the best way for them to learn that is to watch you do the same.
Wouldn't you hate it if you cleaned the whole house while your partner sat there and watched you while they did nothing? And then checked your work when you were done to make sure you did it all right?
Yeah… kids feel the same way. They'll grow resentment towards you and the complaining will increase if they think they are doing all the work while you sit and relax.
Getting Kids To Do Chores Without the Complaining
Teaching kids to do their chores without complaining is good for you too. If you are the one constantly cleaning up after your kids, you start to feel resentment and have a tendency to snap at them more often.
Raising kids to take care of themselves is one of the best things parents can do for them.
No matter how many times they refer to themselves as being a 'slave', you know you are teaching them valuable life lessons.
Good luck!
You Might Also Be Interested In: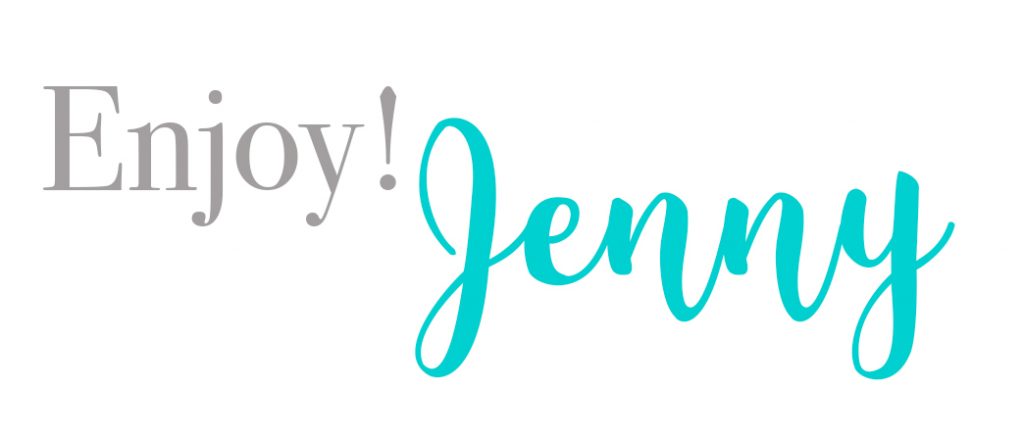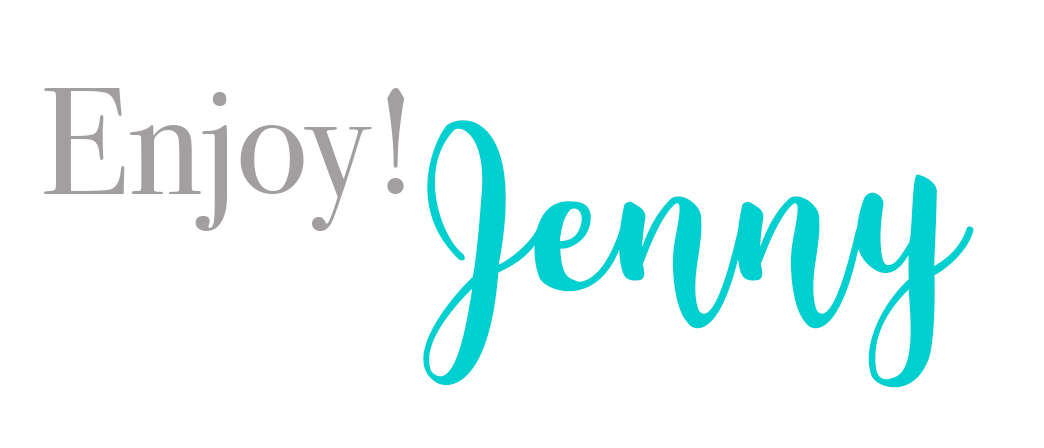 Pin For Later!