Valentines Day is around the corner so get ready with these fun Valentines Day Crafts for Kids!
Hearts and flowers are quickly coming and every mom is on the search for fun valentine's day crafts for kids! Because… why not!  I mean, it's still really cold outside and you had so much fun with holiday crafts. So keep the party going this Valentine's Day!
Crafts are actually a hot thing in our home. It's the one time you can get kids away from the electronics and actually spend some time together doing something creative. If you can get past the mess and the endless new home decor you will have!
This year is especially fun to find new crafts to create because my daughter has a crush on a boy at school!  Ooh, la la! But since she will kill me if I talk about it, let's move on… 
If your kids are of school age, you've probably already realized they really love giving each other gifts.  My daughter will often go around the house and try to find things she can give to her friends. Not to mention all the random things she comes home with from other kids at school too.
So I've discovered that if I encourage "home-made" gifts, I can keep my daughters (and sometimes mine!) possessions from leaving the home.  These Valentine's Day crafts for kids are a great suggestion to keep them busy, and have something fun to pass around to their friends at school?
Have way too many crafts laying around? Donate them to an elderly home. How much would they love to have something to brighten their rooms.
Fun Valentine's Day Crafts for Kids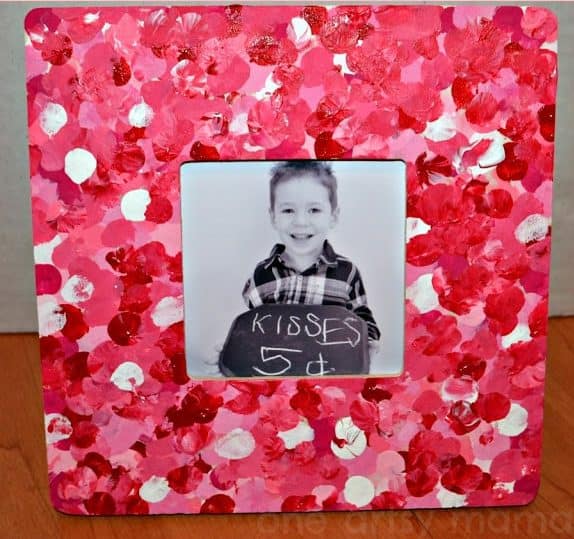 Valentine Fingerprint Photo Frame.  When it's all done, you can't even tell it is all made out of fingerprints. But these super creative frames make it personal by being made out of your kid's fingerprints. It is the perfect gift for grandparents. And even better, these frames are super cheap at Micheal's.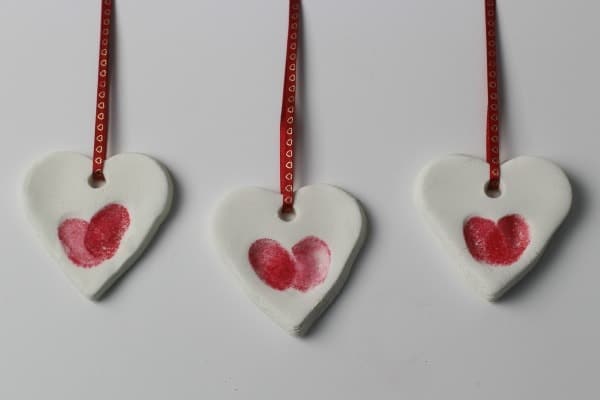 Fingerprint Heart Ornament. Even though the Holidays are over, this special heart ornament is a great keepsake. They are easy to make and something you can keep for a long time. Probably a great idea for a grandparent gift too!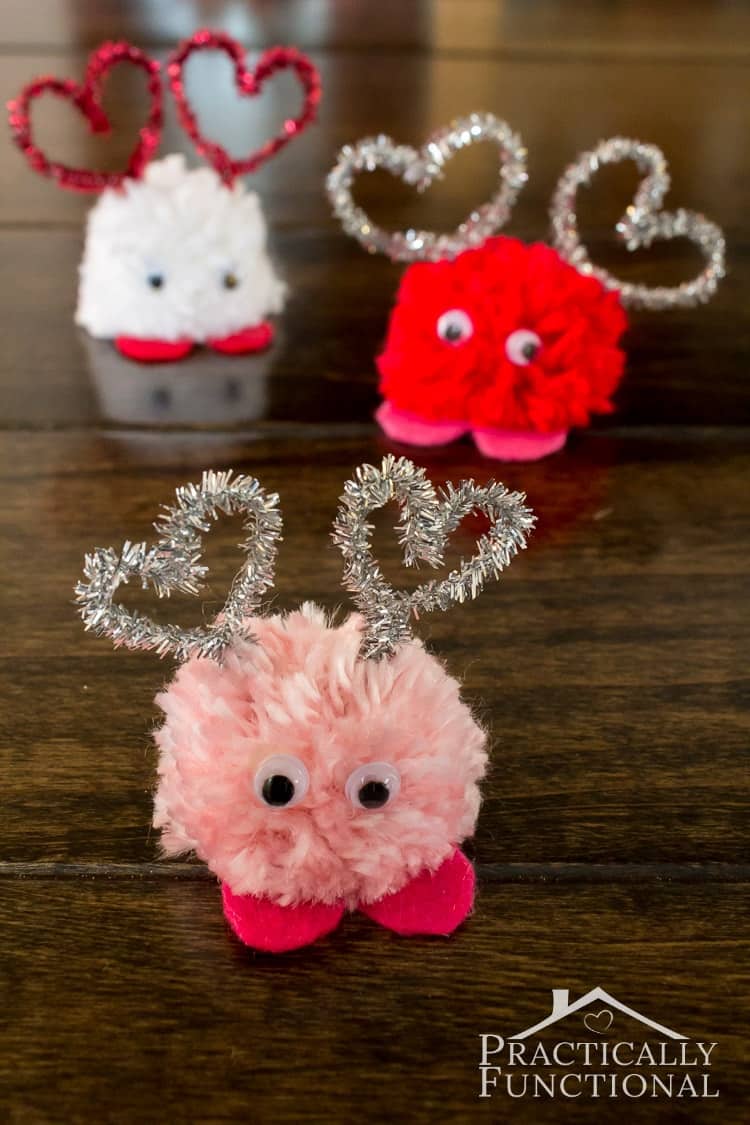 Valentine's Day Pom-Pom Monsters.  Your kids will get a kick out of these cute little guys. Just buy the materials and let them go at it, no pattern needed. they can make them all different and create a little monster family. These are fun to make and can easily be made by the dozen to pass around in class.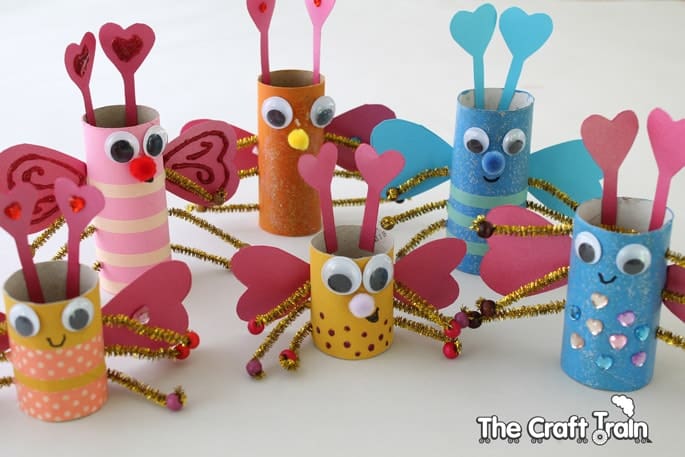 Toilet Roll Love Bugs.  If you have done crafts with kids a lot, you'll know there are a hundred things you can do with toilet paper rolls. Really, don't ever throw those away!  These cute love bugs can be designed any way a child would like with their creative little minds.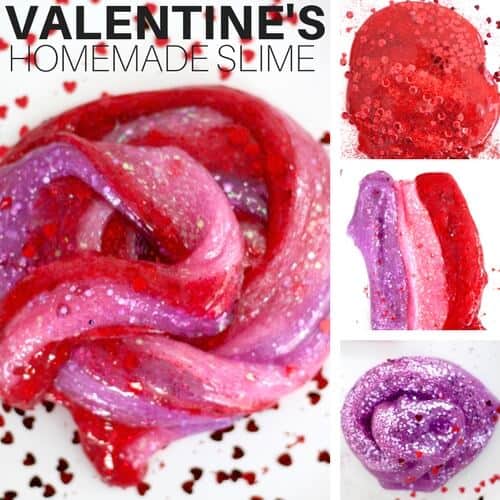 Valentine's Day Slime.  Insert parental eye-roll here. We just can't get away from the slime in our house. And if your kids are the same, then this project is a must. This is another fun thing they can make to give to their friends. I don't know why they love gifting this to each other but it seems to be very popular in our local grade schools.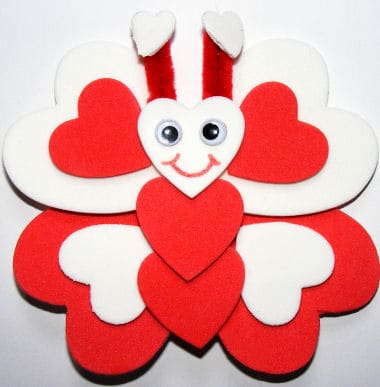 Valentine's Butterfly Magnet.  If you are looking for something a little simpler, try this butterfly craft. The hearts are premade at craft stores so it's just a matter of assembling them. Then kids can draw faces or even clothes on them. Great for the younger kids.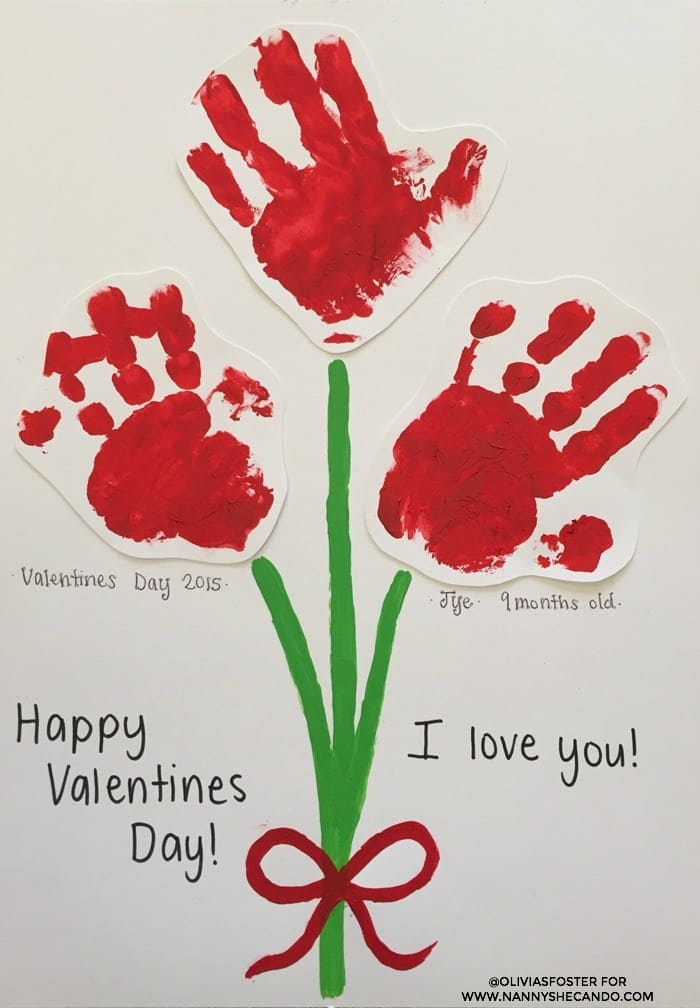 Hand Print Flowers.  Making something really personal is always a favorite of mine. If you are looking for a memory maker, something you can keep when they are grown, this craft is a must. It not only uses their cute little hands but who doesn't love a bouquet of flowers?
Paper Plate Valentine's Day Heart Wreath. This is another fun craft that lets kids be creative and do most of the work on their own. Start them off with a bunch of colored paper and let them cut their own sized hearts to make this cute wreath. And how great would this look on your front door, or even just the door to each bedroom in the house?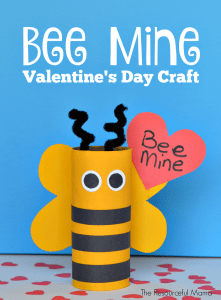 Bee Mine Valentine's Day Craft.  See, I told you there were a hundred things you can do with toilet paper rolls. These bees are super cute and can be a great alternative to cards for your kid's classroom.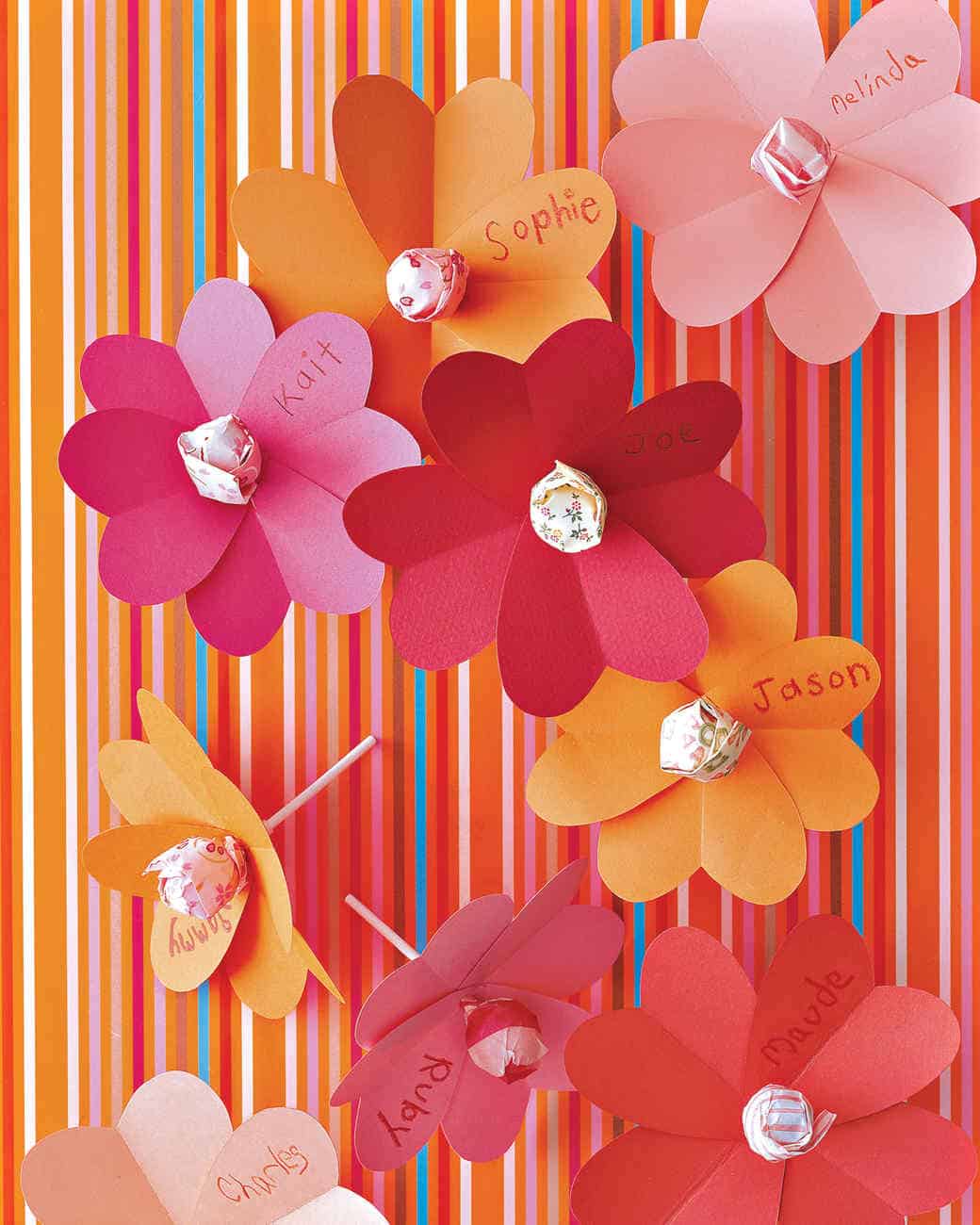 Heart and Lollipop Flowers.  Another great alternative for handing our valentines day cards at school. This lets kid create something on their own and it has a piece of candy in it… who can say no to that?!?! And you just saved yourself from buying another box of cards at the store.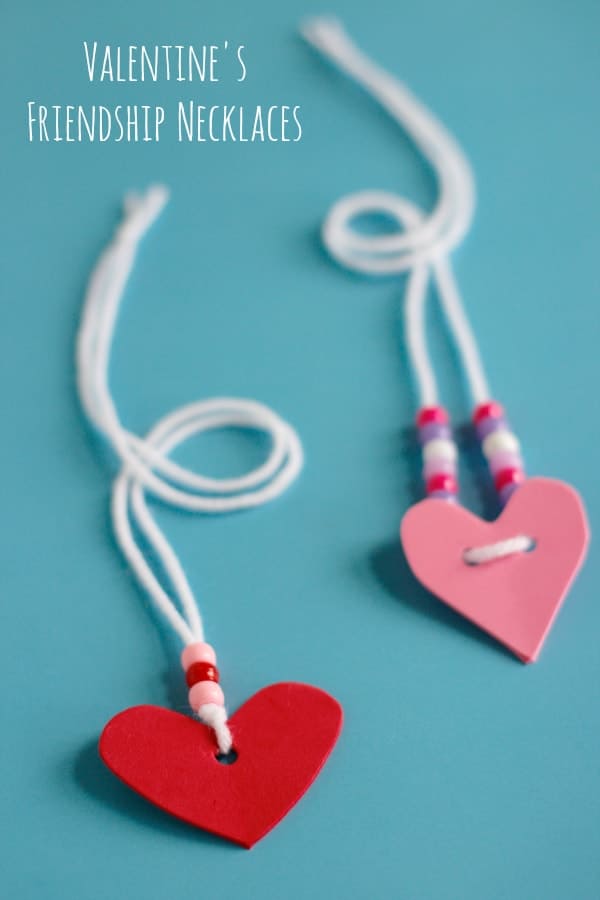 Valentine's Day Friendship Necklaces.  Valentine's Day Friendship Necklaces.  How sweet is this craft? Friendship necklaces were everywhere when I was a kid and it's good to see they are still popular.  This is a nice craft they can make with their friends, or just to hand out. Not to mention, it's just nice to promote friendship at school!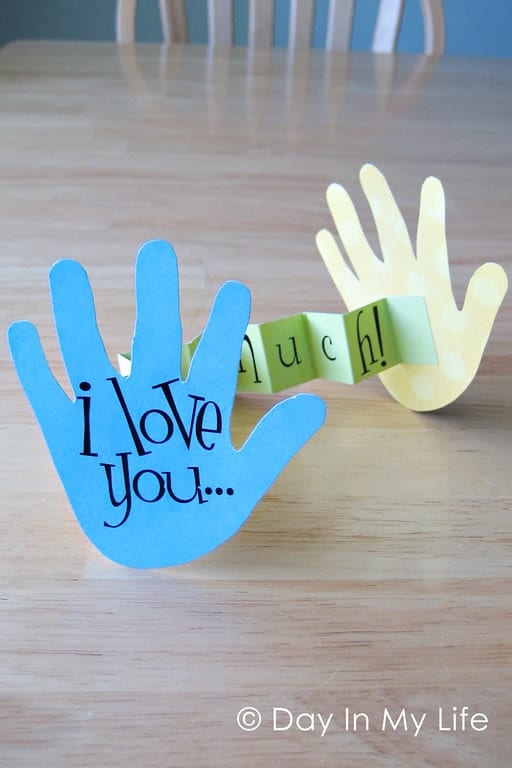 I Love You This Much Card.  If you are looking for the perfect craft to make for a parent, try this great one. What cuter way to tell a mom or dad or grandparent how much you love them? Because grandparents need these kinds of things often!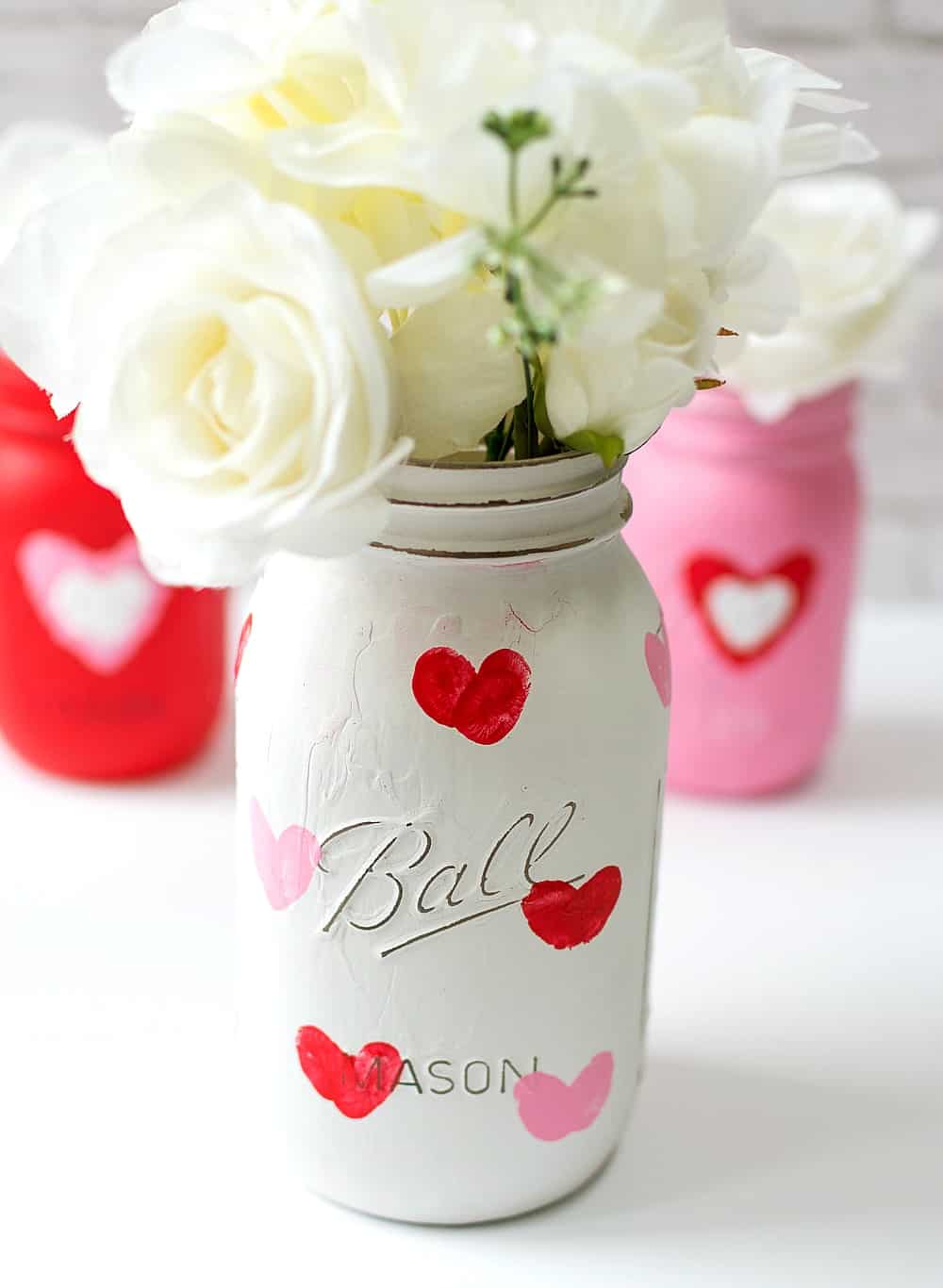 Valentine's Day Thumbprint Heart Jars.  I particularly love this craft because its really pretty and can easily be displayed in any home. Also, it would make a great gift for a teacher or grandparent and can easily last many years. It can be used as a flower pot or even a pencil holder or utensil jar.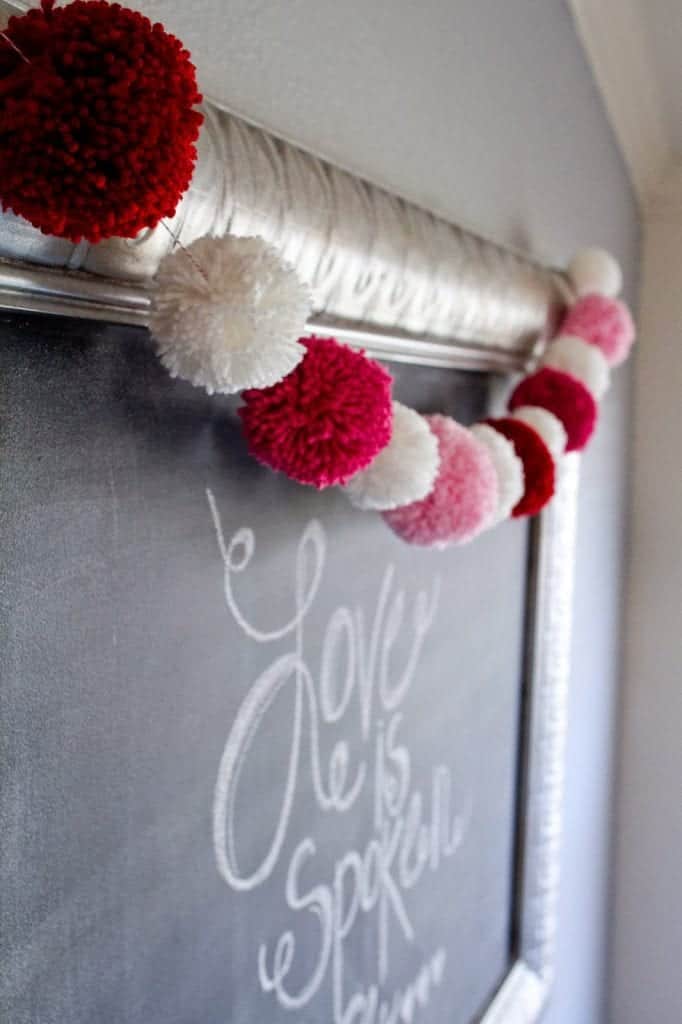 Valentine Yarn Pom Pom Game.  The yarn is very inexpensive and fun to work with.  Therefore this garland would be a fun project for kids to make. In addition, it could also become a great decoration for the classroom, your home, or just around their room for fun.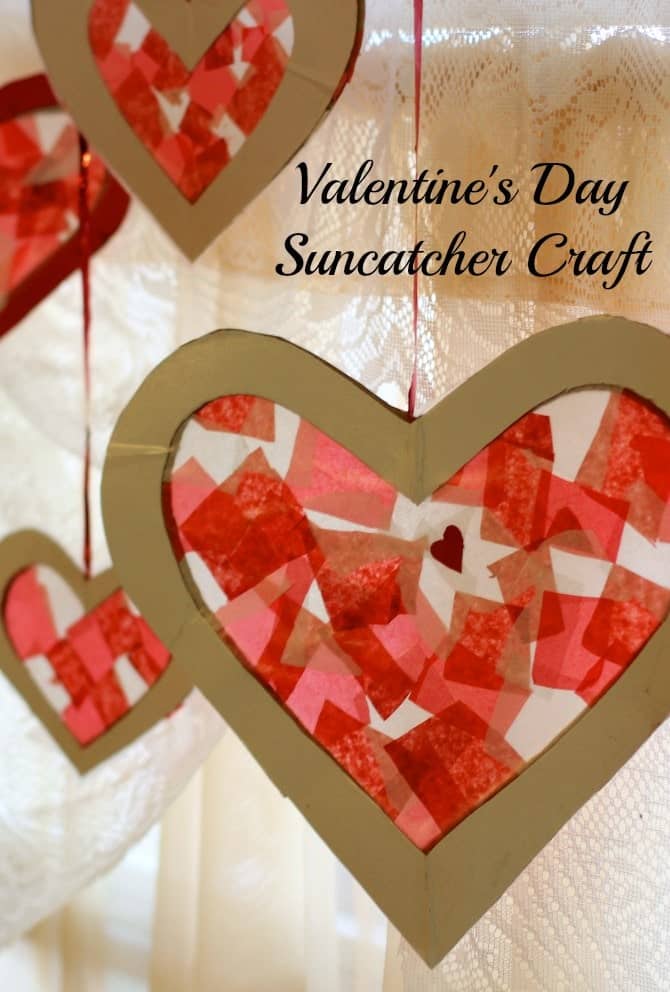 Tissue Paper Heart Suncatcher.  If you have leftover tissue paper from the holidays, use it to make these fun suncatchers. Have them make as many as they want and place them in the windows around your home. Most of all, you just had them create some decor that you won't have to spend more money on!
Have a great Valentine's Day and enjoy the day with your kids!