You don't need to wait until the summer to master your easy beach waves for short hair. These tutorials will help anyone achieve the perfect beachy wave look!
How to get Easy beach waves for short hair
I have an extreme love/hate relationship with my hair. Because of that, I am always always always searching for new and different ways to style it.  It's not quite straight but definitely not curly.  It's not "wash 'n go hair" and definitely needs some kind of styling before I can leave the house without scaring anyone.
After years of curling and curling and always getting these tight ringlets, I didn't know what I was doing wrong. It took a lot of research and practice for me to realize it takes a lot more than just curling your hair to get these relaxed beachy waves.
It makes a difference in which direction the curl goes, how big the sections are, and definitely what products you use. How I blow dry my hair before I even attempt to curl it makes a big difference too. Once you figure out the right formula, it's actually very easy to create. 
P.S. Have you been wanting to try out Kylie Cosmetics LipKits? I do a full, honest review of several of her LipKits HERE!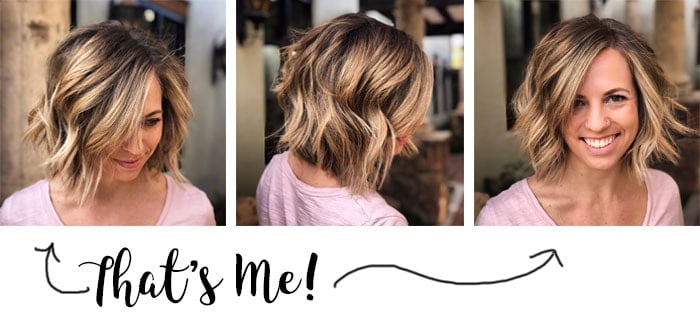 Since I also cut my hair short this last year, I've been working at hairstyles that go with the new short do. And while the products I use are the same, the way I curl it is somewhat different.
I've attached several tutorials for creating beachy waves in short hair below, that really helped me create this look. But first, let's talk about what you need before you get started.
The Best Products for Creating Beach Waves

L'oreal Volume Inject Mousse. Before you dry your hair, massage some of this product into your scalp. Not too much, it can build up very fast. Just a little will do. Massage it into your scalp only not all over.  It creates volume at the roots that look amazing.
L'oreal Blow Dry It Quick Dry Primer Spray.  Give your hair a few quick sprays before you blow-dry to protect your hair from heat. Drying and curling can really damage your hair so make sure to protect it! Just a few light sprays are good, don't go overboard with this one!
Aquage Dry Shampoo. Dry shampoo is not just for 3-day old greasy hair!  Use this after you are done curling to help give it a little extra lift and some texture to your waves. Spray at the roots after you are done curling and run your fingers through your hair.   It works great when you have fresh waves and for the next day when you just want to revitalize them.
Aquage Sea Salt Texturing Spray. After the dry shampoo at the roots, use this spray all over your hair (don't forget underneath) to give your style that all over texture beachy waves need.
Ceramic TI Tourmaline Curling Iron.  No need to go too fancy with your curling iron.  I highly recommend using ceramic because it helps reduce damage to your hair.
CHI Magenta Moon 1″ Flat Iron.  I swear by my CHI flat iron!  I've used other kinds and always come back to this one. Make sure it's ceramic as well. CHI just slides through my hair so easily it actually cuts down the amount of time it takes to style hair whether it's curling or straightening.
Easy Beach Wave Hair Tutorials
https://www.youtube.com/watch?v=20h_EPI140w
Curling is made easy in this tutorial and is one of my favorites. She uses a few techniques that I think people don't generally know about. She actually starts at the top of her hair and works her way down. I found this is best for thicker hair.
When we start curling the bottom layer, we add a lot of volume. Great for thin hair, NOT good for thicker hair. Watch the end of the tutorial as well where she uses dry shampoo after the curls are in place. Dry shampoo is great for adding texture even to freshly washed hair. 
I'm obsessed with Kate from The Small Things Blog. This is one of her older videos when her hair is shorter but also one of my favorites. She adds some volume at the end by teasing her hair after the curls are in place.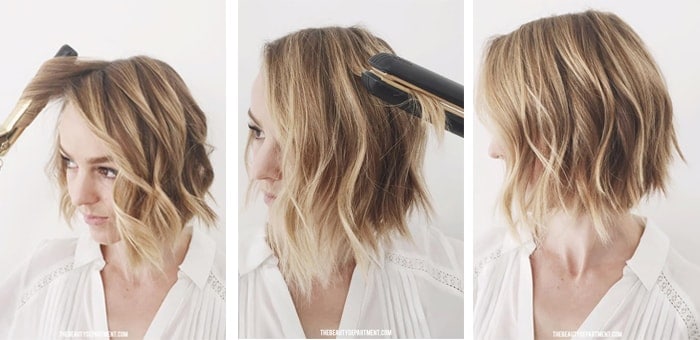 If you have problems with your curls looking too "curly" or like ringlets, try this amazing trick from The Beauty Department.  It's such an easy trick to make your curls look more relaxed and like waves.
I don't know why I never thought to do this!  She uses her flat iron to relax the curls and make them look more like casual beachy waves.
Having different options is key to creating the easy beach wave look and this tutorial shows you how to do it with more of a curling wand versus the curling iron. I'm more of a curling iron fan myself, but this option seems to work better for straighter and thinner hair. My thicker hair won't hold a curl this way, but many people prefer the look a wand creates.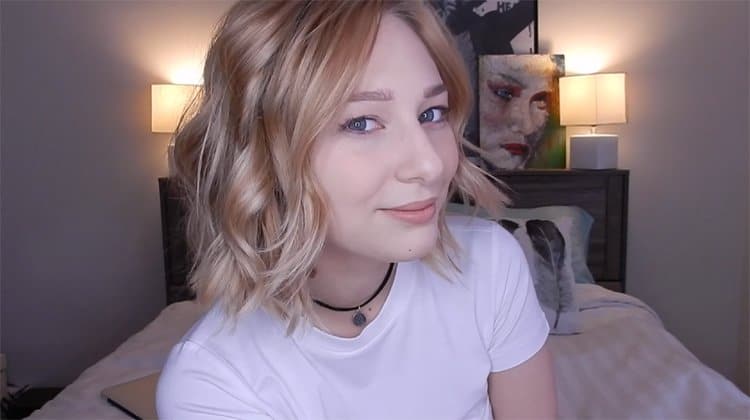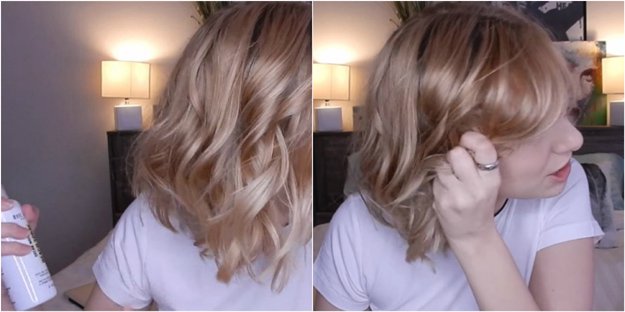 Makeup Tutorials created this great tutorial with both images and a YouTube video on their website. Her fun flirty hair looks amazing and she makes easy beach waves look… well, easy!
https://www.youtube.com/watch?v=-29FS85bAfg
Tanya is super fun to watch and I love her short hairstyling tutorial. She talks about some key elements too, such as how she blow-dries her hair beforehand, and what products she uses. Her look is also created with a styling wand as another great option for creating some fun and easy beach waves for short hair.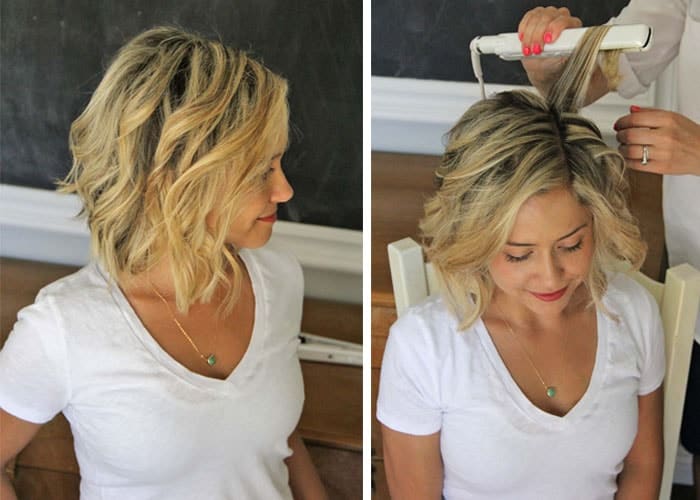 This beachy wave tutorial for short hair by Little Miss Momma is a personal favorite. She went through the same process as I did, by chopping off her hair and suddenly realizing she needs to find a new way to style it!  The tutorial is easy to follow and offers step by step instructions both on the website and via a YouTube video. Its all done directly by a stylist to really show us how to do it right.
Another great tutorial with the curling wand. Her hair is even slightly shorter than most of these other tutorials so its a great option for those really short styles. I also love how quick and easy she creates this looks. Curling my hair used to take forever but after following tutorials like this I have definitely learned less is more when it comes to your curling tools!
Sometimes, I prefer to use my straightener to curl my hair. I get asked about this technique a lot so I wanted to share this tutorial.  She uses her hair straightener to create a relaxed, easy wave.  The straighten seems to make the curl hold a lot longer so I will use this when I want it to last for 2-3 days. However, it seems to be a little harder to relax the waves after you are done curling. So it's all a matter of what look you are going for!
One last important technique I want to point out is curling your hair in different directions. Always start away from the face but as you move towards the back, start curling each section in opposite ways as this tutorial shows you.
When you curl in opposite directions, it gives your style a more messy look and that can be key when trying to create a messy beach wave and not just perfect curls.
If you like these tutorials then don't forget to check out more hairstyles that are super easy to create!
10 Easy Hairstyles for Medium Length Hair
Easy Ponytails to Try This Summer
Do you have any tricks for creating a perfect beachy wave look?
Pin for later!