Spice up those same old deviled eggs you have with these fun and unique deviled eggs recipes!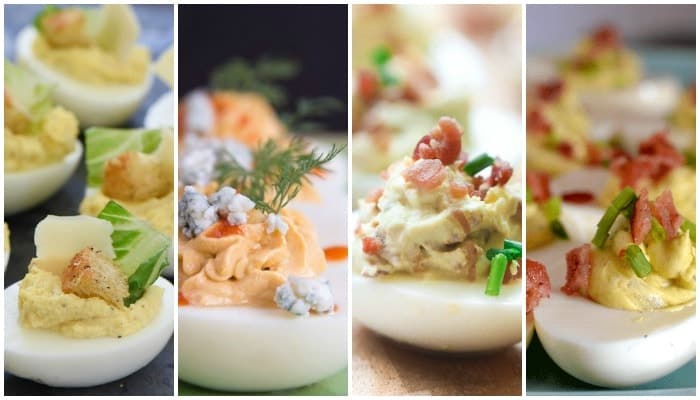 Looking for some more unique ways to make deviled eggs?
Every year around this time I start getting excited about Easter. Not because of the of the actual Holiday itself. But because of the deviled eggs! I know it seems odd to be so excited over such a small dish but deviled eggs have always been a favorite of mine. 
For years and years, I enjoyed the classic recipe and started making them myself as I got older. But one year I went to work and we had a pot-luck for Easter. Deviled eggs were everywhere. The disappointment burned inside of me. This classic Easter recipe was just overdone.
It became super important that I find a new deviled egg recipe, something that would really make me shine as the deviled egg queen! With just a little bit of looking around, it was easy to find many new and different recipes for deviled eggs. 
I've assembled my best list of deviled egg recipes that are all unique, taste amazing, and are super easy to make. They go great with Easter dinner but also make a good side dish or appetizer for any brunch or BBQ. 
Delectable Deviled Egg Recipes Sure to Please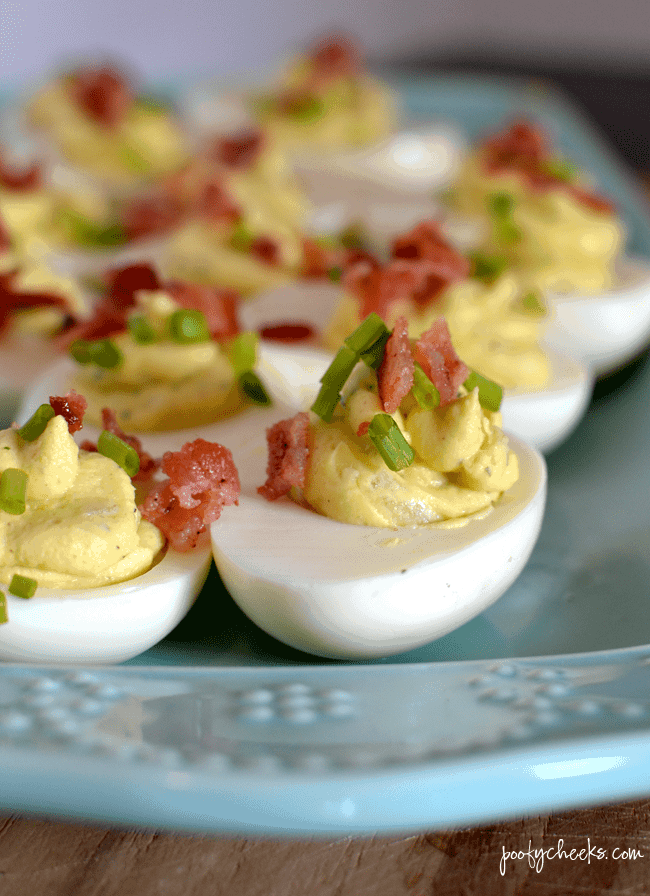 Instant Pot Ranch Deviled Eggs.  I had never considered using an instant pot to made deviled eggs so this recipe intrigued me. But then again, anything with ranch dressing in it is obviously amazing. And you definitely won't be disappointed with this ranch inspired deviled egg recipes.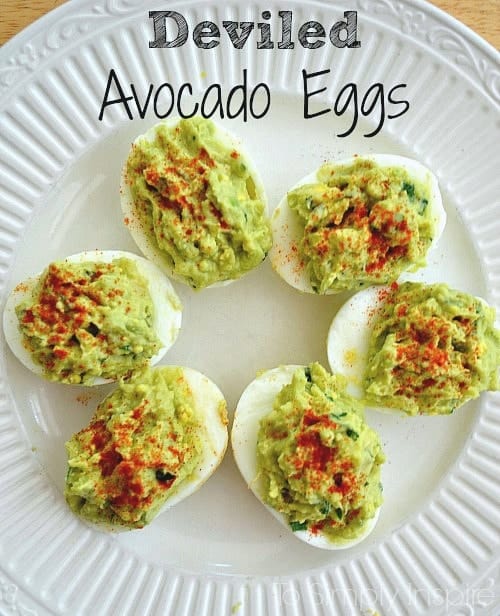 Deviled Avocado Eggs. Which brings me to my next best-deviled egg recipe… avocado deviled eggs!  Because just like ranch, avocados make anything taste good. Think of it as a guacamole deviled egg. You will definitely please a crowd with this one.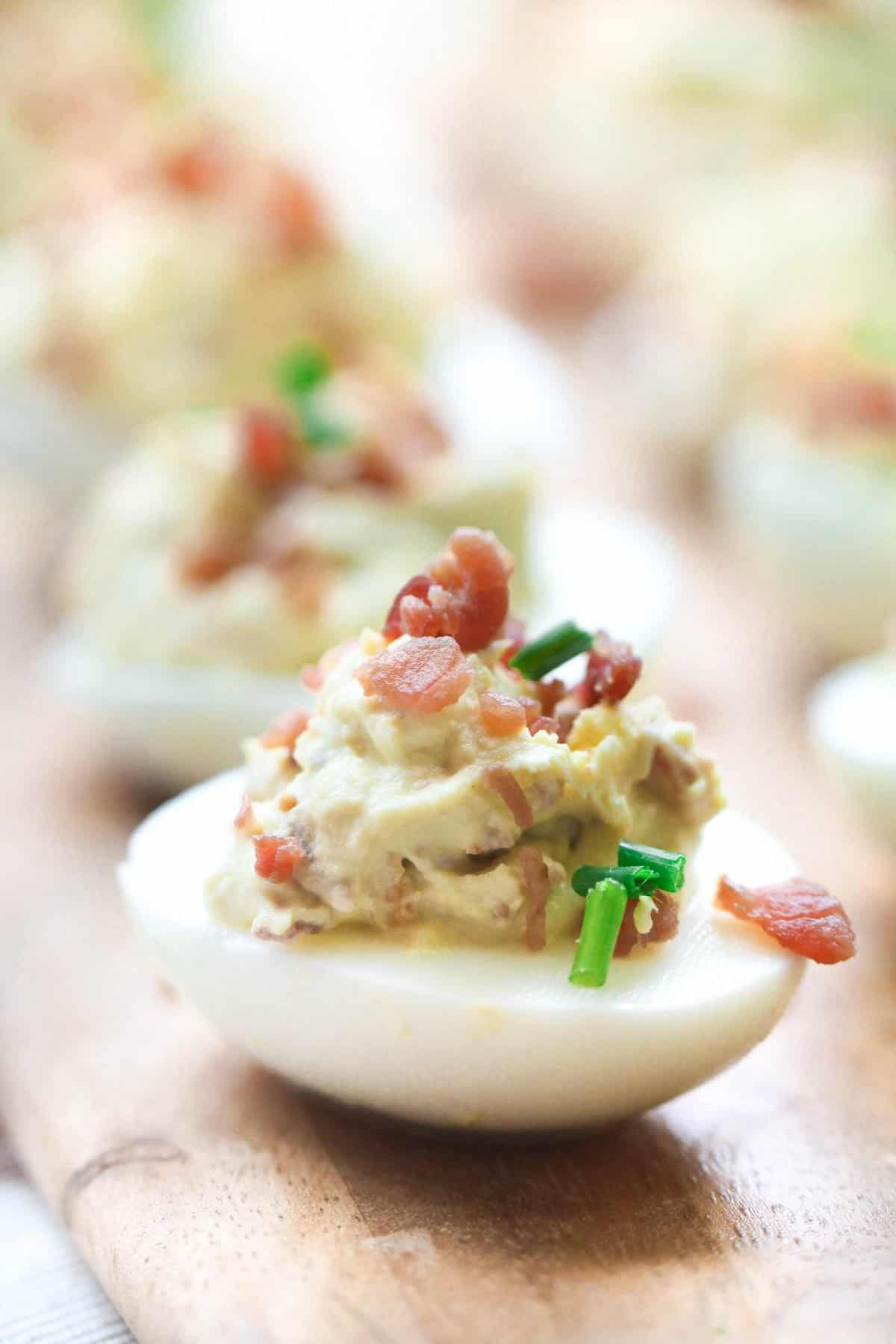 Loaded Deviled Eggs. Bacon, sour cream, cheese? This recipe is making me drool already. Just like a good loaded baked potato, this recipe will be sure to please anyone. And you'll get extra points for how great it tastes.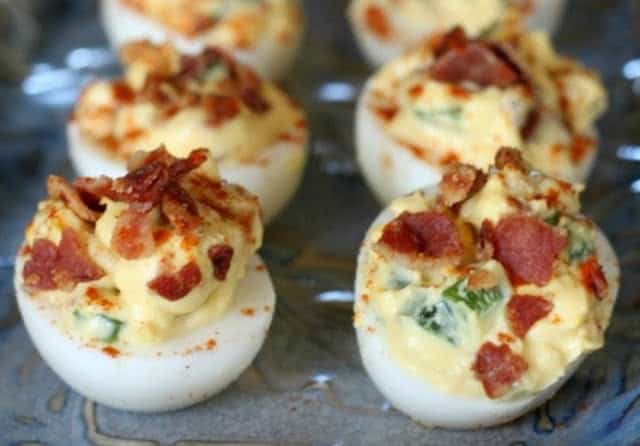 Bacon Jalapeno Deviled Eggs. If you enjoy a little kick to your recipes, then this jalapeno deviled egg recipe is perfect. It takes the classic recipe and adds a little spice for anyone who likes it hot! Great for an Easter appetizer or at any summer BBQ.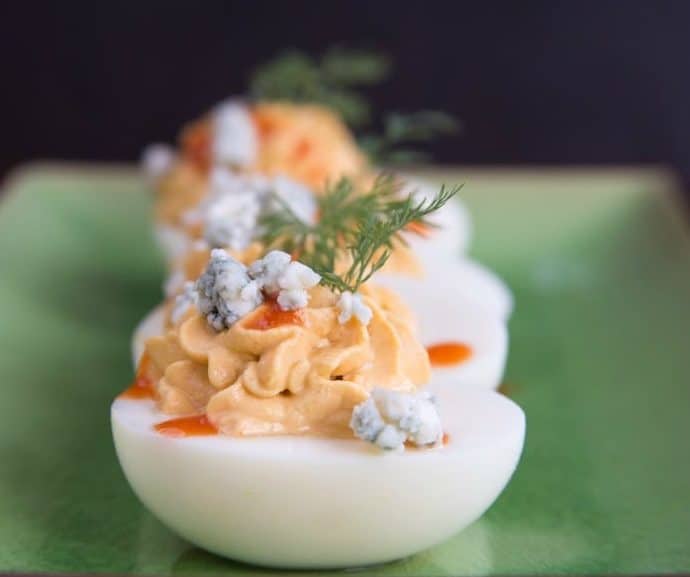 Buffalo Blue Cheese Deviled Egg. Who would have ever thought to add buffalo sauce and blue cheese to a deviled egg recipe? It just shows you how creative you can get with this otherwise classic recipe. Also note that it's made with greek yogurt instead of mayo, making it a super healthy snack.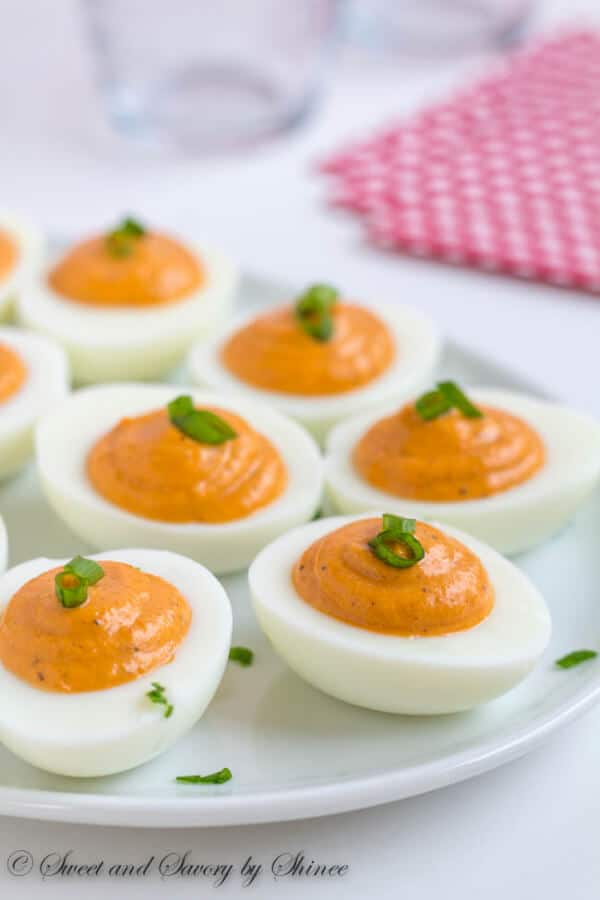 Roasted Red Pepper Deviled Eggs. Another unique twist to the deviled egg is this fun roasted red pepper recipe. Try it also with sun-dried tomatoes and you have a great summer appetizer. The bold flavor of this recipe will have your guests begging for the recipe.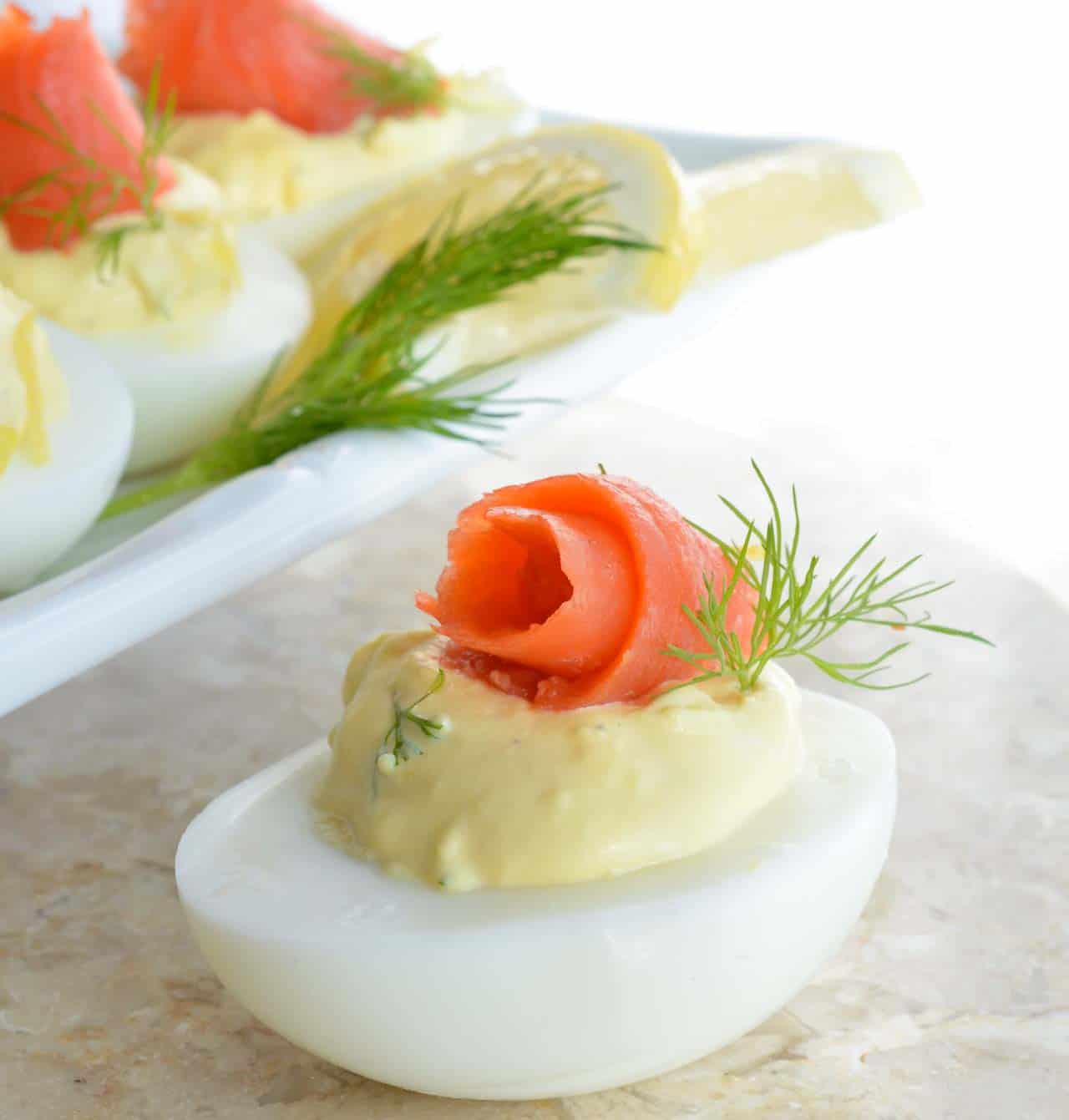 Smoked Salmon Deviled Egg. If you need a good deviled egg recipe for a brunch then this is perfect. Smoked salmon with a touch of dill and lemon make a perfect side to any brunch. The lemon gives the egg a bright yellow color that is just perfect for any spring or summer meal.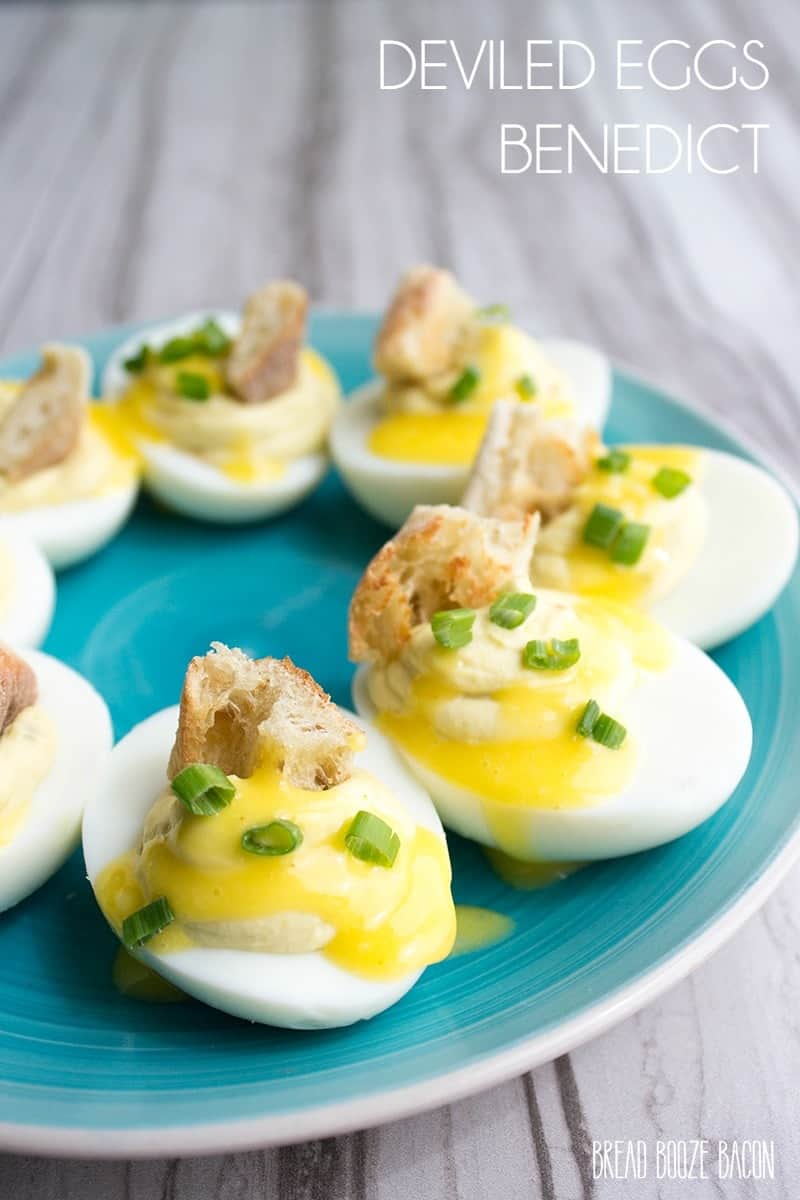 Deviled Eggs Benedict. Eggs Benedict is my absolute favorite meal for breakfast. So I was flabbergasted when I found a recipe for deviled eggs that included my favorite hollandaise sauce. Let me tell you, I wan not disappointed. The creamy sauce on top makes this recipe a must for any Easter or brunch.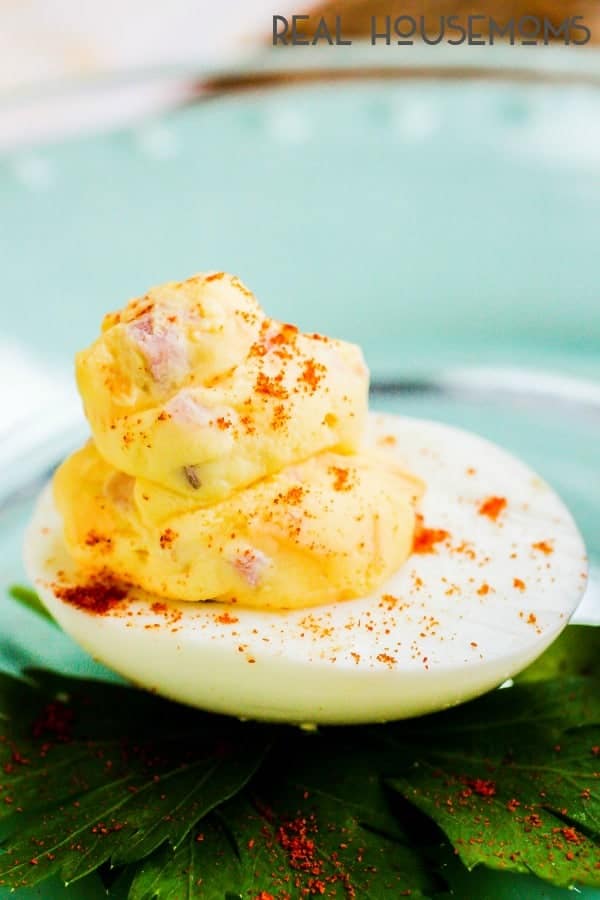 Mississippi Sin Deviled Eggs. The name alone should make you want to check this recipe out. The combination of ingredients includes cream cheese, mayo, and even hot sauce. An odd combination but the taste is well worth giving it a try.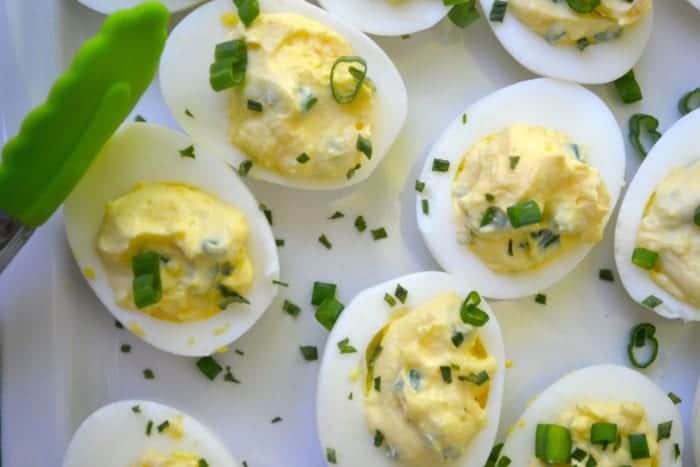 Sour Cream and Onion Deviled Eggs. This great recipe only has four ingredients, not including the eggs. Not to mention that I am a big fan of sour cream and use it in every recipe that I possibly can. Also, this recipe looks just like a normal deviled egg so your guests will be quite surprised at the cool creamy taste.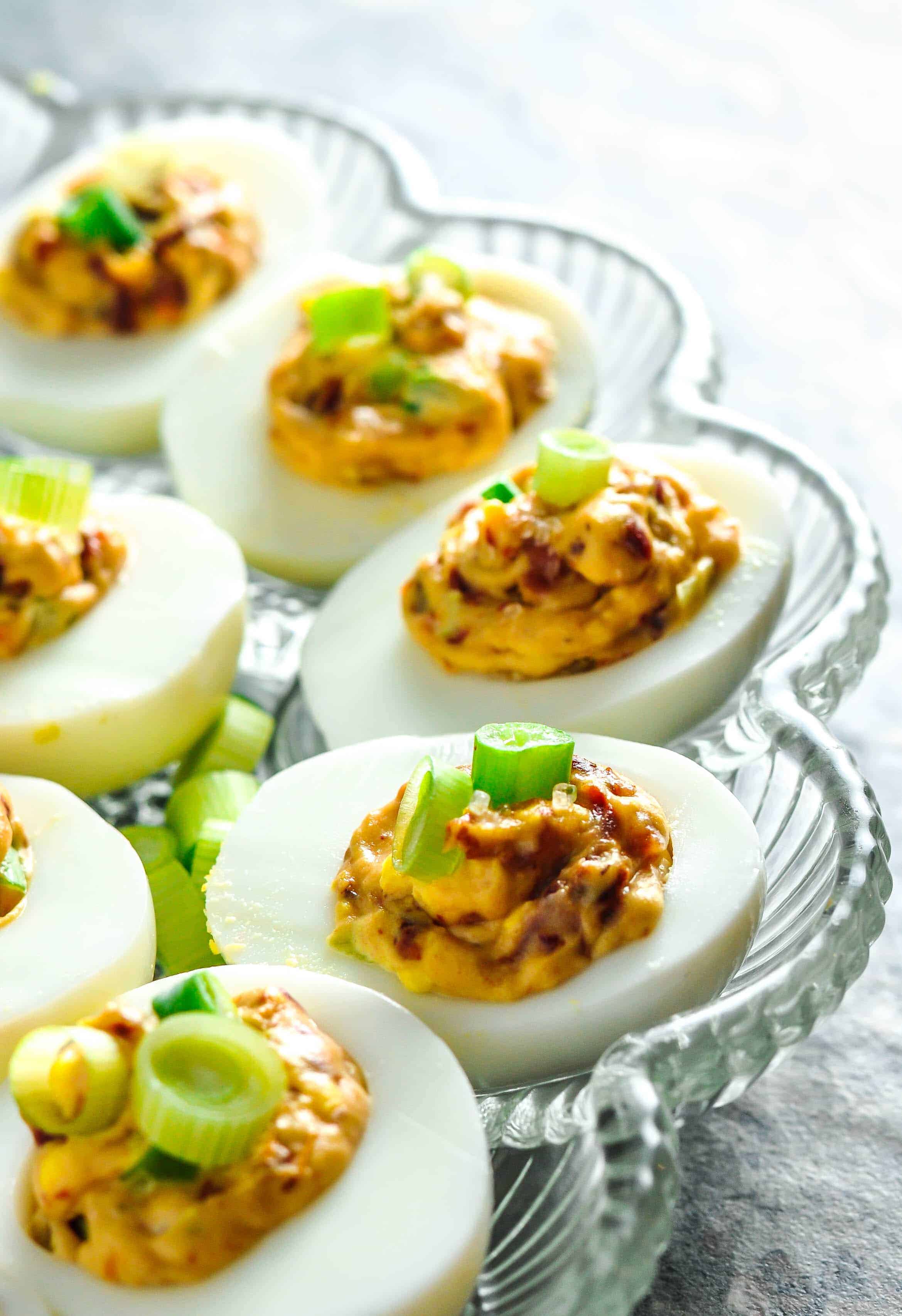 BLT Deviled Egg Recipe. BLT's are one of the most liked sandwiches ever. Combine those great ingredients with a good deviled egg recipe and you have this tasty appetizer. Perfect for that summer BBQ or Easter side dish.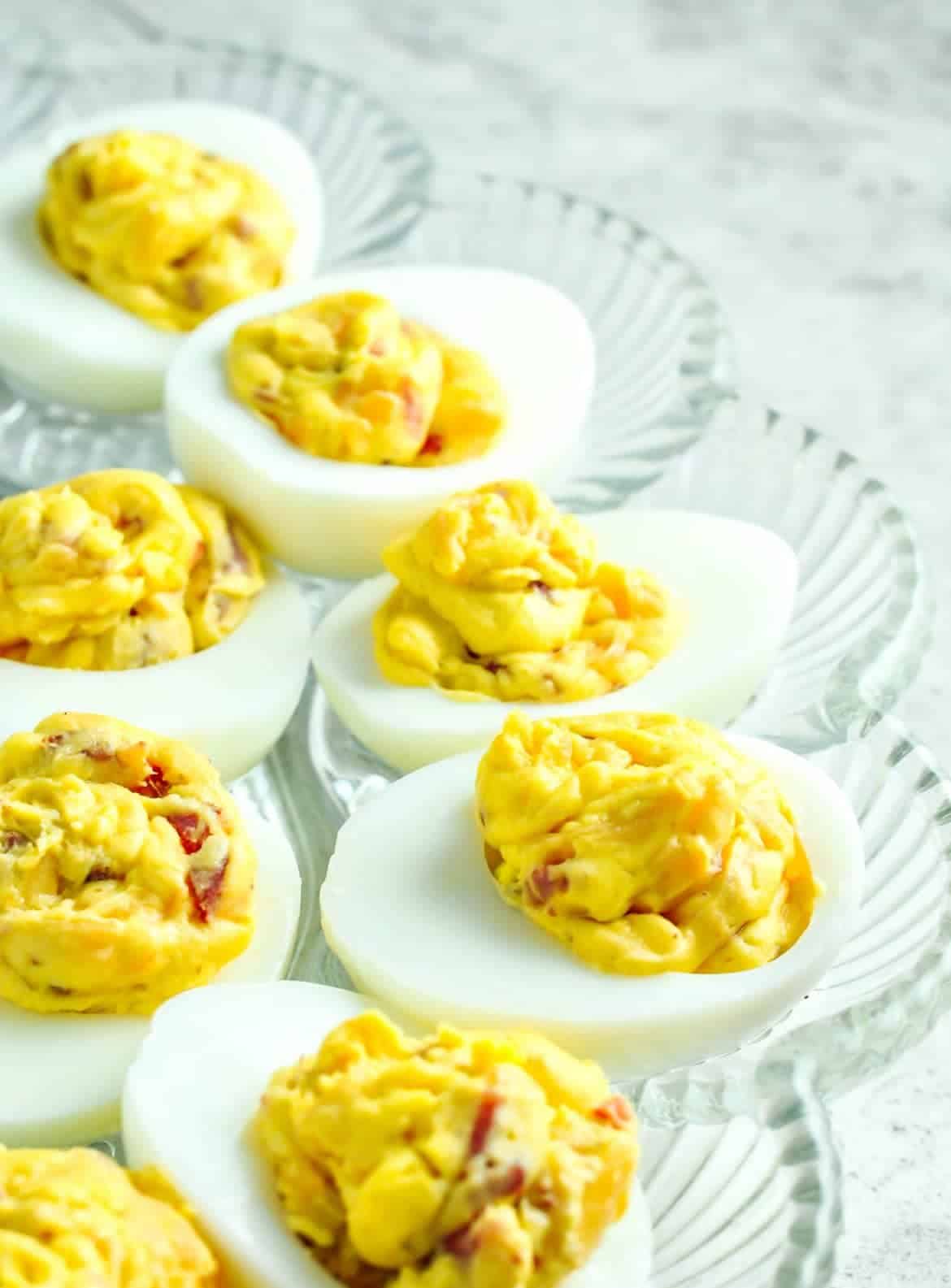 Bacon Cheddar Deviled Egg. Bacon makes everything better. It just does. Therefore, you add it to deviled eggs and include a little cheese and you have a very tasty version of the original deviled egg. Any time this recipe is brought to a work pot-luck, the eggs are gone immediately. I can't make enough.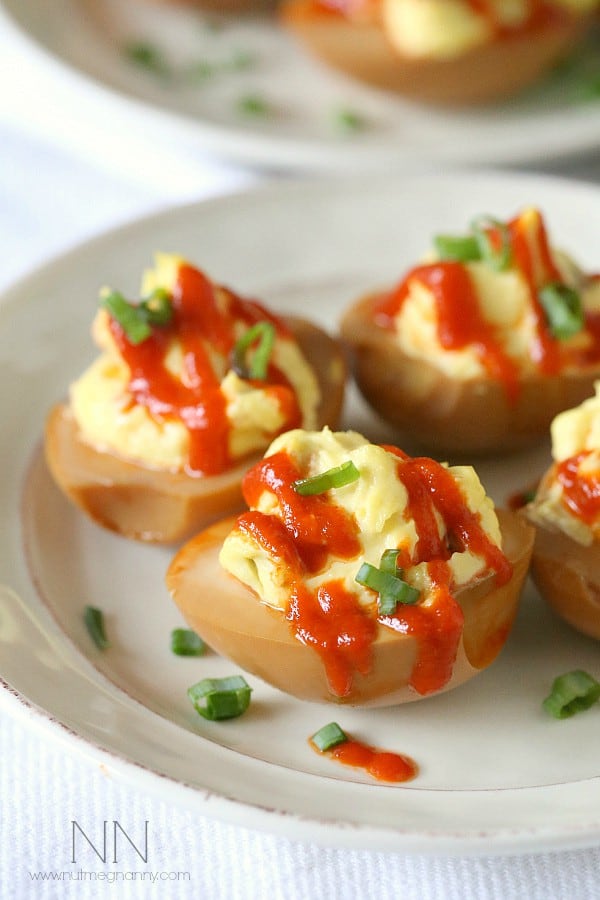 Soy Sriracha Deviled Eggs. Now, this is a unique recipe. It is the only recipe that includes the egg and not just the stuffing on top of the egg. Topped with sriracha and soaked in soy, guests will love the unique look of this deviled egg as well as the unique taste.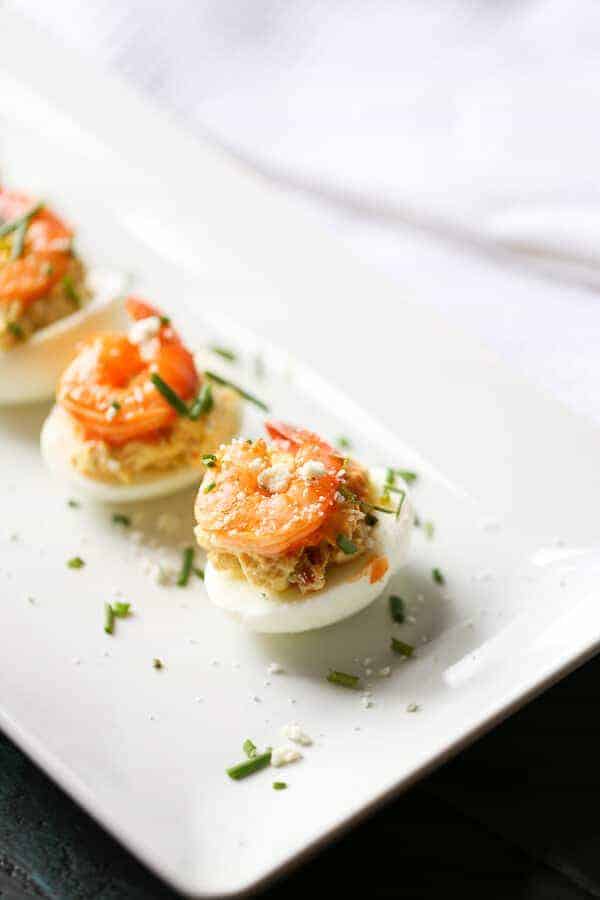 Buffalo Shrimp Deviled Eggs. Shrimp is a favorite among many.  A good shrimp appetizer is usually gone right away. So add some shrimp to a good deviled egg recipe and you have a new classic.  This recipe would work great for a nice brunch.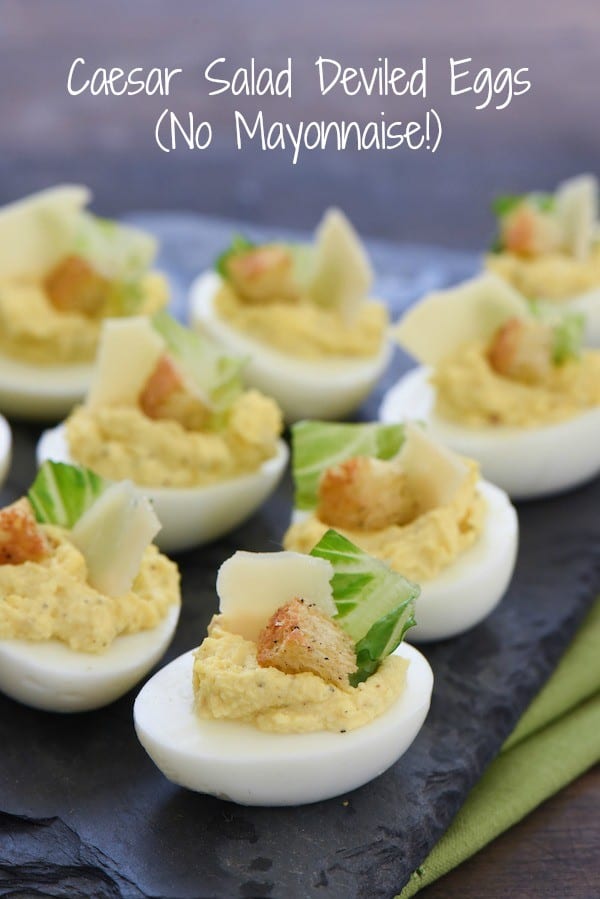 Caeser Salad Deviled Eggs. Here is another example of combining a classic recipe like a good Caesar salad with another like the deviled egg. Most people probably wouldn't think to combine a salad recipe with an egg recipe. But that's exactly what will stun your guests and have them asking for the recipe before they even try these. 
Looking for some good Easter side dishes?  Check out my post on the 20 best Easter Side Dishes you HAVE to try.