Looking for a weekend of music, art, entertainment, and amazing food? Throw in some great people-watching and a weekend in Nashville Tennesse needs to be at the top of your list!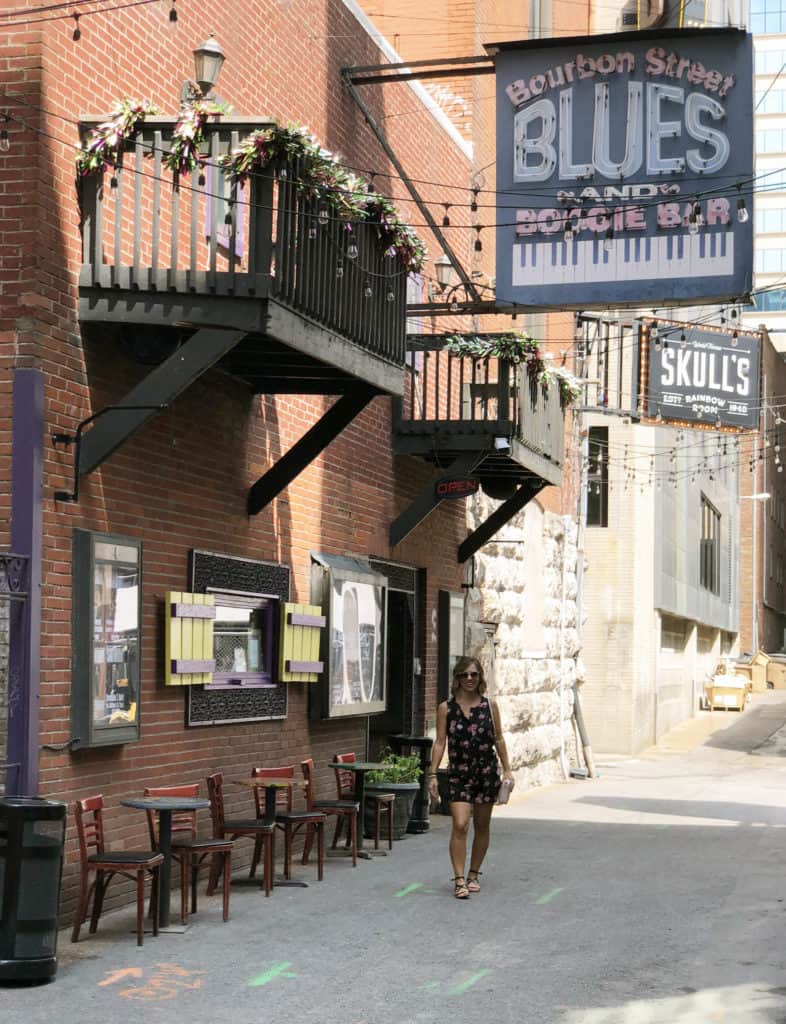 (Thanks to Jen at See Mama Travel for This Article!)
How to spend the perfect weekend in Nashville, Tennessee
Last weekend, we headed to Nashville for an adults-only weekend getaway. Nashville was never a city on the top of our bucket lists. Nonetheless, we had an opportunity to check it out and we never like to turn down the chance to explore a new city. Thank god we did!
A weekend in Nashville Tennessee ended up being greater than we ever expected. We are already planning our next (longer!) trip back to this fun city.
Nashville is a fun town that is filled with a plethora of things to do and see. We had very limited time so we decided to stick to the downtown area. That, and we didn't want to rent a car so everything we did had to be within walking distance!
If you are planning on staying downtown, do not waste your money on a rental car. We were able to easily walk around the entire city. Surprisingly we never made it more than a 5-block radius… there were just that many things to do!
We could have easily stayed for several more days but we had a great time in the 2 days we had in Nashville.
Downtown Nashville
To start off our trip, we got an amazing deal at a hotel right in the middle of downtown called the Noelle. The Noelle – Nashville is a historic building that has been thoroughly renovated yet has kept all of its historic and vintage charm. It was such an amazing experience, I couldn't imagine staying anywhere else. In my opinion, it has one of the best rooftop lounges in all of Nashville Tennessee.
You can read all about our stay at Noelle right here!
It was located right in the center of Printers Alley which is a very well known and historical part of Nashville. Hotel Noelle happens to be RIGHT downtown and the location served us perfectly. We were able to pop into our hotel easily throughout the day because it was right in the middle of all the action.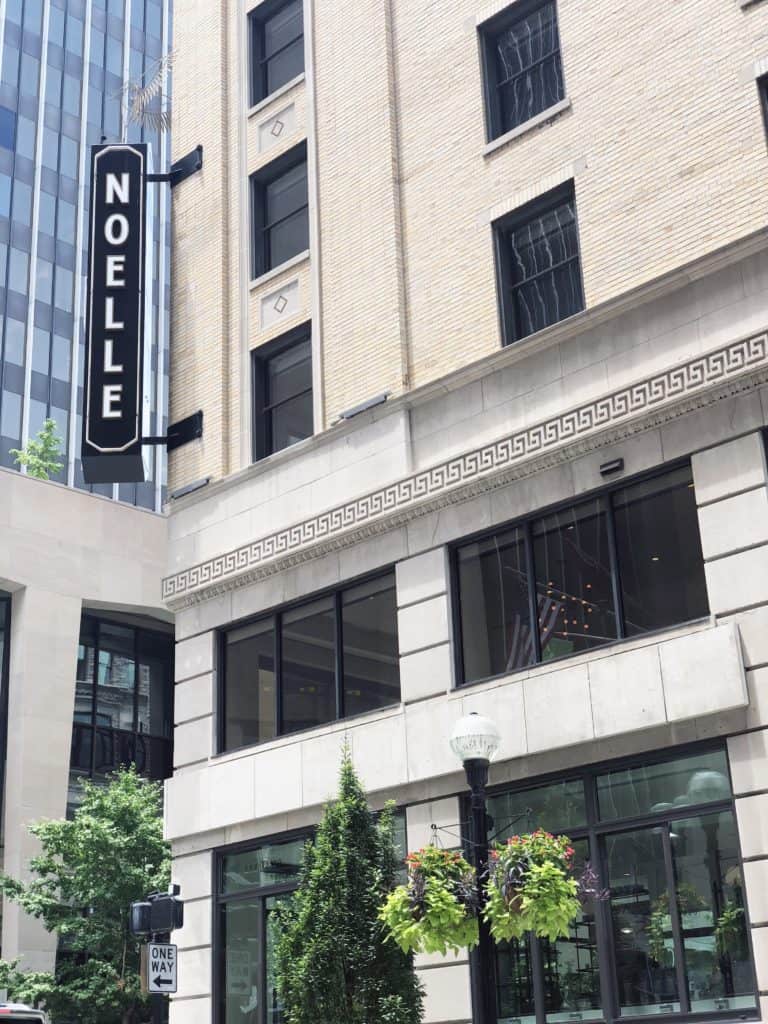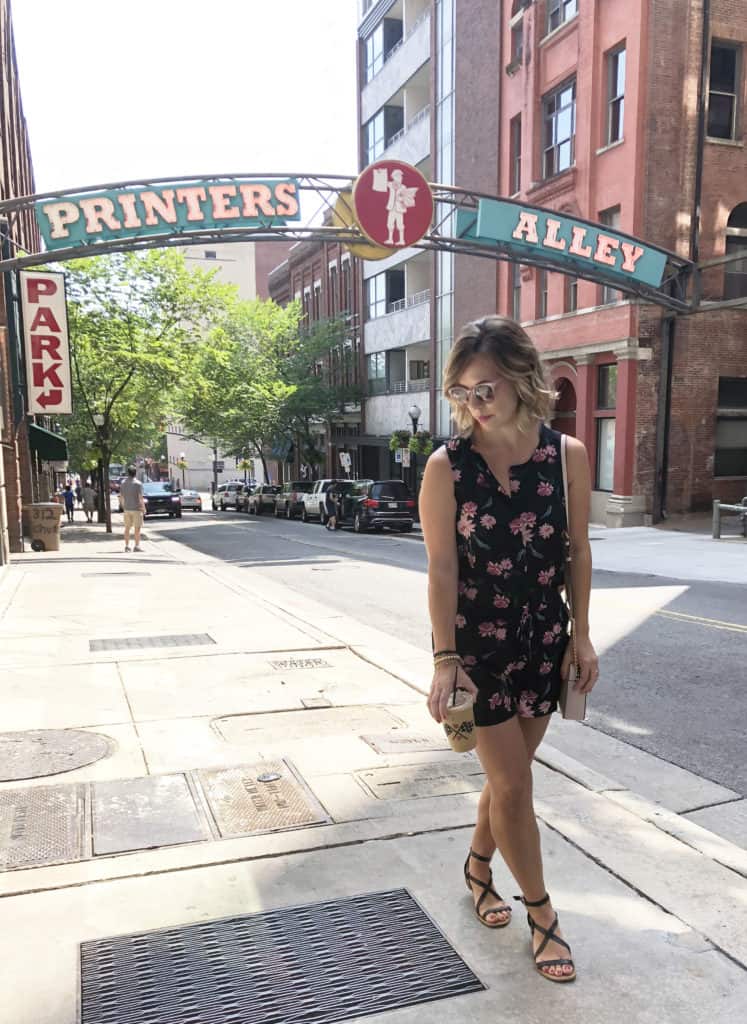 We started our first day with no plans but to walk around the city and just see what we see. It was easy to find places to stop for a quick drink, plenty of street art, and unique places for great photo opportunities.
Nashville has plenty of places to drink
One of the first places we stumbled across was the Beer Seller. Don't blink or you'll miss it! It's a small entrance to a very old building that required us to almost duck our heads to even get to. If you are a beer fan, this place is a must stop for a drink.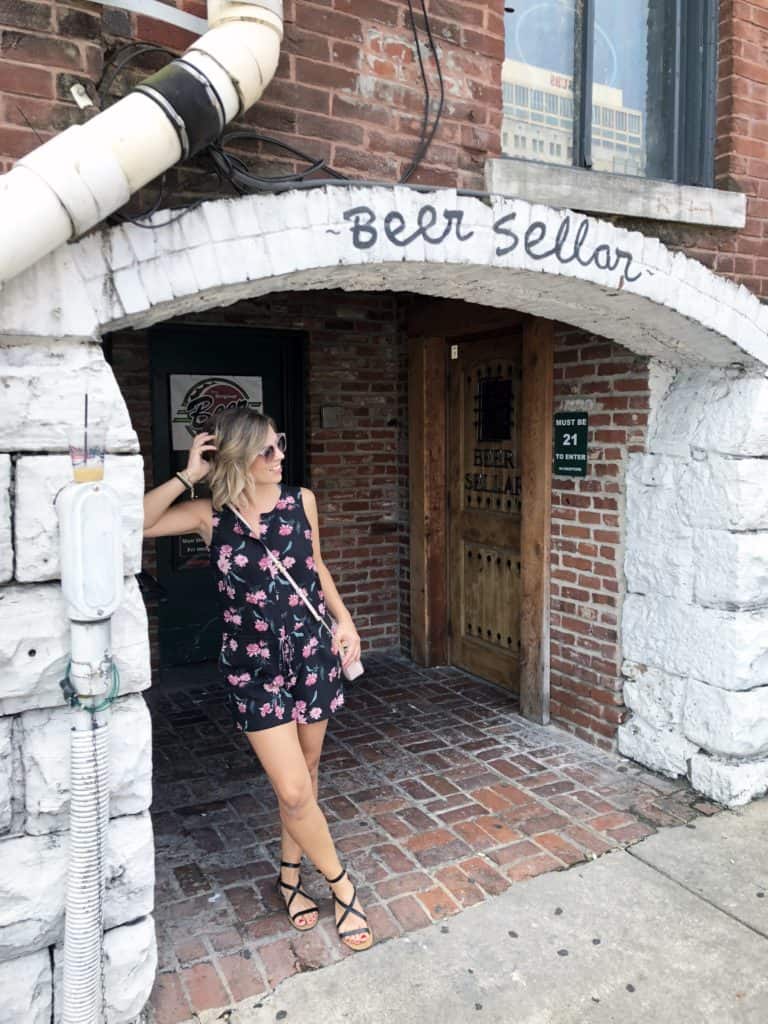 Another thing we quickly learned about Nashville is that they have rooftop bars on almost every building, and every one of them offers a great view of downtown Nashville, the river, and the new Titans Stadium.
We spent the early afternoon visiting one rooftop and after another. It was advised that anytime before 8 pm would be easy to get seating but after that and most places would be packed. This was great advice I'm glad we listened to!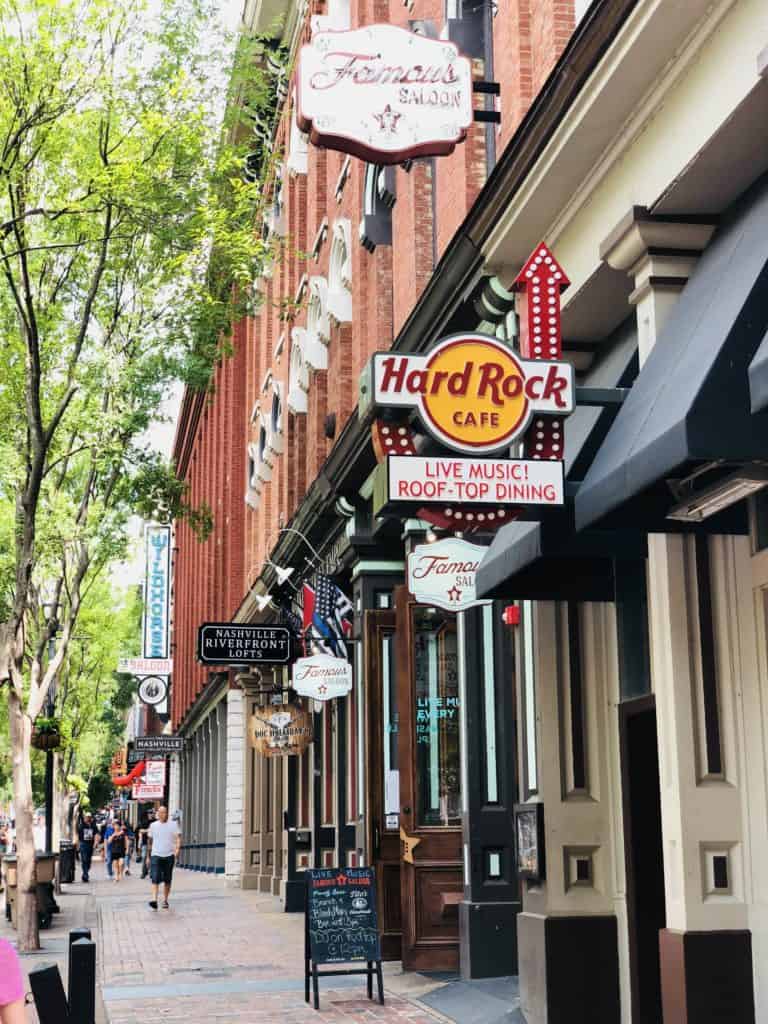 As we walked around downtown Nashville shortly after noon, we easily went from bar to bar and were able to enjoy a quick drink at several places. The Famous Saloon had a great variety of mixed drinks and a killer view.
One of my personal favorites was the Wildhorse Saloon right along 2nd Ave. They have live music playing throughout the day so you can stop by anytime. We intended to have a drink and continue of but the menu looked amazing and I was talked into the BEST drink I've ever had before… A Margarita made with Moonshine.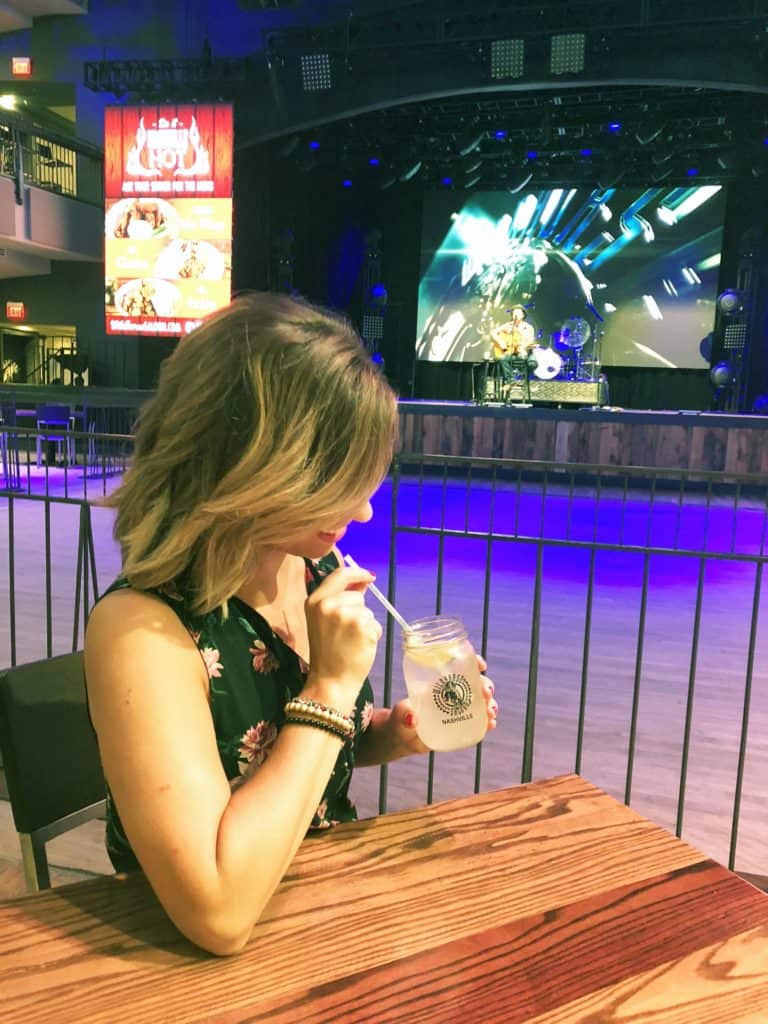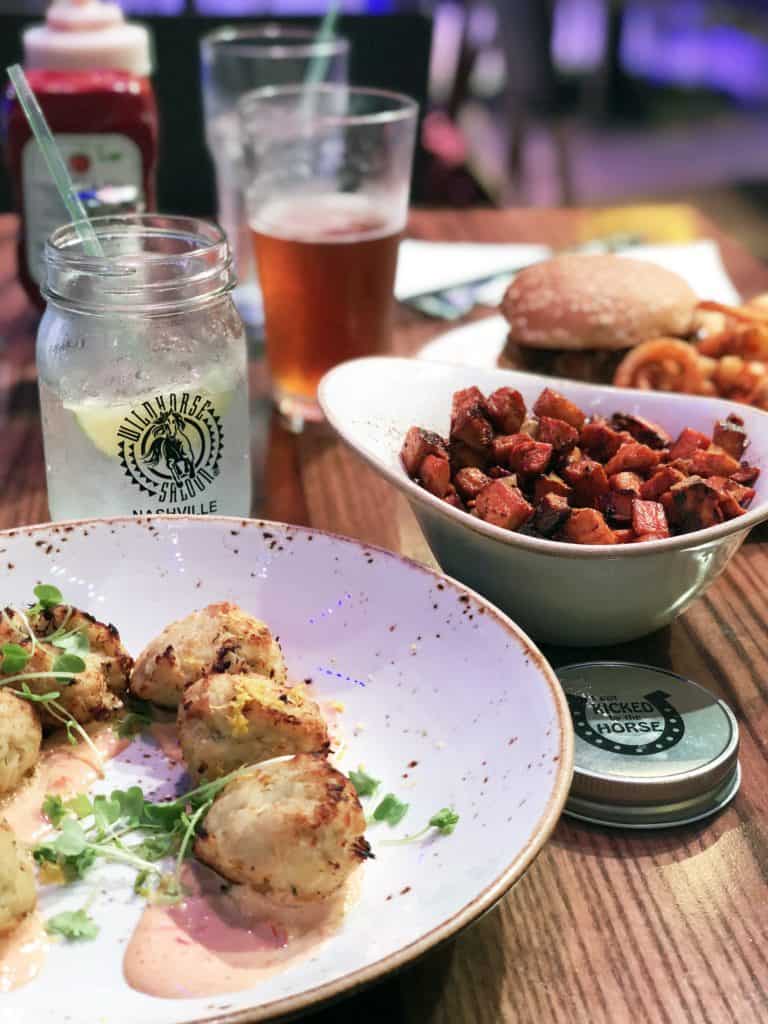 If you happen to visit the Wildhorse Saloon, enjoy the crab cakes and the sweet potato hash… you won't regret it. And stay a little while for one of their free line dancing lessons that they offer throughout the day.
Downtown Nashville Riverfront Park
A unique historical site, the Cumberland River is where the first settlers came to Nashville. The city has done an incredible job of keeping the historic charm along the riverfront with a replica of the first settlement built.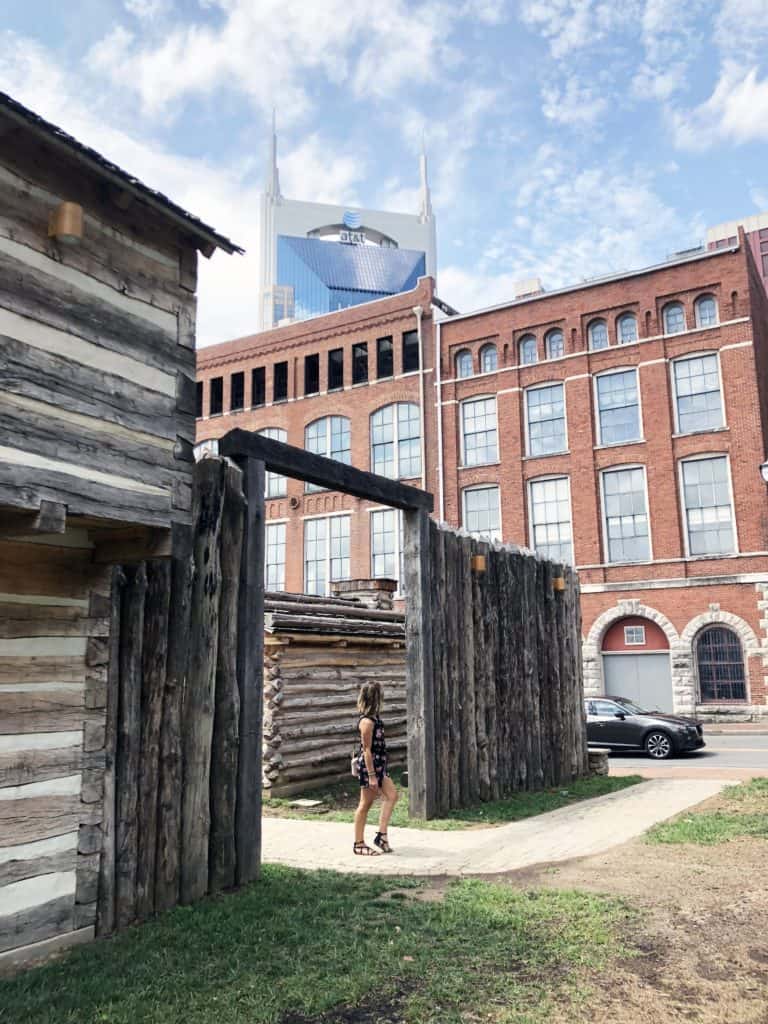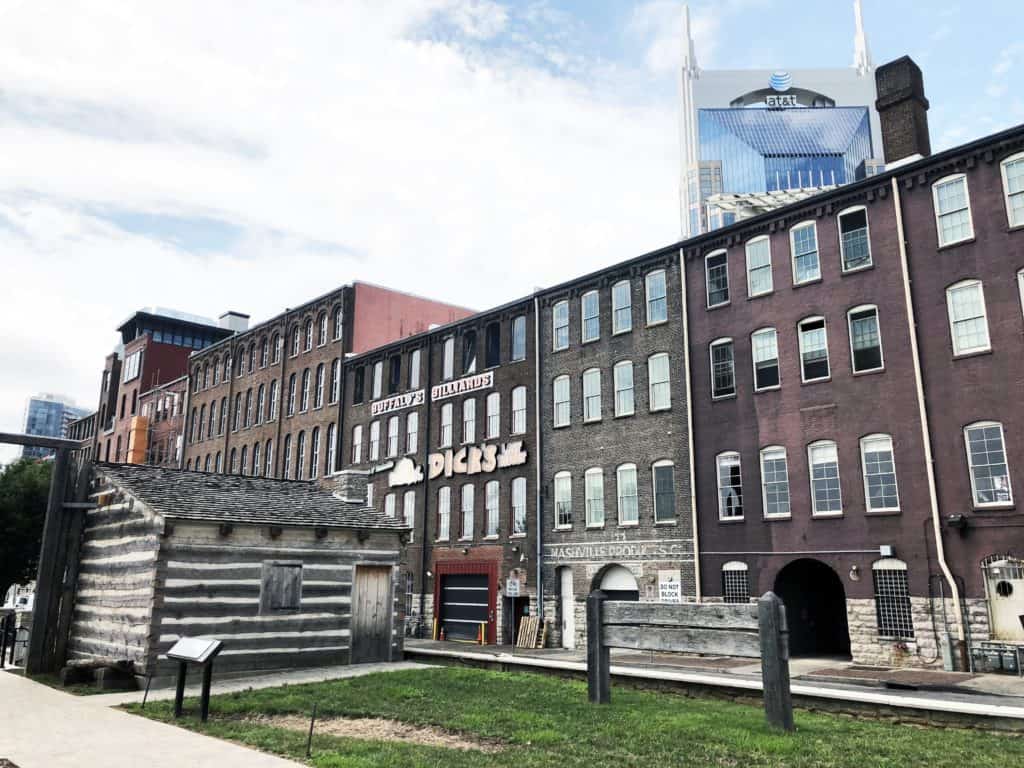 You can walk around this large grassy park with the river on one side (and a close up of the new Tennessee Titan Stadium) with the entire cityscape on your other side. It's the perfect place to take a leisurely stroll and take in some of Nashville's history.
You can take a pedestrian walkway over the river to access the stadium. Across the river, you will also find kayaks and canoes to rent if you have some time to float along the beautiful river.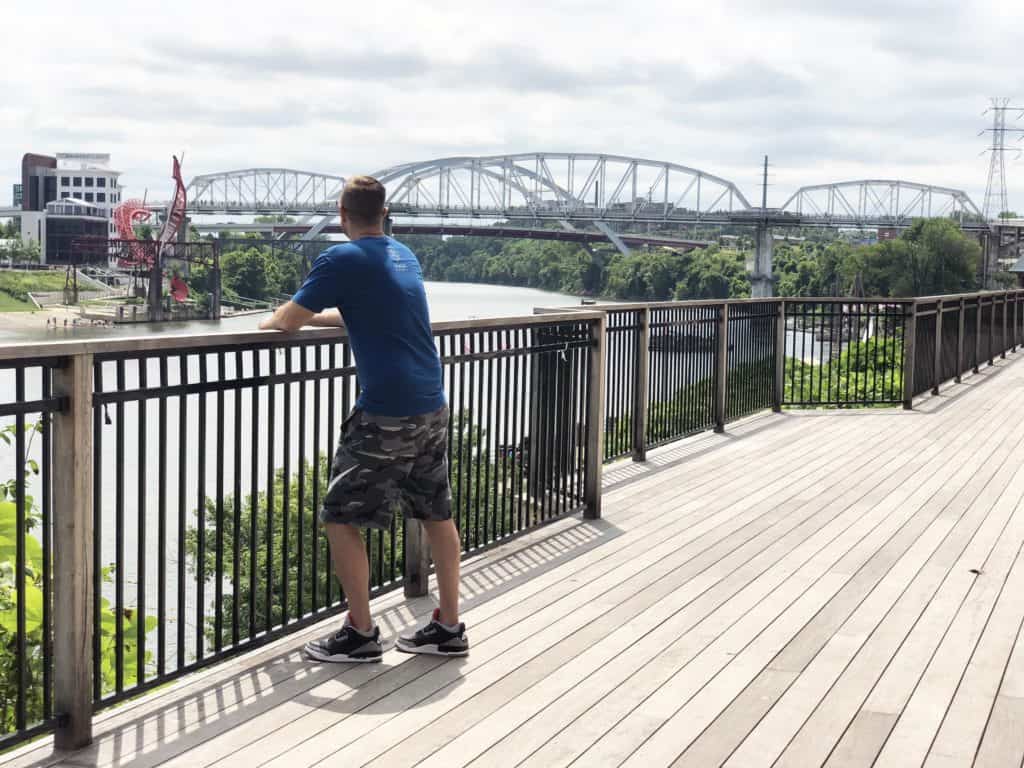 SItes around downtown Nashville
It's important to take a little time between all those drinks (especially the moonshine margarita!) and Nashville is not short of parks and places to stroll around. Another great park we happened to walk by was the Music City Walk of Fame Park. This seems to be a great place to hang out and soak in the sun, but it is also lined with country music legends.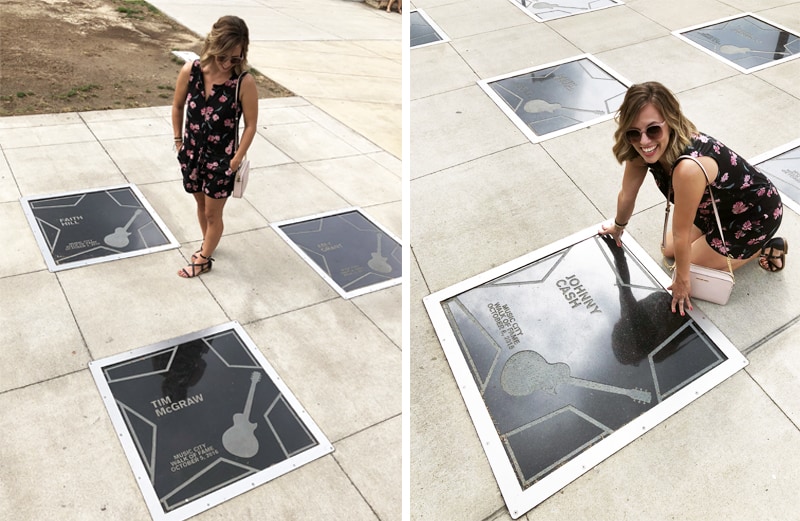 Across the street from that was the Nashville Symphony Building that has beautiful sculptures and landscaping. One of my favorite aspects of downtown Nashville is that you could walk for blocks and never spend a dime, but just take in the scenery and the historic sites.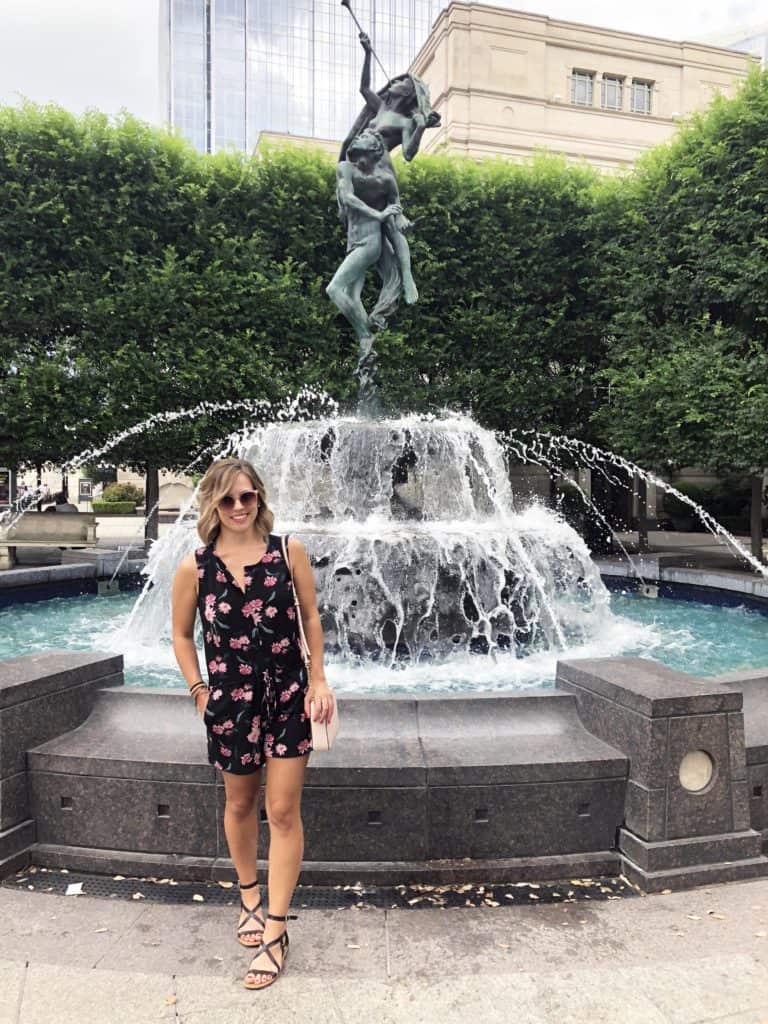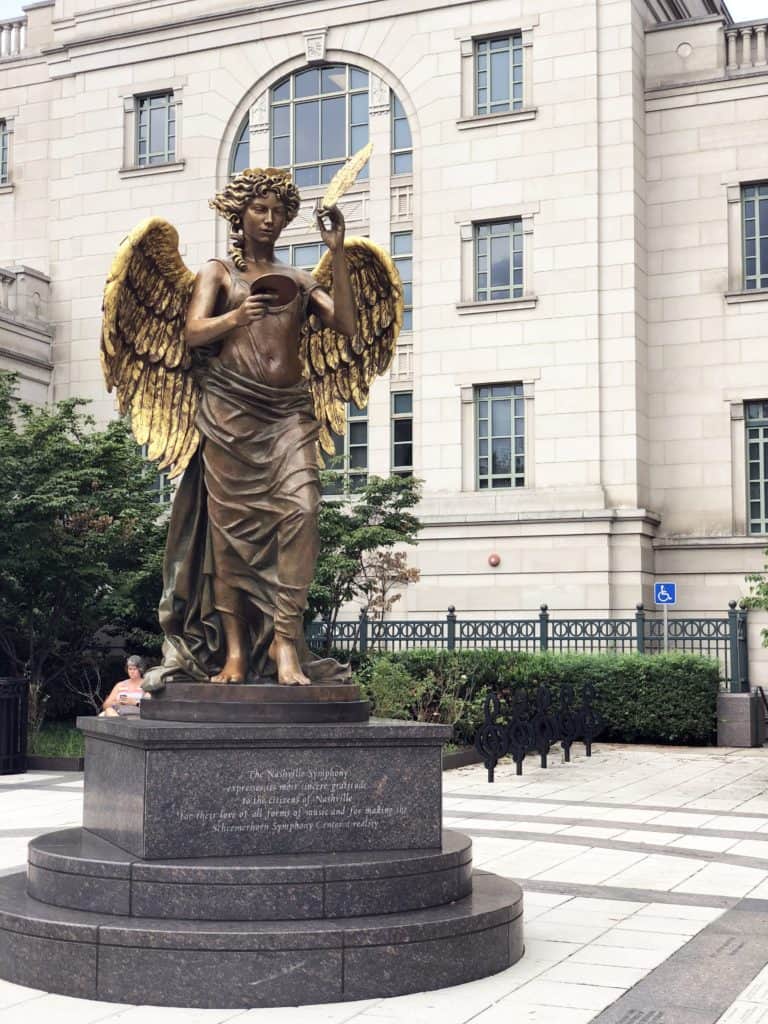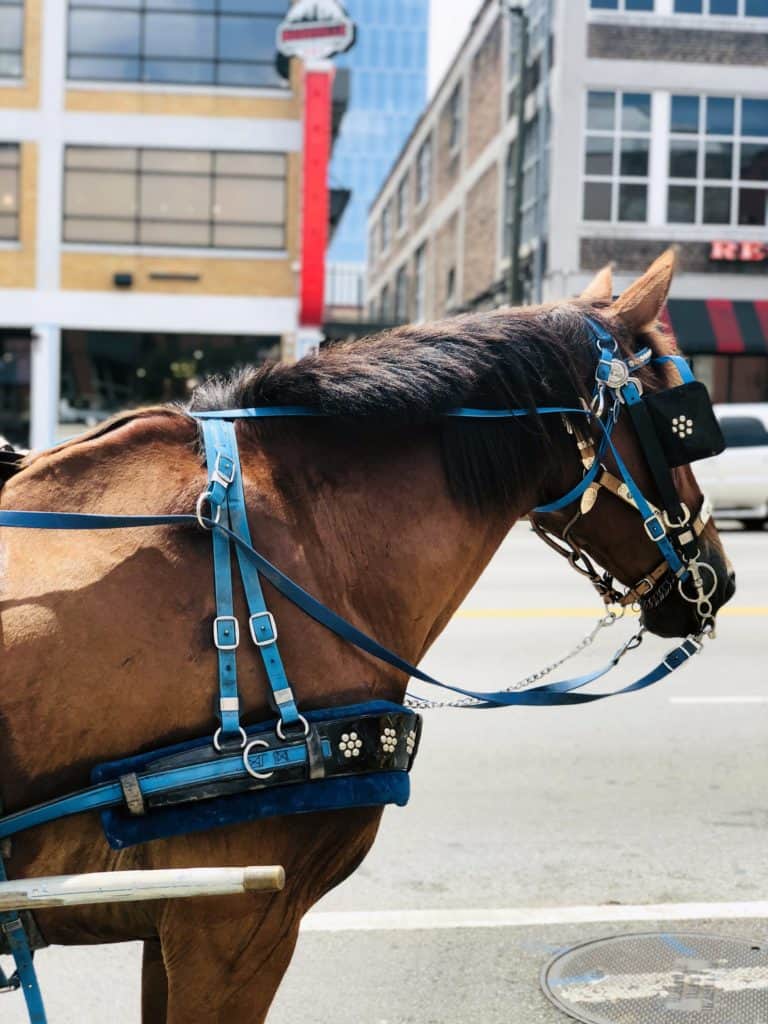 However, there is plenty of great shopping all along the streets downtown. So you can easily pick up a fun and cheap souvenir or a classic vintage music tee.
don't miss places around Nashville
Our Lyft driver told us to make sure we checked out Tootsie's Orchid Lounge, a super famous place around Nashville know for hosting country stars before they were famous. Read all about Hattie Louise "Tootsie" Bess before you go to learn the fun history of this building. You haven't been to Nashville if you don't take a photo of yourself at the bright orchid building!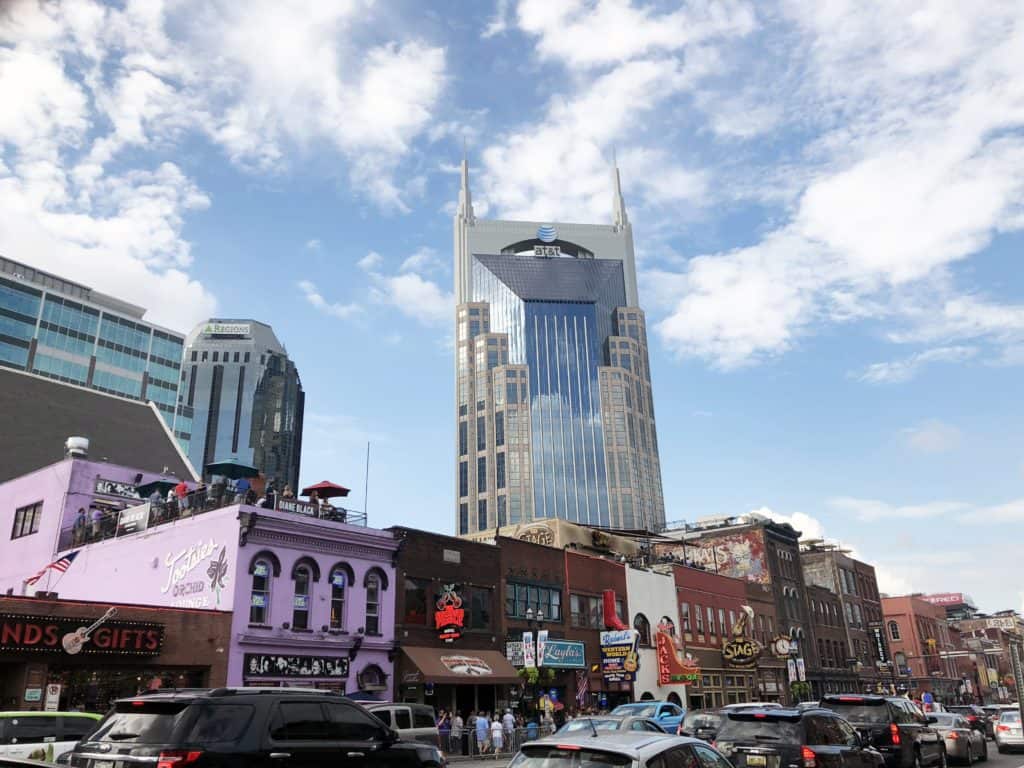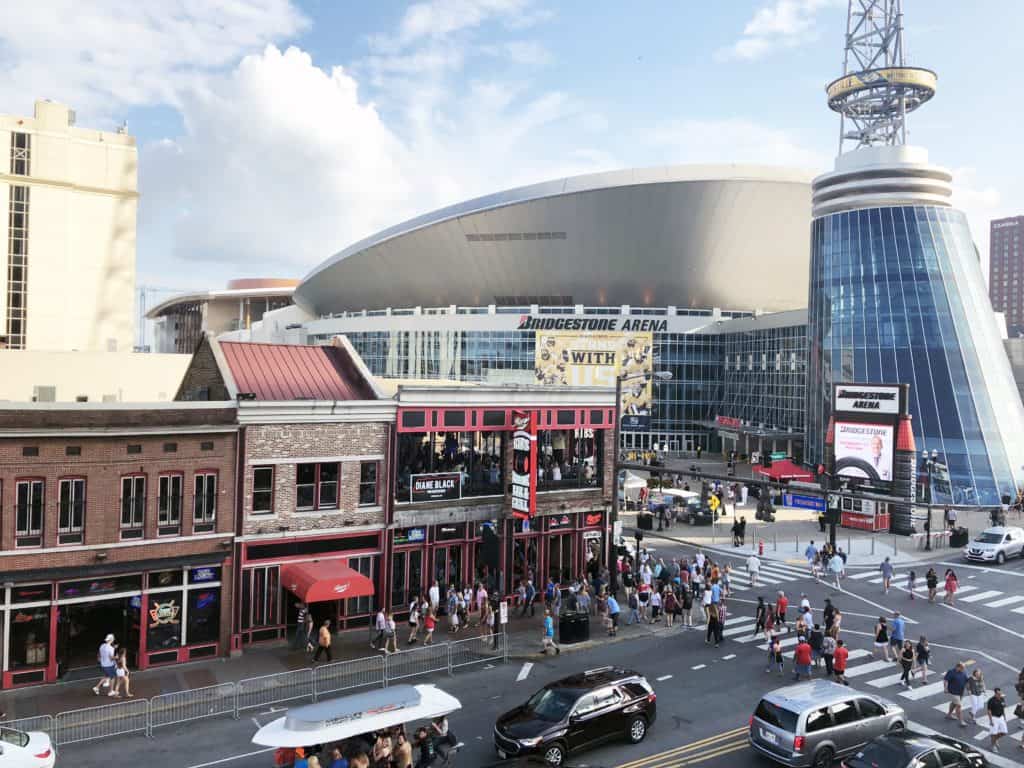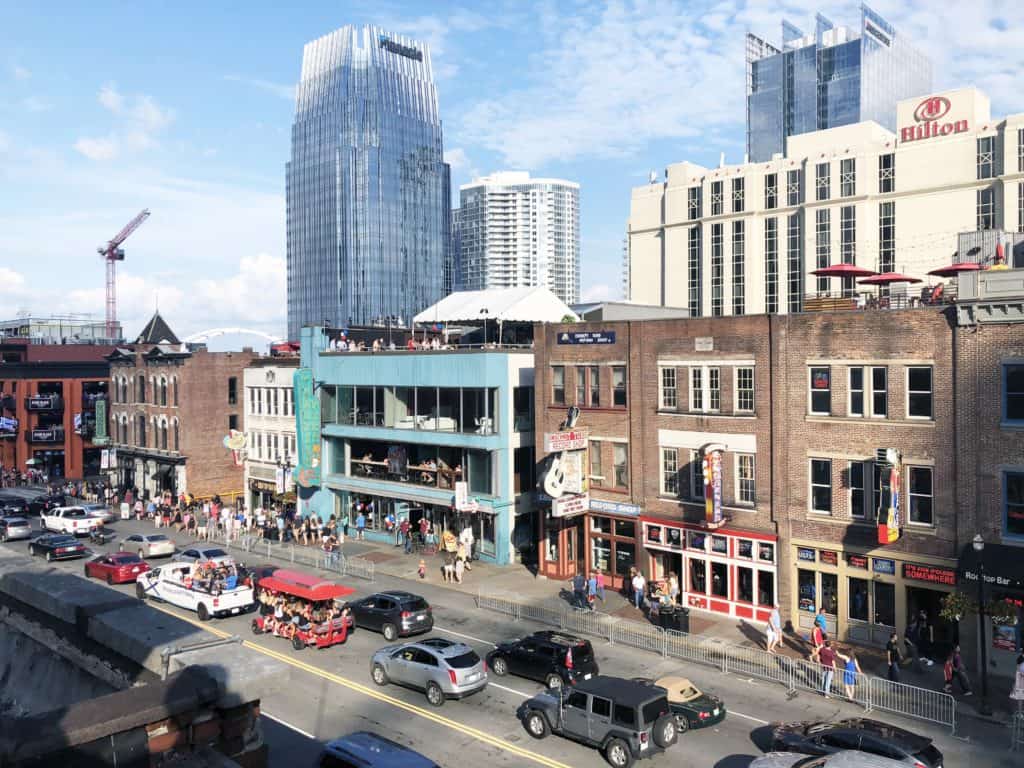 Hattie B's Hot Chicken is a Nashville treasure and we were sorry we missed it but it is definitely on our list of places to eat the next time we visit Nashville. If you have a chance, check it out!
George Jones is one of the biggest and best rooftops you can find in Nashville and offers live music throughout the day. Grab a drink, have a bite to eat and even dance along to the live band. You can also visit the museum on the main level to learn a little more Nashville History. And of course of George Jones himself.
Check out a list of the greatest bars and rooftops Nashville has to offer right here!
The best nightlife
If you are looking for a big crowd, tons of fun, and loud music… then Broadway street is the place to be! The street becomes packed in the early evenings and just walking down the sidewalk can be tough. But it is 100 percent worth it for the crowd-viewing itself!
Cheesy souvenir shops, vintage record stores, and bars bars bars line this packed street. You do not need to walk far to find something new to see, or another new drink to try.
Recommendation: Don't bother trying to find a table once nightfall hits. If you only have limited time in the city, have a drink at each place and move on. No need to stay in one place all night when there are so many drinks… I mean places… you don't want to miss!
It would not be an official list if I didn't mention Coyote Ugly as a top nightlife spot in Nashville Tennessee. Having visited both the Chicago and the Las Vegas locations, I had high expectations. This classic bar was not a disappointment with a fun and boisterous crowd, and bartenders dancing on the bar tops. Don't feel like you need to be young and hip to venture here! Grab a place in the back and enjoy the show.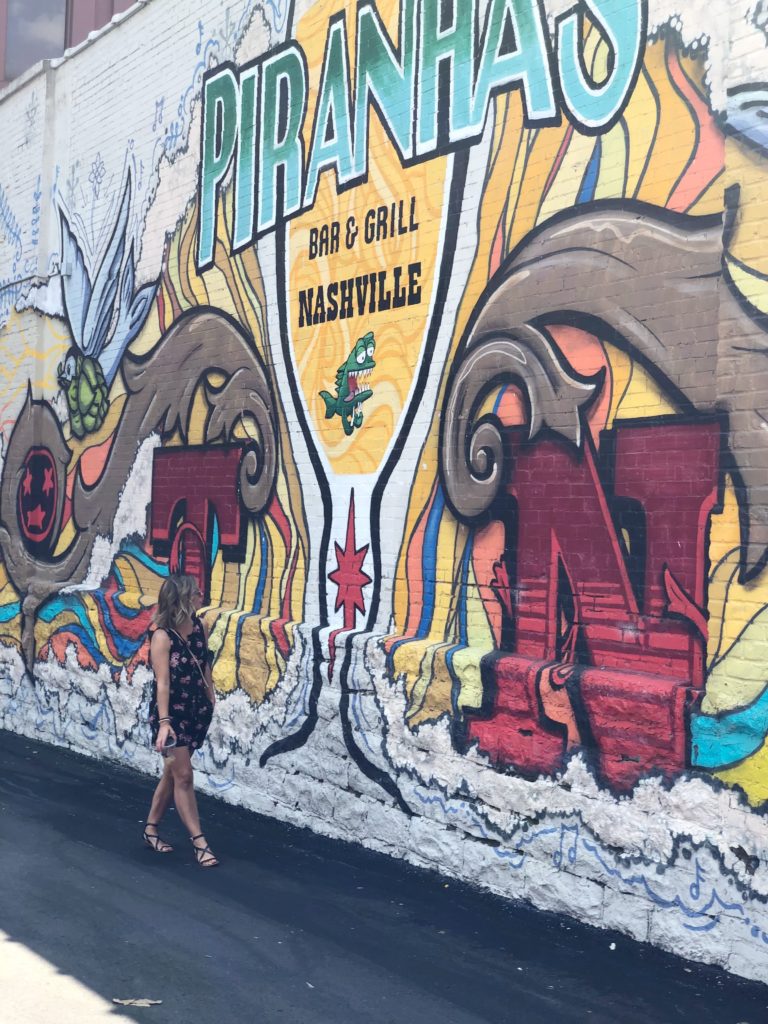 Visit Downtown Nashville
You don't need to be a country fan to visit Nashville. There is a variety of music everywhere including blues and rock 'n roll. It's nearly impossible to visit every music venue in one weekend. So another trip to this fun city it a must for us!
Because of the plethora of things to do and see in downtown Nashville, try not to make any big plans. Just spend your day walking around and going from place to place. Then you will see the best of the best and get a little taste of everything Nashville has to offer.
Enjoy your Trip!