Tired of a dirty house but cleaning and organizing it seems overwhelming? Get your entire home clean and fresh with this cleaning challenge!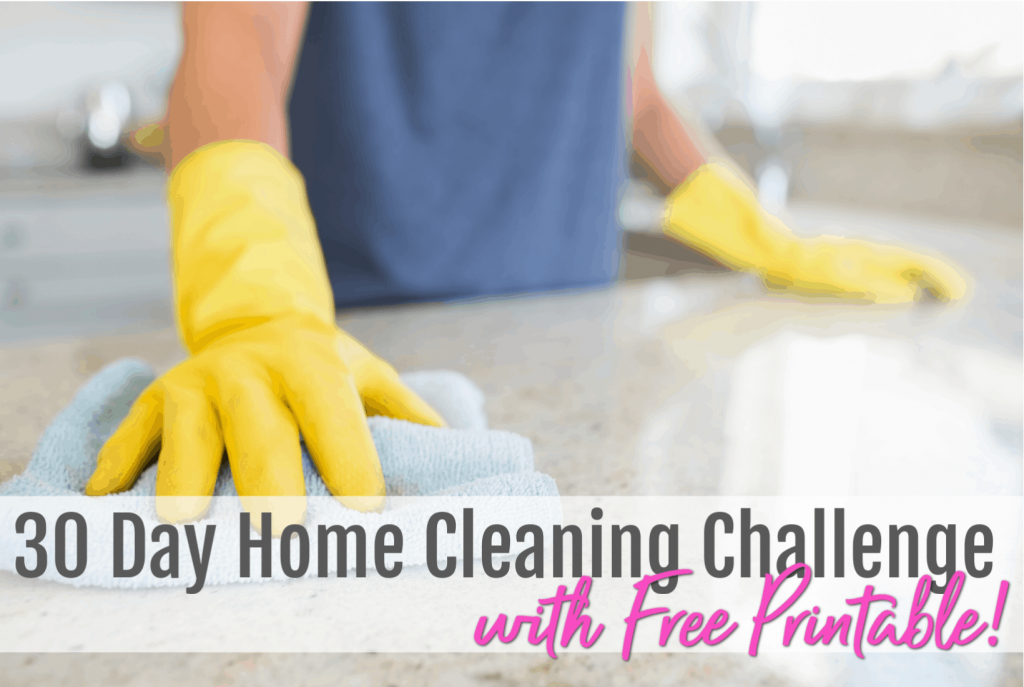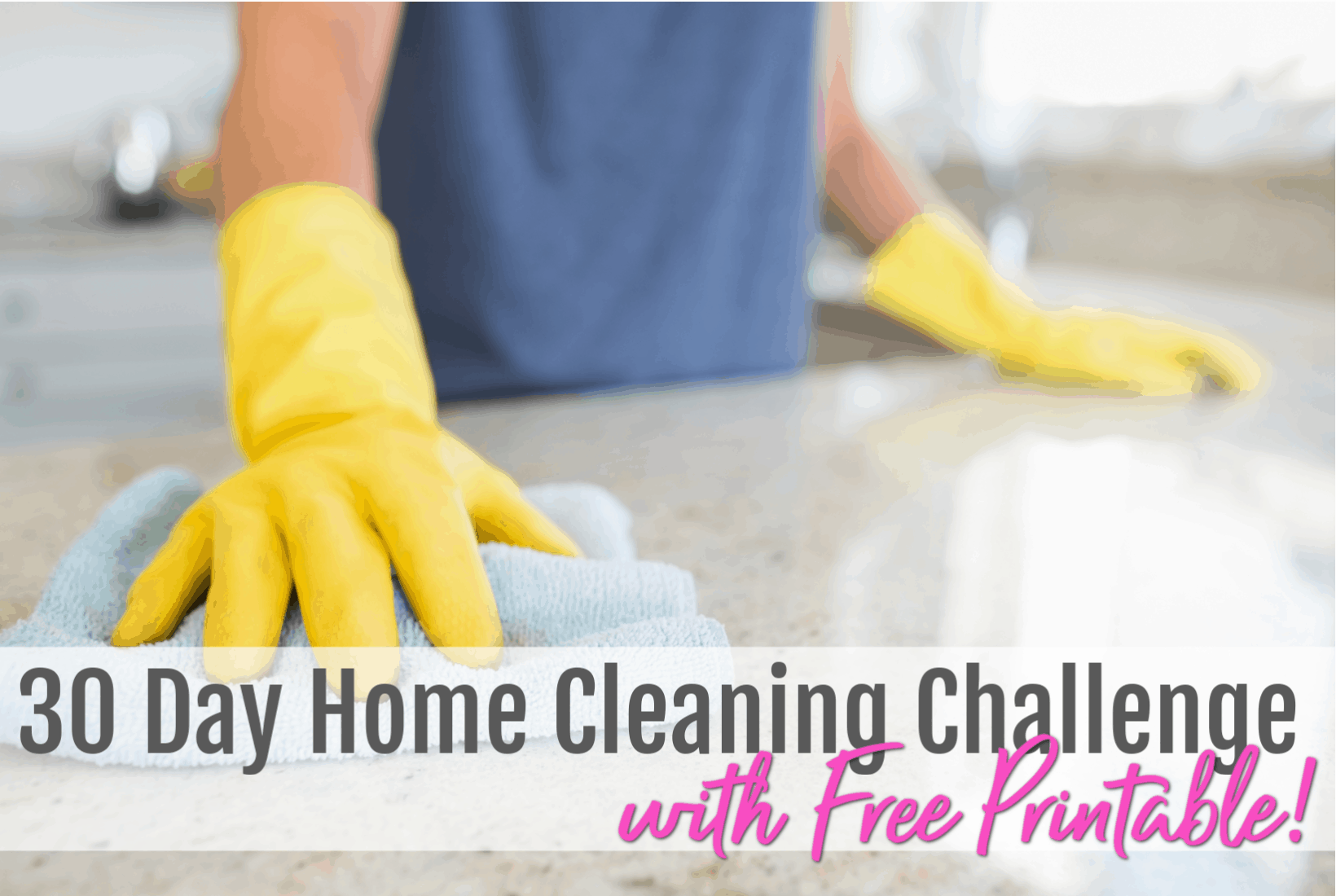 The 30-Day Home Cleaning Challenge
It's the dead of January right now, but the Spring isn't too far away. This is the time of year you start to think about Spring Cleaning.
We all have busy lives and finding time to deep clean your entire home can seam overwhelming. It doens't have to be.
With this easy to do 30-day challenge, you can transform your entire house by just committing a small amount of time to each task for 30 days in a row.
You don't need to dedicate endless hours. And you don't need to give up entire weekends to get your home clean and orgnazied.
This 30-day Home Cleaning Challenge is designed to guide and motivate you to take control of your home once and for all?
Sound good? Let's get started! Download your FREE Home Cleaning Calendar here to begin!
Where to Start When Deep Cleaning Your Home
More then likely, you clean your home several times a week. But every time you turn around, there is dust on every shelf, and items piled up on every surface.
How is it possible to clean your house every day and yet its still always a mess?
That's because most people just "surface clean" their homes. Meaning, you do the dishes, you put stuff away, wash clothes, vacuum, dust, etc. But you don't take time to really DEEP clean or thoroughly organize.
Cause ain't nobody got time for that!
(You might also be interested in Budget Friendly Cleaning Hacks)
Best Home Cleaning Products
Before we get started, lets make sure we have all the best cleaning products we can, to make the job easier!
Here are some of my favorites that making cleaning my home faster and easier. I swear by each of these!


*Mix the cleaning vinegar with the baking soda, and you have the ultimate (and cheapest!) home cleaner. Strong enough to get any stain out. I even use this combination to clean grout!
30-Day Home Cleaning Challenge FREE Printable Calendar
The first thing you want to do is GET ORGANIZED! Download my free 30-Day Home Cleaning Challenge Printable Calendar by clicking the form below…
HOW TO USE THE CALENDAR and START YOUR 30-Day Cleaning challenge
Once you have the calendar download, print it off and get yourself some cool colorful pens to fill it out.
Take a few minutes to create your list of what you need to tackle to get your home cleaned and organized. Every home is different, so you may have some things you want cleaned that arent as important to others.
I've included a list of certain tasks for each of the 30 days of this cleaning challenge. You can use it to guide your day by day. Or you can move tasks around, exclude some, or make up some of your own.
30 Days of Cleaning and Organizing
KITCHEN
DAY 1: STOVE AND OVEN. Take racks out of the oven and scrub them down. Wash the entire inside of your oven. If you have a glass cooktop, use some good cooktop cleaner to wipe it down and clean it up. Don't forget to clean the dials and sides too!
DAY 2: REFRIGERATOR. Take everything out of the fridge until its empty. Throw away anything expired or moldy or just not used anymore. Clean and wipe down all shelves and bins. Soak if you have to. Put back all food in neat stacks.
DAY 3: MICROWAVE AND SINK. Take rack out of the microwave. Microwave a wet sponge for about 30 seconds to make cleaning easier. Wipe down entire inside of the microwave. Deep clean sink and handles.
DAY 4: CUPBOARDS AND DRAWERS: Go through cupboards and organize dishes and cookware. Empty drawers and wipe them down on the inside, organize items as you put them away. Go through Tupperware, match to lids and throw away unmatched pieces!
DAY 5: PANTRY. Throw away old and expired food. Organize pantry by types of food, wipe down shelves.
DAY 6: KITCHEN COUNTERS. Clean clutter off counters. Wipe down counters. Clean items and containers displayed on the counter.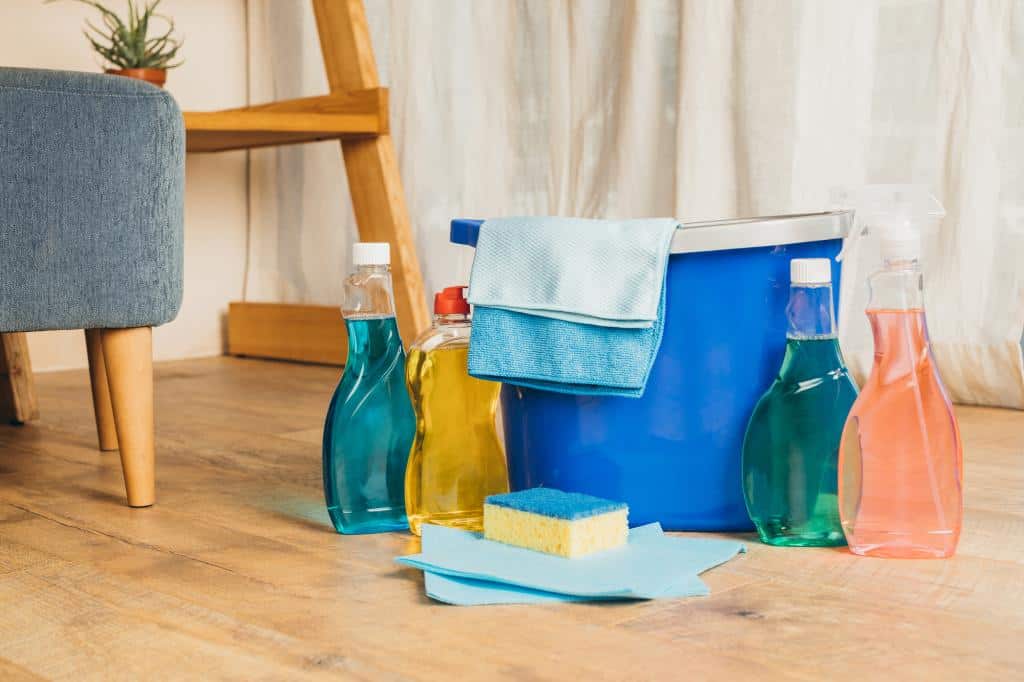 BATHROOMS
DAY 7: MASTER BATH: Empty drawers, wash them down, organize items as you put them away. Throw away unused products. Wash floor mats and towels.
DAY 8: GUEST BATHROOM(S). Empty cabinet and drawers, clean and wipe down, organize or toss products as you put them away. Stock toilet paper and towels.
DAY 9: TUB/TOILET/SINK/MIRRORS. Scrub each one down, throw away empty bottles.
BEDROOMS
DAY 10: MASTER CLOSET. Go through old clothes and shoes, donate or throw away. Organzie clothes in sections; tanks, short sleeves, long sleeves, outwear, etc. Nealty stack items on shelves.
DAY 11: MASTER DRESSERS AND NIGHTSTANDS. Go through the drawers and get rid of old clothes. Neatly fold and stack clothing items in drawers. Clear clutter from top, wipe down.
DAY 12: KIDS CLOSETS. Clean out old clothes that don't fit, organize hanging clothing. Go through books or toys on shelves, get cubes, label boxes.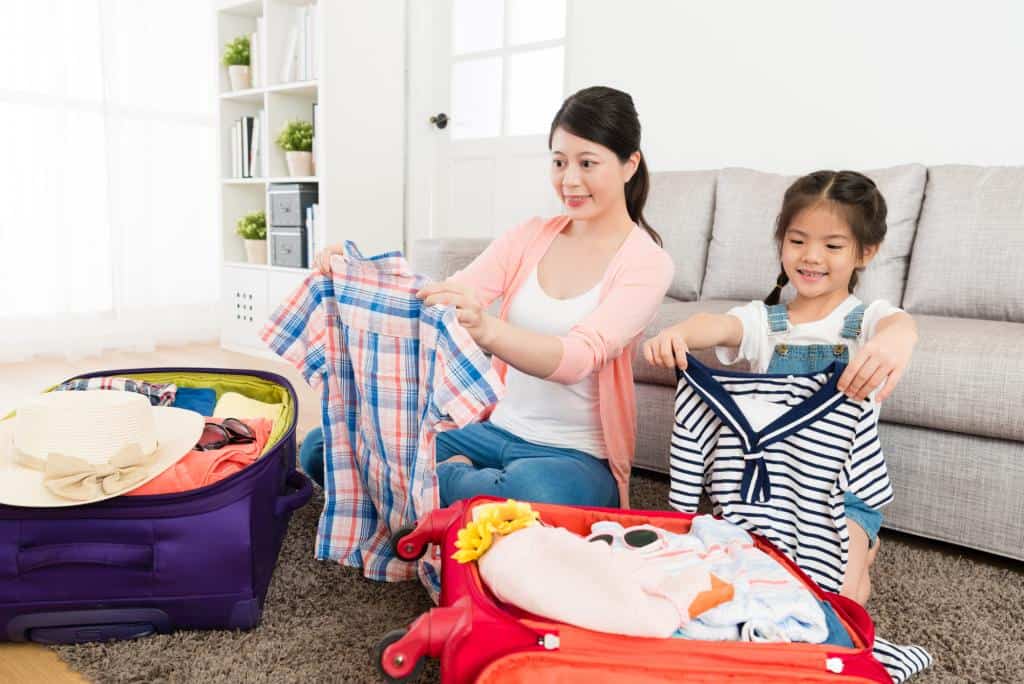 DAY 13: KIDS DRESSERS AND DRAWERS. Go through drawers and get rid of items that dont fit. Neatly fold and stack items in each drawer. Clear clutter off top, wipe down.
DAY 14: MATTRESSES AND LINENS. Flip mattresses, wash linens, bleach stains.
MAIN living areas
DAY 15: LIVING ROOM. Declutter, organize items, wash pillows and throws.
DAY 16: FAMILY ROOM/ENTERTAINMENT AREA. Dust Entertainment area, organize games, and videos, gaming consoles. Declutter end tables and coffee table.
DAY 17: FURNITURE. Vacuum couches, dust small tables, wash furniture covers.
DAY 18: PETS. Wash bedding and toys, deodorize sleeping area and blankets. Organize leashes and toys.
DAY 19: TRASH CANS. Empty all trash cans throughout house. Clean and wash down insides, get new cans if necessary.
DAY 20: OFFICE/PAPER CLUTTER. Declutter old mail, documents, files. Make boxes and folders to keep track of items.
DAY 21: FLOORS. Vacuum all rugs and carpet. Sweep and mope floors. Shampoo carpets and rugs, remove stains, deodorize.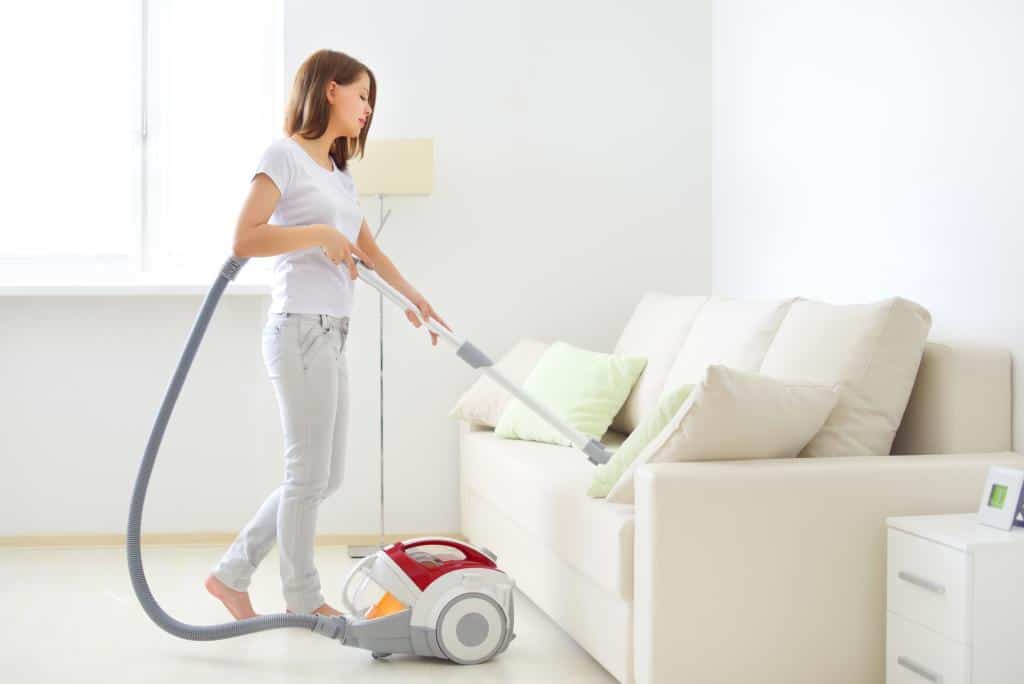 DAY 22: BLINDS AND CURTAINS. Take down curtains, wash and iron. Wipe down blinds and windosills.
DAY 23: COAT CLOSET. Remove all items, get rid of anything not used anymore. Put items back nealty and organized.
DAY 24: HALL/LINEN CLOSET. Wash linens, fold and put back. Get rid of stained or ripped towels (turn them into dust rags).
DAY 25: BASEBOARDS. Wipe down all baseboards through the house, use magic eraser.
DAY 26: LAUNDRY ROOM. Stock laundry and cleaning supplies. Wash down outside of washer/dryer, clean inside, clean out laundry vent.
DAY 27: WALLS/ LIGHT SWITCHES / PICTURES. Wipe down walls, and wash light switches. Clean picutres by dusting them or cleaning glass in frames.
DAY 28: TABLES AND CHAIRS. Wipe down all tables and chairs. don't miss the chair legs and seats, declutter items stacked on tables. Polish wood furniture.
DAY 29: WINDOWS. Clean all windows inside and outside.
DAY 30: FANS/VENTS. Wipe down all ceiling fans and vent, dust and vacuum dust chunks, replace air filters.
Cleaning challenge complete!
Good job! You did it! And you didn't have to give up your whole life to get it down. By breaking up each task into separate days, and having an actionable plan, you were able to deep clean your entire house in just 30 days.
Keep a couple extra copies of the blank calendar to do again. You can even give one to each family member and have them fill it out themselves on things they need to declutter or clean up.
Don't forget to print out a copy of your FREE 30-Day Cleaning Challenge Calendar that you can print out and fill in to help you stay on track with your cleaning plan!
And don't forget to follow along on PINTEREST for more great cleaning and organization tips for your home.
Pin for Later!