If you are looking for some amazing low carb breakfast recipes, then stop right here!
It's not hard to stick to a diet if you can just find the right recipes. When you think low carb breakfast, you think you'll be stuck to the same morning routine of eggs and bacon day after day. Don't get stuck in a rut of eating the same thing over and over again!
There are several alternatives to a low carb breakfast that includes more than just eggs. There are even several recipes that use eggs in new and different ways… like the cauliflower eggs benedict… YUM!
Take a look at all the absolutely mouthwatering low carb breakfast ideas that will make you want to start a diet even if you haven't yet!
Want to find other great low carb recipes? Try my delicious low carb desserts.
Looking for other ways to stick to your New Year's resolutions? Try these 20 simple tips.
Low Carb Breakfast Recipes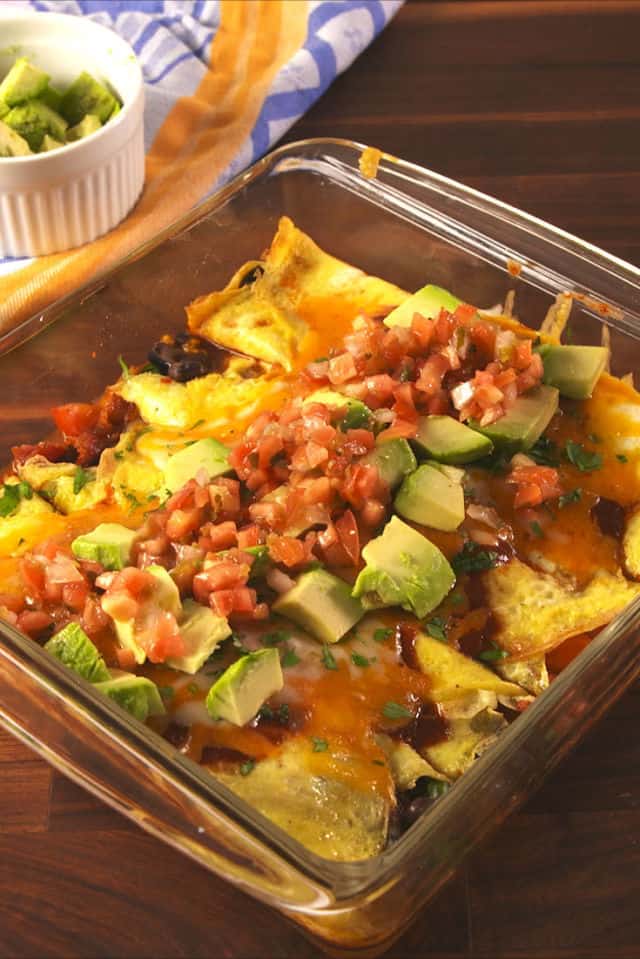 Low-Carb Breakfast Enchiladas. I'm starting this list with a savory dish that no one can resist. Filled with eggs, veggies, avocados, cheese and more. You will hardly know this is low carb, or keto, or even good for you at all.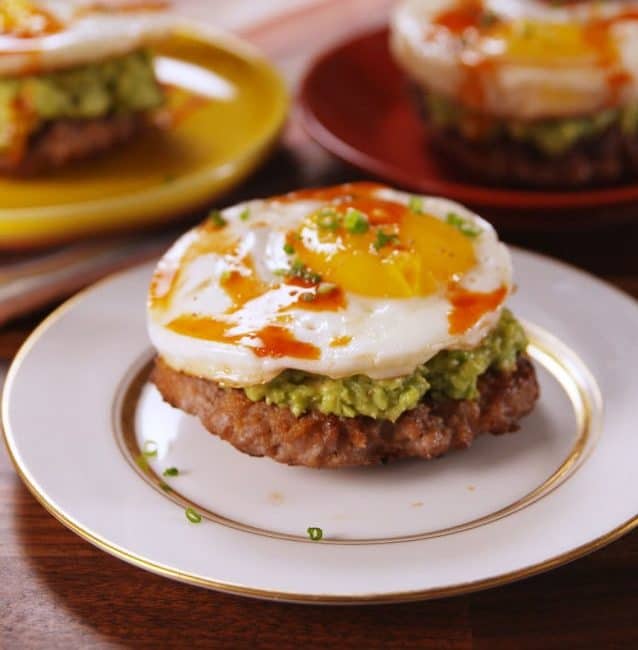 Paleo Breakfast Snacks. Ditch the bread and enjoy this breakfast stack with its layers of sausage, guacamole, and eggs. Add hot sauce to taste or leave it out.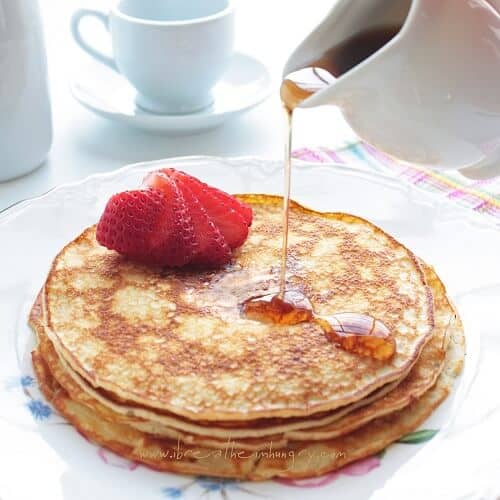 Cream Cheese Pancakes. Didn't know pancakes could be low carb? If you are looking for something other then an egg dish, try these amazing pancakes instead. Even better, they are made with ingredients you most likely have already.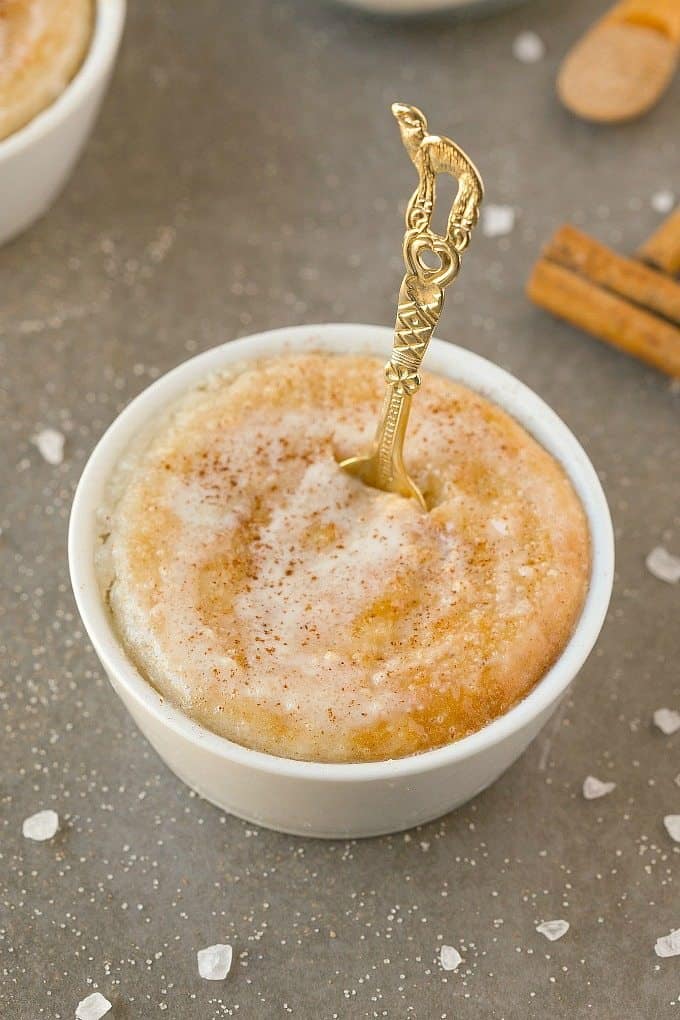 Healthy 1 minute Low Carb Cinnamon Roll Mug Cake. Gluten-free, vegan, paleo and sugar-free! Get the taste of a cinnamon and ready in less than a minute. This fun low carb breakfast is also packed with protein.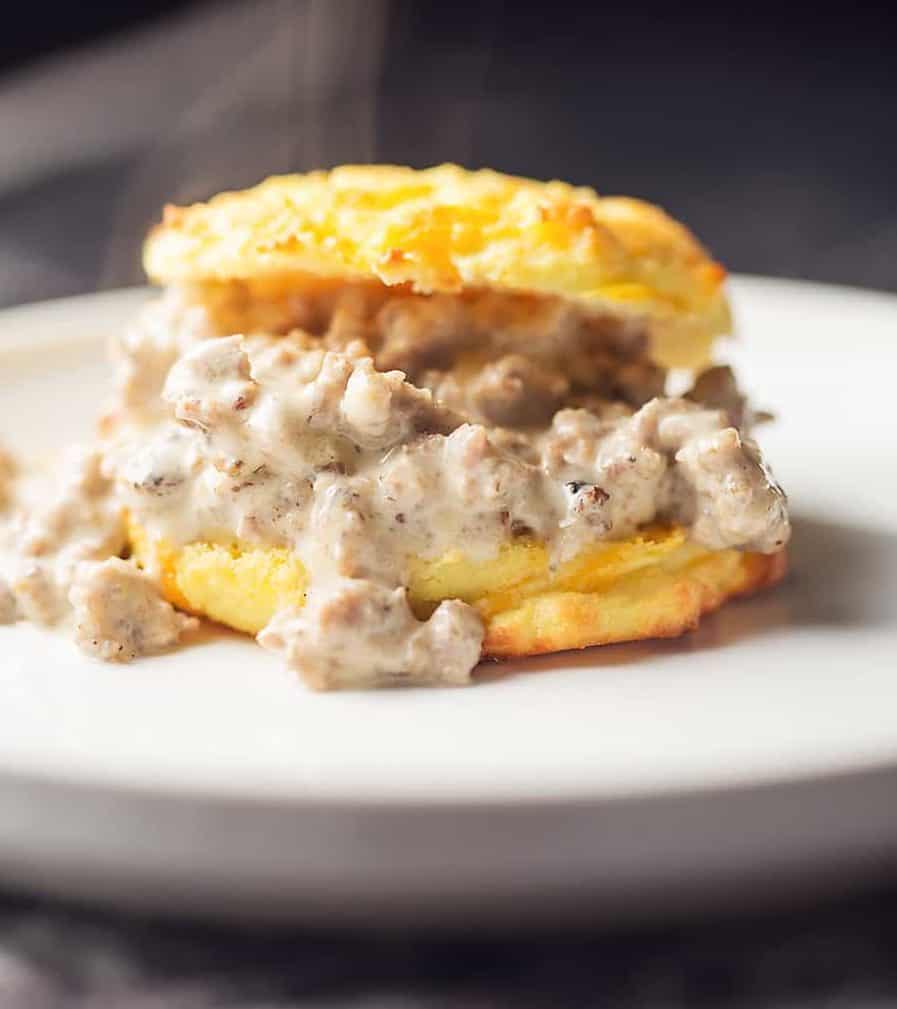 Low Carb Biscuits and Gravy. This easy to make low carb cheddar biscuit is made with gluten-free sausage and gravy. It will appeal to the southern taste in you and give you a little more variety for your low carb breakfast choices.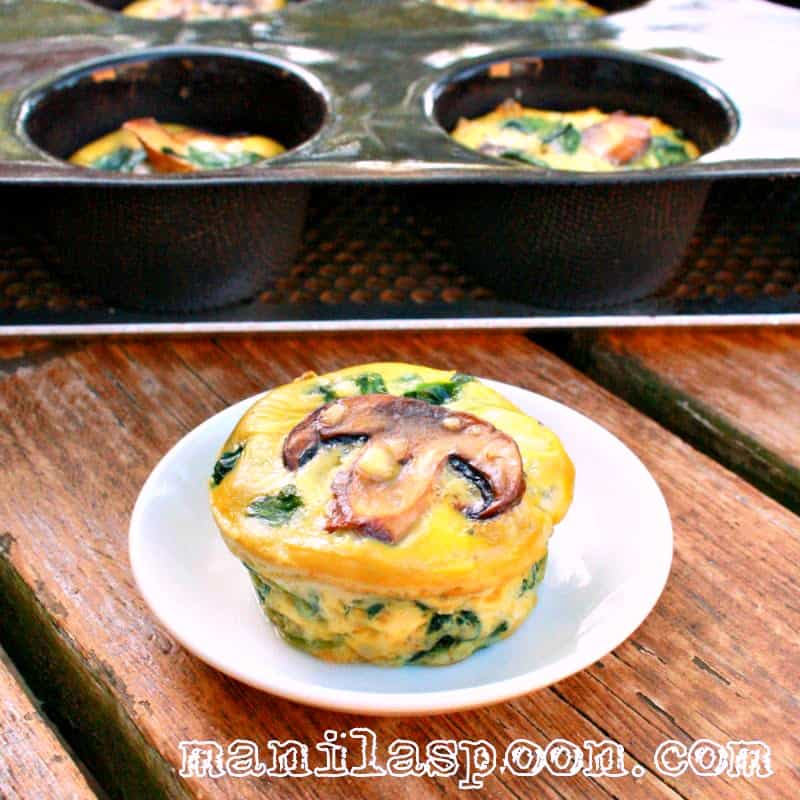 Spinach Quiche Cups. A slight twist on the regular egg cups, this great recipe adds a little cream to make it nice and smooth. Feel free to mix it up with whatever veggies you love!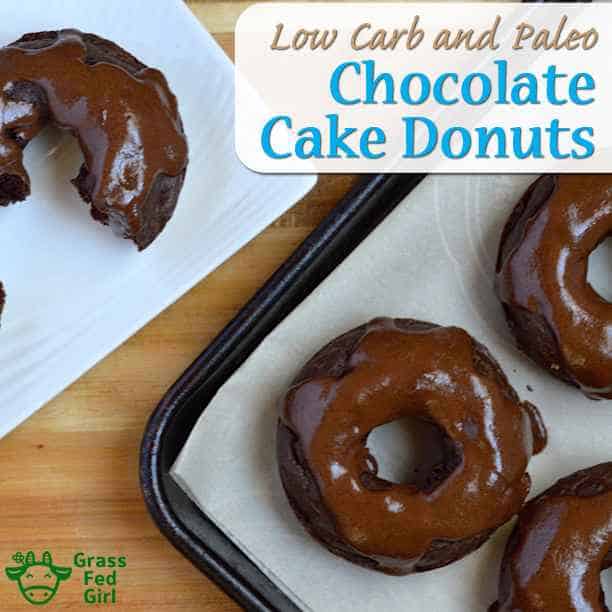 Paleo Donut Recipe. Hello did you say DONUT? Not just donut, but chocolate donut! Yes, it is possible to have a low carb healthy version of this super fatty breakfast treat. So if you have a sweet tooth, don't worry.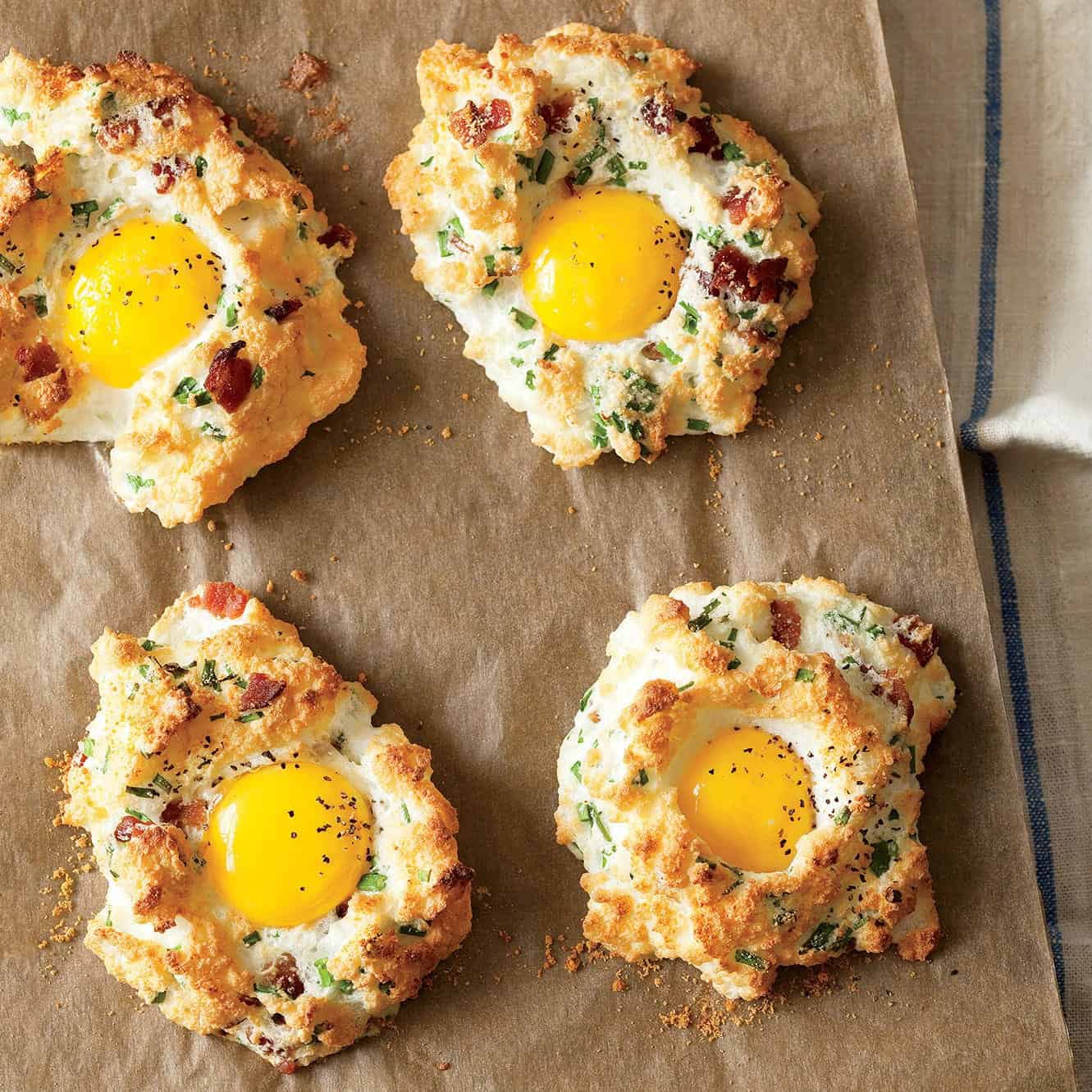 Eggs in Clouds. This recipe is really just made with eggs, cheese, and bacon but when you whip the eggs, you get this insanely good breakfast treat. So if you are getting tired of eggs, this is a great alternative to try.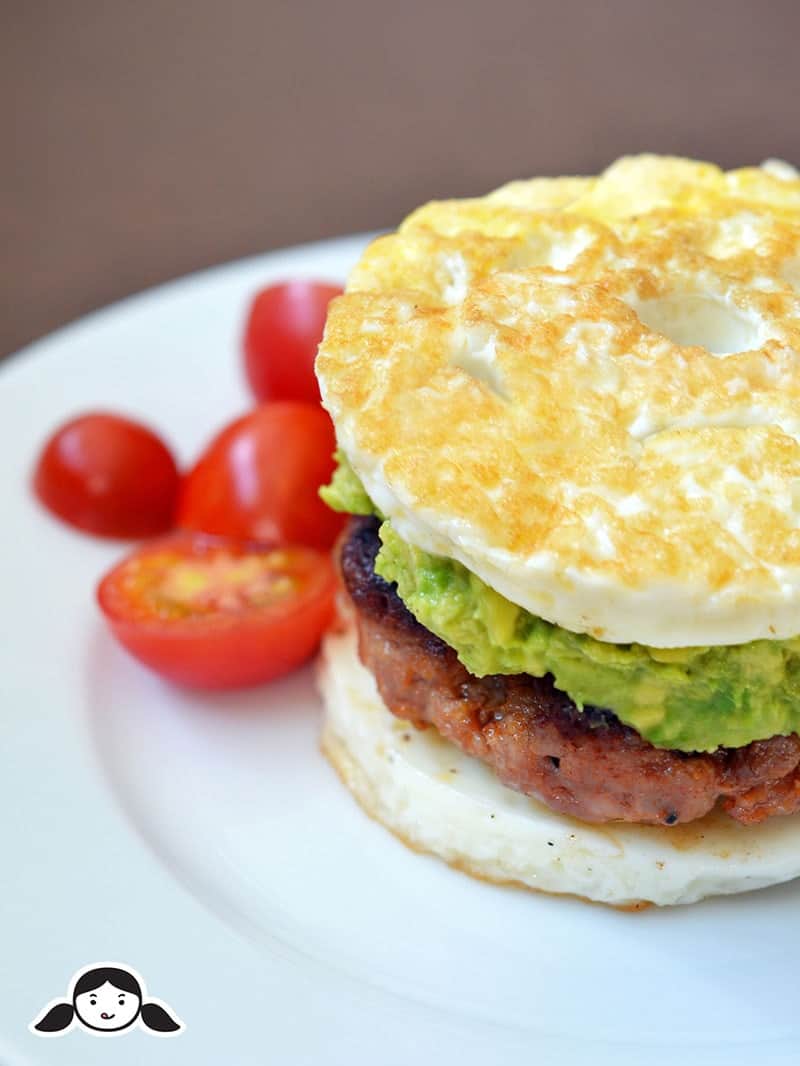 Paleo Sausage Egg "McMuffin". Another easy recipe where you just have to ditch the bread. But you still get all the deliciousness of sausage and egg. This recipe uses guacamole but feel free to throw some cheese on there too!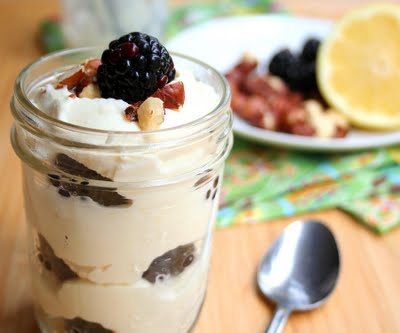 Blackberry Lemon Ricotta Parfait. If you have been going low carb for awhile, you are probably tired of yogurt and especially Greek yogurt. Try this alternative using ricotta instead and mix it up with your favorite berries.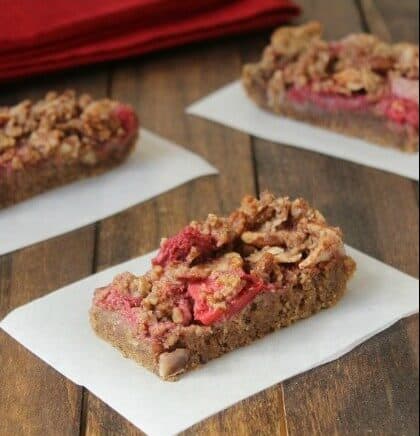 Strawberry Nut Bars. When you need something different and want something sweet, this breakfast bar is perfect. Use the same recipe to make a fun dessert too!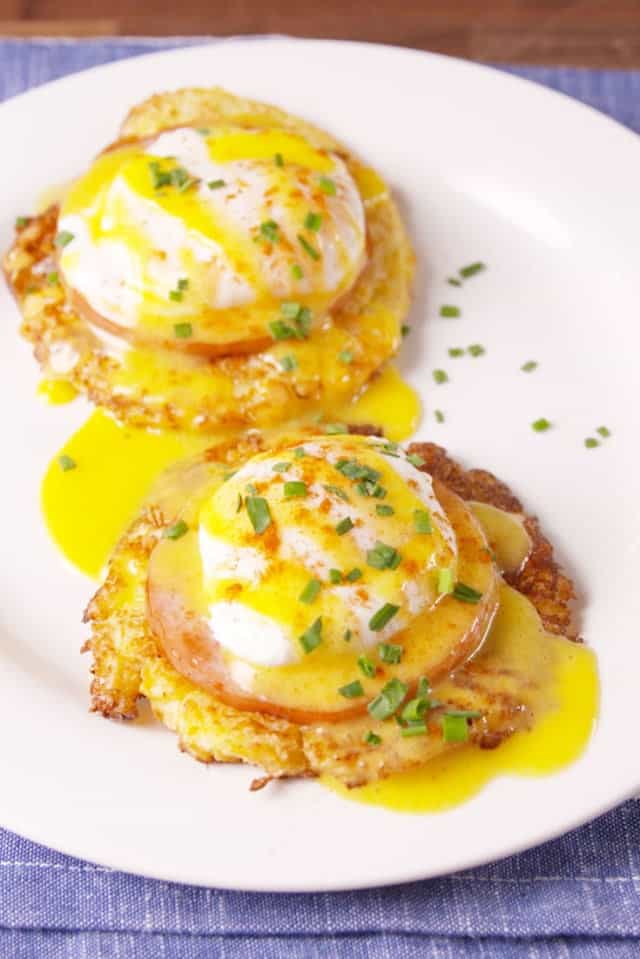 Cauliflower Eggs Benedict. One of the most favorite of all breakfast dishes. You cannot go wrong with this amazing breakfast that tastes so similar to the original.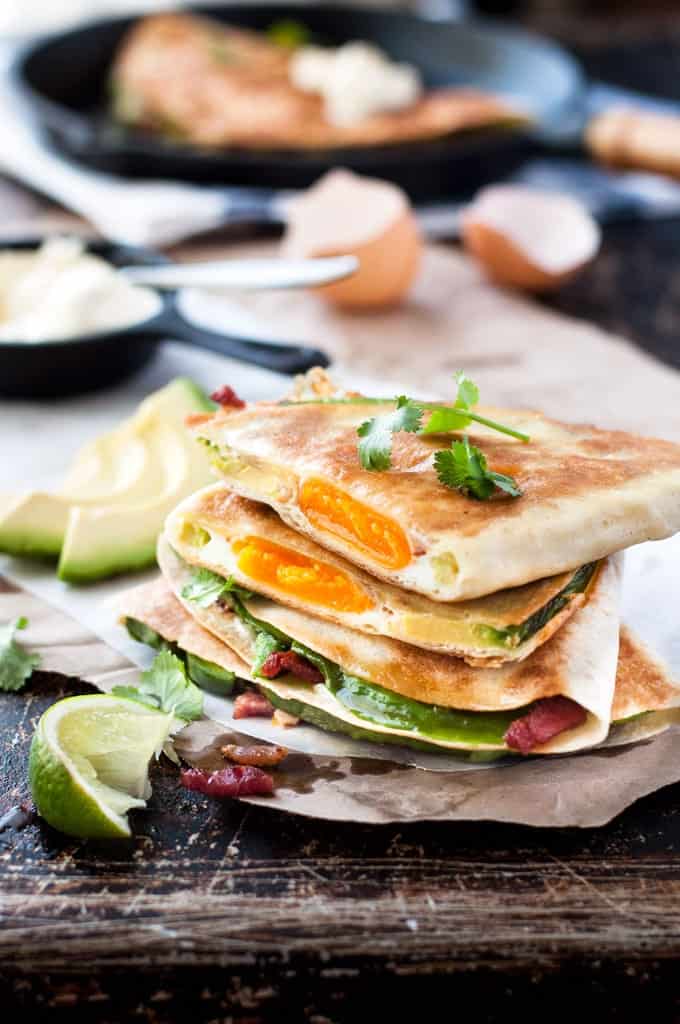 Whole Egg, Bacon, and Avocado Quesadilla. Try it with a scrambled egg inside if you prefer, but the runniness of the yolk is often the best part for most. Change it up with cheese or more veggies, or any other way you prefer.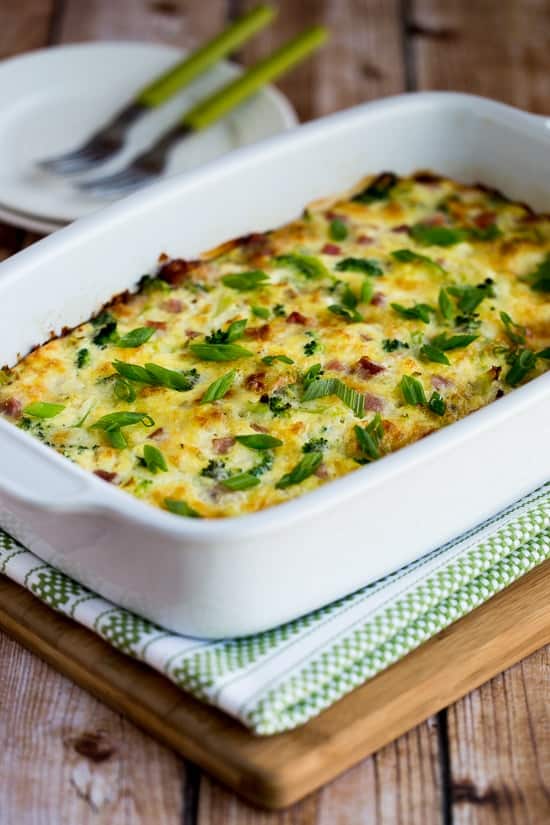 Broccoli, Ham, and Mozzarella Baked with Eggs. You gotta love a good breakfast casserole. The amazing part is that there isn't a big difference between a low carb breakfast casserole and a regular one. So if you need to serve this to guests, they won't even notice!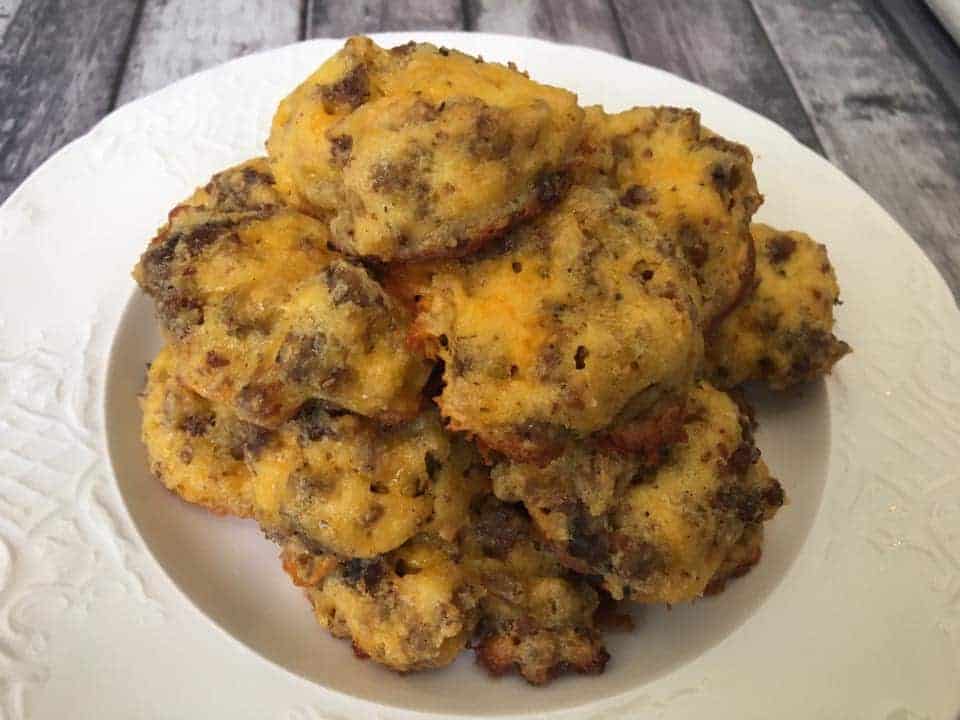 Sausage Ball Puffs. Use coconut flour to make this delicious breakfast. Adding that with sausage, cheese, and sour cream, and you have a quick bite that even kids love.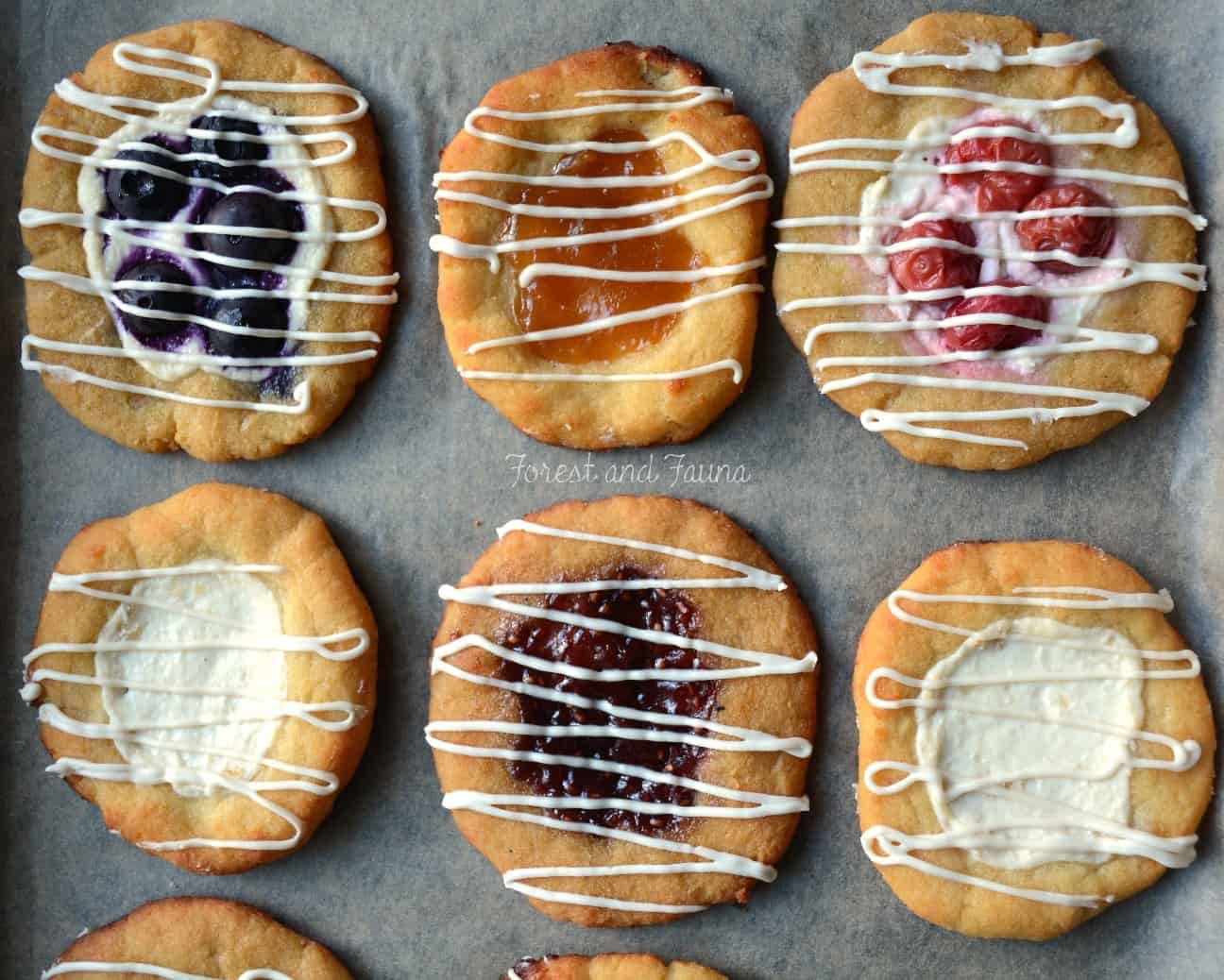 Low Carb Cheese Danish. If you would have told me I could have a cheese danish on a low carb diet, I would have started ages ago! This recipe works great with any type of sugar-free jam.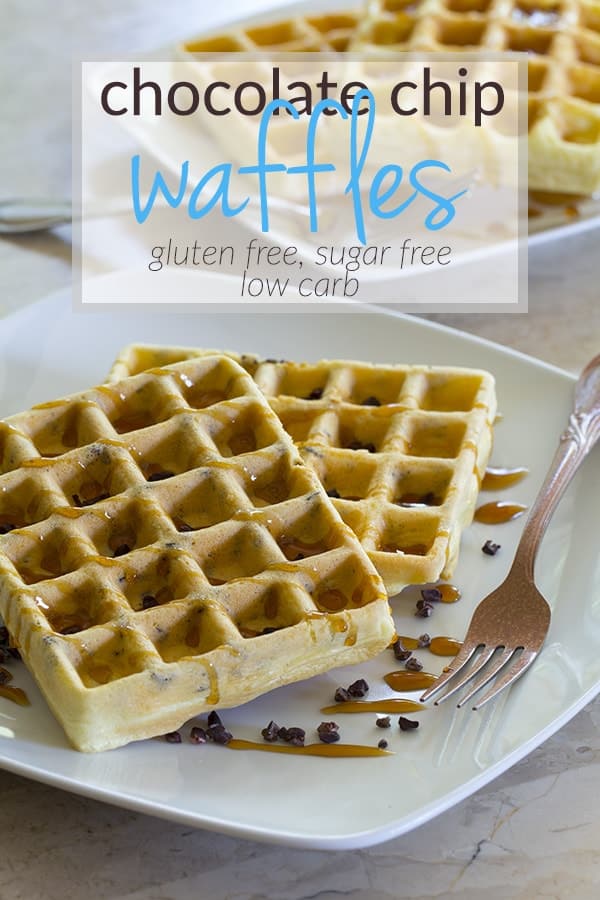 5 Ingredient Chocolate Chip Waffles. Made mostly of protein powder, these waffles taste very much like the original. With being only 5 ingredients, they are easy to whip up for a large family on a Sunday morning.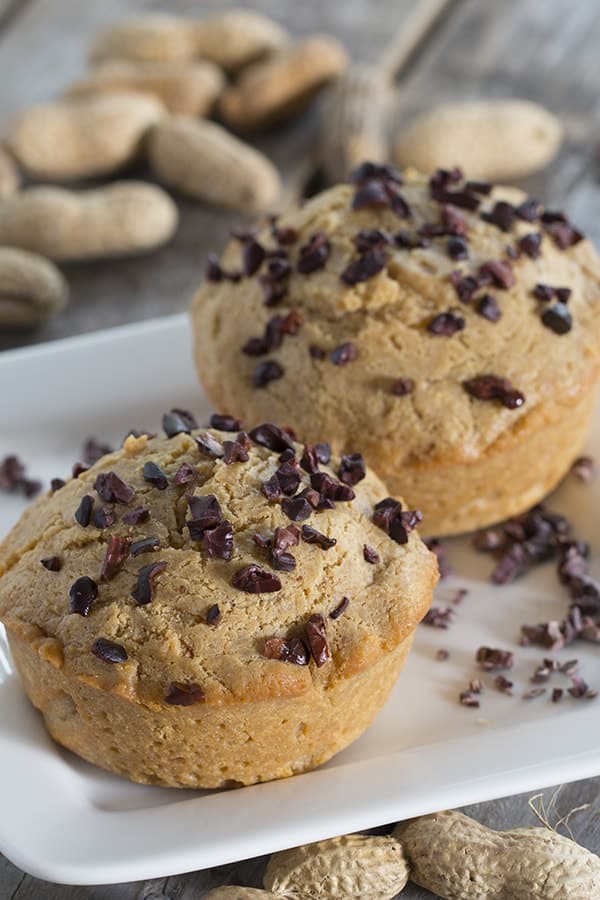 Healthier Peanut Butter Chocolate Chip Muffins. I love making muffins because you can make a whole batch and have easy to grab food for the whole family. This recipe will appeal to both the chocoholics out there as well as the peanut butter fans.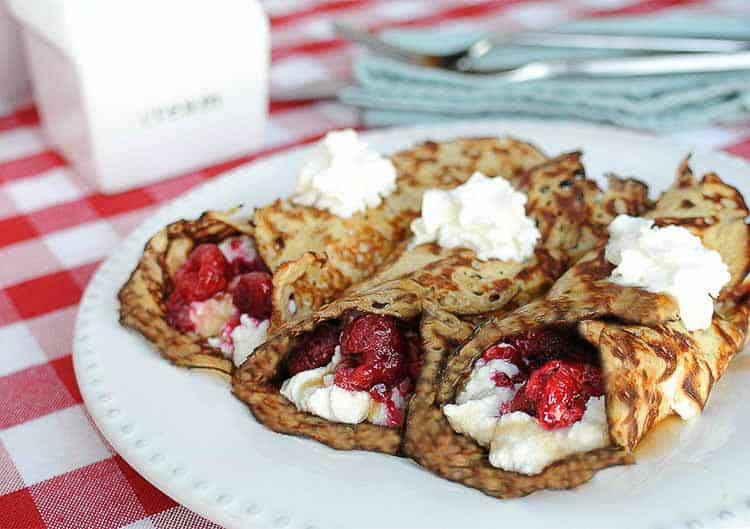 Raspberry Cream Crepes. Crepes are absolutely amazing. They feel like a treat more than breakfast. So what is better than taking this savory dish and making it low carb and gluten-free.
Have fun enjoying these amazing low carb desserts!
You can stick to a low carb diet if you just find the right recipes that work for you. Don't give up so easily! These delicious breakfasts will surprise you with how easy it is to change your eating habits.