Learn what to do and where to go when you spend a day in Charleston, South Carolina!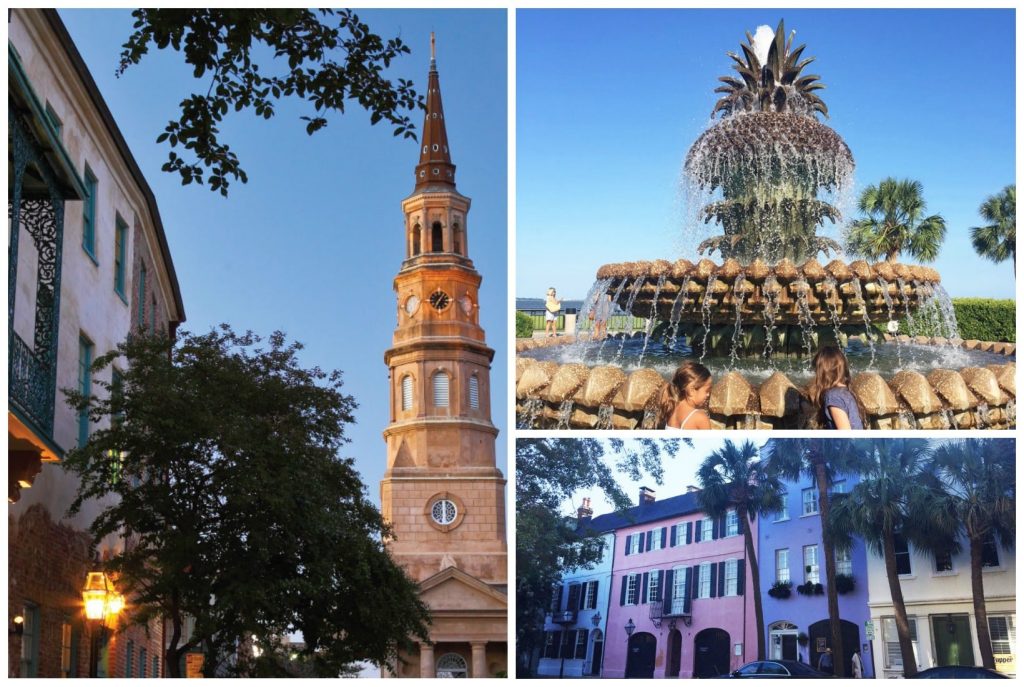 Traveling with kids does not mean you always have to end up at different theme parks to keep them entertained.  It is possible to take them somewhere that may be on your bucket list too!  Charleston, South Carolina was one of those historic towns I had always been wanting to travel to. My natural fear was that my daughter wouldn't appreciate the history behind it all.  But sometimes you just need to say screw it!   
The older she's getting and the more she is learning in school, made me realize that taking her to a place with rich history might benefit us both.  So I was determined to visit Charleston and make it fun for both of us.
The best places to visit in Charleston
I spent a week combing through all the different things to do in Charleston that would both amaze my daughter and make her excited.  All while squeezing in things I wanted to see too.  In the end, we both had a fun time doing all the things listed below. She even told me her favorite part was seeing all the places George Washington visited.  So score… the trip was educational too!  Mothering win!
All in all, I feel like we didn't have enough time there and could have easily stayed longer.  Pack a bathing suit and bug spray, and enjoy your leisurely days in this beautiful southern town.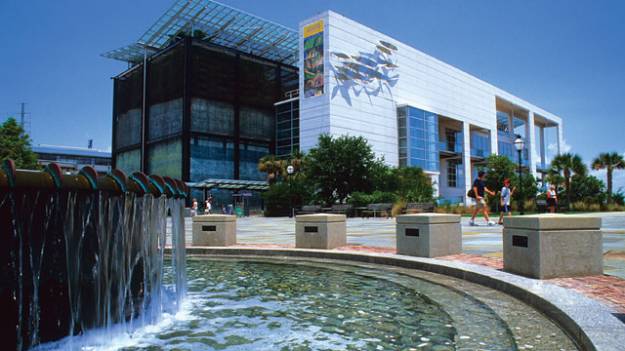 I wanted to start off with mentioning the South Carolina Aquarium because as far as aquariums go, this is worth it! However, if you are on limited time, then it's OK to skip it. I mean, the best place to visit an aquarium is when you are by the ocean! But if you're like me, you've already seen like a dozen aquariums as a mom. And while I really really enjoyed this one, there are some other things in Charleston that are a MUST.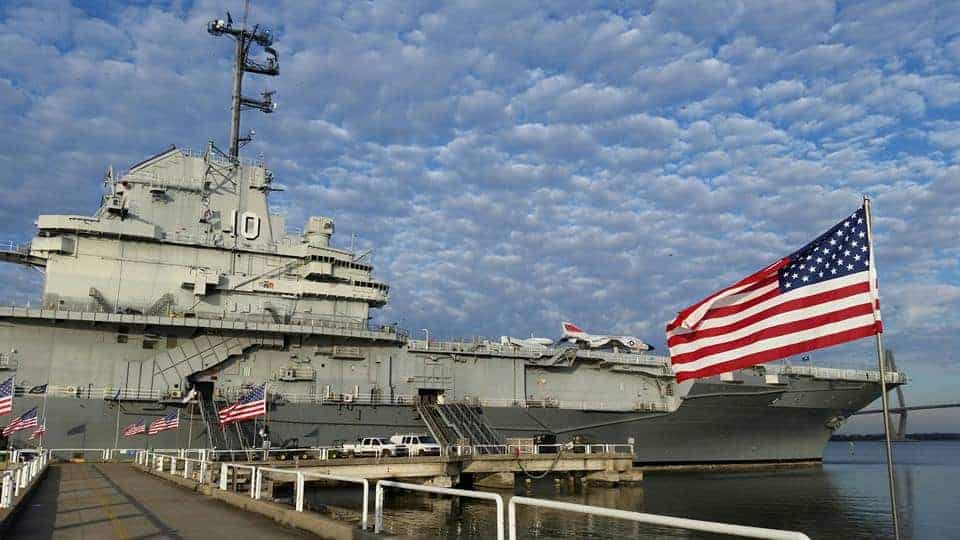 You want to do something historical and educational?  Then you have to go to Patriot's Point. You can see this giant ship from almost anywhere in Charleston, just sitting out in the bay.  It's a real naval ship that now has become a museum. You can walk around it and explore, and learn a ton of information. There's an aircraft and submarine too. This was an unforgettable experience I'm really glad my daughter got to see.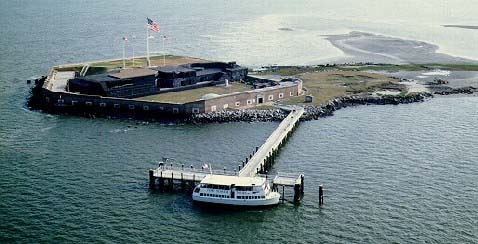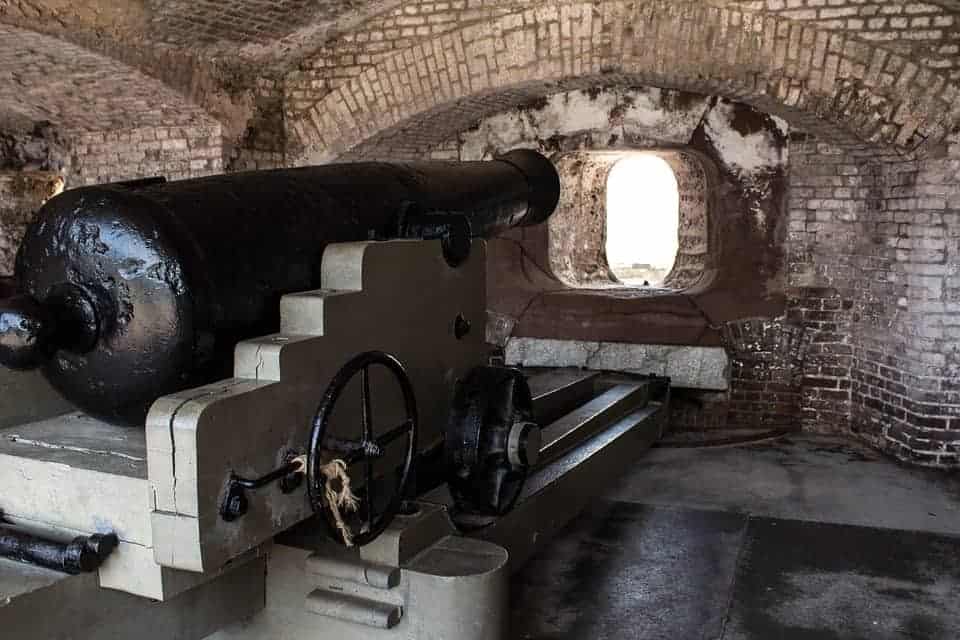 If you like Patriots point then you can not miss out on Fort Sumter.  Fort Sumter is where the first shots of the Civil war happened! Try getting more historic than that.   A real fort you have to get to by water only, cannons, ruins… it's pretty exciting to see.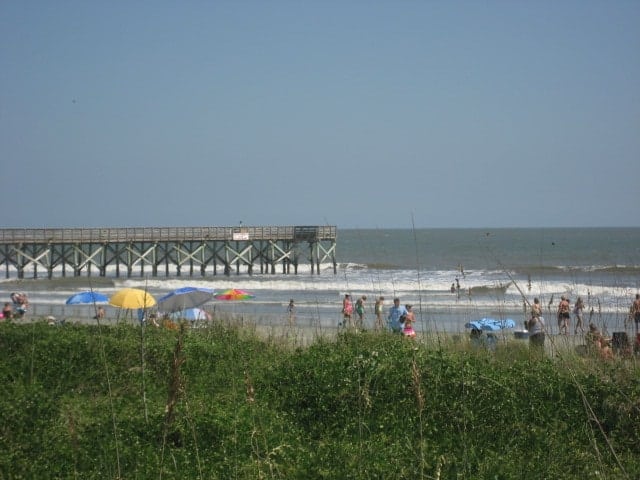 If you're going to be on the Mount Pleasant side of things, go check out the Isle of Palms Beach.  Just be prepared to stay here for at least half the day, if not the entire day. Charleston has dozens of beaches and small beach towns.  Isle of Palms is one of my favorites because it has several local restaurants as well as bathroom facilities (a must for traveling with kids!) Also check out Folly Beach, another great beach town.

I wish I could do a whole post on the Charleston Water Taxi.  It kind of sounds like a small sightseeing boat that probably takes you around the bay. Right? Wrong!  It's so much more. You buy a ticket and can ride it all day. Like literally as many times as you want. You can just ride around and around and watch for dolphins.  You can go along the coast and enjoy the sights of historic Charleston. AND you can use it as a taxi to get from different places, like Patriots Point and Fort Sumter. And it's not even that expensive! I definitely recommend you combine this with your time at those two locations.
Visiting Downtown Charleston
So far everything on the list above was a little outside of the downtown area. And that's because I wanted to keep a few things together that all go hand in hand.  Plan to spend an entire day solely in downtown Charleston. It's not huge but there are plenty of things to walk around and do. Park your car and spend the day on foot.
Start your day walking around Rainbow Row. This is a collection of very old and historic homes along one of the main roads downtown.  All these homes are more than a hundred to two hundred years old. They are painted bright colors so they are visually stunning to look at. The best part is that most of these homes have kept all their original features and you can see carriage stalls and oil lanterns throughout.
Every home also has a plaque on it that tells you when it was built and some fun historical facts about it. We found several homes that mentioned George Washington.  It was really fun to see my daughters face light up when she found out she was standing in the same spot he did.
Don't just stop at Rainbow Row, walk all around the area and you will see old jail cells, gardens, graveyards. We even saw a church built in 1692. How crazy is that!
As you are walking throughout downtown Charleston, you've probably started to notice all the horse and carriages around. Which brings me to me next on the to-do list. Take a horse and carriage ride! There are several options that all pretty much do the same route. You can look them up here, here and here. Not only is it a fun way to see the downtown area, but the riders will also tell you fun facts along with your ride.

As you continue through downtown, check out the Charleston City Market.  It's located near a whole bunch of restaurants and food options so if it's time to feed the kids, head in this direction. This is also a great place to do a little souvenir shopping. You won't find everyday trinkets here. These are locally made crafts and are way better to take home than any stuffed animal or tee-shirt.  Kids will love this place too because it has homemade toys and treats throughout.
When you are done with your shopping, take a short walk over to the waterfront and visit the Pineapple Fountain.  I recommend saving this for later in the day when the kids are hot and tired.  The fountain has lots of kids splashing around and enjoying the water. Just a few feet away is an actual splash pad with tons of water raining down on kids running around.
Then right in front of the splash pad is a big pier with bench swings throughout. Relax on a swing and enjoy looking across the water. You'll see Patriots Point from here.
Last but not least…
It's a little bit of a drive outside of Charleston but please don't miss the Angel Oak Tree.  This little trip won't take you all day. There isn't much to do there but enjoy nature. But I cannot stress enough on how amazing this tree is. I've never seen anything like it in my life. There is a reason it's the most photographed tree in the U.S.!