Spring is officially here (well it's been here in Arizona for awhile) so it's time to find some fun outfits that transition you somewhere between your winter boots and jeans and those cute summer tops and sandals. I pieced together some of my newest favorites to make the perfect casual spring outfit!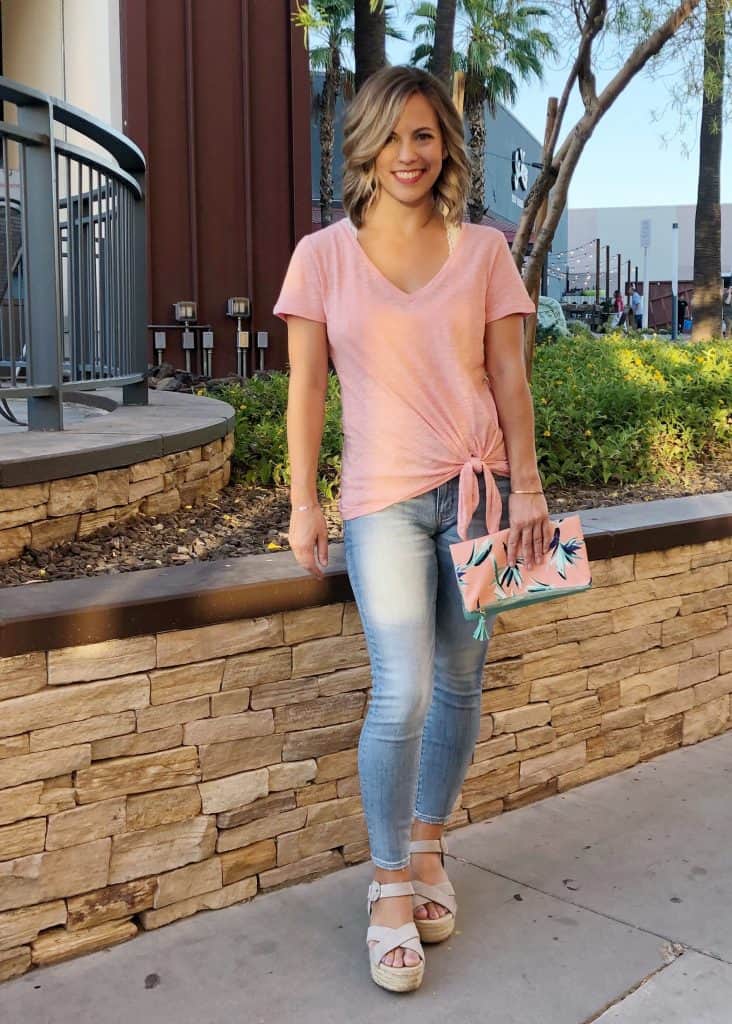 Comfort is key for me. I wish I had a glamorous life that led me to swanky restaurants but the truth is you'll most likely find me running errands or chasing after my daughter. So finding something that is comfortable is as important as finding something I can look and feel good in. This outfit has quickly become one of my favorites and every piece is currently available in stores. And don't forget to follow me on Instagram for more great outfit inspiration!
I also have to mention that even though the tee comes in several colors, I purposely chose this one to match my clutch. Have you ever done that? Bought an entire outfit around one accessory? Totally guilty here! I received this clutch as part of my Fab Fit Fun Spring 2018 box and loved it so much, I had to find the right outfit for it.
Check out the rest of the items I got in my Spring 2018 Fab Fit Fun box HERE!
*This post contains affiliate links. See affiliate disclaimer here.
The Perfect Casual Spring Outfit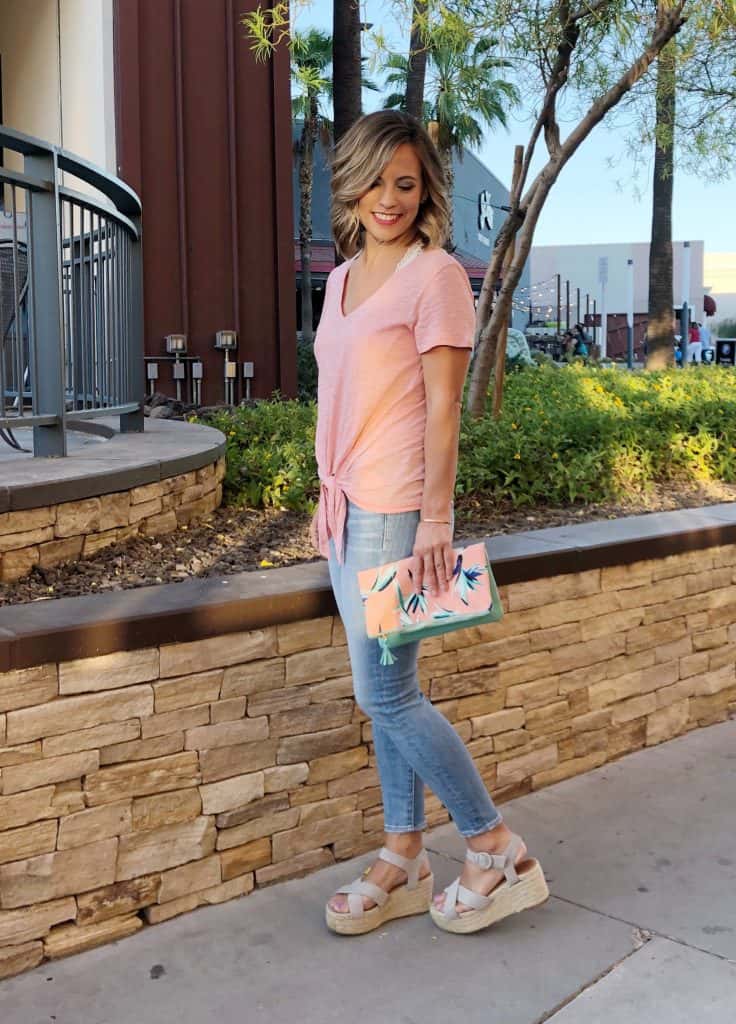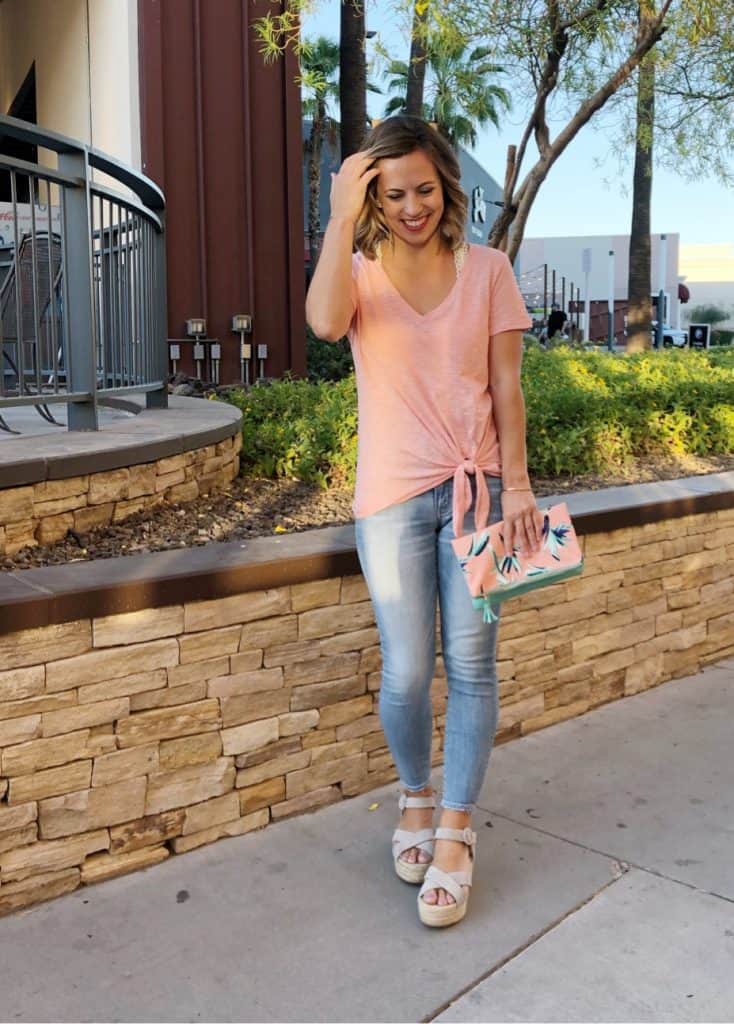 EXPRESS ONE ELEVEN SLUB TIE FRONT V-NECK SLIM TEE
THE DREAM JEAN HIGH-WAISTED JEGGING
EMERY PLATFORM ESPADRILLE SANDAL
'I LOVE YOU TO THE MOON AND BACK' MANTRABAND CUFF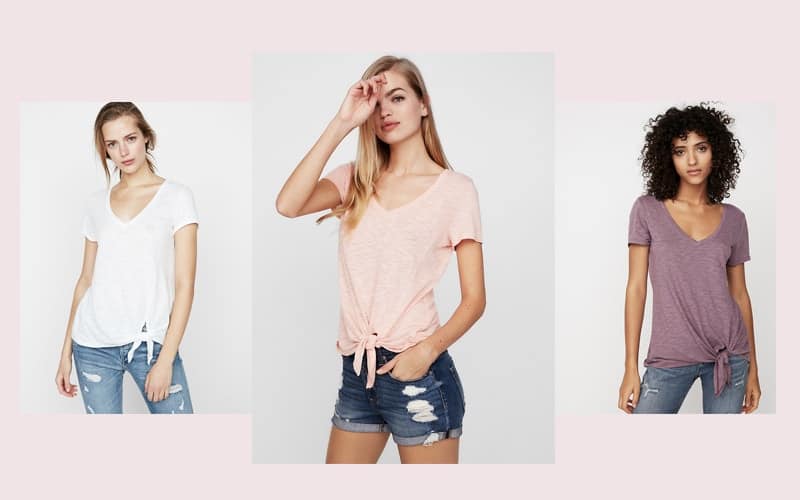 This front tied tee is so flattering because the tie front helps to cinch your waist. It also helps to add a little flair to an otherwise basic tee. So you get the comfort of a basic tee with a little style added in. The fit is so perfect, I ended up getting this shirt in a few colors. I sized up a bit in order to let it fall slightly off my shoulder to show the bralette I have underneath.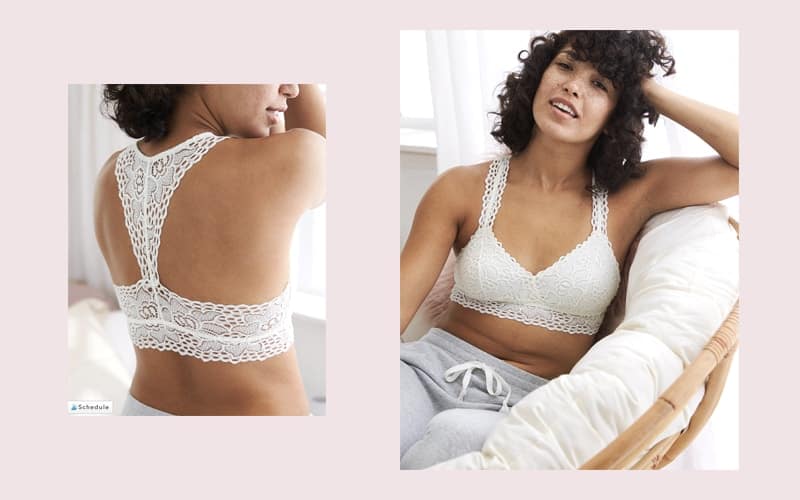 This lacey bralette is one of my favorite finds this season. I've seen a lot around but this one is padded (us moms need that little padding) and not to mention it's not very expensive (under $30). It comes in a variety of colors and I might have bought a few of these also. Some of the colored ones will look great underneath a white tee.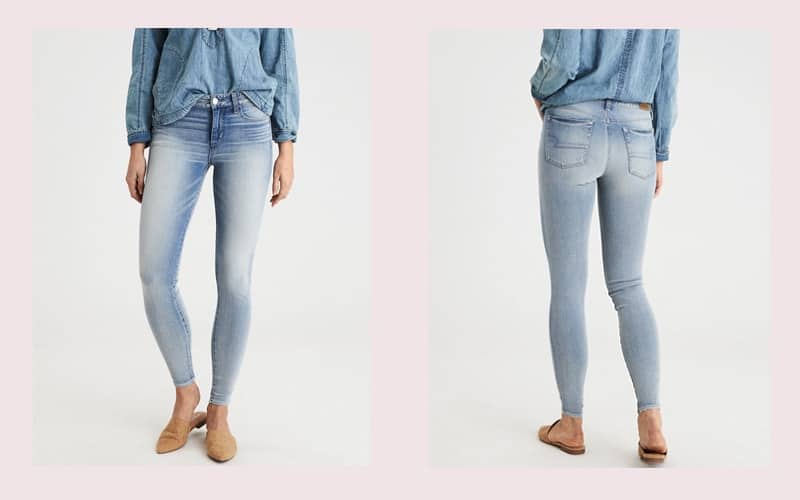 I find it hard to find the right denim to transition from winter to spring and summer so when I found these light wash denim jeans, I grabbed them! They are light enough to go with any bright and colorful spring top and fit like a glove. They have the perfect amount of stretch and the waist sits just where I like (not too high and definitely not too low).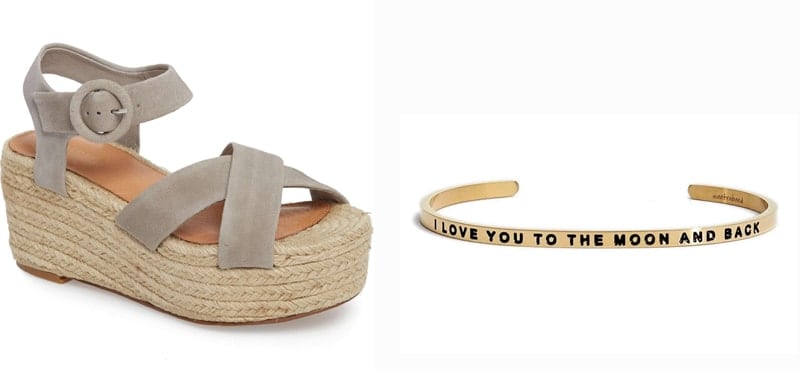 Don't forget the rest of the accessories! I cannot get enough of these shoes. I am a shortie and flats just make me look shorter than I already am. But anything with heals or even wedges can be too uncomfortable to wear for too long. These stacked sandals by Halogen are perfect to give my legs that extra length they need but are flat and therefore comfortable enough to wear everywhere this summer.
You won't find me covered with jewelry but you will see me with this adorable bracelet accompanying almost every outfit I wear. It was a birthday gift from my sweet daughter. And it would make a perfect gift for anyone in your life that you love 'to the moon and back'.
*This post contains affiliate links. See affiliate disclaimer here.