The Oxford Mama is a one-of-a-kind Self Care Subscription Box JUST for moms and I was lucky enough to receive one!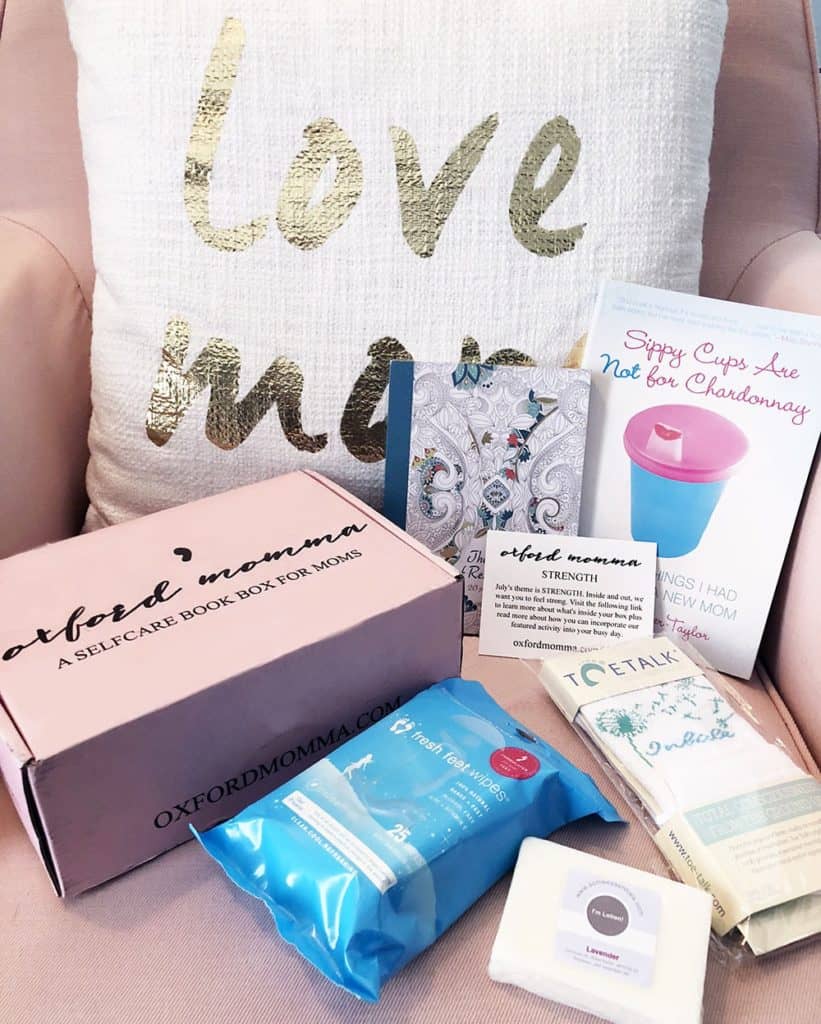 Self-Care for moms
If you have read any of my posts, you would easily see how important I think self-care is… especially for us moms! Daily stress, life, kids… we would lose our minds if we didn't find some way to take care of ourselves a little bit too. The Oxford Mama found a way to help us with that!
But as I just spent a ton of money on my daughter for back to school shopping, it seems almost impossible to think about spending any money on myself. Let alone finding any time to enjoy anything!
Along came the subscription box for moms…
I also am a BIG BIG fan of the FabFitFun subscription box. Why? Because it sends you super fun things you love to use. But all items you would never to think to buy yourself. It's almost like "HERE! take these things and ENJOY! Do it!"
Self Care is essential!
The Oxford Mama Subscription Box is very similar. It puts together a sweet little care package and ships it directly to your door. So you don't even need to think about how to spend five minutes taking care of yourself. It just forces you to do so. Which c'mon moms, we need that!
What is the Oxford Mama Box?
Oxford Momma is the only self-care book box made just for moms (although I think this fun box would work for anyone!). Every mom needs a little "me time" and this self-care box helps you create that. Every month you will receive a special box that includes a complete self-care experience for moms.
So just open… and enjoy!
What's in the Oxford Mama Box?
Ready to see what came in my July box? Well, let's get on with the show!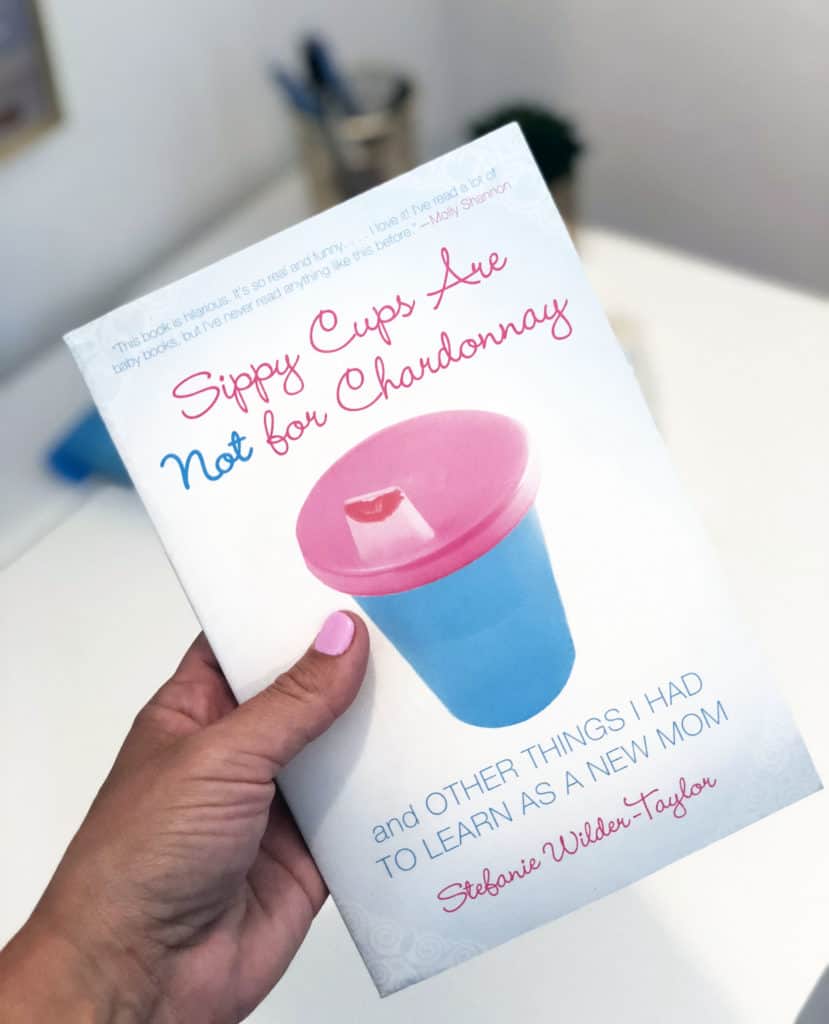 Paperback Book. Starting with the obvious since this is a subscription book box for moms. I'm a big reader so anytime I find a new book to read, I'm a happy mom. I'll update with a review of the book but it does sound really fun. And a good light read is exactly what I need for this mom-brain to slow down sometimes.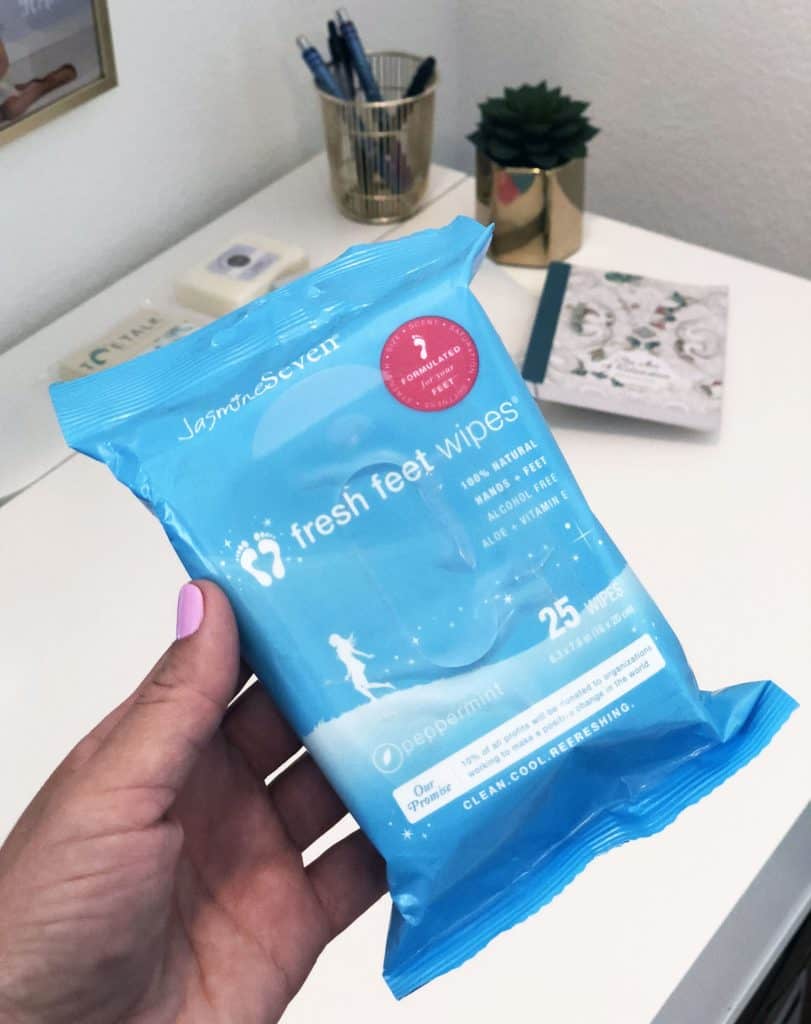 Fresh Feet Wipes by Jasmine Seven. At first, I giggled a little. Like feet wipes? Really? But then I thought about how nasty my kid's feet can get sometimes after running around all summer, and it made total sense. And yes, maybe my feet a little too. I ended up really liking these wipes and full disclosure… they smell great so I've been using them on my hands a lot too.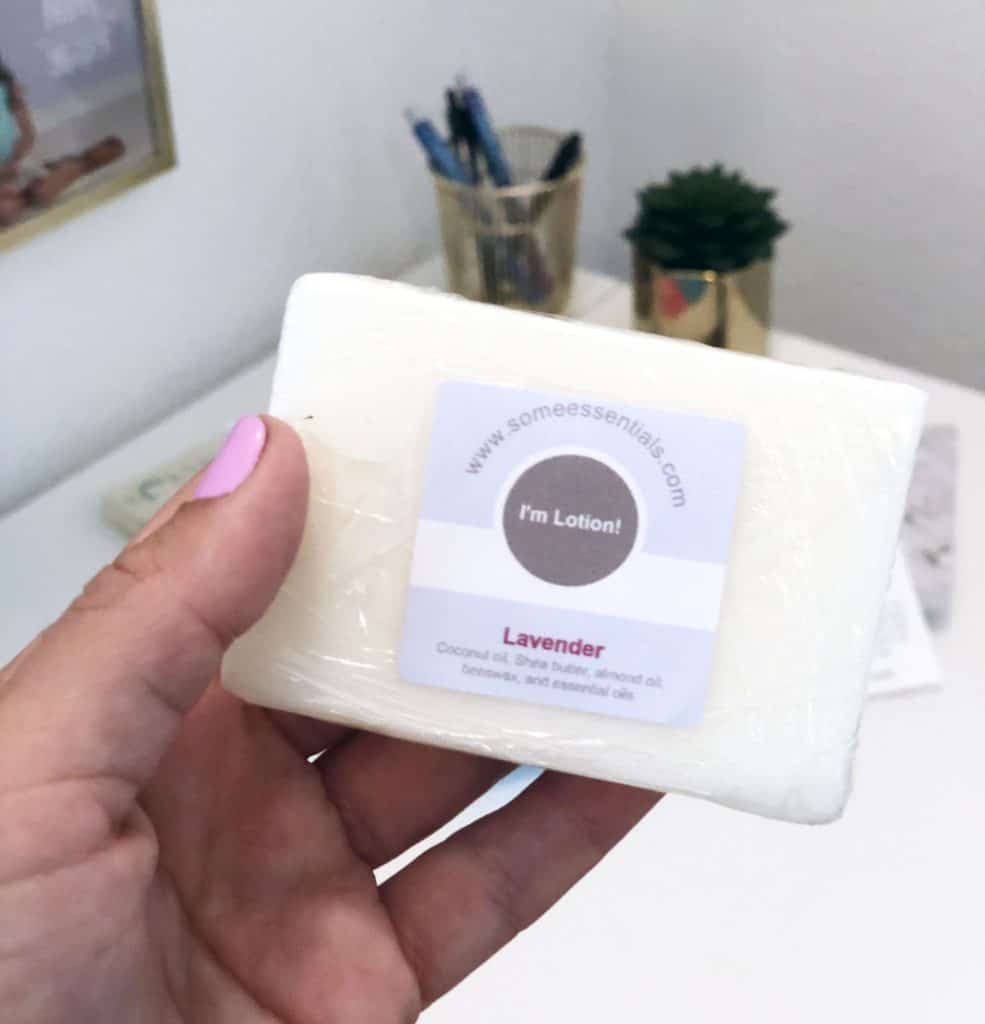 Lavender Lotion Bar by Some Essentials. A bar of soap? No! It's actually a bar of lotion. I had never seen anything like this before so I was intrigued. At first I thought, how am I supposed to carry this bar around without making a mess? But then I realized it looks perfect in a little dish (perhaps the one I got from Pier 1 imports in my FabFitFun box!) by the sink. So after you wash your hands, you can apply some lotion too!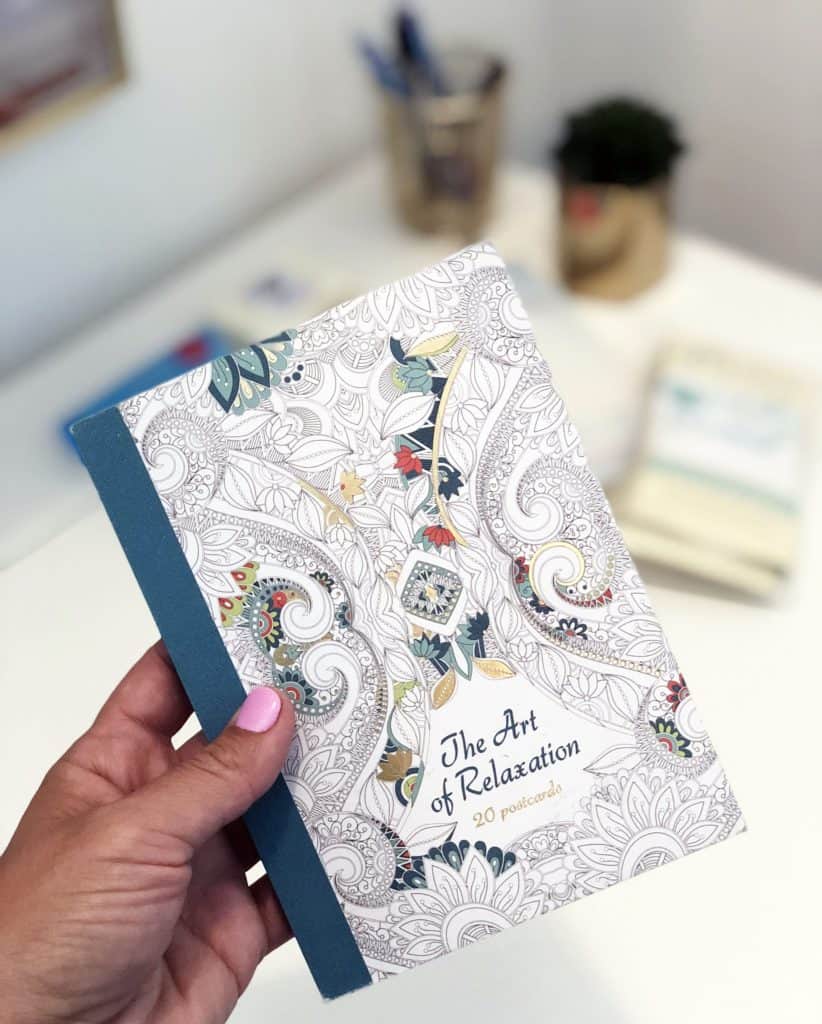 The Art of Relaxation, 20 postcards to color. I wasn't sure what this was at first but then when I looked at it closer, it seemed like a genius idea. It's literally a small book of 20 different postcards that resemble the front cover. You can color them in as a relaxation technique and keep them or send them. I love the idea of just sending them to friends you know might need a 10-minute breather. how fun and random would it be to get one of these in the mail from a friend… with just a cute message on it?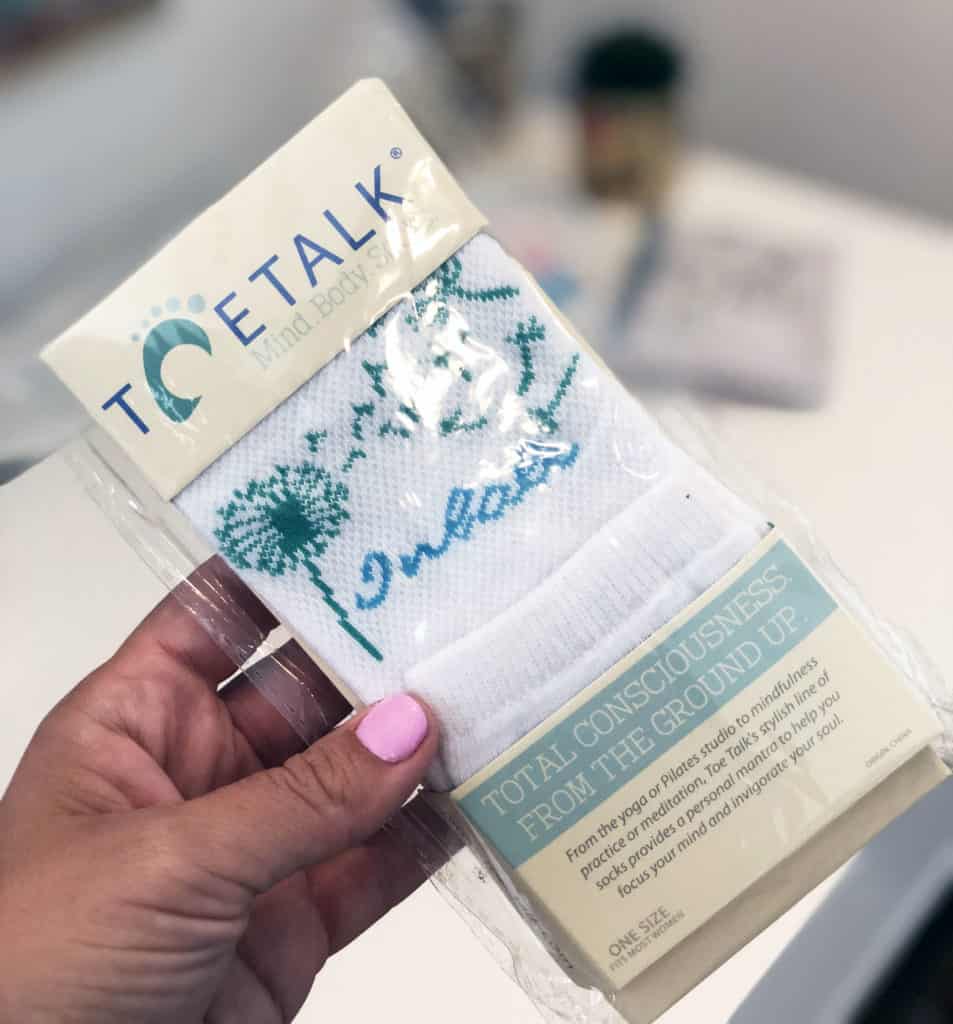 ToeTalk Motivational Socks. These fun and stylish socks (ankle socks) are perfect for the gym, yoga, or laying around drinking wine. They have a cute saying on the top for you to always see, have a non-skid surface on the bottom, and a top mesh weave to allow air flow on the top. Who couldn't use more socks?!?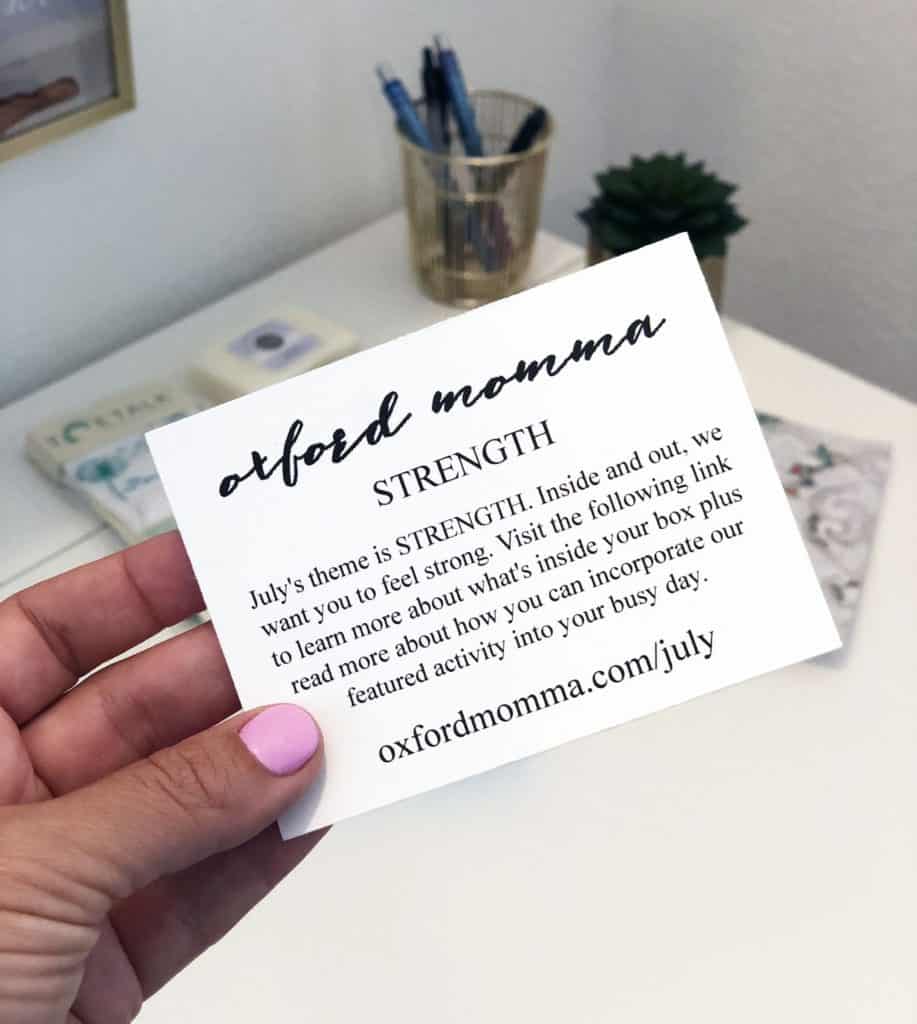 A Monthly Theme. One of my favorite aspects of the box. A message to remind you WHY you need self-care in your day to begin with. A way to pick you up and make you feel what every mother is… STRONG.
how to get an Oxford mama self-care subscription box of your own
If this all looks appealing to you, then head over to the Oxford Mama site and get one of these fabulous boxes for yourself. Grab one for yourself or send them as gifts to a mom you know who needs one (dog moms apply also!).
Every month you get a new book and 4-5 self-care items (a $50-$75 value).
So grab a Self-Care Subscription box for Moms from the Oxford Mama soon! You deserve it, Mama!
*Thank you to the Oxford Mama for gifting me this subscription box. All thoughts and opinions about this product are my own!
Enjoy!
Jenny