Were you aware that there are many amazing benefits of turmeric? Do you even know what this spice is? Yeah… I didn't either.
When my sweet dog started to slow down with old age and get arthritis in her joints, I was hesitant to jump straight to medication to help her out. A lot of arthritis meds can be harsh on the kidneys (and not to mention harsh on the wallet).
So I started to research what else would help her out and almost instantly I started reading all about turmeric. Turmeric has anti-inflammatory properties that reduce pain and swelling. I had never even heard of this thing before and to be honest, I had no idea what it was. Turns out… it's a spice! Yeah, news to me too!
But I started to give it to my dog and wouldn't you know, she got a lot better. She was jumping again, going up stairs again, and just generally moving around a lot better. My parents were so impressed that they started to use this spice to help out with their stiff hands as well. And again, it helped!
In reality, turmeric has a lot more benefits than just as an anti-inflammatory. But first, let me try to explain exactly what turmeric is.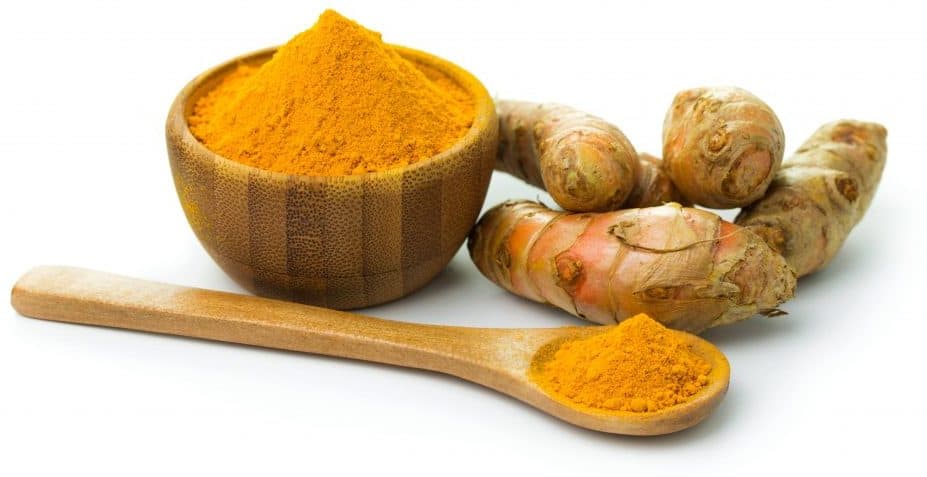 What is Turmeric?
If you want the official Wikipedia-like explanation of turmeric: It's a perennial plant part of the ginger family that's native to India and Southeast Asia. It has a deep yellow-orange color to it and has a very bitter and pepper-like flavor. Fun fact... this spice is also commonly used as a fabric dye because of the deep color and pigment it produces when ground into a fine dust.
The active component in turmeric is known as curcumin. Curcumin is the actual property that has so so so many healing properties and is used all across Asia in many different medicines and to heal many different kinds of ailments. Besides its anti-inflammatory properties, turmeric also has a significant effect on many cancers.
Using Turmeric to Treat Cancer
Yeah… my mind was blown when I found this information too. So much so, that I would be forcing turmeric down my loved one's throats if they developed any one of these ailments. Curcumin stops the development of cancer by interfering with the cellular signaling aspects of the chronic disease.
What does that mean? It means it can stop cancer cells from forming or even slow the progression of cancer cells from spreading in the body. And unlike chemotherapy, curcumin kills cancer cells but leaves healthy cells alone.
Turmeric induces cell death in Medulloblastoma (a brain tumor in the base of the brain often seen in pediatrics) and Glioblastoma (an aggressive type of cancer that can occur in the brain or spinal cord).
This spice can stop or even slow the growth of Prostate Cancer.
It also causes Melanoma cells to die.
Curcumin kills lung cancer cells.
It also prevents cell growth of most pediatric cancers such as Leukemia.
Known to treat Liver cancer.
Using Turmeric to Treat Other Progressive Diseases
You thought treating cancer was amazing but that's not all curcumin can do! Curcumin has also been found to cross the blood-brain barrier. And while this may not mean a lot to most people, it means it can treat several types of brain disorders, as well as other diseases.
Curcumin can prevent and slow the progression of Alzheimer's disease. Mind blown! (No pun intended). It removes accumulated plaque and fats in the brain and improves oxygen flow.
Macular Degeneration. It can treat macular degeneration by slowing the mutation of calls that cause this disease.
It also acts as a neuroprotective agent and can treat Parkinson's disease.
Slows the progress of Multiple Sclerosis
Turmeric is also known as a natural Liver Detoxifier. It can be used to treat a liver disease that is caused by either alcohol or a high-fat diet.
Even diabetes is no match for turmeric as this spice can naturally regulate blood sugars in the body.
Stops the growth of H. Pylori (bacteria in the stomach that causes ulcers) and can also reduce gas and bloating.
Turmeric has also been confirmed to treat depression just as well as Prozac can.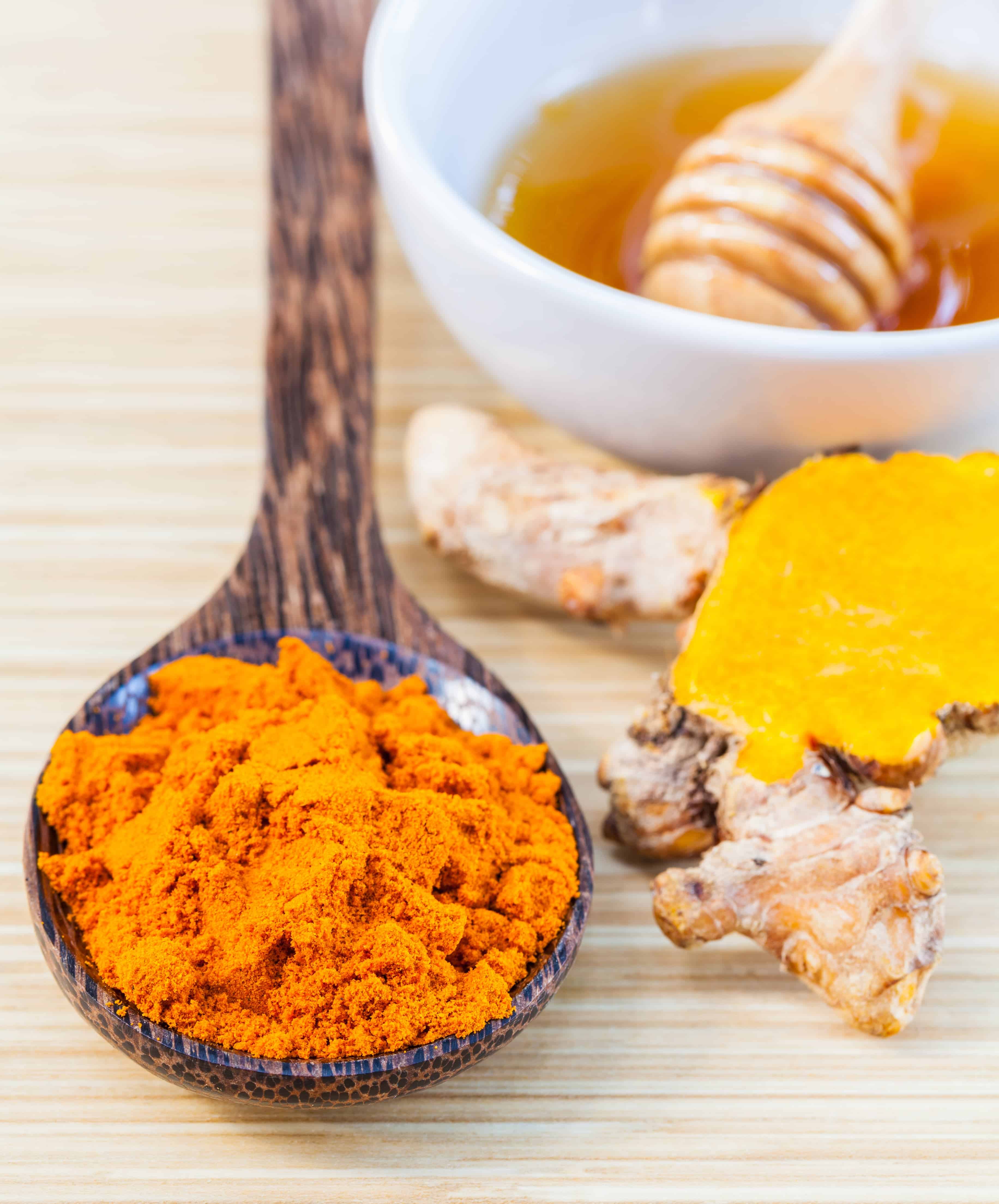 Everyday Uses and Benefits of Turmeric
Turmeric obviously has some really amazing benefits to it when it comes to cancers and other progressive diseases. But there are so many other uses that turmeric has that can benefit you in your everyday life.
Natural Painkiller. Like I mentioned with my dog and my parents, turmeric has really cool anti-inflammatory properties that can help stiff joint and arthritis. It is also a natural pain killer and has been known to have the same painkiller effects as Ibuprofen. So it's not just to reduce inflammation but can help with minor aches and pains too, such as menstrual discomforts, bruises, toothaches, and many more.
Weight Loss. Yes, you heard me right! Turmeric activates fat burning cells and can actually help you lose weight.
Psoriasis. For those of you who suffer from chronic psoriasis, turmeric can be your new best friend. It's been known to treat this skin condition with its antibacterial properties.
Improves Skin. You don't need to ingest turmeric to benefit from it. Turmeric can be used in face masks and other skin remedies to help with things like acne and eczema.
Brain-Boosting. Remember that blood-brain barrier thing I mentioned before? Taking this spice on a regular basis can actually help brain function in terms of memory and brain performance.
Better Sleep. Having a hard time sleeping at night? Been up for way too many hours and feeling stress and anxiety? Turmeric can reduce that anxiety you get from lack of sleep as well as help you sleep better at night.
Anti-bacterial. It obviously helps with diseases inside the body but did you know turmeric can help with ailments on the outside? Because of its antibacterial properties, turmeric can help minor cuts and scrapes heal faster. Just sprinkle turmeric powder on the affected area.
I literally never heard of this spice until my dog needed help with her stiff legs. It was soon after she started taking this spice that I started looking into it more and more and realized just how many benefits it has. If everything it can do it seriously a wonder why it's not more popular. But as the benefits of Turmeric start to be more widely known, I have a feeling you'll be seeing this spice pop up everywhere in the near future!
Where can you buy Turmeric? The good news is that you can actually easily find this spice anywhere. I have found it in both pill and powder form at my local Whole Foods. You can also easily find it online.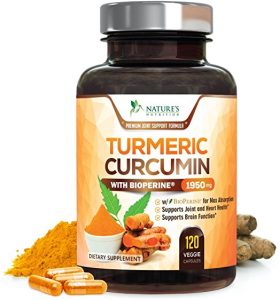 Turmeric Capsules