Getting ready for a trip to Universal Studios Hollywood? Here are the best secrets for planning the perfect day. These are tips you need to know before you go!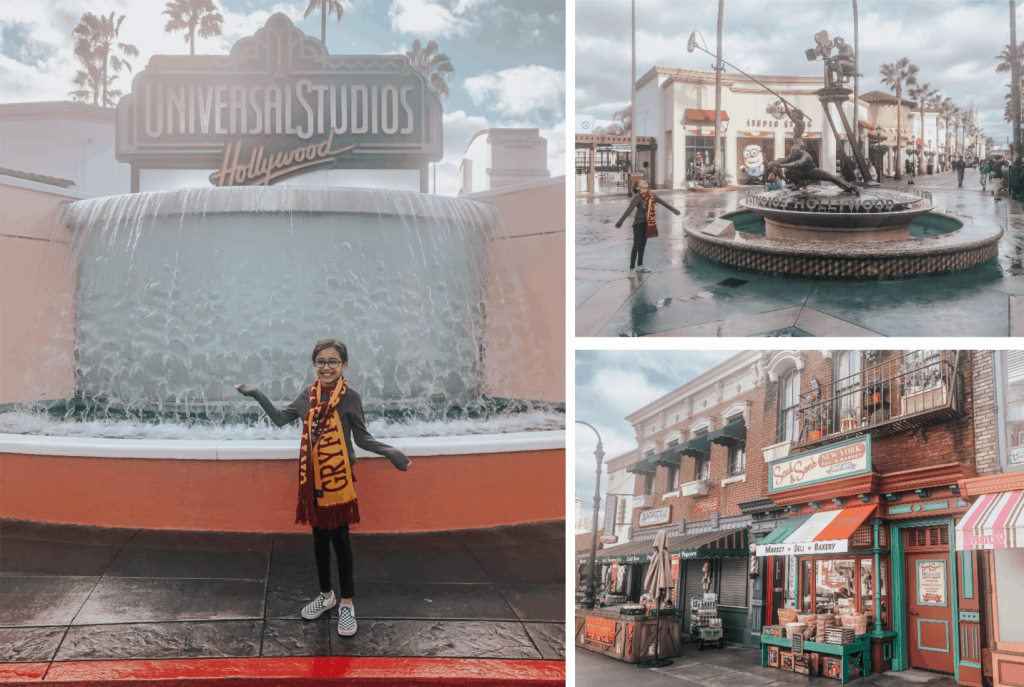 The best tips for Planning your visit to Universal Studios Hollywood
Recently, my daughter turned 10 years old (cue the sobbing mom) and in our family, turning double-digits is a BIG deal! So we needed to do something fun and memorable to mark this milestone birthday.
Living in Arizona, we are lucky to have a lot of theme parks within driving ditance, so we packed up the car and headed to Univeral Studios in Hollywood California. We had been to Disnyeland a few times already, but have yet to discover Universal Stuidos.
And I must admit… I was as excited as my daughter! I LOVE movies and hollywood and am still a kid at heart when it comes to rides and shows.
Universal Studios did not disappoint, Both my daughter and I had an amazing time and proved that this theme park is great for both kids and adults.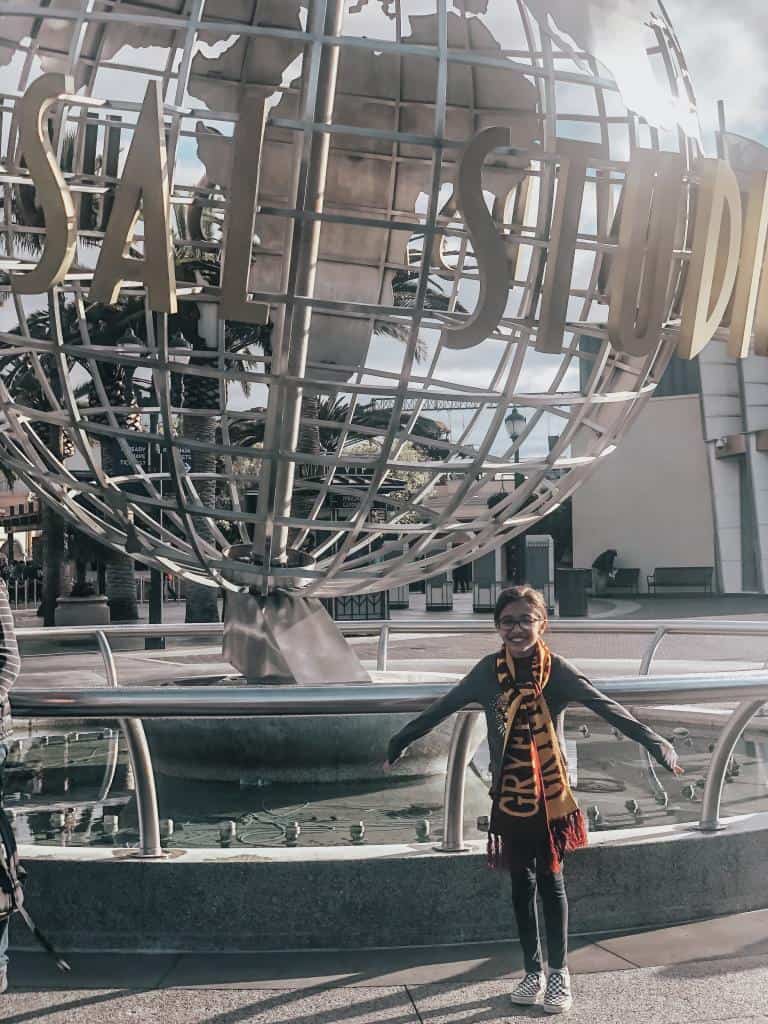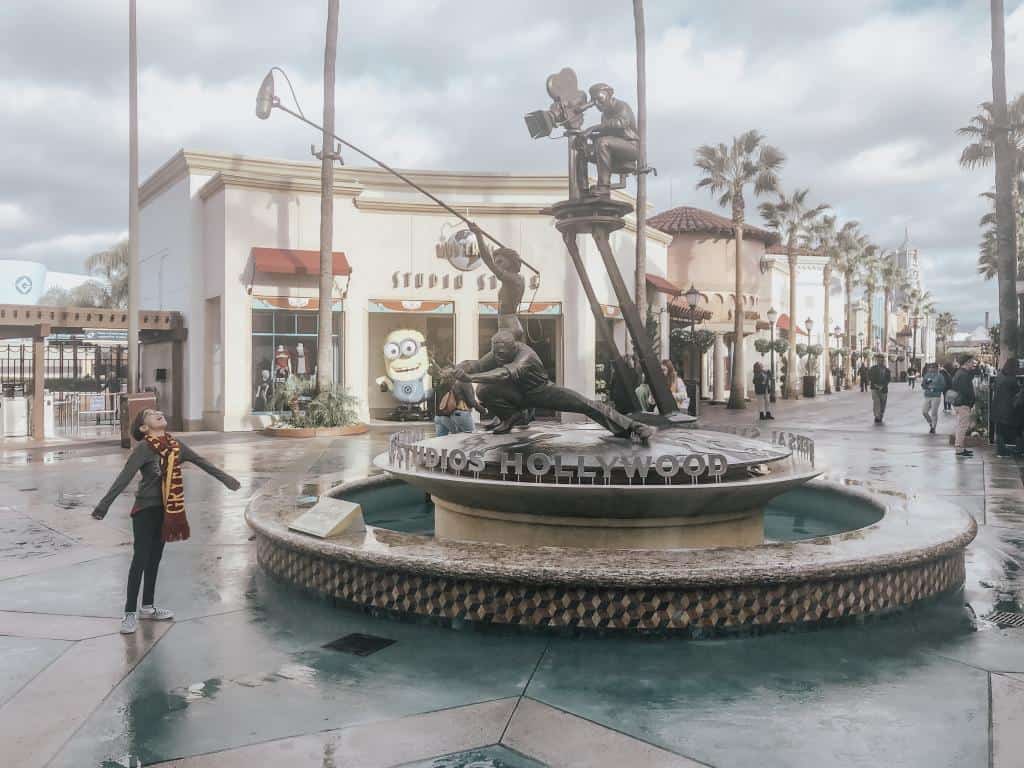 planning your day at Universal Studios Hollywood
If you've read any of my other travel posts, you know that I LOVE to plan ahead. Theme parks are a place where it is especially important to do so. We could only go on a Saturday and I knew this would be the busiest day of the week, so I had the day planned out the best I could to maximize every minute we spent in the park, and make sure we could see and do everything.
Harry Potter World ending up being so amazing, I wrote a whole post on just that area. So don't foreget to check that out too!
Before you go, you need to find a great place to stay and figure out what tickets you are going to purchase.
We were only going for one day so I couldn't partake in any of the multiday discount tickets available. But this ended up being just fine as Universal Studios isn't as big as Disneyland and can easily be done in one day.
Is the Universal Studios Express Pass Worth It?
I get asked this question a lot. And to be honest, it's hard to give an exact answer. We did get the Express Pass and LOVED having it. We never waited in line for more than 5 minutes. Which made our day way more productive.
However, I didn't pay full price for it either. We booked our tickets and hotel stay through Universals website and got a package deal. If you book here and choose a partnering hotel, you get the express tickets as part of the package.
So we ended up paying around $600 for a 2-night stay at the Courtyard Los Angeles in Burbank plus 2 Express Pass tickets ($179 each). Which I think is a pretty darn good deal.
You not only get the express pass tickets, but early admission to the park. Which you definitely need for Harry Potter World. That place gets crazy right off the bat!
How does the Universal Express Pass Work?
Easy cheesy. Every ride has 2 lines. One for regular riders and one for the express pass ticket holders. If you have an expres pass, you get to jump right to the front of any ride. The only catch is you can only do this once per ride. So if you wnat to do a ride twice, youll have to stand in the regular ticket line the seocnd time.
BUT! Here's the thing… if you get to the park when it opens, you can easily go on a few rides without using your express pass ticket. Because there are barely any lines early in the morning. So we hit Harry Potter World and did all those rides without our express pass ticket. Then went back later in the afternoon when it was really busy and went on all the rides a second time with our express pass ticket.
So we were able to hit rides multiple times without ever waiting in line. Whoo Hoo! And THAT'S why you plan things out in advance people!
Oh, and I shouldn't mention this... but some tickets line employees would let us go in the express pass line and not scan our tickets… which means we got to go in the express line for the same ride several times. This was how we were lucky enough to go on the Harry Potter and the Forbidden Ride 3 times! (By far the most popular ride at Universal Studios)
Can you do universal studios in one day?
Absolutely for sure. Especially with getting there early and having that express pass. We were able to see every attraction, every show, have lunch and go on rides multiple times and I think we left the park an hour before closing… cause we had done it all!
Plan your day at Universal Studios Hollywood!
Like I mentioned, Harry Potter World is the most popular so I would definitely head straight there as soon as the gates open in the morning.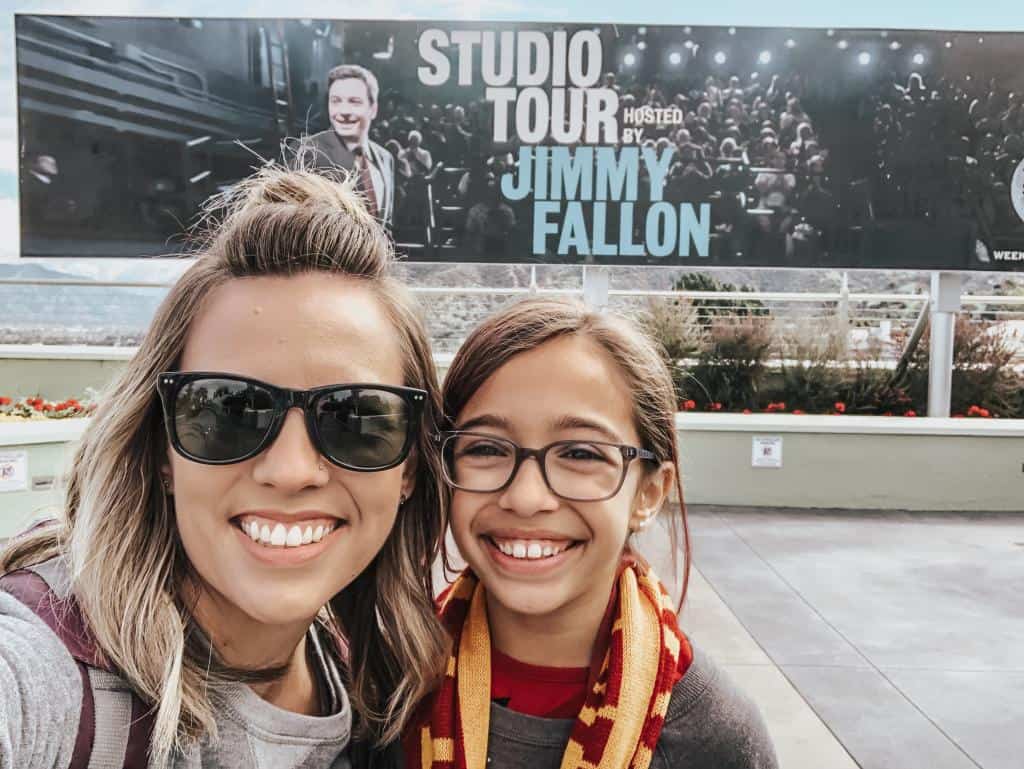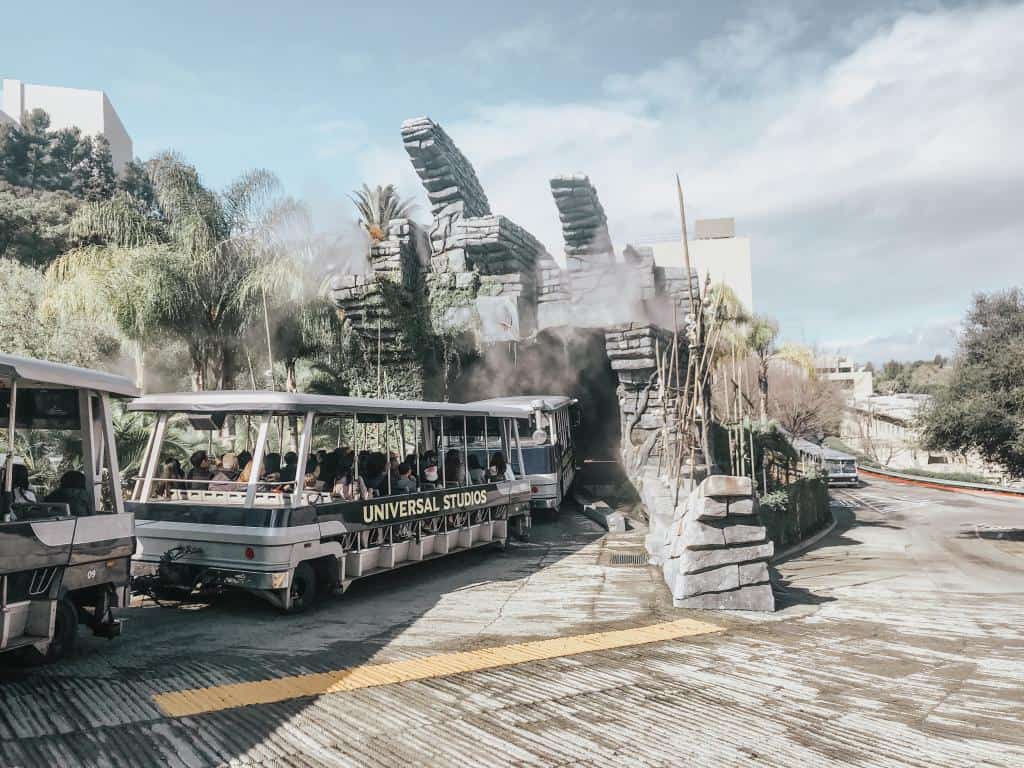 World Famous Studio Tour
From there, we went right to the World Famous Studio Tour. This 45-minute ride takes you through real Hollywood sets. It also puts you right in the middle of the action with several stunts and 3D action that takes place around your shuttle bus.
I really enjoyed this tour and so did my daughter. It's good for all ages and definitely entertains! The line for this tour can also get long in the afternoons so I would try to get this out of the way as soon as you can.
I won't spoil it all because we saw a LOT of movie sets but here are just a few of the cool movie sets we got to see…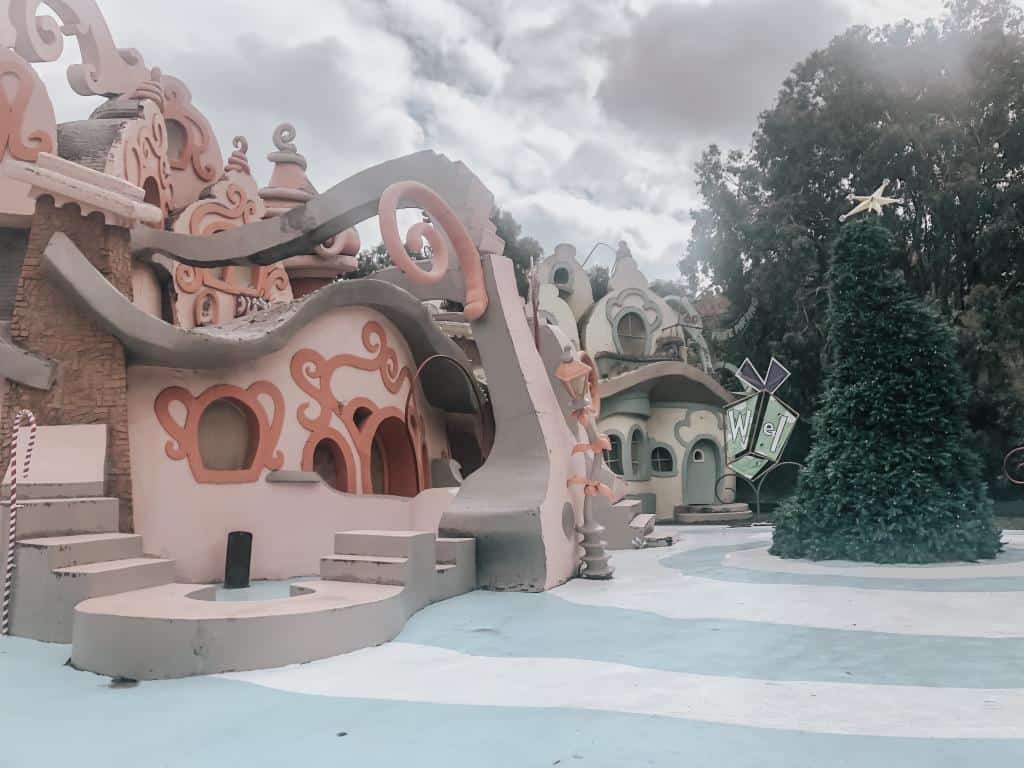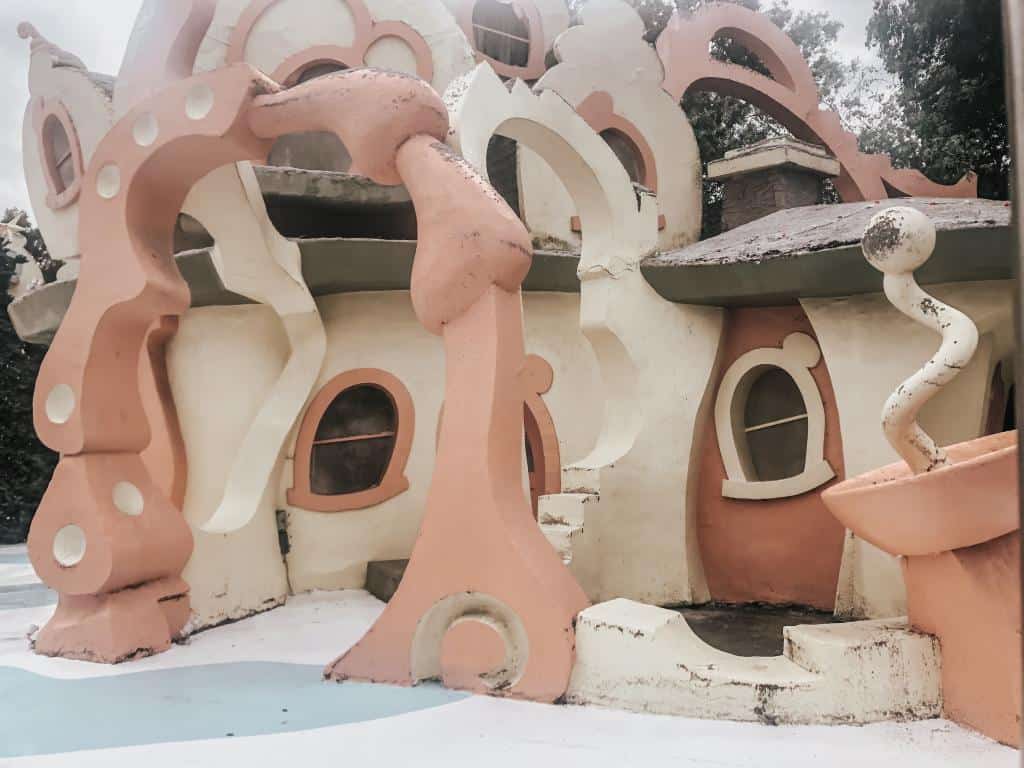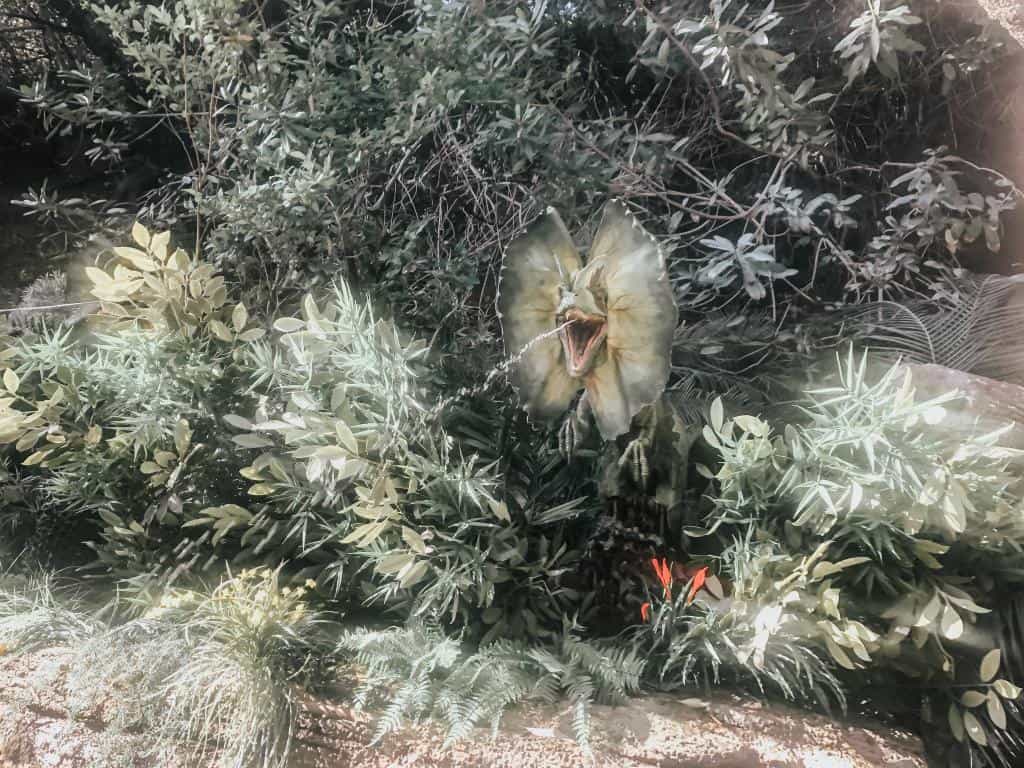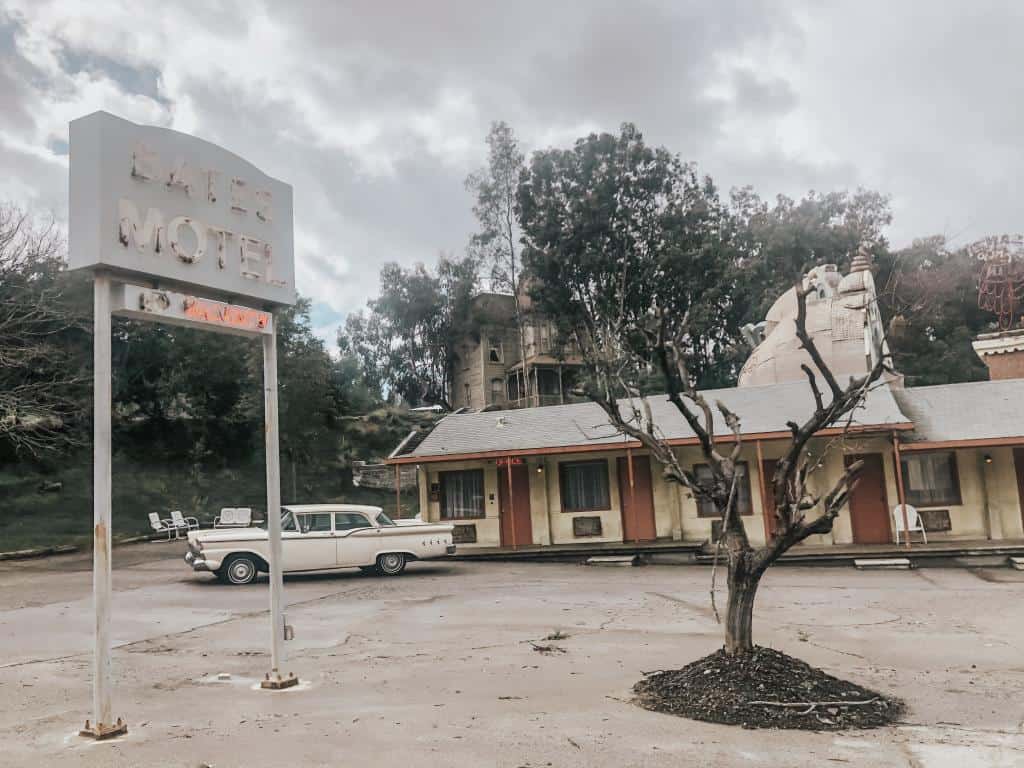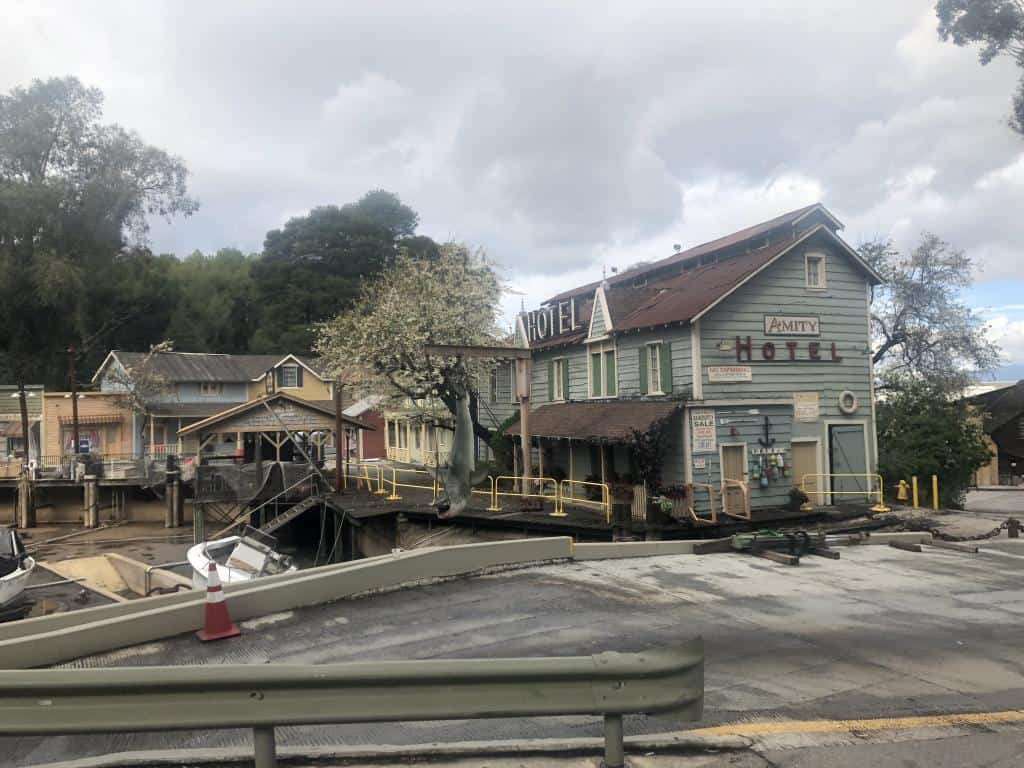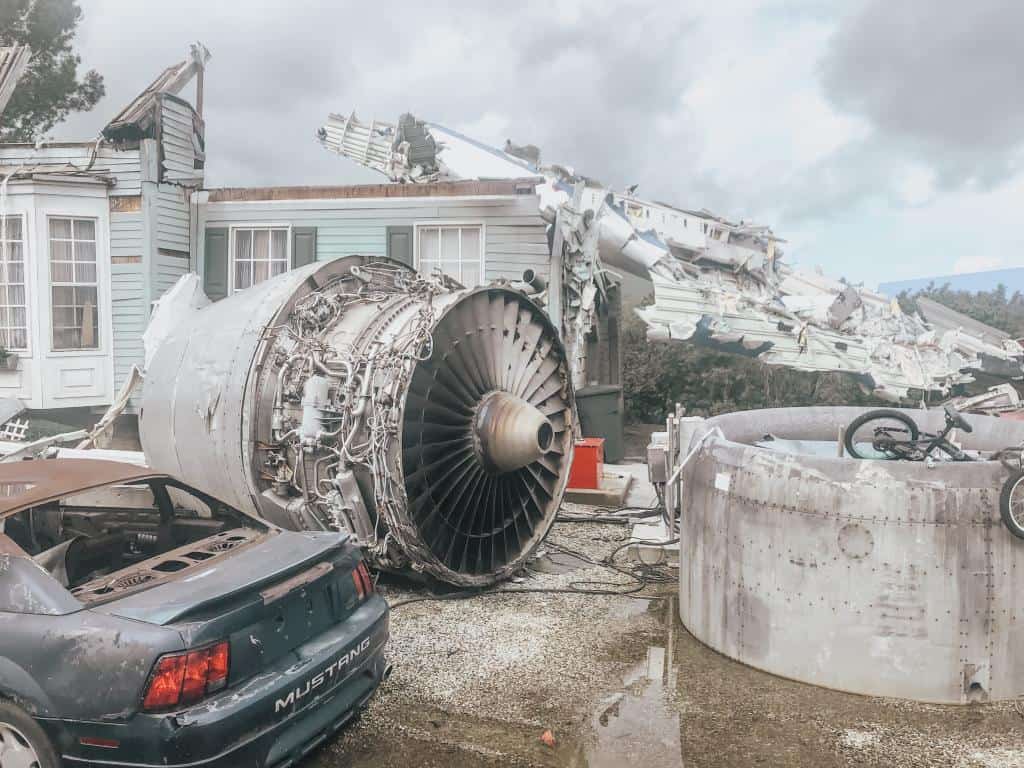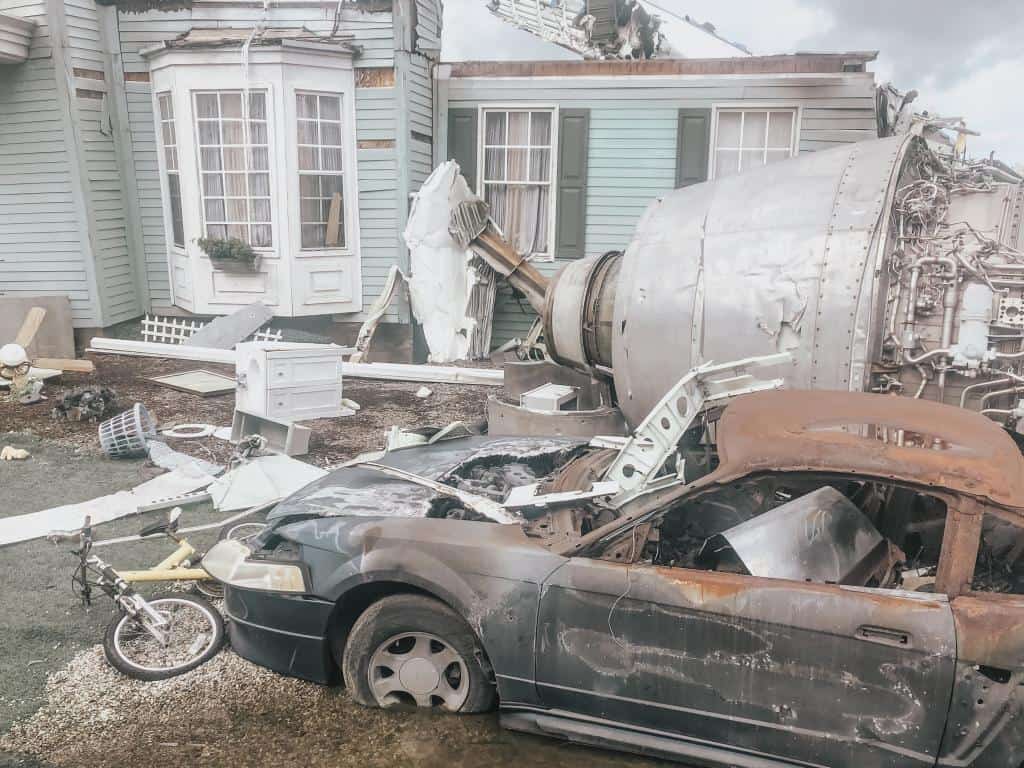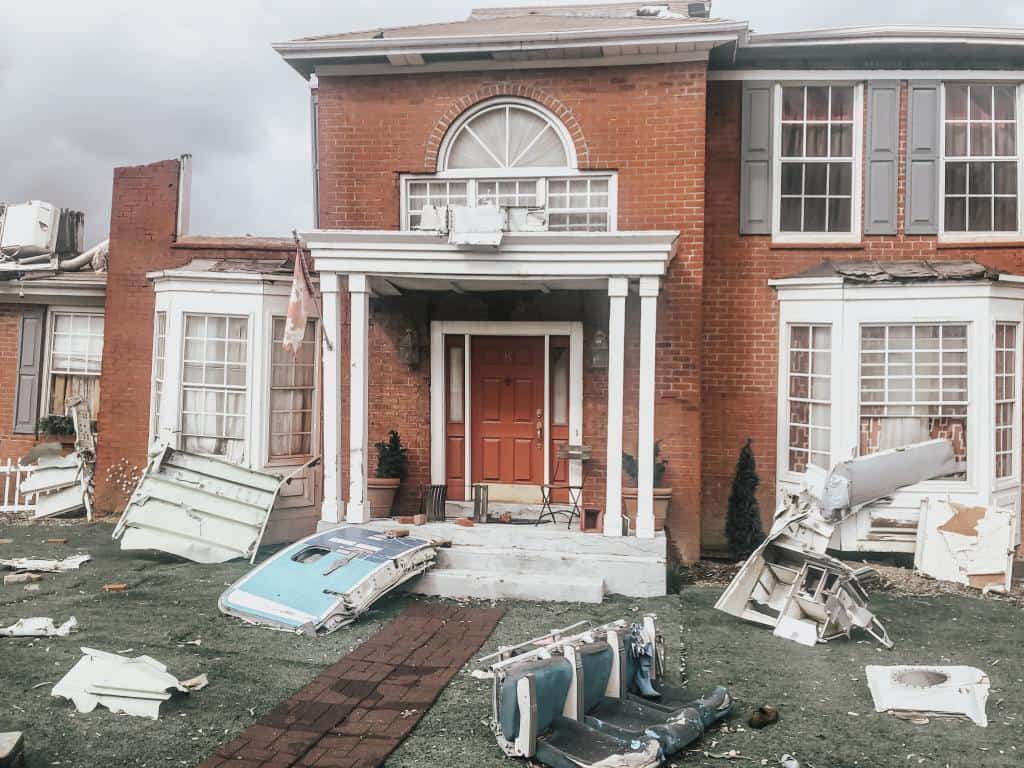 The Simpsons
After the Studio Tour, we hit up the Simpsons, mostly because it was right there and by then we started to get hungry.
My daughter doesn't know much about the Simpsons, but I thought it was pretty cool seeing all the details from the show. You could even go into Moe's Tavern and have a Duff Beer!
The Simpsons ride was a lot of fun though. As I found out at Universal Studios, most of the rides are simulations. Meaning, you sit down and it moves you around while you watch a screen to make you feel like you are on an actual ride.
This can get some people dizzy but it makes it safe for kids of most ages to partake in almost all of the rides.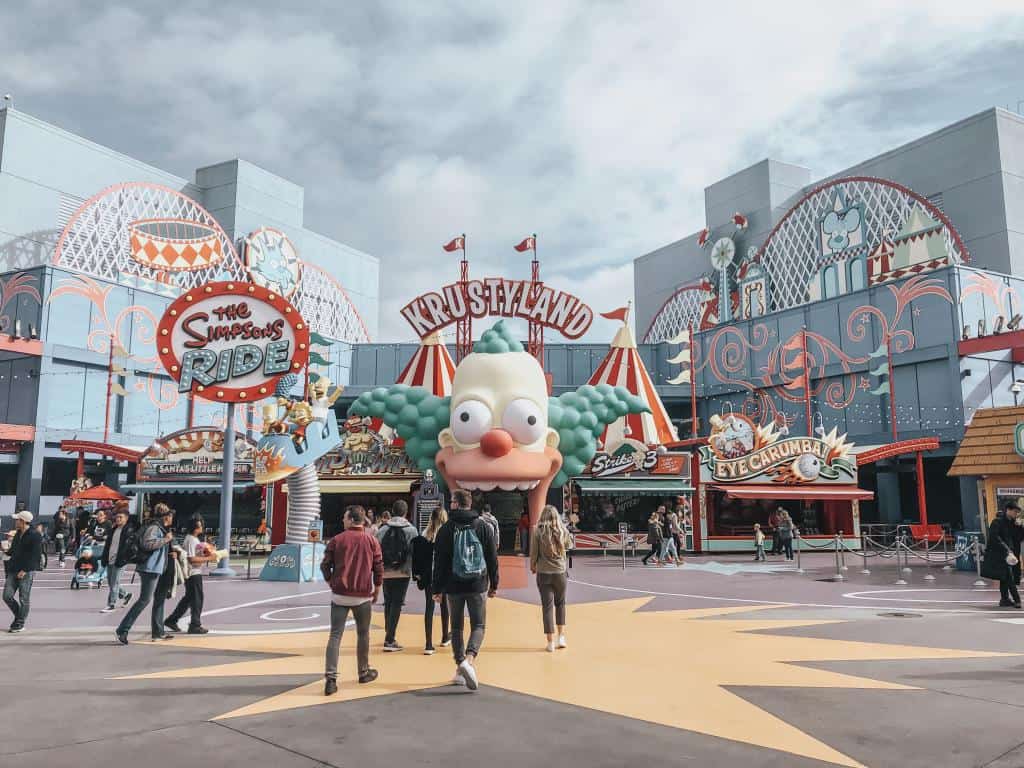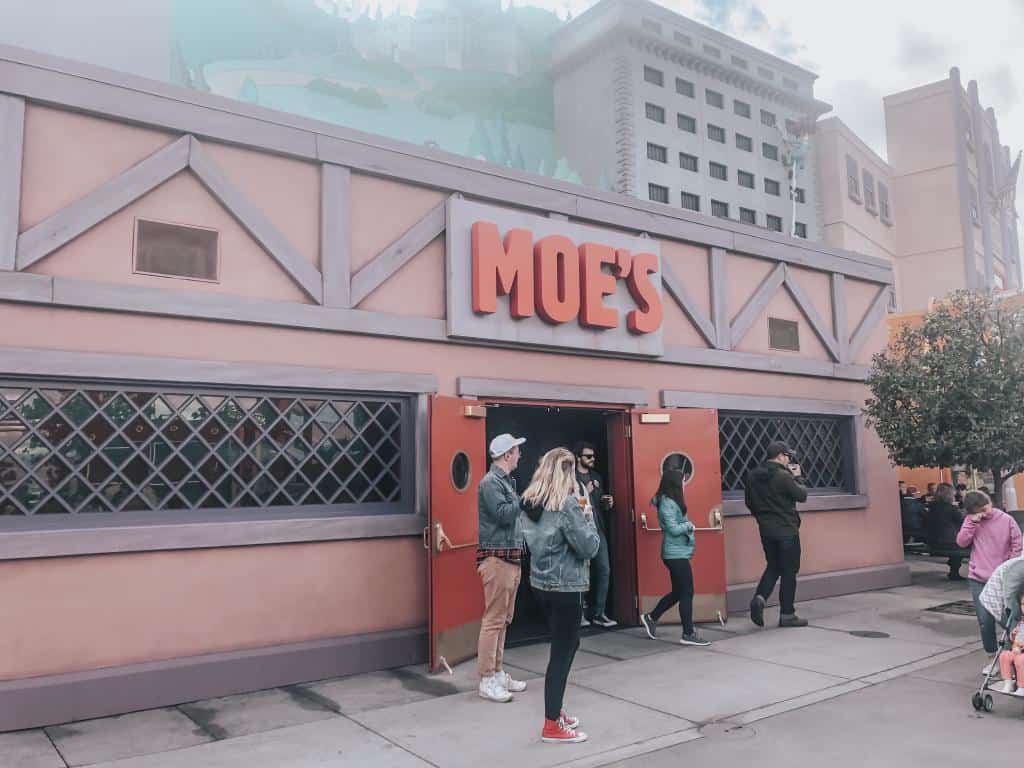 Universal Studios Lower lot
Universal Studios Hollywood is divided up in the upper lot and the lower lot. They are separated by big (and many!) escalators. So once you plan to do the lower lot, plan to see everything you can down there before heading back up to the upper lot.
The lower lot is a lot smaller and it was fun but didn't really have anything too exciting. You'll find the Transformers ride, Revenge of the Mummy Ride, and Kung Fu Panda down here. As well as a few places to eat.
Keep a look-out for the Jurassic Park sightings! And Universal employees performing entertainment. But you won't need to plan too much time down here, it really wasn't our favorite part of Universal.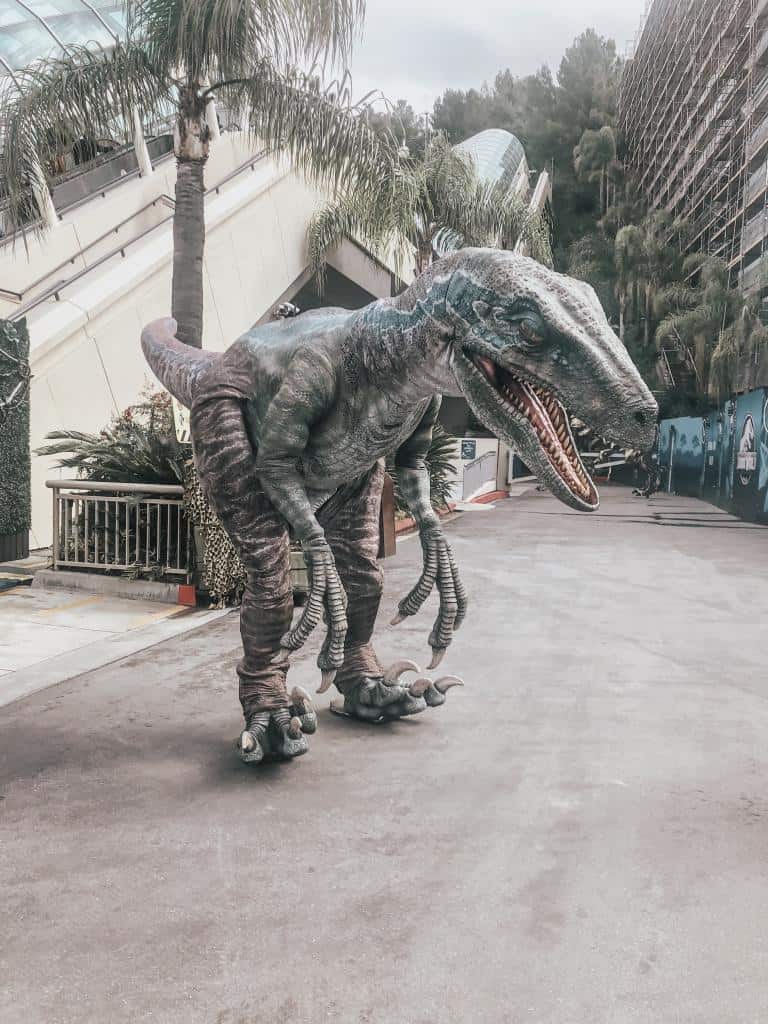 The rest of the Upper lot
Going back up to the Upper Lot, you have several other attractions that are must-see. The Walking Dead exhibit is great if you're a fan of the show. It's basically set up like a haunted house. You just walk through an old hospital and have zombies popping out at you.
Despicable me has a ride as well that's also a simulation and great for kids of all ages.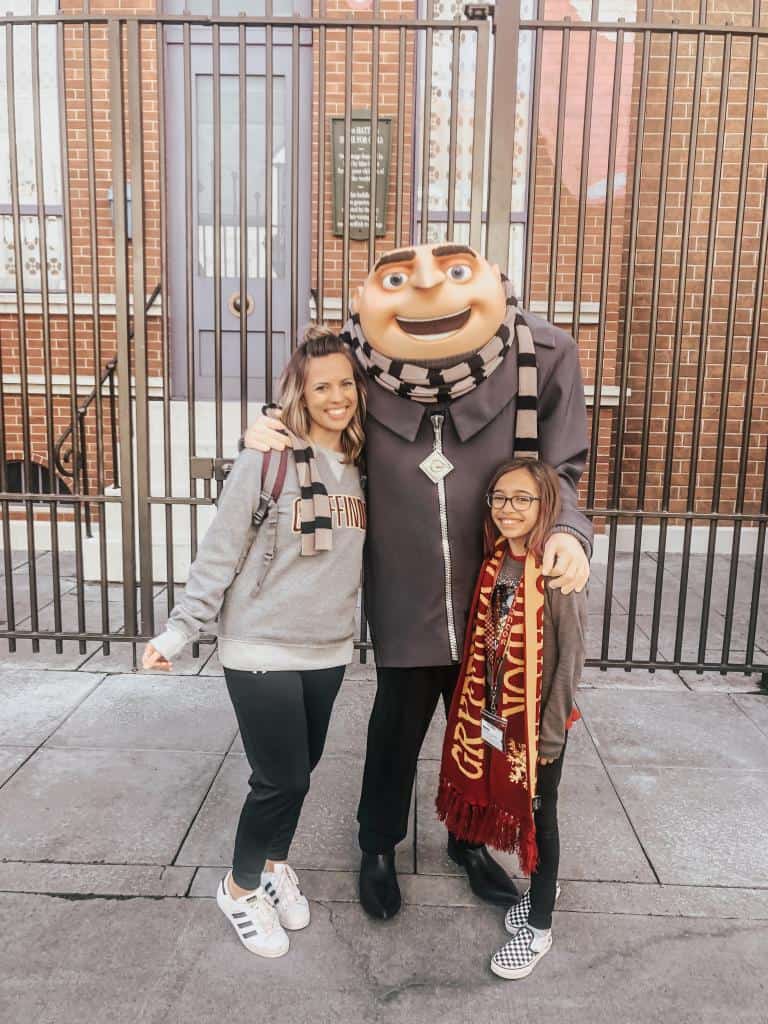 TIP: before you go on the Minions ride, go up and down the street and press all the doorbells. You get diffeent voices and sounds to surpurse you.
By the Minions ride, you'll also find Super Silly Fun Land. This area is great for small kids. It's more like a play center and has some smaller kid rides. My 10-year-old was not impressed and we passed it up.
Universal Studios Shows
WaterWorld
Universal puts on some fun shows and I highly suggest you check them out. The first was Waterworld (the splash zone gets you VERY wet) is put on by actors who have worked in actual shows and give you some really cool special effects.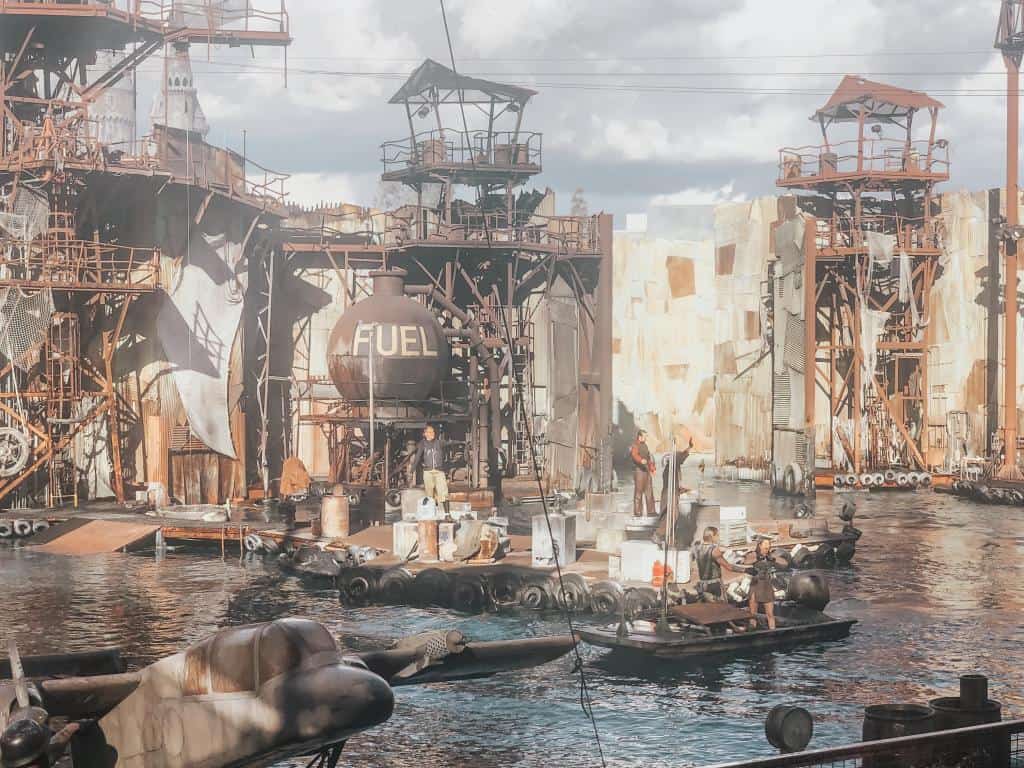 The Special Effects Show
Don't miss this one! They give you a great behind the scenes look at how they pull off special effects in movies with real stunt people and audience participation. It "wow"ed us and made us laugh.
The Animal Show
Who doesn't love animals… am I right?!?! this super fun show was a favorite of both my daughters and I. Animal trainers come out and show us how they train animals for TV and movies. And they even had a few stars like one of the Golden retrievers who starred in Air Bud. They also had Guinea Pigs, cats, chickens, hawks, and more.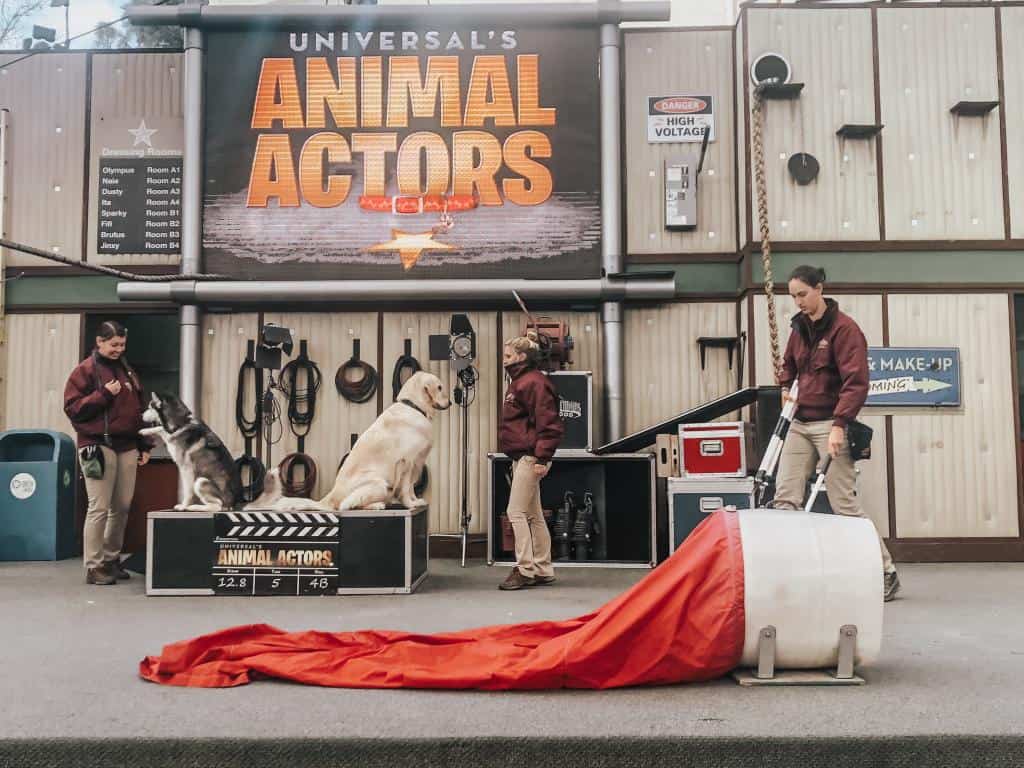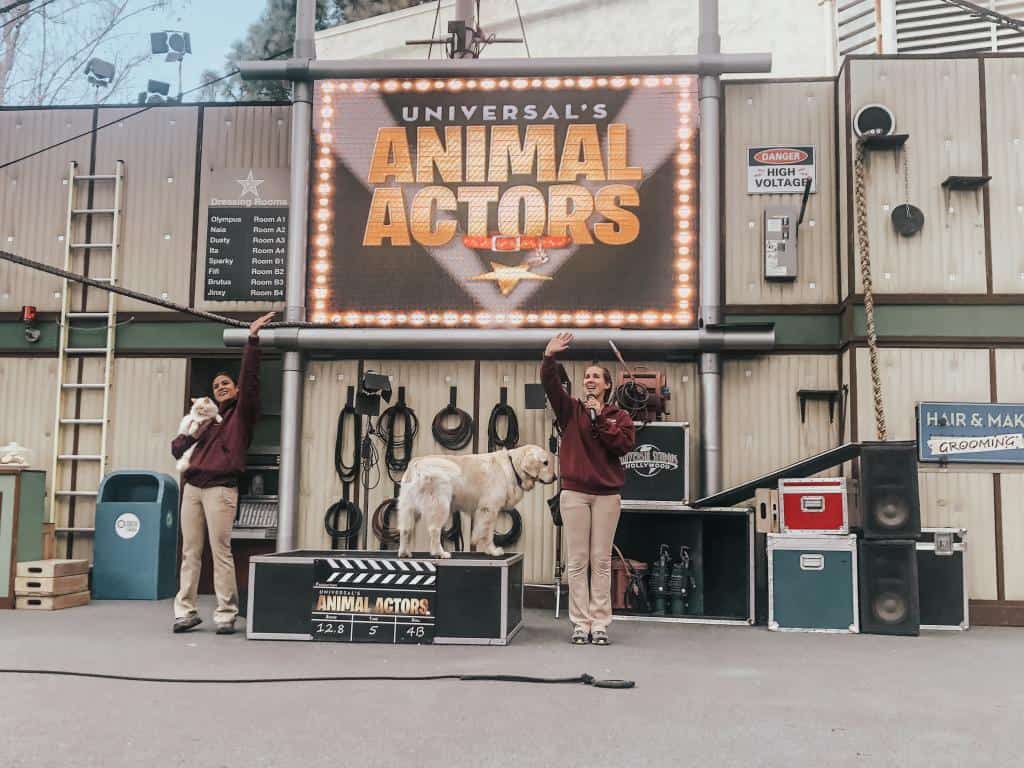 Eating and Shopping at Universal Studios Hollywood
Like every other theme park, there are more places to eat and shop then Ic an even begin to mention. But like every other place, they are UBER expensive. So stock up on some Universal merchandise before you get there in order to not spend a million dollars in toys and clothes for your kids.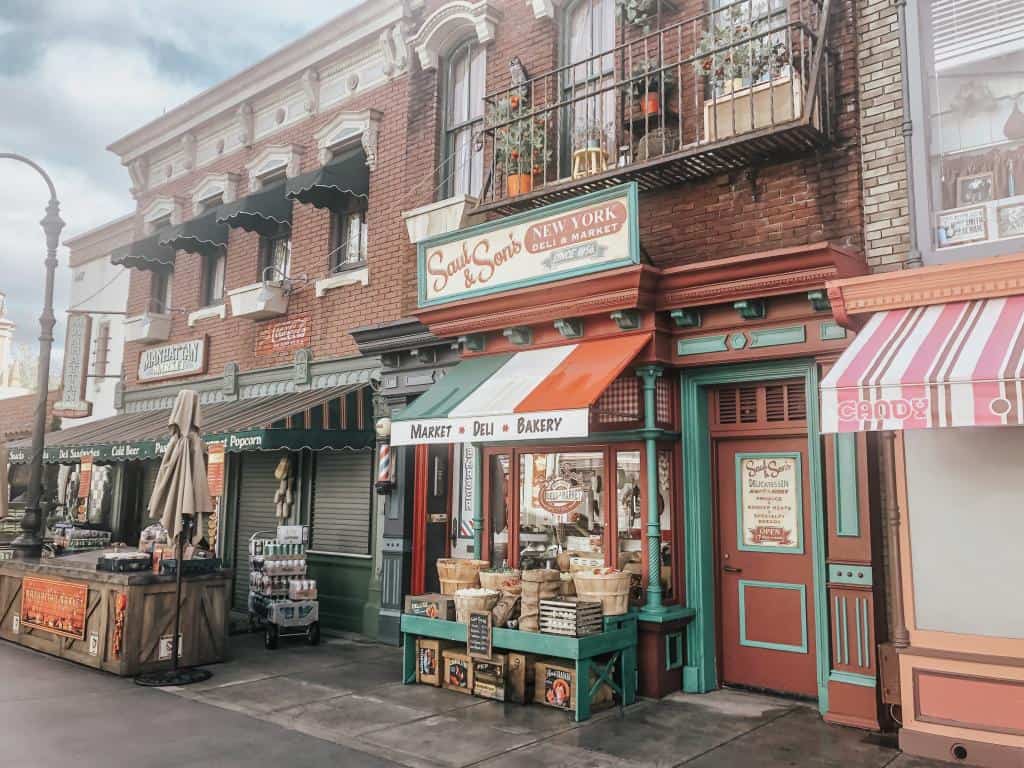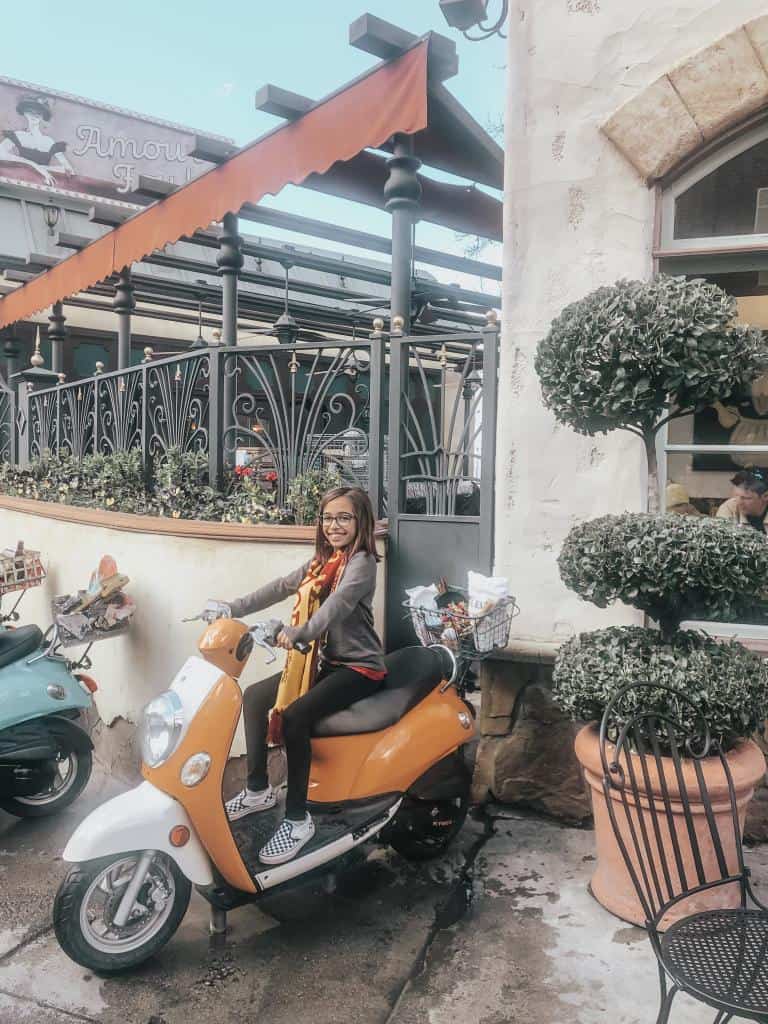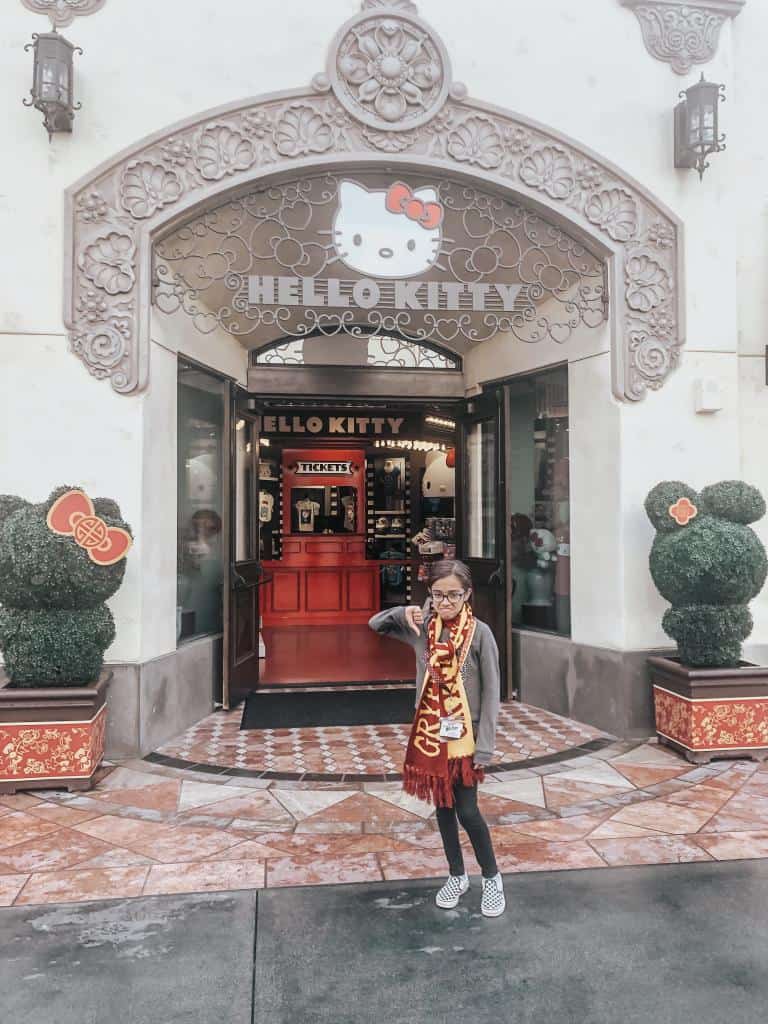 Universal Studios City Walk
Although this is not inside Universal Studios, I still thinks worth a mention. It's similar to downtown Disney where you can walk around just outside the park (no admission, open to the public) and it consists mostly of shops and dining.
We went the night before and spent a few hours having dinner and buying a few things before heading to bed and getting a good night rest.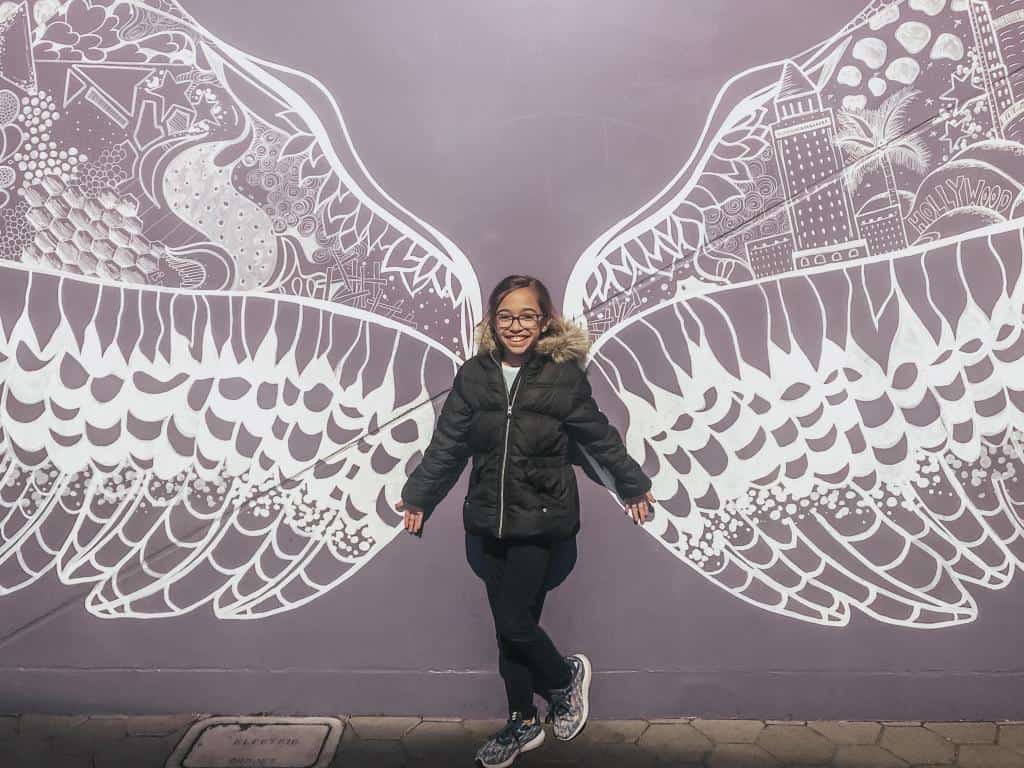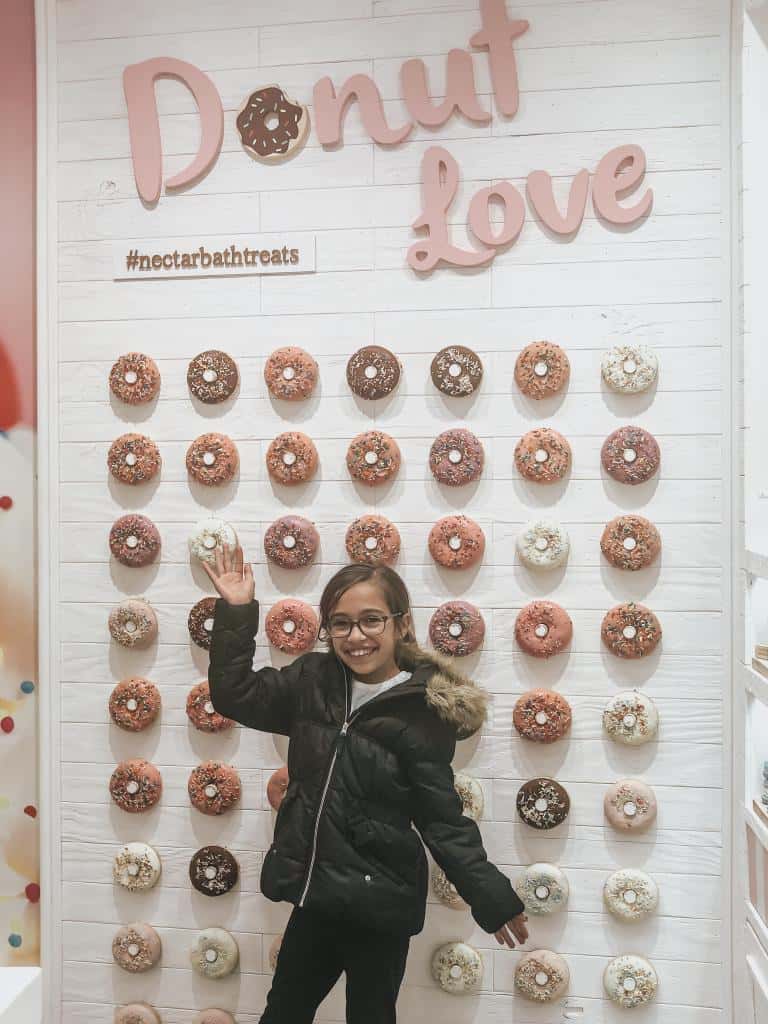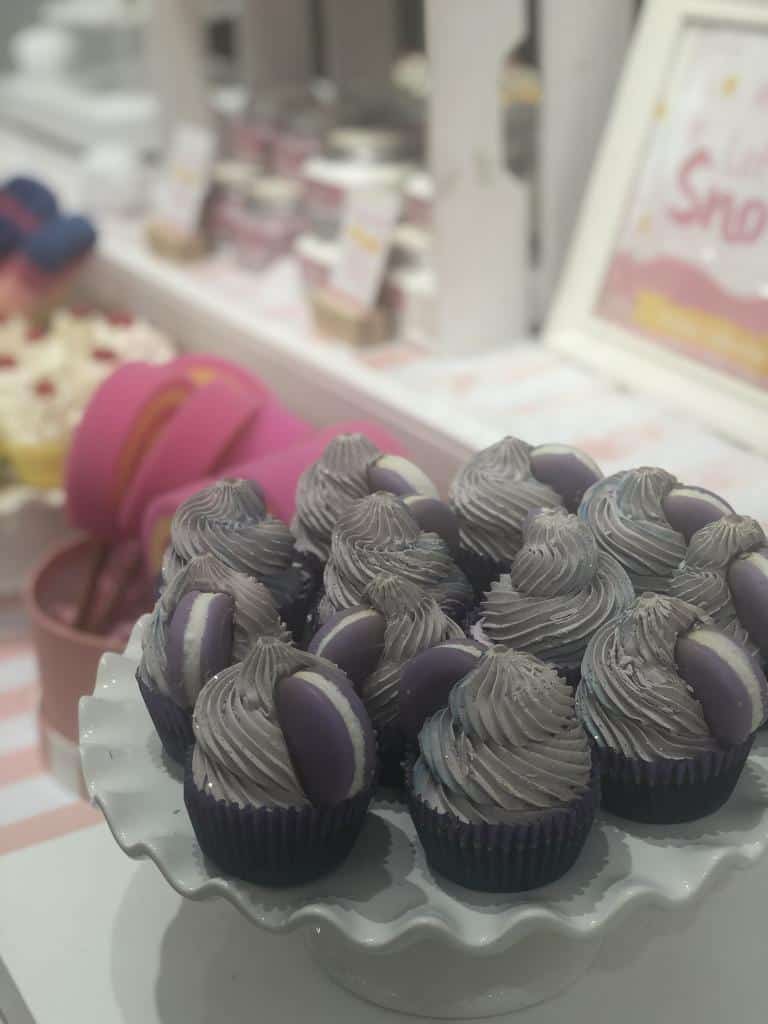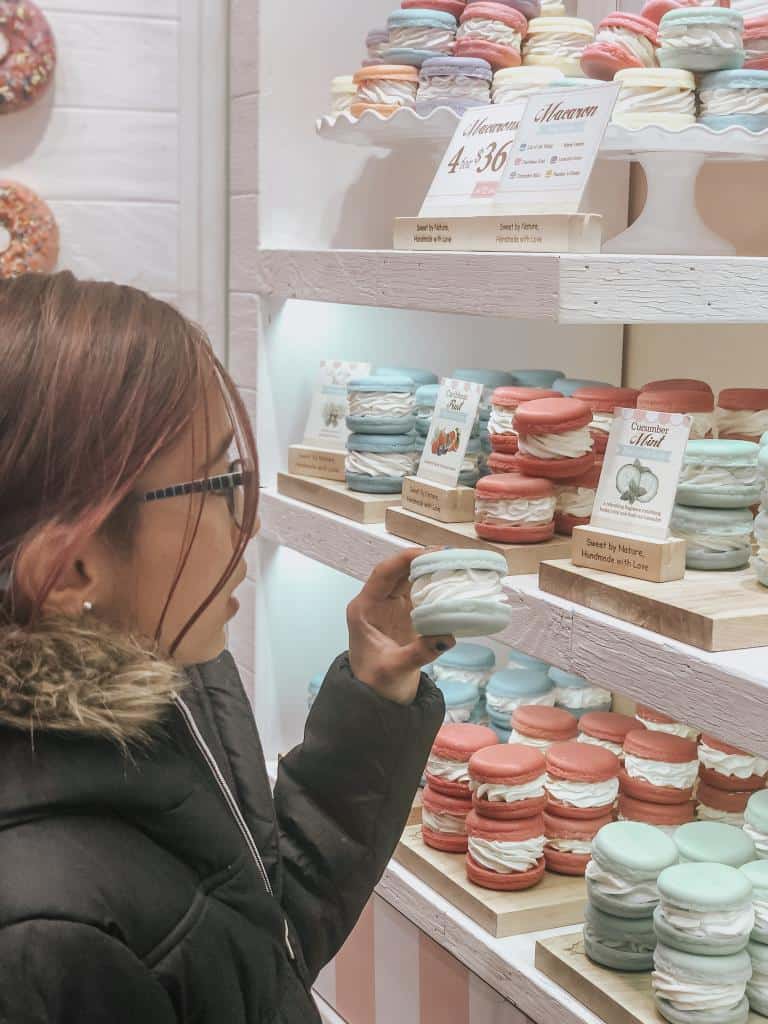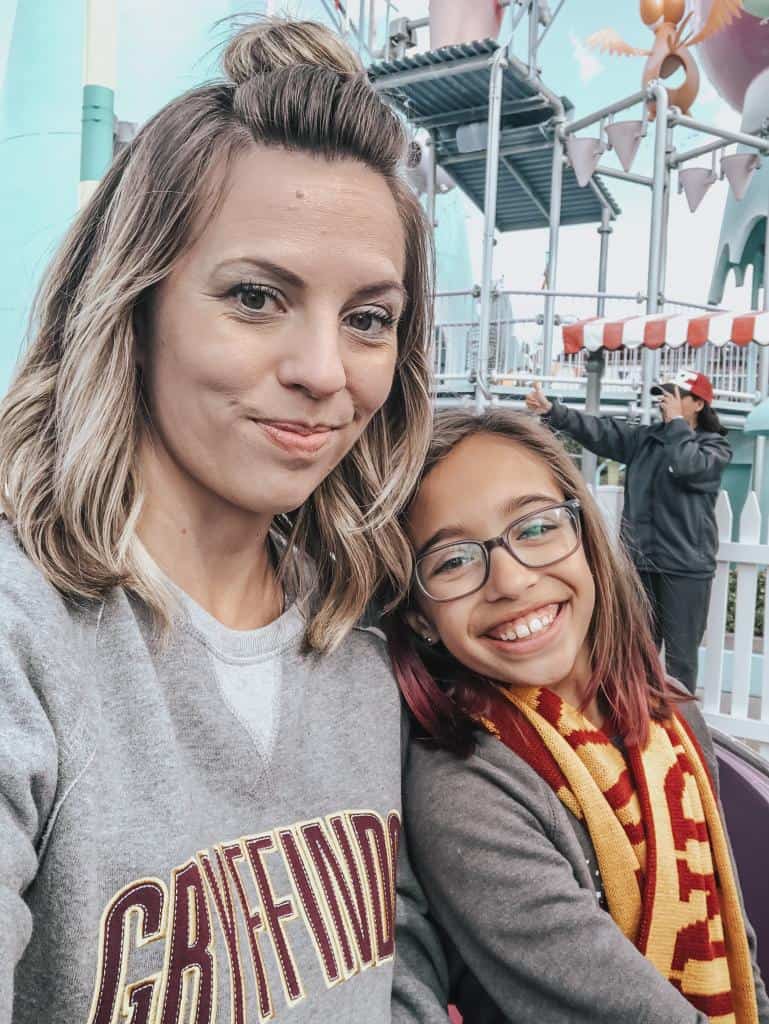 Do you have any questions about Visiting Universal Studios Hollywood? Leave them in the comment section belwoe and I'll be happy to get back to you as soon as I can!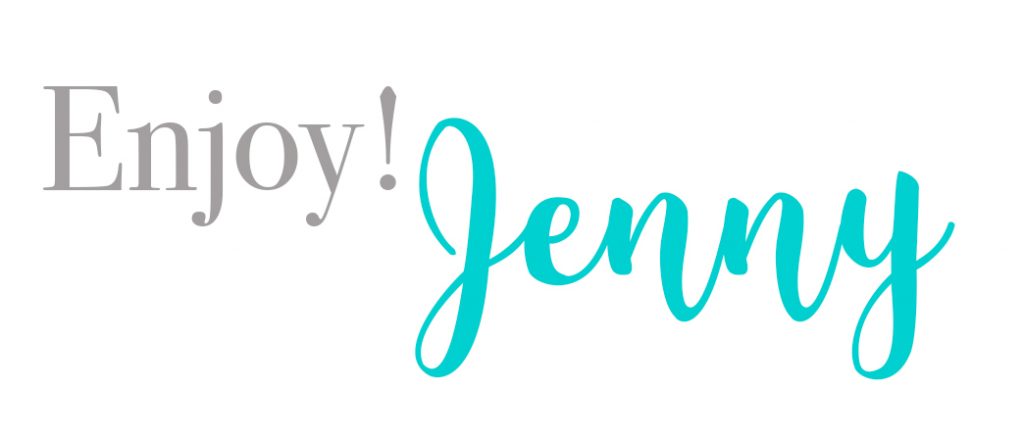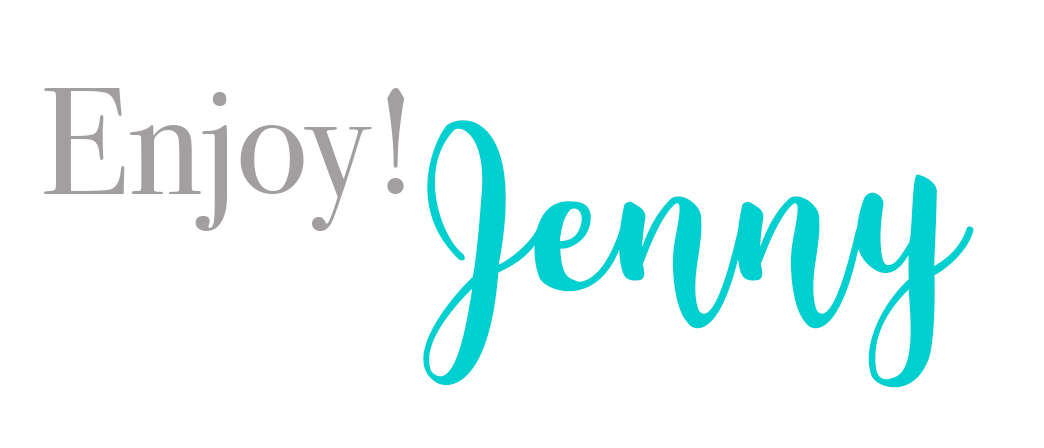 Pin for Later!