Save money with cheaper indoor spinning bikes. You can still have the Peloton experience at home with these amazing and affordable Peloton alternatives.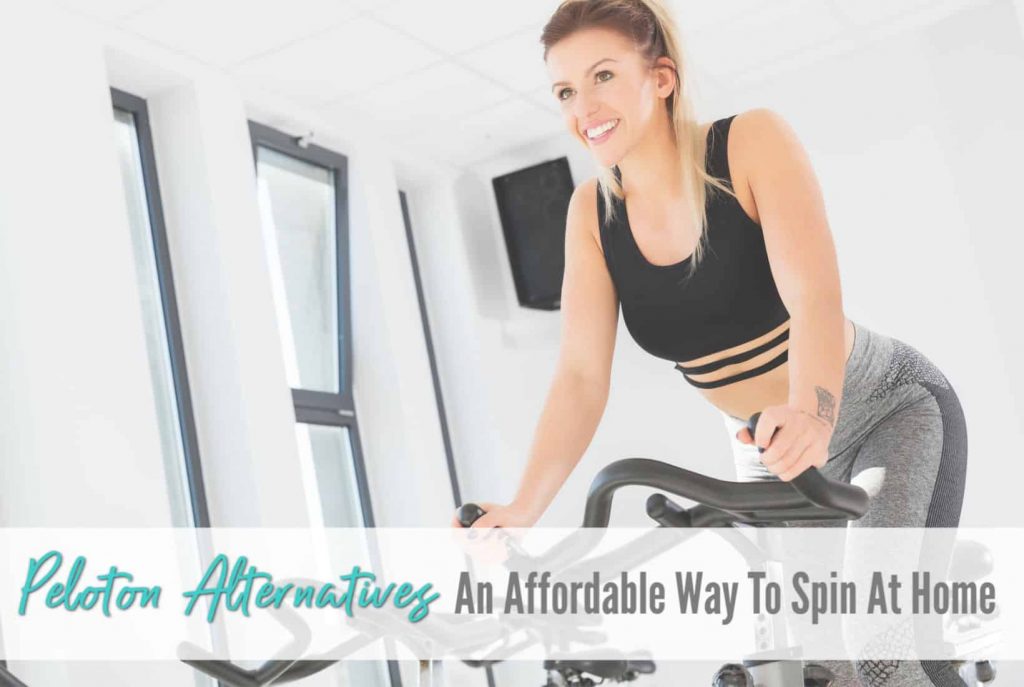 How to Spin at Home: Peloton Alternatives
Is There a Cheaper Alternative to Peloton?
The answer is YES! There are some super affordable Peloton alternatives you can set up in your home.
Peloton spinning bikes have exploded in popularity recently and they even came out with a new line of treadmills. But for as popular as they have become, they are still super-duper expensive. And just not that affordable for the average family.
Before you sell your first child to get a Peloton bike, check out my easy suggestions to set up a Peloton alternative so you can spin at home. Without breaking the [email protected]
And the best part? Most of these Peloton alternatives come straight from Amazon. So shipping and selection are easy!
So you can still get the Peloton experience while you spin at home on a budget.
The Peloton App
One thing really great about Peloton is that they allow you to use their app even if you don't buy their bikes. And you can get the app for only $12.99 a month. WAY cheaper than most gyms.
They are currently offering a free 90-day trial if you sign up and want to try it out.
just having the Peloton app gives you access to thousands of either live classes or on-demand classes you can access anytime. You can use the app on any smart device, so your phone, tablet or TV.
They literally have about 15 live classes a day and thousands of pre-recorded classes for you to choose from. You can download the Peloton APP here!
One thing to consider is that if you do have the budget for an actual Peloton bike, you still have to download the app and pay the $12.99 monthly fee. You do not get the monthly fee covered just for buying a Peloton bike.
Which really makes me wonder why anyone wouldn't consider Peloton alternatives in the first place?
So preferably, the Peloton app would work best on an iPad to mostly resemble a real Peloton bike. But it would work just as well on a smaller screen if you want to use your smartphone.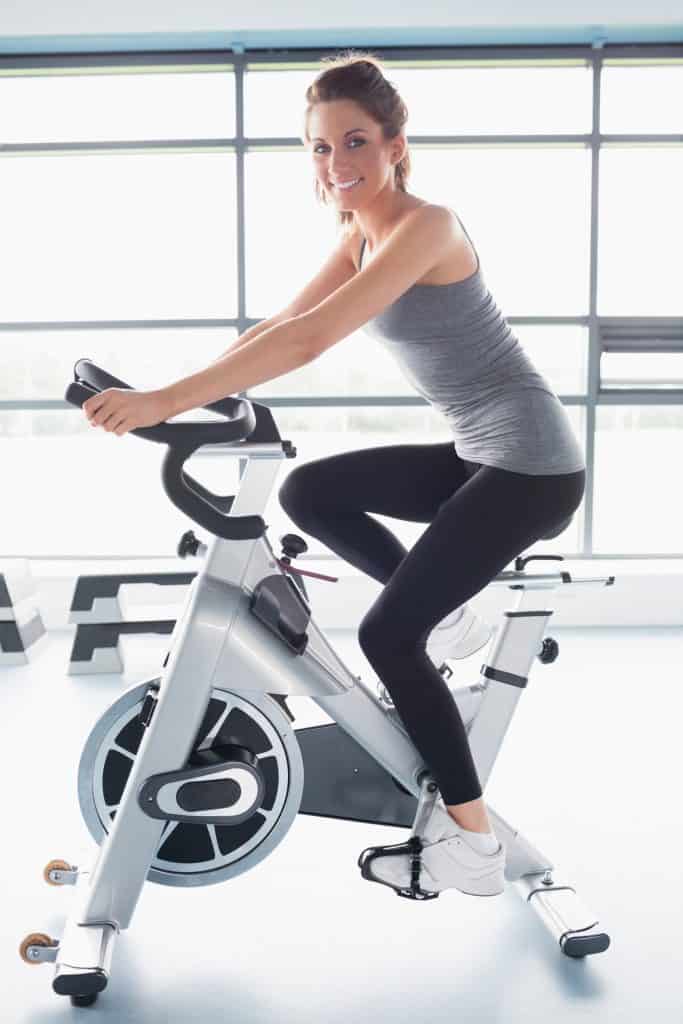 Peloton Bike Alternatives: Indoor Exercise Bikes That Cost Less
First things first, you need a bike! The good news is, there are lots of really great spinning bikes you can buy online.
The current price of a new Peloton bike is around $2500 (ouch!) but here are some alternatives that will save you tons of money!
One of the best Peloton alternatives is the Cyclace Exercise Bike Stationary. You can buy it right on Amazon for only $374… a fraction of the cost of a real Peloton bike!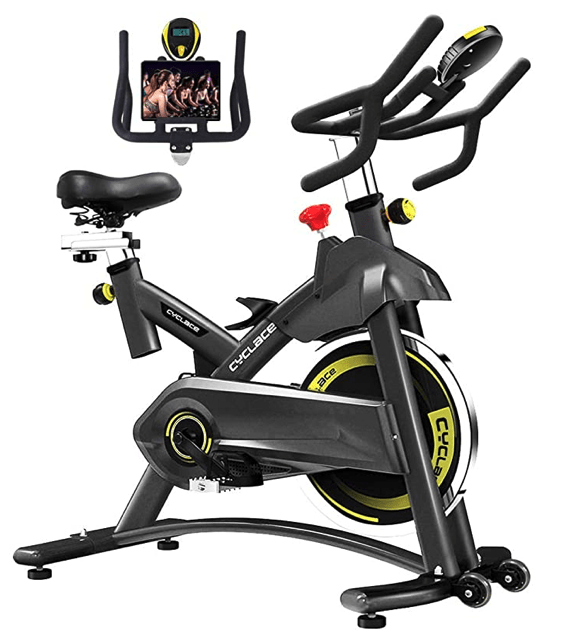 It has great reviews on Amazon and comes with a ton of features that you would also find on a Peloton. It even comes with its own tablet holder and LCD screen. The LCD monitor tracks your time, speed, distance, and calories burned by an odometer while you pedal. All you need to do is supply your own tablet!
Another great Peloton alternative that has great reviews is the Sunny Health & Fitness Indoor Cycle Bike. It comes with a water bottle holder and clips for your feet so you can wear regular gym shoes. This brand is super popular with people who like to do spinning at home and has other, even more, affordable options.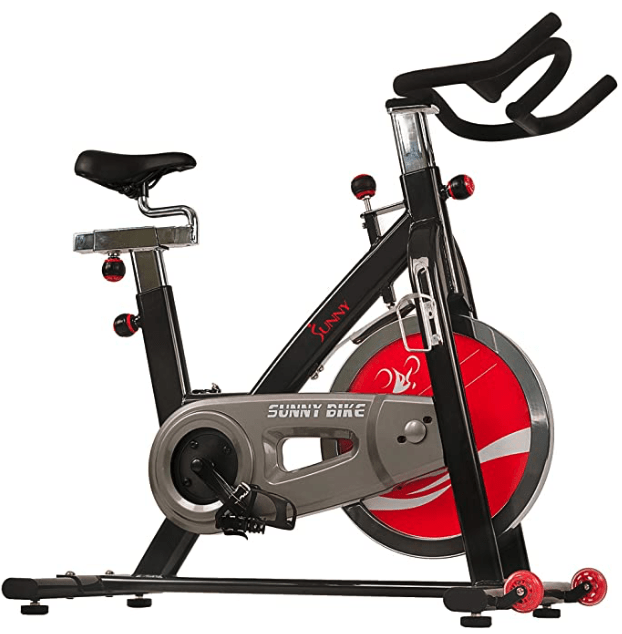 And last but not least, this spinning bike is the most affordable bike you can find that was the best reviews! It even comes with a tablet holder and the thing I love the most about it… it's foldable! So if you don't have a whole room dedicated to fitness equipment or limited home space, this guy is perfect for you!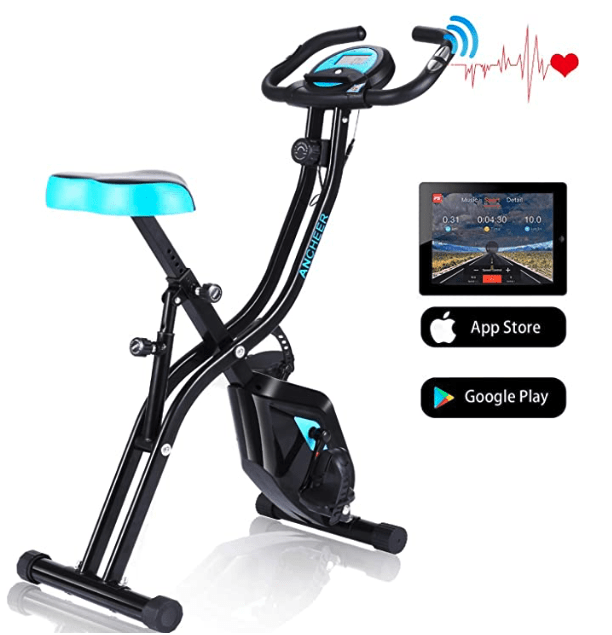 Spinning At Home with Cheaper Alternative to Peloton
Ok, so you got an affordable spinning bike for your home and now you want to make it function more like the actual Peloton. It's easier than you think!
Gear to use when spinning at home:
Bike Tablet Mount. If your spinning bike comes with one already, great! But if not, don't worry! You can find TONS of these babies on amazon that are super affordable. My favorite is this tablet mount for bikes. It can be used on most spinning bikes, treadmills, and ellipticals too.
Cadence Sensor. Not sure what a cadence sensor is? Yeah, I had node either. Your bike might already come with one, but if not then you definitely should grab one. I prefer this cadence sensor over any other. It's a sensor that tracks things like your speed and RPMs. If you want to follow along with the Peloton app as best you can, you will need one of these!
Personal Equipment Fitness Mat. this isn't 100% needed but it will save your carpets or hardwood floor from being ruined with the weight of your new spinning bike. And this fitness mat is affordable and totally worth it!
Other equipment for spinning at home:
The following list of items are not necessary to create your Peloton alternatives at home, but would definitely come in handy!
The Best Peloton Alternatives For Your Home
Owning a Peloton bike isn't a reality for most people. Even if I could afford one, I would rather spend my money elsewhere! Especially knowing that it is 100% possible to have a Peloton dupe.
You just have to get a little creative with your spinning bike and accessories, but it is possible for you to spin at home and still be able to use the Peloton app.
After all, no one is going to know what you are actually using except you!
So grab some of these Peloton alternatives and set yourself up to lose weight or get in shape… at a fraction of the cost of a normal Peloton bike!
Happy riding!
You Might Also Be Interested In: