Going to the gym is a pain in the butt. But I don't need to tell you that, do I? I don't know about you but if I have any hope of getting in shape, I need something quick and easy. These lower body workouts you can do at home are the perfect thing to get me motivated.
Lower Body Workouts That Don't Require a Gym!
Getting ready to go to the gym can be a chore. Cause lets face it, we still try to look good in our outfits and our hair and makeup. I need something I can do in old sweats in between loads of laundry while my daughter is sleeping in the next room.
The season of shorts and bathing suits is just around the corner. So it's time for some quick and easy lower body workout. Gotta get those legs and thighs looking good, amiright?!?
I have managed to find the perfect workouts for your lower body that are super easy to do at home. Or at work, or wherever you can fit them in! These all require no gym equipment and can be done in 20 minutes or less.
Try at least one of these workouts each day if you want to start to get into shape. But if you really want to make some changes or are short on time, do one workout as soon as you wake up. Do another every night right before bed. Print some of these out and stick them in your purse. You never know when you might have 10 minutes to spare to do a few quick exercises!
Lower Body Workouts You Can Do At Home

Just Keep it Simple Fitness (www.justkisf.com) has great workouts of the month and one of my favorites is this lower body fitness routine. Every move is easy to follow and literally requires no equipment, not even hand weights. This can be done in your home, in your yard, at the park with kids, in the storage closet at work… anywhere you need! Visit her site for even more workouts of the month that are super easy to follow.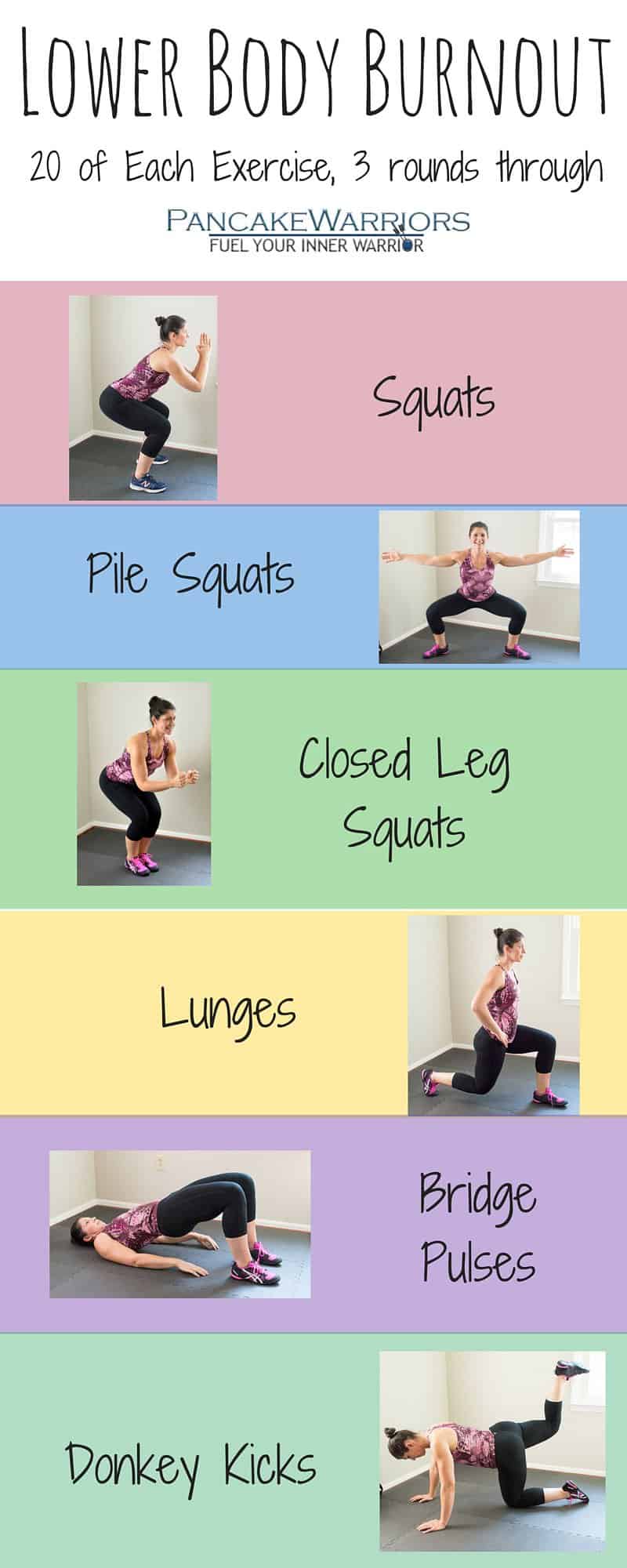 Bites of Wellness has a great tutorial called Lower Body Exercise Burnout. These are also really great moves you can follow along with. She also includes written descriptions of how to do each move so you know if you have the right form or not. Print out the card to take it on the go with you!

Pumps and Iron created this great workout routine that uses your own body weight to get the best lower body workout. Her At-Home Bodyweight Booty Workout has easy to follow along images and also requires no equipment at all. You learn how to use your own body weight to achieve the best results. Meaning you get the same results or better by using your body in a certain way, and no hand weights or kettle ball. And these are all done on the floor… great for those lazy days!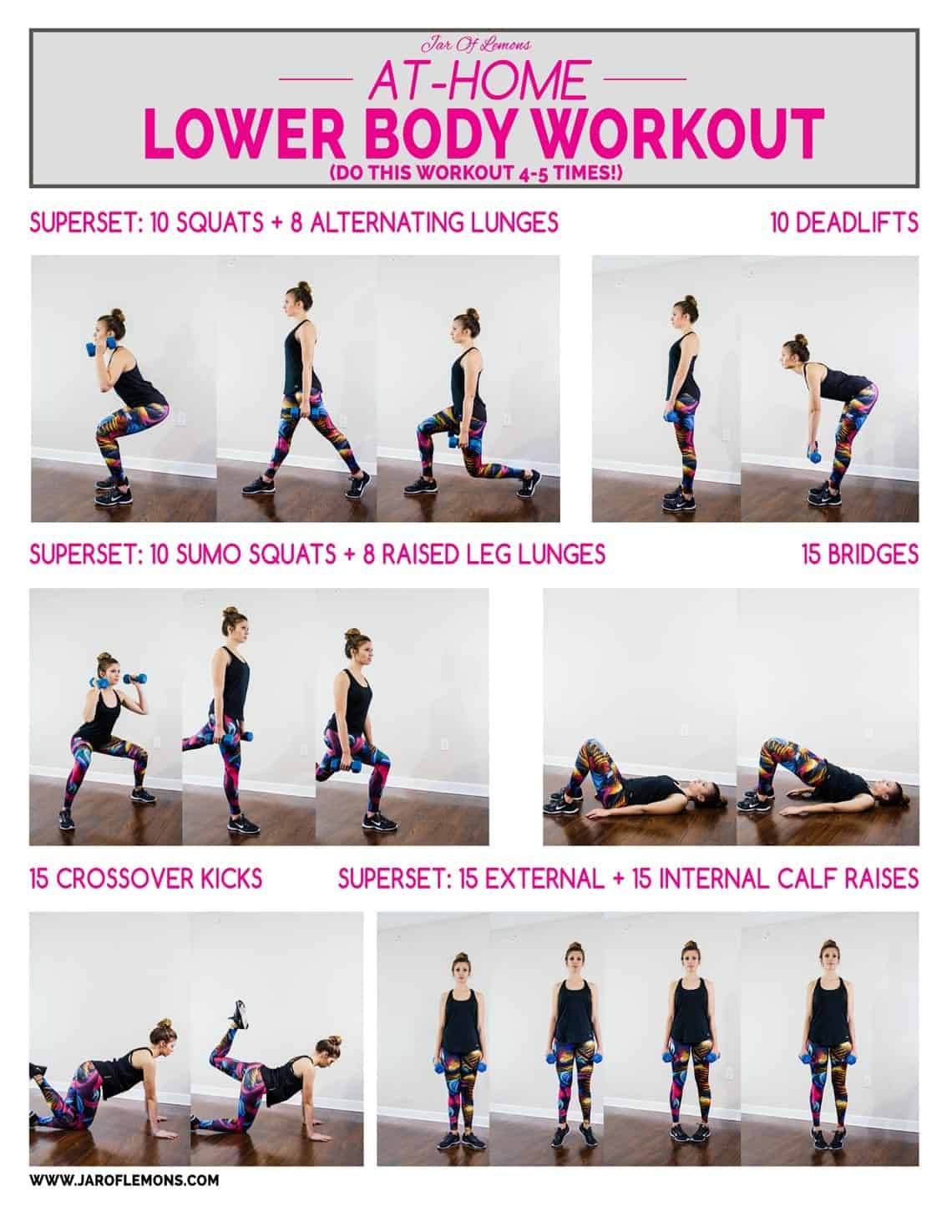 Jar of Lemons has this really great At-Home Lower Body Workout tutorial. Forget the fact that she has the cutest leggings of all time. Her photos are crisp, clean, and really easy to follow. She also included full descriptions of each move so you can make sure you are doing it right. She uses small dumbbells to get great results but notice they are not even that big? You don't need to lug around giant weights. A little extra will help.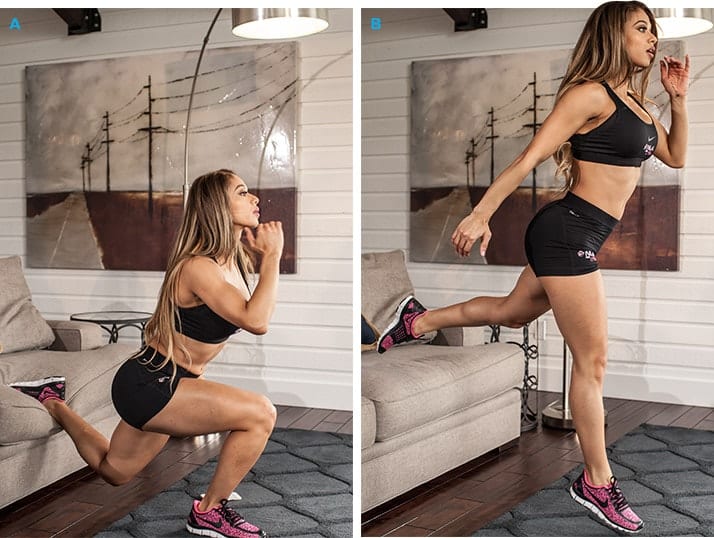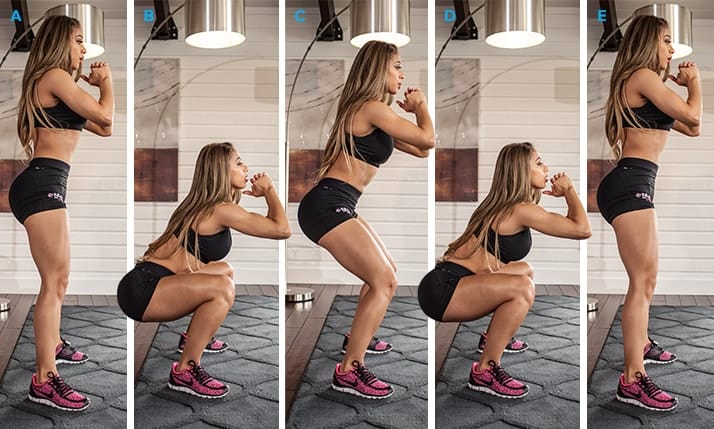 Another great at home workout routine is this Perfect Booty Workout. Instead of having to have access to a workout bench, she uses her couch for moves that shape your lower body. How genius is that? So you can watch tv while working out. No excuses now!

15 Minutes to Build a Booty is my favorite quick and easy workout routine to fit in when I first wake up. It has fewer moves than most of the other workout routines. But if you repeat the ones she gives you, you'll feel the burn and see the results.

Christina Carlyle is a genius with the workout routines that she has created. There are too many great ones on her site to even mention. But when it comes to lower legs, these simple and easy Leg Exercises is one of her best. It's meant to maximize your calorie burn and help avoid building bigger legs. Her moving photos make it really easy to follow along.

Transformfitspo has a really cool routine for Sculpting Sexy Summer Legs. They show you exactly what moves to do to work every part of your legs, as well as easy to follow descriptions on how best to perform each move.

Who doesn't like something that has the words 'lazy girl' in it? This Lazy Girl Leg Workout is amazing because all the moves are done while laying down. You don't even have to get up! Perfect for exhausted moms!

Another great workout that gives great results is this 7 Best Leg Workouts for Women At Home. It gives several good suggestions on what move is best for what. So if you want a great butt or slimmer thighs, it helps you determine what moves will work best for you.

Resistance bands are great because they are light and easy to carry in a purse or luggage. So even if you can't go to a gym, you don't need to worry about lugging your hand weights around either. The Best Resistance Band Leg Workout helps you get a nice sculpted lower body with moves using the band.
Just Keep it Simple Fitness (www.justkisf.com) has another great workout routine I just have to mention. Her Single Leg Lower Body Workout routine is fun because of the way she uses her bench. Substitute that for a park bench and you can now workout while your kids are running around the park.
Related Post: 20 Low Carb Breakfast Recipes
Related Post: 15 Delicious Low Carb Desserts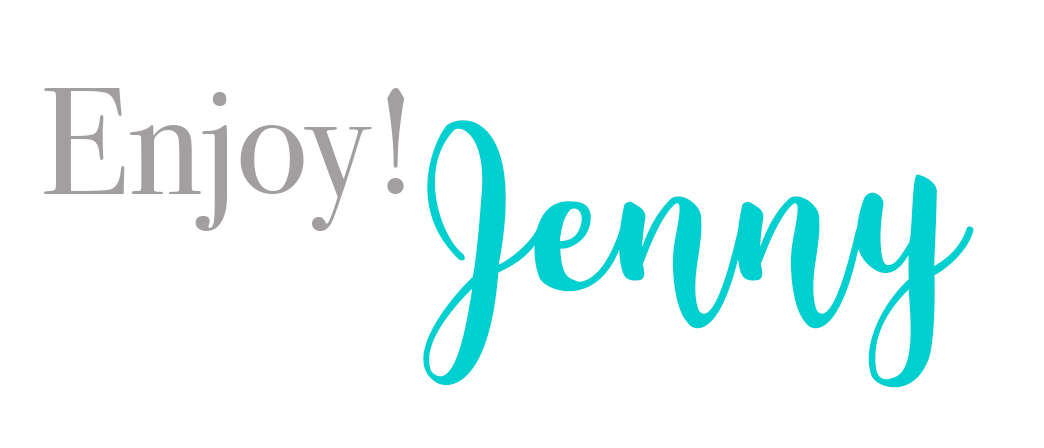 Pin for Later!