Thinking about trying Kylie Cosmetics but not sure if they are worth the hype? I give a full review for 3 different lip products so you can see if you want to try them out!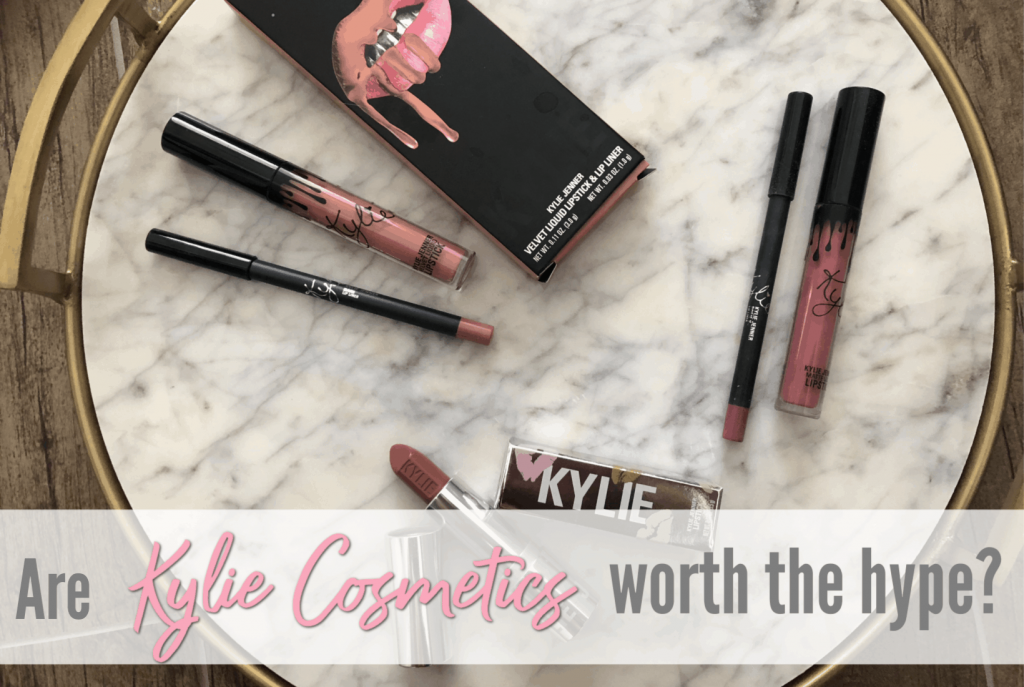 Are Kylie Cosmetic Lip Kits worth it?
Whether we want to admit it or not, the Kardashians amaze us. Sometimes in good ways, and sometimes in a WTF? kind of a way. The youngest daughter of the famous family started a cosmetics line as a TEEN, and it got me intrigued. Are Kylie Cosmetics worth the hype?
Kylie Jenner has raked in over $900 million and is on track to become a billionaire… yes, I said that right… before her 22nd birthday. Now don't hold me to those facts, I only go off of what I read in my US Weekly!
But seeing this really got me thinking… does Kylie really know that much about makeup? Or is it the famous family name that gets people to buy her products?
It became a MUST KNOW situation! I mean $900 million?!? That's a freaking lot of makeup. So I went ahead and purchased some of the most popular Kylie Cosmetics products, to see if they are as great as her sales are suggesting they are.
Get your summer look ready with Easy Beach Waves for Short Hair!
If you ever look into why Kylie started her company, it's actually understandable why she does so well. When she bought lipstick and lip liner, the two never perfectly matched. Which is so true! Why do cosmetic companies sell lipsticks and lip liners that don't come as a set?!?! Oh, first world problems!
So full disclosure, I was secretly a fan before I purchased a lip kit (lipstick and lip liner that go together) because I already felt the need for lip products that complimented each other. And instead of searching around and drawing all over my hand at the cosmetics counter in the mall… Kylie went and did it all for me!
So here is a quick review of the 3 Kylie Cosmetic products I tested out (I was not paid for this review, this is literally just me giving my opinion on the product).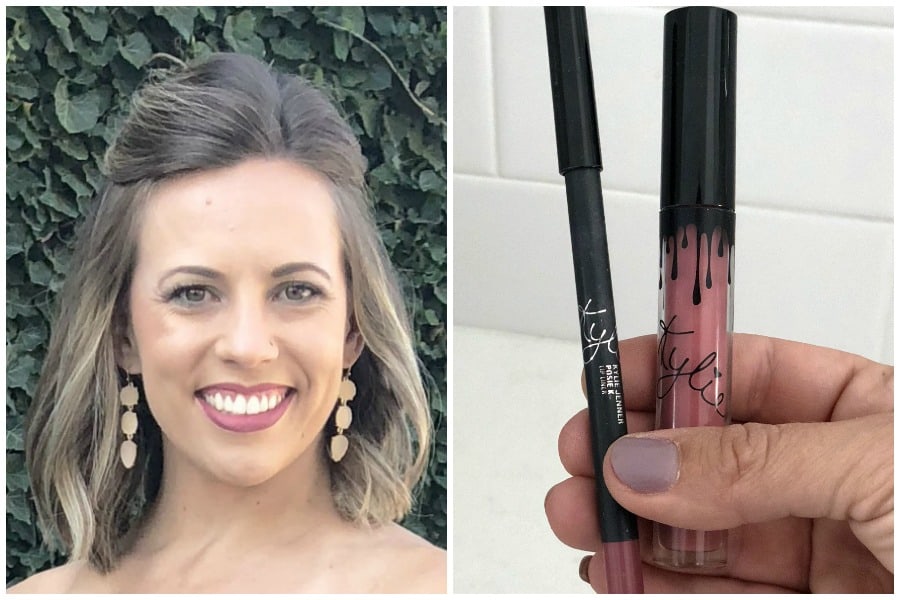 KYLIE COSMETICS MATTE LIP KIT
Posie K | Matte Liquid Lip Kit
I chose the Posie K Lip Kit (one of the best sellers) and loved the color but it is a little darker in person than how it appears on the website.
Each Lip Kit comes with a Matte Liquid Lipstick and matching Lip Liner. The Lipstick claims to be the extremely long-wearing lipstick that contains moisturizing ingredients for a comfortable, emollient and silky feel that does not dry your lips out.
My Verdict: I actually really loved this product. Like a lot. It even surprised me a bit. It definitely goes on as smooth and creamy as they say. It's even has a thicker texture to it than most lipsticks which made it go on really smooth with just one coat. And the lip liner was like a normal lip liner but was a perfect match to the lipstick so I was happy about that.
It also stays on a crazy long time. It can last most of the day and through possibly a snack and drinks. But it will wear off during a full meal.
You can check out my look here where I am wearing the Posie K Lipstick and Lipliner!
After about 8 hours and a few drinks and a dinner later… the lipstick really stayed on well. I reapplied the lipstick a bit towards the end of the night, but I think it was more out of habit than necessity.
* It can be a bit drying to the lips (I will say though, I have naturally very dry lips) but a little chap-stick here and there over the lipstick worked just fine. It did not flake or peel off as some lip "stains" do.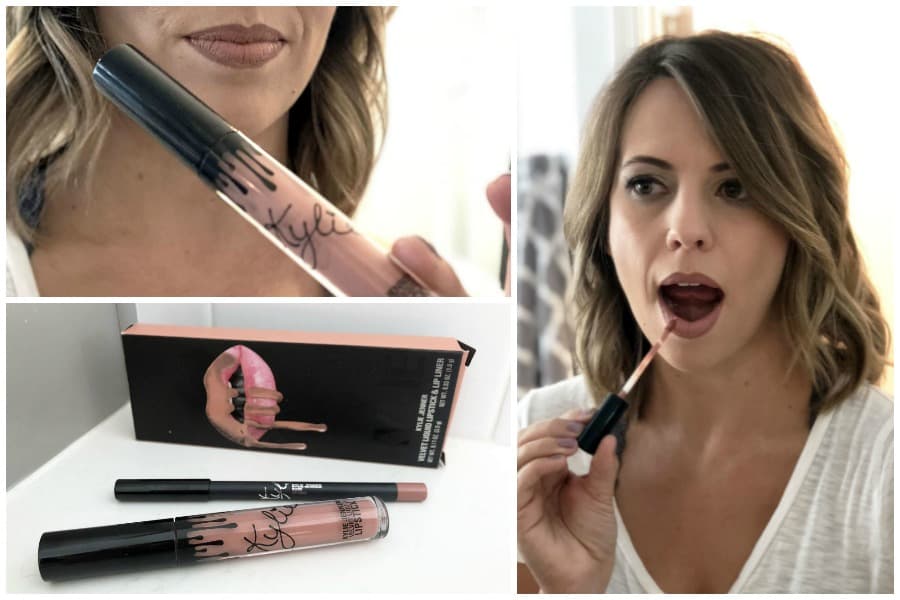 KYLIE COSMETICS VELVET LIP KIT
To be honest, I didn't know the difference between Matte and Velvet, and I still don't really do. But I do know I LOVED this lip kit. Literally from the second I put it on, I was hooked. I already plan on ordering a ton more colors in the velvet lip kit line.
I chose a nude color this time cause the first one was a little darker then I expected so I wanted to go with something on the opposite end to round out my picks. 'Bare' really is the perfect nude color if that is the look you are going for. I love it, but I think I would prefer others that had a little more color to them.
My Verdict: The Velvet Lip Kit is kind of a cross between the matte and the gloss. So for me, it felt just right not being too shiny and not feeling too dry. I cannot express how smooth it goes on and how even it looks. It's like it dawned on me that thisis why celebrities lips look so much better than mine!
You can bet your butt I will be purchasing more of the velvet lip kits in the near future.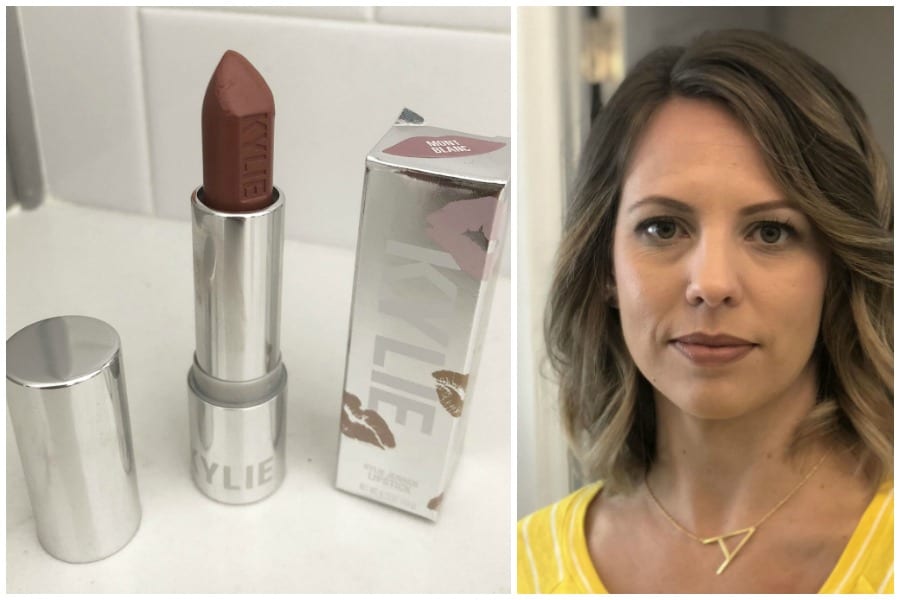 KYLIE COSMETICS CREME LIPSTICKS
I wanted to try something more basic and see how her other products perform as well. So I went with a basic lipstick, that doesn't look any different then what you would buy at the drugstore. Except with her name etched on it!
My Verdict: I think this lipstick shocked me the most. I was prepared to like the lip kit for the main fact that they had the matching lip liners. So I was underwhelmed at the thought of purchasing a plain old lipstick tube (especially at the $17 sticker price).
But I have to say, I was pleasantly surprised. Again, the pigment was nice and thick and went on really smoothly and even. It was easy to apply and really made my lips look better than they ever had before.
Which I didn't think was possible without expensive fillers or such. And when you think about it, it's no more pricey than a MAC lipstick tube.
FINAL THOUGHTS on Kylie Lipkits
Well, good job little Kardashian sister! You really surprised me. Perhaps the family name got your product in front of the world's eyes. But your business will definitely be sustainable with such high-quality products. Keep it up, I look forward to purchasing more!
Have you tried Kylie Cosmetics? I'd love to hear your experience or suggestions on what Kylie product to try next!