One of my favorite things is discovering new beauty products. It doesn't matter if you gained a little weight, or feel a little bloated. Beauty products make you look good and feel good all the time. So what could be better than that? How about affordable products. Stuff that you can easily buy at Target or Walgreens while you're trying to get groceries or more toilet paper. Because it would be nice to leisurely browse the local beauty store, but really who's got time for that?
I'm happy to share with you some of the products that I use daily or weekly. Every one of these products has been tested by moi personally and I highly recommend each and every one.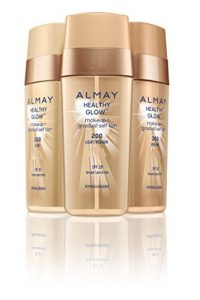 Almay Healthy Glow makeup and gradual self-tan lotion. This is a lotion but you'll only find it in the makeup aisle with all the other Almay products. It's light and can be applied at any time of the day. Use it before you go to bed or put it on in the morning before you apply your makeup. It slowly lightens your skin with a natural look that won't leave you orange or too bronze with one application. And the best part is that it has an SPF of 20 so it's good to wear on your face outdoors anyway. Which is something I need more of!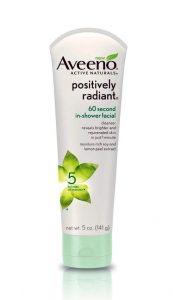 Aveeno Positively Radiant 60 Second in-shower facial. Give yourself a mini-facial while in the shower. Think about it, it's every mother's dream! Do we ever have time to give ourselves facials or scrubs? You can do this while you take a shower, so it doesn't take any extra time. It's only meant to be used twice a week but it always leaves my skin so soft afterward, I've been tempted to use it every day.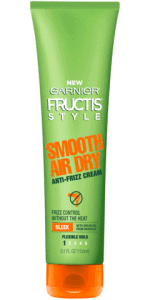 Garnier Fructis Smooth Air-Dry Anti-Frizz Cream.
I have frizzy hair.
You may not guess by my photos but that's because those are taken after both blowing it out and straightening it. So I am always on the hunt for a good product that can leave my hair looking nice after a shower with requiring an hour of making it smooth. While there is no miracle product
(I'm still on the hunt ladies!)
this is as close as it comes. It's a light cream that gets applied to your hair right after the shower. Don't be shy about it. It's lightweight enough to use as much as you need. And although it doesn't give me long, smooth, glossy hair… it does take away most of the frizz. Leaving me confident enough to actually leave the house with wet hair. A Must for my frizzy-haired friends.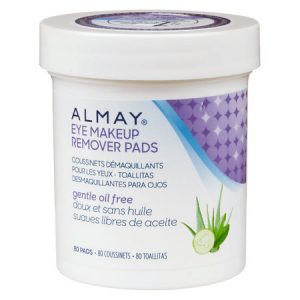 Almay Makeup Remover Pads. These nice little pads are all individual so you just take one out and wipe away your makeup, then toss it out. It removes everything. Layers of eye makeup and waterproof mascara. And it's also a favorite of mine for travel. You don't need extra pads or towels. Just use one and toss it. Easy cheesy.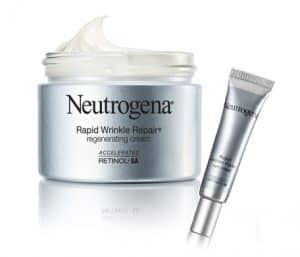 Neutrogena Rapid Wrinkle Repair. Ok, so I'm not as young as I used to be. I'm still coming to terms with that. So when I started to notice some wrinkles pop up (Eeek I just admitted that) I started my quest to find the best wrinkle cream a girl can find, even willing to pay top dollar. I mean, it beats botox, right? But I got really lucky and all my research pointed to the same product. This one. I started with just the eye cream and noticed such a difference right away, I quickly grabbed the face cream as well. I only use them a few times a week as they can be very drying to your skin. But I swear
they really work and my skin has never looked younger.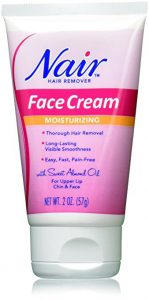 Nair Face Cream. Want to hear a funny story? I actually break out when I get my upper lip waxed. Like a full rash. I've tried everything to get around this but I still end up with a red and inflamed mustache of bumps. Attractive right? Doomed to have a little more hair than I liked in that area, I stumbled across Nair face cream. I always thought Nair was just for legs. Boy was I wrong. They have products for every part of your body, and I mean EVERY! Once I tried it out, I was SOLD! It's so easy to use (like literally five minutes) and doesn't sting, burn or cause any adverse reaction to my skin. It's another fast and easy fix and I also save a ton of money by not having to go to the salon anymore. WIN!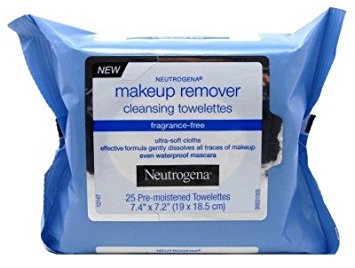 Neutrogena Makeup remover and cleansing towelettes. Now, makeup removers are often NOT recommended. Many say it just pushes the dirt and oil around your face, or that wiping back and forth across your skin cause wrinkles. And I actually agree with those things. The reason I recommend this product is for all those other days. The days you are too tired to take off all your makeup and just want to fall into bed. Wiping your makeup off is so much better than sleeping in it. These are also great for traveling. You will find these packed away with me every time I go camping. When you're outdoors and you have no running water, these little wipes make you feel fresh and clean, and they work great on kids faces too.