Ready to get whiter teeth in the convenience of your own home? Add Smile Brilliant at home teeth whitening to your nightly self-care routine and get that gorgeous smile glowing!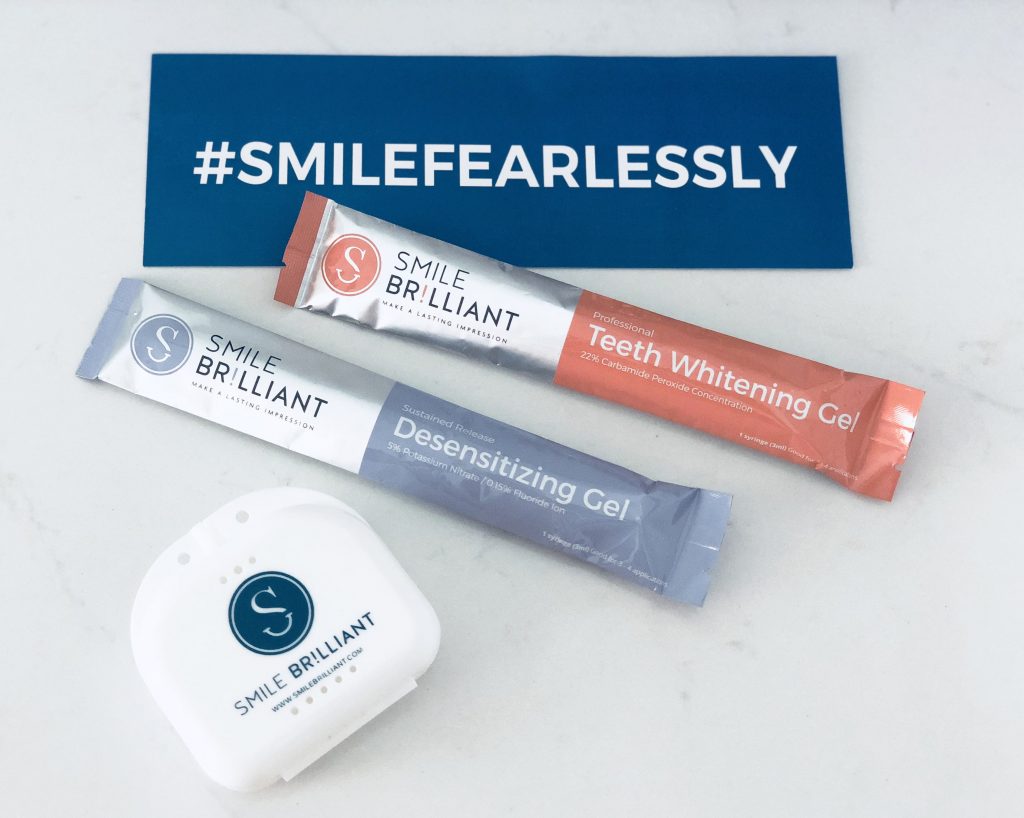 You know how when you're young and you kind of just live your life without worrying about anything? Like… "Sure, I'll have another dessert! I have the BEST metabolism" Or "Ugh, I'm so tired, I'll wash off all this makeup tomorrow morning".
Yeah… I sort of lived that way too once. Until the bulge and the wrinkles caught up with me! And then there were a few of my favorite weaknesses; Diet Coke, coffee, and wine. All of them amazing, none of them doing my teeth a favor!
You may have never known this about me but I hate teeth. Even my own! My teeth have always been super sensitive and because of this, I tend to freak out when anything comes near my mouth. Ice in a glass? No way! Biting ice cream? I'll pass out just watching someone do it.
So the thought of whitening my teeth with those typical strips or pastes you see everywhere was just never going to happen. I already have to use Sensodyne to brush my teeth, I can't risk the sensitivity getting any worse. Then I was approached by Smile Brilliant to try out their affordable at-home teeth whitening system.
Obviously, my hesitation was HUGE until I read about their desensitizing gel meant for sensitive teeth. Well hello! This was meant for me. Needless to say, I gave this product a try and loved my results. So let me give you a little run down on why I liked this teeth whitening system so much and how it all works.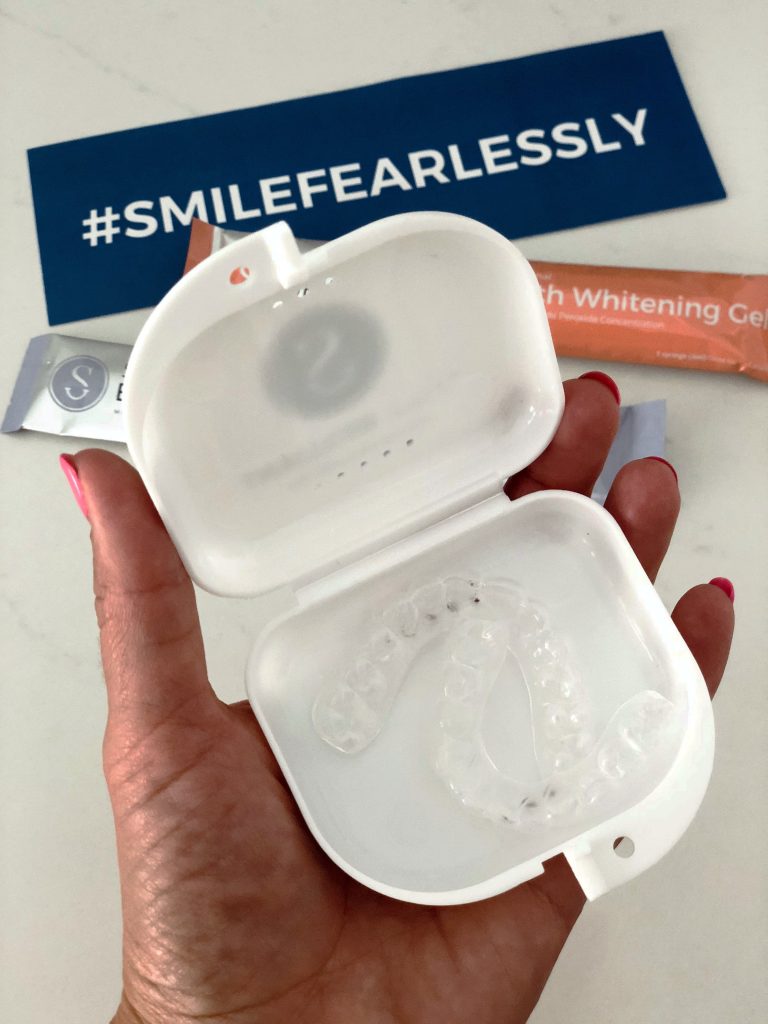 Dentist recommended teeth whitening system
So what makes Smile Brilliant so cool is that this is exactly the same whitening system you would get at the dentist. But at a fraction of the cost. And hello… in the convenience of your own home!
Unlike the whitening strips, Smile Brilliant sends you special material to make a personal mold of your teeth. So every tooth gets covered, and you don't end up with a bunch of whitening gel all over your gums… cause that hurts!
The instructions are SO detailed, you really don't have to worry about messing anything up. And when I misplaced my instruction card (yeah yeah, that's typical in my household!)I was able to go online and find all the instructions right there too. Creating a custom mold for your teeth whitening literally takes minutes, so you can do it quickly in between your thousands of other mom duties.
Follow the detailed instructions on mixing the pastes and smashing it into the little trays. Press your teeth firmly into the mold and wait the time it suggests for it to harden. I will warn you, you will drool a lot during those few minutes. You can keep a towel nearby but highly suggest you just lean over a sink and let it flow!
Getting Your custom molds
Getting your custom fit trays back won't take very long, mine came in just about a week. Seeing these perfect little molds of my teeth was pretty cool. And the quality was a lot better then I anticipated. I figured it would be a bulky tray that fit awkwardly in my mouth. Instead, they were very slim and flexible and literally was a perfect fit for my teeth.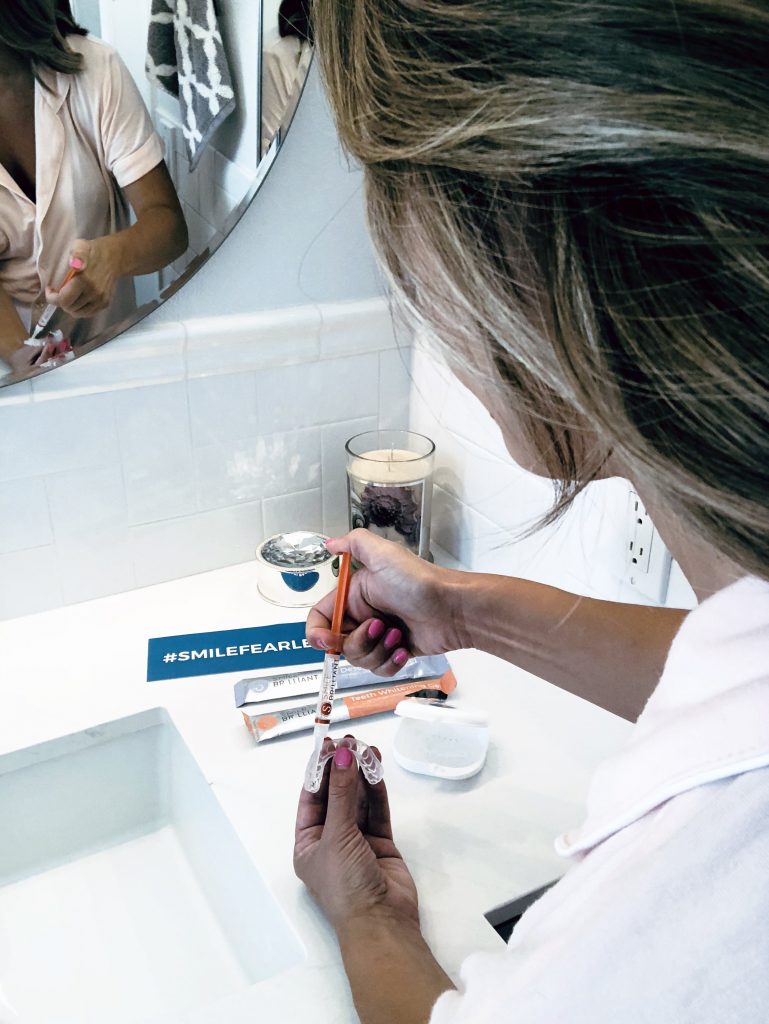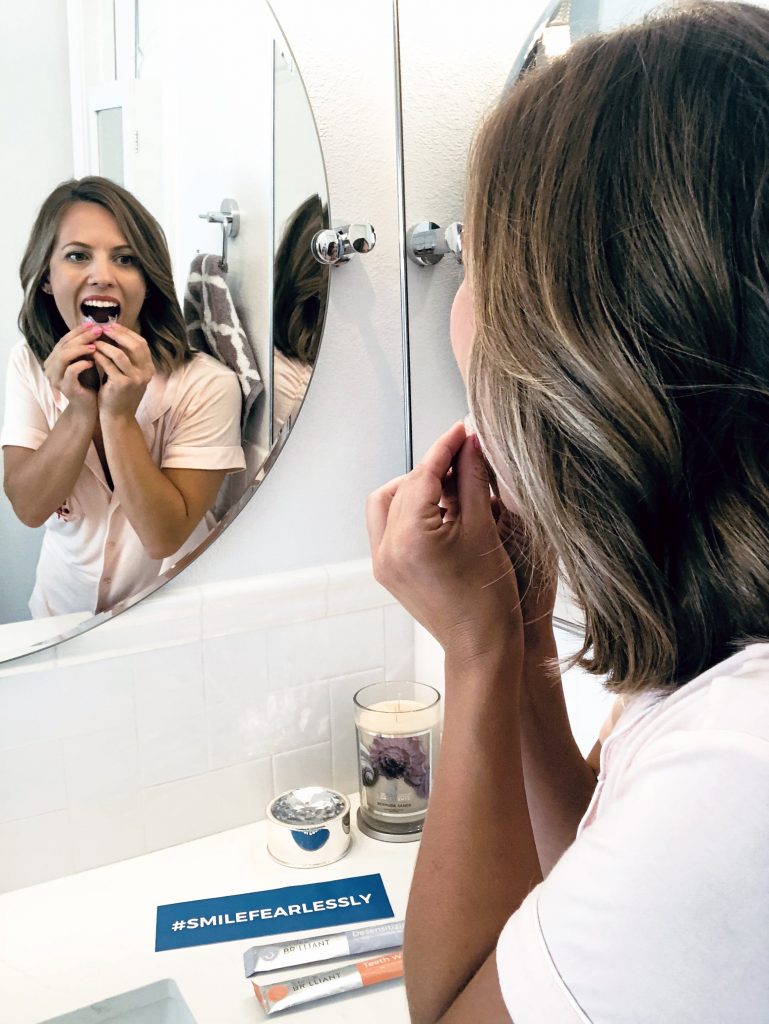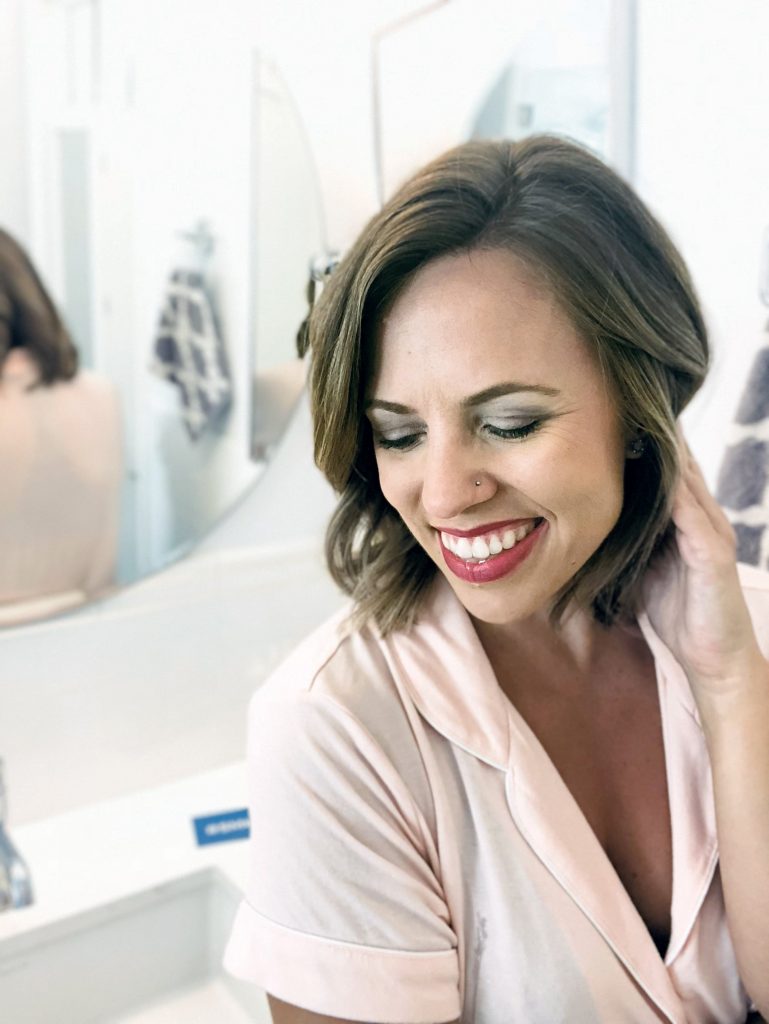 Go ahead and follow the directions on the cards and use the applicator tip to apply some whitening gel to your mold. Then just simply put them on and let the whitening begin! It says you can go up to 3 hours but I started at 30 minutes because I was super paranoid about my teeth sensitivity. But as soon as you are done, do the same with the desensitizing gel and leave that on for a good 30 minutes as well.
When you finished both gels, just brush your teeth like normal, and wash out your teeth molds! BAM! As simple as that.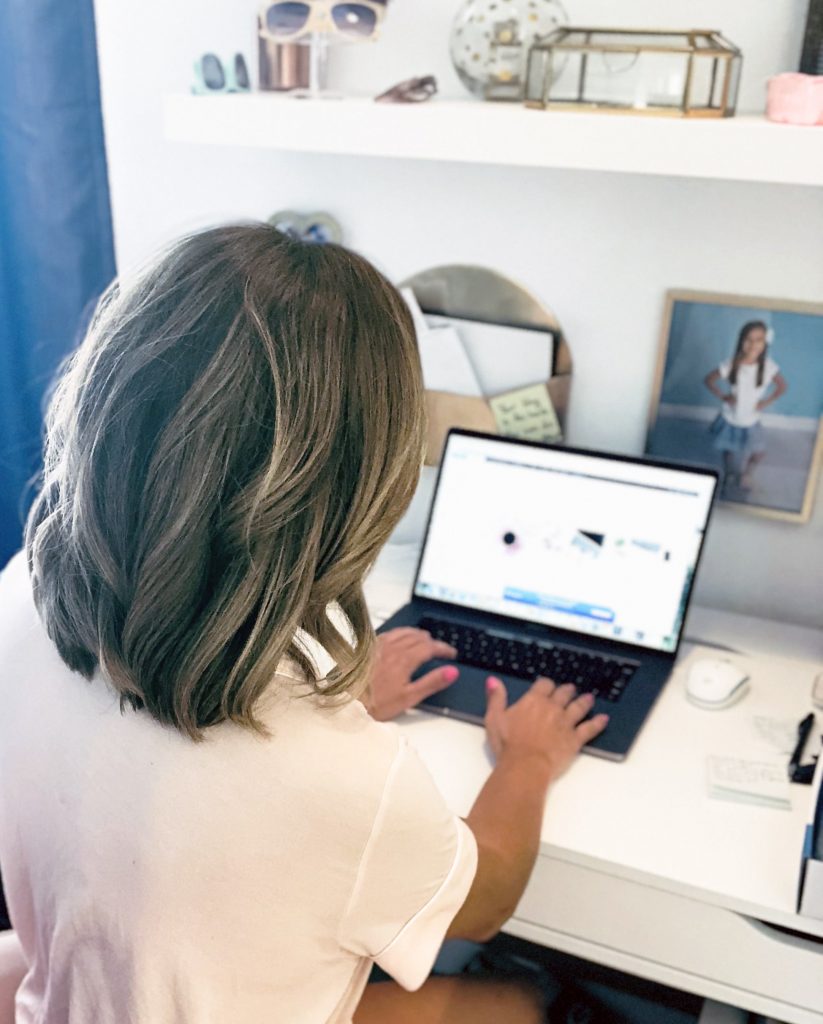 I usually try to do my teeth whitening at night along with the rest of my normal nightly routine. Once the molds are in place, I am free to do anything else I need to. Typically, I would just sit down and try to get some work done on the blog. But really, you could do anything or go anywhere… the molds are not noticeable at all.
Teeth Whitening results
I was super happy with my results from Smile Brilliant and the noticeably whiter teeth. But was even more impressed with the desensitizing gel and how my normally sensitive teeth didn't experience any side effects. Smile Brilliant put together these super easy to use kits and better yet, made them really affordable. You can grab your own teeth whitening kit for $139-$179.
So if you have a busy life and limited pocketbook, you need to grab this at home teeth whitening kit. With as busy as my nights are, it was an absolute must that I could whiten my teeth and still get stuff done around the house.
GIVEAWAY! Even better, Smile Brilliant is giving all my gorgeous readers a chance to win an at-home teeth whitening set for themselves! And to those of you who don't win, relax! You can still try out this system with a 15% code.
If you don't win the giveaway, no need to frown! You can still grab an at-home teeth whitening kit from Smile Brilliant for 15% off! Just use my code: seejennygo15.
*The giveaway is for a $149 Smile Brilliant credit.
It is open to the USA, UK, Australia, and Canadian residents.
If you are at all intrigued and want to know more, please ask away! I'd be happy to share more of my experience with you.
Enjoy!
-Jenny
*Smile Brilliant provided me with my very own At Home Teeth Whitening System, but as always, all thoughts and opinions are my own!