This post contains affiliate links. See affiliate disclaimer here.
It wasn't too long ago that everyone was throwing away their gold decor for a more polished silver or chrome look. But everywhere you turn these days you hear words like "mid-century modern" and "glam". Get used to them because it's only just the beginning of this trend. Gold accents can add a nice warm feeling to any room if done in the right way (subtly, people, subtly).
If you were someone who loves Great Gatsby-style glamour then you are in the right place! I personally have added gold accents to my living room and find myself adding more and more as I go. It's also nice little way to add some girly-ness to a room while not making it too overpowering with femininity.
The really nice thing about Gold is that it actually goes with almost any style so it's easy to incorporate into decor you already have. Place it in a gray and white room to warm it up. Use faux fur pillows and throws to really glam it up. Or pair it with sleek and light colored decor to keep that modern edge. You almost can't go wrong if you just don't overdo it!
Some of my favorite ways to add gold to any room – picture frames, vases, wall art, and pillows. I'll show you some examples of stuff I have in my home (go ahead and copy, I don't care!) as well as stuff I WISH I had!
Gold Accents for your home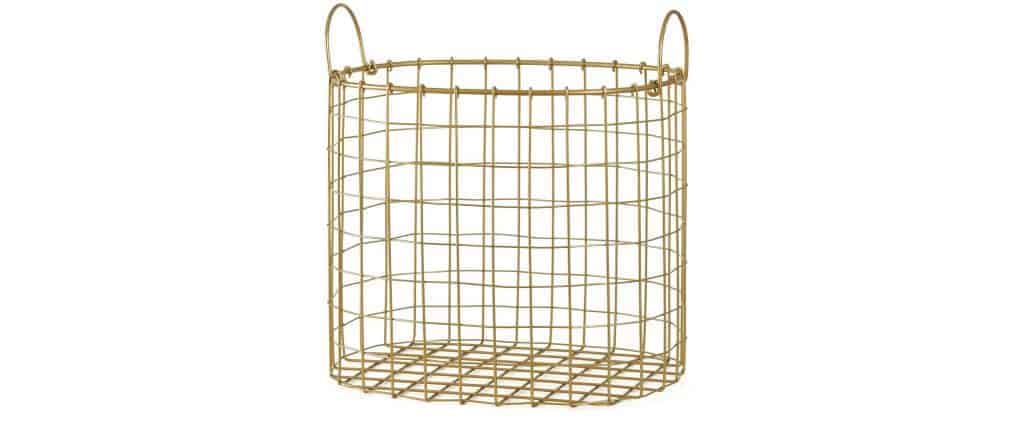 Decorative Gold Wire Bin. So simple and so not overpowering. I love how you can literally put this anywhere. Any living room, any bedroom, guest room, front hall. Put blankets in it, fill it with some throw pillows or even books and magazines.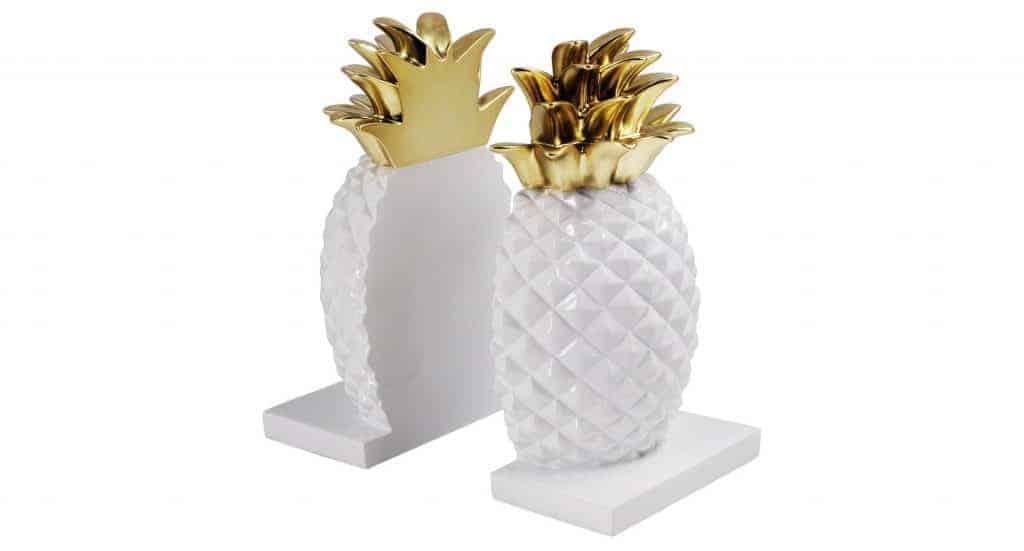 Pineapple Book Ends. I don't know why Pineapple is so popular right now but I don't care! Its everywhere and I love how it's being added to fashion and home decor. These fun bookends only have a touch of gold on them so they can work in any room. Even kids rooms!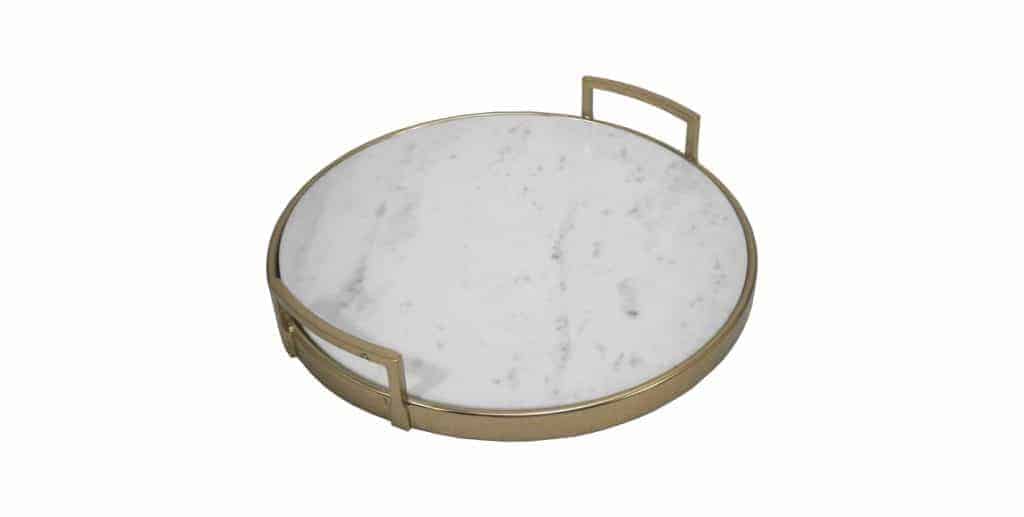 Gold and Marble Tray. Talk about glam, ladies. Gold AND Marble, ooh-la-la! But seriously, this makes a great little piece to most rooms. Use it as a try to serve your fellow wine-lush friends a drink, or put it on a coffee table with a book or an accent piece on top. It works a lot of different ways.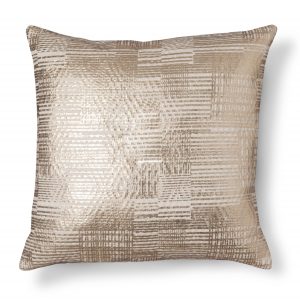 Gold Foil Throw Pillow. I bought this. Ok, I bought two. When you see it in person you'll understand why. It's so subtle and just so pretty. I have it on a dark grey living room couch but it would go well in any color combination, or in any room (I'm seeing the third one on my bed in the near future).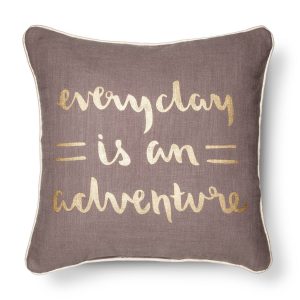 Gold Adventure Pillow. I had to add another pillow because this one combines two new trends. The gold and the fun meaningful sayings. But it has enough of a neutral color palette to it to go anywhere, even with the Gold Foil Pillow from above.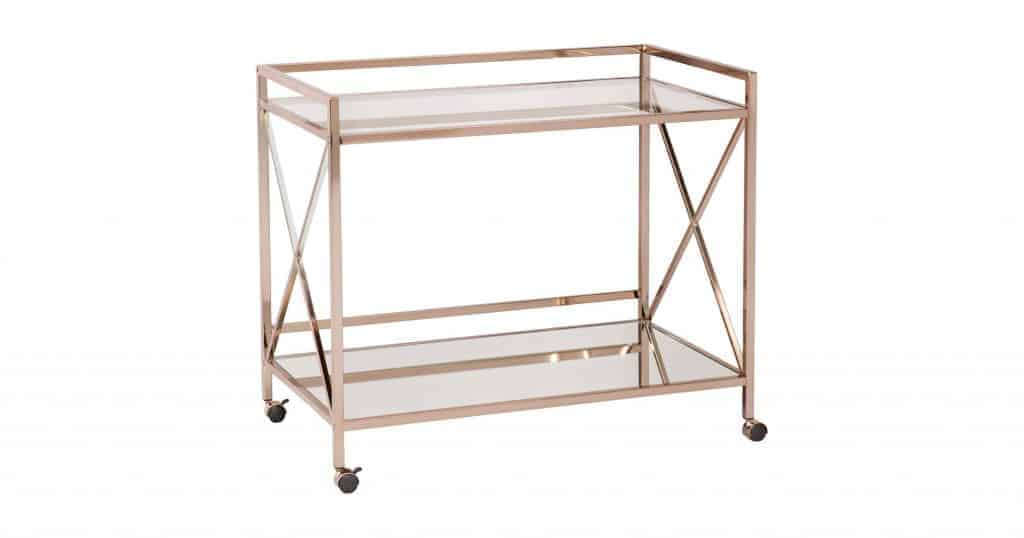 Bright Gold Metal Cart. Currently on my wish list. How absolutely gorgeous is this? Picture it with a few serving pieces as you mix up some fun drinks for your friends. Or as a beautiful display piece. You know, the one you scream at your kids not to go near, but they build Legos on it anyway. Don't need to worry, it's less than $200. Gasp!

Round Mirror 3-piece set. We have to throw some cute wall art in here. What's easier to place than a couple round wall mirrors? Don't pass these by. They may look kind of boring at first but they are a great way to add that small amount of gold into a room that already has a lot of artwork. Would look good in a kids room as well.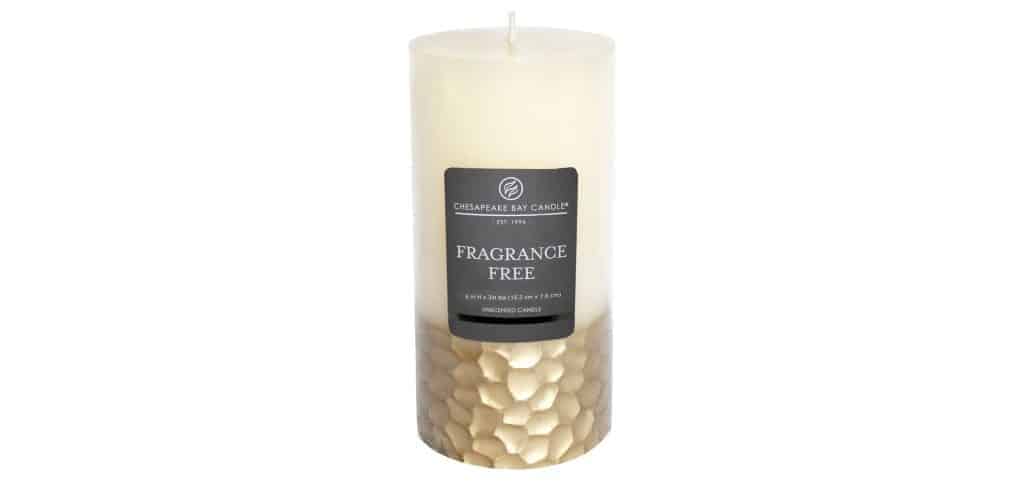 Gold/Ivory Candle. Talk about easy and inexpensive. Just place one or two of these anywhere in any room. Put them in a candle holder, on the gold and marble tray.. use them at Christmas time! Not to mention they might make a nice gift at this price.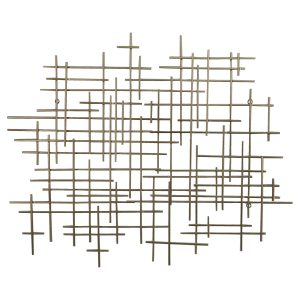 Mid-Century Metal Wall Art. See, there it is! That word I told you to look out for. Mid-century modern. It's taking over. I love this big wall piece for those huge big empty walls with no windows that you just don't know what to do with. Or put it over a fireplace mantel as a backdrop to other smaller accessories and pictures.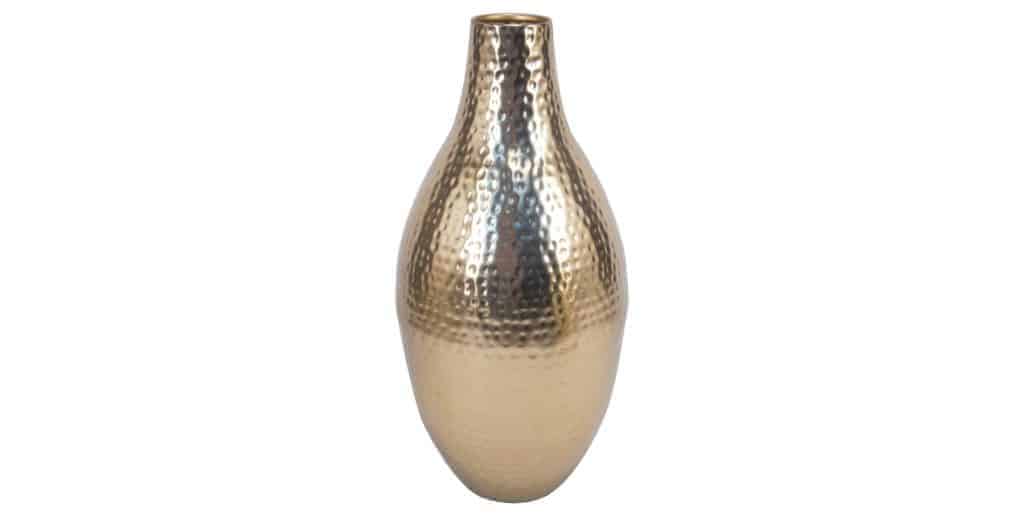 Textured Gold Vase. This is a go-to piece that every room needs. Something you can throw on a shelf or in the corner of a room. It looks good on its own and doesn't need anything in it or around it. I like using decor like this in room corners so it adds that touch of glam without being too noticeable.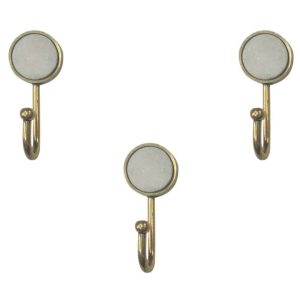 Marble Gold Hooks. Another cute but inexpensive option. Use these in a front hallway entrance, or laundry room. Even add them to your bathroom as a towel hook. Or use them in the kitchen to hang coffee mugs off of. They are small but can be used almost anywhere.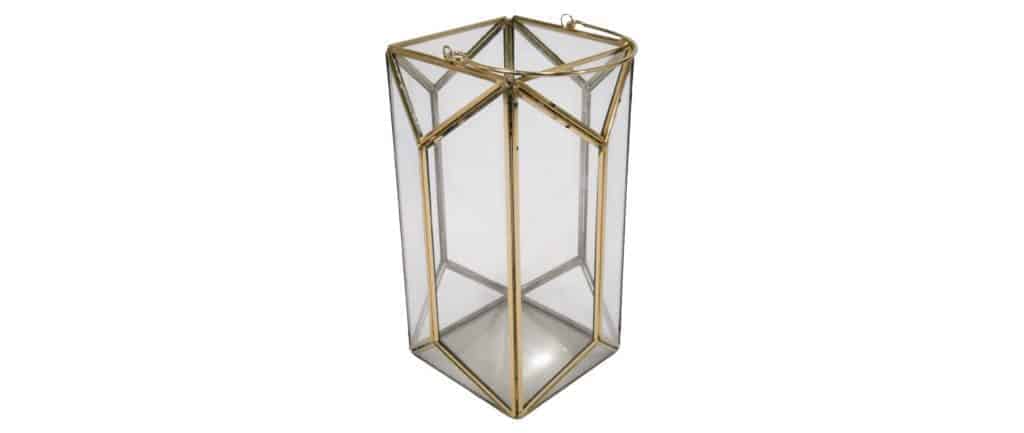 Outdoor Lantern. This guy will be making it onto my Christmas list this year. It just needs s simple candle inside and otherwise looks good anywhere. Put it on a shelf in the living room, on a dresser in your bedroom, or on a patio table. This is a versatile piece that goes anywhere. A must-have.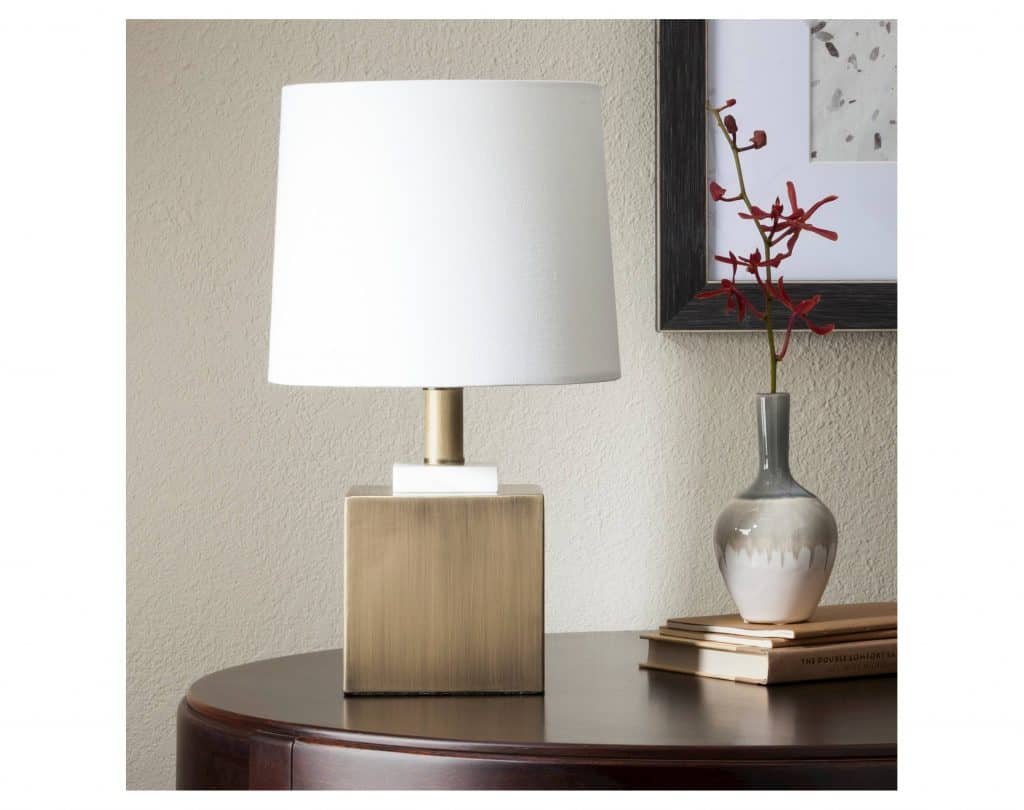 Brass and Marble Box Lamp. Kind of blah when you first look at it but really look at it. Its sleek and elegant enough to be used anywhere. The gold is not overpowering. Its simplistic enough to have other accent pieces around it. It adds that touch of gold without being a centerpiece.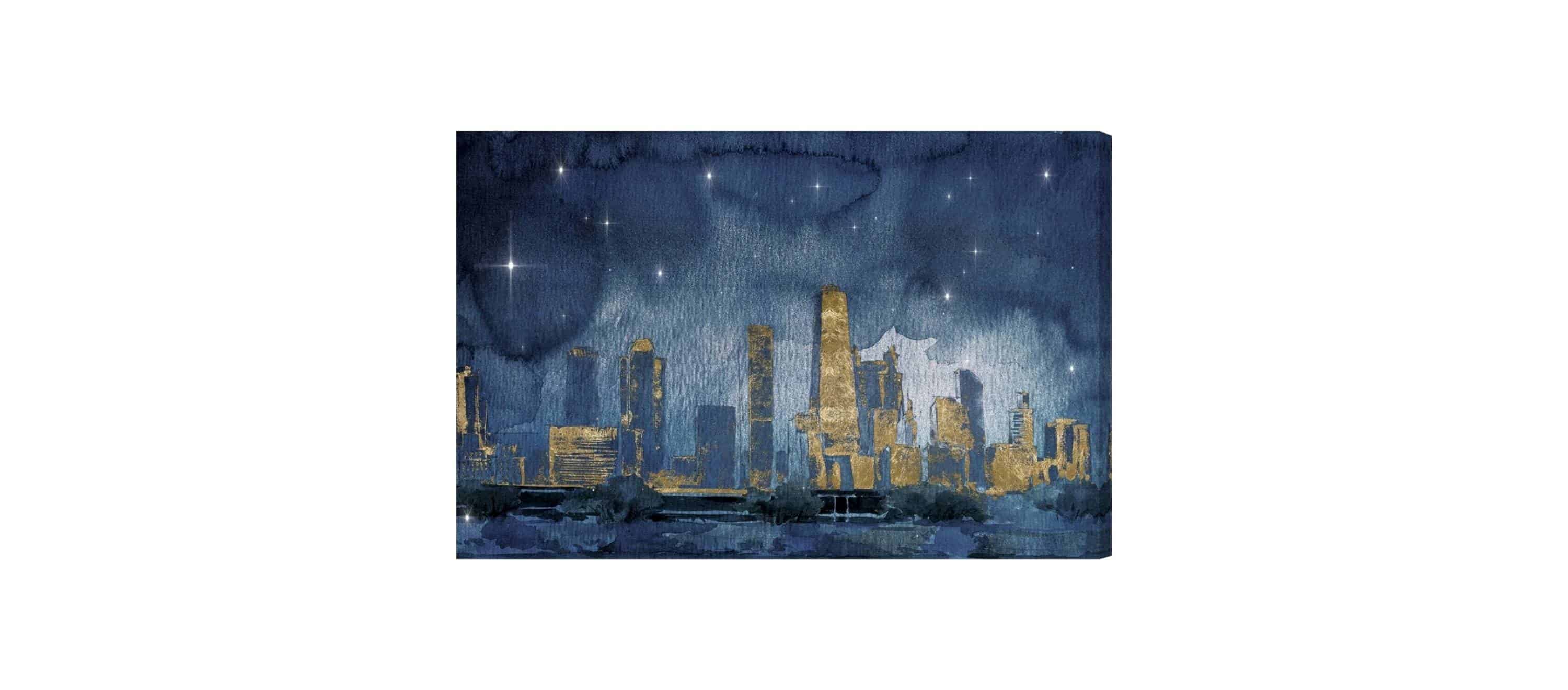 Chicago Nighttime Wall Art. Don't be afraid to go a little bit big with your gold. Touches of gold inside a piece of artwork are becoming more and more popular as well.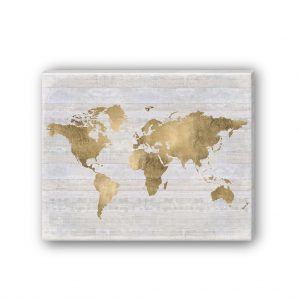 World Map. A smaller more affordable version (and my personal favorite) is this canvas wall art. I love the touch of gold it adds to a wall. It makes a great combo piece with any other travel-themed decor that also seems to be popular.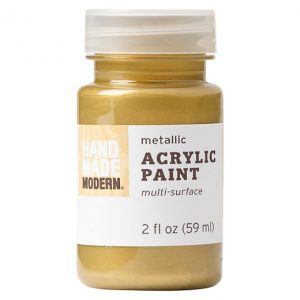 Gold Acrylic Paint. Make your own creative gold accent pieces! Seriously, it's as easy as buying some gold metallic paint. It even comes in spray cans. Use it on picture frames, vases, or lamps you currently have. Or see what inexpensive pieces you can find at thrift shops and update them with the mid-century modern golden glam look!
*Cover image thanks to www.decorpad.com